1. Margin debt has increased 193% since the bull market began—the same as the rise from 2002 to 2007.
Michael Belkin called the 2000 market top. Now the publisher of the Belkin Report, an institutional newsletter on asset allocation, and the Belkin Gold Stock Report is waving a warning flag about the level of margin debt on the New York Stock Exchange.
Margin debt is the loans banks and brokerages make to investors, using their stock- and bond-holdings as collateral. In November, it neared an all-time high of $507 billion and has hovered close to that level since. "It's something that's hanging over the market," he says. "The market is addicted to debt."
There's precedent for a high level of margin debt foreshadowing a market collapse. It peaked in March 2000, congruent with the market's March 24 top and subsequent 49% decline. And it peaked again in July 2007, a few months before the market top in October. Another disturbing factor: The percentage rise in margin debt over the latest bull market is 193%, exactly the increase from 2002 to 2007, when the financial crisis began and the Standard & Poor's 500 index later fell 57%.
The problem with margin debt is that it causes a cascade effect. As the market falls, investors get margin calls on their loans and have to sell stocks to maintain their margin-debt minimum.
Ed Yardeni, president of Yardeni Research, says, "As long as the market is going up, margin debt tends to go up as well." And margin debt exacerbates a bear market. But Yardeni doesn't know of any time when margin debt triggered a bear market. That's a relief.
http://www.barrons.com/articles/is-margin-debt-a-bear-market-indicator-1487394796
The NYSE has released new data for margin debt, now available through December. The latest debt level is down 2.2% month-over-month. The current level is 3.5% below its record high set in April 2015. The December data gives us an additional sense of investor behavior during the election rally.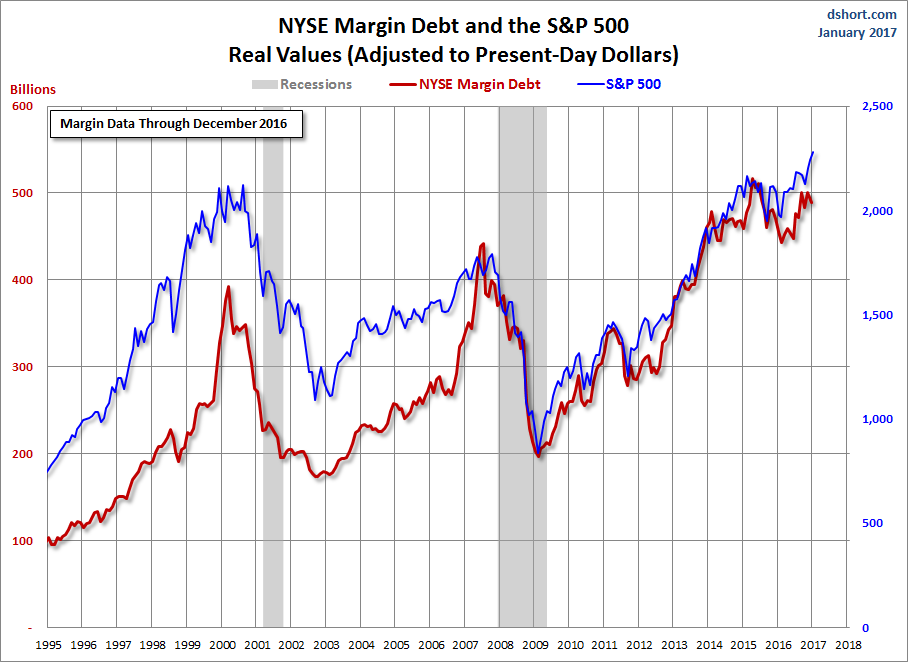 https://www.advisorperspectives.com/dshort/updates/2017/02/01/a-new-look-at-nyse-margin-debt-and-the-market