1. 10-Year Treasury Yield About to Make New 2023 High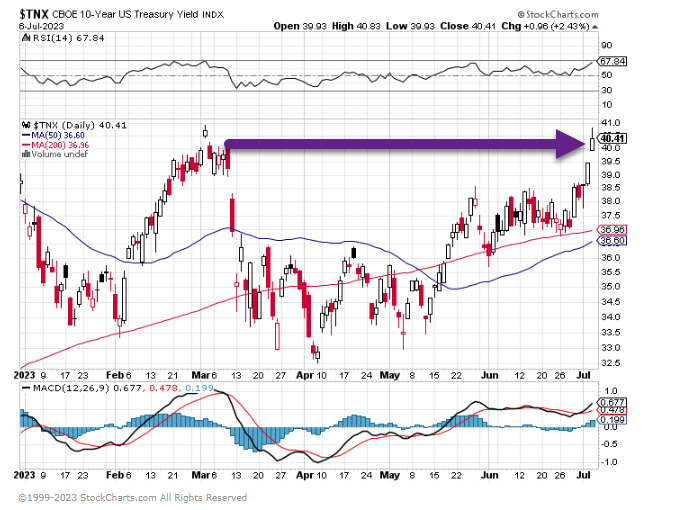 ---
2. Rise in Rates Flips Stock/Bond Correlation Back to Negative ..Both Down Yesterday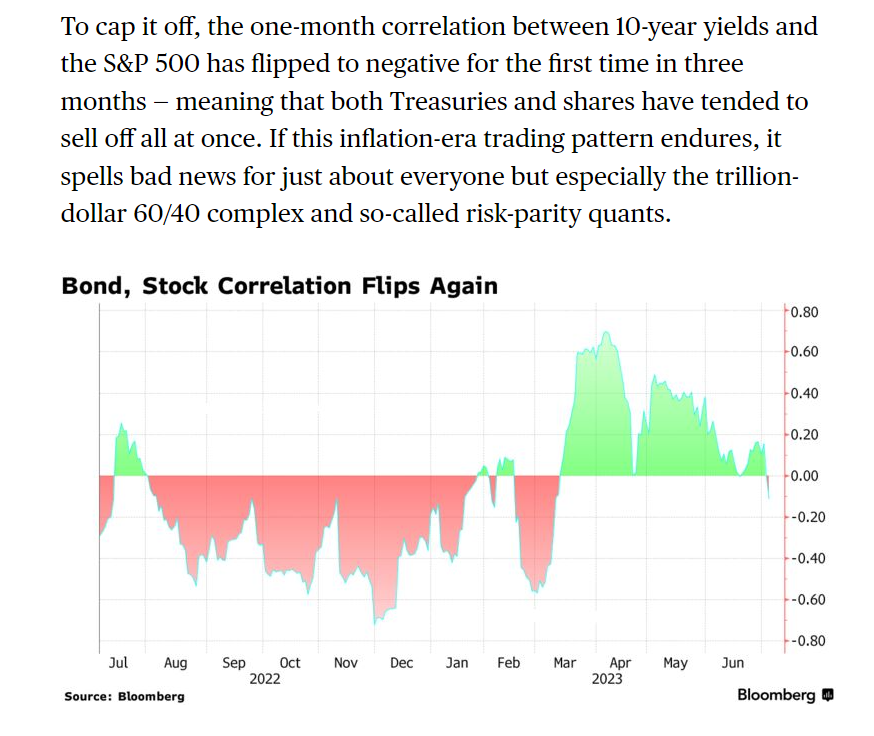 ByYe Xie and Vildana Hajric
https://www.bloomberg.com/news/articles/2023-07-06/wall-street-traders-reel-as-great-interest-rate-shock-escalates?srnd=premium&sref=GGda9y2L
---
3. IPO Market
Class of 2020 IPO's -34%
Class of 2021 IPO's -46%
Class of 2022 IPO's -49%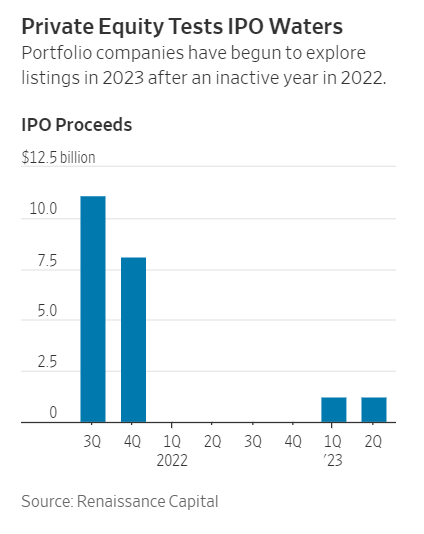 WSJ By Maria Armental
https://www.wsj.com/articles/ipo-window-cracks-open-and-private-equity-moves-in-f08cb38b
---
4. Private Equity Fundraising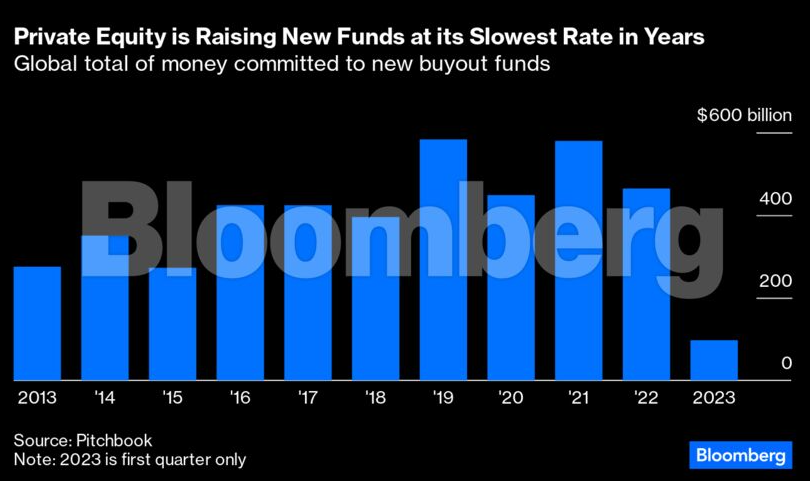 Advisor Perspectives by Paul Davies
https://www.advisorperspectives.com/articles/2023/07/06/private-equity-tough-to-unjam
---
5. Ethereum and Bitcoin
All-Star Charts Blog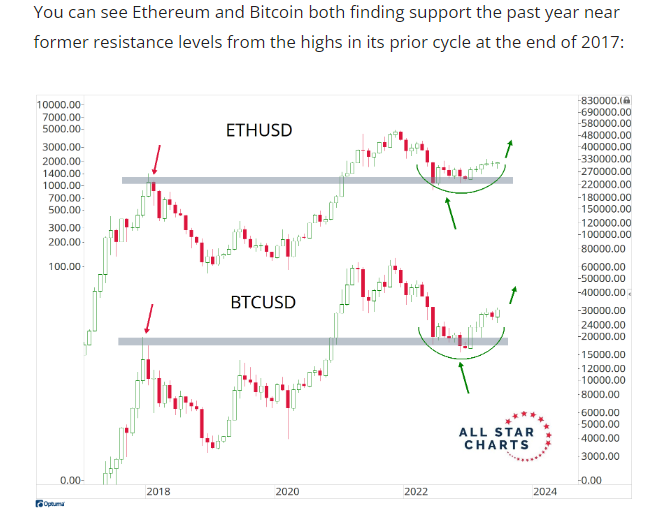 https://allstarcharts.com/bitcoin-ethereum-new-52-week-highs/
Found at Abnormal Returns Blog www.abnormalreturns.com
---
6. BITO ETF Chart
BITO breaks above downtrend line going back to 2021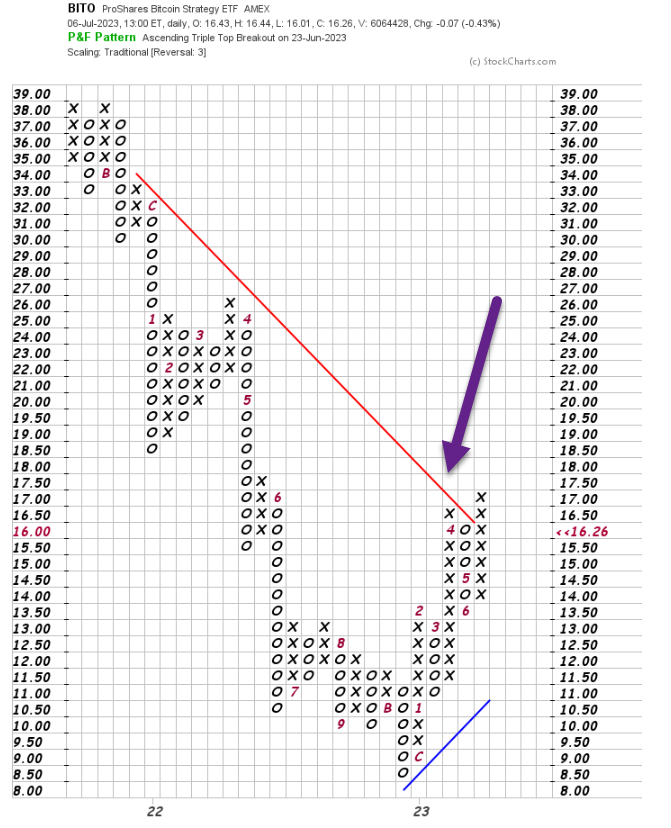 GBTC Grayscale Trust trades back up to 200-week moving average on long-term chart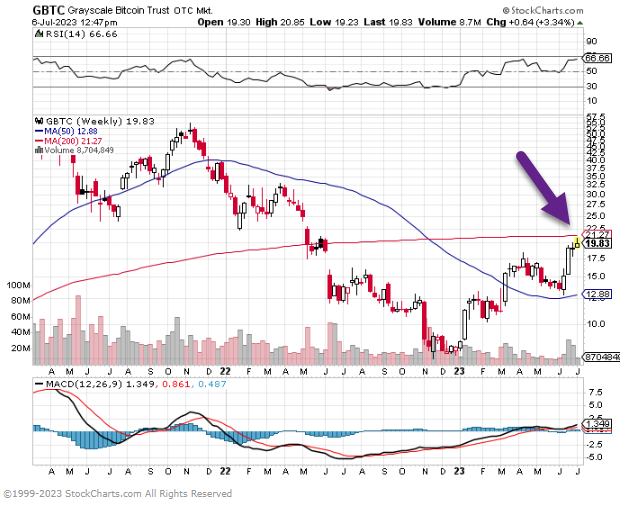 ---
7. Tesla Chart
Tesla rallies back close to next resistance….2022 levels
---
8. Bullish Sentiment and S&P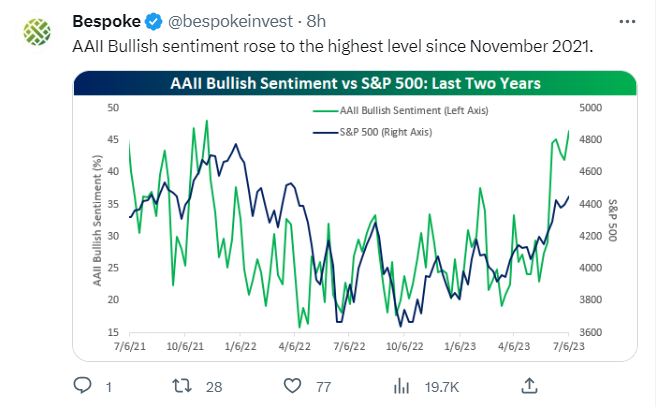 https://www.bespokepremium.com/interactive/research/think-big-blog/
---
9. Business Insider The restart of student loan payments is going to pressure the strong US consumer, as 34% of borrowers say they'll be unable to make payments
Student loan borrowers and advocates gather for the People's Rally To Cancel Student Debt During The Supreme Court Hearings On Student Debt Relief on February 28, 2023 in Washington, DC. Jemal Countess/Getty Images for People's
The upcoming restart in student loan payments is set to weaken the US consumer, according to Morgan Stanley.
The bank conducted a survey of about 2,000 consumers and found some startling insights.
A whopping 34% of survey respondents said they will not be able to make the payments at all.
The upcoming restart of student loan payments could begin to weigh down a US consumer that has been remarkably resilient over the past year and a half.
According to a recent survey of about 2,000 consumers by Morgan Stanley, concerns over upcoming debt and mortgage payments has soared to the highest level since the survey began.
Part of that surge is due to this October's restart of student loan payments, which have been paused since the start of the pandemic in March 2020. The average payment is between $300 and $400, based on various estimates.
"Only 29% of consumers who have federal student loans are confident they will have enough money to start making payments without adjusting spending in other areas," Morgan Stanley said.
Meanwhile, 37% of respondents said they will need to cut their spending in other areas to make the student loan payments, while a whopping 34% of respondents said they will not be able to make the payments at all. In this case, the restart of payments will negatively impact low-income households the most, according to the survey.
Consumers' concerns about the impact of the imminent restart of student loan payments spilled over into other their areas of their finances. 
Morgan Stanley said 31% of consumers were worried about their ability to repay debts and 27% to pay rent or mortgage, with both metrics hitting all time highs.
As a segment of consumers start to feel increased pressures heading into the fall when student loan payments restart, discretionary spending categories could see the biggest decline if consumers need to tighten their belts, according to the note. 
The discretionary categories with the most strongly negative net spending intentions were consumer electronics, toys, home appliances, food away from home, and leisure/entertainment. 
"Overall, the majority of consumers surveyed (61%) continue to say they are likely to cut back on spending over the next six months," Morgan Stanley said.
Such a decline in consumer spending could fuel recession fears that have been recently echoed by JPMorgan, which expects an economic dip to materialize by the end of this year or early next year.
It could also fuel concerns about a dip in Target's business, as the retailer has high exposure to millennials that are most likely to have student loan debt.
https://markets.businessinsider.com/news/stocks/student-loan-payments-restart-debt-fear-pressure-consumers-economy-survey-2023-6
---
Digital abundance creates a new problem.
Most of our lives are filled with "or" decisions. You can have this or that. You can save money for the big party or you can go out for lunch. You can have exactly one thing for dessert–cake or fruit.
But the war for our attention has given us more than a million things to watch on YouTube, another million songs to listen to on Qobuz, and unlimited bingeing (which didn't even use to be a word) on dozens of streaming channels.
No or. Simply and.
This means that choices have fewer consequences. It means that time counts for less, it simply fades away. And it turns the sharp relief of choice into the borderless fatigue of 'whatever'.
Even when it's possible to avoid a choice, it may make sense to make one.