1.March Madness…Highest Monthly Return Month for 10 Years.
March is known for many things, from spring training, to the NCAA tournament, to spring flowers, to consistent equity gains? That's right, over the past 10 years, there hasn't been a month for the S&P 500 with a higher average monthly return than March.
"When the first two months of the year have been higher, March has closed higher 19 of 26 times (73.1%) and has been up an average of 1.4%" – "The S&P 500 is set to close up four consecutive months once February is in the books. When the S&P 500 has been up four or more months heading into March, then March actually has become stronger, as since 1950, it has closed higher 11 of 13 times (84.6%) with an average return of 2.3%." noted LPL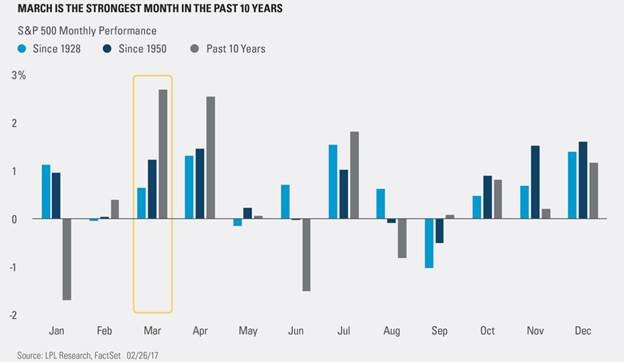 Thanks to Dave Lutz at Jones for Chart.