1.Bitcoin Correlation to other Asset Classes
WisdomTree

For definitions of terms in the chart, please visit the glossary.
We believe it could also further enhance portfolio diversification among commodity sectors.

The Story Behind Bitcoin Futures in an ETF–Jianing Wu https://www.wisdomtree.com/blog/2021-10-18/the-story-behind-bitcoin-futures-in-an-etf
2.Leveraged Long Equity ETF Strategies at All-Time Highs…Risk On in Place.
Dave Lutz at Jones Trading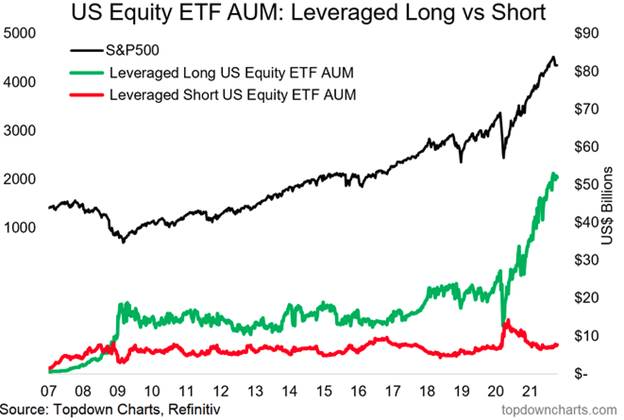 3.Hedge Funds Exposure to Equities Highest Since June 20
BY TYLER DURDEN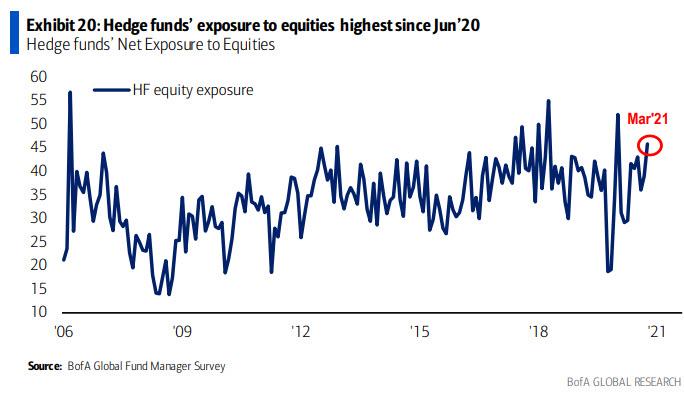 https://www.zerohedge.com/markets/historic-divergence-emerges-wall-street
4.More Than Half of U.S. Growth Stocks Have Negative Earnings
More than half of U.S. Growth stocks* have negative earnings, yet Growth stocks have dramatically outperformed in the past few years
Growth Bubble: Making Money On Companies That Make No Money

Today, 60% of the Growth stocks in the Russell 3000 Index make no money, and this was true even before the COVID-induced recession. Yet these very companies have been generating huge returns in price movement over the past few years, dramatically outperforming their Value counterparts. The Russell 3000 Growth Index was up 84% cumulatively over the last two years through August (more than double the return of its Value counterpart). So investors are making money on companies that make no money – never a good sign when it is done this pervasively and at these valuations. And while not common, it is also not unique. We all witnessed the same speculative behavior in the late 1990s and in the 2008 speculative bubble.
Source: GMO
Found at Barry Ritholtz The Big Picture https://ritholtz.com/2021/10/10-tuesday-am-reads-353/
5.Loans to Developers in China dropped for the First Time in a Decade.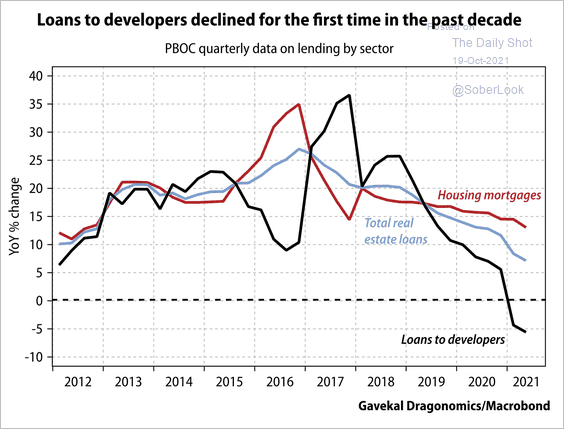 https://dailyshotbrief.com/the-daily-shot-brief-october-19th-2021/
6.Yields on Chinese Junk Bonds Hit 25%
Taking Another Look at the Chinese Real Estate Market
Market Blog
Tuesday, October 19, 2021
China's debt levels have surged since the global financial crisis and now sit at over 300% of gross domestic product (GDP), as of December 2020. The majority of that new debt has come from households and non-financial companies, which is why the Chinese government has made deleveraging a priority. Moreover, to help rein in the very high debt levels in the US$60 trillion China real estate market—which is likely the largest asset class in the world—more than 400 new regulations have been announced this year. As such, these regulations have caused Chinese junk-rated property developer bonds to underperform this year—and in the case of Evergrande, stoke concerns about broader economic spillovers.
"Default risk has clearly risen within the Chinese real estate market," noted LPL Financial Fixed Income Strategist Lawrence Gillum. "However, we still think policy makers in China will prevent broader systemic risks to spread due to the deleveraging efforts currently taking place."
As seen in the LPL Research Chart of the Day, yields on Chinese junk-rated bonds nearly touched 25% before falling recently. So far, this month has been one of the worst months in decades for the Chinese high yield market as the selloff in the property developer markets continued—the real estate sector makes up 66% of the high yield index. Additionally, of the $142 billion of U.S. dollar-denominated bonds trading at distressed prices (generally defined as debt with yields over 10%), 48% were issued by Chinese real estate companies, according to data compiled by Bloomberg. However, that the China investment-grade corporate index hasn't responded in-kind provides us comfort that the spillover effects are, at this time, limited to the junk-rated property developer issuers. Property developers make up over 11% of the investment-grade index and while these companies have seen their yields increase, they haven't increased nearly has much as their junk-rated counterparts. In aggregate, yields on the investment-grade property developers are still less than 5%.
Interestingly, the most recent move higher in junk-rated yields wasn't related to Evergrande, which has likely already been priced into markets. Rather, a much smaller property developer, Fantasia, told investors that it wasn't going to make a bond payment when it was due despite having the necessary cash on hand to make the payment. Bond investors are generally concerned about an entity's ability to pay its debts but also its willingness to pay its debt. That Fantasia decided not to pay its obligations caused investors to question the commitment of the property developer market broadly in servicing its financial obligations. That breach of financial responsibility caused the People's Bank of China (PBOC) to finally break its silence on the ongoing selloff in the property developer market by urging real estate developers to pay its bills on time.
Additionally, the PBOC finally commented specifically on the potential spillover crisis at Evergrande and said the risk was "controllable", which likely means there won't be a bailout per se but we do expect the PBOC to ring-fence the risks and prevent them from spilling over into the broader financial system and the economy. Time is running out on Evergrande, though, as the company could officially be in default on October 23 after the payment grace period runs out.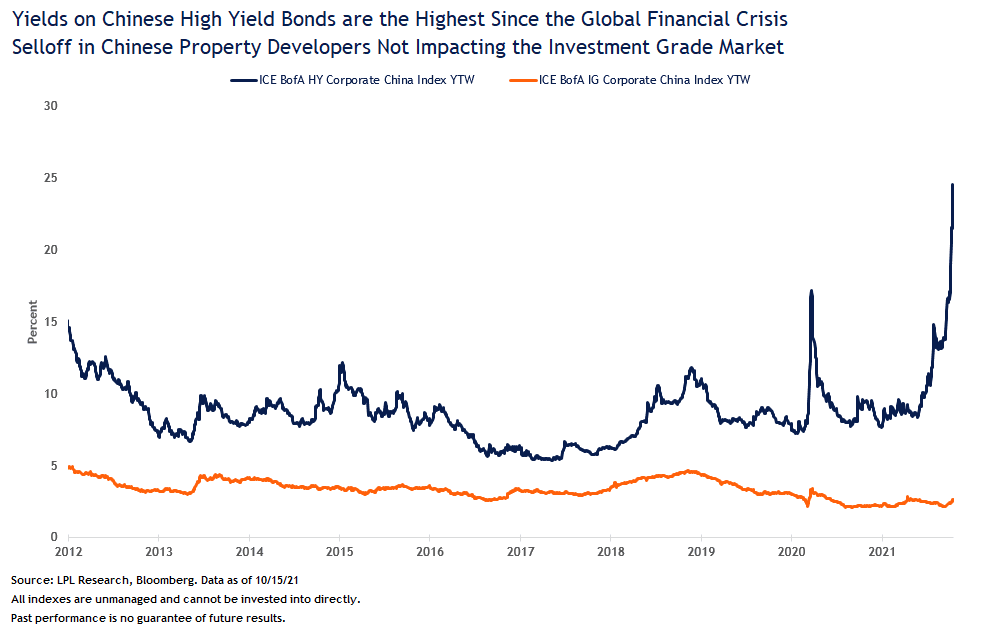 Taking Another Look at the Chinese Real Estate Market | LPL Financial Research (lplresearch.com)
7.China Handed Bitcoin Mining Over to U.S. and Canada.
Marketwatch "Nearly 50% of the computing power (called hash rate) of the bitcoin blockchain, pulled the plug, packed up, and relocated to another country in a few months. And no one noticed! It signals an incredibly resilient system. I believe this realization is contributing to BTC above $60k again?" he said.
Bianco was referring to China, as this chart shows:
He credited the China pullout to a "catastrophic mistake," saying that "when cryptos take hold as a legitimate medium of exchange, they will be left behind." China last month declared all crypto-related transactions illegal.
"Combined with China's regulatory crackdown in other industries, and why do we have a hard time believing that China is regressing? It seems to be the most plausible explanation," said the strategist, who noted North America is dominating those hash rates.
"The Chinese handed an incredible opportunity to the U.S. and Canada to now dominate the digital currencies. Let's not blow it," added Bianco.
Here's 'one of the most bullish signals' ever for bitcoin that many investors may have missed – MarketWatch
8.Covid Related Increases in Global Fiscal Burdens.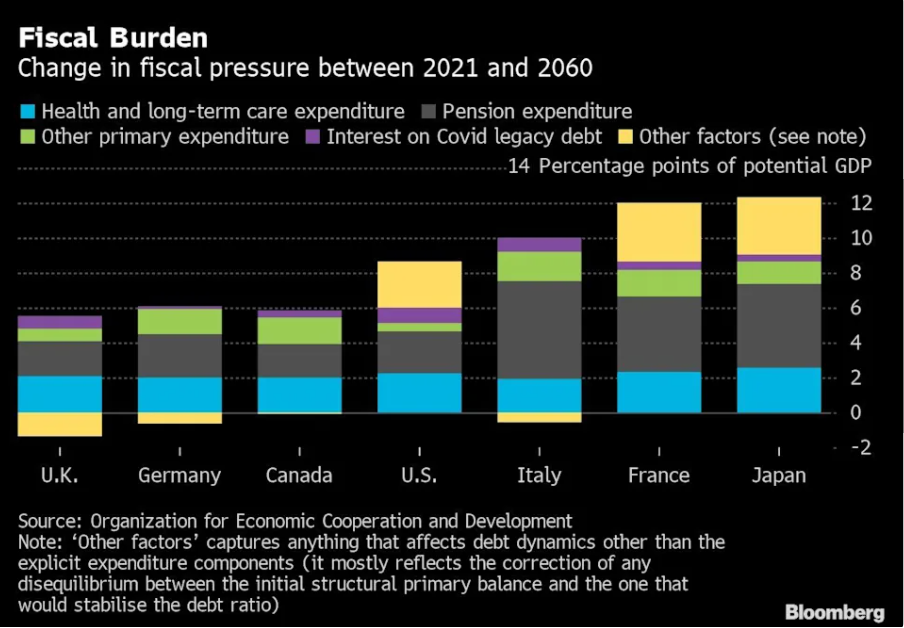 William Horobin(Bloomberg) —
The Covid-19 pandemic may have bloated public debt to levels already pushing some governments to consider consolidation, but that's nothing compared to the fiscal difficulties brewing in the coming decades, the OECD said.
According to its long-term scenario, a deceleration in large emerging economies, demographic change and slowing productivity gains will drag trend economic growth among the OECD's 38 members and the Group-of-20 nations to 1.5% in 2060 from around 3% currently. At the same time, states will face rising costs, particular from pensions and health care.
To maintain public services and benefits while stabilizing debt in that environment, governments would have to raise revenues by nearly 8% of gross domestic product, the OECD said. In some countries, including France and Japan, the size of the challenge would amount to more than 10% of output, and the economists didn't even account for new expenditures such as climate change adaptation.
"Secular trends such as population aging and the rising relative price of services will keep adding pressure on government budgets," the OECD said in the policy paper prepared by Yvan Guillemette and David Turner. "Fiscal pressure from these long-run trends dwarf that associated with servicing Covid-legacy public debt."
Countries need not necessarily raise taxes to meet these challenges, the OECD said. Instead, it called for reforms to boost employment rates and raise retirement ages.
A combination of action in those two areas — including ensuring effective retirement ages rise by two thirds of future gains in life expectancy — could halve the projected increase in fiscal pressure by 2060 in the median country, according to the organization.
https://www.yahoo.com/finance/news/world-faces-fiscal-problems-much-090000541.html
9.These 7 habits will keep your mind sharp no matter how long you work
But you can turn these odds in your favor by practicing certain healthy habits, says William R. Klemm Ph.D., a senior professor of neuroscience at Texas A&M University. He offers these tips:
Get better organized. Keep your keys, for example, in one place all the time. "Life is simpler when you have a place for everything," Klemm says. Habit relieves the memory."
Challenge yourself mentally. "Seek out new experiences, stay active socially, make mental demands on yourself, such as learning a new language, playing chess, or getting an advanced college degree," Klemm says.
Reduce stress. "Chronic stress(emotional pressure suffered for a prolonged period of time in which an individual perceives they have little or no control) clearly disrupts memory formation and recall," he writes.
Eat foods with vitamins and antioxidants. Focus on vitamins C, D, and E. Like many experts on aging, he says you should eat blueberries, "especially on an empty stomach." What about vitamin supplements? They won't help, Klemm says, unless you have a nutritional deficiency. Focus on food.
Avoid obesity. Weight increases stress on the heart and arteries, which pump oxygenated blood to your brain, which helps you retain mental sharpness.
Exercise. Enough said. Keeps the blood flowing, and the pounds off. Talk to your doctor first.
Get plenty of sleep. "Many studies show the brain is processing the day's events while you sleep and consolidating them in memory," Klemm says. "Naps help too!" He adds.
Naps? Count me in.
https://www.marketwatch.com/story/want-or-need-to-keep-working-in-old-age-heres-how-to-remain-sharp-11634658067?mod=home-page
10.Colin Powell's 10 Simple Rules.