1. U.S. Bonds Vs. Inflation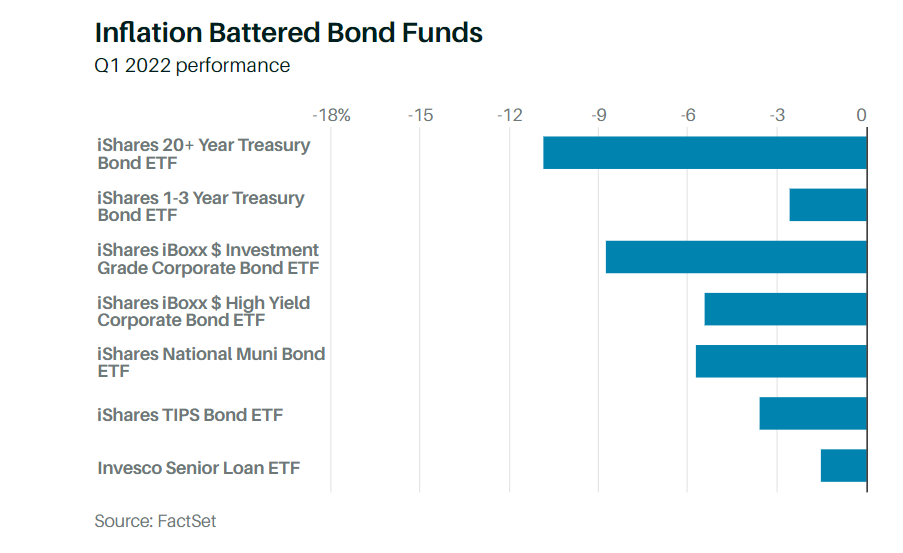 The Worst Quarter in Years for Bond Fund Investors Had Few Bright CornersBy Evie LiuFollow https://www.barrons.com/articles/bond-funds-worst-quarter-51649428107?mod=past_editions
---
2. Inflation Adjusted Yield on 10 Year Treasury Breaks thru 1975 and 1980 Lows
Remember all those charts on record negative yielding debt….$18T to $3T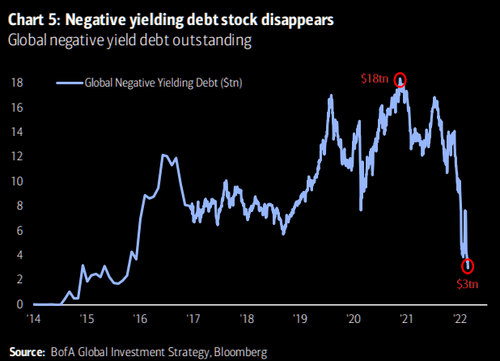 https://cms.zerohedge.com/s3/files/inline-images/2-3-768×309.png?itok=mWOTtlCx
---
3. Spread between 2 Year Treasury and S&P Dividend Yield is now the widest it has been in fourteen years since the Financial Crisis
Corporate Profits After Tax Hit Record
Bespoke Investment Group BABY's Back-Since mid to late-2019 when interest rates really started to fall, the dividend yield on the S&P 500 consistently provided a higher yield than the two-year US Treasury.  With a higher payout plus the potential for price appreciation, equities looked more attractive to many investors. The period from the Financial Crisis through 2017 also saw a similar setup where the S&P 500's dividend yield was higher than the yield on the 2-year, but before the Financial Crisis and the FOMC's zero-interest-rate policy, it was extremely uncommon for the S&P 500 to yield more than the two-year Treasury.  This year has caused a tidal shift in the balance of power in yield between the S&P 500 and the two-year Treasury.  As the Fed came to the conclusion that inflation wasn't as transitory as originally thought and found itself behind the inflation curve, it shifted from a much more accommodative stance to one that was more biased towards tightening, and that shift resulted in one of the most rapid increases in two-year Treasury yields in decades.  In the process of this spike in rates, back in February, the yield on the two-year rose back above the dividend yield of the S&P 500 for the first time since 2019.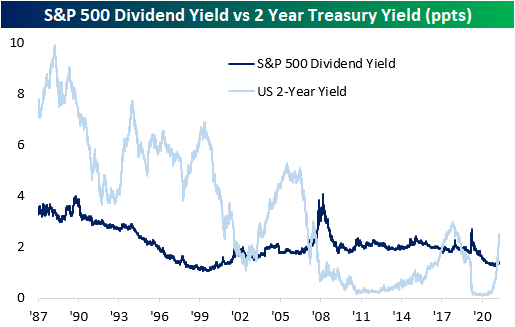 As Treasury yields have continued to spike, the premium in yield of two-year Treasuries relative to the dividend yield of the S&P 500 reached an important milestone last Friday (4/8).  As shown in the chart below, the spread between their yields widened out to 110 basis points (bps), taking out the high of 108 bps from 2018.  At these levels, the spread between the two is now the widest it has been in fourteen years since the Financial Crisis.  It started with long-term Treasury yields, but as the overall trend in rates has been higher, most of the Treasury yield curve is now yielding more than the S&P 500.  For years now, investors have had a TINA (There Is No Alternative) relationship with the stock market, but as interest rates have shot higher, TINA is taking a backseat to BABY (Bonds Are Better Yielders).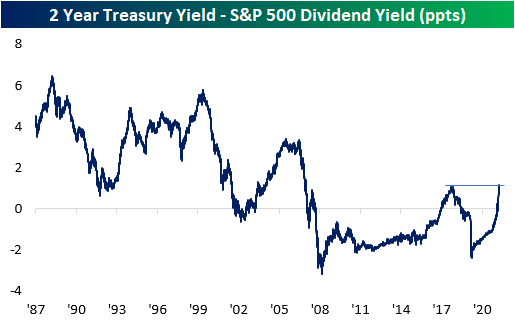 https://www.bespokepremium.com/interactive/posts/think-big-blog/babys-back
---
4. High Yield ETF-After Sell Off Back to Yielding 5%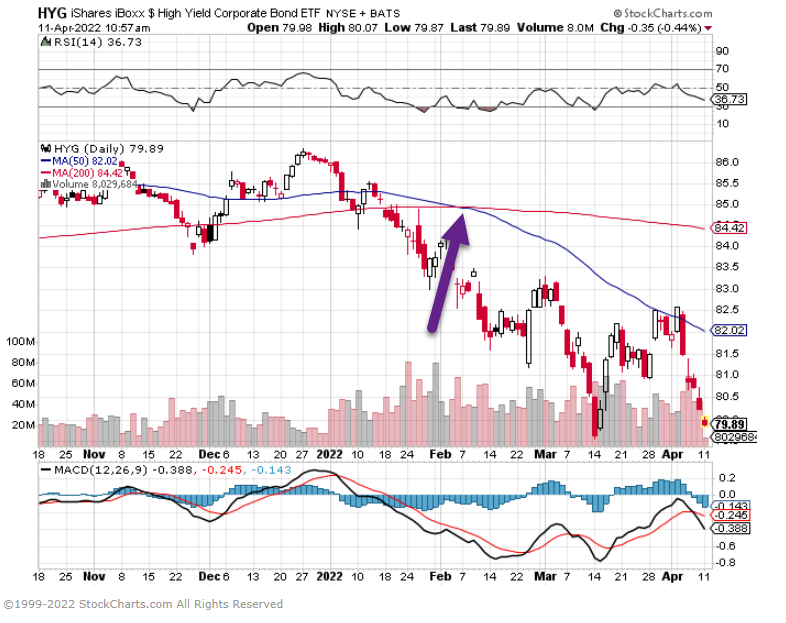 ---
5. Long-Term Chart of Pro Shares Short 20 Year Treasury …..Big Rally but it was at $52 Post GFC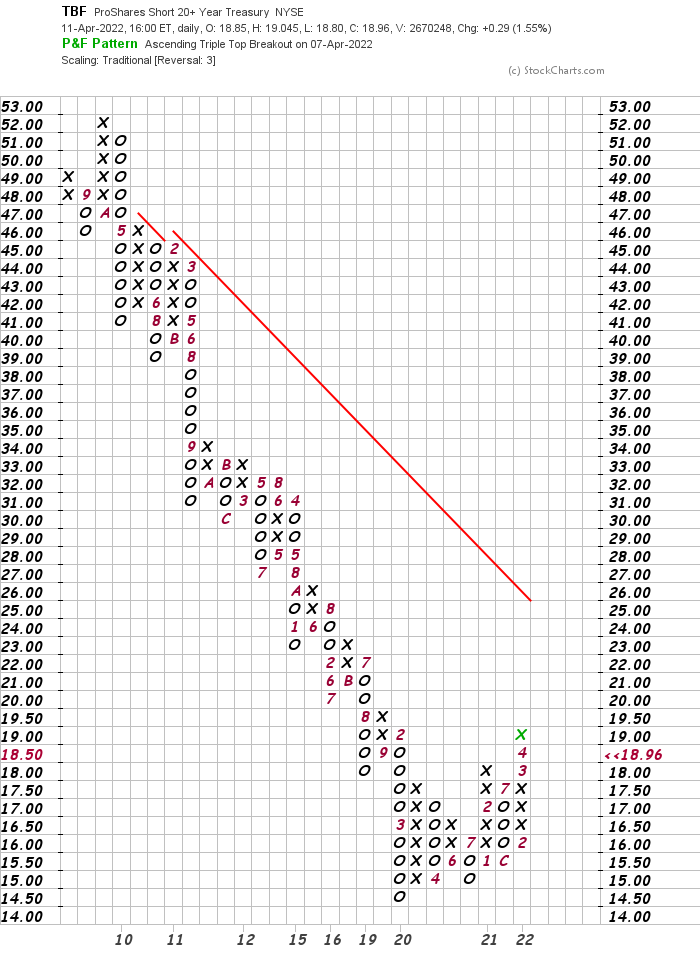 ---
6. The U.S. Attracted Chinese IPOs by Offering Insiders More Favorable Rules than U.S. Based Management
WSJ-Executives and other major shareholders at American companies have to disclose their trades within two days in a filing that is posted on the Securities and Exchange Commission's website and freely available to investors. That may deter bad behavior: Nobody wants the investor or media scrutiny that comes along with share sales that may, in retrospect, appear perfectly timed, the researchers say.
\But in the early 1990s, in part to entice foreign companies to list on U.S. exchanges, regulators exempted their executives and major shareholders from that rule. Instead, their trades are reported on paper forms and mailed to the SEC's headquarters in Washington, where they are stored in filing cabinets for three months—technically available to curious investors with time on their hands, but effectively shielded from view.
By Liz HoffmanFollow andTom McGintyFollow https://www.wsj.com/articles/chinese-executives-sell-at-the-right-time-avoiding-billions-in-losses-11649164573#:~:text=Chinese%20corporate%20insiders%20have%20avoided,academic%20analysis%20of%20securities%20filings.
https://www.financialmirror.com/2021/08/04/chinese-ipos-raised-12-5-bln-in-1h-2021-more-than-all-2020/
---
7. Tech Insider Selling 2021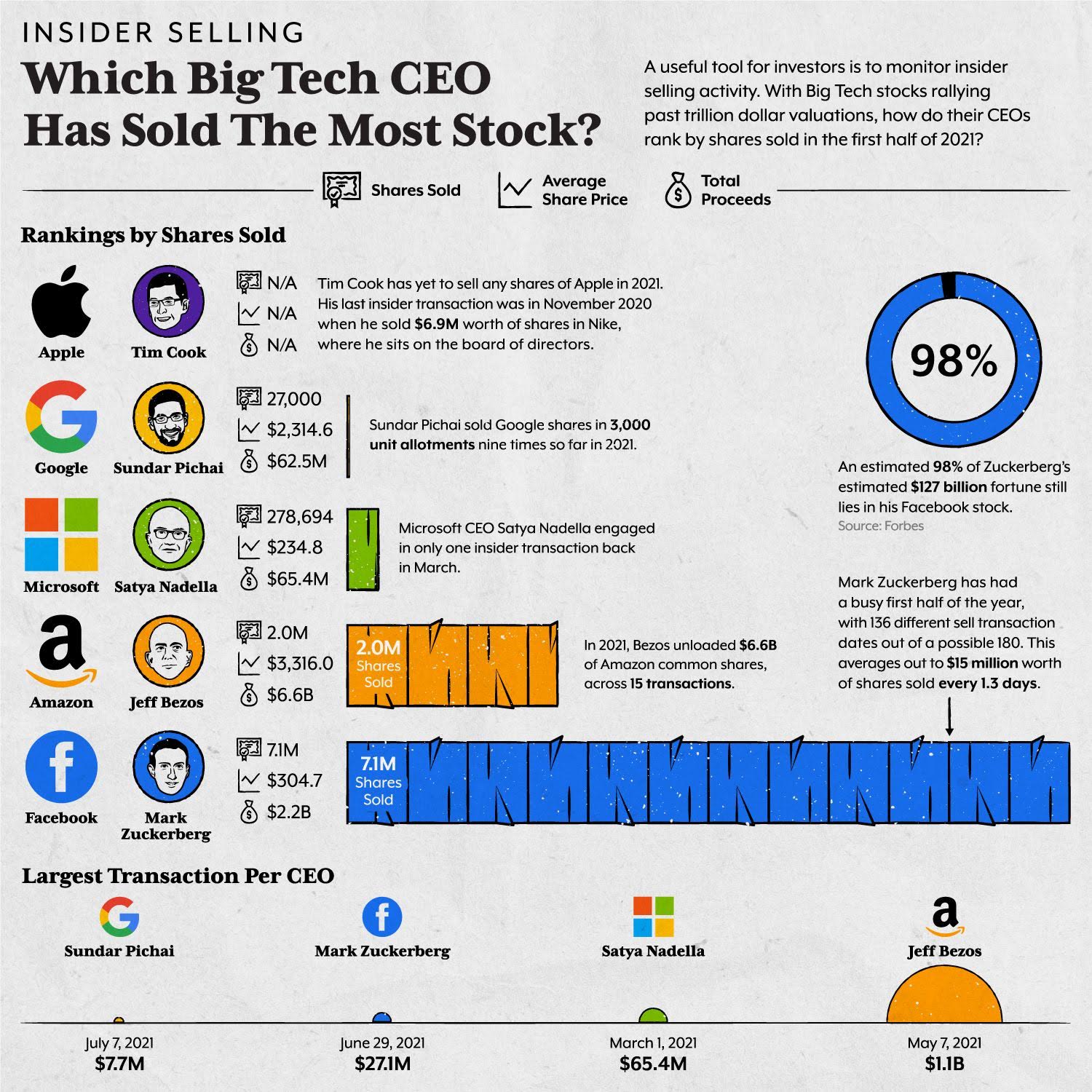 ---
8. Stock Splits Add Very Little but Performance has been Impressive Post Event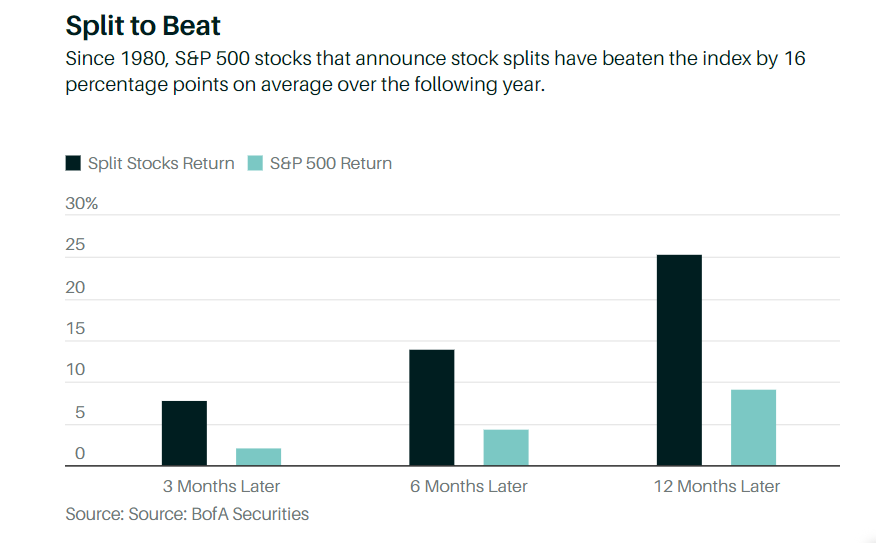 Stock Splits Actually Work—Just Not for the Reason Everyone ThinksBy Nicholas JasinskiFollow https://www.barrons.com/articles/stock-splits-2022-51649455281?mod=past_editions
---
9. Food Inflation
Chartr-Global food prices have just hit a new high, as the food price index from the UN Food and Agricultural Organization rose 12.6% in a single month to notch its highest ever recorded level.
Food prices were rising before Russia's invasion of Ukraine, and the disruption has only compounded the problem as both countries are a key source of supply in a number of food markets. Between them Russia and Ukraine account for around 30% of global wheat exports, and 20% of global maize, while Ukraine is also the world's biggest supplier of sunflower seed oil.
All told the supply disruptions have meant the sharpest rises in global cereal and cooking oil prices, with both indices rising 17% and 23% respectively in the last month. The price rises are expected to hit poorest countries hardest, where food makes up a larger proportion of individual spending.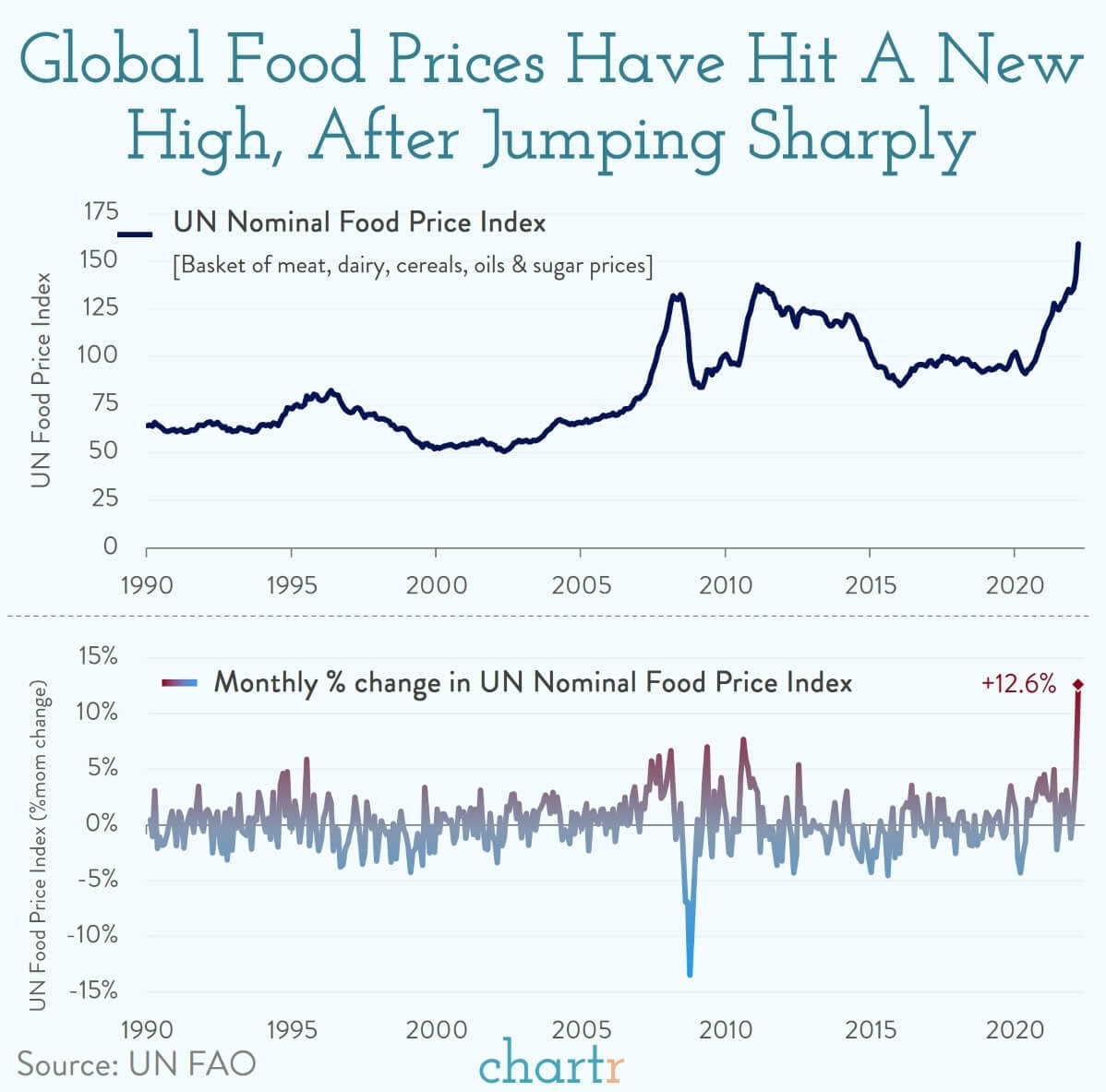 ---
10. 30% of Workers Hitting Peak Hours at 10pm vs. 9am
The Atlantic-Apparently Last week, Microsoft published a study that offers an eerie reflection of my working life. Traditionally, the researchers said, white-collar workers—or "knowledge workers," in the modern parlance—have had two productivity peaks in their workday: just before lunch and just after lunch. But since the pandemic, a third and smaller bump of work has emerged in the late evening. Microsoft's researchers refer to this phenomenon as the "triple peak day."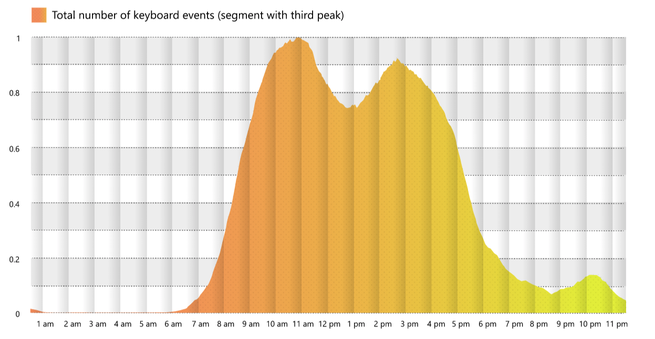 A new study shows some workers experience a third productivity peak late in the evening (Microsoft)
For the new study, workers allowed Microsoft to track their "keyboard events"—a funny euphemism for sending emails or engaging with productivity applications on a work computer. While most people didn't show a third mountain of work in the evening, 30 percent did. They were working almost as much at 10 p.m. as they were at 8 a.m.  This Is What Happens When There Are Too Many Meetings-Why a 9-to-10 is the new 9-to-5 By Derek Thompson https://www.theatlantic.com/newsletters/archive/2022/04/triple-peak-day-work-from-home/629457/