1.Semiconductors Record Year in 2017…Followed by 22.7% Jan. Gain in Sales.
Traditionally bullish indicator sector blows out sales….
January sales of semiconductors topped records marking a year and a half of consecutive monthly gains, according to the Semiconductor Industry Association in a statement late Monday. January chip sales rose 22.7% to a record $37.6 billion, SIA said. Year-over-year sales in the Americas saw the largest rise with a gain of 40.6%, followed by Europe with a 19.9% rise, "Asia Pacific/All Other" seeing a 18.6% rise, China gaining 18.3%, and Japan rising 15.1%. "After notching its highest-ever annual sales in 2017, the global semiconductor industry is off to a strong and promising start to 2018, posting its highest-ever January sales and 18th consecutive month of year-to-year sales increases," said John Neuffer, SIA president and chief executive, in a statement. Over the past 18 months, the PHLX Semiconductor Index SOX, +0.89%has grown 71%, compared with a 24% gain by the S&P 500 index SPX, +1.10% and a 39% gain on the Nasdaq Composite Index COMP, +1.00%
Semiconductor Index…More than a double from 2016 pullback.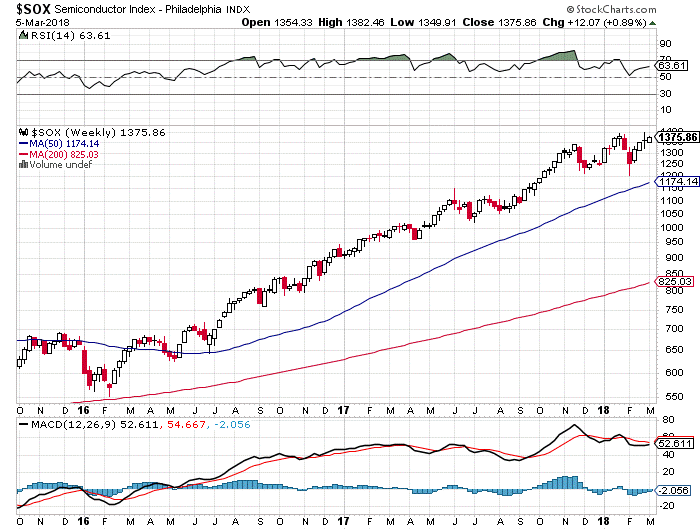 https://www.marketwatch.com/story/january-chip-sales-reach-record-high-for-18th-month-of-straight-gains-2018-03-05