1.The Market Went from Zero Percent Chance of a Rate Cut to 100% Probability
CME GROUP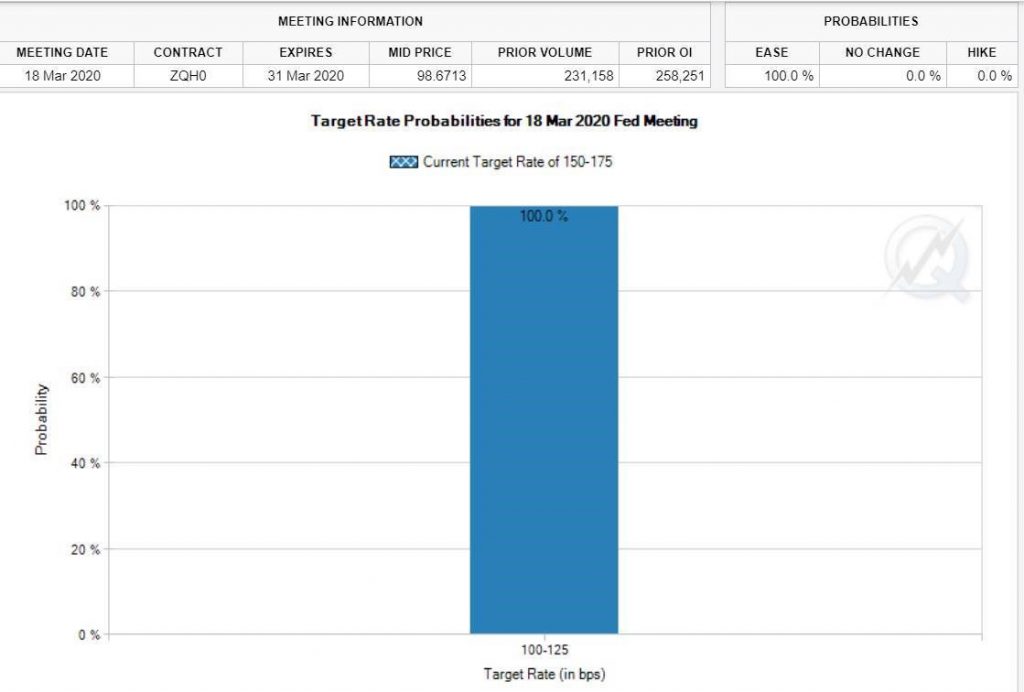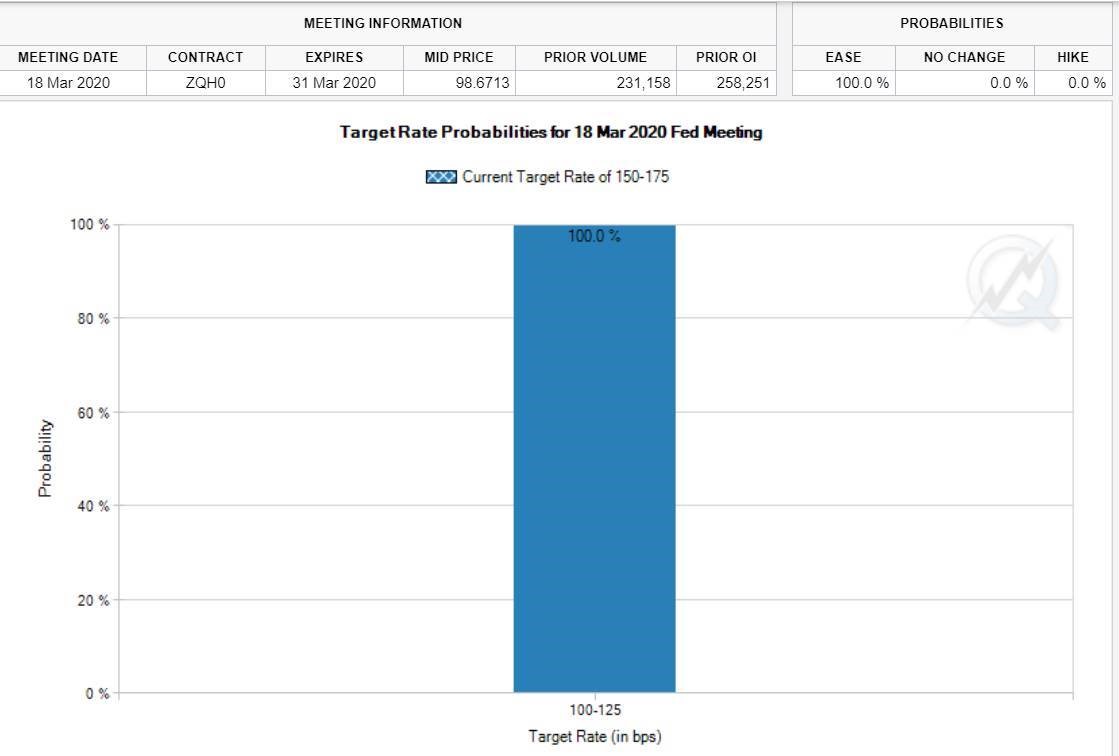 https://www.cmegroup.com/trading/interest-rates/countdown-to-fomc.html
2.Short-Term Treasury Bond ETF…Anyone Looking at This Chart Would Think Rate Cuts Already Happening.
SHY 1-3 Year Treasury Bond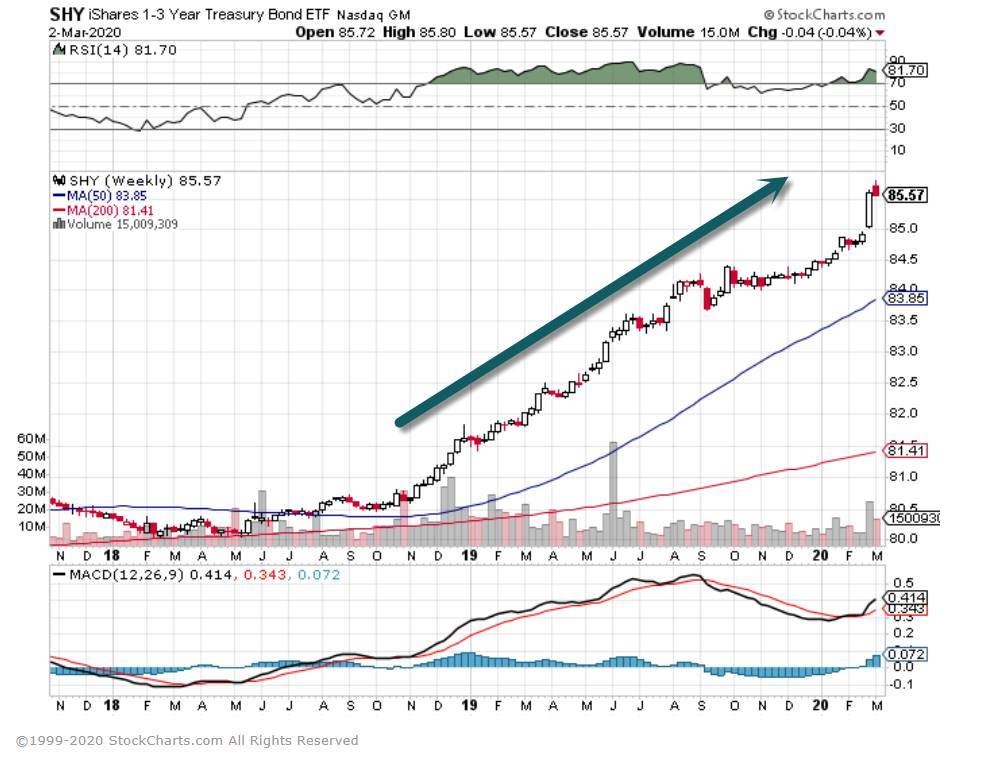 3.Stocks that Fell the Most Bounced the Least Yesterday…Abnormal Rally
Not a Normal Bounce Back DayThe large-cap Russell 1,000 was up 4.35% on the day, but notably, the average stock in the index was up much less than that at just +3.25%. The reason for the big performance divergence is because the largest ten stocks in the index were up an average of 5.29% on the day. A cap-weighted index that's as top-heavy as it is now benefits greatly when its largest members outperform, and that's what happened today. The two trillion-dollar companies in the index — Apple (AAPL) and Microsoft (MSFT) — were up 9.31% and 6.65%, respectively.

Normally on big bounce-back days, the stocks that got hit the hardest during the selloff bounce back the most. That didn't happen today. Below we've broken the Russell 1,000 into deciles (10 groups of 100 stocks each) based on share price performance during the massive selloff we saw from the market's peak on 2/19 through last Friday (2/28). The stocks that fell the most during the selloff (decile 10) actually bounced the least today, rising just 1.92% on average.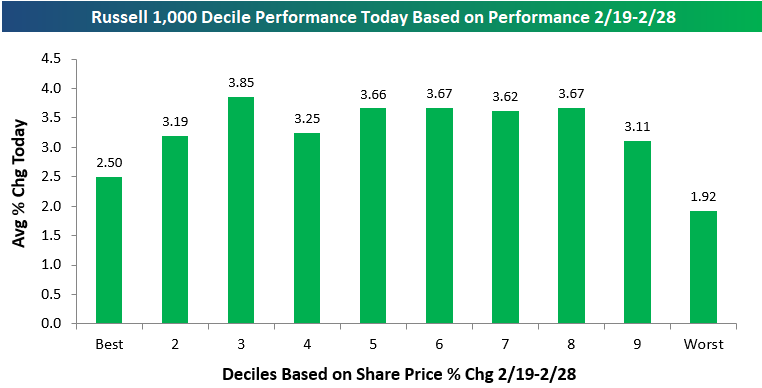 https://www.bespokepremium.com/interactive/posts/think-big-blog/not-a-normal-bounce-back-day
4.March and April Typically Strongest Months for S&P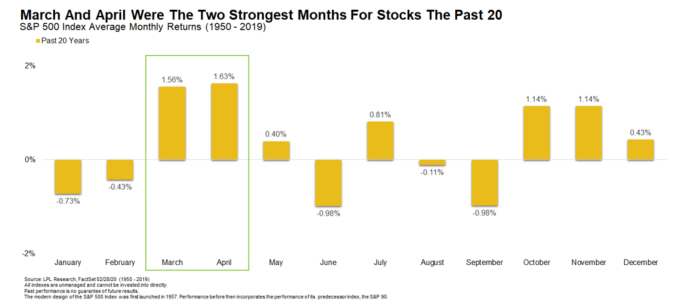 LPL Research
5.Factor Performance During Coronavirus…Momentum Holds Up Well.
The quality factor (companies with sound balance sheets) has tended to do well during late-cycle periods – such as where we stand now. Living up to this expectation, quality posted outsized returns in the fourth quarter in risk-adjusted terms, outpacing other style factors. That outperformance has faded since the coronavirus outbreak – alongside improving performance of momentum (stocks with rising prices) and further weakness in value (cheap stocks relative to fundamentals). See the chart above. For now, we still see room for our factor views to play out over six to 12 months.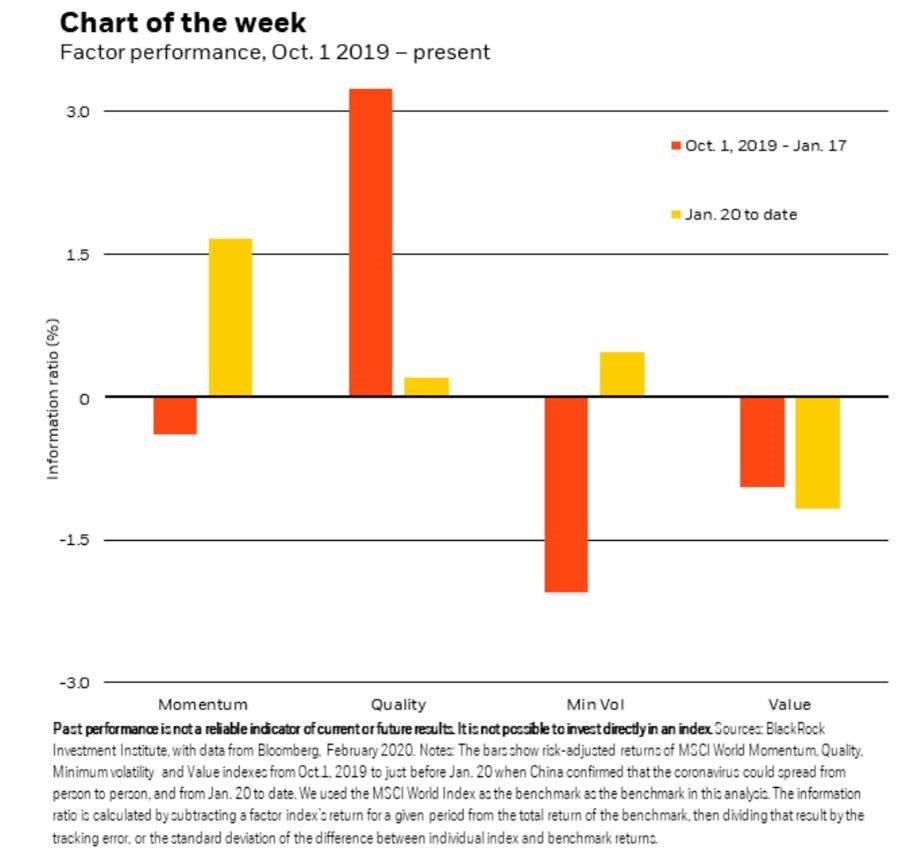 Mike PyleGlobal Chief Investment Strategist for BlackRock
Where we stand on factors https://www.blackrockblog.com/2020/02/26/where-we-stand-on-factors/
6.International Air Transport Association Stats.
Wolf Street
The IATA (International Air Transport Association) It gave some examples, without naming airlines:
"A carrier experiencing a 26% reduction across their entire operation in comparison to last year"
"A hub carrier reporting bookings to Italy down 108% as bookings collapse to zero and refunds grow"
"Many carriers reporting 50% no-shows across several markets"
"Future bookings are softening and carriers are reacting with measures such as crew being given unpaid leave, freezing of pay increases, and plans for aircraft to be grounded."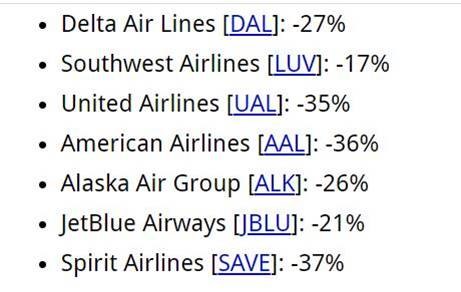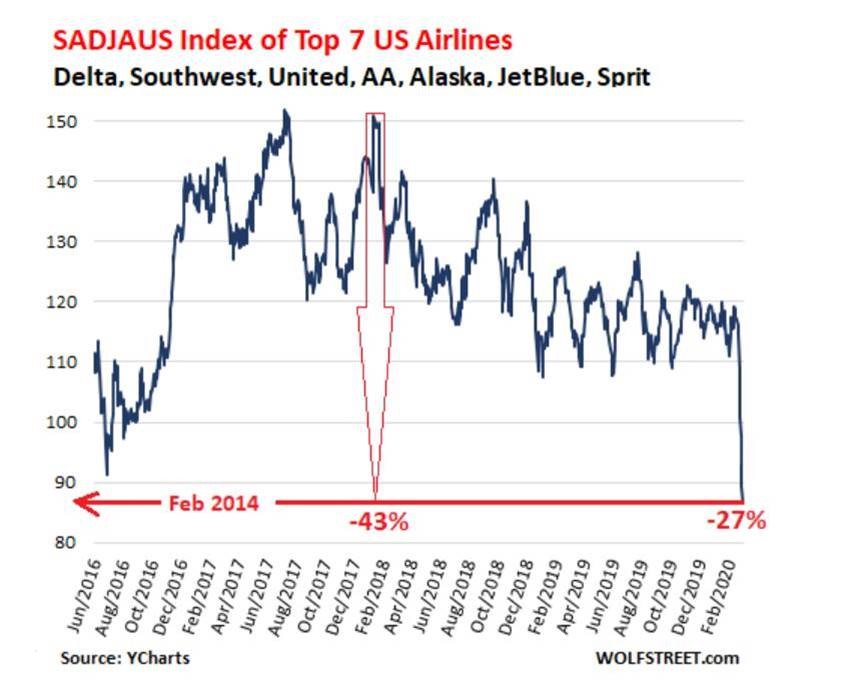 Just How Bad Is It Going to Get for US Airlines? by Wolf Richter • Mar 2, 2020
7.Macau Gaming Collapse 90%
Zerohedge—Just as we saw happen with auto sales in China, Macau's gaming revenue collapsed in February as a result of China grinding to a halt while the entire country remains mostly in lockdown as a result of the coronavirus spread.
Macau businesses closed for 15 days to help control the spread of the virus, but it cost them. Gross gaming revenue for February was just 3.1 billion patacas ($386.5 million), a 87.8% fall from 2019. Analysts were predicting the pain ahead of time, estimating for a median of a 90% drop, according to Bloomberg.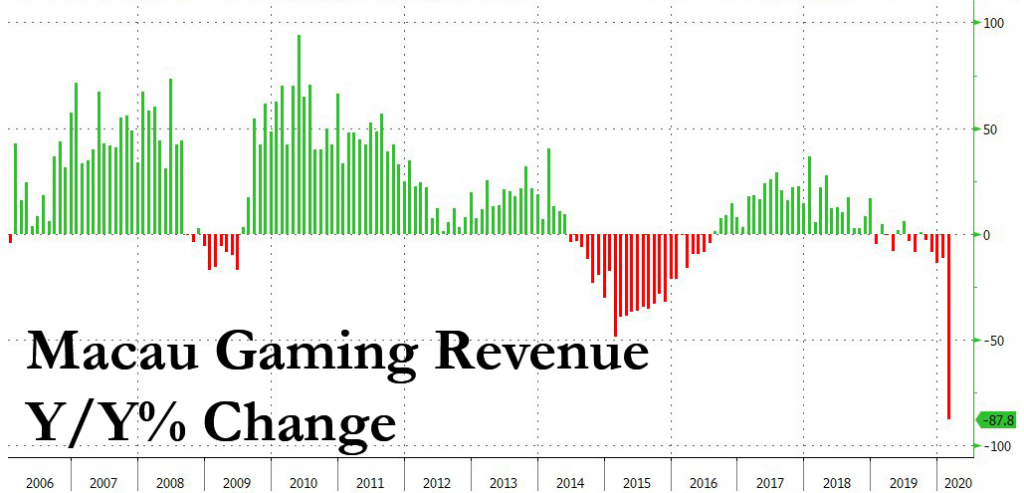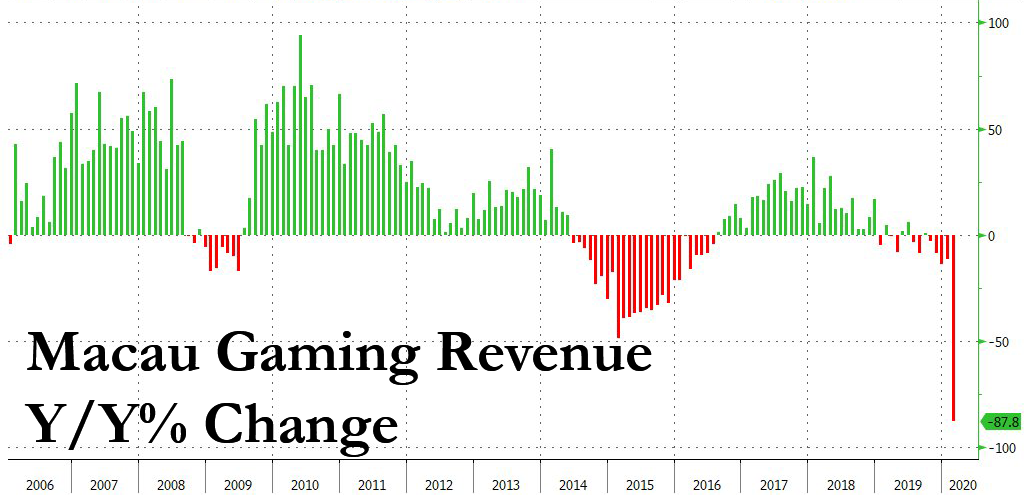 Macau Gaming Revenue Collapses 87.8% In February by Tyler Durden
https://www.zerohedge.com/economics/macau-gaming-revenue-collapses-878-february
8.Update on "Buffett Indicator"
Here's another way to look at it, using the "Buffett Indicator":
https://www.marketwatch.com/story/heres-the-real-reason-warren-buffett-is-sitting-on-a-record-128-billion-in-cash-according-to-one-strategist-2020-03-02?mod=home-page
9.Betting Odds Shift to Biden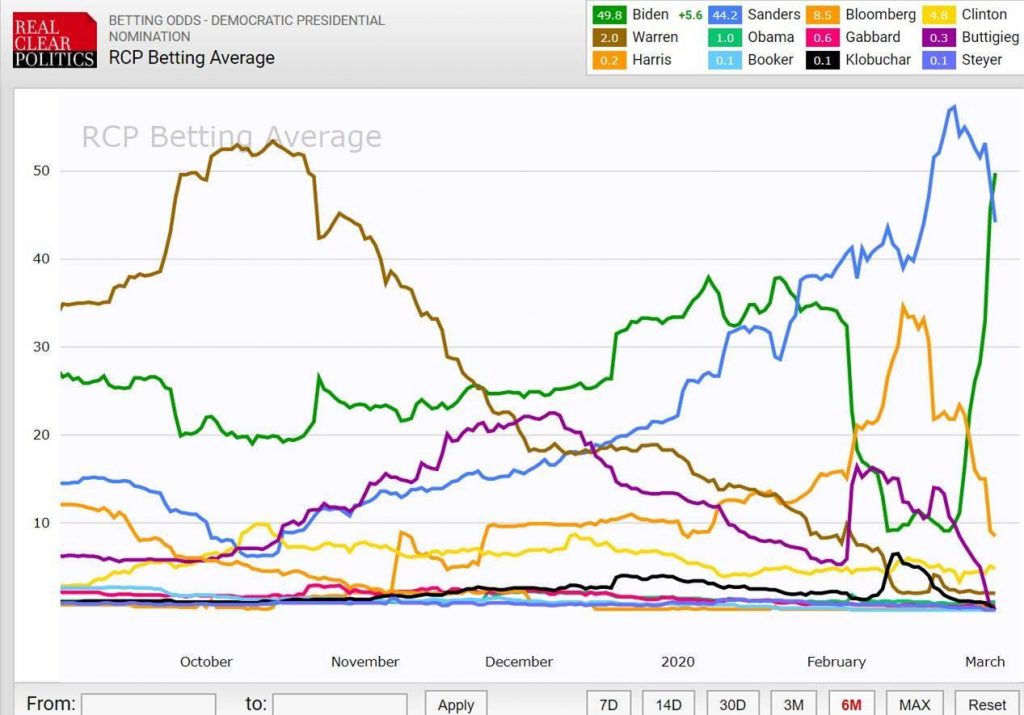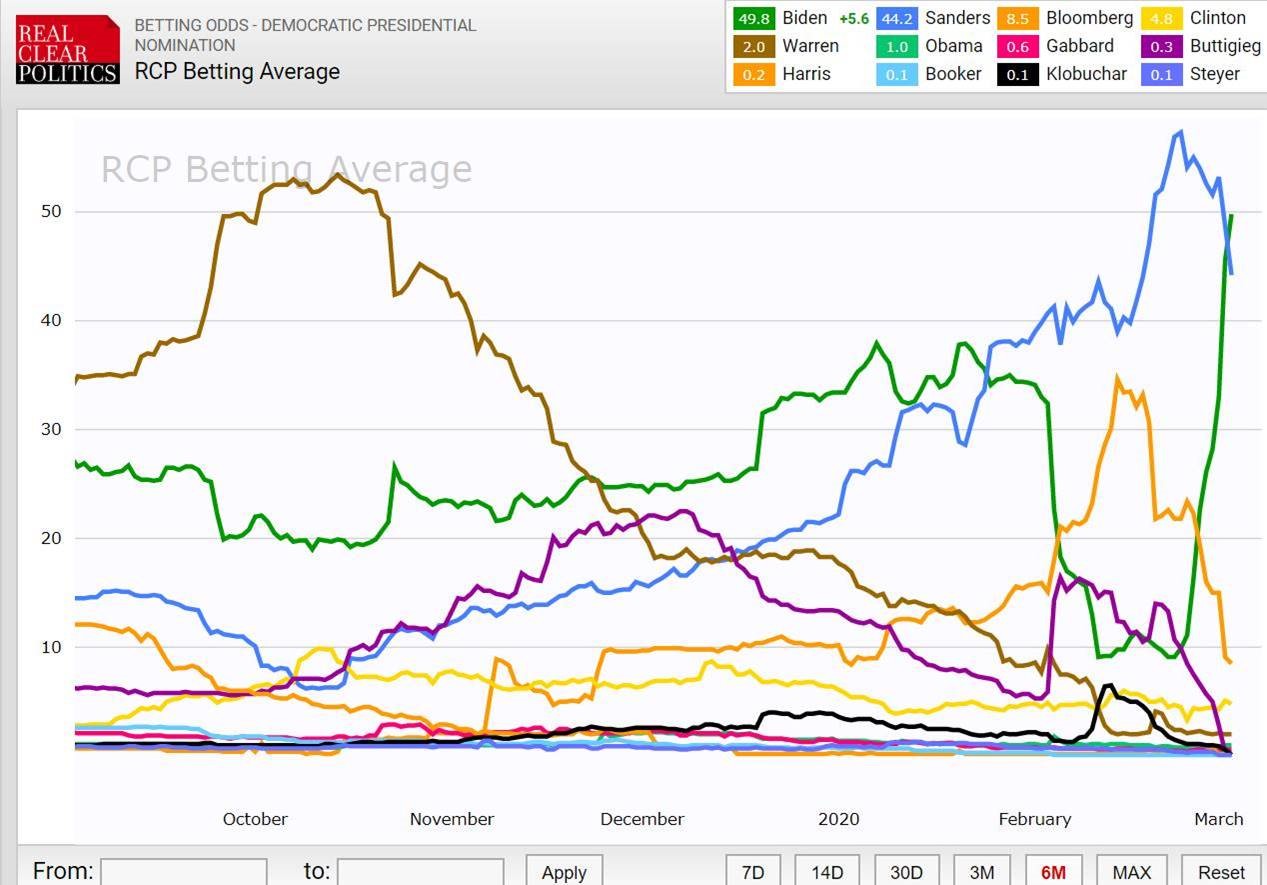 https://www.realclearpolitics.com/elections/betting_odds/democratic_2020_nomination/
10.Emotional Intelligence is Today's Leading Characteristic for Hiring
In today's fast-paced, high-stakes workplaces, EQ skills can give you the edge. But you cannot have EQ unless you have nourished yourself, says Chevalley Hedge. Have you heard about this EQ thing? It seems to be on every blog, portal and LinkedIn account. Why? Because EQ is essential for business leaders to have and to […]
By Michele Chevalley Hedge, Nutritionist | Health Writer | Presenter | ATMS Highly Commended Practitioner at A Healthy View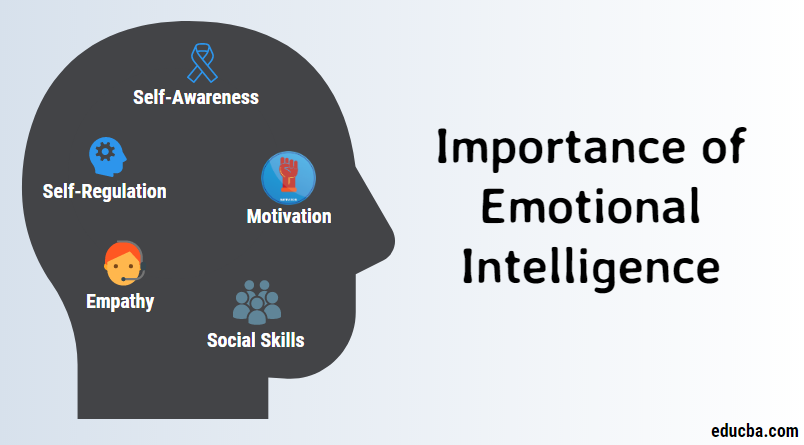 In today's fast-paced, high-stakes workplaces, EQ skills can give you the edge. But you cannot have EQ unless you have nourished yourself, says Chevalley Hedge.
Have you heard about this EQ thing? It seems to be on every blog, portal and LinkedIn account. Why? Because EQ is essential for business leaders to have and to demonstrate.
Almost 25 years ago, Daniel Goleman's groundbreaking book, Emotional Intelligence, redefined what it means to be smart. He popularised the term EQ (Emotional Quotient) to describe the ability to recognise and understand our own emotions and those of others.
This book sparked a personal development industry, based around the revelation that unlike our innate IQ (Intelligence Quotient), the five core EQ skills – self-awareness, self-regulation, motivation, empathy, and social skills – could be learned.
While developing emotional literacy made sense for individual personal development, its benefits were initially less obvious in the workplace, where traditionally 'soft skills' were considered secondary to technical, 'hard' or IQ abilities with a clearer connection to profitability, ROI and achieving KPI's.
In recent years though, businesses have come to recognise the value of EQ. According to a recent LinkedIn survey, 57% of employers said EQ or 'soft skills' are the first things they look for when recruiting.
"Empathy, motivation, awareness of others, relationship management and social interaction are all important skills which allow us to successfully reach the desired outcomes of most jobs".
Michele Chevalley Hedge, Nutritionist, International Speaker and Author, A Healthy View
But it is impossible to have these skills when you are overfed, undernourished or sleeping poorly. Nourishment has a knock-on effect on everything we value as successful employees. When you're eating well, you tend to sleep better; when you sleep better you tend to eat better and have the energy to exercise. When we sleep and exercise well we know this has a positive impact on our stress threshold, critical thinking skills and our ability to connect with our co-workers.
The ultimate people skill
When you look at two candidates who have similar technical skills and experience, a demonstrated level of higher emotional intelligence helps one stand out. As we enter the world of AI and increased automation, EQ will become even more important as it is a uniquely 'human' skill that will not be replaced by technology.
Building an EQ culture
Successful businesses are implementing corporate wellness programs that have a 360-degree approach. They often include advice from experts on nutrition, mindfulness, meditation, physical exercise, and emotional intelligence
From large corporations to startups, focus on taking care of our bodies and brains is no longer some new age movement. It is the number one priority for successful businesses. Nourishment and developing EQ go hand in hand in creating and developing successful workforces.
References:
Interview with Michele Chevalley Hedge @ Workplace Wellness Summit
Workplace Wellness Festival, International Speaker and Author
Workplace Wellness Festival AU
— Published on March 2, 2020