1.Aggregate S&P Total Return 12 Months Post-Shutdown.
Renmac Research
Without much certainty of a potential end to the political gridlock, we look to factors such as the aggregate S&P 500 index total return 12 months post-shutdown. To receive updates from our Washington Policy Analyst Steve Pavlick & the full team, connect here: http://qoo.ly/uj4xx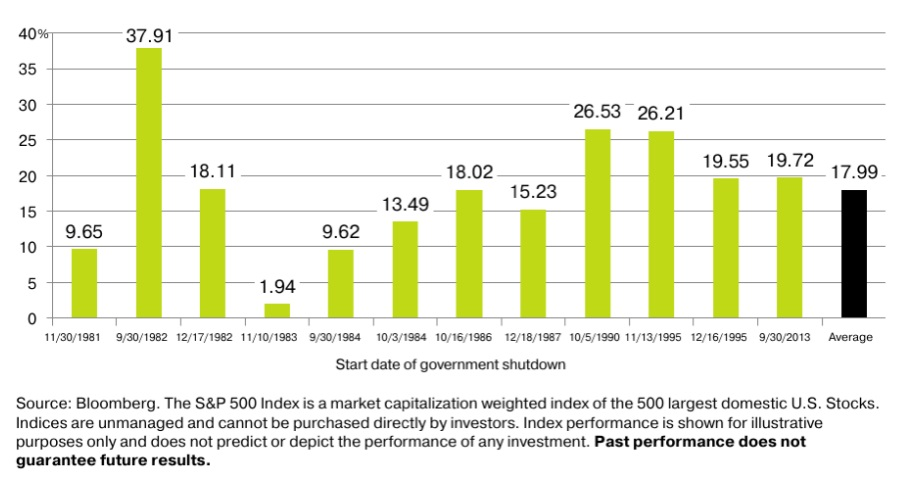 https://www.linkedin.com/company/renaissance-macro-research/
2.Retailers Xmas 20% Correction.
Retail Index-21% correction and 3 lower tops.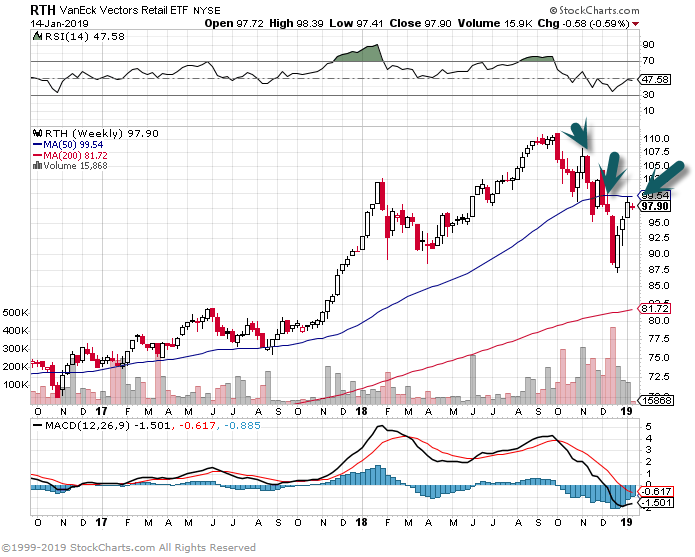 3.Goldman Yield Curve Comments.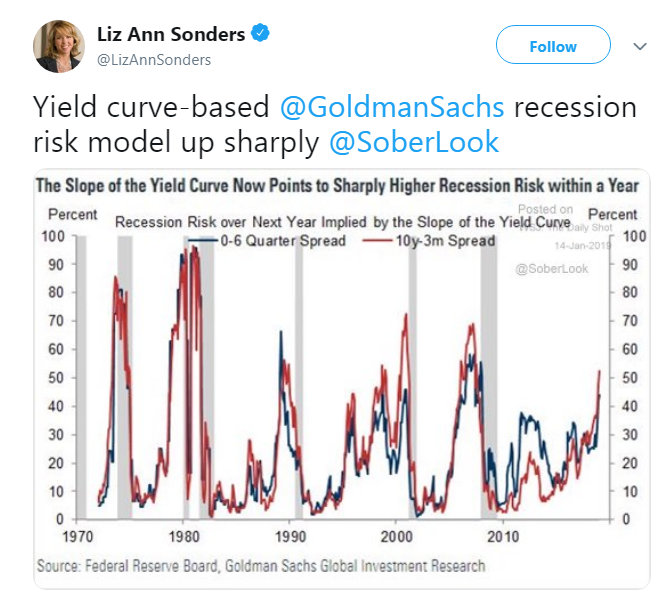 4.China Trade Surplus with U.S. Hits Record Despite Trade War.
BEIJING—China's trade surplus with the U.S. hit a record last year, as robust American demand for Chinese goods undercut the Trump administration's tariff offensive aimed at narrowing the countries' lopsided trade gap.
China recorded $323.32 billion in surplus with the U.S. in 2018, representing a 17% jump from the figure in the previous year, according to Chinese government trade data released Monday.
Abetting the record imbalance were a healthy American economy and a weakening Chinese one, some economists and analysts said, which in turn fed U.S. demand for imports and damped demand in China. The Trump administration's phased deadlines for tariffs, along with threats of more for this year, also sent Chinese exporters racing to fill orders, and a weakening Chinese currency kept the prices of those goods competitive.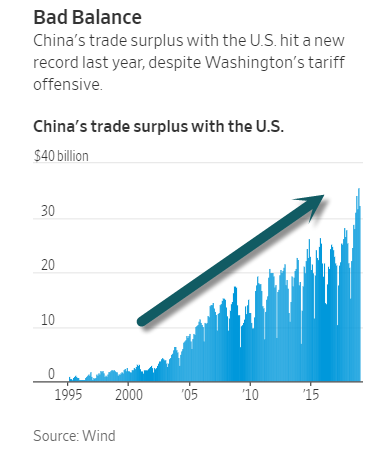 China's Annual Trade Surplus With U.S. Hits Record Despite Trump's Tariff Offensive China posted a trade surplus of $323.32 billion with the U.S. in 2018
https://www.wsj.com/articles/chinas-annual-trade-surplus-with-u-s-hits-record-despite-trumps-tariff-offensive-11547439977
5.YTD Returns Already Reflecting Dollar Action.
I mentioned chart of the year is U.S. dollar…action below shows dollar weak asset classes leading.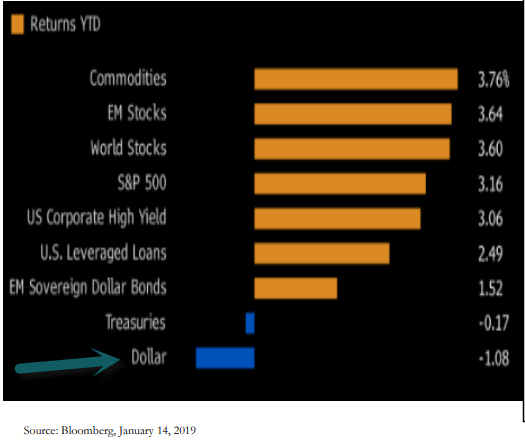 Chart from Bill Stone Avalon Advisors
http://avalonadvisors.com/assets/avalon-weekly-market-guide-january-14-2019.pdf
Dollar Post-Xmas Action

 6.12 Month Forward Earnings Growth Estimates.
 The Single Greatest Predictor of Future Stock Market Returns – 12 month Forward Earnings Growth Early fourth-quarter earnings reports — not surprisingly — are coming in above expectations, but investors have only one issue on their minds: 2019 guidance. Of the 18 companies that have reported fourth-quarter earnings, 94 percent have beaten expectations, but 67 percent have had their first-quarter earnings estimates cut by analysts after their reports. So its just not Apple which guided the street lower but whole host of companies. So Investors brace yourselves. Currently the S&P IBES estimates are for 7.8% growth. hashtag#assetallocation hashtag#bearmarket hashtag#spx hashtag#equities hashtag#fed hashtag#economy#Earnings hashtag#IBES hashtag#forecast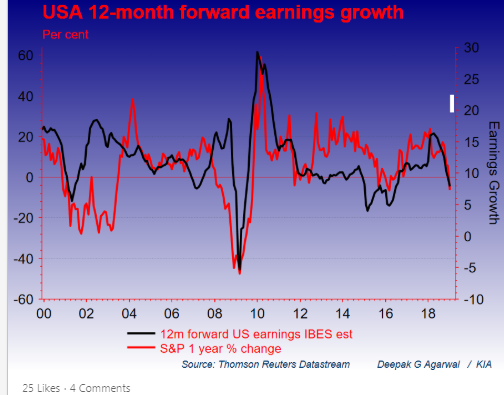 Deepak G. Agarwal
2nd
Senior Advisor at Kuwait Investment Authority
7.Traditional Sedan Sales Collapse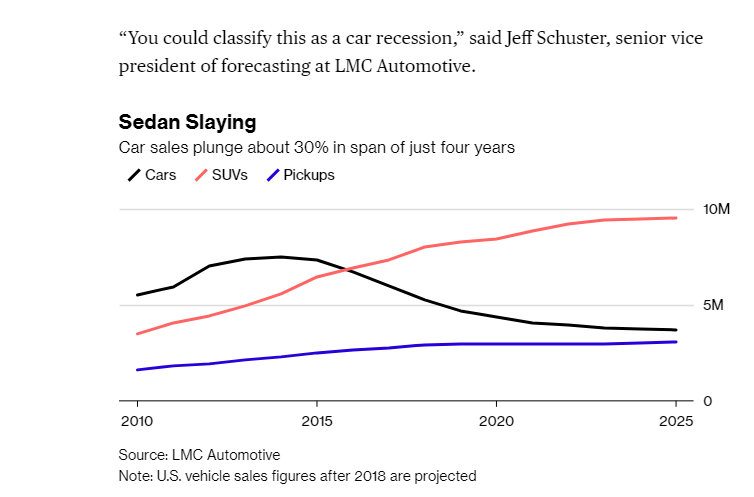 The overcapacity plaguing U.S. automakers is the equivalent of 10 excess plants, which would account for at least 20,000 jobs directly, and thousands more as it ripples through the suppliers and support services to the massive industry. "GM has taken some actions, but they still have some well-underutilized plants," Schuster said. "So we may not be done with this yet."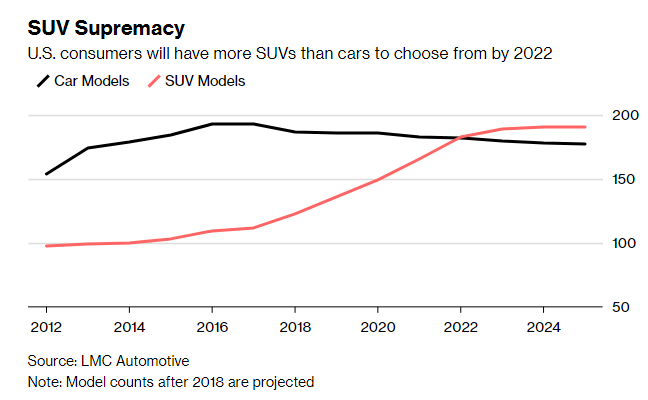 The Next American Car Recession Has Already Started
The collapse of the sedan market has left Detroit automakers with too many plants. By Keith Naughton David Welch and Gabrielle Coppola
https://www.bloomberg.com/news/articles/2019-01-13/the-next-american-car-recession-has-already-started
8.10 Important Career Lessons Most People Learn Too Late In Life
Internationally best-selling author, keynotespeaker, and strategic business & te… See more
Keep your head down and your nose to the grindstone. That's what a lot of us were taught to believe about work. But is it really the best strategy?
I find that people often take this sort of advice to heart — and then learn too late in their careers that there's more to life (and success) than just keeping busy.
I've gathered up my top 10 lessons you should take to heart now, before it's too late!
Life is short. Here's the thing: Life is too short to put up with a job you hate, a boss who demeans you, or a company with no soul. Many people convince themselves that they can put up with a job or career situation that makes them unhappy because they need the income, because they don't know if they can find another job, or for some other reason. But the truth is none of us knows how long we have on this earth, and spending too much of it in a bad situation will only make you miserable and regretful. If you're in this situation, take a step today — no matter how small — toward a better situation.
Social networks matter. You might think that networking events are dull, that it's boring to chat with coworkers around the watercooler, or that you're simply a born introvert, but study after study confirms that social networks are vital to our success. In fact, the most successful people tend to have the broadest and most diverse social networks. The more time and effort you put into nurturing your social networks, the more successful you are likely to be.
Sacrificing your health for success or wealth isn't worth it. Many driven, successful people have a hard time creating work/life balance and can end up burning out or developing serious health problems from stress and overwork. The truth is, it's much easier to stay healthy than to heal from a problem or disease — and no amount of success or money can replace your health. Don't take your health for granted and take steps to mitigate stress that could cause problems later.
None of the best moments of your life will take place looking at a screen. In our connected world, it's tempting to let all the little screens we have access to dictate our lives. But you'll never reach the end of your life wishing you'd spent more time checking email on your phone. Disconnect regularly and experience real life.
Never stop learning. With the rate at which technologies are changing today, if you decide that you are "done" learning, you will be left behind within a matter of years, if not sooner. The idea that you can't teach an old dog new tricks is blatantly false, and you will never wake up and regret having invested in your mind by learning something new.
Diversify. Hand in hand with learning, if you stick to only doing what you know, or what you are good at, you may quickly find that you're only good at one thing. We need to be agile, nimble, and interested in many different things. Otherwise, you could get stuck in a job or career you don't love, or that goes with the times. Think of the taxi driver threatened by Uber or the customer service person replaced by a chatbot.
You can go fast alone, but you can go farther together. In other words, teamwork makes the dream work. Many people claim they don't like to work in teams, but the ability to work well in teams is vital if you want to succeed. The idea of the solo auteur is a myth; every big idea needs a team to make it happen.
Worrying doesn't achieve anything. The antidote to fear and anxiety is action and hustle. If you're wasting time because you're afraid to pursue an idea, speak up, or are worried what others will think of you, you won't achieve your goals. If you push through the worry and the fear, however, and take action, you'll almost always find that you were worried about nothing.
Failure is not an end. If you give up when you fail, you'll never learn anything. Instead, look at failure as an opportunity, as the beginning of a new journey. If you do, you're much more likely to try again and succeed at something else.
Happiness is a journey, not a destination. So many people put off their happiness; they think, "I'll be happy when I get that job, when I lose that weight, when I'm in a relationship, when I'm out of a relationship…" and so on. But we can choose to be happy. Happiness is a habit and a choice. No matter what your situation, if you can approach it with an attitude of happiness, you will be more successful.
What other advice would you add to this list? I'd be interested in hearing your thoughts in the comments below.
Thank you for reading my post. Here at LinkedIn and at Forbes I regularly write about management and technology trends. To read my future posts simply join my network here or click 'Follow'. Also feel free to join me on Twitter, Facebook, Instagram, Slideshare, or YouTube.
About Bernard Marr
Bernard Marr is an internationally best-selling author, popular keynote speaker, futurist, and a strategic business & technology advisor to governments and companies. He helps organisations improve their business performance, use data more intelligently, and understand the implications of new technologies such as artificial intelligence, big data, blockchains, and the Internet of Things.
LinkedIn has ranked Bernard as one of the world's top 5 business influencers. He is a frequent contributor to the World Economic Forum and writes a regular column for Forbes. Every day Bernard actively engages his 1.5 million social media followers and shares content that reaches millions of readers.
https://www.linkedin.com/pulse/10-important-career-lessons-most-people-learn-too-late-bernard-marr/