"A Bronx Tale" is on all week so I can't help but watch some before bed each night. Who knew Sonny had such great advice for Wall Street?
1.Top 10 Spends a Fair Amount of Space on Buybacks…..Buybacks Peaked and Market Keeps Humming!
Josh Brown-The Reformed Broker.
The truth is, however, that buybacks may have peaked for the cycle a year or two ago. Which, if you're blaming monetary policy for their prevalence, would make sense. The Fed's tapering off of monthly QE began in 2014, and the Fed Funds hikes began in December of 2015. We've been in a tightening environment – in both word and deed – for three years now.
Bank of America looks at its corporate clients' buyback activity and finds quite a drop-off year-to-date:
Buybacks by our corporate clients picked up last week to typical April levels, but year-to-date are tracking their lowest of any comparable period since 2013 and are down nearly 30% YoY—suggesting less of a boost to corporate EPS from buybacks.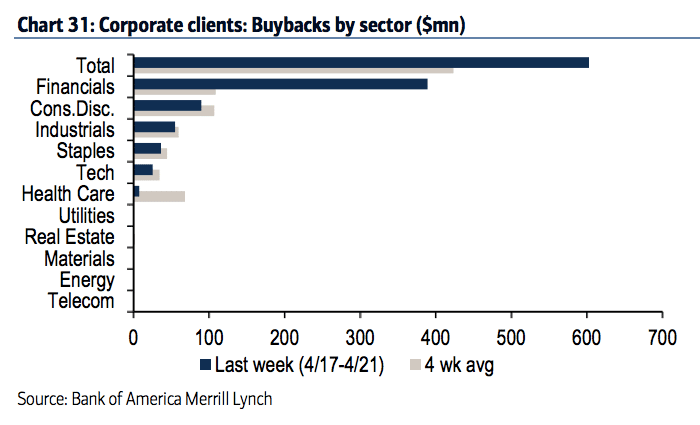 Another Bear Scare Gets Put in the Bathroom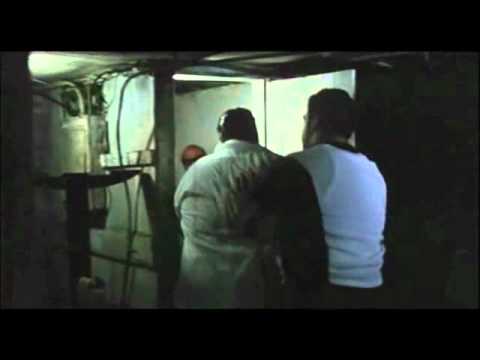 "Put him in the bathroom" A Bronx Tale

2.Bricks and Mortar Retail Really Getting "Put in the Bathroom."…….Private Equity is Mush on this One.
I'm in Awe of How Fast Brick-and-Mortar Retail is Melting Down
by Wolf Richter • Apr 24, 2017 • 176 Comments
As so many times, Private Equity firms are in the thick of it.
Mall traffic is sagging. Department store sales have been in decline since 2001. Most retailers are loaded up with debt. Many have been losing money. Now they're running out of options. Store closings numbered in the thousands last year. This year they promise to get much worse. "Zombie malls" have become reality, their vast parking lots rented to car dealers to store their excess vehicle inventory.
But ecommerce sales are booming, including online sales by some brick-and-mortar retailers, such as Walmart and Macy's:
Over-indebted retailers are notoriously difficult to restructure and many end up being liquidated. Unsecured creditors, such as suppliers and junior bond holders, are often left out in the cold. Even secured creditors can end up holding the bag.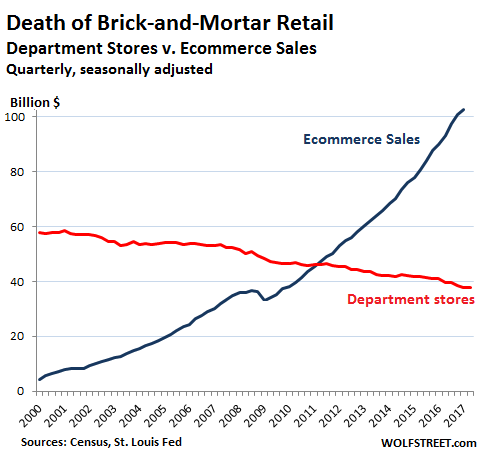 Well Worth the Full Read.
I'm in Awe of How Fast Brick-and-Mortar Retail is Melting Down
3.Trump's Tax Cuts and MLPs
Trump Tax Cut Proposal Shines Light On MLPs
RODRIGO CAMPOS, LIZ HAMPTON
New York/Houston (Reuters) – The Trump administration's proposal to slash tax rates on so-called pass-through businesses would deliver a windfall to investors in master limited partnerships and could offer a much-needed lift to this niche segment of the energy market.
The tax plan outline released on Wednesday by U.S. President Donald Trump would sharply slash business taxes and discount the rate on overseas corporate profits brought back into the United States.
The proposed changes include a cut to the top tax rate on pass-through businesses to 15% from the current rate of up to 36.9%. Pass-through get that name because taxes are not paid by the business itself but pass through to their owners' individual taxes, at that rate.
MLPs Would Benefit
The change would largely benefit owners of private businesses, but U.S. stock market investors holding shares of master limited partnerships, or MLPs, would receive the same treatment. MLPs build the pipelines and storage tanks, and are a common corporate structure in the oil and gas infrastructure sector.
"If the average rate [for MLP investors] is in the 30s, reducing it to 15% would be tremendously attractive," Robert Willens, president of tax and accounting advisory firm Robert Willens LLC, said on Wednesday.
He said if the cuts come through, they would make MLPs "the most attractive investment from a tax point of view."
Mike Bresson, a tax partner with the law firm Baker Botts in Houston said Trump's proposed change would enhance an already-superior tax structure enjoyed by MLPs.
Read Full Story
http://www.etf.com/sections/features-and-news/trump-tax-cut-proposal-shines-light-mlps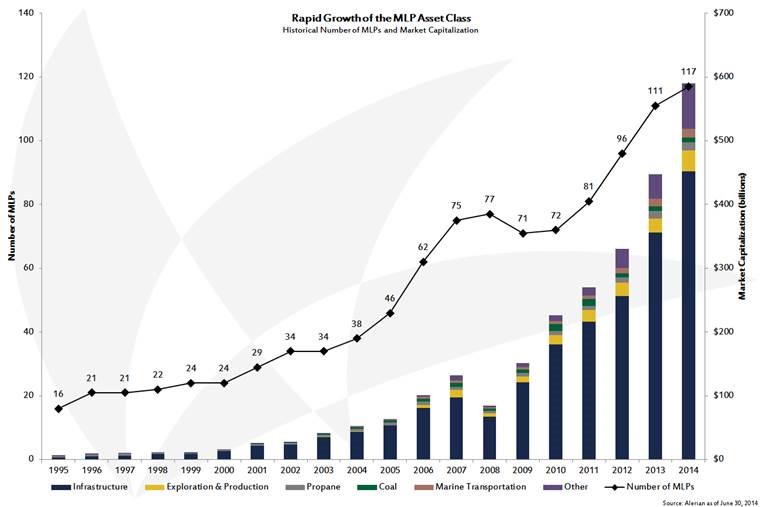 4.Follow Up to Mega-Cap Tech Comments from Yesterday….Barry Ritholtz Weighs in on Top Heavy Markets.
Judging the Staying Power of Record Markets
APRIL 27, 2017 9:38 AM EDT
By
Barry Ritholtz
This issue of narrowing markets is a regular concern (see this and this). As stock cycles enter their final phase, markets often show very specific characteristics. The chart below shows what worries some market-watchers:
Pulling the Nasdaq in Their Wake
Stocks with the heaviest index weightings accounted for most of the gains*
Source: Bloomberg
*March 1, 2013 = 10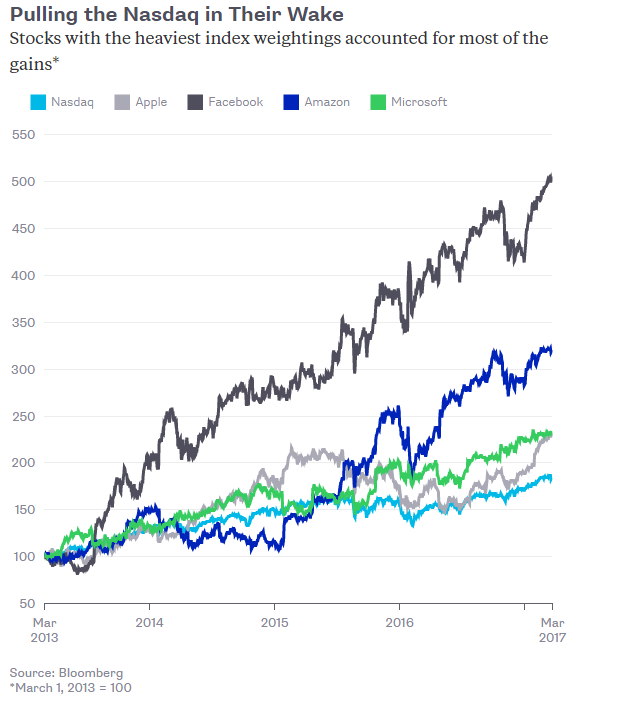 Recognizing these periods as tops is a challenge for all traders. Paul Desmond of Lowry's Research has done yeoman's work analyzing how tops are formed. His paper, "Identifying Bear Market Bottoms and New Bull Markets" won the Market Technicians Association's 2002 Charles H. Dow Award.
In an email exchange, Desmond noted that "there are always a handful of stocks that grab the headlines, but they typically have little to do with the overall strength of the broad market." Desmond advises traders to look for "extreme selectivity" — a period of very narrow breadth, when few stocks are participating in market rallies even as the indexes go higher.
Desmond has analyzed every major market top since 1925, looking for consistent warning signs of an approaching bear market. He notes that "in virtually every case the warnings appear as a persistent divergence between the S&P 500 making a series of new highs, while market breadth makes a series of lower highs, showing that stocks are consistently dropping out of the bull market." This process has lasted anywhere from four months to two years.
https://www.bloomberg.com/view/articles/2017-04-27/judging-the-staying-power-of-record-markets
5.A Ton of Money Made Selling Volatility in this Market.
Over the past year, if you had been buying VIX you would have lost 75%, and if you had been selling volatility you would have made 158%, see chart below. On our conference call on Monday, we will be discussing why vol selling strategies have been so successful and how it fits with the high levels of political uncertainty observed in the US and Europe. We will also discuss how the Fed and ECB might be thinking about the systemic risk consequences as they continue to turn more hawkish. My latest monthly chart book is attached, happy to discuss, let your DB sales contact know.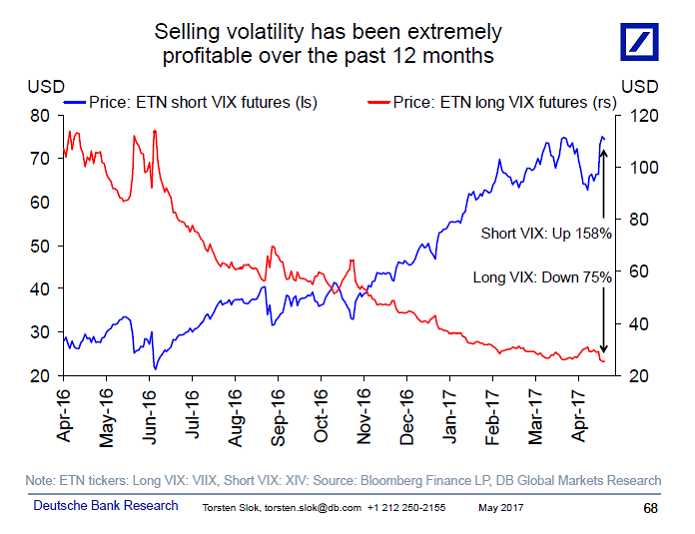 ---
6.Here's the first sign that America may be pivoting from renting back to owning homes
Published: Apr 27, 2017 1:20 p.m. ET
The homeownership rate starts to revert to the mean
Buy or rent?
ANDREARIQUIER
The homeownership rate has been on the decline ever since the peak of the housing bubble a decade ago.
Now it's making a comeback, of sorts.
Overall American homeownership stood at 63.6% in the first quarter, the Census Department said Thursday. That's down a tick from 63.7% in the fourth quarter, but up from a year ago, which is economists' preferred way to gauge the data.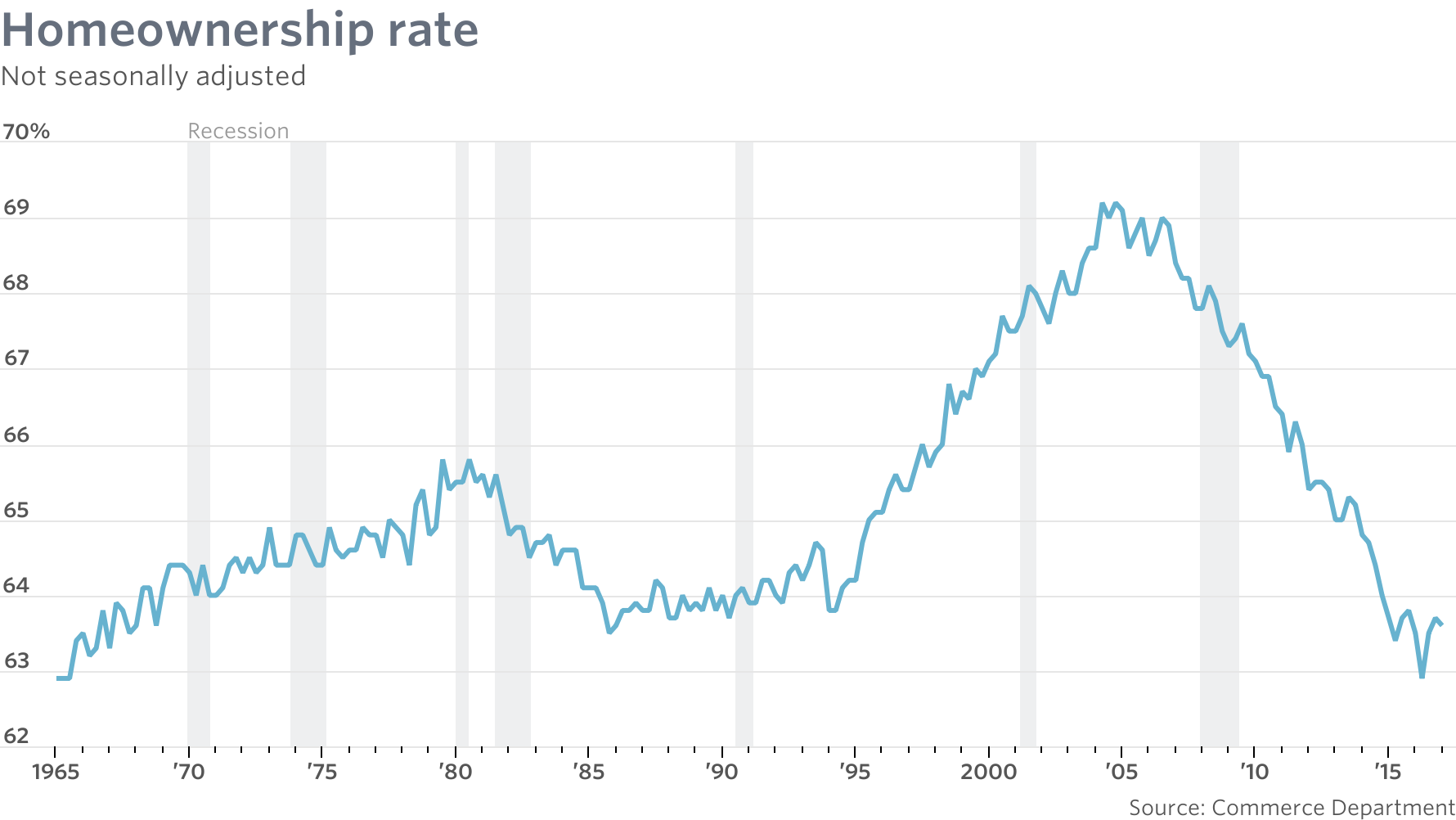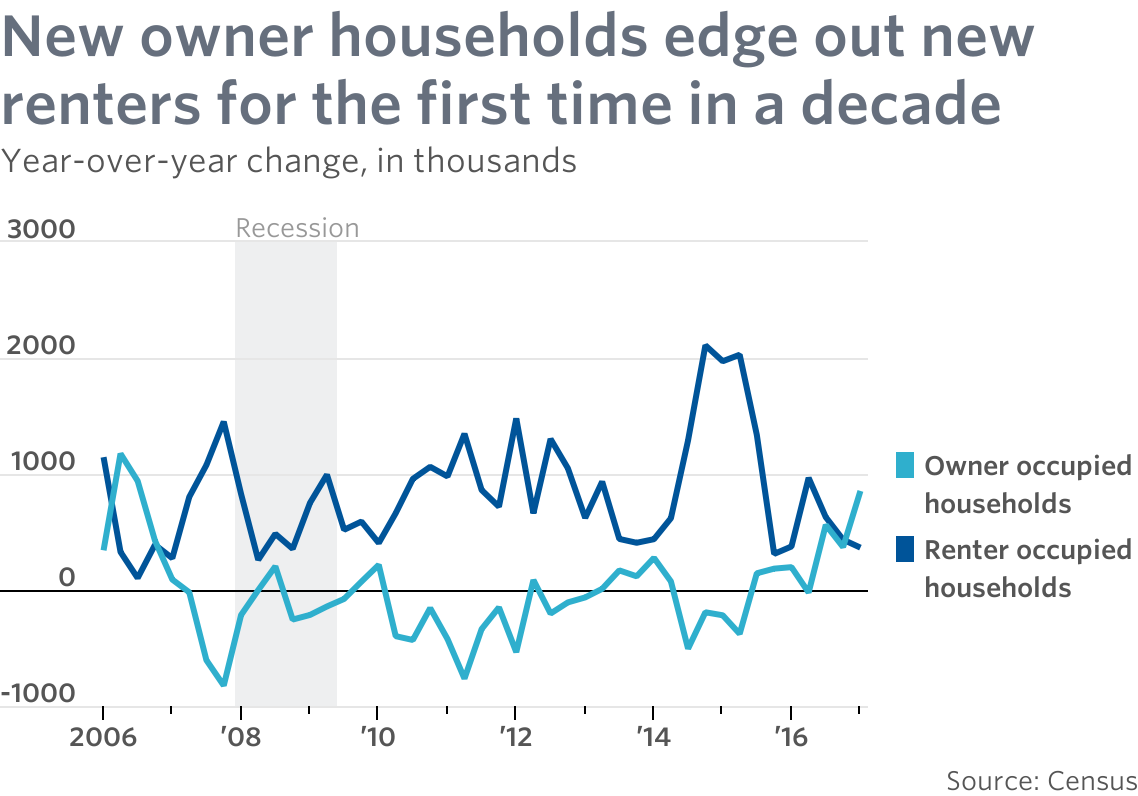 The home ownership rate stood at 63.6% in the first quarter.
And the details of the report were better than the headline.
The number of owner-occupied households rose more quickly than renter households for the first time since 2006, Trulia Chief Economist Ralph McLaughlin wrote in a note after the release. The number of new owner households was up 850,000, compared to a 365,000 increase in the number of renter households.
'This is very optimistic news for those of us who are interested in the homeownership rate," McLaughlin told MarketWatch. "It's the first sign we may be pivoting away from renting and back toward ownership."
One quarter doesn't make a trend, McLaughlin cautioned, but the magnitude of the spread between the two types of households was striking — and came as a result of strong increases in owner-occupied households and a decline in those occupied by renters, he said.
Another good sign: household formation rose 1% compared to a year ago during the first quarter.
Another positive detail: homeownership rates among minorities notched strong gains. Ownership among African-Americans rose a full percentage point for the quarter and 1.2 percentage points compared to the first quarter of 2016. It was the first time the black homeownership rate had topped 42% since late 2015, Zillow chief economist Svenja Gudell wrote on Thursday.
Among Hispanics, ownership also jumped, rising 1.3 percentage point over the year to 46.6%.
Those increases are welcome, but both stand well below the 71.8% enjoyed by whites.
"A more balanced housing landscape between owners and renters is largely positive," Gudell wrote. "The market is finding a natural equilibrium, and that will take some time, even several years after the worst of the recession."
McLaughlin agrees. The near-70% high that the ownership rate touched during the bubble was artificially inflated and unhealthy, while current levels are likely too low. The right level is "somewhere between where we're at now and where we were 10 years ago," he said.
http://www.marketwatch.com/story/heres-the-first-sign-that-america-may-be-pivoting-from-renting-back-to-owning-homes-2017-04-27
7.Read of the Day….An iceberg': The opioid crisis could be even worse than anyone thought
· Harrison Jacobs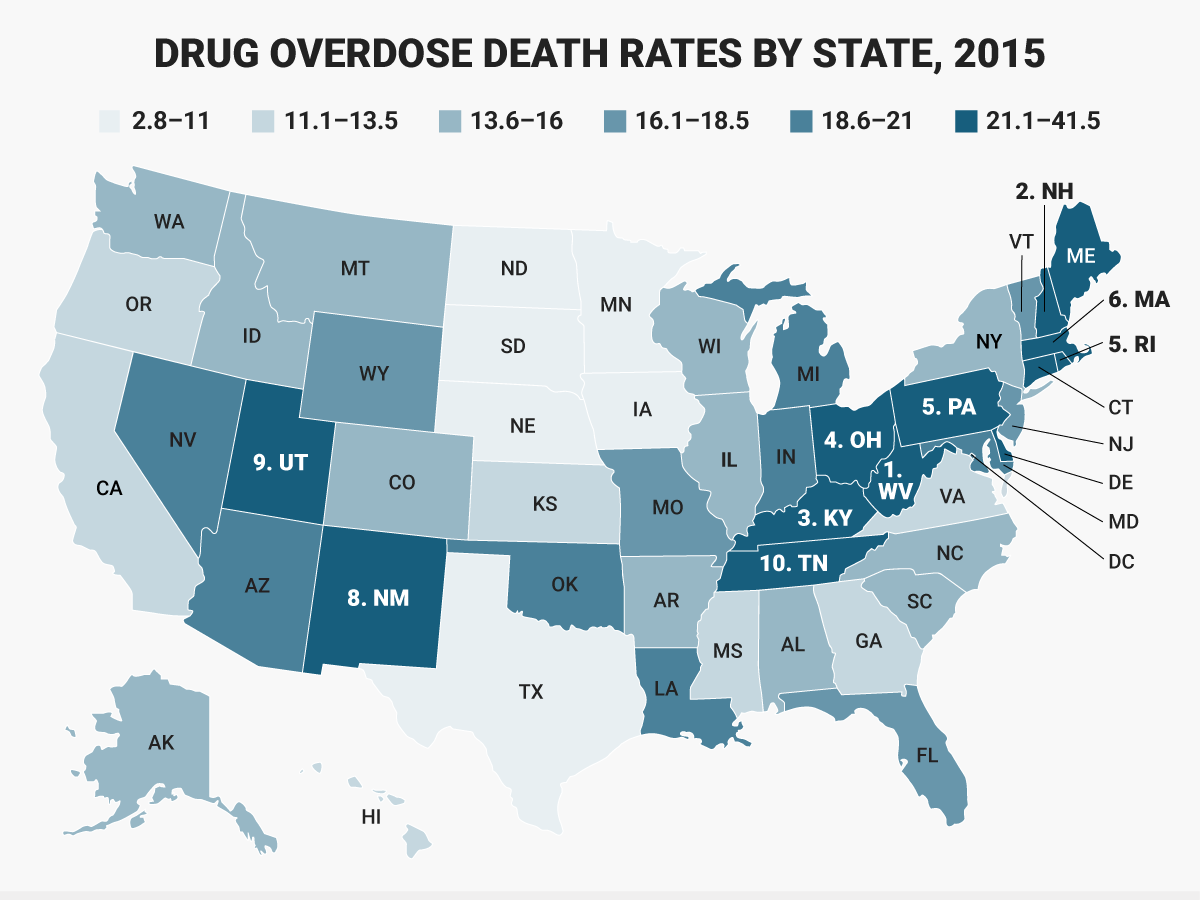 A new investigation by a field officer for the Centers for Disease Control and Prevention indicates the actual number of deaths involving opioids, a powerful class of painkillers, may be much higher than official tallies.
In December, the CDC said52,404 people had died from drug overdoses in 2015, with over 60% dying from opioids. That number has been rising for years.
But CDC field officer Dr. Victoria Hall and her Minnesota-based team recently reviewed a decade of death records submitted to the Minnesota Department of Health's Unexplained Death (UNEX) surveillance system, which keeps track of deaths for which no clear explanation is readily available.
Hall, who presented the results on Monday at a CDC conference. found that of the 1,676 UNEX deaths during that time period, approximately 3.5% had some complications due to opioid use. Those deaths were never filed as opioid-related deaths, despite some autopsies showing toxic or even lethal levels of painkillers.
"While my research cannot speak to what percent we are underestimating, we know we are missing cases," Hall told CNN. "It does seem like it is almost an iceberg of an epidemic."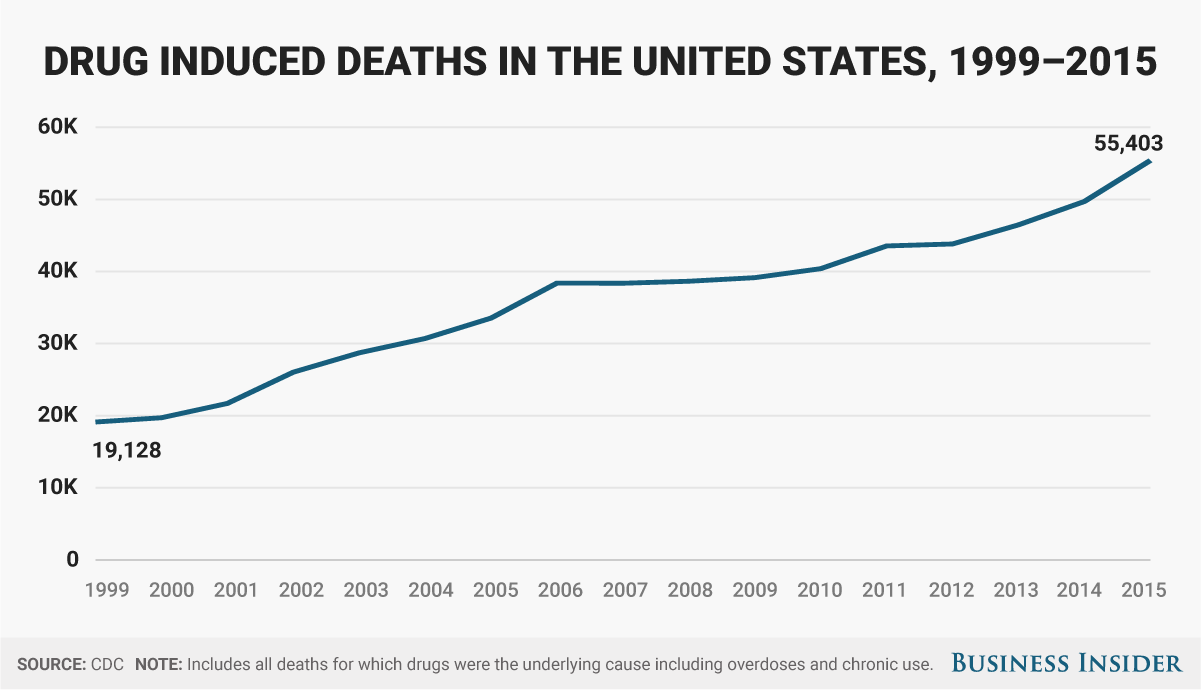 Read Full Story
http://www.businessinsider.com/opioid-crisis-cdc-overdoses-worse-2017-4
8. I Really Wish I Could Do This One….
The Scientific Argument for Mastering One Thing at a Time
By James Clear | Behavioral Psychology, Habits, Minimalism, Self-Improvement
Many people, myself included, have multiple areas of life they would like to improve. For example, I would like to reach more people with my writing, to lift heavier weights at the gym, and to start practicing mindfulness more consistently. Those are just a few of the goals I find desirable and you probably have a long list yourself.
The problem is, even if we are committed to working hard on our goals, our natural tendency is to revert back to our old habits at some point. Making a permanent lifestyle change is really difficult.
Recently, I've come across a few research studies that (just maybe) will make these difficult lifestyle changes a little bit easier. As you'll see, however, the approach to mastering many areas of life is somewhat counterintuitive.
Before we talk about how to get started, I wanted to let you know I researched and compiled science-backed ways to stick to good habits and stop procrastinating. Want to check out my insights? Download my free PDF guide "Transform Your Habits" here.
Too Many Good Intentions
If you want to master multiple habits and stick to them for good, then you need to figure out how to be consistent. How can you do that?
Well, here is one of the most robust findings from psychology research on how to actually follow through on your goals:
Research has shown that you are 2x to 3x more likely to stick with your habits if you make a specific plan for when, where, and how you will perform the behavior. For example, in one study scientists asked people to fill out this sentence: "During the next week, I will partake in at least 20 minutes of vigorous exercise on [DAY] at [TIME OF DAY] at/in [PLACE]."
Researchers found that people who filled out this sentence were 2x to 3x more likely to actually exercise compared to a control group who did not make plans for their future behavior. Psychologists call these specific plans "implementation intentions" because they state when, where, and how you intend to implement a particular behavior.
This finding is well proven and has been repeated in hundreds studies across a broad range of areas. For example, implementation intentions have been found to increase the odds that people will start exercising, begin recycling, stick with studying, and even stop smoking.
However (and this is crucial to understand) follow-up research has discovered implementation intentions only work when you focus on one goal at a time. In fact, researchers found that people who tried to accomplish multiple goals were less committed and less likely to succeed than those who focused on a single goal.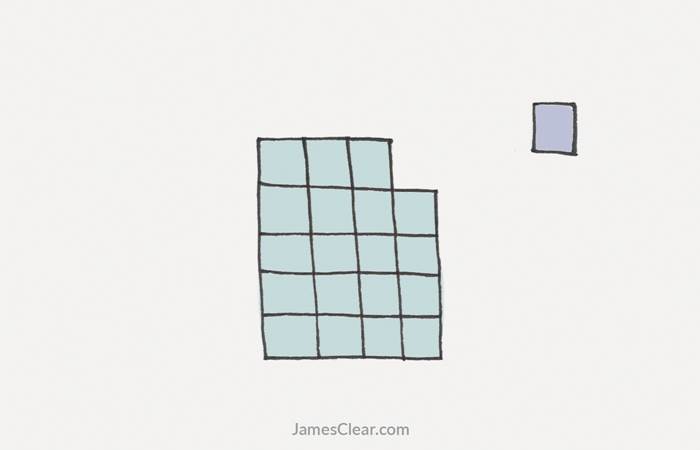 This is important, so let me repeat: developing a specific plan for when, where, and how you will stick to a new habit will dramatically increase the odds that you will actually follow through, but only if you focus on a single goal.
What Happens When You Focus on One Thing
Here is another science-based reason to focus on one habit at a time:
When you begin practicing a new habit it requires a lot of conscious effort to remember to do it. After awhile, however, the pattern of behavior becomes easier. Eventually, your new habit becomes a normal routine and the process is more or less mindless and automatic.
Researchers have a fancy term for this process called "automaticity." Automaticity is the ability to perform a behavior without thinking about each step, which allows the pattern to become automatic and habitual.
But here's the thing: automaticity only occurs as the result of lots of repetition and practice. The more reps you put in, the more automatic a behavior becomes.
For example, this chart shows how long it takes for people to make a habit out of taking a 10-minute walk after breakfast. In the beginning, the degree of automaticity is very low. After 30 days, the habit is becoming fairly routine. After 60 days, the process is about as automatic as it can become.
The most important thing to note is that there is some "tipping point" at which new habits become more or less automatic. The time it takes to build a habit depends on many factors including how difficult the habit is, what your environment is like, your genetics, and more.
That said, the study cited above found the average habit takes about 66 days to become automatic. (Don't put too much stock in that number. The range in the study was very wide and the only reasonable conclusion you should make is that it will take months for new habits to become sticky.)
Change Your Life Without Changing Your Entire Life
Alright, let's review what I have suggested to you so far and figure out some practical takeaways.
1. You are 2x to 3x more likely to follow through with a habit if you make a specific plan for when, where, and how you are going to implement it. This is known as an implementation intention.
2. You should focus entirely on one habit. Research has found that implementation intentions do not work if you try to improve multiple habits at the same time.
3. Research has shown that any given habit becomes more automatic with more practice. On average, it takes at least two months for new habits to become automatic behaviors.
This brings us to the punchline of this article…
The counterintuitive insight from all of this research is that the best way to change your entire life is by not changing your entire life. Instead, it is best to focus on one specific habit, work on it until you master it, and make it an automatic part of your daily life. Then, repeat the process for the next habit.
The way to master more things in the long-run is to simply focus on one thing right now.