1.At Current YTD Pace….Investment Grade Corporate Looking At Worst Returns Since 1974..Following Record Issuance.
Indeed, investors can't be blamed for wondering whether it's worth investing in bonds at all, now that they're finding negative returns across the market: Investment-grade corporate bonds are down 4.9% this year, including interest payments, which puts them on track for their worst calendar-year performance since 1974, according to Bank of America Merrill Lynch
Barrons
https://www.barrons.com/articles/bolster-your-bond-portfolio-1530915409
Record Issuance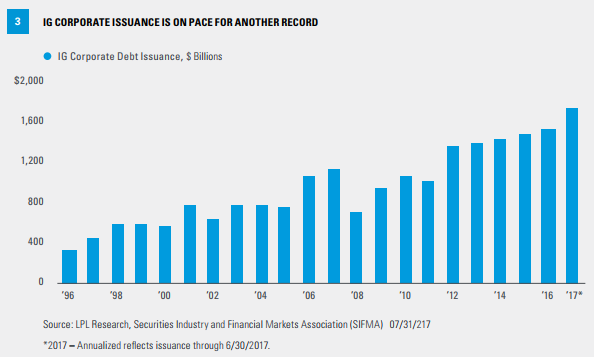 https://seekingalpha.com/article/4130422-u-s-corporate-debt-2018
2.As QE Took Over World…Yield Product Exploded.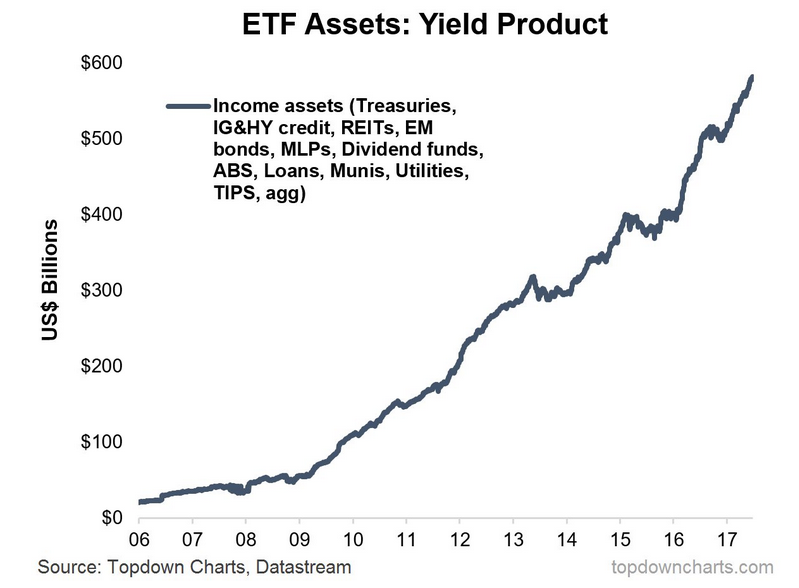 https://seekingalpha.com/article/4109425-quantitative-tightening-income-investors-wary
3.Investors Piled Into Dividend Payers.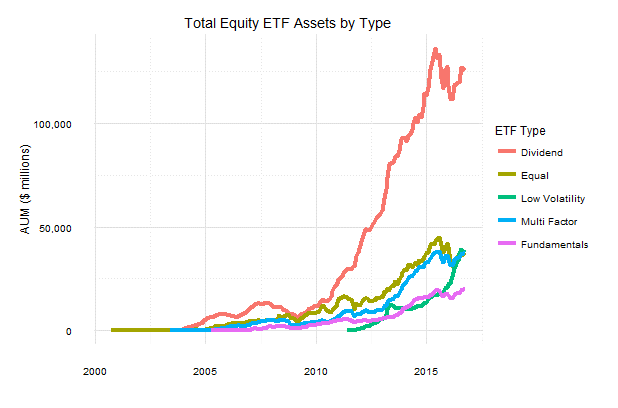 https://www.factorinvestor.com/blog/2016/10/12/the-illusion-of-choice-in-etfs
4.Banks Struggled Under Falling Rates and Regulation….Bank Failures Back to 15 Year Lows.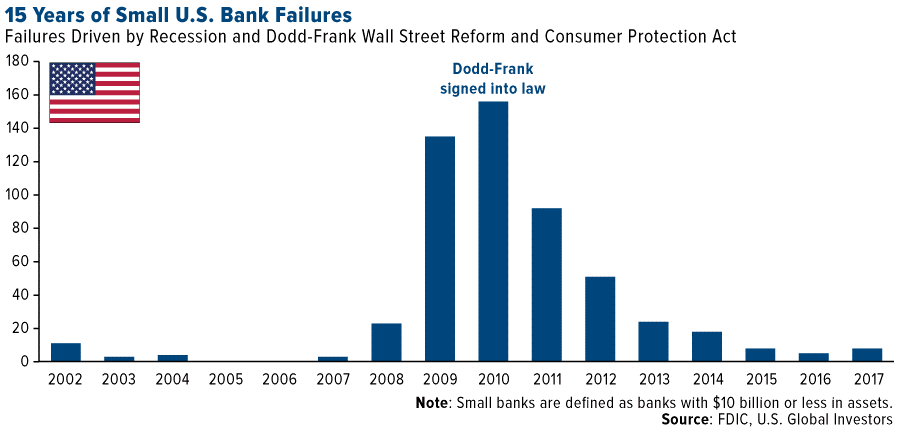 Dodd Frank Rollback Was Followed by $600m Of Flows Into Bank ETFs.
http://www.usfunds.com/investor-library/frank-talk/?startRow=31&nextNID=BF62EFAD-CAE1-E91B-83120F4642A3D482#.W0EGoNVKjIU
5.Aramco Shelved IPO For Now..Judging By 2 Charts It Will Be Back On Tape.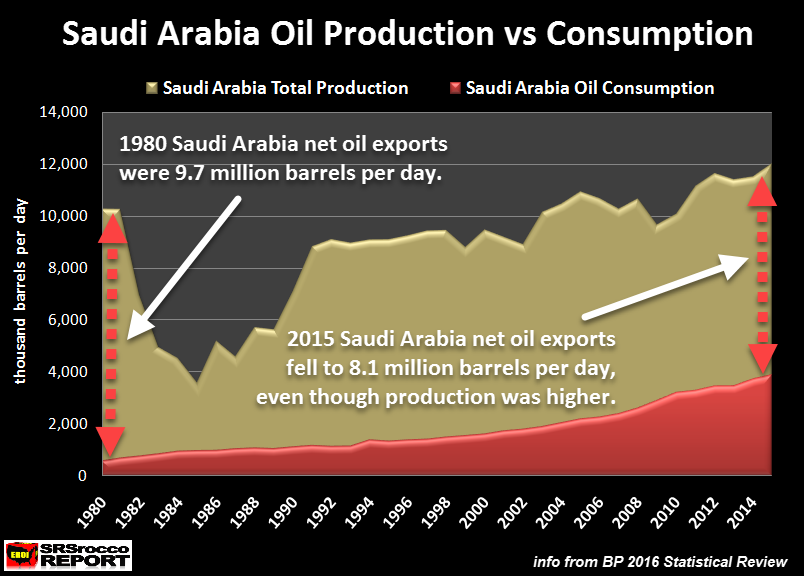 Saudis Need to Diversify Economy….U.S. Energy Imports Back to 1982 Levels.

http://www.usfunds.com/investor-library/frank-talk/category/topics/energy-natural-resources/?startRow=6&categoryID=6149C00C-AF00-FF75-CD04357B52FF5853&nextNID=BF62EFAD-CAE1-E91B-83120F4642A3D482#.W0EHxtVKjIU
6.Blackrock…Why energy stocks look cheap
Written by
Russ Koesterich, CFAPortfolio Manager for BlackRock's Global Allocation Team
PublishedJune 28, 2018
Russ discusses why the energy sector still looks attractive, despite having struggled recently.
Following a stellar start to the year, energy companies have stumbled in recent weeks. Although the U.S. sector is still one of only four that is higher year-to-date, energy stocks have dropped more than 3% during the past month, in the process under-performing the broader market. Bellicose trade rhetoric has not helped, but the main culprit has been the prospect of higher OPEC production and an accompanying 10% drop in the price of crude. That said, while the sector is vulnerable to another big drop in oil, current prices suggest the stocks may be a bargain. Here's why:
Value versus history
At two times trailing price-to-book (P/B) the sector looks cheap relative to its own history. Since 1995 the large cap S&P Energy Sector Index has traded at an average of approximately 2.4 P/B.
Value versus broader market
Energy stocks look even cheaper relative to the broader market. The sector currently trades at just 0.57 times the P/B of the S&P 500 (see Chart 1). This compares favorably to the long-term average of 0.82 and the post-crisis average of 0.76. This is one reason energy stocks are currently over-represented in value indexes.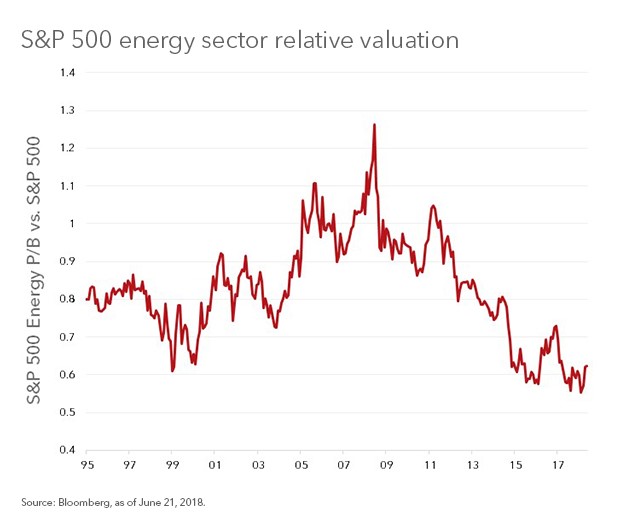 Value versus fundamentals.
U.S. energy companies also appear cheap relative to two key fundamental factors: profitability and the price of oil. The fact that energy companies trade in line with crude should come as no surprise. Historically, investors have been willing to pay a premium, or at least a smaller discount, when the price of oil is high. Since 1995, this relationship has explained approximately 20% of the variation in the relative value of the energy sector. Today, with WTI crude at approximately $65 a barrel, the energy sector looks approximately 20% undervalued versus the broader market. A similar picture emerges when comparing current valuations to profitability. Measured by return-on-equity (ROE), profitability also explains about 20% of the variation in valuations. Based on this metric, energy companies appear about 10% too cheap.
Lower oil would take the sector down
What could change my view? The biggest risk is the most obvious one: oil prices. To state the completely obvious, energy stocks move with energy prices. Given the massive moves in crude oil in the post-crisis era, this relationship has been particularly strong. Since 2010, monthly changes in crude prices have explained approximately 50% of the variation in energy sector returns.
If OPEC's resolve cracks or the global economy stumbles on the back of an escalating trade war, oil is vulnerable, and along with it the energy sector. While the risk is real, for now my assumption is that the global economy remains firm. Assuming that is correct, even if oil prices remain range-bound energy companies look like a bargain.
Russ Koesterich, CFA, is Portfolio Manager for BlackRock's Global Allocation team and is a regular contributor to The Blog.
https://www.blackrockblog.com/2018/06/28/energy-stocks/
7.The Question For 2nd Half Of Year …Is International Pullback From Trade War/Dollar Strength? Or Real Economic Slowdown?
Copper Down 12% In One Month…China Slowdown?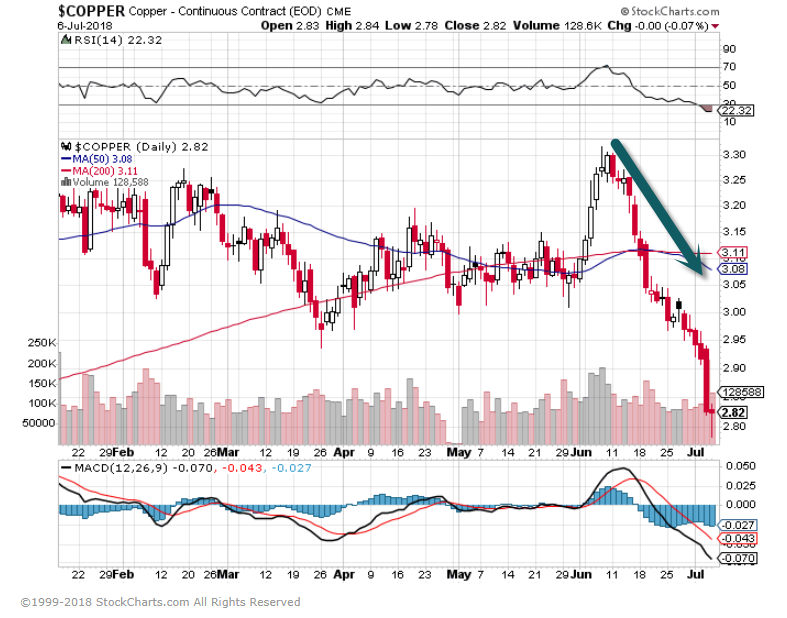 8.European's Jump on the Buyback Train
Equity Markets: European firms are learning that share buybacks do wonders for stock performance.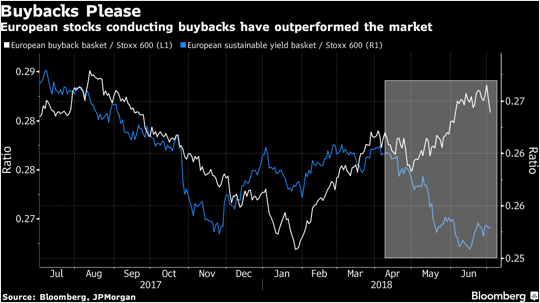 Source: @business; Read full article
9.Read of the Day…..Americans Are Having Fewer Babies. They Told Us Why.
Women have more options, for one. But a new poll also shows that financial insecurity is altering a generation's choices.
Jessica Boer, 26, kissing her cat Kip at her home in Portage, Mich. Like an increasing number of people in her generation, she does not plan to have children. "Now we know we have a choice," she said.CreditBrittany Greeson for The New York Times
Americans are having fewer babies. At first, researchers thought the declining fertility rate was because of the recession, but it kept falling even as the economy recovered. Now it has reached a record low for the second consecutive year.
Because the fertility rate subtly shapes many major issues of the day — including immigration, education, housing, the labor supply, the social safety net and support for working families — there's a lot of concern about why today's young adults aren't having as many children. So we asked them.
Wanting more leisure time and personal freedom; not having a partner yet; not being able to afford child-care costs — these were the top reasons young adults gave for not wanting or not being sure they wanted children, according to a new survey conducted by Morning Consult for The New York Times.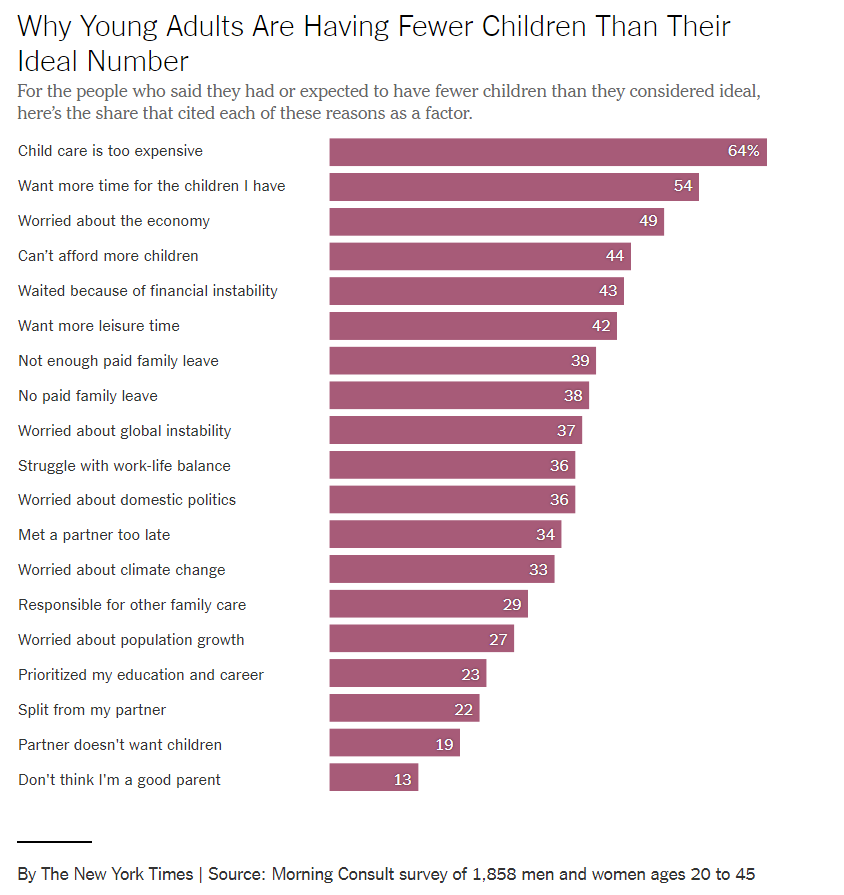 https://www.nytimes.com/2018/07/05/upshot/americans-are-having-fewer-babies-they-told-us-why.html
10.Jay Wright "You Control Your Attitude"
'You Control Your Attitude': Wisdom from Jay Wright
by Liz Puzio June 22, 201
Among fans of college basketball, Jay Wright needs no introduction. The Villanova men's basketball coach has a record that speaks for itself: The Wildcats took home the 2018 national title, the team's second championship win in three seasons.His low-key personality has led some to call him an "anti-coach." Coach Wright's style, developed over a 30-plus-year career (the past 16 spent leading Villanova), is singular and highly personal, a blend of heads-down tenacity infused with spiritual beliefs and anchored by a steadfast optimism. As Wright, 56, has emerged as a formidable competitor in college sports, he's become synonymous with a pair of rallying cries: "humble and hungry" and "attitude" — also the title of his 2017 book on cultivating a mindset geared toward success.
But his coaching lessons tend to transcend the confines of the court into the arena of life; they're as much about training superior athletes as they are about molding authentic collaborators and stakeholders in a team culture. Here are some of Wright's pieces of coaching wisdom
Humble and hungry.'To be a competitor, you need to have an unrealistic belief in yourself," says Wright, reflecting back on his "hungry" years as a college player intent on going pro. But he finally admitted to himself that he was never going to make it as a pro player and took a sports marketing job after college. That job later opened the door to an unexpected opportunity to get back on the court as a coach. Within the initial two days of his first coaching gig at the University of Rochester, working as an assistant coach, Wright fully embraced the role of mentor and what he refers to as "the servant leader." He traces his signature motto of "humble and hungry" back to this time, saying that he loved the Rochester role and would have been content to coach that Division III team for the rest of this career.
We determine what a win is.'Social media, with its incessant stream of likes, shares and comments about other's people's lives, goes against that credo, Wright says. He tries to remind his players that social media is a tool where words and images take on a life of their own. "All [players] must have an understanding of who we are and what we represent," he explains. "Everything that we do now counts." He often tells his players, "Your actions speak so loudly, I can't hear what you say."
Wright emphasizes the power of being present and how disruptive social media can be on and off the court. The coaching staff has to educate the guys on how to be in the moment, he says. There is literally a line at practice that once you cross, he tells players, you don't let the outside world affect you in those two hours. He asks: "What are we there for? Staying focused on the game, getting rest, being here now. Be in the moment."
Quote
What are we there for? Staying focused on the game, getting rest, being here now. Be in the moment.
End Quote
'You control your attitude and your effort.'
"Attitude is the biggest part of our program," explains Wright. "A great attitude is the greatest characteristic we can have." This is a central tenet of his best-selling book Attitude: Develop a Winning Mindset on and off the Court. This belief so permeates the team that Wright proudly recalls his players chanting "Attitude" in the huddle before the final play of the 2016 national championship.
If something doesn't go well, it's not about the mistake, he emphasizes. For Wright, it's always about the next decision. "Clear the mind and do the right thing," he says. His approach to evaluating players is based on a similar transparency and grounded in the Villanova culture he created. The message to recruits is straightforward: You become us. We don't become you.
'Humility and intelligence is the winning combination.'
According to Wright, there are two kinds of people in this world: the humble and those who are about to be. He looks for players who have talent, of course, but also humility and intelligence — players who have more capacity to improve. "Knowing where you need to get better is the intelligence part," he explains. Wright doesn't wear his national championship rings; he says he gets more excited about the process and the journey than the destination or goal. He says, "Our culture is what's important, not our win/loss record."
Quote
A great attitude is the greatest characteristic we can have.
End Quote
'Everyone's status is the same, everyone's role is different.'
"Success shouldn't change you," he adds. "Stick to your core values." Wright tells his players: Don't let success and outside stimulation change us. "You're either 100% in or against us. We can't hide from each other."
And he doesn't exclude himself from those rules. "Be authentic as a leader — that's the most important advice a mentor gave me that I didn't listen to and had to learn the hard way." Wright uses the word authentic often when he talks about managing people. He likes to make a distinction between authentic and respectful relationships. "Being honest with your feelings," he says, "leads to that authentic relationship and trust."
Liz Puzio creates content for Citi's Global Consumer Bank and is a big fan of being present and authentic. She has covered trends in health, fitness and well-being for over a decade.The content reflects the view of the author of the article and does not necessarily reflect the views of Citi or its employees, and we do not guarantee the accuracy or completeness of the information presented in the article.
https://www.lifeandmoney.citi.com/culture/jay-wright-on-how-to-cultivate-a-winning-mindset