1. Insider Selling Fastest Pace Since 2012
INSIDERS SELL– S&P 500 execs sold shares of their own firms at a rapid pace in the last month. The selling picked up so much versus buying that a measure of insider velocity tracked by Sundial Capital showed the fastest exit since 2012. About $975 million of stock was dumped last week, more than twice the prior week, SEC data compiled by Bloomberg show. Their purchases increased by roughly 10% to $11 million.

From Dave Lutz at Jones Trading
2. China's massive bond market will be more accessible to foreign investors next year
KEY POINTS
· FTSE Russell said Thursday it will add Chinese government bonds to its flagship World Government Bond Index from October next year.
· That will be China's third entry into a major global bond index and comes at a time when investors are hunting for yield in an environment of ultra-low interest rates.
· Several investors estimated that at least $100 billion will flow into China after its bonds debut on the FTSE Russell index.it will add Chinese government bonds to its flagship World Government Bond Index from October next year — a development that will bring billions of dollars of inflows into China.
The inclusion — which will be China's third entry into a major global bond index — comes at a time when investors are hunting for yield in an environment of ultra-low interest rates. Several investors estimated that at least $100 billion will flow into China after its bonds debut on the FTSE Russell index.
"I think this is another important landmark in China's … internationalization of their domestic financial markets," Ben Powell, BlackRock Investment Institute's chief investment strategist for Asia Pacific, told CNBC's "Street Signs Asia" on Friday.
He pointed out that 10-year Chinese government bonds are yielding around 3% which is "a very high number in the global context."
Boosting foreign participation
China's roughly $16 trillion bond market is the second largest globally, but is under-owned by international investors.
— CNBC's Eustance Huang contributed to this report.
https://www.cnbc.com/2020/09/25/china-is-set-to-join-ftse-world-government-bond-index-in-october-2021.html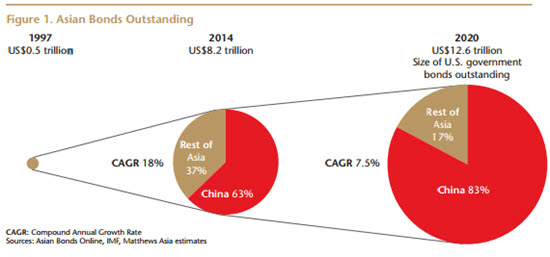 How have international investors been accessing China's bond market?
https://global.matthewsasia.com/perspectives-on-asia/market-updates/on-china-view/article-1237/Mainland-China-Hong-Kong-Bond-Market-Connect.fs
3. New Home Sales Top 1 Million
Posted by Eddy Elfenbein on September 24th, 2020 at 11:23 am
Sales of new U.S. single-family homes increased to their highest level in nearly 14 years in August, suggesting the housing market continued to gain momentum even as the economy's recovery from the COVID-19 recession appears to be slowing.
The Commerce Department said on Thursday new home sales rose 4.8% to a seasonally adjusted annual rate of 1.011 million units last month, the highest level since September 2006. New home sales are counted at the signing of a contract, making them a leading housing market indicator.
July's sales pace was revised upward to 965,000 units from the previously reported 901,000 units.
Economists polled by Reuters had forecast new home sales, which account for more than 10% of housing market sales, slipping 1% to a rate of 895,000-units.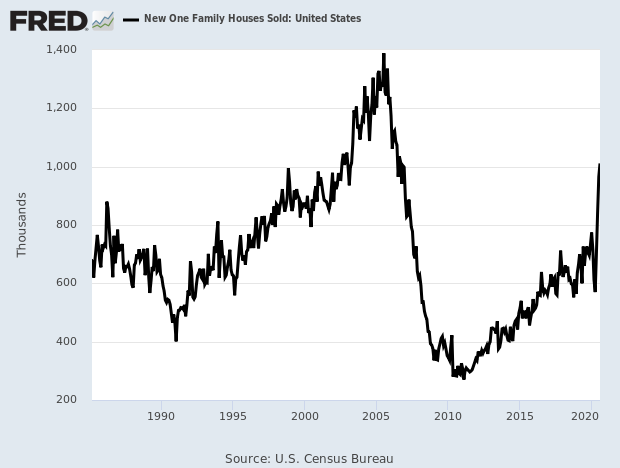 https://www.crossingwallstreet.com
4. Banks Are Loving 2020 Market, but Market Doesn't Love Them Back
WSJ-Their own stocks, however, are being slammed. The KBW Nasdaq Bank Index is down 38% this year, while the S&P 500 is up slightly. If that gap were to persist, it would be the banks' worst full-year underperformance in at least 84 years, according to Barclays analyst Jason Goldberg.
KBW Bank ETF -38% YTD vs. SPY Up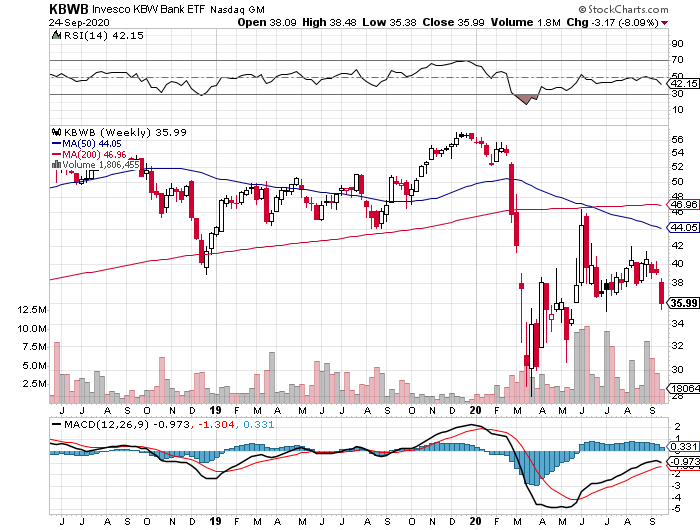 While investors are still sour on bank stocks, industry executives say parts of business are booming
https://www.wsj.com/articles/banks-are-loving-2020-market-but-market-doesnt-love-them-back-11600939813?mod=itp_wsj&ru=yahoo
5. Stocks That Split Outperform the Next 12 Months.
Splitting Stocks Changes Them Fundamentally-Phil Macintosh Nasdaq
That's consistent with academic research in 2009 that found that liquidity improvements following stock splits reduced average companies cost of equity capital by 17.3%, or 2.4 percentage-points per-annum. This is a material boost to both issuers and investors.
Chart 1: On average, stocks doing splits outperform the market as soon as the split is announced and even more over the next 12 months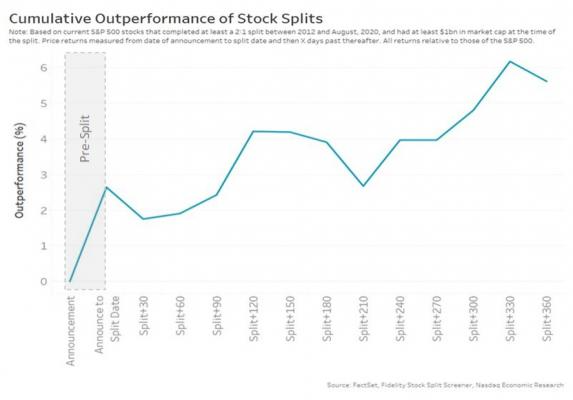 https://www.nasdaq.com/articles/splitting-stocks-changes-them-fundamentally-2020-09-24
6. Hedge Funds Flock To Florida As Wealthy Americans Seek Lower Taxes
by Tyler Durden
TwitterFacebookRedditEmailPrint
Carl Ichan isn't the only mogul moving to Florida for tax reasons.
According to Bloomberg, a flood of hedge funds are planning to expand their presence in the Sunshine State, as wealthy residents from northern states contend with the threat of higher taxes.
Paul Singer's Elliott Management Corp. is reportedly considering opening a Florida office, as is Chicago-based Balyasny Asset Management, which has approximately $8 billion in AUM and plans to open an outpost in MIami, according to people familiar with the matter.
Adding to the list of firms which have already made the move is Bluecrest Capital Management, which just opened a Miami office for approximately 10 portfolio managers. Notably, Miami is offering companies up to $50,000 if they relocate downtown and employ at least 10 high-wage workers as part of their "Follow the Sun" campaign.
The moves to Florida, which has no state income tax, come as locales with the highest number of hedge funds weigh tax increases on the rich. Last week, New Jersey adopted a millionaires tax, and a ballot measure in Illinois calls for raising taxes on the wealthy. New York Governor Andrew Cuomo has said such a tax could be possible if the U.S. government fails to step in with aid, and Connecticut's legislature also has discussed a tax hike.
"Every firm like Elliott is in the process of evaluating choices in how and where they work, including working from home and opening additional offices, but Elliott has not made any decisions," said Stephen Spruiell, a spokesman for the New York-based firm. –Bloomberg
According to Palm Beach Hedge Fund Association head David Goodboy, two or three hedge funds per week are asking him about making the move, vs. one or two per month during the normal times. 90% of them are from Manhattan and Greenwich, Connecticut – with popular destinations including Miami, Palm Beach and Boca Raton – the latter of which Verition Fund Management set up shop two years ago for a couple of portfolio managers.
In 2015, David Tepper moved from New Jersey to Miami, relocating Appaloosa Management there the following year.
As Bloomberg also notes, wealthy individuals have been drawn to Florida's favorable tax laws for years – with the GOP-backed 2017 law capping deductions for state and local taxes on federal returns undoubtedly contributing to newcomers. Meanwhile, real estate in Miami and Palm Beach has been on fire – with sellers deluged by offers.
https://www.zerohedge.com/economics/hedge-fund-flock-florida-wealthy-americans-seek-lower-taxes
7. Big Brother is Watching in America Continues
Ring's latest security camera is a drone that flies around inside your house
The Always Home Cam is an ambitious new home security device
By Dan Seifert@dcseifert Sep 24, 2020, 1:28pm EDT
Ring latest home security camera is taking flight — literally. The new Always Home Cam is an autonomous drone that can fly around inside your home to give you a perspective of any room you want when you're not home. Once it's done flying, the Always Home Cam returns to its dock to charge its battery. It is expected to cost $249.99 when it starts shipping next year.
Jamie Siminoff, Ring's founder and "chief inventor," says the idea behind the Always Home Cam is to provide multiple viewpoints throughout the home without requiring the use of multiple cameras. In an interview ahead of the announcement, he said the company has spent the past two years on focused development of the device, and that it is an "obvious product that is very hard to build." Thanks to advancements in drone technology, the company is able to make a product like this and have it work as desired.
THE ALWAYS HOME CAM IS A SMALL AUTONOMOUS DRONE WITH A CAMERA ATTACHED TO IT
The Always Home Cam is fully autonomous, but owners can tell it what path it can take and where it can go. When you first get the device, you build a map of your home for it to follow, which allows you to ask it for specific viewpoints such as the kitchen or bedroom. The drone can be commanded to fly on demand or programmed to fly when a disturbance is detected by a linked Ring Alarm system.
The charging dock blocks the camera's view, and the camera only records when it is in flight. Ring says the drone makes an audible noise when flying so it is obvious when footage is being recorded.
Ring says the camera can be used for simple things like checking if a stove was left on or a window left open, or if a door is locked when you're away from the home. It features obstacle avoidance technology to allow it to avoid objects in its path and its shrouded propellers prevent damage to property or hurting a pet or person that might collide with the drone.
https://www.theverge.com/2020/9/24/21453709/ring-always-home-cam-indoor-drone-security-camera-price-specs-features-amazon
8. 54% of Americans say social media companies shouldn't allow any political ads
PEW RESEARCH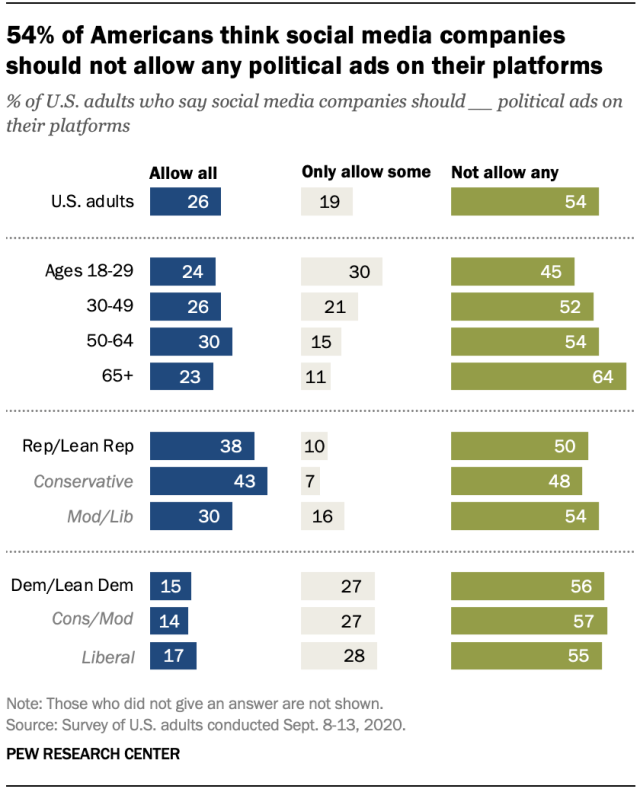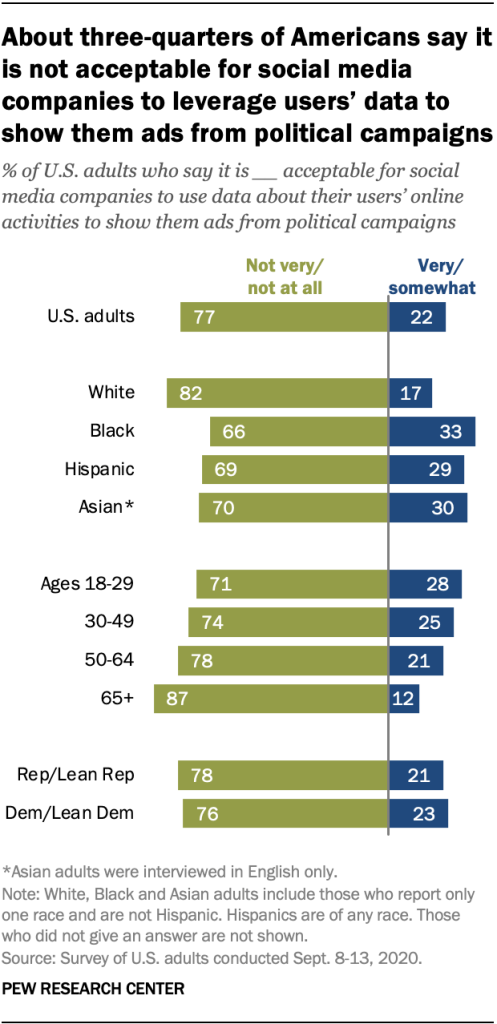 https://www.pewresearch.org/fact-tank/2020/09/24/54-of-americans-say-social-media-companies-shouldnt-allow-any-political-ads/
9. COVID-19 Changes American Perspective on Wealth and Finances
Financial stress is on the rise but Americans exhibit positive financial behaviors during a difficult period
SAN FRANCISCO–(BUSINESS WIRE)– According to Charles Schwab's 2020 Modern Wealth Survey, an annual examination of perspectives on saving, spending, investing and wealth, 57 percent of Americans say that they or a close family member have been financially impacted by COVID-19, but at the same time, there are some silver linings when it comes to people's financial behaviors. Thirty-six percent of Americans say they are more likely to have savings to cover emergency expenses, and 40 percent say they are more likely to be saving more in general compared to before the pandemic outbreak in the U.S. Twenty-four percent say they are now more likely to have a financial plan, and while around 30 percent of those surveyed express some apprehension about investing, roughly one in five say they are more likely to invest more in the stock market (19%) or start investing (22%) during this time.
Americans also report that their relationships drive their overall happiness more than twice as much as money, but they are concerned about their financial futures, with only one quarter feeling highly confident about reaching their financial goals – down from one-third when surveyed in January 2020.
Schwab's 2020 Modern Wealth Survey is comprised of data gathered from 1,000 respondents in January 2020 before the widespread COVID-19 outbreak in the U.S., and again in June 2020.
"The pandemic and the uncertainty it's causing are changing how people think about their wealth and planning for the future, but we're seeing a very productive investor reaction in many ways," says Jonathan Craig, senior executive vice president, Schwab Investor Services. "In both our survey results and the client behavior we've observed since March, we're seeing a high percentage of people engage with their money and investments, and in many cases seek more help and guidance to make sure they're on the right track."
COVID-19 recalibrates American financial aspirations: less is more
Americans have begun to think differently about the value of their money, and their comfort level is changing. When asked what it takes to be financially comfortable now, Americans say it takes much less than it did in January – respondents cited an average of $655,000 in net worth when surveyed in June 2020, down nearly 30 percent from January 2020 when their comfort level stood at an average of $934,000. The bar for the level of assets that Americans think it takes to be considered wealthy has been lowered as well. Today they feel that an average of $2.0 million in net worth equates to wealth, down 23 percent from a loftier average of $2.6 million in January.
| | | |
| --- | --- | --- |
| | Net worth to be comfortable | Net worth to be wealthy |
| Prior to widespread U.S. COVID-19 outbreak (January 2020) | $934,000 | $2.6 million |
| Today (June 2020) | $655,000 | $2.0 million |
Financial stress is on the rise, especially among Millennials
In the midst of the COVID-19 pandemic, 30 percent of survey respondents say they or a family member have experienced a salary cut or reduced work hours, and 25 percent say either they or a family member have been furloughed or laid off. When it comes to impacts on salary and work hours, Millennials are the most affected of all generations, with 41 percent stating that they or a family member have experienced one of these issues.
When asked about their level of financial stress (on a scale of 0 to 100), Americans say they are nearly 15 percent more financially stressed today compared to the end of 2019 before the widespread COVID-19 outbreak in the U.S. Americans also indicate that their increasing stress levels might have a lasting effect. When asked to predict their level of financial stress once the pandemic subsides, they anticipate they will still be more financially stressed than prior to the outbreak of COVID-19.
Millennials are the most financially stressed generation at each point in time surveyed, while Baby Boomers are the least financially stressed.
Time
Financial stress score
across generations (of 100)
Prior to widespread U.S. COVID-19 outbreak
(end of 2019)
45.9
Today
52.5
After the threat of COVID-19 has subsided (predicted)
49.2
Relationships and health remain the biggest drivers of overall happiness
Americans' attitudes about money play a role in their overall happiness, but when asked about the most important factor to their overall happiness today, Americans say relationships are number one, followed by health and money – the same order as before the pandemic outbreak.
Top Drivers of Overall Happiness
Relationships
39%
Health
27%
Money
17%
Lifestyle
14%
Career
3%
https://pressroom.aboutschwab.com/press-releases/press-release/2020/COVID-19-Changes-American-Perspective-on-Wealth-and-Finances/default.aspx?cmp=TKT
10. Self-knowledge, a tool for inner peace
The challenging times we are collectively living have forced us to review the way we are leading our lives. In this context, self-knowledge gains evidence as a self-investigative tool – within reach to anyone – as a way for inner peace, and as a consequence, for world peace.
The Thrive Global Community welcomes voices from many spheres. We publish pieces written by outside contributors with a wide range of opinions, which don't necessarily reflect our own. Community stories are not commissioned by our editorial team, and though they are reviewed for adherence to our guidelines, they are submitted in their final form to our open platform. Learn more or join us as a community member!
· Beatriz Pupo, Senior Biofuels Analyst, Meditation Facilitator, Spirituality Enthusiast and Highly Sensitive Person at S&P Global
As a member of S&P Global's Women's Initiative for Networking and Success (WINS) Employee Resource Group, I recently had the pleasure of organizing an event for our Sao Paulo office, focused on a topic that deeply touches my heart and soul: inner knowledge or self-awareness. This subject also aligns well with the exciting new vision that S&P Global is bringing forth during these times, providing wellness tools for all of its people.
I believe this becomes an even more essential conversation during the challenging times we are collectively living, which have forced us to review the way we are leading our lives – to observe our patterns, limiting beliefs, listen to our bodies and take profound actions to improve our whole well-being (physical, mental, emotional and spiritual). Inner knowledge allows us all to move forward fully in touch with our essences, understanding who we are and where we want to go as a species on this planet.
The event was a success, with a total of 58 participants joining us from all across Latin America. The event speaker, Claudio Matos, works to help individuals and companies bridge the connection between heaven and earth to align their polarities through the expansion of consciousness. According to Claudio, self-awareness is the practice of being in the present moment in the most conscious way possible. It's the ability to see ourselves clearly, to understand who we are, to be aware of every movement, situation, breath, feeling and desire.
By paying attention to our energy – thoughts, words and emotions – we bring coherence to our being and the frequency of the vibrations we are emanating to our inner and outer world. Among many other experiences and tips, Claudio shared these three initial (and essential) steps to help every individual work toward inner peace:
Balance masculine and feminine polarities. These are two sides of the human, like reason and emotion or mind and heart. The goal is to experience a natural balance of these two energies within ourselves, between excess and deficiency.
Find a purpose in life. Think about that purpose every day and start acting on it. From my personal experience, we tend to look at purpose from a work or career point of view, but a purpose can be anything that triggers your heart. What makes you care? Start small; the joy that comes from acting with purpose starts to reverberate and expand your soulful intentions into the world.
Feel worthy. Trust in yourself, that you are able to fully achieve or be anything your heart desires.
Along with working on these three steps every day, Claudio reminded us of a few final practices:
It is important to remember to SMILE.
Discipline and patience are the keys for self-knowledge.
Forgive the past, love the present and trust the future.
My own ending note for all of us is: Let´s do the inner work to be the best version of ourselves and break whatever cycles or patterns we are stuck in. This allows and frees the next generations to just BE.
"Until one is committed, there is hesitancy, the chance to draw back, always ineffectiveness. Concerning all acts of initiative and creation, there is one elementary truth, the ignorance of which kills countless ideas and splendid plans: that the moment one definitely commits oneself, then providence moves too.
All sorts of things occur to help one that would never otherwise have occurred. A whole stream of events issues from the decision, raising in one's favor all manner of unforeseen incidents, meetings and material assistance which no man could have dreamed would have come his way.
Whatever you can do or dream you can, begin it. Boldness has genius, power and magic in it. Begin it now."
― Johann Wolfgang von Goethe
— Published on September 17, 2020
https://thriveglobal.com/stories/wins-latam-event-self-knowledge-a-tool-for-inner-peace/
Disclosure
Lansing Street Advisors is a registered investment adviser with the State of Pennsylvania..
To the extent that content includes references to securities, those references do not constitute an offer or solicitation to buy, sell or hold such security as information is provided for educational purposes only. Articles should not be considered investment advice and the information contain within should not be relied upon in assessing whether or not to invest in any securities or asset classes mentioned. Articles have been prepared without regard to the individual financial circumstances and objectives of persons who receive it. Securities discussed may not be suitable for all investors. Please keep in mind that a company's past financial performance, including the performance of its share price, does not guarantee future results.
Material compiled by Lansing Street Advisors is based on publicly available data at the time of compilation. Lansing Street Advisors makes no warranties or representation of any kind relating to the accuracy, completeness or timeliness of the data and shall not have liability for any damages of any kind relating to the use such data.
Material for market review represents an assessment of the market environment at a specific point in time and is not intended to be a forecast of future events, or a guarantee of future results.
Indices that may be included herein are unmanaged indices and one cannot directly invest in an index. Index returns do not reflect the impact of any management fees, transaction costs or expenses. The index information included herein is for illustrative purposes only.