1. Small Value 600 52% Spread in Performance Versus QQQ YTD.


QQQ+35%YTD VS. IJS (small value 600)-17%
2. Largest Growth vs. Value Cycle in History
BLACKROCK
3. Updated S&P Forward P/E Ratio JP Morgan.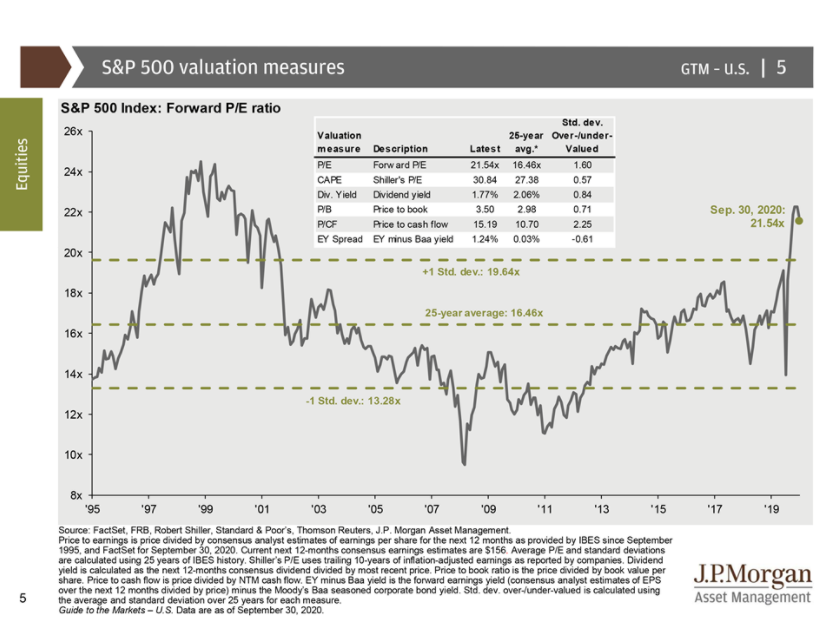 https://am.jpmorgan.com/us/en/asset-management/gim/adv/insights/guide-to-the-markets/viewer
4. Money Losing Companies in Russell 3000 Returns YTD.
Chart of the Day
Posted October 14, 2020 by Michael Batnick
The chart of the day comes from Ehren Stanhope.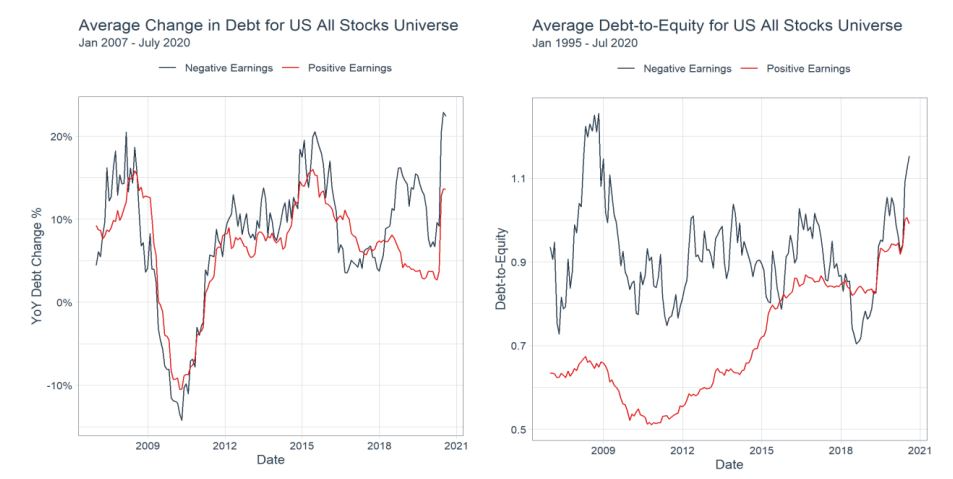 Companies issued a ton of debt in the third quarter. $267 billion for investment grade corporates and $119 billion for high yield, to be exact.
There was obviously a good reason for the explosion in debt. Earnings collapsed and businesses needed to bridge the gap. But at some point in time, you would think the chickens will come home to roost, at least for some of these businesses. To this point, Ehren wrote:
"Investors can be certain that companies losing money while piling on debt produce poor investment outcomes."
That statement is not controversial. I think every investor would nod their head at it. But in an upside down market, we've actually seen money losing companies doing incredibly well.
Ben did a post on this yesterday, where he found that of the 416 money losing companies in the Russell 3000 with a market cap north of $1 billion, the median return is 20%, and 76 stocks are up 100% or more.
The idea behind these money losing companies is that they're in super growth mode. Profits don't matter right now. I understand this line of thinking and I don't have a problem with it, but everyone can't be the next Amazon. Some of these companies will look cheap in 10 years, others will look beyond ludicrous.
It's hard not to get swept up right now in all of the excitement, but if you're going to be in these names, make sure that your portfolio is not too tied to the success or failure of any one of them.
5. Libor Breaks to New Lows.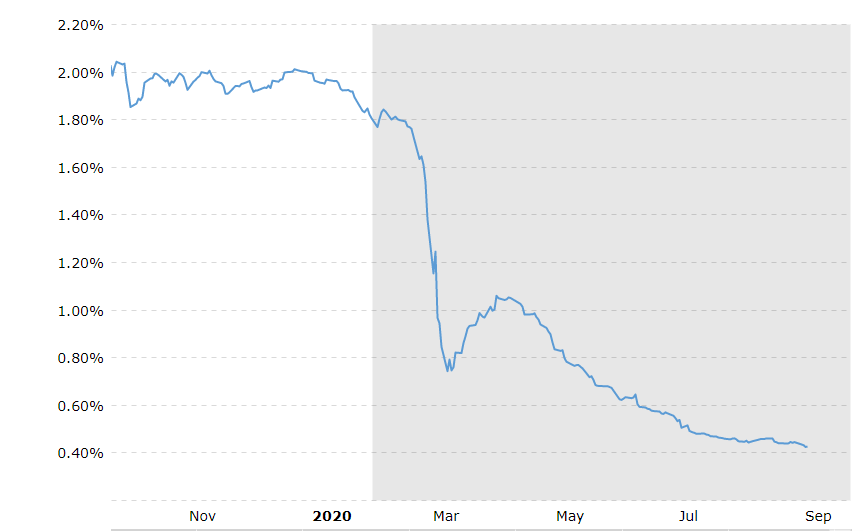 https://www.macrotrends.net/2515/1-year-libor-rate-historical-chart
6. Money is Building but Not Moving Thru Economy
Which then brings us to what may be the best one-chart summary of all that is wrong with the US financial system. It is a very simple chart – it shows consolidated deposits and loans within the US financial system (which consists of both US and foreign banks).
Yet while the continued flatlining in US bank loans – which haven't budged in the past two years and have barely increased since the financial crisis – is explainable, it is nonetheless quite troubling: after all, if there is neither supply nor demand for loans, the economy simply won't grow, period. It's also why the velocity of money will be catastrophic and is approaching that monetary "singularity" of 1 for the first time ever.
What is Velocity of Money?
The velocity of money is a measurement of the rate at which money is exchanged in an economy. It is the number of times that money moves from one entity to another. It also refers to how much a unit of currency is used in a given period of time. Simply put, it's the rate at which consumers and businesses in an economy collectively spend money. The velocity of money is usually measured as a ratio of gross domestic product (GDP) to a country's M1 or M2 money supply.
https://www.investopedia.com/terms/v/velocity.asp
The One-Chart Summary Of All That Is Wrong With The US Financial System: Deposits Over Loans
by Tyler Durden
https://www.zerohedge.com/markets/one-chart-summary-all-wrong-us-financial-system-deposits-over-loans
7. Equity Put/Call Ratio Near Historical Lows…Complacency in Stock Market.
Liz Ann Sonders-Schwab
Meanwhile, investor sentiment remains a mixed bag. As U.S. stocks have continued to improve from their September weakness, some measures of sentiment—like the Cboe equity put/call ratio shown below—are still showing signs of complacency. The ratio ticked up during the selloff but didn't spike to anywhere near its levels during the March plunge into bear market territory.
Equity put/call ratio still hovering near historic lows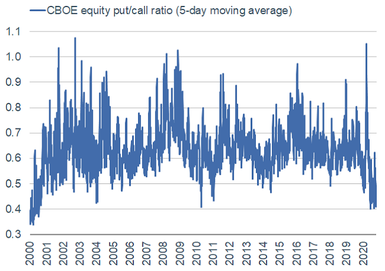 Source: Charles Schwab, Bloomberg, as of 10/15/2020.
Schwab Market Perspective: Turning to Earnings Season
https://www.schwab.com/resource-center/insights/content/market-perspective
8. Historically Best Quarter for S&P 500 is Q4
According to Bell, the S&P 500 typically sees an average gain of 3.9% in the fourth quarter — making it the best three months of the year.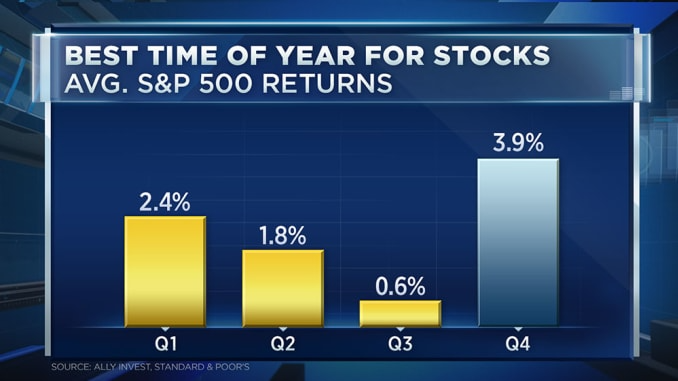 https://www.cnbc.com/2020/10/18/this-phistorical-trend-may-drive-stocks-higher-.html
9. The Business of America is Business
New Business Applications

Source: @PlanMaestro
From Barry Ritholtz Blog https://ritholtz.com/2020/10/weekend-reads-439/
10. Seven Small Changes That Will Make a Big Difference in Your Life
By Patti Johnson | October 28, 2016 | 33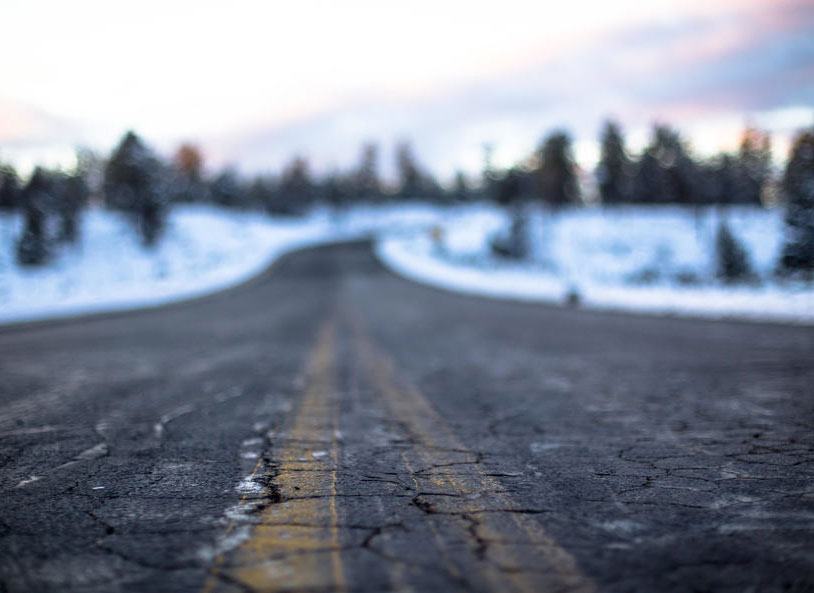 Our happiness and success rely on thinking constructive thoughts, acting with intent and creating strong relationships with others. The good news is we have control over all of these areas. We can choose to change.
These are the most common changes that can make the biggest impact in your life:
Related: 5 Things That Affect You and Your Life
1. Mind your mind.
Your thoughts drive how you feel. How you feel drives your actions.
It is impossible to be confident and self-assured if your thoughts are filled with self-doubt and judgment. If you would never speak to others the way you internally speak to yourself, you can change.
It takes time to reprogram your thinking, but self-awareness is step one. Be more aware of your thoughts. Ask yourself: What is on my mind right now and why?Are my thoughts helping me?
A pause to reboot your internal thoughts can help you become more intentional and positive.
2. Separate how you feel from what you do.
Take time to acknowledge how you really feel. Minding your mind doesn't mean hiding or ignoring your feelings. But separate your feelings from your actions—your actions are a separate decision.
For example, if I am frustrated that a peer is difficult to work with on a project, I can acknowledge my frustration and then separately decide how to handle it. Or, a friend constantly misses commitments and you feel angry. Rather than ignore it or end the friendship, choose to be open and direct about the impact his or her actions are having on the friendship.
Your actions are a separate decision that you alone make based on your feelings.
3. Stop comparing.
There will always be someone more successful, more accomplished, with more medals, more money and a better promotion. This constant comparison game means you'll likely never measure up. The bar is always moving and usually it's up. So have your own internal bar of success based upon what matters most to you, your starting point and the progress you've made.
As a career mom, I learned over time that my value wasn't measured by how much I volunteered at my sons' schools compared to other mothers. My focus was on how our boys were doing and if they were thriving, rather than comparing myself to moms with more available volunteer time.
Find the real meaning in your efforts. Meaning is a powerful way to overcome comparison to others as you focus on impact and contribution.
Related: How 5 Successful People Define Success
4. Claim time for yourself at the start of each day.
Time is our greatest asset. If we are intentional in how we use it, we have a better chance of living the life we want. How you start each day plays a big role in being intentional.
Find a few minutes to think about how you want to spend your day, both in terms of time and the thoughts you want to have. Prayer, meditation, exercise and a little quiet time to think can have a monumental impact on your day, week and year.
I always ask my clients when they can create this thinking and planning time, and where this can best occur. My most important decisions and changes began after I had the time to really think about what I wanted.
Find a quiet corner to pause rather than a busy kitchen—make the time in your busy life.
5. Do something new every week.
Predictable days and habits keep us in a rut. Every week, pick one new small change you want to make.
A friend of mine declared a "year of living differently." She took cooking lessons, made changes to her house, planned several small weekend trips and learned to fly fish.
Intentionally shake up the routine and try something you've never done before. Even a small change, such as watching an interesting TED Talk while getting ready in the morning or experimenting with a new menu item on the grill can trigger new energy.
6. Listen even when you want to talk.
Listening is the most powerful learning tool and relationship builder you have at your disposal, but in our fast-paced, technology-driven world, it is wildly underutilized.
Ask questions and really listen, rather than thinking about what you are going to say next. Your full attention is one of the greatest compliments you can give to someone.
7. Battle the addiction to being right.
The desire to always be right can overshadow even the strongest relationship. Being right at all costs might fulfill an inner need you have, but often at the expense of someone or something else.
Consider this situation: Is there only one answer? Do we need to agree? Is there new information here that I haven't considered?
Of course, keep your point of view and speak up for values and causes that matter. But if your desire to be right overtakes you in any situation regardless of importance or relationship, a change might do some good. There is no joy in "winning the battle but losing the war."
Small changes made consistently over time can have a big impact on your life. And they are all actions you can take starting today.
Related: If You Change Yourself, You Can Change Your Life
Disclosure
Lansing Street Advisors is a registered investment adviser with the State of Pennsylvania..
To the extent that content includes references to securities, those references do not constitute an offer or solicitation to buy, sell or hold such security as information is provided for educational purposes only. Articles should not be considered investment advice and the information contain within should not be relied upon in assessing whether or not to invest in any securities or asset classes mentioned. Articles have been prepared without regard to the individual financial circumstances and objectives of persons who receive it. Securities discussed may not be suitable for all investors. Please keep in mind that a company's past financial performance, including the performance of its share price, does not guarantee future results.
Material compiled by Lansing Street Advisors is based on publicly available data at the time of compilation. Lansing Street Advisors makes no warranties or representation of any kind relating to the accuracy, completeness or timeliness of the data and shall not have liability for any damages of any kind relating to the use such data.
Material for market review represents an assessment of the market environment at a specific point in time and is not intended to be a forecast of future events, or a guarantee of future results.
Indices that may be included herein are unmanaged indices and one cannot directly invest in an index. Index returns do not reflect the impact of any management fees, transaction costs or expenses. The index information included herein is for illustrative purposes only.FacebookTwitter