1.Some Covid Favorite Stocks Corrected Well Over -20%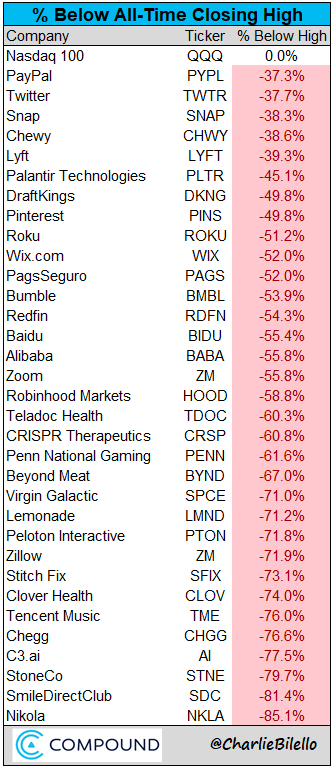 2.Classic Performance Chase in ARKK…$3B Monthly Flows at Top of Performance.
Morningstar–ARKK inflows set records at end of 2020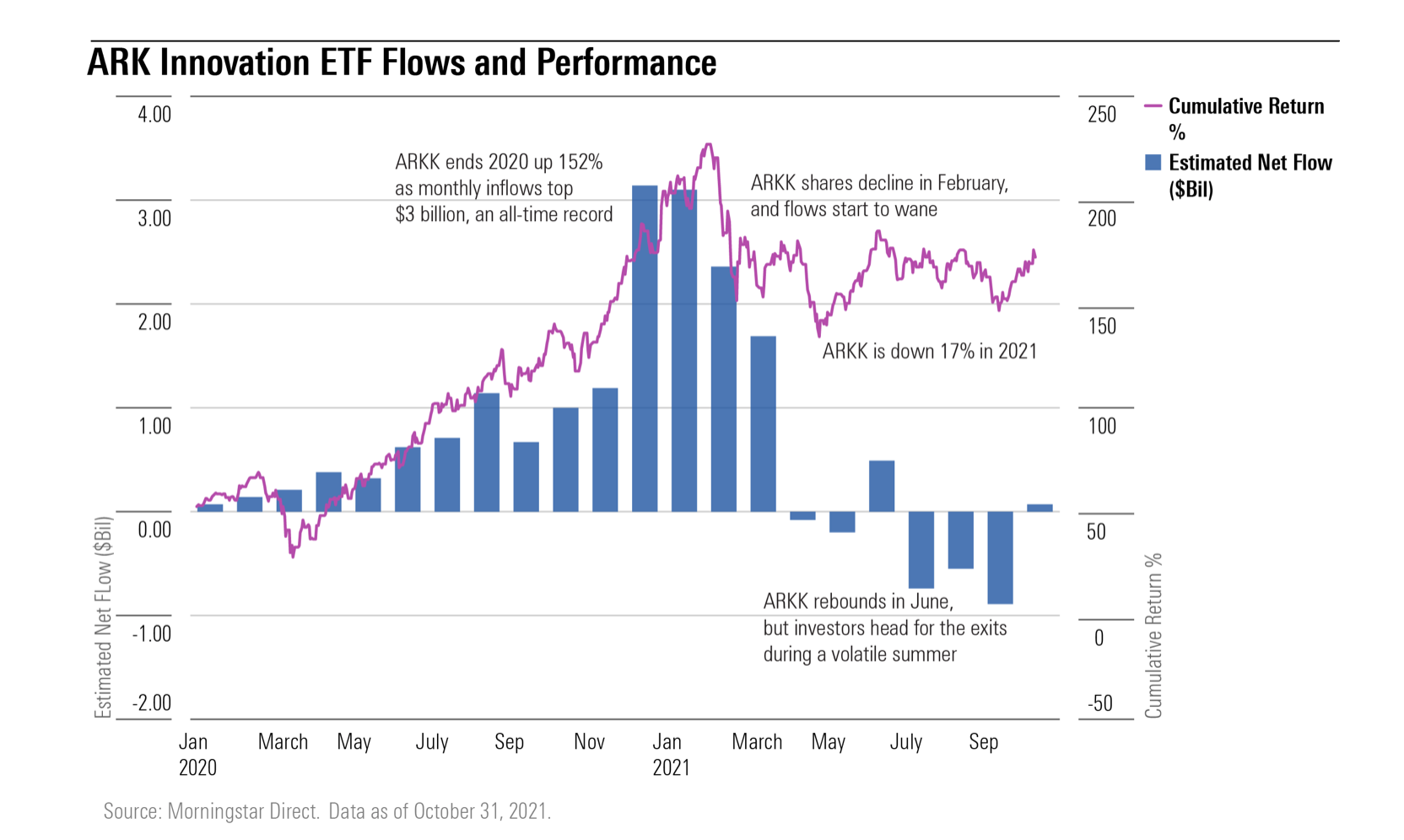 YTD-ARKK -15% vs. S&P +25%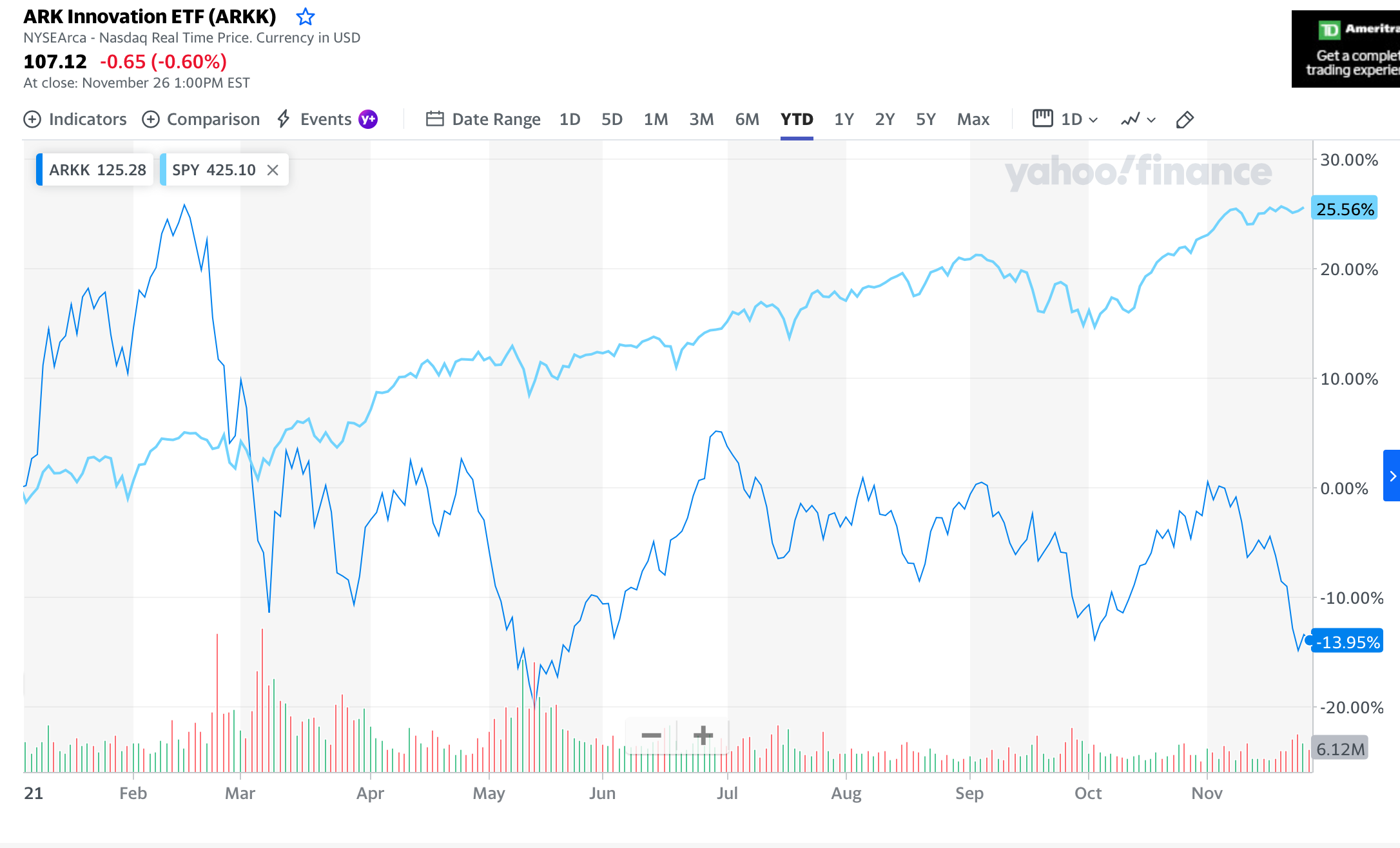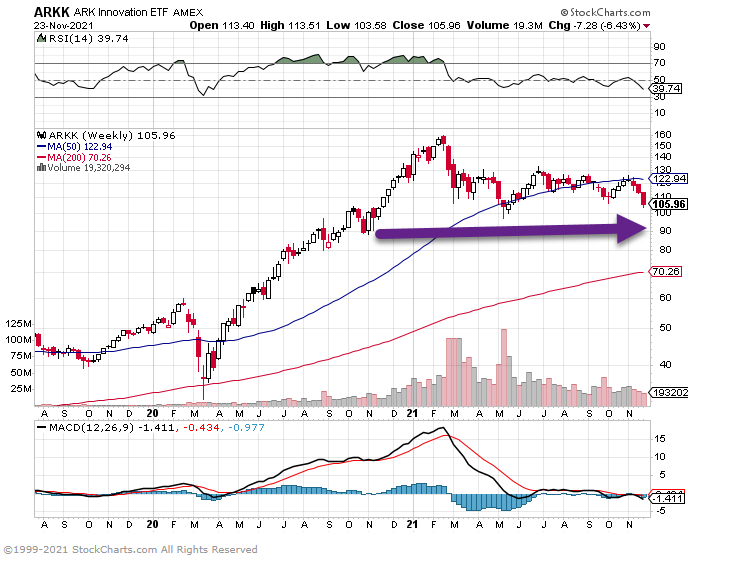 3.Tesla Notional Daily Options Volume Higher Than Rest of Stock Market Combined.
Morgan Housel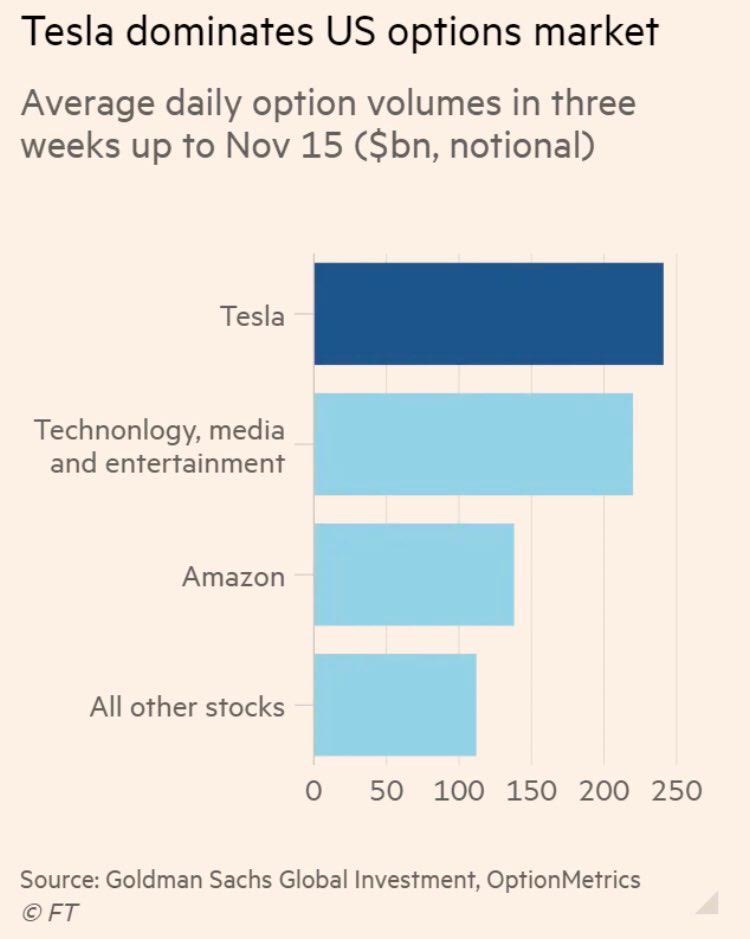 4.KWEB-China Internet ETF Forming Huge Base on Chart….$43 Clear Break to New Lows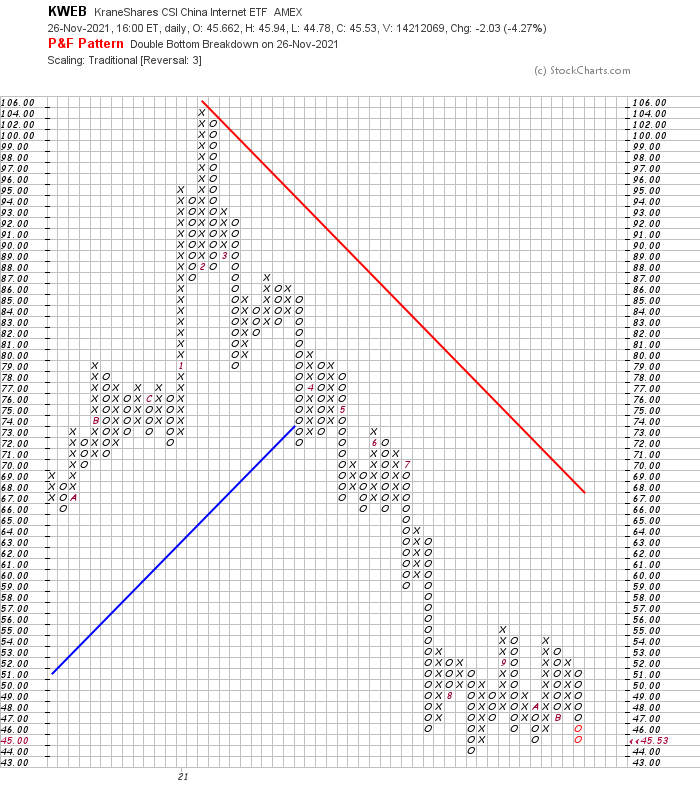 5.Americans Increasingly Support Nuclear Energy
Energy: Americans increasingly support nuclear energy.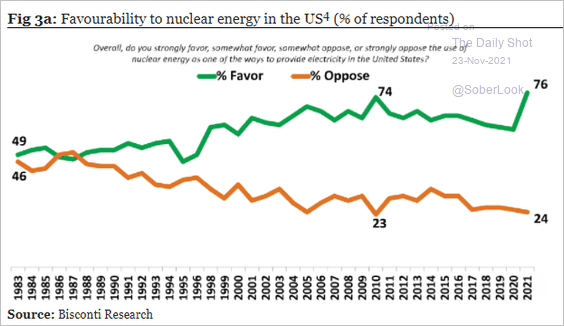 The Daily Shot https://dailyshotbrief.com/the-daily-shot-brief-november-23rd-2021/
6.How Big is Amazon? Hiring more seasonal workers than Nike has employees.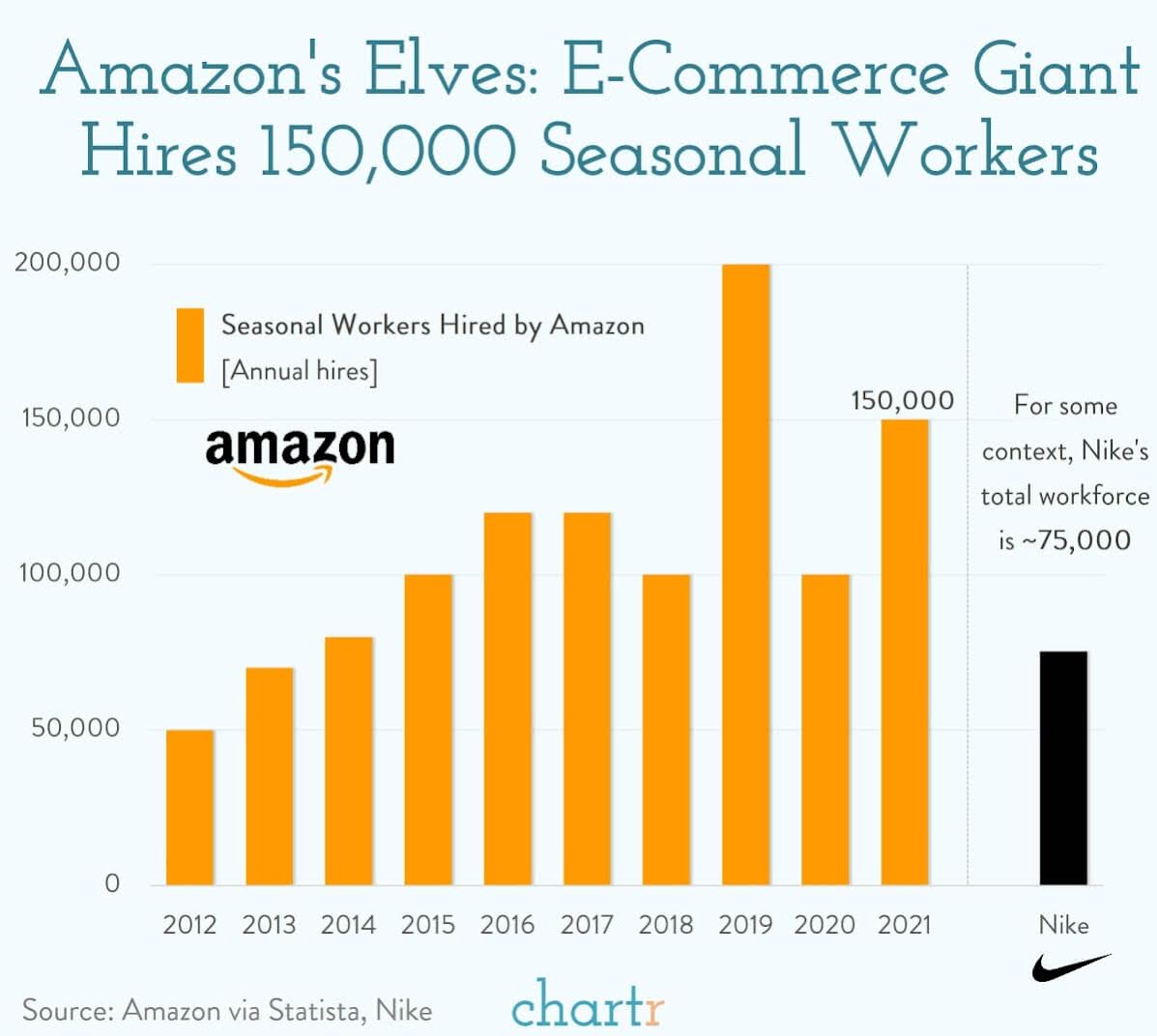 At the end of last year Amazon reported that it employed almost 1.3 million people, with rougly 950,000 employees in the US alone. That means that roughly 1 in every 150 American workers gets a paycheck from Jeff Bezos and co..
During the holiday period, that number goes up even more.
This year Amazon announced it would take on 150,000 seasonal employees to help fulfill the demand of the final few months of the year — something the company has pretty much always done.
That 150,000 may not be the biggest seasonal hiring Amazon has ever done, but for some context it's essentially the equivalent of hiring the entire workforce of Nike… twice.
Most of the roles are somewhere in Amazon's enormous supply chain; delivery, warehouse work and fulfillment — and it's not the only company hiring. Walmart plans to hire a similar number and Target needs 100,000. Hiring that number of people, at a time when the labor market is really hot (re: the great resignation) and supply chains are already creaking, might not be as easy as it used to be.
7.Historical Diamond Prices
How to find diamond price history from 1960 to 2019 ? – The original Graph
Compare Historical diamond trade price trend evolution and performance graph statistic. View changes from 1960 to 2019 in data chart, diagram Graph statistics: compare and analyze the performance development of over 58 years changes:
Index data tracking the historical diamond prices changes up to actual prices.
Diamond prices increases about 14% each year since 1960!
Discover now the three conditions to reach your investment target safely
Explore the return on investment! (ROI)
Get your free copy of the Historical diamond prices graph, email please Copyright Ajediam
2018 Price for an extremely rare 1.00 Carat EX EX EX, H&A, Super Ideal Cut, Flawless, Girdle thickness medium Fluorescence none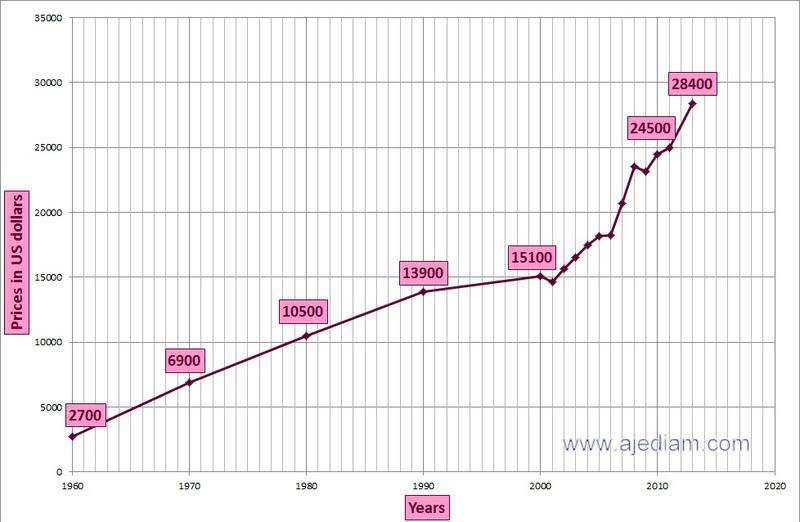 Yearly increase of diamond prices and value +14.47% from 1960 to 2019 or equal to yearly compound interest of 4.3% Past performance does not guarantee the performance of the future.
https://ajediam.com/historical-diamond-prices
8.Household Formation Spikes During Covid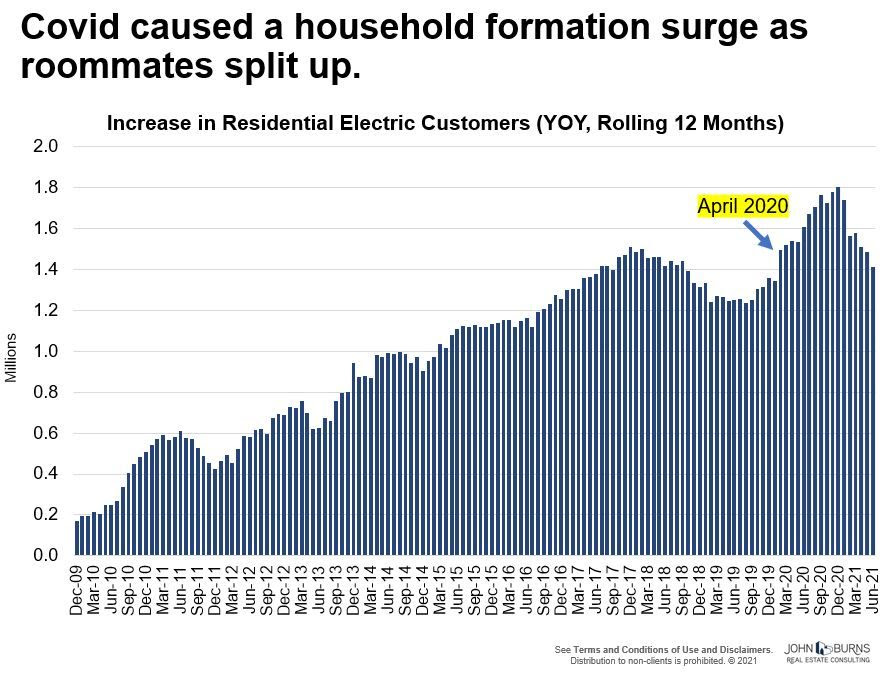 John Burns
Household formations surged last year as people sought life with fewer housemates.
2nd home living surged as well.
Some of this is permanent and a pull forward of households we expected to form in future years.
We are wrestling with what household formation will be next year. There are so many variables to consider!
https://www.linkedin.com/feed/
9.Corporate Tax Revenue Hit an All-Time High in 2021
William McBride
The Congressional Budget Office (CBO) now estimates that the federal government received $370 billion in corporate tax revenue over the past year (fiscal year 2021), matching the record high level from 2007. This is a 75 percent increase over the previous year's total, reflecting a rebound in corporate profits and the broader economy.
This year's robust corporate tax collections calls into question efforts by the administration and congressional Democrats to increase the corporate tax rate and raise other corporate taxes based on claims of relatively low tax collections following the Tax Cuts and Jobs Act (TCJA) in 2017. In fact, corporate tax collections this year are about 25 percent higher than the $297 billion collected in 2017, prior to passage of TCJA. Likewise, as a share of GDP, corporate tax collections are higher this year (1.63 percent) than in 2017 (1.52 percent).
In addition, the rebounding economy has boosted individual income tax collections to an all-time high of $2.052 trillion for the fiscal year. Payroll tax revenue came in at $1.308 trillion, close to last year's total, and other receipts came in at $317 billion. In total, federal tax collections reached $4.047 trillion in fiscal year 2021, an all-time high in nominal terms.
As a share of GDP, total federal tax collections hit 17.8 percent this year, which is higher than almost any year (2015 is the exception) since the Bush tax cuts in 2001, and substantially higher than the 16.3 percent of GDP that was collected on average between the passage of the Bush tax cuts in 2001 and the TCJA in 2017.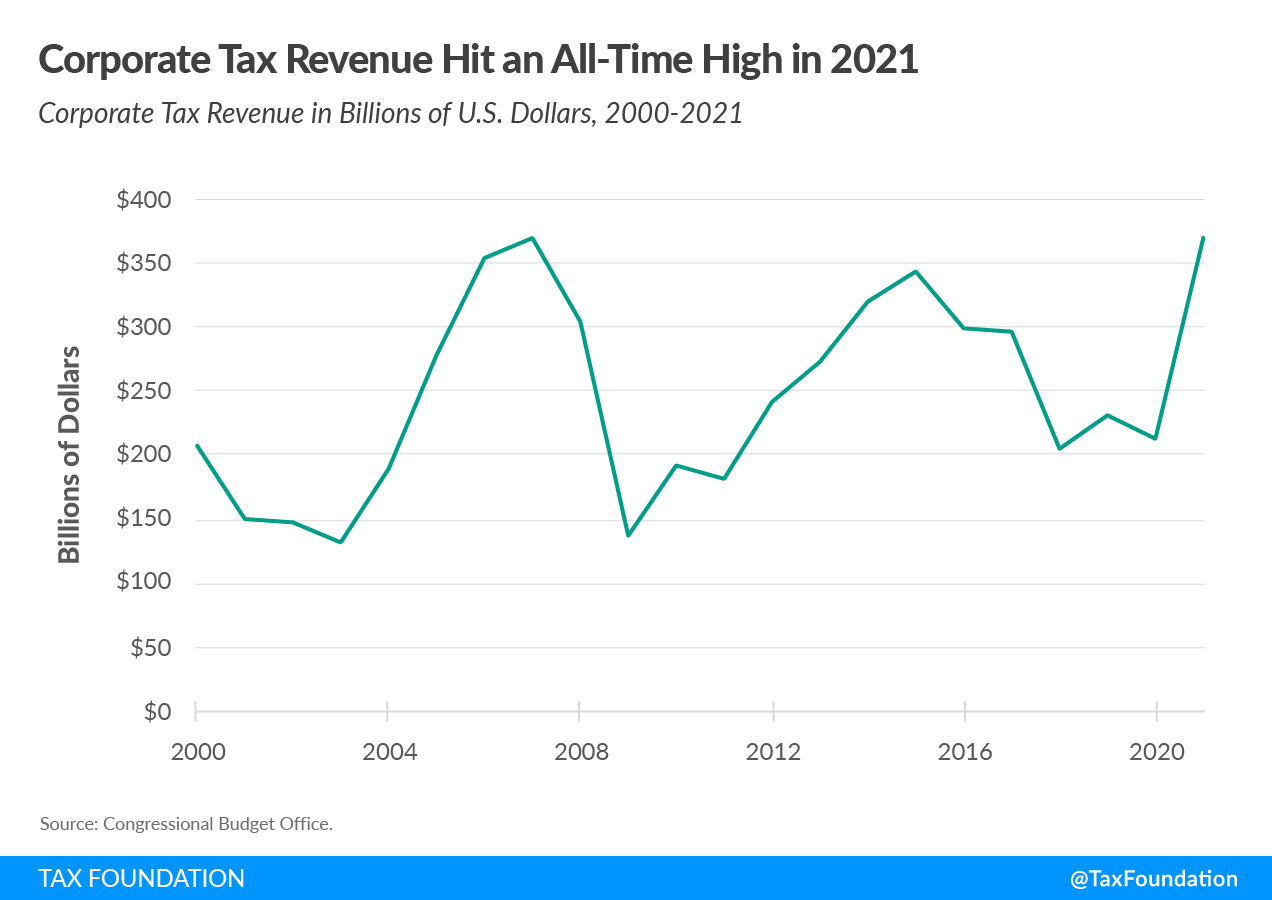 https://taxfoundation.org/corporate-tax-collections-2021/
10.Jeff Bezos made decisions at Amazon based on 5 key principles, according to a former board member
A new book reveals the rules Amazon founder Jeff Bezos used to make the company a success.
Tom Alberg, an ex-Amazon board member, wrote the book, which detailed Bezos' "Day 1″ philosophy.
It also discussed how Bezos overcame the company's early struggle to attract investment.
Jeff Bezos led Amazon to mammoth success by using a particular set of principles when he needed to make important decisions for the company. The principles were discussed in a new book, "Flywheels: How Cities Are Creating Their Own Futures," by Tom Alberg, a former board member at Amazon.
Alberg – now a managing director of Madrona Venture Group, a Seattle-based venture firm he founded – was an early investor in Amazon.
Back in 2019, Alberg said no one wanted to invest in the company's first funding round because they expected what was then a fledgling online books startup to be "murdered" by Barnes & Noble, Insider's Ashley Stewart reported.
Bezos ultimately convinced Alberg to invest because he had a thorough, focused business plan and strong initial results, Alberg wrote in the book.
Now that it's a trillion-dollar company, Alberg said he's often asked: "Why is Amazon so successful?"
Drawing on his experience of watching the tech mogul make decisions, Alberg set out to explain the principles Bezos stuck to at work.
"The most important is customer obsession," Alberg wrote in the book. He added that, according to Bezos, too many companies focus on their competitors as opposed to their customers.
As Bezos explained to a Congressional Committee, "customers are always beautifully, wonderfully dissatisfied. A constant desire to delight customers drives us to constantly invent on their behalf," Alberg wrote. Bezos sometimes made decisions that could harm Amazon's bottom line but benefit the customer, he added.
The second principle is "constant invention and innovation." Per Alberg, invention is closely related to customer satisfaction. "Customer satisfaction and innovation are powerful touchstones when making decisions," he wrote.
Making decisions is much easier when you ask "what is the best decision for the customer?" and "is there a way to invent our way to a solution?" Alberg wrote.
The third principle championed by Bezos is operational excellence, according to Alberg. Some examples include "two-pizza teams," one-click shopping, single-threaded leaders, and working backward.
The "two-pizza rule" is one of Bezos' more creative strategies, which is aimed at not losing an entire day to unnecessary meetings. It's potentially a key to the founder's success, Insider's Áine Cain and Shana Lebowitz reported.
So, how does it work? The more people you pack into the meeting, the less productive the meeting will likely be. The idea is that most people will end up agreeing with each other rather than voicing their own opinions and ideas. The solution? Never have a meeting where two pizzas couldn't feed the entire group.
Thinking long-term underscores the fourth principle for Bezos' decision-making process at Amazon, according to Alberg. That can range from launching a new business or investing in new technologies. One example Alberg notes is Bezos' early adoption of AI.
"When businesses were just beginning to recognize the possibilities of machine learning and AI, Jeff told the board that he intended to use AI in every part of the business," he wrote. Bezos then began to hire AI experts and train his existing engineers to use it.
Amazon subsequently created and made AI tools available to customers on Amazon Web Services — one of the company's subsidiaries — that they could use in their business to even compete against Amazon, according to Alberg.
The fifth principle, and perhaps the overriding one, is his "abiding optimism of the future and how we are only in Day 1," Alberg wrote. Bezos' "Day 1" philosophy is based on the broader idea that although the internet and Amazon may seem mature and in successive phases to many, Bezos believes, we are still at the beginning.
"It is his ultimate expression of optimism about what the future will bring," Alberg wrote.
These principles are "no secret," Alberg added. "But you have to live by them all of the time, and most businesses are unwilling or unable to do so."
https://www.businessinsider.com/jeff-bezos-amazon-decision-making-principles-tom-alberg-2021-11