1. Another Look at the Record Cash on Sidelines.
Record cash on the sidelines missing the recovery.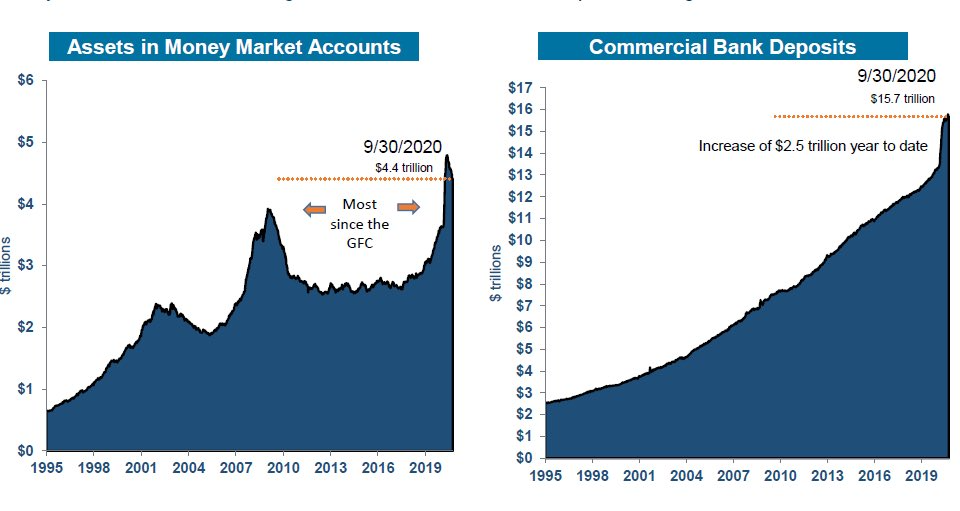 https://twitter.com/PeterMallouk/status/1326624653549383680/photo/1
2. First Time in 493 Days that Small Cap vs. Nasdaq 100 Closed Above 200 Day Moving Average.
The First Time in a Long Time–by Michael Batnick
493 days. Four hundred and ninety-three days.
That's how long it's been since the Small Value/Nasdaq-100 ratio has been below its 200-day moving average. Today was the first time since November 2018 that it closed above it.
Does this mean anything? Yes, it means that growth has beaten the pants off value for a very, very long time. Does it mean anything that it closed above the 200-day moving average? I don't know, check back in 6 months.
Josh and I spoke about the epic unwind in the "stay at home stocks" versus the "open up the economy" stocks and a lot more on this week's What Are Your Thoughts? Yes, I know my hat is ridiculous.
Subscribe to the channel, you'll get a notification as the show is about to premiere each week.
Josh and I use YCharts when creating visuals for this show, as well as for many aspects of their business. What Are Your Thoughts viewers can get a 20% discount for YCharts by clicking here (new users only):
You can hit us with a topic for next Tuesday's episode – just shoot us an email at askthecompoundshow@gmail.com and we'll choose one straight from the inbox.
3. Breadth Improved Dramatically….80% of Russell 3000 Stocks Over 200 Day Moving Average.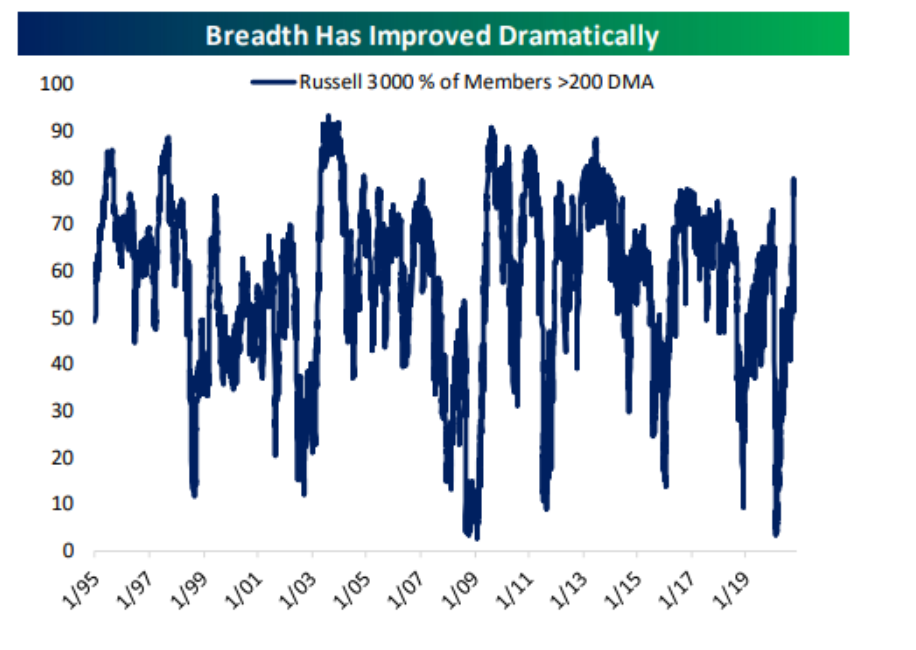 https://www.bespokepremium.com/interactive/posts/think-big-blog/the-closer-mrna-hits-their-number-sector-rotation-breadth-strong-11-11-20
4. Chinese Car Sales Outpace Traditional Vehicles….Gm and BYDFF Out Sell TSLA.
Electric Car Sales More Than Double In World's Biggest EV Market, But Tesla Lags
APARNA NARAYANAN Electric cars again outpaced traditional vehicles as China auto sales continued their pandemic rebound in October. But Tesla (TSLA) trailed both Chinese car giant BYD (BYDFF) and a General Motors (GM) joint venture in the world's biggest market for electric vehicles.
Actually, this is one of the biggest misconceptions
Electric Cars Lead China Auto Sales
Sales of new energy vehicles (NEVs), which includes electric cars, surged 105% to 160,000, their fourth consecutive month of gains, according to China Association of Automobile Manufacturers (CAAM) data reported by Reuters on Wednesday.
That far outpaced overall China auto sales, which saw a 12.5% gain in October to 2.57 million vehicles.
Separate data out Monday also showed a steep increase in EVs. China electric car sales soared 137% to 121,000 in October, with overall NEV sales hitting 144,000, the China Passenger Car Association said. Total retail auto sales rose 8% to 2.02 million vehicles.
Also in October, Tesla's Shanghai factory produced 22,292 Model 3 electric sedans, according to CPCA. Reports said that would suggest an annual run-rate of 275,148 vehicles at its current production pace. Based on October's numbers, Tesla China could reach its 2021 target to manufacture 300,000 Model 3s by end of this year. Tesla also plans to make 250,000 Model Ys electric crossovers in 2021.
But while Tesla was No. 2 in terms of October production, trailing only the SAIC-GM Wuling joint venture, it was No. 4 in terms of October sales. That underscores that local Chinese demand is far below production capacity.
Tesla sold 12,143 electric cars in China in October, as a new price cut helped buoy demand. But Tesla trailed the GM-SAIC Wuling joint venture, Warren Buffett-backed BYD and another SAIC unit. Tesla also exported about 10,000 made-in-China Model 3 cars to other countries, after saying it would start exports to European markets on Oct. 20.
---
---
China auto sales crumbled at the start of the year due to the coronavirus outbreak. Year to date, sales are still expected to be down 7%, though that's an improvement from earlier forecasts of an 11% decline, according to Bloomberg.
China's Kandi (KNDI) fell 17% on Monday after reporting mixed quarterly results. Kandi swung to a net loss of 3 cents a share from EPS of 23 cents a year ago. Revenue dropped 41% to $18.7 million, as EV parts sales fell 67.4%, offset by a 51.6% gain in off-road vehicle sales. Analysts expected a net loss of 11 cents per share on sales of $21.6 million.
Kandi stock tumbled 23% on Tuesday before rising 3.4% on Wednesday.
In a heavy week for electric car stock earnings, Xpeng Motors (XPEV) and Li Auto (LI) are also teeing up to report. On Wednesday, Bank of America backed a buy rating on Xpeng stock while hiking its price target to 36.20. It cited a robust EV pipeline that should boost top-line growth.
Tesla Stock, Electric Car Stocks
Shares of Tesla rose 1.65% to 417.13 on the stock market today. Tesla stock continues to work on a 466 handle buy point, but is just below its 50-day line. GM dipped 0.6%, but is up 8.2% so far this week.
Among key China electric car stocks, Nio (NIO) rose 3.7% on Wednesday. Xpeng climbed 1.9% to 33.53 after surging past a 23.20 early entry and a 25.10 official buy point last week. Fellow Chinese IPO Li Auto retreated 1.1% to 24.97 after blasting past a 21.96 cup-with-handle buy point a week ago.
BYD stock, which trades over the counter in the U.S., lost 5.2%.
In China, local automakers including BYD, Nio, Xpeng and Li Auto are turning into formidable electric vehicles rivals to Tesla. In October, Nio's monthly sales exceeded 5,000 for the first time.
Last week, Xpeng Motors reported a 229% year-over-year sales jump in October. That compared to a doubling for Nio and 85% gain for BYD. Li Auto, which kicked off mass production in November 2019, said October deliveries rose 5% month over month.
Find Aparna Narayanan on Twitter at @IBDANarayanan.
TSLA +500% vs. BYDDF +330% vs. F -7%
5. Record Hurricane Season Wipes Out Most Offshore Oil in a Decade
Busiest-ever hurricane season took 41 million barrels offline
It's the year of the unprecedented and the hurricane season has been no exception.
A record-breaking hurricane season shut in an OPEC-nation amount of oil during a global pandemic that decimated demand and sent crude stockpiles soaring. Between tropical storm Cristobal in early June and the latest Greek alphabet soup of tempests disrupting oil platforms in the Gulf, offshore drillers have had to shut about 41 million barrels of production, the most in government data going back to 2010.
The amount equates to about 270,000 barrels a day, or roughly the same rate of production as in OPEC member Republic of Congo. The productions shut-ins helped steer swollen U.S. crude inventories to a six-month low after the last hurricane, Zeta, swept through in the week of October 30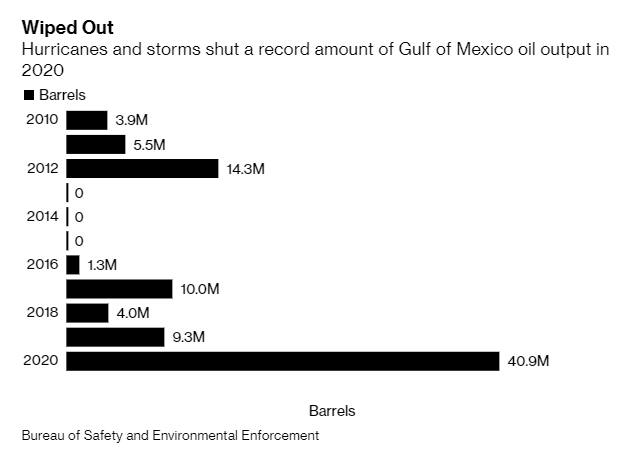 Record Hurricane Season Wipes Out Most Offshore Oil in a DecadeBy Sheela Tobbenhttps://www.bloomberg.com/news/articles/2020-11-11/record-hurricane-season-wipes-out-most-offshore-oil-in-a-decade?srnd=premium&sref=GGda9y2L
6. Bitcoin vs. All-Time High 2017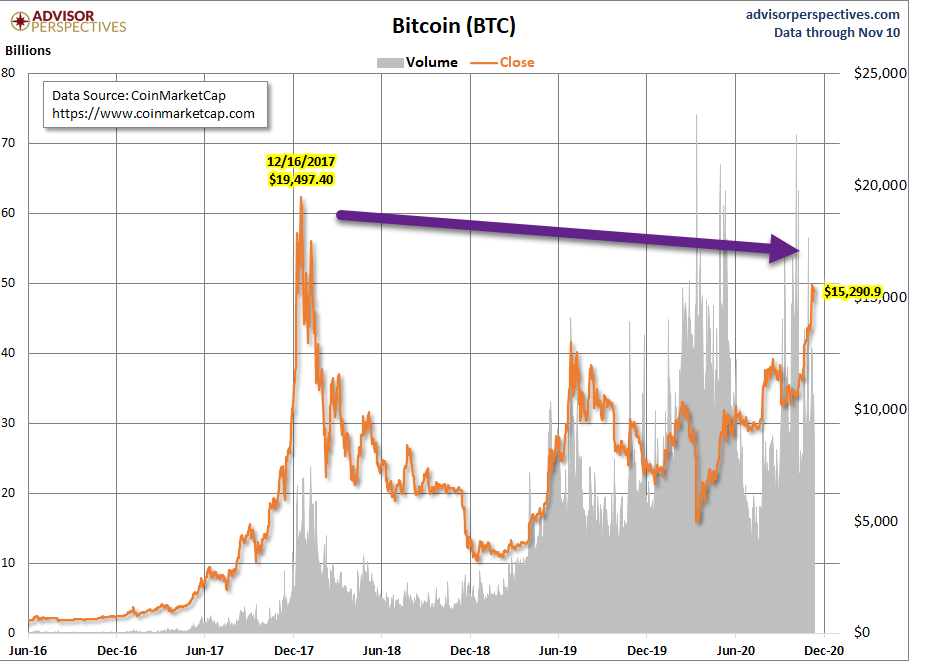 Cryptocurrencies Through November 10by Jill Mislinski, 11/11/20
https://www.advisorperspectives.com/dshort/updates/2020/11/11/cryptocurrencies-through-november-10
7. Spike in Cali Wildfires and Insurance Payouts.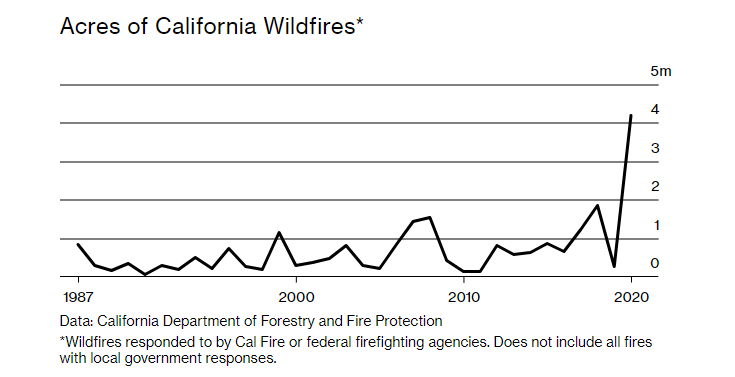 Wildfires Are Close to Torching the Insurance Industry in Californiahttps://www.bloomberg.com/news/features/2020-11-10/wildfires-are-torching-california-s-insurance-industry-amid-climate-change?sref=GGda9y2L
8. 50 Year Decline in U.S. Wages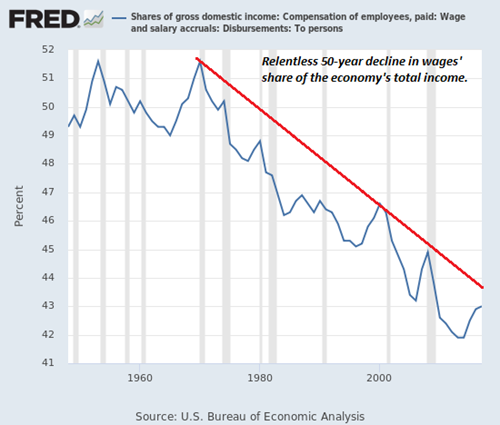 https://www.zerohedge.com/economics/theres-no-vaccine-terminally-ill-economy
9. Typical person yanked $12,000 from 401(k) during coronavirus pandemic: Vanguard
KEY POINTS
· The CARES Act allows 401(k) and other retirement savers to withdraw up to $100,000 through December via a "coronavirus related distribution."
· The typical Vanguard investor pulled out $12,000, according to company data.
· About 4.5% of Vanguard 401(k) investors took a distribution.
The typical 401(k) investor pulled $12,000 from their account in the form of a "coronavirus-related distribution," according to a new Vanguard analysis of its client data.
This figure represents the median withdrawal — in other words, the amount right in the middle of all withdrawal amounts.
Coronavirus-related distributions are a new type of retirement withdrawal, enacted in March by the federal CARES Act to help cash-strapped individuals during the economic downturn.
About 4.5% of Vanguard 401(k) investors took a coronavirus distribution between March and September, indicating that few participants used the remedy, the Vanguard analysis said.
However, it equates to almost 187,000 investors, according to a CNBC analysis of Vanguard data published over the summer, which indicated that a coronavirus distribution was available to about 4.2 million 401(k) customers.
It's also more than double the withdrawal rate through the end of May, when fewer than 2% of Vanguard 401(k) investors had used the withdrawal mechanism, according to company data.
This suggests more people have turned to this CARES Act safety valve as the recession has dragged on and other temporary financial relief measures provided by the law, like one-time stimulus checks and enhanced unemployment benefits, have ended.
The CARES Act allowed investors to withdraw up to $100,000 from 401(k) plans, individual retirement accounts and other account types, through Dec. 30 in the form of a coronavirus-related distribution. Investors don't have to pay a tax penalty for withdrawing retirement funds early and get some flexibility around paying income taxes.
The typical amount withdrawn has increased slightly since May, to $12,000 from about $10,400.
In May, the typical investor withdrew more than half their 401(k) savings in the form of a coronavirus distribution, according to an earlier Vanguard analysis.
https://www.cnbc.com/2020/11/11/the-typical-401k-saver-withdrew-12000-during-coronavirus-vanguard.html
10. The Best Way to Teach Values to Kids, According to Research
By Angela Duckworth on November 11, 2020 8:09 AM | No comments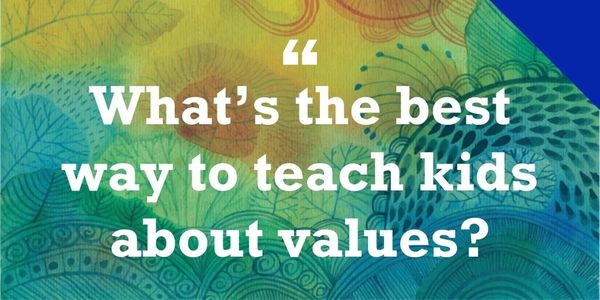 When I'm teaching kids about values, what's more important—what I say or what I do?
I've often wondered the same thing myself and I wrote about this topic as a Tip of the Week for Character Lab in March:
Does it really matter what we say to our kids—or is our only job to act on our values? For instance, do we really need to talk to our kids about the value of hard work if, on a daily basis, we model a solid work ethic?
Some argue that when it comes to helping young people develop character, modeling is all-important. Indeed, scientific research shows that young people learn a lot about how to act in new situations from watching the adults around them, and that tendency continues through adulthood.
On the other hand, educators I respect tell me that in addition to intentional role modeling, they talk explicitly about the importance of character. They write their students notes. Periodically, they deliver "little commercials"—one student's fond term for her high school track coach's mini-sermons about life and how to navigate it.
Recently, psychologists designed a clever experiment to test the impact of actions and words on what kids learn. In this study, preschool children watched an adult try to open a box to get at a toy hidden inside and were then handed a different (secretly impossible-to-open) box to figure out themselves.
Compared with watching an adult succeed effortlessly, watching an adult succeed after a mighty struggle led children to persist longer themselves. And this experience was even more powerful if the adult made explicit value statements: Children kept at their task longest by far after seeing an adult model struggle and eventually triumph, all the while saying things like, "Trying hard is important!"
What this research suggests is that we should not only practice what we preach but also preach what we practice.
Don't forget that you're a role model for the young people in your lives. Whether you realize it or not, you're setting an example for how to show up in the world.
Do match words to actions. When actively listening to political perspectives that conflict with your own, talk about the value of intellectual humility. When you make a mistake in front of your students, take the opportunity to discuss how challenges can make you smarter. Actions may speak louder than words, but actions and words together send the clearest message of all.
Angela Duckworth, the founder and CEO of the education nonprofit Character Lab, is a professor of psychology at the University of Pennsylvania. You can follow Character Lab on Twitter @TheCharacterLab.
http://blogs.edweek.org/edweek/ask_a_psychologist/2020/11/the_best_way_to_teach_values_to_kids_according_to_research.html
Disclosure
Lansing Street Advisors is a registered investment adviser with the State of Pennsylvania..
To the extent that content includes references to securities, those references do not constitute an offer or solicitation to buy, sell or hold such security as information is provided for educational purposes only. Articles should not be considered investment advice and the information contain within should not be relied upon in assessing whether or not to invest in any securities or asset classes mentioned. Articles have been prepared without regard to the individual financial circumstances and objectives of persons who receive it. Securities discussed may not be suitable for all investors. Please keep in mind that a company's past financial performance, including the performance of its share price, does not guarantee future results.
Material compiled by Lansing Street Advisors is based on publicly available data at the time of compilation. Lansing Street Advisors makes no warranties or representation of any kind relating to the accuracy, completeness or timeliness of the data and shall not have liability for any damages of any kind relating to the use such data.
Material for market review represents an assessment of the market environment at a specific point in time and is not intended to be a forecast of future events, or a guarantee of future results.
Indices that may be included herein are unmanaged indices and one cannot directly invest in an index. Index returns do not reflect the impact of any management fees, transaction costs or expenses. The index information included herein is for illustrative purposes only.