1. The Global Interest Rate Easing Map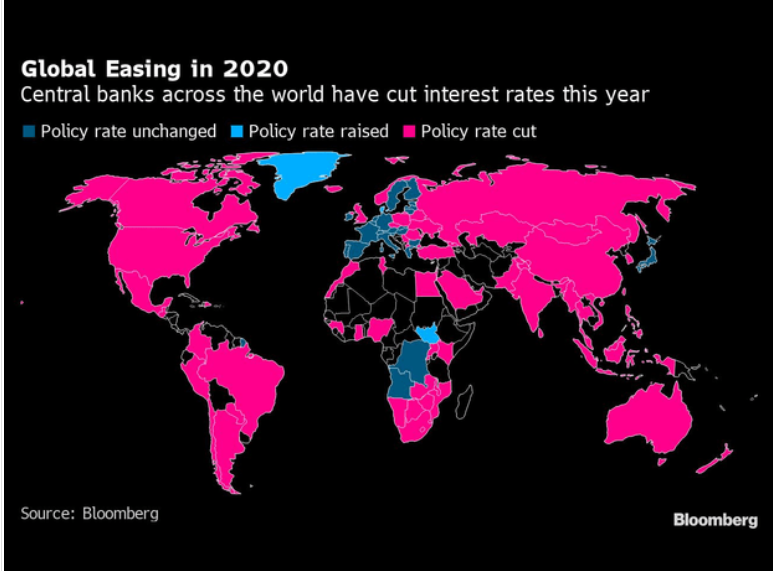 World's central banks are now begging govts to power economic rebound
https://www.business-standard.com/article/international/world-s-central-banks-are-now-begging-govts-to-power-economic-rebound-120111200851_1.html
2. FXI-Chinese Large Cap ETF UP Against All-Time Highs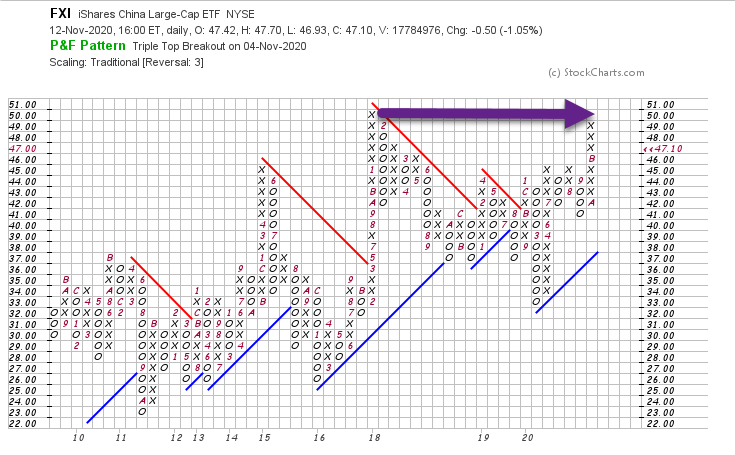 3. Sector Vaccine Sensitivities
4. A Big Chinese Bank Is Selling Bonds That Can Be Bought With Cash or Bitcoin-WSJ
By Serena Ng
China Construction Bank says the bond is the 'first publicly listed debt security on a blockchain'
China Construction Bank Corp. is planning to raise up to $3 billion from a sale of bonds that individuals and institutions can trade in and out of using U.S. dollars or bitcoin.
The Beijing-headquartered bank, one of China's largest, is selling a digital bond that investors outside the country can buy for as little as $100. The security would roll over every three months and pay annualized interest of Libor plus 50 basis points, or approximately 0.75%.
The deal is being arranged by a branch of China Construction Bank located in Labuan, a small offshore financial center in Malaysia that is a tax haven. The digital bond will be listed on the Fusang Exchange, a bourse that also facilitates the trading of cryptocurrencies.
https://www.wsj.com/articles/a-big-chinese-bank-is-selling-bonds-that-can-be-bought-with-cash-or-bitcoin-11605069043?mod=itp_wsj&ru=yahoo
5. One-Third of Air Routes Lost
The crisis is unwinding a vast social and industrial overhaul that took place during half a century of air-travel proliferation. In years to come, overseas business trips and holidays will likely mean more airport stopovers, longer journey times, and perhaps an additional mode of transport. Even when an effective vaccine is found, the economic reality of the recovery may mean some non-stop flights are gone for good.
Losing Connection
Air routes in operation have tumbled during the pandemic
Source: OAG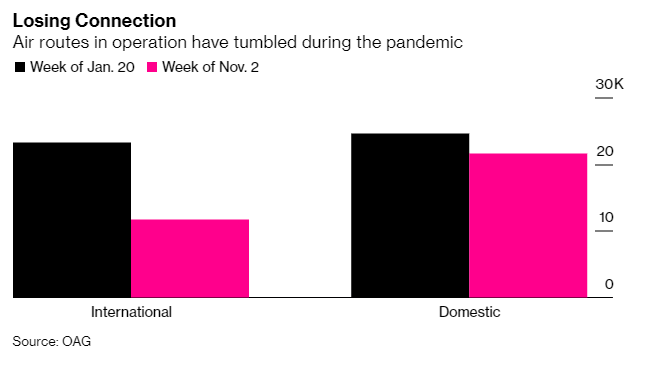 A Third of the World's Air Routes Have Been Lost Due to CovidBy Angus Whitley
https://www.bloomberg.com/news/articles/2020-11-12/a-third-of-the-world-s-air-routes-have-been-lost-due-to-covid?srnd=premium&sref=GGda9y2L
6. 525,000 Square Foot Mall Sells at 85% Discount from 2010
In July, CBL & Associates, a real estate investment trust, was due to pay off its $63 million mortgage on the Burnsville Center, anchored by tenants such as J.C. Penney and Macy's. Instead, after pandemic-related "store closures and rent reductions" cut into mall income, CBL surrendered to its lender half of the mall, which it had pledged as collateral.
That 525,000-square-foot parcel was worth $137 million in 2010. But last month when the unpaid note was auctioned off, it sold for less than $20 million, according to Trepp. That 85 percent decline will mean losses for investors holding the riskiest slices of a securitized loan pool packaged by Goldman Sachs's structured finance unit.
Mounting commercial real estate losses threaten banks, recovery
David Lynch 1 day ag
https://www.msn.com/en-us/news/us/mounting-commercial-real-estate-losses-threaten-banks-recovery/ar-BB1aVjBN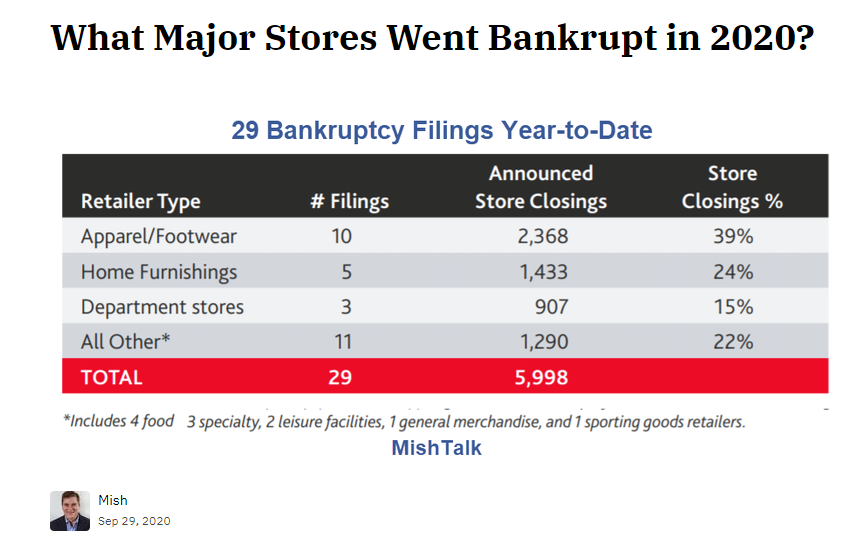 https://www.thestreet.com/mishtalk/economics/what-major-stores-went-bankrupt-in-2020
7. State Government Employee Numbers at 20 Year Lows.
There are already signs of slowing in the job market, where companies have announced major layoffs due to lack of demand. In the public sector, layoffs already have begun by state and local governments due to budget shortfalls. Because state and local government employment accounts for about 13% of nonfarm payrolls, the job losses can dampen the economy's ability to rebound.
State employment drops to the lowest level in nearly two decades
Source: Bureau of Labor Statistics. Monthly data as of 9/30/2020.
8. Land Use Throughout The United States
The United States has one of the largest landmasses at its disposal and a very diverse one at that. With 3.8 million square miles to work with, it's only natural that the land making up the United States has various uses, depending on where it's located.
While much of the western states use their land for forests and timber, middle America has great pastures for farm animals, such as cows, sheep, and horses. But even tiny spaces go a long way, like the national parks and the tiny northern splotch of land that produces maple syrup!
Al-Andalusia/Reddit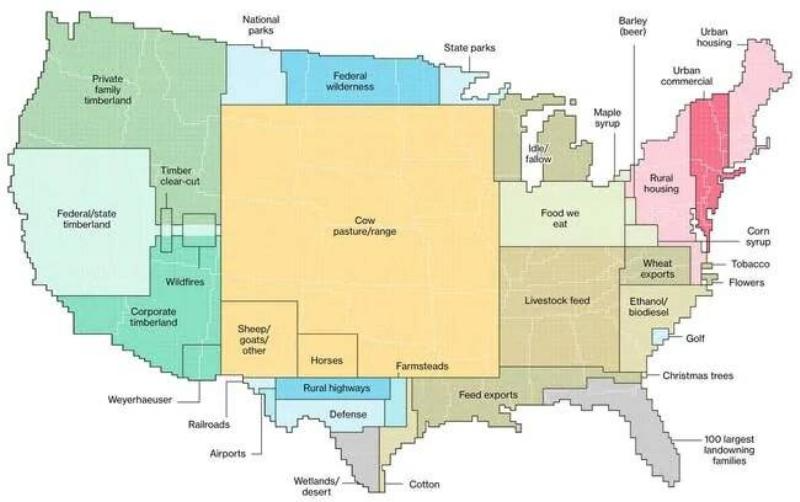 https://www.exploredplanet.com/guides/maps-that-show-us-a-new-perspective/6/
9. 56 Values That Drive Human Behavior…From 152 Different Languages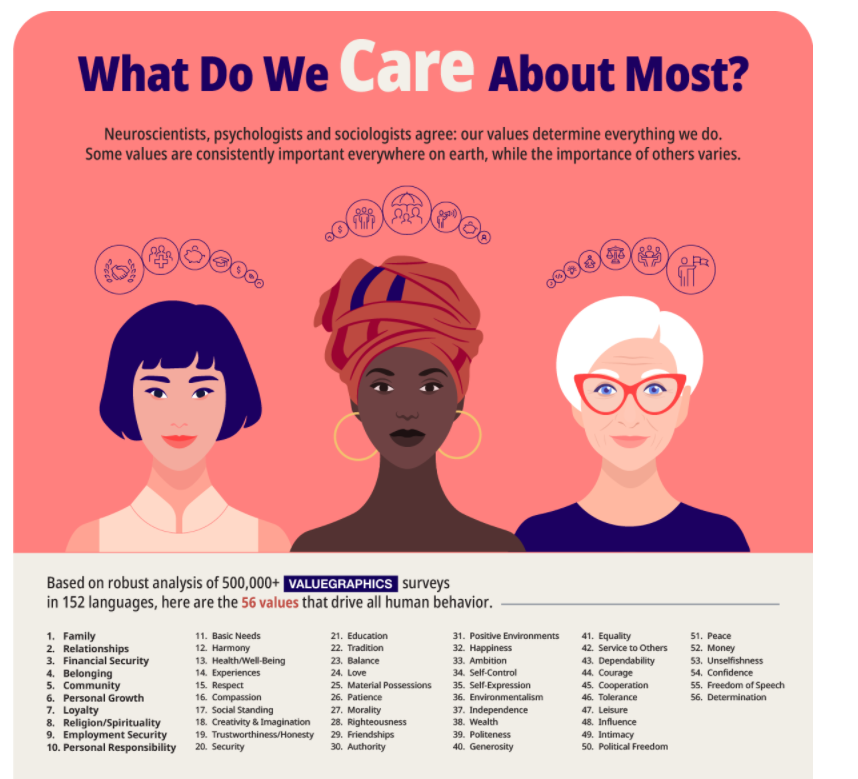 10. 5 Habits for a Healthier Brain (and Life)
By Jennifer Jones | May 21, 2015 | 3
I started having seizures when I was around 5—the kind of seizures you see in the movies: fall-flat-on-the-ground-shaking-like-you're-electrocuted-eyes-rolling-to-the-top-of-your-head seizures. These kind of seizures are now called tonic-clonic seizures, but when I was a little girl, they were called "grand mal" seizures, which means "the big bad." Perhaps they changed the name because calling something "the big bad" isn't very hopeful for patients. No one is really sure why I started to have them, but it made me curious at an early age to figure out how this mushy mass inside our skull works.
Related: It Only Takes 5 Minutes a Day to Keep Your Brain Healthy
So I started to study neuroscience after I had an EEG (electroencephalogram) at age 11. They stuck hundreds of little wires with glue-like substance onto my scalp. I looked like an alien child from the sci-fi novel Dune—but it led me to wonder: What are they measuring? Why? and How can I control these things called brain waves and electrical pulses? As you can imagine, it's scary to have one of those deathlike seizures and think you have no control over them. That's when science became my savior. I later discovered that these seizures could possibly be controlled without mind-numbing-zombie-behavior-inducing medication. At age 15, without my doctor's or parents' knowledge, I stopped taking that medication and haven't been on it since.
Along the way to earning my Ph.D. in Clinical Psychology, participating in neuroscientific studies and working at the UCLA Neuropsychiatric Institute, I learned how we can all expand the capacity of our brain, not only to self-heal, but also to grow in ways we never imagined were possible.
So I've gathered my five top habits for neurological growth. These habits have eliminated those kinds of seizures for me. I still need to be careful—breaking my good habits will indeed have consequences. But in the last 25 years, I've only had two tonic-clonic seizures.
For you, these habits will reduce your stress significantly, increase your brain's gray matter, tap into your subconscious mind for problem solving and reveal incredible potential.
Here are five daily habits that you can incorporate into your routine, starting today:
1. Sleep to reduce stress.
Ever wonder what happens to all of the stress we accumulate during the day? That car that almost hit you? Your child screaming at you? Even the unconscious stress of self-judgment? Where does it go?
Your beautiful brain collects it and saves it for when you dream to process away. Let me repeat: When you sleep, you process stress and trauma. So, one of the simplest and most effective things you can do is to get your full seven to nine hours of shut-eye each and every day.
2. Rise with the sun.
Your brain uses a cluster of nerve cells called the suprachiasmatic nucleus, located in your hypothalamus to regulate something called "circadian rhythm." Circadian rhythm is the "master clock" in your brain that syncs all your body's clocks. Abnormal circadian rhythm is associated with obesity, diabetes, depression, sleep disorders, hormone dysregulation, bipolar disorder and seasonal affective disorder.
In other words, wake up when the sun does—no more sleeping in! If you are a parent, this habit will come naturally as most kids naturally wake with the sun and are happy to be your alarm clock.
Related: Top of Mind: 6 Ways to Keep Your Mind and Body Fresh
3. Take fish oil.
Fish oil has positive benefits on brain health. My kids go for the hard-core fermented cod liver stuff, and somehow we've apparently cemented this into them so well over the years that they ask for it daily although it tastes awful. They take it by the spoonful, but you can also get it in capsule form, which has a pleasant lemon aftertaste.
4. Be mindful and meditate.
Meditation taps into your subconscious mind (just below consciousness) and has innumerable neurological benefits. Not sure how to be mindful on an everyday basis and want an easy way to meditate? I like Headspace—it's like a "gym membership" for your mind. With its meditation and mindfulness techniques, you can train your mind for a happier, healthier, more enjoyable life.
5. Make yourself uncomfortable.
Your brain needs novelty to grow. How do you know when you're doing something that's "new enough"? When it feels uncomfortable, awkward, weird, strange or it scares you. By doing things daily that are out of your comfort zone, you allow your brain to develop new branches on its neuron tree (also called dendritic pathways) instead of shriveling up into a sad dried out tree stump.
Truth be told, I could write a book on this, and I live my entire life around this premise. And although there are many more habits I'd like to see you develop, start with these. After all, can you imagine how incredible it would be if we all lived to our potential?
Related: 7 Qualities of People with High Emotional Intelligence
Disclosure
Lansing Street Advisors is a registered investment adviser with the State of Pennsylvania..
To the extent that content includes references to securities, those references do not constitute an offer or solicitation to buy, sell or hold such security as information is provided for educational purposes only. Articles should not be considered investment advice and the information contain within should not be relied upon in assessing whether or not to invest in any securities or asset classes mentioned. Articles have been prepared without regard to the individual financial circumstances and objectives of persons who receive it. Securities discussed may not be suitable for all investors. Please keep in mind that a company's past financial performance, including the performance of its share price, does not guarantee future results.
Material compiled by Lansing Street Advisors is based on publicly available data at the time of compilation. Lansing Street Advisors makes no warranties or representation of any kind relating to the accuracy, completeness or timeliness of the data and shall not have liability for any damages of any kind relating to the use such data.
Material for market review represents an assessment of the market environment at a specific point in time and is not intended to be a forecast of future events, or a guarantee of future results.
Indices that may be included herein are unmanaged indices and one cannot directly invest in an index. Index returns do not reflect the impact of any management fees, transaction costs or expenses. The index information included herein is for illustrative purposes only.