1.Quarterly Letter.
Matt Topley
4th Quarter, 2018
 "She Got Down But She Never Got Tight She's Gonna Make It Through the Night"
Blinded by the Light

Blinded by the light
Revved up like a deuce
Another runner in the night

She got down but she never got tight
She's gonna make it through the night
Songwriters: Bruce Springsteen
Blinded by the Light lyrics © Downtown Music Publishing
Springsteen's off-Broadway
I recently watched Springsteen's fabulous Broadway performance on Netflix, having seen The Boss over 20 times myself, it still was unreal to hear him tell personal stories around growing up and his career.  As I watched one of the most volatile stock market year ends in history, I couldn't help but apply investors psyche to a Springsteen song.  Most investors got Blinded by the Light, it was just too easy, buy FANG stocks, buy S&P index, buy anything.  After 2017 being one of the least volatile years in market history including no drawdown of S&P over 3% versus historical annual average drawdown of 14%, the market sent a giant wake-up call that investing is always emotional including an all-time record almost 3% Christmas Eve smack down.  Here's the good news, it seems she (market) is going to make it through the night as she always does, it's not 2008 or anything close, we have some wood to chop in the short-term but valuations are reverting to mean.
2018 was a historic year for financial markets in more ways than one-first time in 27 years that stocks and bonds were both negative in the same year, worse stock market December since 1931, over 90% of investable assets were negative in 2018, and no asset class returned over 5% for the first time since 1974.
A Record Share of Asset Classes Posted a Negative Return in 2018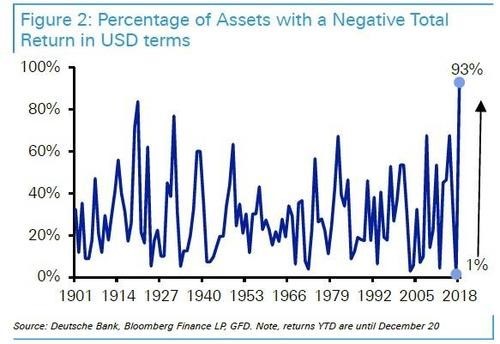 Investors felt pain this year across the board as diversified portfolios were nowhere to hide, in fact some well diversified holdings returned less than the S&P due to exposure to bonds, commodities, international stocks and U.S. small cap stocks.  Three of these groups were down more than the S&P and most bonds were flat to negative.  The tradtional 60/40 model was negative for the year with returns coming in 13% below historic median, if you're 60/40 was global returns were even lower.  Target Date funds are popular and growing especially in 401k plans, see below as they are posting first negative returns in 10 years.