1.Search for Yield….Investors Pile into Junk Munis.
Investors seeking yield are piling into the riskiest corner of the municipal bond market at a pace not seen in decades.
They have poured $8 billion into funds that deal in high-yield muni bonds—or junk munis—this year, the most through May since at least 1992, according to Refinitiv data. Muni-bond funds overall have attracted $37 billion during that same period, the most in almost three decades.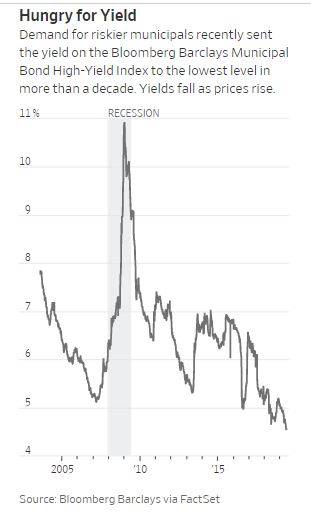 Risky Municipal Bonds Are on a Hot Streak
Funds dealing in high-yield munis have drawn $8 billion as investors search further afield for returns
By Gunjan Banerji
https://www.wsj.com/articles/risky-municipal-bonds-are-on-a-hot-streak-11558949401?mod=itp_wsj&ru=yahoo