1.U.S. Households Net Worth to an All-Time High.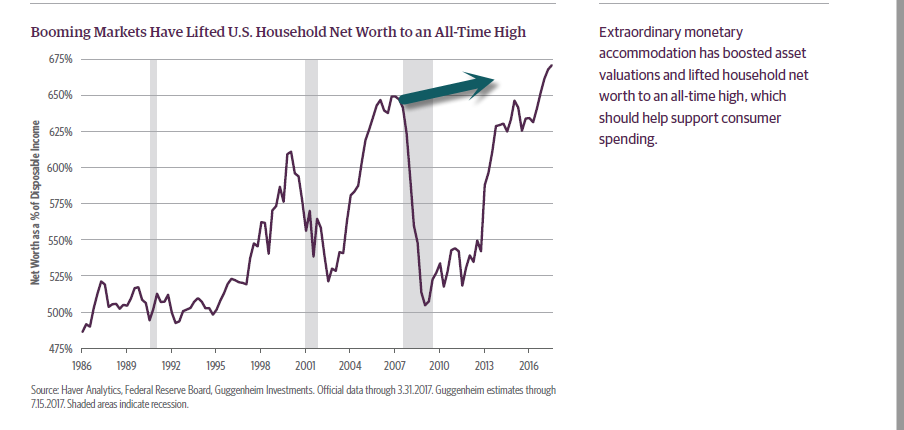 https://www.guggenheimpartners.com/cmspages/getfile.aspx?guid=8db18c30-ea6a-4b35-9e5f-cc00f7bba3df
2.Post-Crisis Picture of Household Debt
The United States: This chart shows how consumer debt balances were impacted by the Great Recession.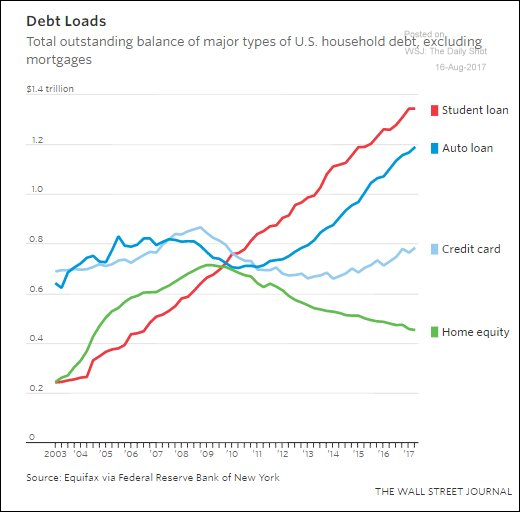 Source: @WSJecon, @josephncohen; Read full article
3.Great Snapshot of Stocks Resiliency in this Bull Run.
This is the 'wall of worry' that stocks have climbed to rally 271% since 2009
By Sue Chang
Stocks have not been this resilient since 1965
http://www.marketwatch.com/story/this-is-the-wall-of-worry-that-stocks-have-climbed-to-rally-271-since-2009-2017-08-16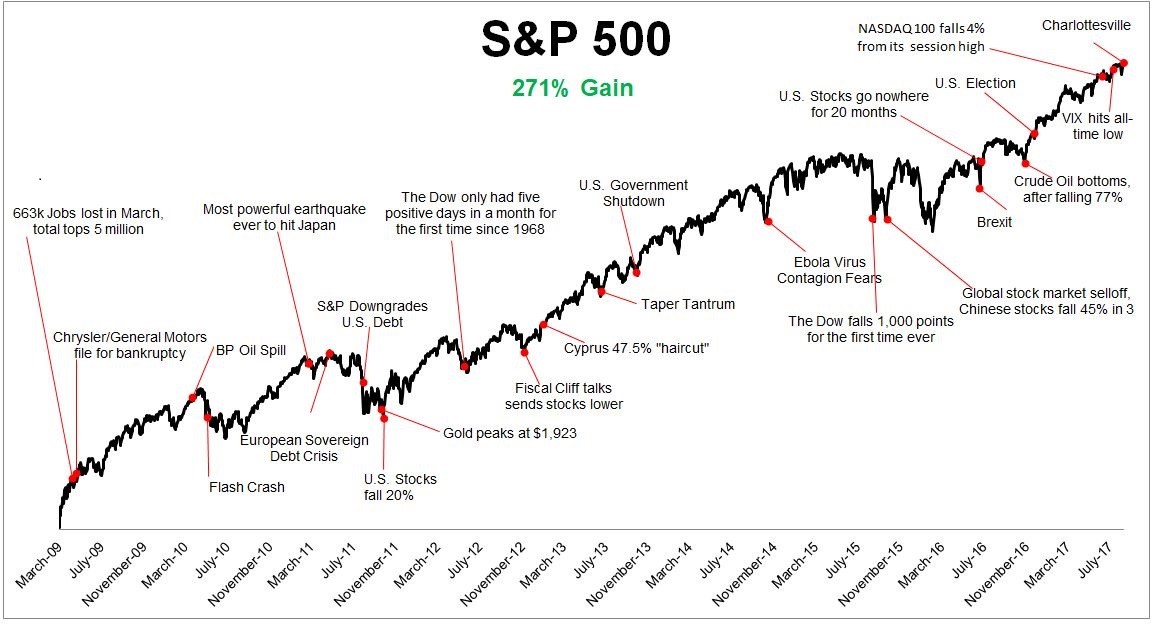 4.Back to School Spending $83B…Up 23% Since 2015
Investment U
by Matthew Carr, Back-to-School Season
For a lot of families, summer vacations are fading into memories. The biggest event on the horizon now is going back to school.
And we're about to see back-to-school spending hit some records.
There are some people who got their act together and started back-to-school shopping in June. But the reality is, every year, most of this shopping takes place in the month before school starts.
That means, right now, three-quarters of all back-to-school and back-to-college spending is underway.
And this year, combined back-to-school and back-to-college spending is forecast to hit $83.6 billion. That's the second-highest level on record.
That will be an increase of 10.3% over 2016 and a 23% increase since 2015.
And, as you can see from the chart, this annual spending spree has really grown since 2007.
But after a peak in 2012, we had a period where total back-to-school spending dipped. Consumers were wary. And in 2015, back-to-school and college spending fell to its lowest level since 2010.
But this glut didn't last long. In 2016, sales increased 11.4%. They're expected to increase another 10.4% this year. These are not only the biggest increases we've seen in total back-to-school spending since 2011… but they're some of the only increases in the last five years.
http://www.investmentu.com/article/detail/55931/back-to-school-back-to-college-spending#.WZDn7lWGPIU
5.Chinese Billionaires Having a Very Good Year.
The equity rally propelling global asset values higher this year is once again turning China into the world's fastest-growing wealth machine.
The fortunes of the 40 Chinese billionaires on the Bloomberg Billionaires Index have surged 46.8 percent since yearend, dominating the wealth gains of all nationalities and sending their combined net worth to $417 billion.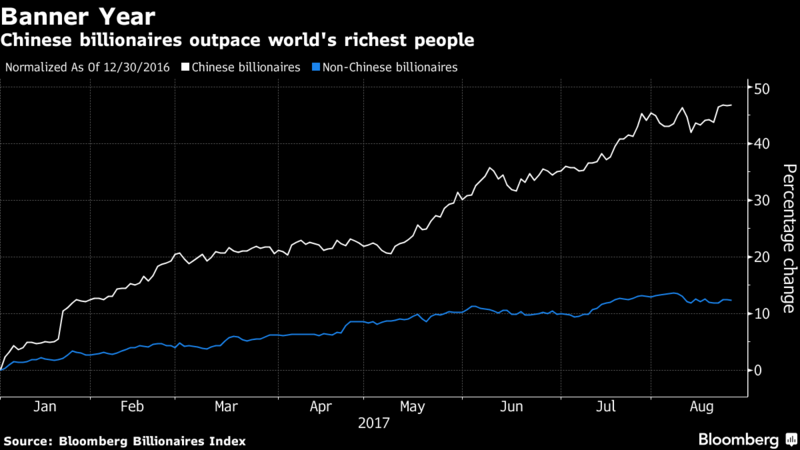 https://www.bloomberg.com/news/articles/2017-08-24/china-s-wealthiest-gain-the-most-this-year-in-global-asset-rally
6.Biggest Decline in Regulatory Actions Since 1936…History of Regulations in One Chart.
Bianco cites a study released last year by the Competitive Enterprise Institute, which argued that the cost of regulation to businesses exceeds what they pay in taxes. To gauge the extent of this, he counts the number of pages added to the Federal Register, where new regulations must be published. Through July 31, the annualized pace was 61,330 pages, which actually is down sharply from nearly 97,000 in 2016, the Obama administration's last year, and the lowest figure since the 1970s. At that rate, this year will see the biggest decline in regulatory actions since the Federal Register was introduced in 1936.
http://www.barrons.com/articles/trumps-secret-weapon-deregulation-1503108922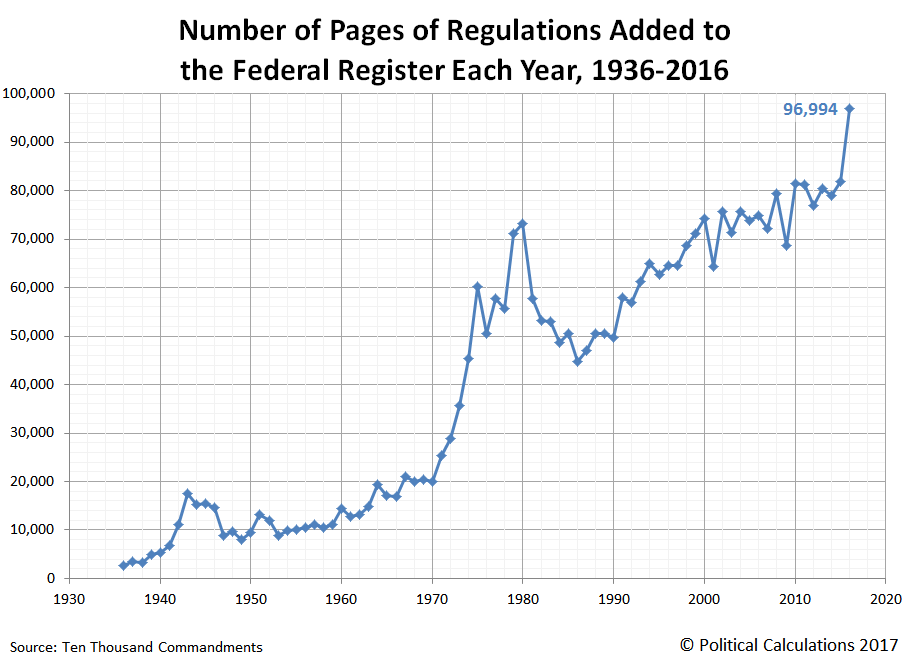 Federal Register
From Wikipedia, the free encyclopedia
The Federal Register, abbreviated FR or sometimes Fed. Reg., is the official journal of the federal government of the United Statesthat contains government agency rules, proposed rules, and public notices.[1] It is published daily, except on federal holidays. The final rules promulgated by a federal agency and published in the Federal Register are ultimately reorganized by topic or subject matter and codified in the Code of Federal Regulations (CFR), which is updated annually.
The Federal Register is compiled by the Office of the Federal Register (within the National Archives and Records Administration) and is printed by the Government Publishing Office. There are no copyright restrictions on the Federal Register; as a work of the U.S. government, it is in the public domain.[2]
https://en.wikipedia.org/wiki/Federal_Register
7.Almost 4 in 10 Americans are Obese.
Food for Thought: Obesity around the world.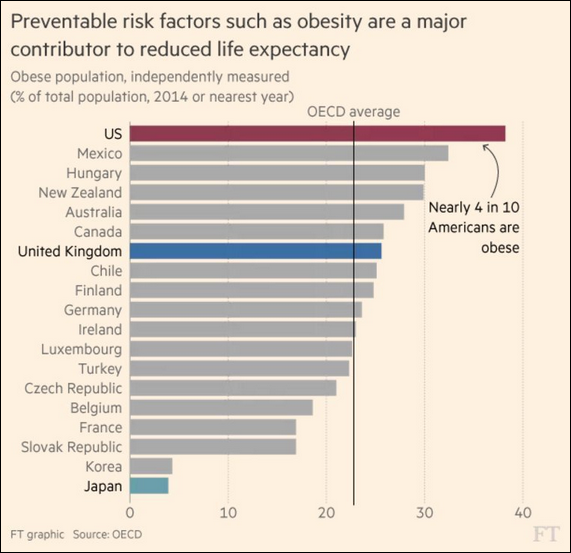 Source: @FT, @PlanMaestro
8.Homes for Sale Inventory Hits 20 Year Low.
It's not just you — there really are fewer homes for sale with inventory at a 20-year low
Roger Yu and Paul Davidson, USA TODAYPublished 9:01 a.m. ET Aug. 10, 2017 | Updated 11:40 p.m. ET Aug. 10, 2017
Can't find a house to buy? Blame Baby Boomers.
The number of residential houses available to buy is at a 20-year low as the appeal of McMansions wanes and Baby Boomers grow increasingly reluctant to trade up or down from their current homes, according to a survey by Realtor.com.
More than half of its survey respondents, or 59%, said they are not planning to sell their houses in the next year.
Nationally, there was a 4.3-month supply of homes on the market in June — the time it would take to run out of homes for sale if no new units were added — down from 4.6 months a year ago and a normal inventory of six months, according to the National Association of Realtors.
The crunch has driven up home prices. The S&P CoreLogic Case-Shiller national home price index was up 5.6% in May from a year earlier, hitting an all-time high. Some markets are frothier, with average home prices 13.3% in Seattle and 7.9% in Dallas.
"The housing shortage forced many first-time homebuyers to consider smaller homes and condos as a way to literally get their foot in the door," said Danielle Hale, chief economist for Realtor.com. "Our survey data reveals that we may see more of these homes hitting the market in the next year, but whether these owners actually list will depend on whether they can find another home."
Realtor.com, an online real estate listing site operated by News Corp., conducted the survey of 1,054 randomly selected homeowners across the U.S. between July 6 and July 13. Some findings:
Baby Boomers aren't going anywhere
A vast majority of those who are at or near retirement age like where they are. Eight-five percent of Baby Boomers said they have no plans to sell their home in the next year, the study said. Homeownership among Baby Boomers is at 78%, or about 33 million properties. That's nearly twice as high as Millennials. Older age groups have historically moved less frequently than younger home buyers and the trend continues.
But the market dynamics have shifted because there are more people in the older age groups than in past years. People age 55-74 made up 21% of the population in 2015, compared to 16% in 1985.
John Clark, 72, a retired teacher, considered moving from his three-bedroom house in Greeley, Colo., to retirement mecca Phoenix. But he says, "I've developed friends here, I'm with the (Veterans Administration). Why would I want to move? I'd have to redevelop all that stuff."
"Boomers indeed hold the key to those homes the market desperately needs, both in the urban condo and the detached suburban home segment," Hale said. "But with a strong economy and rising home prices, there's really no reason for established homeowners to sell in the short-term. Although downsizing might be on the minds of Boomers, they face the same inventory shortages and price increases plaguing Millennials."
For example, there are fewer new homes for Boomers and others to buy. The number of housing starts remains about 35% below normal levels despite a gradual climb since the mid-2000s real estate crash. And nearly 10% of homeowners owe more on their mortgages than their houses are worth, down from 29% in 2012, according to ATTOM Data Solutions, but still higher than the historical average of about 5%. That prevents many of those "underwater" homeowners from selling.
Also, the gap between trade-up homes and premium homes has widened, pricing out many Boomers who would like to move up, says Ralph McLaughlin, chief economist of real estate research firm Trulia.
Happy with their homes
Combine those headwinds with the fact that many Boomers are content with their houses. When those who are reluctant to sell were asked why they plan to remain, 72% said their current home meets their family's needs. Thirteen percent cited financial security concerns and 12%, the need to make some home improvements.
Boomers also appear less eager to move to a traditional retirement locale, such as Florida or Arizona, and more interested in maintaining close ties with family and friends, Hale of Realtor.com says.
Among the 35% of homeowners who said they're planning to sell in the next year, more than half of them were Millennials who are looking for larger homes or better features. The supply of starter homes in the market is down 17% from a year ago, while medium-sized houses are down 10%.
"Millennials with plans to sell could mean good news for buyers, as starter homes remain the most sought after price point in today's market," the report said.
https://www.usatoday.com/story/money/2017/08/10/sale-home-inventory-20-year-low-baby-boomers-stay-put/555127001/
9.New Home Prices Are Holding Back Home Sales
by David Jarvis August 4, 2017
Co-Authored by Matt Farris, Senior Associate
Rising new home prices across the nation have eroded new home sales under $200K and contributed to lackluster new home sales volumes.
As shown below, new homes priced under $200K comprised nearly half of the market (44%) in 2010, compared to only 16% of the market today. During the same period, the share of new homes priced from $200K to $400K has grown from 43% to 55%, and the share of new homes priced above $400K has risen from 13% of the market to 29%.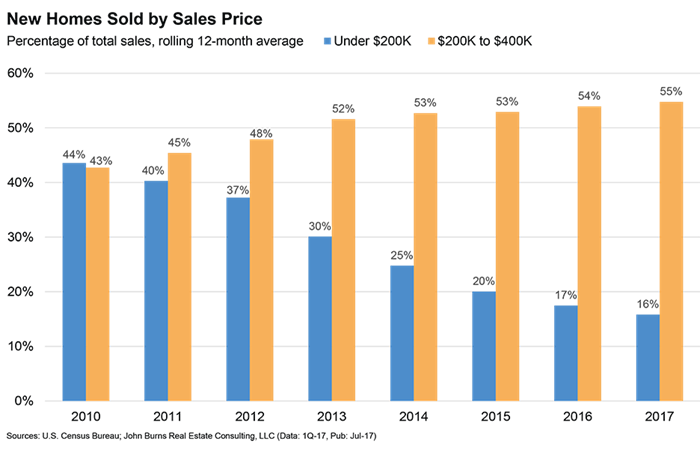 Partially due to very high new home pricing, both in absolute numbers and in relation to comparably sized resale homes, new home sales volumes remain well below previous peaks in the mid-1980s, late 1990s, and mid-2000s.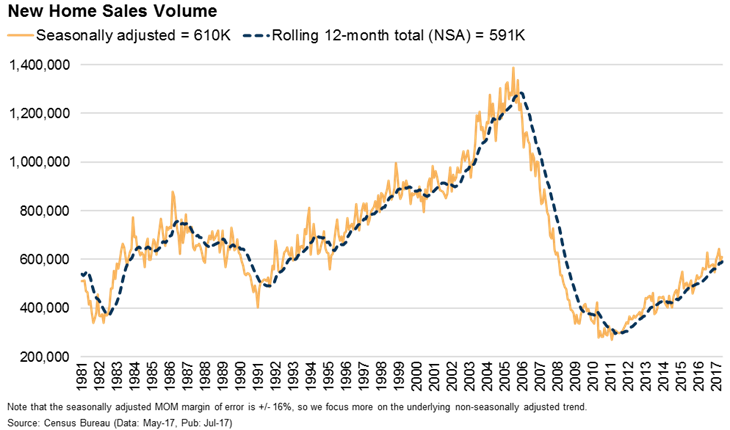 Nationally, there is strong unmet demand for new, entry-level, affordable homes. I recently experienced this in Houston, where Matt Farris, Dustin Moudy, and I live and consult for our team. Despite new home prices rising a whopping 40% between 2011 and 2015 and oil prices subsequently plummeting, home builders who focus on sub-$300K new homes (such as LGI Homes, K. Hovnanian Homes, Centex Homes [by Pulte], and Long Lake LTD.) continued to sell well and gained significant market share. Throughout the period of falling oil prices, demand for new homes priced under $300K has remained strong.
More than half (55%) of non-home owning adults cite affordability as the main reason they do not currently own a home, compared to only 22% who cite the need for flexibility as the main reason they do not own. Even with historically low mortgage rates, affordability has become a huge problem.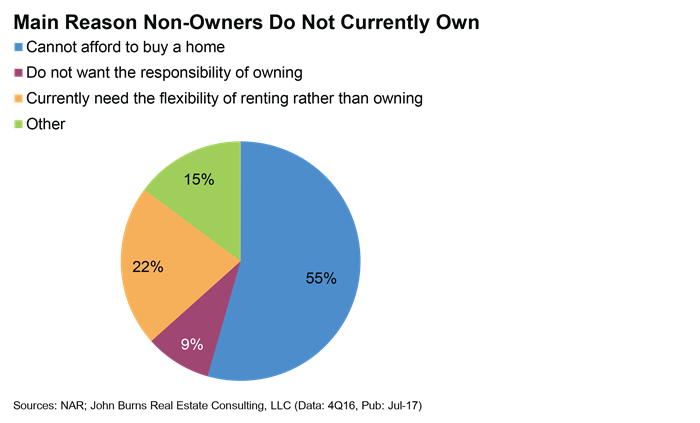 https://www.realestateconsulting.com/new-home-prices-are-holding-back-home-sales/
10.Here's why your attitude is more important than your intelligence
09 Aug 2017
Dr Travis BradberryCoauthor of EMOTIONAL INTELLIGENCE 2.0 & President at TalentSmart.
When it comes to success, it's easy to think that people blessed with brains are inevitably going to leave the rest of us in the dust. But new research from Stanford University will change your mind (and your attitude).
Psychologist Carol Dweck has spent her entire career studying attitude and performance, and her latest study shows that your attitude is a better predictor of your success than your IQ.
Dweck found that people's core attitudes fall into one of two categories: a fixed mindset or a growth mindset.
With a fixed mindset, you believe you are who you are and you cannot change. This creates problems when you're challenged because anything that appears to be more than you can handle is bound to make you feel hopeless and overwhelmed.
People with a growth mindset believe that they can improve with effort. They outperform those with a fixed mindset, even when they have a lower IQ, because they embrace challenges, treating them as opportunities to learn something new.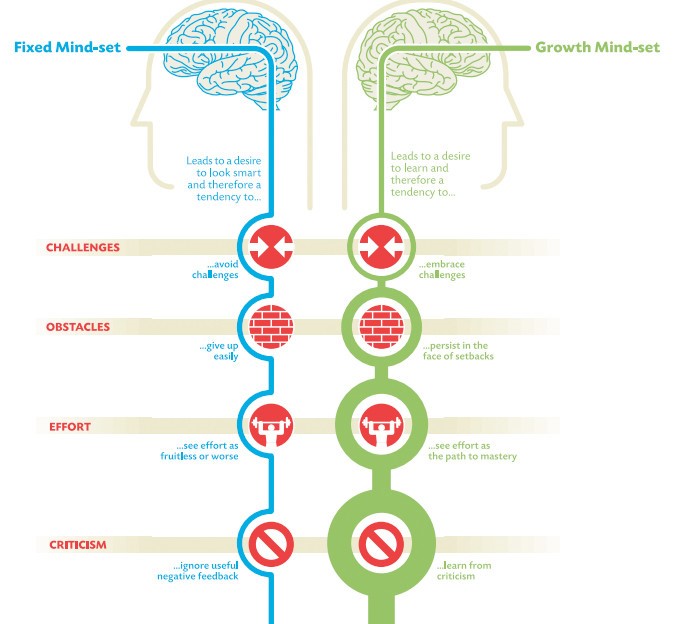 Image: LinkedIn
Common sense would suggest that having ability, like being smart, inspires confidence. It does, but only while the going is easy. The deciding factor in life is how you handle setbacks and challenges. People with a growth mindset welcome setbacks with open arms.
According to Dweck, success in life is all about how you deal with failure. She describes the approach to failure of people with the growth mindset this way,
"Failure is information—we label it failure, but it's more like, 'This didn't work, and I'm a problem solver, so I'll try something else.'"
Regardless of which side of the chart you fall on, you can make changes and develop a growth mindset. What follows are some strategies that will fine-tune your mindset and help you make certain it's as growth oriented as possible.
Don't stay helpless. We all hit moments when we feel helpless. The test is how we react to that feeling. We can either learn from it and move forward or let it drag us down. There are countless successful people who would have never made it if they had succumbed to feelings of helplessness: Walt Disney was fired from the Kansas City Star because he "lacked imagination and had no good ideas," Oprah Winfrey was fired from her job as a TV anchor in Baltimore for being "too emotionally invested in her stories," Henry Ford had two failed car companies prior to succeeding with Ford, and Steven Spielberg was rejected by USC's Cinematic Arts School multiple times. Imagine what would have happened if any of these people had a fixed mindset. They would have succumbed to the rejection and given up hope. People with a growth mindset don't feel helpless because they know that in order to be successful, you need to be willing to fail hard and then bounce right back.
Be passionate. Empowered people pursue their passions relentlessly. There's always going to be someone who's more naturally talented than you are, but what you lack in talent, you can make up for in passion. Empowered people's passion is what drives their unrelenting pursuit of excellence. Warren Buffet recommends finding your truest passions using, what he calls, the 5/25 technique: Write down the 25 things that you care about the most. Then, cross out the bottom 20. The remaining 5 are your true passions. Everything else is merely a distraction.
Take action. It's not that people with a growth mindset are able to overcome their fears because they are braver than the rest of us; it's just that they know fear and anxiety are paralyzing emotions and that the best way to overcome this paralysis is to take action. People with a growth mindset are empowered, and empowered people know that there's no such thing as a truly perfect moment to move forward. So why wait for one? Taking action turns all your worry and concern about failure into positive, focused energy.
Then go the extra mile (or two). Empowered people give it their all, even on their worst days. They're always pushing themselves to go the extra mile. One of Bruce Lee's pupils ran three miles every day with him. One day, they were about to hit the three-mile mark when Bruce said, "Let's do two more." His pupil was tired and said, "I'll die if I run two more." Bruce's response? "Then do it." His pupil became so angry that he finished the full five miles. Exhausted and furious, he confronted Bruce about his comment, and Bruce explained it this way: "Quit and you might as well be dead. If you always put limits on what you can do, physical or anything else, it'll spread over into the rest of your life. It'll spread into your work, into your morality, into your entire being. There are no limits. There are plateaus, but you must not stay there; you must go beyond them. If it kills you, it kills you. A man must constantly exceed his level."
If you aren't getting a little bit better each day, then you're most likely getting a little worse—and what kind of life is that?
Expect results. People with a growth mindset know that they're going to fail from time to time, but they never let that keep them from expecting results. Expecting results keeps you motivated and feeds the cycle of empowerment. After all, if you don't think you're going to succeed, then why bother?
Be flexible. Everyone encounters unanticipated adversity. People with an empowered, growth-oriented mindset embrace adversity as a means for improvement, as opposed to something that holds them back. When an unexpected situation challenges an empowered person, they flex until they get results.
Don't complain when things don't go your way. Complaining is an obvious sign of a fixed mindset. A growth mindset looks for opportunity in everything, so there's no room for complaints.
Bringing It All Together
By keeping track of how you respond to the little things, you can work every day to keep yourself on the right side of the chart above.
https://www.weforum.org/agenda/2017/08/heres-why-your-attitude-is-more-important-than-your-intelligence