1.Energy Pricing in a Strong Recovery?
Yet, the valuation has been inflated by a collapse in profits for oil companies. Because analysts expect little in the way of earnings over the next year, but a recovery later, the ratio of price to year-ahead earnings for oil stocks is elevated. The energy sector stands at more than 30 times Thomson Reuters IBES's estimate of operating earnings over the next 12 months, higher than any time from when the sector data started in 1995 up to last year—when it briefly reached an extreme of almost 60 times.
https://www.wsj.com/articles/a-new-way-to-look-at-crazy-stock-valuations-1488212972?tesla=y
XOP 16% Off 2017 Highs.
XLE 7% Off Highs.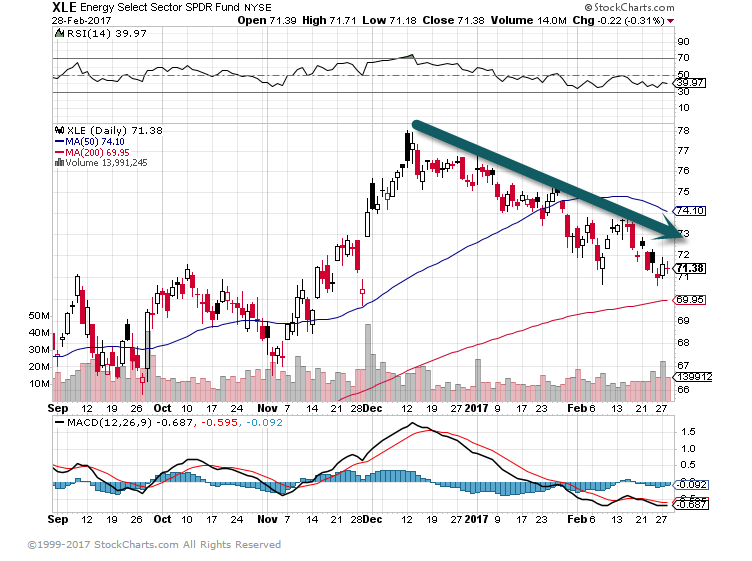 2.Second Most Expensive Sector in Market After Energy=Consumer Staples. This Sleepy Defensive in 2015 Goes on Colossal Run from $16.50 to $56
XLP Consumer Staple ETF—One of the Most Interesting Charts I Have Ever Seen…See Range between $15-20 from 1999-2015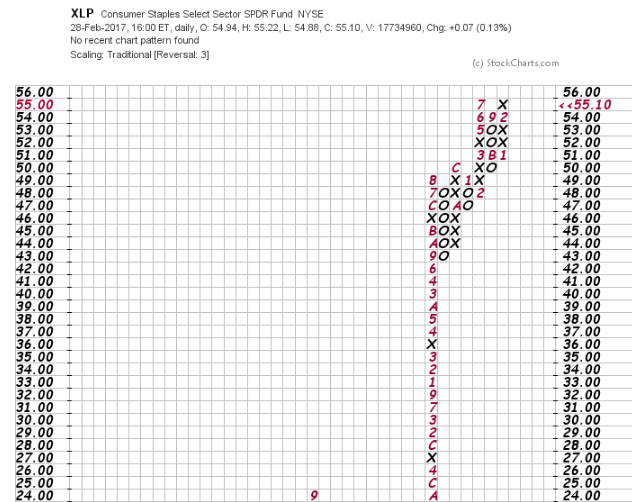 www.stockcharts.com
3.S&P Had 4 Pullbacks Between 2015-2017.
4 different pullbacks over three years-market 32% higher
S&P ETF 2011-2017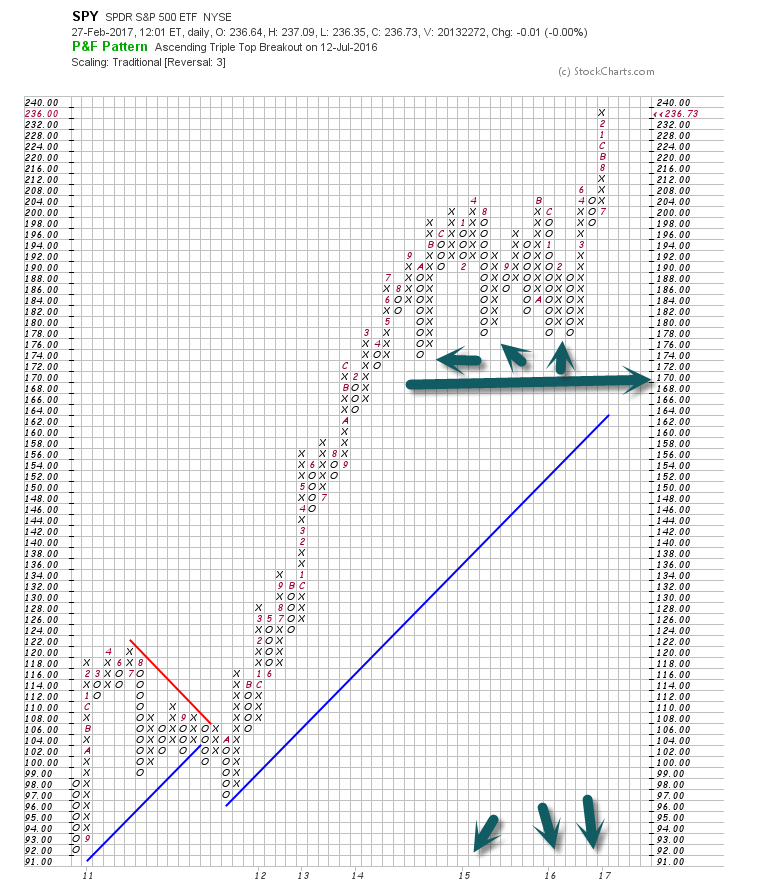 www.stockcharts.com
4.Here Comes Retail ….Investor Buying has been Tepid and Inconsistent in this Hated Bull Market…..2017-Positive Retail Flow 86% of Days.
From Phil MacKintosh at KCG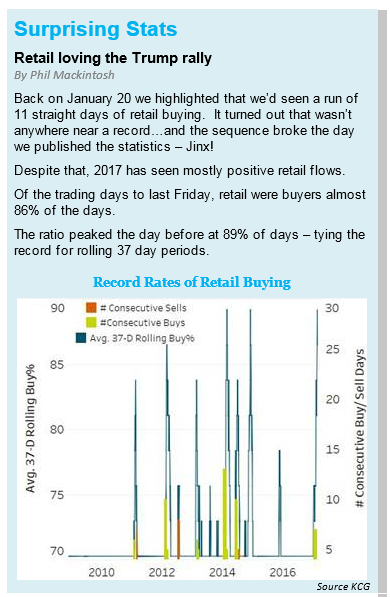 www.kcg.com
5.Consumer Confidence 10 Year High.

https://fred.stlouisfed.org/series/UMCSENT
6.Last 50 Trading Days Has Reached the Narrowest Ranger Ever.
Record Low Intraday Range
Feb 28, 2017
In a post on Monday, we noted that the average intraday range for the S&P 500 over the last 50 trading days had reached its second narrowest level on record, and that if the S&P 500 did not trade in a range of more than 1% on Tuesday that it would be the narrowest average range in a 50-trading day period on record. Well, in Tuesday's trading the S&P 500's intraday range came in at just 0.37%, pushing the 50-day average intraday high/low range down to 0.523%, which is the lowest level since at least 1983 when our historical database begins.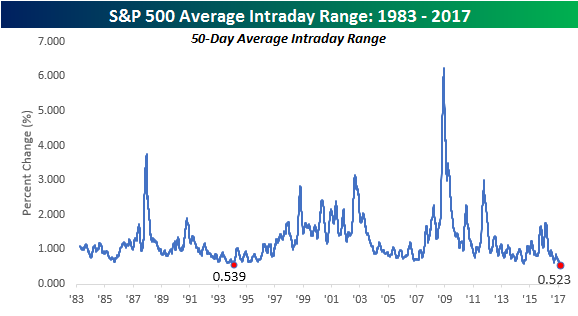 Tuesday, also marked the 50th straight trading day that the S&P 500 went without an intraday trading range of 1% or more. The chart below shows streaks where the index went without a 1% intraday range, and the current streak is far and away the longest on record since at least 1983 (when our data begins). Now, that's a lack of volatility!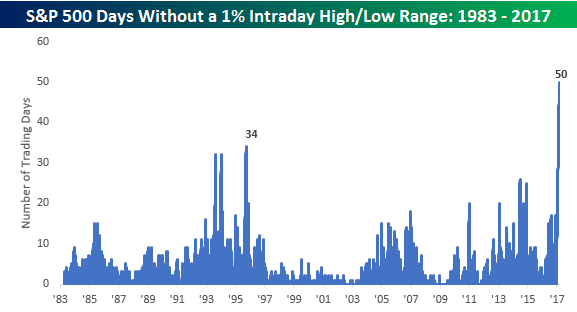 7.Regarding Trump Speech Last Night…This was my Linkedin/Blog Post Comparing Trump Economic Backdrop to Reagan Starting Point.
Trump May Feel "Urgent" to Copy Reagan, but It's a Much Different World
8.Home Prices Rising Fastest in 2 Years.
Home Prices Rose 5.8% Year-over-Year in December, Gains Continued Throughout 2016
by Jill Mislinski,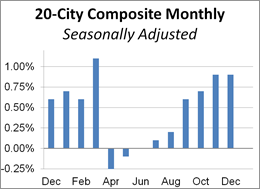 The adjacent column chart illustrates the month-over-month change in the seasonally adjusted 20-city index, which tends to be the most closely watched of the Case-Shiller series. It was up 0.9% from the previous month. The nonseasonally adjusted index was up 5.6% year-over-year.
Investing.com had forecast a 0.7% MoM seasonally adjusted increase and 5.3% YoY nonseasonally adjusted for the 20-city series.
Here is an excerpt of the analysis from today's Standard & Poor's press release.
"Home prices continue to advance, with the national average rising faster than at any time in the last two-and-a-half years," says David M. Blitzer, Managing Director and Chairman of the Index Committee at S&P Dow Jones Indices. "With all 20 cities seeing prices rise over the last year, questions about whether this is a normal housing market or if prices could be heading for a fall are natural. In comparing current home price movements to history, it is necessary to adjust for inflation. Consumer prices are higher today than 20 or 30 years ago, while the inflation rate is lower. Looking at real or inflationadjusted home prices based on the S&P CoreLogic Case-Shiller National Index and the Consumer Price Index, the annual increase in home prices is currently 3.8%. Since 1975, the average pace is 1.3%; about two-thirds of the time, the rate is between -4% and +7%. Home prices are rising, but the speed is not alarming." [Link to source]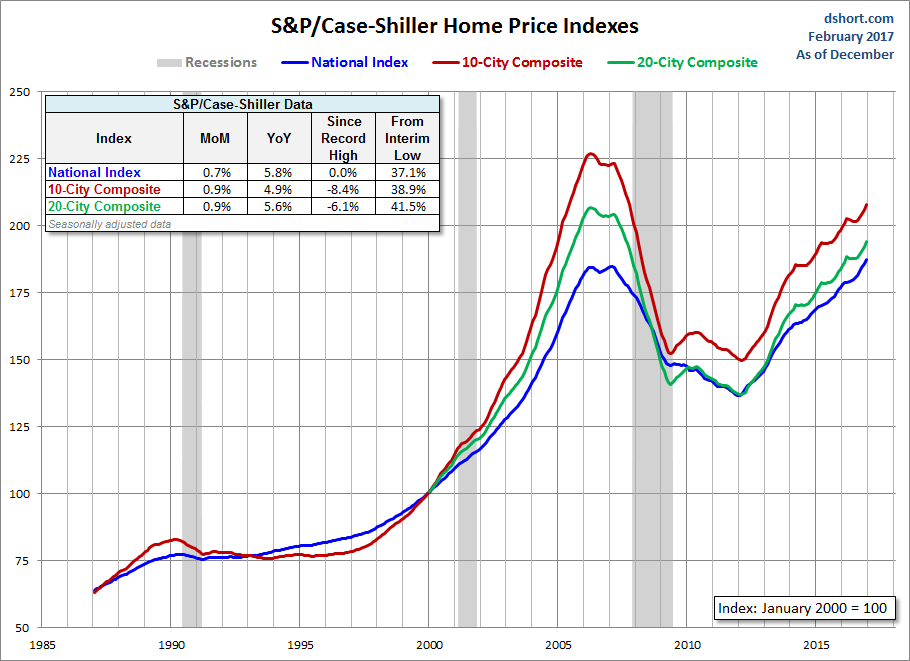 https://www.advisorperspectives.com/dshort/updates/2017/02/28/home-prices-rose-5-8-year-over-year-in-december-gains-continued-throughout-2016
9.Read of Day…..Ever-Increasing Efficiency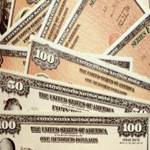 For those of you who have been in this business for a decade or longer, how much more efficient is your business today than it was when you began? I suspect that the answer to that question is "much more efficient." Why? Because those advisors who failed to innovate and streamline their business are likely already on to a different career. We are all aware of just how much competition there is in this industry and have seen the general trend in lower fees and increased automation. Yet, in my humble opinion, there is still no better place to be. In fact, for the advisor who is on the right side of these trends, who continues to find ways to operate more efficiently, and continues to increase their value proposition to their clients, the future is as bright as ever.
While recently reading Martin Ford's book Rise Of The Robots, I came across the following passage which speaks to the pace of innovation and ever-increasing efficiency in our economy.
In 1988, workers in the US business sector put in a total of 194 billion hours of labor. A decade and a half later, in 2013, the value of the goods and services produced by American businesses had grown by about $3.5 trillion after adjusting for inflation—a 42 percent increase in output. The total amount of human labor required to accomplish that was…194 billion hours. Shawn Sprague, the BLS economist who prepared the report, noted that "this means that there was ultimately no growth at all in the number of hours worked over this 15-year period, despite the fact that the US population gained over 40 million people during that time, and despite the fact that there were thousands of new businesses established during that time." (Shawn Sprague, "What Can Labor Productivity Tell Us About the U.S. Economy?," US Bureau of Labor Statistics, Beyond the Numbers 3, no. 12 (May 2014)
Kind of amazing, isn't it? 42% more output with the same amount of human labor. As you look at your business today, what parts need to become more efficient? Marketing, reporting, compliance, investment management, customer service, client onboarding? Perhaps, a little of all the above? While we don't profess to be all things to all people here at Dorsey Wright, we can make a major impact on your investment management process.
From Dorsey Wright
www.dorseywright.com
The leading work on this issue was done by Larry Mishel at the Economic Policy Institute. His April 2012 paper, The Wedges Between Productivity And Median Compensation Growth is the seminal work on this issue. Here's an updated chart showing the disparity between wages and productivity. For a discussion of the productivity measurement, see this 2014 Bureau of Labor Statistics paper. It's important to note that Mishel is using the median wage growth for production/non-supervisory workers, not total labor compensation. With this statistic, we look at the actual experience of approximately 80% of workers.
According to Mishel, the gap in the chart from 2000 to 2011 is the result of three factors (see Table 1):
1. Income inequality increased, with the great gains going to the top few percentiles and the rest stagnant or falling, accounting for 39% of the gap.
2. Income shifted from labor to capital, accounting for 45% of the gap.
3. Output prices diverged from consumer prices, accounting for 16% of the gap.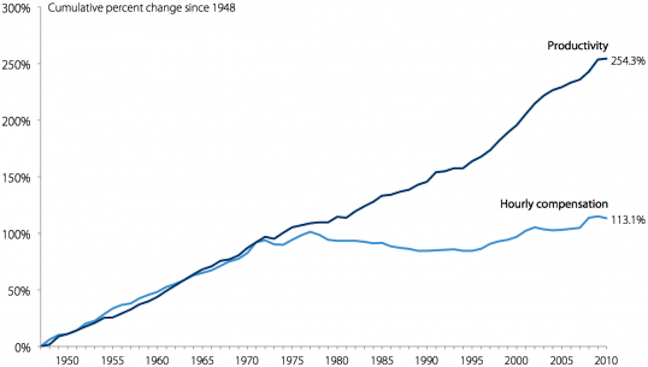 https://www.emptywheel.net/2015/08/11/mankiws-principles-of-economics-part-8-a-countrys-standard-of-living-depends-on-its-ability-to-produce-goods-and-services/
10.Employees Naturally Trust Leaders That Display These 3 Powerful Habits
Who wouldn't want to work for a boss like this?
By Marcel Schwantes
A friend recently told me about a previous company trying to lure him back to his old position. In a moment of crisp clarity, he said he could never go back no matter how enticing the offer.
The reason? One toxic leader up in the ivory tower making life miserable for others below. I agreed that my friend chose to take the higher road.
I, too, left a company once due to a toxic CEO with low emotional intelligence. His Grand Canyon-sized ego manifested in bullying and controlling behaviors that sent some of his best people packing. In exit interview data of the top-five reasons people quit, he was "reason No.5." (I say this with accuracy because I collected the data)
Out With the Old: Power, Control, Fear
If you subscribe to the notion that establishing power over and control of your people is the way to go in producing results, I ask you to reconsider.
Top-down bosses who spread fear are notorious for killing intrinsic motivation. And when that happens, good-employees-turned-order-takers stop exercising the very traits employers wish to see in their people–that of proactive, creative, self-starters.
Employees who don't self-start, make decisions on their own, give input, get feedback, and grow as people with purpose, eventually suffocate and lose the will to contribute meaningfully. Exit, stage left.
In With the New: Listening, Self-Control, Humility
Regardless of what generation you identify with, every employee with a pulse wants to be treated like a valued and trusted human being with the freedom to use her God-given brain.
This requires a new behavioral paradigm for leaders to connect with the hearts and minds of people — a "human to human" (H2H), if you will, approach to leadership.
While my human-to-human leadership skills list is much more exhaustive than this, for this article, I posit that every leader will require the capacity to display these three qualities in order to see discretionary effort released in their employees.
They Listen
Effective communication isn't just about talking; it is also the ability to listen and understand what's happening on the other side of the fence. You listen for meaning and understanding with the other person's needs in mind. This is listening with a servant-leader's heart.
Bosses also benefit from this style of listening because the more receptive you are to helping your team, the more you make it a safe place for employees to be open enough to give you great input, great ideas and great contributions.
If you sense that a top performer isn't happy and at-risk for leaving your company, you need to do something about it right away. This is where the power of listening takes over. Andy Grove, author of High Output Management, outlines five steps to saving a valued unhappy employee:
1. Meet with them ASAP and ask why they're looking for another job.
2. Listen to what they have to say, and ask follow up questions.
3. Find clear ways to help change things for them to make things better.
4. Follow up and implement the changes you said you would do quickly.
5. Even if you will lose them to another department, you should be trying to keep them in the company.
They Display the Rare Emotionally-Intelligent Trait of Self-Control.
In a previous company, I vividly recall an executive marching down the hall spewing expletives on his way to wage war with a middle manager. An ongoing issue boiled over, and this exec just lost it. The commotion left some people very uncomfortable.
As leaders, when we react in such a manner (as a well-known executive did in a highly-publicized story last year), we are being impulsive, shortsighted, and usually not giving much thought to what we are doing.
It usually happens when you don't get something you want, or react on impulse to an unresolved issue. Or maybe out of fear of something. Then, "fight, flight, or freeze" takes over.
All three prospects can be equally damaging. You may end up domineering or withdrawing, clouding your thinking and judgment in the process. In a communication exchange, this can easily escalate when the other person also reacts without thinking first, turning a conversation into a heated argument that goes south fast.
On the other hand, leaders who exercise self-control are good at self-regulating–managing themselves and their emotions. For example:
· They identify their feelings and exercise self-awareness before acting on their emotions.
· They figure out what their triggers are, and what caused them to react a certain way.
· They are aware of when negative emotions happen so they can alter the course for a better response the next time.
· They are intentional about change, especially changing their mindset to "this is who I choose to be" rather than maintaining "this is who I am."
They Display Humility as a Powerful Leadership Strength
I've heard a few times from people in position of power that humility is weak. Yet this core virtue drives at the inner strongholds that make a bad leader: pride, self-centeredness, judgmentalism, control, and impulsiveness.
Author and thought-leader Jim Collins of Good to Great fame has probably dedicated more time writing about humble leaders than any other topic in his landmark study of Level 5 Leadership. He states,
"Level 5 leaders channel their ego needs away from themselves and into the larger goal of building a great company. It's not that Level 5 leaders have no ego or self-interest. Indeed, they are incredibly ambitious–but their ambition is first and foremost for the institution, not themselves."
How do you display humility and still retain your authority as a respected leader? Consider these for your playbook:
1.Ask this question to your most trusted peers, "Does my behavior increase trust?" Don't take offense at objectivity. Thank them, and do something about it.
2. Before pulling the trigger on an important decision–lone-ranger style–consider whether you're looking at the whole picture, and both sides of an issue, from various and diverse perspectives. Practically speaking, this may require tapping into the feelings of others to consider a different, and even better, outcome. That's humility.
3. Self-diagnose. Do others see you as dependable and accountable for your actions? Do people feel safe in your presence? Are you often seen as "influential?" These are trademarks of a powerfully humble leader.
Your Turn
What's your experience with what makes truly loyal employees who will give their best for a leader? What would you add to this list as hallmarks of leaders that employees naturally trust? Leave a comment or hit me up on Twitter for further discussion.
The opinions expressed here by Inc.com columnists are their own, not those of Inc.com.
http://www.inc.com/marcel-schwantes/employees-naturally-trust-leaders-that-display-these-3-powerful-habits.html?cid=email