1.TSLA is Turning into Ice Juice for the Biggest Shorts on Wall Street.  TSLA +49% YTD.
Traders short selling Tesla's (TSLA.O) soaring stock have lost $3.7 billion this year, eclipsing the combined losses of traders shorting Apple (AAPL.O), Amazon.com (AMZN.O) and Netflix (NFLX.O)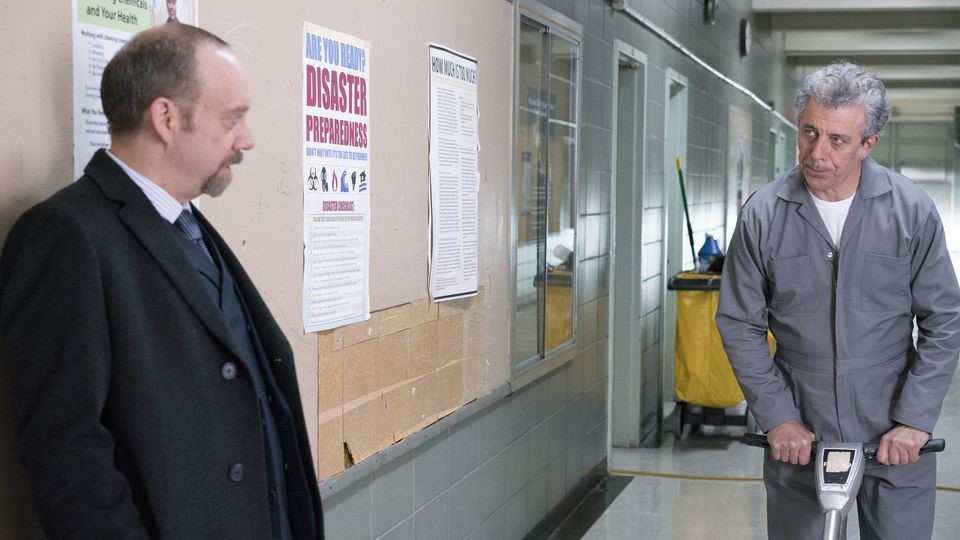 TSLA +49% vs. S&P +7%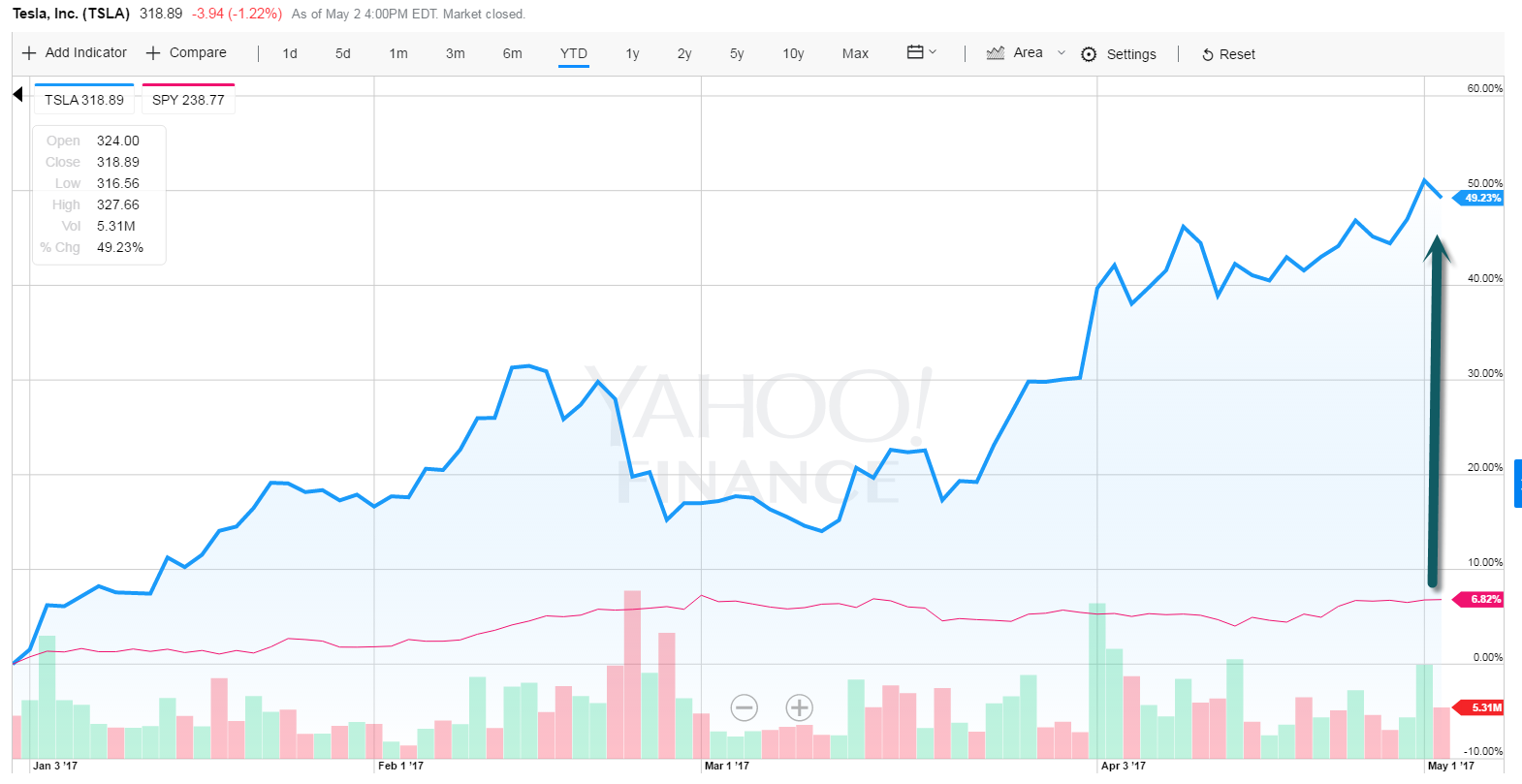 www.yahoofinance.com
http://www.reuters.com/article/us-tesla-stocks-idUSKBN17Y29O
2.Technology ETF XLK Up Double the S&P YTD.
XLK +13.5% vs. S&P +6.82%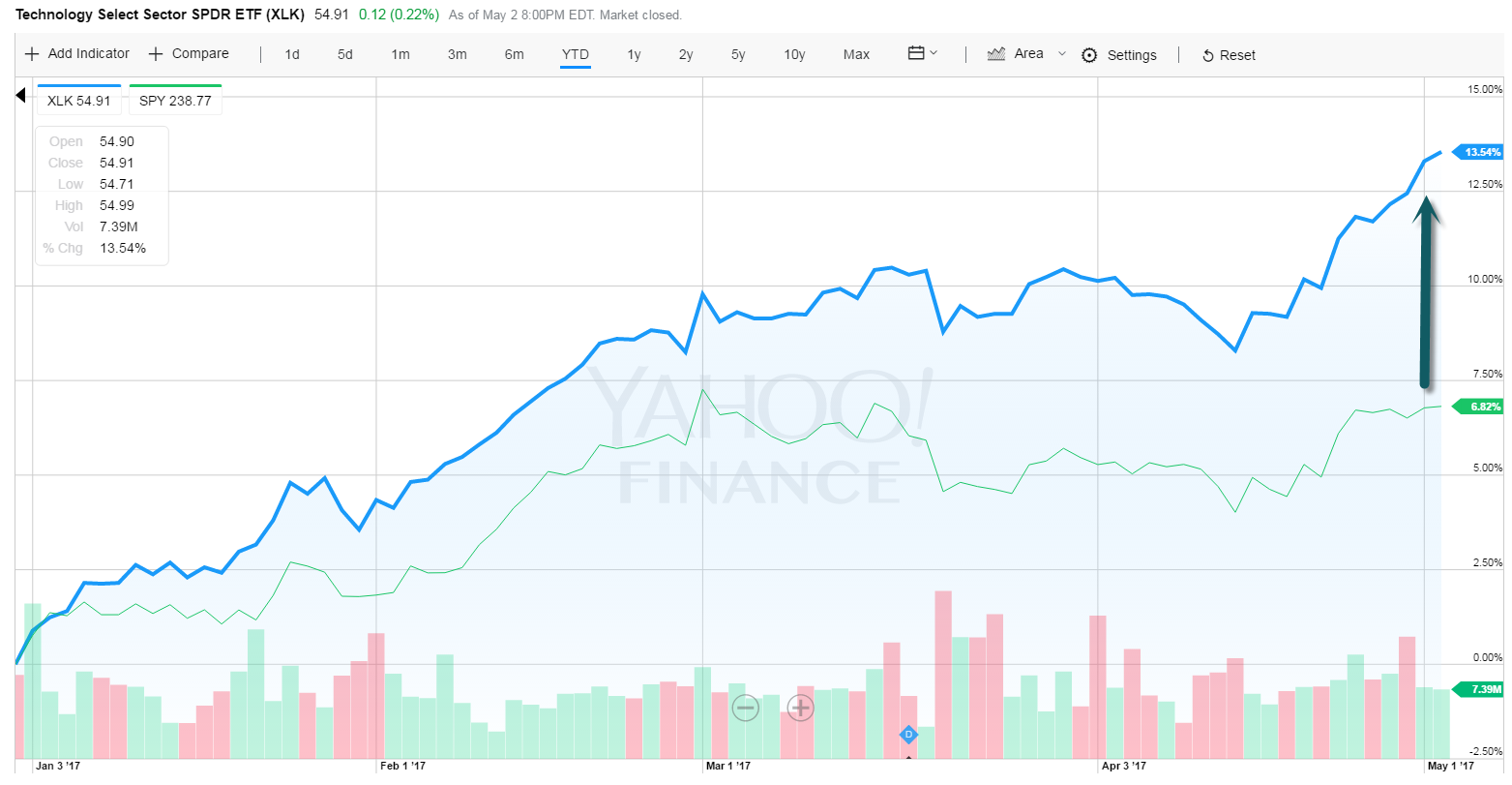 Technology ETF Flow not Off the Charts….The Herd Mentality has not Kicked In.

3.Jeffrey Gundlach Comments on this Summer.
GUNDLACH SPEAKS– Jeffrey Gundlach had a "Closed-End Funds Audio Webcast" last night.   Some Bullets –
Gundlach expects the 10-year Treasury yield to move higher, and a summer interest rate rise should "go along with a correction in the stock market.
U.S. dollar will stay on gentle weakening pattern – Gundlach has said repeatedly the strength in the U.S. dollar after Donald Trump's presidential victory would reverse itself.
So far, the Nasdaq has been more right about the economy than the 10-year which I think has been rallying more on technical
He expects gold to "have another leg up" and that "it is not a time to give up on gold."
Oil prices to trend lower over the longer term because of improved technology for extraction.  "Commodities broadly should underperform CPI because" of technology
Thanks to Dave Lutz at Jones for summary.
GLD +9% vs. U.S. Dollar -3.44%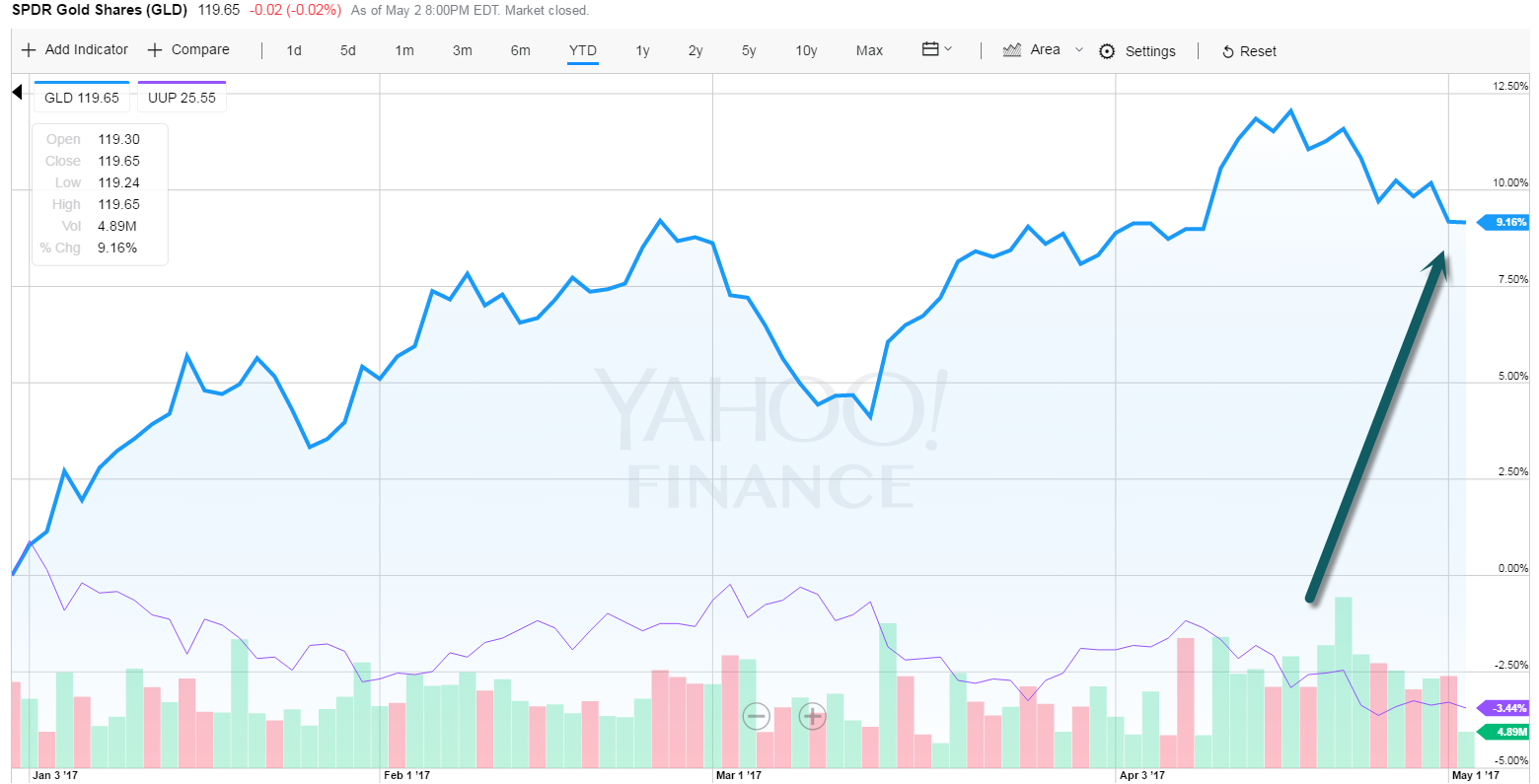 4.We Shall See if this is Seasonal or Credit Card, Auto, and Student Loans Catching Up to Consumers…….Consumer Spending Disappoints.
The United States: US consumer spending was disappointing.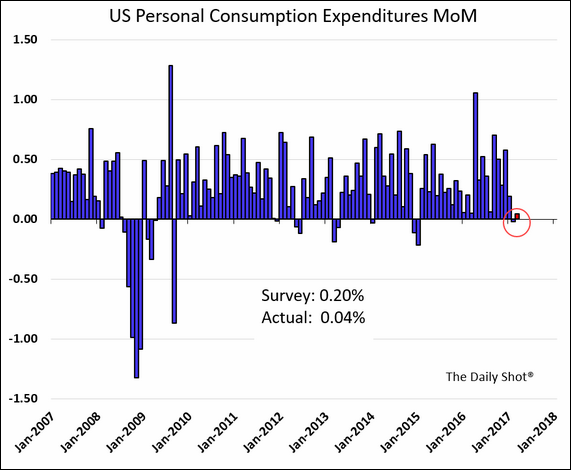 Energy Markets: Consumer demand for gasoline has declined recently; as a whole, US oil demand has been soft. This development has to be making OPEC nervous.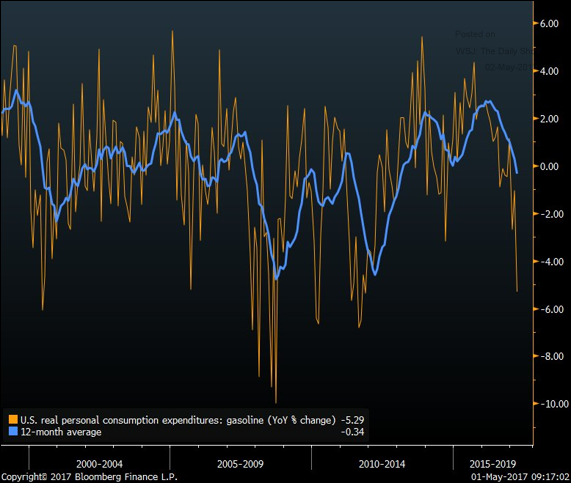 5.Earnings are Humming…So Far 23% Ahead of Analysts' Estimates.
April 28, 2017by Steven Vannelli, CFA in 
So far in this earnings season, with over half of companies having reported, the energy sector has experienced the biggest earnings surprise. Earnings have come in almost 23% ahead of analyst estimates, nearly double the surprise of the consumer discretionary sector.
Digging into industry groups, with 6 out of 7 companies in the S&P 500 having reported so far, the Energy Equipment and Services industry has experienced an almost 40% earnings surprise factor.
Among constituents of the Oil, Gas and Consumable Fuels industry, 9 out of 10 companies reported positive earnings surprises.
http://blog.knowledgeleaderscapital.com/?p=13042

Found at The Big Picture-Barry Ritholtz
http://ritholtz.com/
6.Not the Usual Top Action….BAC Institutional Clients Go Bearish.
By Mark Melin on May 2, 2017 4:11 pm in Business
As the stock market was climbing to record or near record heights last week, high on the notion of Trump tax reform and other "animal spirits," something odd was occurring, a Bank of America Merrill Lynch report observed. The bank's mostly institutional or well-heeled clients were turning bearish. And not just minor selling. This was some of the "Biggest sales since June," an Equity Client Flow report bearing the same name observed.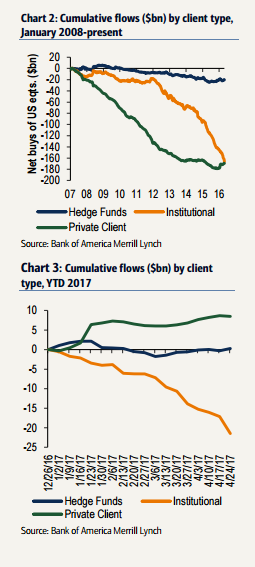 http://www.valuewalk.com/2017/05/bank-of-america-merrill-lynch/
7.Read of the Day….. Higher Rates Don't Mean Lower House Prices After All
Housing's lost decade is finally over.
The housing market has reached its long-anticipated new milestone: U.S. home prices finally topped record levels for the first time since July 2006, according to the S&P CoreLogic Case-Shiller Index released this week. Rock-bottom interest rates and accommodative monetary policy helped push home values higher. But now comes the hard part: sustaining prices in a period of rising rates. There is reason for optimism.
Wednesday's report on October pending home sales, a key indicator from the National Association of Realtors that measures buying momentum of previously owned homes, should be decent. It will show activity one month prior to the election and before mortgage rates started climbing.
The pending home sales index is based on signed contracts, making it a leading indicator of sorts for the broader housing market. Home sales typically close weeks or months after signing.
While pending home sales spiked in April, they have been choppy ever since, buffeted by tight inventory and low mortgage rates. Economists polled by The Wall Street Journal expect a 0.1% rise in October from a month earlier.
More recent data suggest home buyers rushed to get mortgages before rates rose further. Applications for mortgages to purchase homes jumped 13% in the week ended Nov. 18, one of the biggest increases of the year, according to the Mortgage Bankers Association. That comes as mortgage rates have climbed above 4%, hovering near the highest in 17 months.
While mortgage rates are up, they remain very low by historical standards. And rising rates during prosperous economic times don't necessarily mean home prices have to fall.
A study by John Burns Real Estate Consulting Inc. examined 10 instances over the past four decades in which mortgage rates rose by at least 1 percentage point. It found prices weren't especially sensitive to rising rates, particularly in the presence of other positive economic factors, such as strong job growth, rising wages and improving consumer confidence.
From the bursting of the housing bubble and the financial crisis to prices bottoming in 2012 and the ensuing recovery, rising home values have ushered hope that the housing expansion is poised to kick into a new gear.
Even if rates rise further, it isn't last call yet for the house party.
Write to Steven Russolillo at steven.russolillo@wsj.com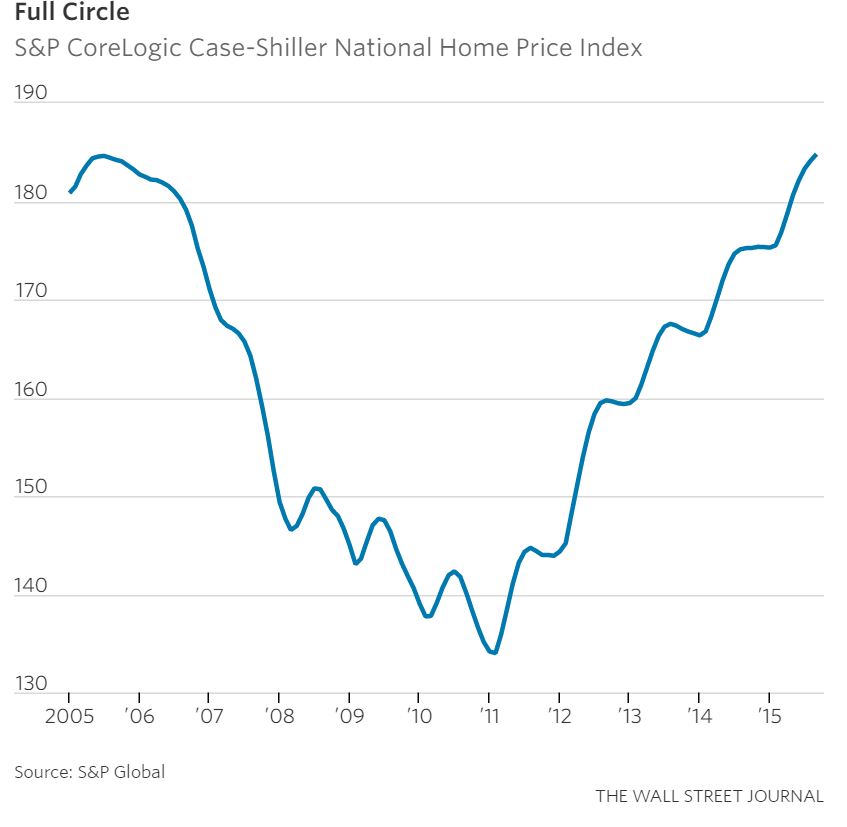 https://www.wsj.com/articles/housing-is-ready-to-move-beyond-lost-decade-1480457705

8. Opinion: 7 money-making lessons from the richest man who ever lived
Jacob Fugger was worth around $400 billion in today's money at the time of his death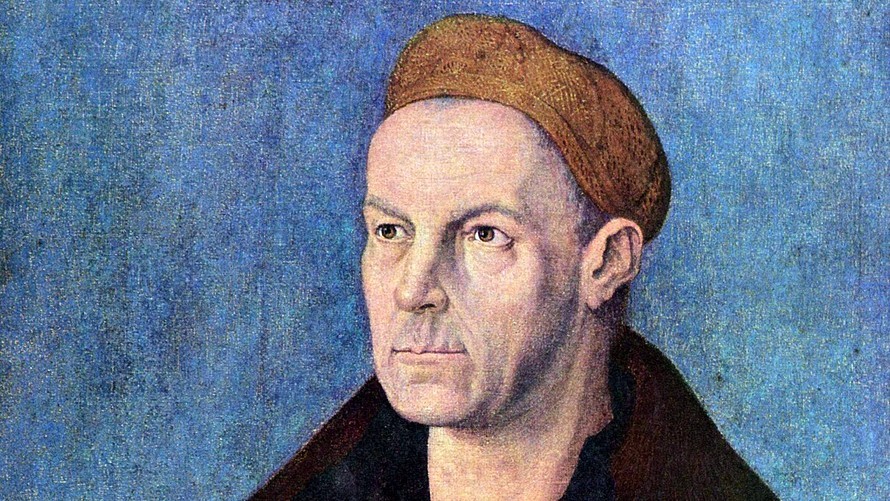 "The Portrait of Jakob Fugger," an oil painting by German Renaissance artist Albrecht Dürer, executed around 1520.
By
GREGSTEINMETZ
Jacob Fugger was a German banker who financed kings, explorers, bishops and popes — and along the way made the biggest fortune ever amassed by a business person.
The grandson of a peasant, he persuaded Leo X to legalize for-profit lending. One of his money-making schemes provoked Martin Luther to write the 95 Theses and kick off the Reformation. He played kingmaker in the 1519 election for Holy Roman Emperor. Jacob (Jakob in German) Fugger and his money gave the vote to Charles V of Spain and put Charles atop an empire as big as Napoleon's.
Fugger was worth about $400 billion in current dollars at the time of his death in 1525 — or 2% of Europe's GDP at the time. (John D. Rockefeller was close in dollar terms, but his wealth equaled a smaller part of the U.S. economy.)
Here are some of his secrets:
Invest when others fear. Fugger made two massive bets that secured his fortune. The first was to bankroll Archduke Sigmund of Tyrol when it looked like Venice was going to take over the duchy. The dukes' usual bankers refused to finance him. Fugger came forward and offered everything he and his friends and family could pull together. The duke settled with Venice. In return for his backing, Fugger locked up the concession for the largest silver mine on earth.
Fugger also invested in Hungarian copper mines when others feared a Turkish invasion. By going against the grain, he sewed up the copper business just like he had the silver business. The Turks eventually arrived — but only well after Fugger's death.
Be indispensable. Too big to fail isn't a modern invention. Fugger knew all about it and used it to insulate himself from monarchs who could have reneged on their loans without consequence. Fugger had something he knew his borrowers couldn't live without: The ability to conjure up huge sums in an instant. Borrowers liked neither Fugger nor his terms. But they couldn't live without him.
Know the facts. Fugger understood the value of good information. He created the world's first news service and used it find out about market-moving events before others. Emperor Maximilian (the grandfather of Charles V) once told the banker that Henry VII had shipped him some gold as collateral for a loan to fight the French. Fugger refused the deal because his spies in England told him the ships never left port.
Know the numbers. The Italians invented double-entry bookkeeping. Fugger was among the first north of the Alps to use it. He advanced the craft by creating a consolidated balance sheet for his many businesses. He was also the first to send auditors into the field to check on branch activities. His ledgers show margin scribblings in his own hand asking questions about specific expense items.
Get a good education. Fugger spent several years as an apprentice in Venice, the business capital of its day. He gained knowledge, experience and connections that served him the rest of his life.
Keep cool. An Austrian bishop was one of the biggest depositors in his bank. When the bishop died in 1509, the pope demanded that Fugger immediately pay the money to the church. Fugger's money was tied up in the mining projects and he lacked the liquidity to honor the demand. The withdrawal — or even rumors of the withdrawal — would have ruined him. Rather than hunker down, he spent lavishly to make it seem he was never more liquid. This gave him time to quietly negotiate the deal that saved him.
Give something back. Fugger is best known as the creator of the Fuggerei, the world's first affordable housing project. He thought anyone who worked deserved to have a roof over their head. Rent came to one quarter the market rate. The Fuggerei remains in operation and is the largest tourist attraction in his home city of Augsburg.
Greg Steinmetz is the author of "The Richest Man Who Ever Lived: The Life and Times of Jacob Fugger."
http://www.marketwatch.com/story/7-money-making-lessons-from-the-richest-man-who-ever-lived-2017-05-02