1.Home Improvement Retailers HD and LOW Thriving in Death by Amazon World.
LOW +20% and HD +16% YTD vs. RTH Retail ETF +8%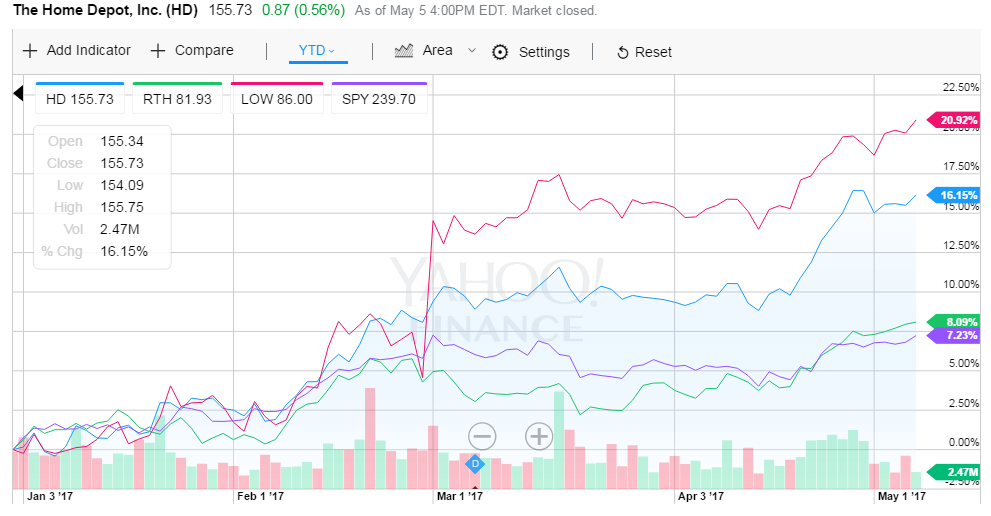 www.yahoofinance.com
2.Is French Election Result Priced into Equities Market? French ETF Makes All-Time Highs on Huge Volume.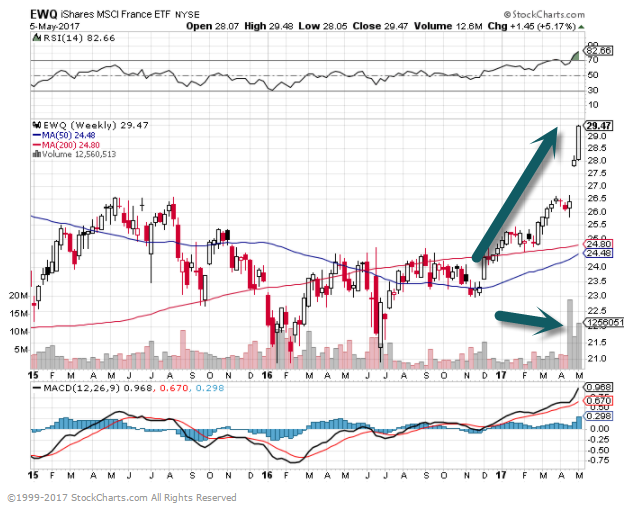 3.LAST QUARTER, COMPANY INSIDERS sold $9.9 billion worth of shares in February and $10 billion in March, the heaviest monthly profit-taking since early 2011, according to TrimTabs
Jan Feb and April Spikes

4.Oil $45- Not Good for the Kingdom…Saudis Need $60 Oil for Aramaco IPO…Between 50-70% of IPO income earmarked for domestic investment
The deputy crown prince has said that Aramco's value could be US$2 trillion, which means that 5 percent would fetch US$100 billion for the Kingdom. But since the staggering US$2-trillion valuation was first aired, institutional investors, fund managers, and industry professionals have been trying to find valuation metrics that add up to this figure.
Analysts are mostly valuing Aramco at below US$1.5 trillion, although Saudi Arabia slashed the tax rate on Aramco to 50 percent from 85 percent in a bid to attract international investors and raise the company's value. The tax rate cut is making the oil giant more attractive to investors, and raises the valuation of its upstream portfolio by around US$1 trillion, according to Rystad Energy.
Most recently, a Wall Street Journal report suggested that officials at Aramco are applying internal value estimates of US$1.3 to US$1.5 trillion to the valuation, calling deputy crown prince's estimate "unrealistic and mind blowing."
Oil prices slumped below $US45 a barrel — levels last seen in November 2016 as key OPEC producers agreed on production cuts.
Concerns of a supply glut, thanks to soaring U.S. oil production, appear to have more than negated moves by OPEC members and 11 other large producers to cut output by almost 1.2 million barrels per day during the first half of 2017.
A short while ago, West Texas Intermediate oil was 2.8% lower at $US44.26 adding to the 4.8% loss on Thursday. It has dropped 17% since April 11.
http://www.businessinsider.com/oil-prices-right-now-opec-2017-5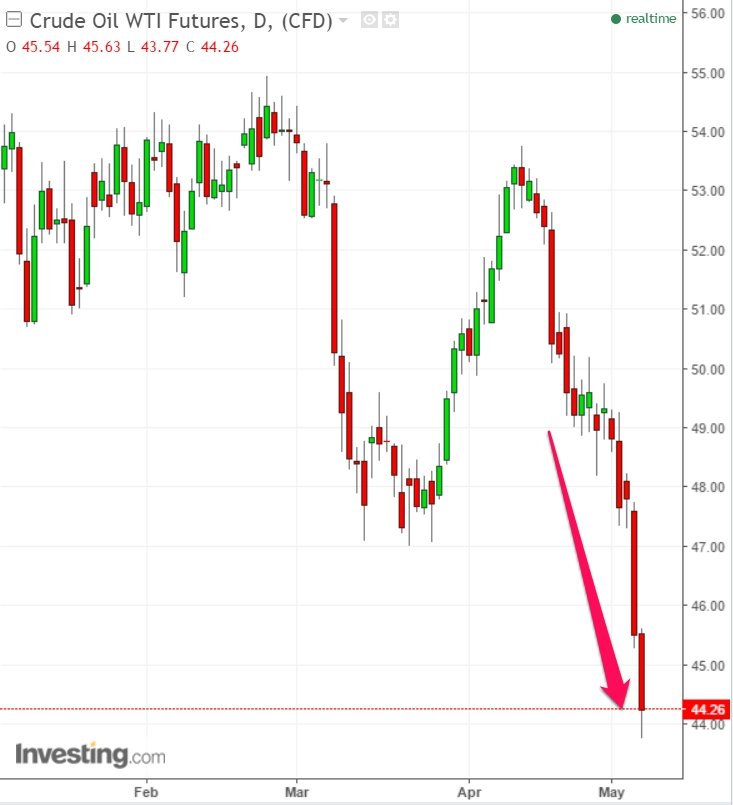 http://www.businessinsider.com/next-years-aramco-ipo-wont-change-who-controls-the-oil-giant-2017-5
5.Global Valuations….Based on Price to Book U.S. Large Cap Price to Book at 10 Year High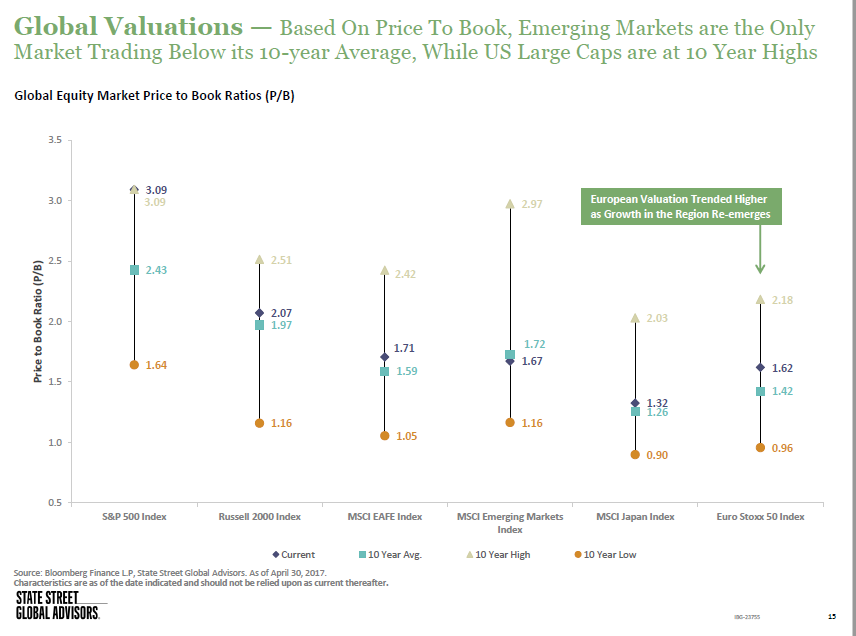 http://statestreetspdrs.com/1381/files/May_Chart_Pack_2017.pdf
6.AAPL Revenue Falls 14% in Asia….5 Quarters in a Row of Falling Sales in China.
On Tuesday, the Californian giant reported another set of bleak results for Greater China. Revenue in the Chinese mainland, Hong Kong, Macao and Taiwan fell more than 14 percent year on year to $10.7 billion in the quarter ending April 1. That is a sharp reversal from two years ago, when regional sales were soaring on the back of the hugely popular iPhone 6.
Boss Tim Cook blames a mixture of factors, including a 5 percent currency devaluation, a tourism slump in Hong Kong, and weak sales of older iPhone models. The $772 billion colossus was counting on these slightly lower-end handsets to broaden its base of customers in up-and-coming bits of China, which is already the world's biggest smartphone market.
Instead, Apple shipments tumbled by almost a quarter last year as home-grown rivals such as Huawei and OPPO offered cheaper alternatives, IDC data shows. As a result, Apple's market share in China fell to less than 10 percent of handsets by volume in 2016, down from 13.6 percent the previous year – although it probably accounts for a much larger slice of the profit pool.
http://www.globaltimes.cn/content/1045722.shtml

7.Top 10 has Discussed Wage Growth at Length for Two Years…Wages Finally Accelerating for Lower Income Workers.
II voting begins next week, if you think my team has been helpful then please vote for DB Economics.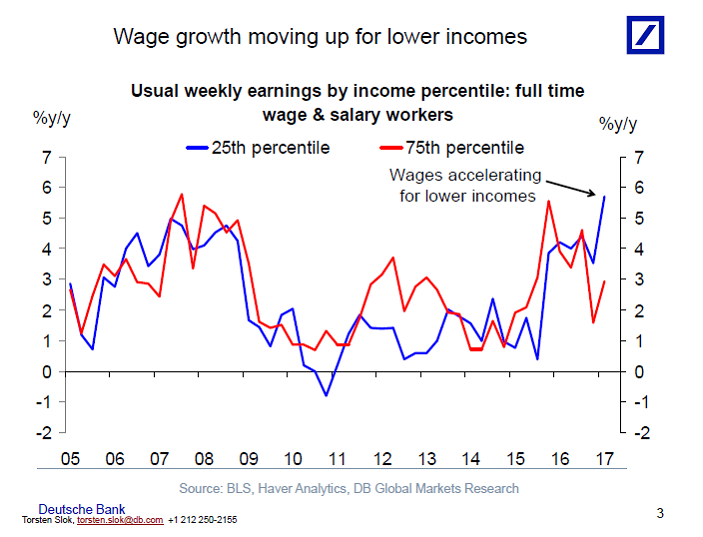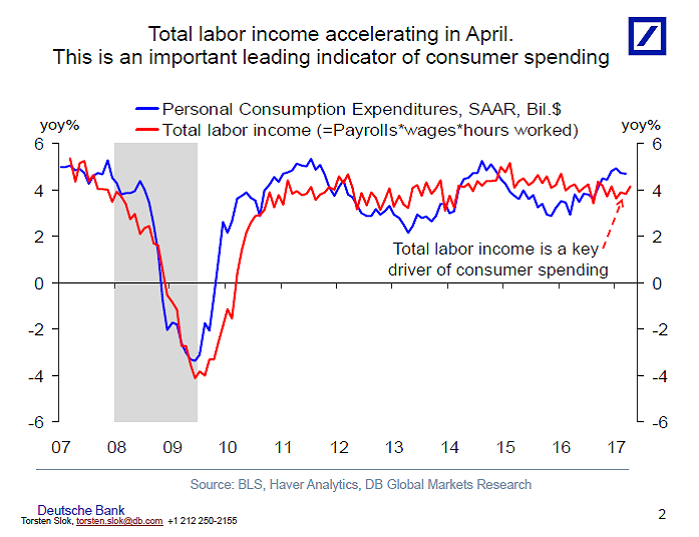 ———————————————–
Let us know if you would like to add a colleague to this distribution list.
Torsten Sløk, Ph.D.
Chief International Economist
Managing Director
Deutsche Bank Securities
60 Wall Street
New York, New York 10005
Tel: 212 250 2155
8.Total Warehouse Jobs Spiked 38% Over the Last 5 Years….Death by Amazon-Warehouse Jobs Replace Retail Jobs.
Counties with Best and Worst Performing Warehousing Economies of 2015: Riverside County (Riverside, CA) Creates Most Warehousing Jobs; Macomb County (Detroit, MI) Loses Most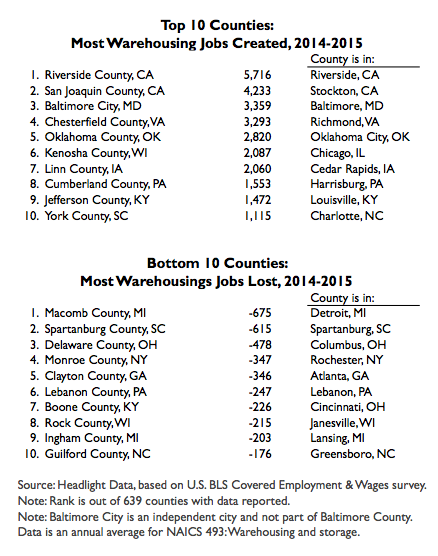 Philly Inquirer
http://www.philly.com/philly/business/Retail-stores-heading-toward-zero–inventory-high-experience-to-survive-warby-parker-bonobos-king-of-prussia-mall.html
9.Bankruptcy Filing Lowest Since 2006….Remember the U.S. Just Hit 3 Legged Stool…$1 Trillion Credit Card , $1Trillion in Student Loans, $1 Trillion Credit Card Debt.
U.S. Courts: Bankruptcy Filings Drop 6 Percent in 2016, Lowest since 2006
by Bill McBride on 2/06/2017 04:06:00 PM
From the U.S. Courts: Bankruptcy Filings Fall 5.9%, Reach Lowest Level Since 2006
During the 12-month period ending December 31, 2016, 794,960 cases were filed in federal bankruptcy courts, down from the 844,495 bankruptcy cases filed in calendar year 2015—a 5.9 percent drop in filings.
This is the lowest number of bankruptcy filings for any calendar year since 2006, and the sixth consecutive calendar year that filings have fallen. However, it was the first calendar year since 2011 that the rate of annual decline was less than 10 percent.
http://www.calculatedriskblog.com/2017/02/
Interesting that filings were higher in 2004-2005 than post Great Recession.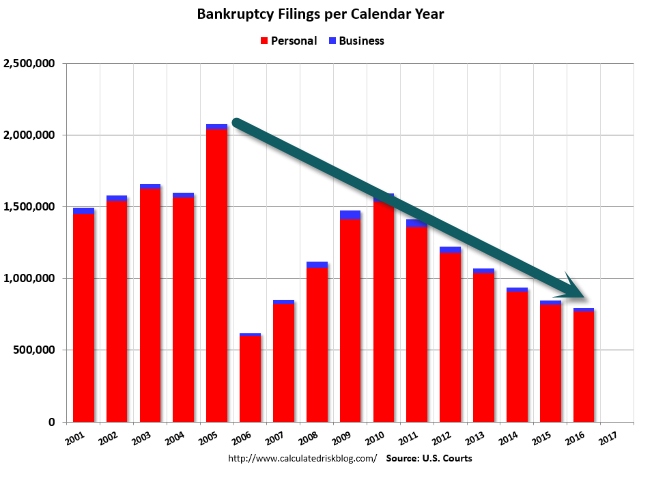 10.How to Create a Winning Value Proposition
Have you ever been asked what your company does only to find yourself at a loss for words?
"Uh, well, you see…"
You stumble, feel around, but come up dry.
Which is weird, because you do good work, your products are great, and your clients love you. Obviously, you deliver value. You just haven't figured out yet how to express that value—and it shows.
The trouble is, value propositions are notoriously hard to create. (That's probably why so many companies either don't have one or don't have a good one.) So let's look at what it takes to create a winning value proposition, review some examples, and look at 3 frameworks that will help you create one for your brand.
5 Ingredients of a Powerful Value Proposition
A recipe is only as good as the ingredients you use.
1. What You Do
Have you ever visited a website, browsed around, read their blog, and still walked away wondering what they do?
Don't make that mistake. Nail down what you do and try to express it in one simple phrase.
Tip: Make sure it's concrete and easy to understand. Something like:
§ Provide training and coaching
§ Create inspirational and entertaining media
§ Sell shoes
2. The Problem You Solve
Even if you sell clothes or shoes, you solve a problem. Maybe your customers can't get fit anywhere else. Maybe they can't find styles that express their personality. Maybe they need outfits look great the moment you pull them out of the dryer or suitcase.
If you aren't sure what problem you solve, talk to your customers. What do they appreciate most about you? Figure out the exact problems you solve, then express it as concisely as you can.
3. The End Result People Walk Away With
This is the real value you offer. After doing business with you, what do your customers get? You want to shape this into a promise that's:
§ Relevant—growing out of the exact problems you solve
§ Specific—itemizing measurable benefits in a specified time frame
§ Unique—differentiating you from every other option available to your customers
Always remember your product isn't the actual takeaway. Dig deep to find the true value you offer. Then for bonus points, look for the emotional benefits of buying from you. Something like:
§ Confidence
§ Freedom
§ Peace of mind
§ The best vacation of your life
§ True love
The emotional benefits may not go into your value proposition, but they will certainly be helpful when you're writing your sales copy.
4. Your Target Market
Who is your best customer? It needs to be a group of people who self-identify by the term you use. Ideally, there are magazines and blogs aimed at this group, and they have lots of subscribers and traffic.
This group should have an urgent pain that your product/service resolves. Even more importantly, they must care enough about removing that pain that they'd gladly pay to get the solution.
This group needs to be large enough to support you and your competitors. And they should have enough money to pay your asking price. If they don't have money for whatever you offer or aren't willing to spend that money, you need another market.
Make sure your market does have competitors. If it doesn't, the market doesn't actually exist.
5. Your Mission Statement
To be honest, a mission statement isn't essential to your value proposition. But it does help.
§ In general, people like buying from a company with a classy, selfless mission.
§ If you know what your mission is, you can build it into your value proposition.
§ If your product generates a specific outcome, you can use that to craft a compelling mission that makes people want to do business with you.
All too often, a business's goal (if they're honest) is simply to provide the best [whatever] on the planet. There's no real mission other than to be good at what they do.
But today, people appreciate a business having more of a raison d'être than merely to sell a product. What does the business care about? What lasting impact are they trying to make? What impulse guides them as they move forward?
Your customers care!
Your mission statement tells people clearly and concisely what you care about, how it makes a difference, and why everything else you do matters.
And that's precisely why you need one for your business. Combined with your value proposition, your mission creates a strong impression about the quality of your work and the impact you have on your customers and the world.