1.8 Tech Stocks Market Cap Bigger Than Europe, EM and Japan.
The world's hottest tech companies are now worth more than $5 trillion, and they could be pointing out the next big bubble
Stock traders celebrate on the last trading day of 1999, which closed at a record 17,091 points, on the floor of the stock exchange in Sao Paulo, Brazil.Paulo
The most prominent US and Chinese tech stocks are worth more, by market cap, than the stock markets of the eurozone and Japan.
Facebook, Amazon, Apple, Microsoft, Google, Baidu, Alibaba, and Tencentare worth $5 trillion, according to data compiled by Bank of America Merrill Lynch. US tech stocks are worth even more, at a $6.6 trillion market cap.
Michael Hartnett, BAML's chief investment strategist, has cited this size as a reason investors should reduce their exposure to tech stocks.
"Long FAAMG + BAT" is considered the most crowded trade, according to BAML's global fund-manager survey.
Here's your stat of the day: Eight tech companies are worth more than the stock markets of Japan and the entire eurozone.
The companies make up what Wall Street has abbreviated as "FAAMG + BAT": Facebook, Amazon, Apple, Microsoft and Google (or Alphabet), plus the Chinese tech companies Baidu, Alibaba, and Tencent.
As of last Tuesday, they had a combined market capitalization of $5 trillion, according to data compiled by Bank of America Merrill Lynch. US tech stocks were worth even more, at $6.6 trillion.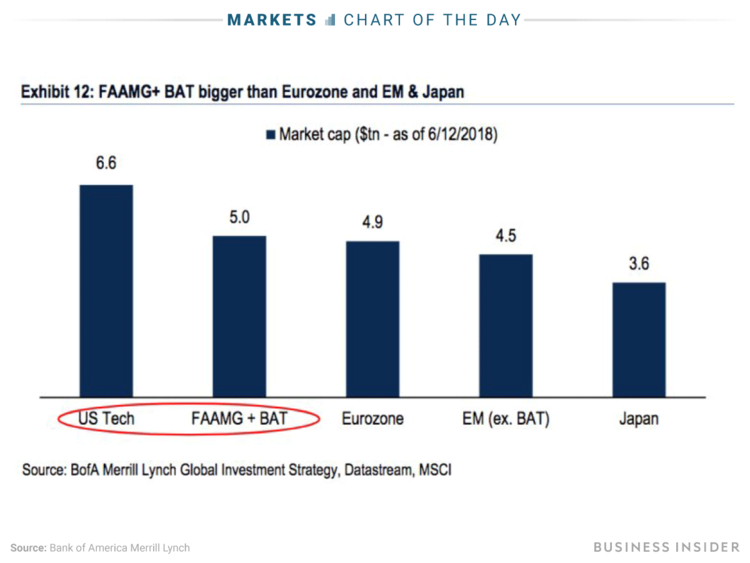 Bank of America Merrill Lynch
http://www.businessinsider.com/facebook-amazon-other-tech-giants-larger-than-major-stock-markets-2018-6
2. Amazon CEO Jeff Bezos is now worth a record $141 billion—here's how he became the richest person in the world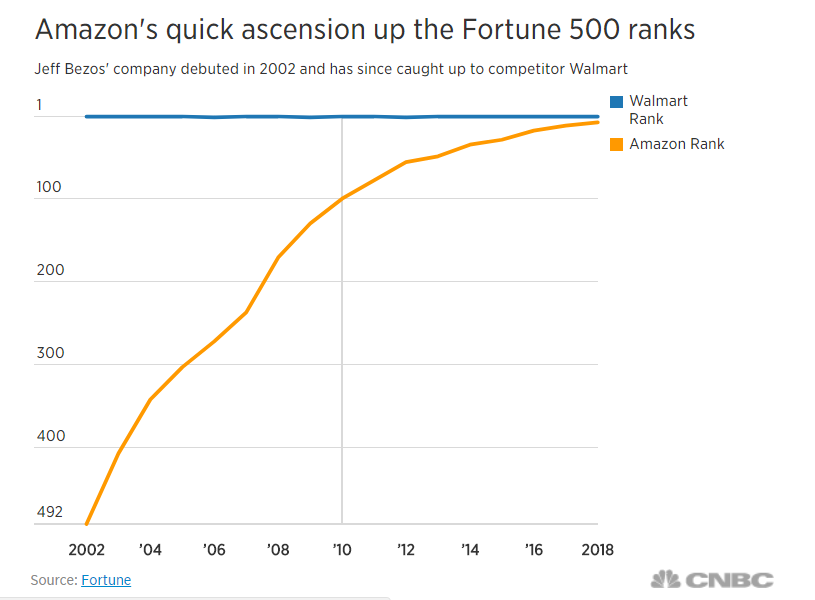 Amazon founder and CEO Jeff Bezos, the wealthiest person in the world, is richer than he has ever been before. Since June 1, the tech titan's net worth has grown over $5 billion and now totals $141.9 billion, according to the Forbes World's Billionaires list. That makes Bezos worth roughly $49 billion more than Bill Gates and about $60 billion more than Warren Buffett.
This latest win for Bezos is just one of many he has enjoyed this year.
As Amazon's customer base sticks around despite the latest Prime latest price hike in exchange for a slew of services and perks, the company's stock has continued to increase in value. Even Buffett now regrets not investing in Amazon when he had the chance.
Earlier this year, Bezos officially became the richest person in the worldand also helped make Amazon the second most valuable company in the world, behind Apple. And his success can arguably be traced back to a risk he took when he was 30 years old.
https://www.cnbc.com/2018/06/18/how-amazon-made-jeff-bezos-the-richest-man-alive-worth-141-billion.html
3.The Money Thrown Around By Big Tech Is Mind-Boggling…Google Invests $550 M for 1% Stake.
Google Invests $550 Million in Chinese Online Shopping Site JD.com
Partnership will help both companies expand their retailing presence in Southeast Asia, the U.S. and Europe
By
Liza Lin
SHANGHAI— Alphabet Inc.'s GOOGL 2.10% Google unit is investing $550 million in Chinese online retailer JD.com Inc., JD 0.39% a move that will deepen its ties with China and ramp up its rivalry withAmazon.com Inc. AMZN 0.46%
The deal, which according to a JD spokesman gives Google a 1% stake, will help both companies expand their retailing presence. Under the partnership, JD will start selling products on Google Shopping, reaching consumers in the U.S. and Europe as it seeks to diversify beyond China's highly competitive e-commerce market.
Google Shopping shows retailers' ads for goods above the blue links in Google's search results for many types of products, like apparel and appliances.
The search giant is building alliances as it races Amazon to develop new ways for people to shop, from voice-enabled smart speakers to faster and more convenient home grocery delivery.
Write to Liza Lin at Liza.Lin@wsj.com
Appeared in the June 19, 2018, print edition as 'Google Tries New Approach To China.'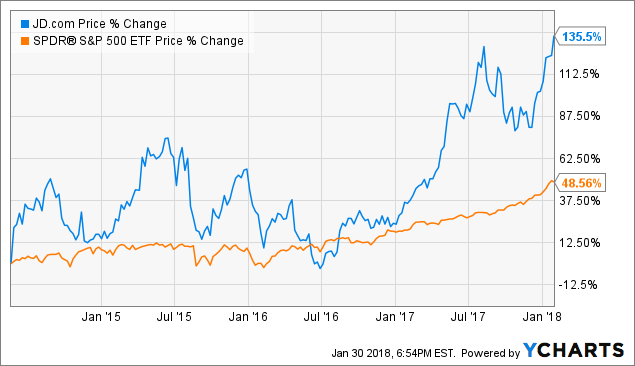 https://seekingalpha.com/article/4141859-potential-multibaggers-jd-com-global-ambitions
4.Credit Deteriorating as Market Goes Higher
Equity Markets: The S&P 500 has diverged from investment-grade spreads.
Source: TS Lombard, @ReutersJamie
https://blogs.wsj.com/dailyshot/
5.FED's Favorite Inflation Measure Still Below 2%
Fed's Preferred Inflation Measure Still Below Target
– Inflation has picked up and the Personal Consumption Expenditure Index (PCE)
ex-food and energy, the core version of the Fed's preferred measure of inflation,
has accelerated toward the Fed's 2% target.
– The PCE has not yet breached the 2% level, and in fact has not been over target since a brief stretch in early 2012.
https://lpl-research.com/hoc/#a1
6.Too Much Smart Beta?  IShares Closes 16 ETFs
iShares To Close 16 ETFs
June 18, 2018
The ETF industry's biggest ETF issuer doesn't often shut down ETFs, but when it does, BlackRock's iShares arm tends to do it in the summertime.
iShares announced today that it will be closing 16 ETFs, almost all of them falling under the smart-beta rubric. The funds' last day of trading will be Aug. 15.
Of the nonsmart-beta ETFs that are shuttering, the iShares Currency Hedged MSCI Europe Small-Cap ETF (HEUS) launched in 2015, and only has about $3 million in assets under management (AUM), while the iShares Currency Hedged MSCI ACWI ETF (HACW), which launched around the same time, has $6 million. The iShares Currency Hedged International High Yield Bond ETF (HHYX), another 2015 launch, has less than $2 million in AUM.
iShares joins other asset managers that have closed currency hedged equity ETFs that were the rage in 2015 after failing to gather assets. Back then it seemed as if the currency hedged train would be unstoppable as HEDJ, DXJ, DBEF and others topped the leader board. But when the dollar reverses, it's harder to meet minimum thresholds to remain viable," said Todd Rosenbluth, director of ETF and mutual fund research at CFRA.
Smart-Beta Closures
The other remaining funds to be closed are factor-focused products and include four currency-hedged minimum-volatility ETFs as well as nine multifactor sector funds. The four hedged min-vol funds all rolled out in the last quarter of 2015, and none have more than $20 million in AUM. They include:
Meanwhile, the nine multifactor sector ETFs are as follows:
The entire family has roughly $50 million in AUM. The products were launched in 2016 after John Hancock rolled out its own family of multifactor sector funds based on indexes created by Dimensional Fund Advisors. Those funds currently have about $365 million in AUM after a slow start.
"iShares had already moved on from multi factor sector products when they launched the active iShares Evolved suite, including theiShares Evolved US Consumer Staples ETF (IECS). Investors have focused on market-cap-weighted and to a lesser extent on equal-weighted sector ETFs, but anything else more complicated to explain has struggled to garner interest," Rosenbluth noted with regard to the scheduled closures.
The total number of closures so far for 2018 far outpaces the record-breaking amount of shutdowns that occurred in 2017; that's mainly because of the 50 iPath ETNs that were shuttered earlier this year. Factor out those closures, and numbers are comparable with 2017. This latest announcement just adds more weight to the idea that 2018 will demolish 2017's record.
Contact Heather Bell at hbell@etf.com
http://www.etf.com/sections/features-and-news/ishares-close-16-etfs
7.Americans Eating Out Equal to Home.
The chart below compares the historical share of total sales that eating in (Food and Beverage Stores) and eating out (Bars and Restaurants) have accounted for.  With "Eating In" accounting for 12.31% of total sales and "Eating Out" accounting for 11.73%, the 0.58 percentage point gap between the two categories is the narrowest it has ever been.  What's even more fascinating about the shift in eating trends over the last 20+ years is the fact that even as Americans have changed where they eat (out vs home), the percentage of total sales that "food and beverage" account for has held steady.  Combined, the two categories currently account for 24.05% of total retail sales, and that compares to a historical average of 23.64% going all the way back to 1995.
In the house of the future, what will replace the kitchen?
https://www.bespokepremium.com/think-big-blog/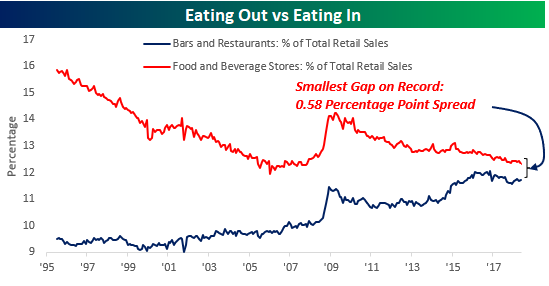 8.To increase your emotional intelligence, develop these 10 qualities
I hope you gain value from this and learn to understand the ways you can influence your mind, and the minds of others, by growing emotionally every day, in all that you do.
Empathy
I love this definition of empathy:
"Empathy is the capacity to understand or feel what another person is experiencing from within their frame of reference, i.e., the capacity to place oneself in another's position."
There are two different types of empathy. This piece from the Greater Good Science Center at UC Berkeley beautifully depicts what they are:
"Affective empathy" refers to the sensations and feelings we get in response to others' emotions; this can include mirroring what that person is feeling, or just feeling stressed when we detect another's fear or anxiety. "Cognitive empathy," sometimes called "perspective taking," refers to our ability to identify and understand other peoples' emotions.
We empathize based on the reaction to others. What I'd also say is that empathy can be cultivated and learned through experiences. Store away in your memory those feelings that you feel both in reaction, and as you put things in perspective. Write these thoughts out, analyze them and determine how you want to treat others in the same way you'd want to be treated.
Self-awareness
Self-awareness is the art of understanding yourself, recognizing what stimuli you're facing and then preparing for how to manage yourself both in a proactive and reactive manner. Self-awareness is how we see ourselves, and also how we perceive others to see us. The second, external aspect, is always the most difficult to properly assess.
Dr. Tasha Eurich says:
"Leaders who focus on building both internal and external self-awareness, who seek honest feedback from loving critics, and who ask what instead of why can learn to see themselves more clearly—and reap the many rewards that increased self-knowledge delivers."
For yourself, ask the introspective questions, yearn for knowledge and be curious. And for others, seek feedback in an honest, caring environment.
Curiosity
"I have no special talents. I am only passionately curious." — Albert Einstein
Show me a curious person who's willing to learn and improve, and I'll show you a success story waiting to happen. When you're curious, you're passionate, and when you're passionate you are driven to want to be your best. Your "antennae" are up to things you love, to wanting to grow and learn more. This learning mindset positively affects other areas of your life—like relationships.
Tomas Chamorro-Premusic writes:
"First, individuals with higher CQ are generally more tolerant of ambiguity. This nuanced, sophisticated, subtle thinking style defines the very essence of complexity. Second, CQ leads to higher levels of intellectual investment and knowledge acquisition over time, especially in formal domains of education, such as science and art." Source: HBR
Analytical mind
The most emotionally intelligent and resolute people are deep-thinkers that analyze and process all new information that comes their way. They continue to analyze old information, habits and ways of doing things to see if they can extract ways to improve. We're all "analysts" in the sense that we consciously think about all new information that comes our way.
Savvy EQ individuals are problem-solvers and everyday philosophers who contemplate the "why" of existence, the "why" of why we do what we do, and who care passionately about living a virtuous life. Having an analytical mind means having a healthy appetite for a continuously improving mindset geared at bettering yourself and always remaining open to new ideas.
Belief
A major component of maintaining emotional self-control is using the power of faith to believe in yourself both in the present and in the future. It's believing that the people and things in your life are there for a reason, and that everything will ultimately work out for good.
Faith alone will not help you. It takes action, of course. But when you combine faith with powerful values like hard work, perseverance and a positive attitude, you have formed the foundation of a champion. Every great leader and thinking uses faith, either in a practical context, emotionally and certainly spiritually.
Spend time in meditation. Think about the way you believe in yourself. Engender a greater faith toward the person you are and who you want to become. And trust and believe that the pieces in your life will come together in a way that will help you live boldly and joyfully.
Needs and wants
The emotionally intelligent mind is able to discern between things that they need versus things that would be "nice to have" that classify more aptly as wants. A need, particularly in the context of Abraham Maslow's "Hierarchy of Needs" is the basic level stuff like safety, survival and sustenance. Once those things are met, then we can progress to other needs and of course, wants.
A "want" is a big house, nice car, and even the brand new iPhone. We do not need those things to survive, but rather we want them based on our own personal desires or what we perceive to matter to society. Become well-versed in knowing what you truly need to live, to accomplish goals and to support yourself and loved ones. Make sure you draw a very clear distinction between what it is you need, and what it is you want.
Emotionally intelligent people know the difference between these two things, and always establish needs prior to fulfilling wants.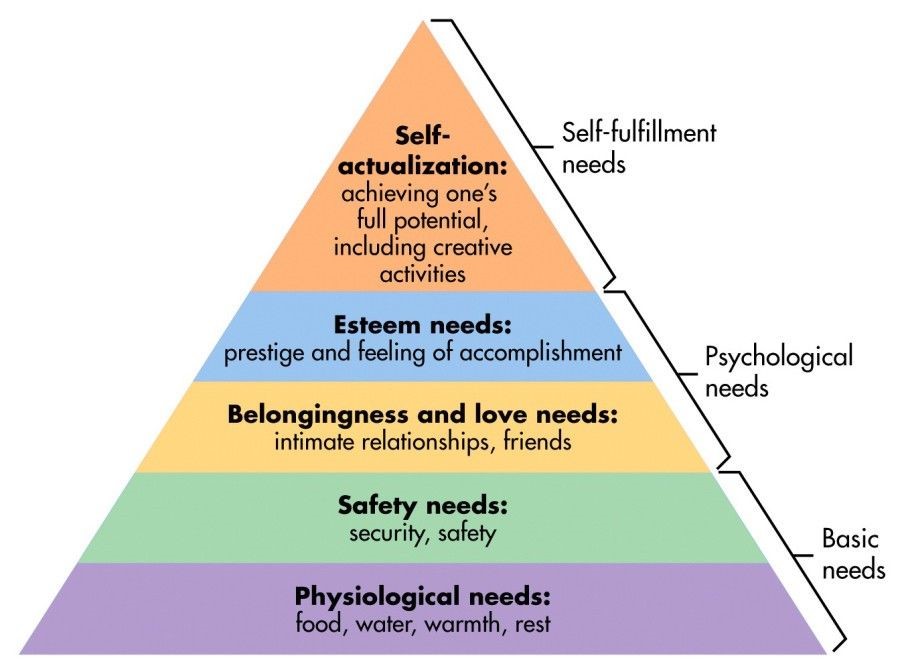 Abraham Maslow's "Hierarchy of Needs."
Passionate
Inspired leadership and love for what you do is born from having a passion for a subject or people. People with a high EQ use their passion and purpose to ignite the engine that drives them to do what they do. This passionate is infectious and contagious—it permeates all areas of their lives and rubs off on the people around them.
Passion is sort of that je ne sais quoi that when you feel it, or even when you see it in others, you simply know. Passion is the natural desire, instinct, drive, ambition and motivated love for a subject or someone. Passion brings positive energy that helps sustain us and inspire us to want to keep going. And there's no secret that emotionally intelligent people who are passionate are also willing to persevere and power forward no matter their circumstances.
Optimistic
If you want to increase your opportunities, improve your relationships and think clearly and constructively, you're best positioned to maintain a positive attitude. Of all the things that we try to control and influence, our attitude is the primary thing that is always within our control. We can choose to live each day by being positive. It's that simple.
"When we are happy—when our mindset and mood are positive—we are smarter, more motivated, and thus more successful. Happiness is the center, and success revolves around it." — Shawn Achor
Adaptability
"Adaptability is not imitation. It means power of resistance and assimilation." – Mahatma Gandhi
Emotionally intelligent people recognize when to continue their course, and when it's time for a change. This vitally import recognition and ability to make crisp, swift decisions in your best interest is called adaptability. You must determine when to stay the course, or when to keep moving forward in another direction.
Similarly, when one strategy is not working, try evaluating and determining if something else will work. From the way you treat yourself, to how you treat others, to your daily routine, always stay open-minded and be willing to adapt and introduce new elements to how you think and what you do.
Throughout your life, you'll need to change course and make assessments on whether you'll be happy and successful if you choose one path or another. Recognize that you can always change. You can always start over. It may not always be the most prudent or wise decision, but only you will truly know in your heart what is or what isn't. Start with leaving the option on the table.
Desire to help others succeed and succeed for yourself
Last but not least, an emotionally intelligent person is interested in overall success and achievement—not just for themselves, but for their peers. Their inspired leadership and passion, combined with their optimism, drives them to want to do best for themselves and others.
Too often, we get so self-absorbed and concerned only with "What's in it for me?" We have to be concerned about this. It's a must, so don't let anyone ever convince you otherwise. But in the same way that we should be focused on our self-interest, we should also maintain a spirit of desire and hope for wanting to see the people around us succeed.
Not only is this a brilliant safeguard against envy and greed, it also revitalizes our passion and drives us toward achieving our next goal. It helps us gain allies and builds powerful relationships that come back to help us in reciprocal fashion.
Join my newsletter and check out my bestselling book, The Value of You. This will give you inspiration to start planning for success on your journey. If you're interested in working with me try me here.
This post was originally published on Medium.
https://qz.com/1304343/to-increase-your-emotional-intelligence-develop-these-10-qualities/
Found at Barry Ritholtz blog www.thebigpicture.com