1.U.S. Dollar Hitting Some Serious Technical Levels.
U.S. Dollar Sitting on 200day Moving Average Long Term Weekly Chart.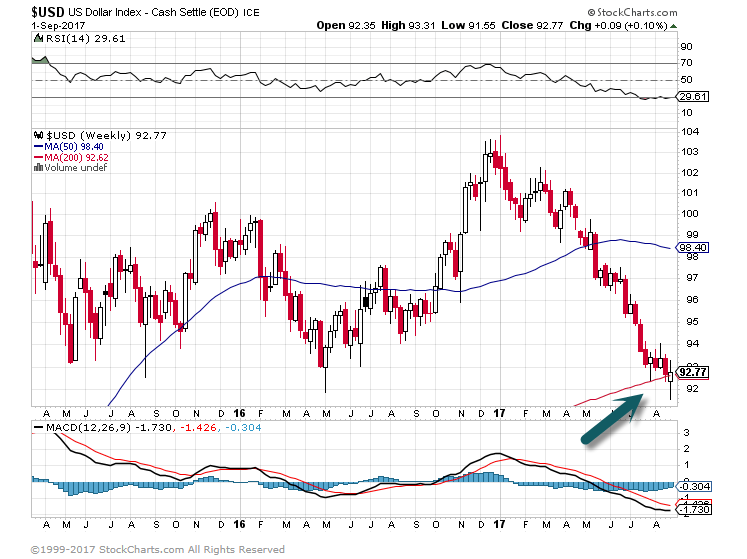 U.S. Dollar approaching uptrend line dating back to 2011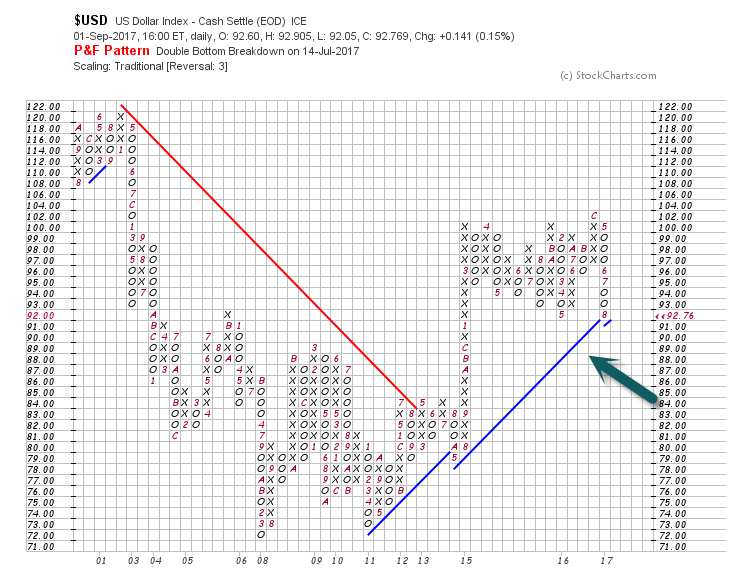 WSJ-
Shares in U.S. companies with more than half their revenue from outside the country rose by an average of 13%, identical to the gain on MSCI's (dollar-denominated) index of developed markets excluding the U.S. S&P stocks with less than half their income from abroad gained only 5.9%, according to analysis of FactSet data.
The pattern is even clearer when the market is sliced into five segments from those most exposed to foreign revenues to those least exposed. The most-international fifth of stocks have gained 15% on average this year, while the least-international are up just 2%
https://www.wsj.com/articles/watch-out-the-weak-dollar-gives-shareholders-money-illusion-1504195376
2.Weak Dollar Impact….Copper +24% YTD vs. Dollar Bull ETF -10%

www.yahoofinance.com
3.It's Getting Harder to Exit a Unicorn.
What is a 'Unicorn'
A unicorn, in the world of business, is a company, usually a start-up that does not have an established performance record, with a stock market valuation or estimated valuation of more than $1 billion.Read more: Unicorn Definition | Investopedia http://www.investopedia.com/terms/u/unicorn.asp#ixzz4rniohSnw
Wolf Street
But for unicorns, this just isn't happening anymore. So they keep growing in number, and their valuations get higher and higher, and the exits are blocked. Three years ago, in August 2014, there were 67 unicorns. At the beginning of 2017, there were 157. Now they're 167.
This year so far, there have been only eight exits among unicorns:
Of these six unicorn IPOs, not all of them fared well:
Software company Cloudera went public in April at $15 a share. Today shares closed at $17.48, up 16.5% from the IPO. But they're down 24% from their post-IPO peak.
Meal-kit company Blue Apron went public at $10 a share, rose to $11, but has since plunged 51% to $5.31, and is down 47% from its IPO price.
Snapchat parent Snap Inc. went public at $17 a share, and now at $14.01, is down 21% from its IPO price and down 53% from its peak three days after the IPO.
Software company MuleSoft went public at $17 and closed today at $20.91, up 23%. But this is down 27% from its post-IPO peak.
Security software maker Okta went public at $17 a share and today closed at $24.56, up 44% from its IPO and down 9% from its post IPO peak.
Delivery Hero went public at €25.50 in Germany and today closed at €27.36, up 7.3% from the IPO price, but down 6.6% from the post-IPO peak.
https://wolfstreet.com/2017/08/18/cashing-out-of-unicorns-gets-hard/

4.Headlines Talking About Spike in Gas Prices…Some Perspective….
UGA Gasoline ETF…..We did not even get back to late 2016 highs.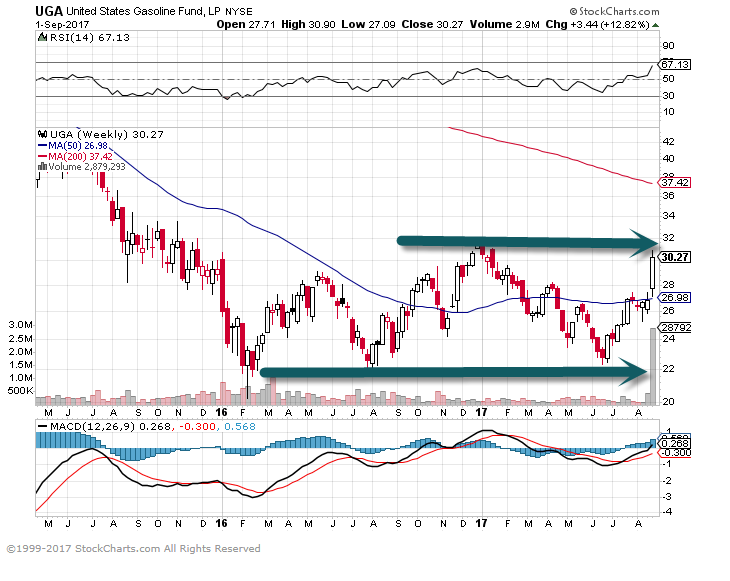 10 Year gas prices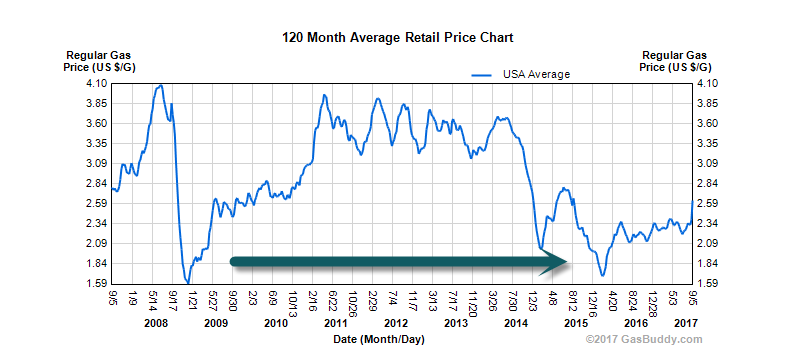 5.China is Now a Top 5 Export Destination for 15 of G20 Developed Economies.
Torsten Slok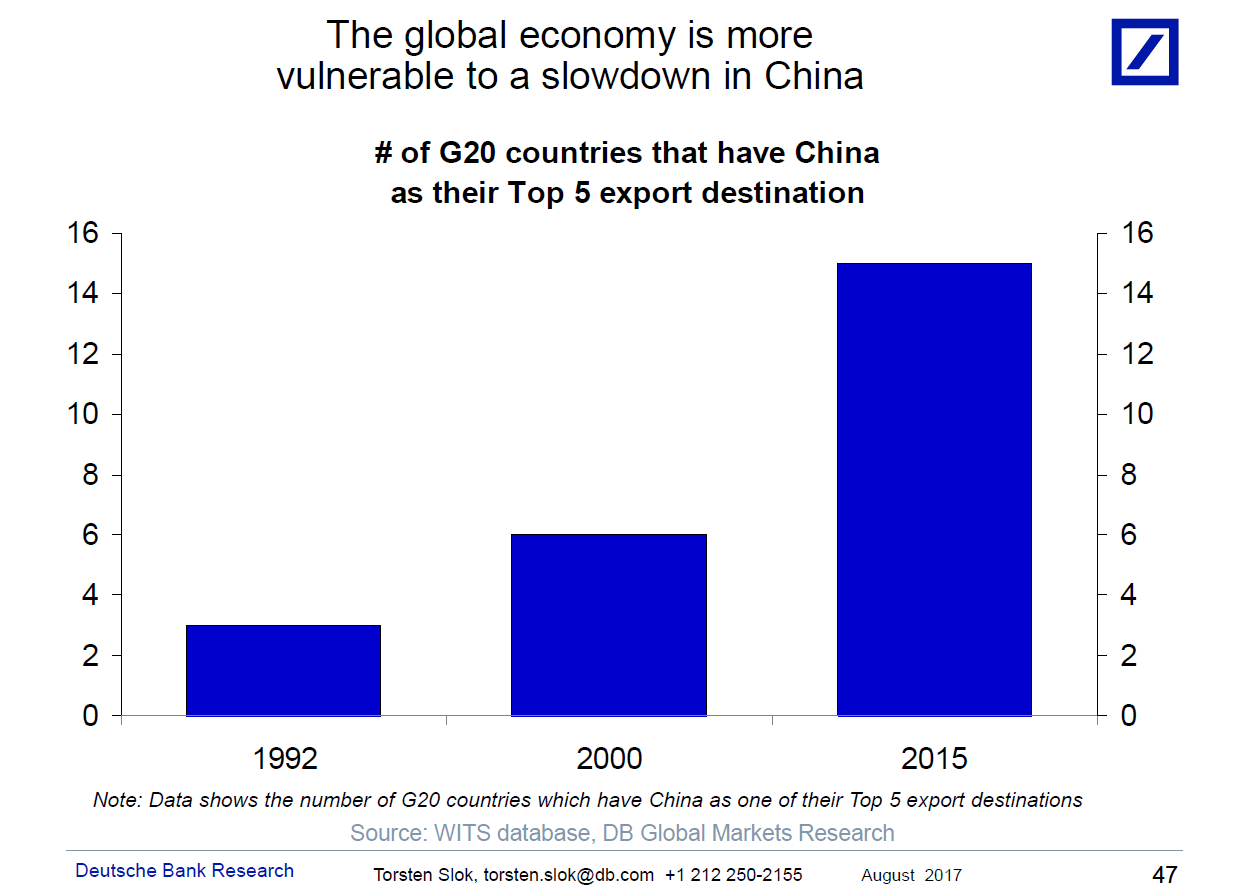 6.Houston is a Big Part of U.S. Economy
In fact, by itself, the Houston-area GDP is greater than the economy of Sweden or Poland.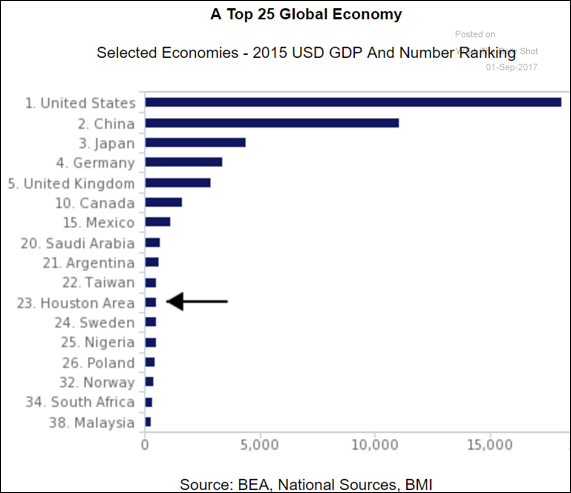 Source: BMI Research
7.We are Going from 20M Baby Boomers Over 65 to 75M in Next 15 Years.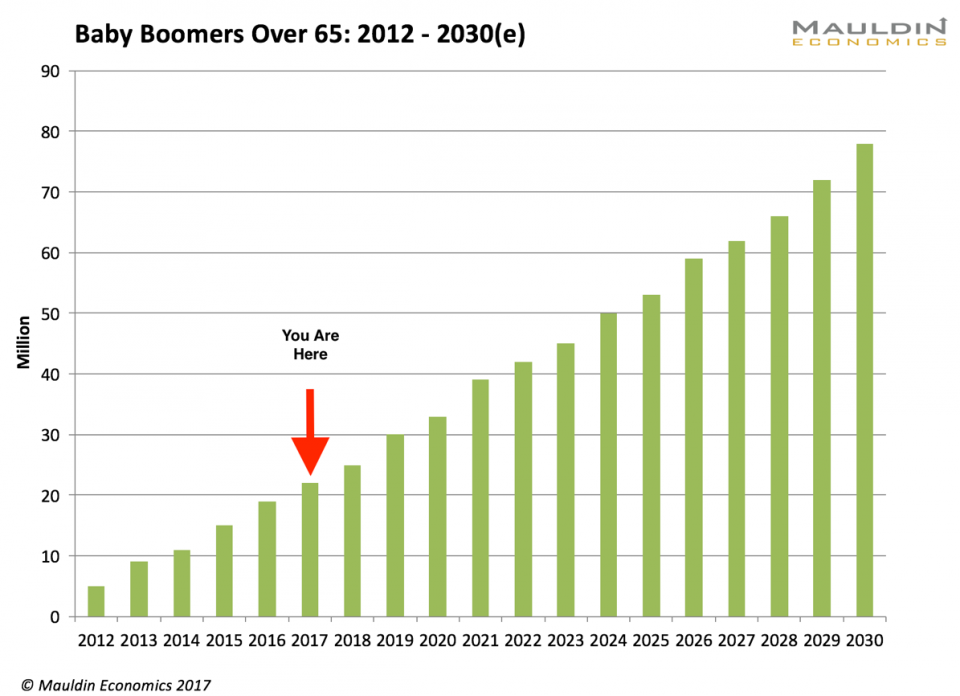 http://www.businessinsider.com/impact-of-baby-boomers-retiring-on-the-economy-and-stocks-2017-9
8.The Explosion of Cryptocurrencies.
What is a 'Cryptocurrency'
A cryptocurrency is a digital or virtual currency that uses cryptography for security. A cryptocurrency is difficult to counterfeit because of this security feature. A defining feature of a cryptocurrency, and arguably its most endearing allure, is its organic nature; it is not issued by any central authority, rendering it theoretically immune to government interference or manipulation.
Read more: Cryptocurrency Definition | Investopedia http://www.investopedia.com/terms/c/cryptocurrency.asp#ixzz4rnw4dY1t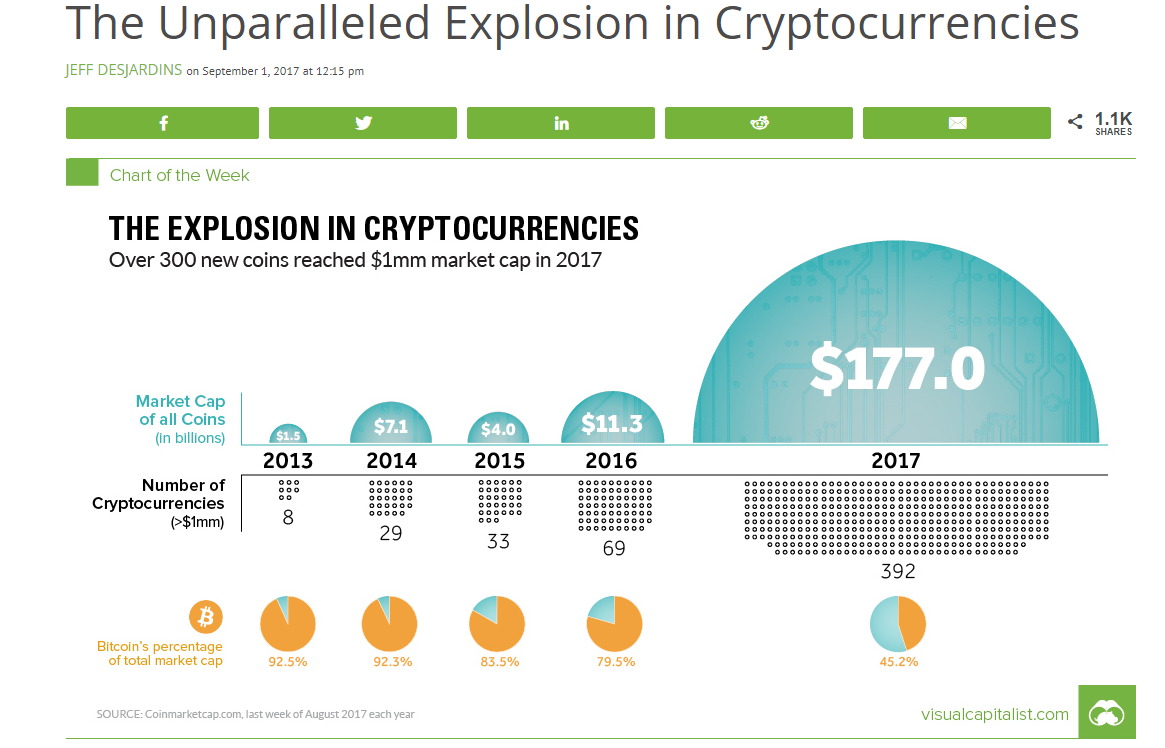 Abnormal Returns Blog
From
www.abnormalreturns.com
9.Read of the Day
Follow @bpolitics for all the latest news, and sign up for our daily Balance of Power newsletter.
With the window closing fast — if not already shut — for the U.S. to stop Kim Jong Un from obtaining a nuclear-tipped intercontinental ballistic missile, North Korea watchers are starting to analyze President Donald Trump's military options. He warned last month that North Korea would be met with "fire and fury" if it continues to make threats. After the United Nations agreed to its most stringent sanctions yet on Kim's regime, North Korea repeated its stance that its nuclear weapons program is necessary to deter a U.S. invasion. Kim's military then escalated tensions by test-firing a ballistic missile that flew over Japan and by completing what it said was a successful test of a hydrogen bomb capable of being fitted onto an intercontinental ballistic missile. For Trump and the U.S., there are no easy choices.
Can't the U.S. try a surgical strike?
It probably wouldn't work well enough. North Korea's missiles and nuclear facilities are dispersed and hidden throughout the country's mountainous terrain. Failing to hit them all would leave some 10 million people in Seoul, 38 million people in the Tokyo vicinity and tens of thousands of U.S. military personnel in northeast Asia vulnerable to missile attacks — with either conventional or nuclear warheads. Even if the U.S. managed to wipe out everything, Seoul would still be vulnerable to attacks from North Korea's artillery.
Why might Kim go nuclear?
"Even a limited strike" by the U.S. "would run the risk of being understood by the North Koreans to be the beginning of a much larger strike, and they might choose to use their nuclear weapons," said Jeffrey Lewis, director of the East Asia nonproliferation program at the Middlebury Institute of International Studies. Somehow, the U.S. would need to signal to both North Korea and China — Pyongyang's main ally and trading partner — that a surgical military strike is limited, and that they should avoid nuclear retaliation.
Is regime change an option?
New leadership wouldn't necessarily lead to a new way of thinking among North Korea's leadership. Kim's prolonged exposure to Western values while at school in Switzerland led some to speculate that he might opt to open his country to the world — until he took power and proved them wrong. Moreover, if Kim somehow were targeted for removal, the ruling clique surrounding him would have to go as well — making for a very long kill list. China, fearing both a refugee crisis and U.S. troops on its border, would likely seek to prop up the existing regime.
Does that mean all-out war is the best U.S. option?
A full-scale invasion would be necessary to quickly take out North Korea's artillery as well as its missile and nuclear programs. Yet any sign of an imminent strike — such as a buildup of U.S. firepower, mobilization of South Korean and Japanese militaries and the evacuation of American citizens in the region — could prompt North Korea to strike preemptively. China and Russia may also be sucked in. "Realistically, war has to be avoided," said John Delury, an assistant professor of international studies at Yonsei University in South Korea. "When you run any cost-benefit analysis, it's insanity."
How might North Korea retaliate?
The most immediate reaction would likely be massive artillery fire on Seoul and its surroundings. North Korean artillery installations along the border can be activated faster than air or naval assets and larger ballistic missiles that can target South Korean, Japanese or American bases in the region with nuclear, chemical and biological weapons. Those countries have ballistic-missile-defense systems in place but can't guarantee they will shoot down everything. Japan has begun offering advice to its citizens on what to do in the event a missile lands near them — essentially try to get under ground — and U.S. firms are marketing missile shelters. While it's unclear if North Korea can successfully target U.S. cities like Denver and Chicago with a nuclear ICBM, it's similarly unknown if U.S. defense systems can strike it down — adding to American anxieties.
What would be the economic toll if war broke out?
South Korea accounts for about 1.9 percent of the world's economy and is home to companies including Samsung Electronics Co. and Hyundai Motor Co. A severe drop in business activity due to war on the peninsula would cause widespread pain in the region and globally — and that's without deployment of North Korea's nuclear weapons against its neighbor. Global financial markets would also suffer a tremendous shock in the short term, with flight to safe haven assets such as gold, the U.S. dollar and the Swiss franc. "The humanitarian crisis and economic reconstruction of the Korean peninsula after such a nuclear conflict would require large-scale international co-operation led by China, the U.S. and the European Union and it would likely take over a decade to rebuild the economy," according to Rajiv Biswas, chief Asia-Pacific economist for IHS Markit.
What options remain on the table?
Many analysts say it's time to start talks to prevent the situation from worsening. Stopping North Korea from obtaining a thermonuclear weapon, or more advanced solid-fuel missiles, is a goal worth pursuing, according to Lewis. However unpalatable it may seem, that means offering rewards to entice North Korea back to the negotiating table. Lewis suggested one reward could be to scale back U.S.-led military drills around North Korea. The question of what can be offered to the North Koreans "is a conversation that should be happening both with the public, with Congress and with the North Koreans, instead of having this imaginary conversation about war scenarios," said Delury. "The realistic option is a diplomatic one that slows this thing down. And that's going to require a lot of talks."
https://www.bloomberg.com/news/articles/2017-08-09/what-u-s-north-korea-hostilities-might-look-like-quicktake-q-a
10.11 Ways to Boost Your Self-Confidence
If you suffer from low self-confidence, don't lose hope; there are some key ways to refocus your energy and get back in the game. First, figure out how and why you're lacking in confidence, then use these tips for getting back on the horse. After all, life is too rich to be stunted by low confidence. 
Symptoms of low self-confidence
Do these scenarios sound familiar?
Someone tells you it's important to wake up early in the morning and exercise. You know that you'll benefit from that kind of discipline, but say to yourself: "I could never do that. I'm terrible at waking up early. Plus, I get tired too quickly."
What about this? You know you should look for another job. The one you have is not giving room for progress. Still, you can't find the strength to quit and move on. You're afraid of failure.
Or this? You see a charismatic person getting all the attention during a meeting. You admire their ability to speak confidently and convince everyone to consider their point of view. You think to yourself, "I could never do that."
Did you recognize yourself in any of these low-esteem situations? They are quite different, but there's a personality feature that connects them all: lack of self-confidence. In its most basic form, low self-confidence is about feeling worthless. And it's manifested in our activity (or inactivity), what we say, and what we think.
We need self-confidence in everything we do. It's a crucial personal trait for developing a successful career; it makes us better friends and family members; and it drives us to grow. Without it, we stagnate—or fall backwards and atrophy.
How we find our own path to self-confidence and success
Here's the good news: No matter how low your self-esteem is, there's always room for improvement. You just have to work on it. Fortunately, we've taken the time to compile a list of 11 key approaches to turning the corner on confidence and taking your life back. What are you waiting for? Dive in:
Make lists
The first step toward self-confidence is setting goals and objectives by writing lists. If you don't like making lists on paper, you can try WorkFlowy—a great tool that lets you create well-organized lists. But what really matters is what you write down. Here are a couple of lists you can start with:
A list of realistic things you want to accomplish in both the short and longterm. Why realistic? Well, if there's no chance to become an astronaut, for example, don't make it a goal. It will only stymie you. Think of things you could accomplish, but still haven't found the courage to try.
A list of things you're grateful for. This one should be easy—a list of family members, friends, partners, treats and toys you enjoy, experiences you've had, and so on.
A list of things you're proud of. Were you chosen among many other candidates for a job? Did you get a degree? Can you do a headstand? Do you own a home?
The first list shows the person you want to become. The other two lists showcases your amazing accomplishments. In case you haven't already noticed, the second and third lists show you just how much you have achieved and how possible it is to achieve the items in the first list. Hold on to these and reference them often for inspiration.
Don't compare yourself to others
You are who you are. When you're trying to improve, you should compare yourself to you. Comparing yourself to others is a constant trap; you will always find people who are doing things better than you are. But your life is not about them—it's about you.
Clean up your work space
The physical environment in which you work affects not only your performance, but your satisfaction. Clutter has a mentally exhausting effect; an organized desk, on the other hand, will do wonders for your focus and productivity. When you're more focused and productive, you achieve better results. That's how staying organized indirectly affects your self-esteem.
Spend time with supportive people
Does one of your colleagues constantly criticize your work and show off his own results? That makes you doubt yourself, right? If you don't have to spend time with people like this, then don't. Instead, seek out supportive coworkers who are willing to help and are always ready with affirmations when things are going well.
Also, make changes in your social life. Spend more time with people who support you. If there are nervous perfectionists around you, don't pay their nitpicking any heed. You've got this.
Write
Regular writing helps hone self-expression. So, pick a daily topic and write something. Find good resources to support your arguments if you're writing thesis-based paper. Write convincing persuasive content. And search online for guides and directions on how best to craft a compelling argument. I recommend the service EssayGeeks.
As you continue to write, you'll improve your critical thinking and analytical skills. You'll become better at creative expression. These skills will soon be manifested in your speech. You'll become more confident in both written and spoken communication.
Read more
When you read something inspirational, you learn new things. And when you know more, you see yourself as a more valuable person. Why? You have more to contribute to your job, your relationships, and the world around you.
You won't get that impression of value when you read "pop" writing, though. You need meaty books, so try the classics. Read news from reliable sources and great blogs that pique your interest. Look for writing outside your ken and that you know expresses opinions contrary to your own.
Accept failure as part of the journey
So, you're in a bad place right now and feel like you're a failure. But you also know you're invested in a warped perception of yourself and needs to change. Good; that means you're self-aware. When you become aware of your failure, you'll be ready to take action.
Don't let this situation make you feel worthless. Everyone goes through failure. It's just life's way of teaching us how to be strong.
Learn more
When you know something thoroughly, you're confident enough to apply that knowledge to your work. So why not learn more? With online resources like Coursera, edX, Saylor Academy, Harvard Open Courses, Early to Rise University, and Udemy, it would be a shame not to invest time and effort in your base of knowledge. Pick a course related to your career and complete it. Then, pick another one. Don't stop learning!
Hush your inner critic
Yes, being aware of your own mistakes and failures is a good thing. Realization is the first step towards improvement. However, if you're constantly heeding the voice of negativity in your head, you'll be too downtrodden to move forward.
Catch those negative thoughts. Are they saying you're not good enough? Read those lists from step 1. You're good enough. And you can be better if you try harder, so quiet that negative voice and focus on the journey.
Exercise
Australian researchers found that exercising for health and fitness also leads to higher self-esteem. When you're physically active, you feel more energized. As you make progress, you realize that you're pushing your body's limits and confident you can do more each time you exercise.
Explore and experiment
Just like knowledge, experience makes you more self-confident. How? Facing the fears and uncertainty of new adventures gives you the opportunity to succeed in an area you haven't before. So travel. Sign up for paragliding. Start doing yoga. Go hiking in a wild area. Get out of your comfort zone on a regular basis; not only will you feel energized, but you'll have success stories to share with friends, family, and co-workers. And you'll share them with renewed self-confidence!
https://www.earlytorise.com/11-ways-to-boost-your-self-confidence/