1.Regional Banks Technical Damage as Rates Move Lower.
KRE 50 day thru 200 day to downside.
IAT-breaks 200day back to June lows.
 2.ECB-No Signs of Rates Rising in Europe.
15% Pop in Euro Currency…ECB not interested in strengthening further with higher rates.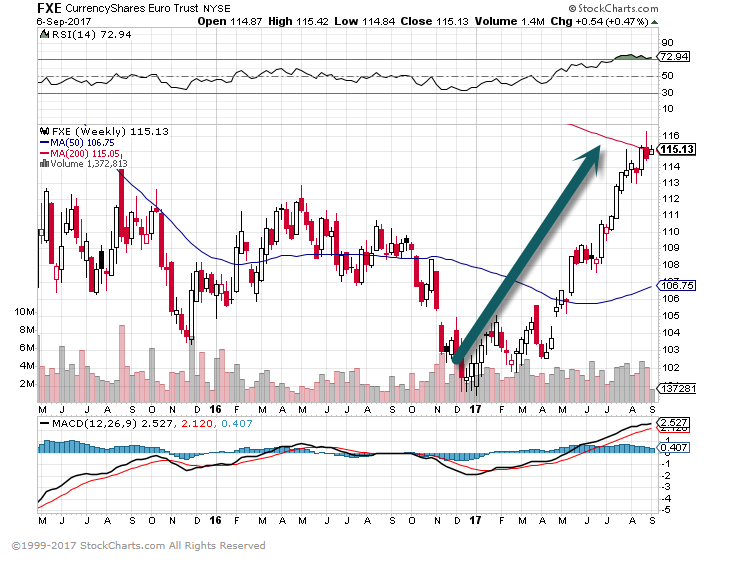 The Eurozone: The recent strength in the Eurozone's currency has pushed out the likelihood of an ECB rate hike until 2019. The central bank has become concerned that a strong euro could bring back disinflationary pressures and tighten financial conditions.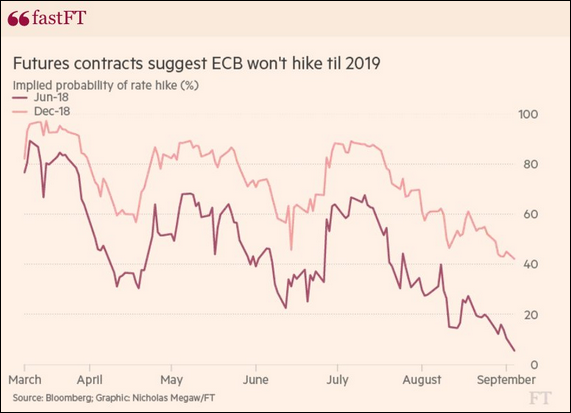 Source: @acemaxx, @fastFT; Read full article
3.Crude Hits 4 Month High but Hurricanes Having Zero Effect on Oil Volatility.
Crude Oil Volatility.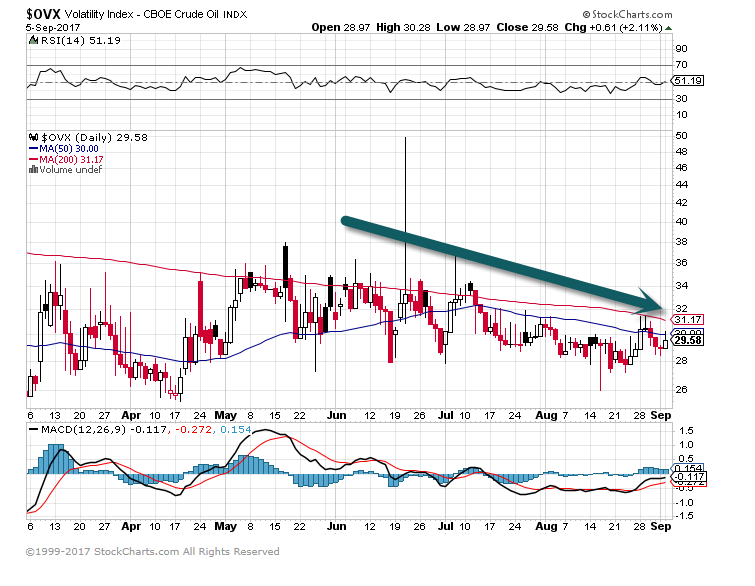 4.Low Volatility Even in Commodities World
Major Banks' Commodities Revenue Sinks to 11-Year Low
By
Agnieszka De Sousa
Raw-materials revenue slid 41% in first half, Coalition says
Drop likely to reflect struggles at Goldman's commodity unit
Commodities revenue at major banks took a further knock in the first half, sinking to an 11-year low amid poor performances in energy.
Combined income at 12 top banks including Goldman Sachs Group Inc. and JPMorgan Chase & Co. slid 41 percent to $1.3 billion in the first six months of the year, analytics firm Coalition Development Ltd. said in a report Thursday. Earnings were particularly hit in power and natural gas.
Banks' commodities revenues — now the smallest in Coalition data going back to 2006 — have been shrinking in recent years amid regulatory scrutiny, low volatility, curbs on proprietary trading and diminished investment by their hedge-fund clients. This year's drop is also likely to reflect bad performance at Goldman Sachs, whose once mighty commodities unit is now struggling.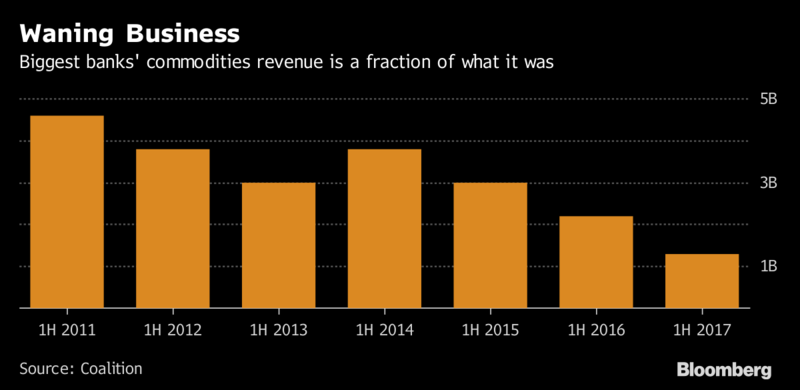 https://www.bloomberg.com/news/articles/2017-09-06/banks-commodities-pain-deepens-as-revenues-slump-to-11-year-low
5.Proshares Short VIX Futures ETF $1B in Assets.
 SVXY short volatility etf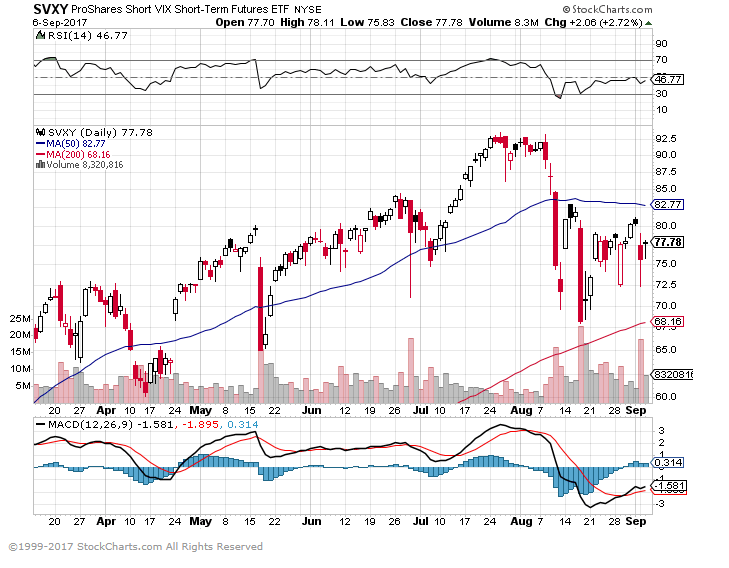 6.I Have not Followed Bitcoin at All but Looking Like Bubble.
FT Notes "When put against a chart of how bubbles develop, the price of bitcoin appears set for a painful reckoning, situated between the mania and bust phases."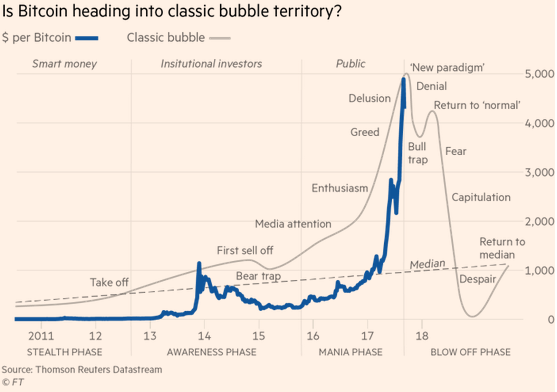 From Dave Lutz at Jones.
7.Online Retailers Move Into Shipping Business.
THE FUTURE OF SHIPPING REPORT: Why shipping could be the next billion dollar opportunity for online retailers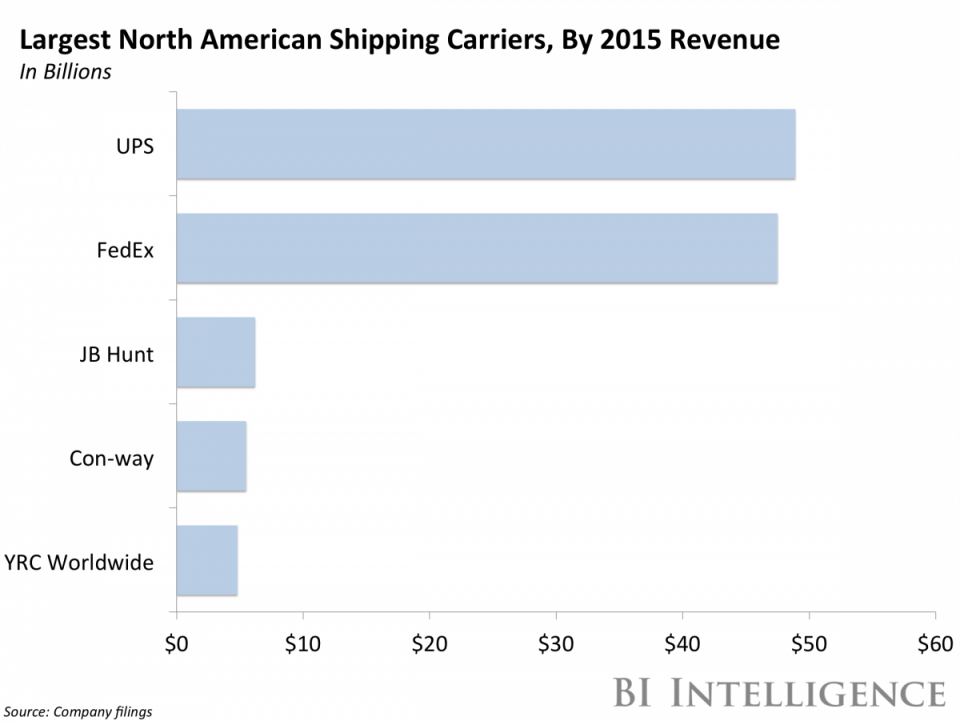 \The parcel delivery industry — a segment of the shipping sector that deals with the transportation of packages to consumers — is booming thanks to e-commerce growth, and players outside the industry want a piece of the pie.
In a new report, BI Intelligence looks at efforts by Amazon, Alibaba, and Walmart to handle more of their own shipping and concludes that big retailers are well positioned to disrupt the parcel industry.
Here are some of the key points from the report: 
Transportation and logistics could be the next billion dollar opportunity for e-commerce companies. The global shipping market, including ocean, air, and truck freight, is a $2.1 trillion market, according to World Bank, Boeing, and Golden Valley Co.
There is much at stake for legacy shipping companies, which have seen a boom in parcel delivery as e-commerce spending has risen. Twenty different partners currently share the duties of shipping Amazon's 600 million packages a year, with FedEx, USPS, and UPS moving the most.
Amazon, Alibaba, and Walmart have so far focused on building out their last-mile delivery and logistics services but are increasingly going after the middle- and first-mile of the shipping chain.
Amazon has already made major moves across each stage of the shipping journey. It launched same-day delivery service, which it handles through its own fleet of carriers, cutting out any third-party shippers. The company also recently began establishing shipping routes between China and North America.
Walmart's interest in expanding its transportation and logistics operations is almost purely related to cost-savings. It's begun leasing shipping containers to transport manufactured goods from China and is making greater use of lockers and in-store pickup options to cut down on delivery costs.
Alibaba has begun leasing containers on ships, similar to Amazon's Dragon Boat initiative. This means that Alibaba Logistics can now facilitate first-mile shipping for third-party merchants on its marketplace.
http://static5.businessinsider.com/image/577521ae88e4a7fd018b51b3-960/2-164.png
 8.Economic Impact of Major Recent Disasters
From Barry Ritholtz Blog
September 6, 2017 9:00am by Barry Ritholtz
Amazing chart via FiveThirtyEight:
Estimates of Harvey's cost vary, with some predicting that the storm will be the most expensive in U.S. history at over $190 billion, surpassing Hurricane Katrina. (The National Oceanic and Atmospheric Administration estimatesKatrina to have cost around $160 billion.) If that ends up being the case, it would greatly increase the total cost of billion-dollar-plus events since 1980. Others predict that the cost will be closer to that of Superstorm Sandy, at around $70-90 billion
Here is the graphic:
click for ginormous graphic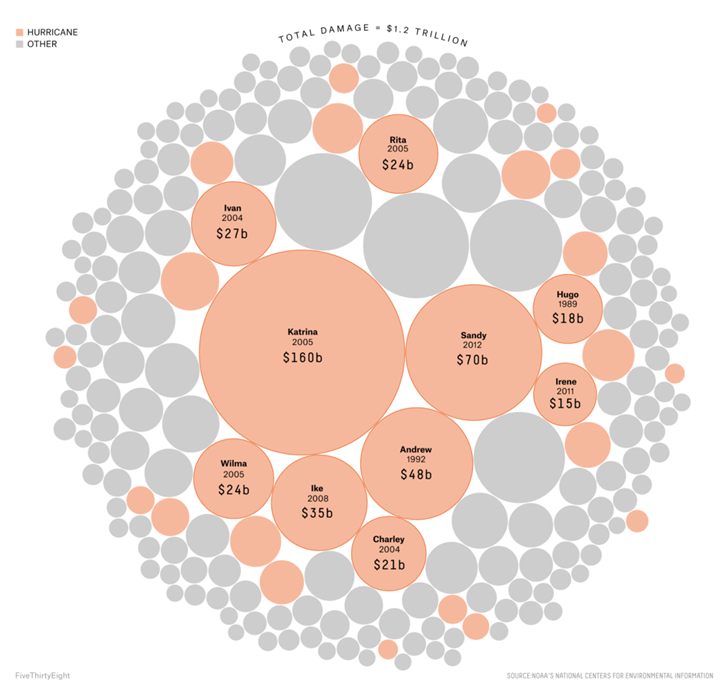 Source: FiveThirtyEight
http://ritholtz.com/2017/09/economic-impact-major-disasters/
9.Men in France retire on average seven years earlier than men in the United States, see chart below.
With increased longevity, this entire curve will shift upward.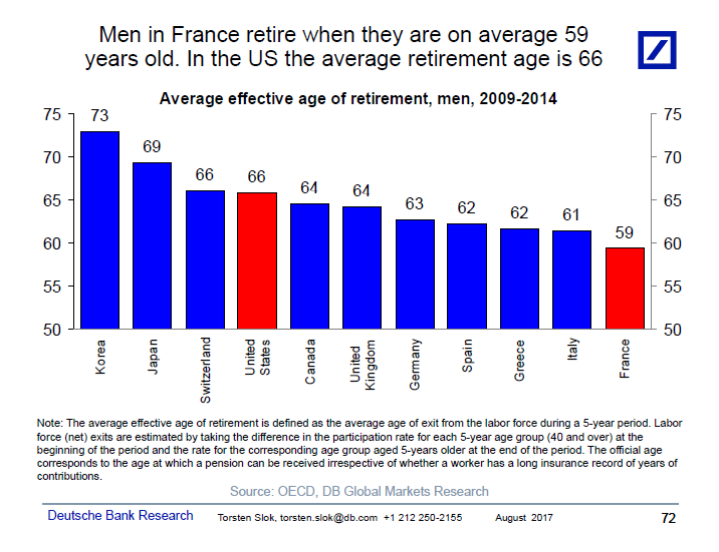 Torsten Sløk, Ph.D.
Chief International Economist
Managing Director
Deutsche Bank Securities
60 Wall Street
New York, New York 10005
Tel: 212 250 2155
10.Mark Cuban: This 1 Personality Trait Makes You Golden in the Eyes of Your Boss
Show up to work every day with this personality trait, and your boss will love you forever.
Just landed a perfect-for-you job? Awesome. Now it's time to prove your boss that she made the right decision to hire you. Play your cards right, and you'll become an invaluable member of the team and hopefully earn a promotion down the line.
To get to that next level, let's take a chapter out of Mark Cuban's book. The sage billionaire, Shark Tank star, and owner of the Dallas Mavericks recently spoke with Money magazine about the skills he finds most valuable in employees.
There are few obvious personality traits he says are non-negotiables: Smart. Driven. Constant learners.
And then, there's a less-obvious one. Cuban says even he lacked this key personality trait in his 20s — and it got him fired a few times.
Today, it's Cuban himself who's in the position to do the firing. He says if employees bring this to their day-to-day work, he'll keep them around as long as possible. The "magic" personality trait of Cuban's top performers and most valuable employees? He knows he can count on them to reduce his stress.
"The people who tend work for me a long time, they understand that the greatest value you can offer a boss is to reduce their stress," Cuban told Money. "Anybody who reduces my stress becomes invaluable to me," he added. "I never want to get rid of them."
Toss your boss a stress ball and call it a day? Not quite. Cuban is talking about solution-oriented people who can self-manage and won't touch drama with a 10-foot pole. Here are a few ways you can reduce your boss's stress, making you an invaluable member of the team.
Cut out the drama.
Some people thrive on drama. These are not the kind of employees Cuban wants working for him. Drama magnets start fires and make things more difficult, he told Money.
Ironically, the drama-inducers tend to be people who think they're invaluable. Quite the opposite. Cuban wants these types of people out. They give him more to worry about and he already has enough balls in the air.
If drama's your thing, find a way to make it not your thing. No one likes dealing with the person known to cause drama at work, especially your boss. No one wants to spend time mediating petty workplace disagreements. So don't bring drama to work.
Bring solutions, not problems.
Reducing your manager's stress doesn't mean you should keep every concern a secret. That's just a recipe for disaster. If you need to make your boss aware of a problem or challenge you're struggling with at work, definitely do so.
To avoid becoming known as the complainer who's always whining about problems, arrive armed to the conversation with potential solutions.
Workplace too noisy, making it difficult to remain on task? Request work-from-home days so you can focus on deep thinking work.
Feel like you're being pulled in too many directions? Suggest working together on prioritizing your tasks so you know where it's best to focus your efforts.
Craving more tools and guidance to do your job well? Take the initiative to get regular one-on-ones on the calendar so you can get feedback and constructive criticism from your boss.
Simply being a manager or boss comes with its own stresses, most of which you are not privy to. There are plenty of situations and conversations happening up top that are likely already causing your boss stress. So don't be a part of making it worse. Think about how you can lessen it by becoming their go-to problem solver who can help peel that stress away.
https://www.inc.com/betsy-mikel/mark-cuban-this-1-personality-trait-makes-you-gold.html