1.U.S. Large Cap Stocks Near Record Margins at 9%….Small Cap Margins 2.5% Just Above Long-Term Median.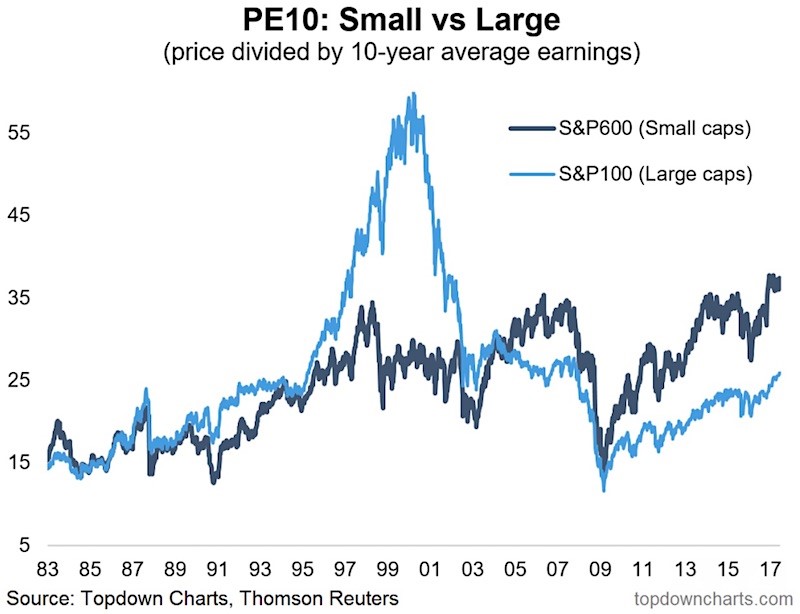 2.Emerging Markets Companies Now Account for More Than 75% of Global Growth….Emerging Small Cap Margins Higher than Large.
The Emerging Markets Consumer Class Starts Small: EWX
EM countries now account for more than 75% of global growth in output and consumption¹; however, their persistent income gap with developed markets suggests they may have more room to grow.
Increasing income, booming working-age populations and higher urbanization rates will likely drive growth in domestic consumption and a shift in EM consumption patterns over the next decade.
EM small caps are more domestically focused and their sector-level exposure may more closely mirror consumption patterns – offering higher exposure to consumer discretionary, real estate and health care relative to EM large caps.
The Takeaway: Domestically oriented small caps may stand to benefit more directly from the improving economic growth and an expanding consumer class in EM, underscored by greater increases in profit margins and higher earnings growth than large caps since the second half of 2016. The S&P EM <$2B Index, which EWX seeks to track, provides exposure to 2,039 small-cap firms with exposures domiciled in 30 emerging nations².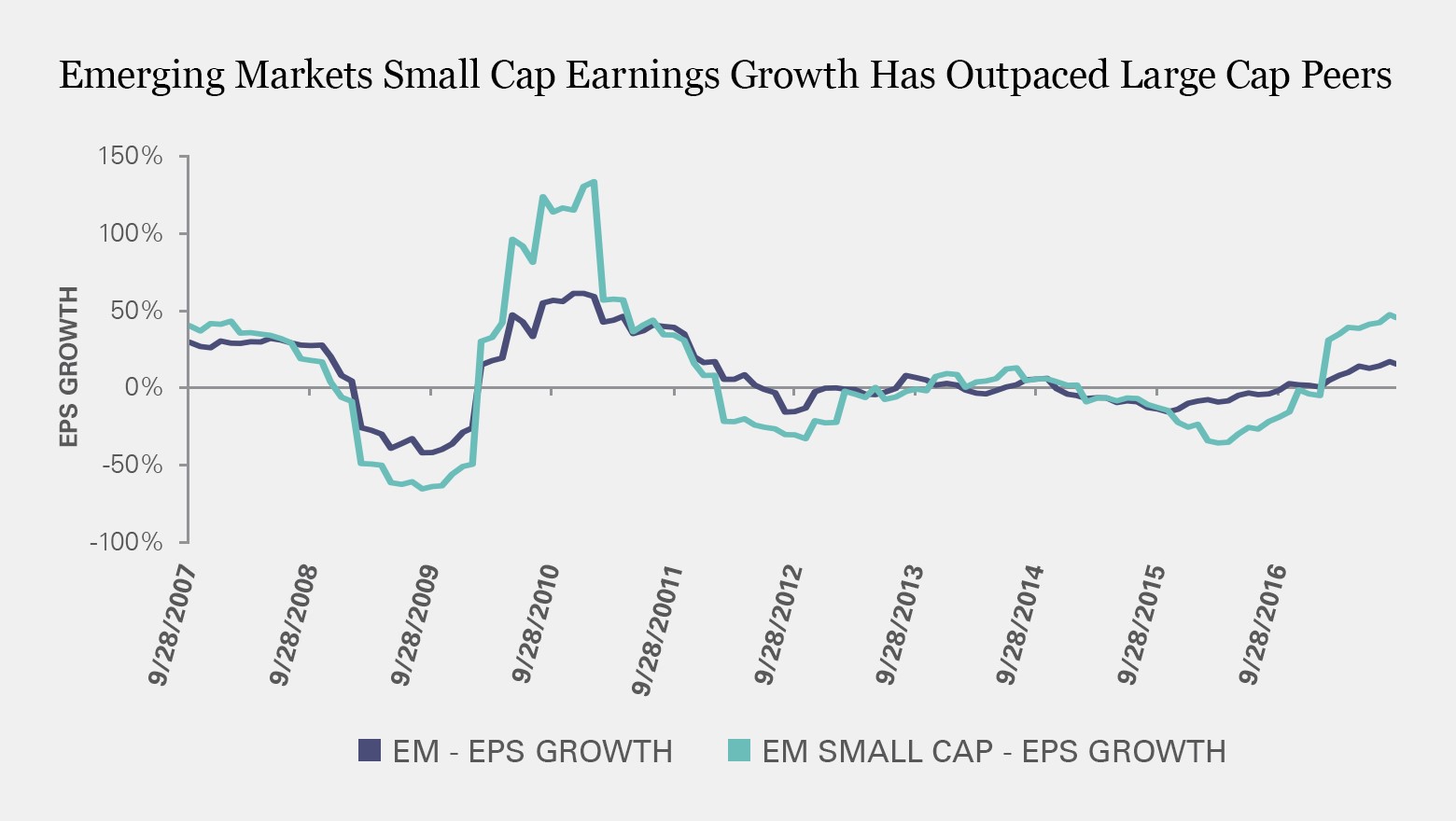 Source: Factset as of 09/19/2017
SPDR BLOG
http://statestreetspdrs.com/precise/?&utm_campaign=SPDRS&utm_medium=cpc&utm_content=spdrs_IP-Ad&utm_source=bing
3.Not Yet Showing Up in Performance….Emerging Large Cap Outperforming Small Cap.
EWX Emerging Small Cap vs. EEM Emerging Markets ETF.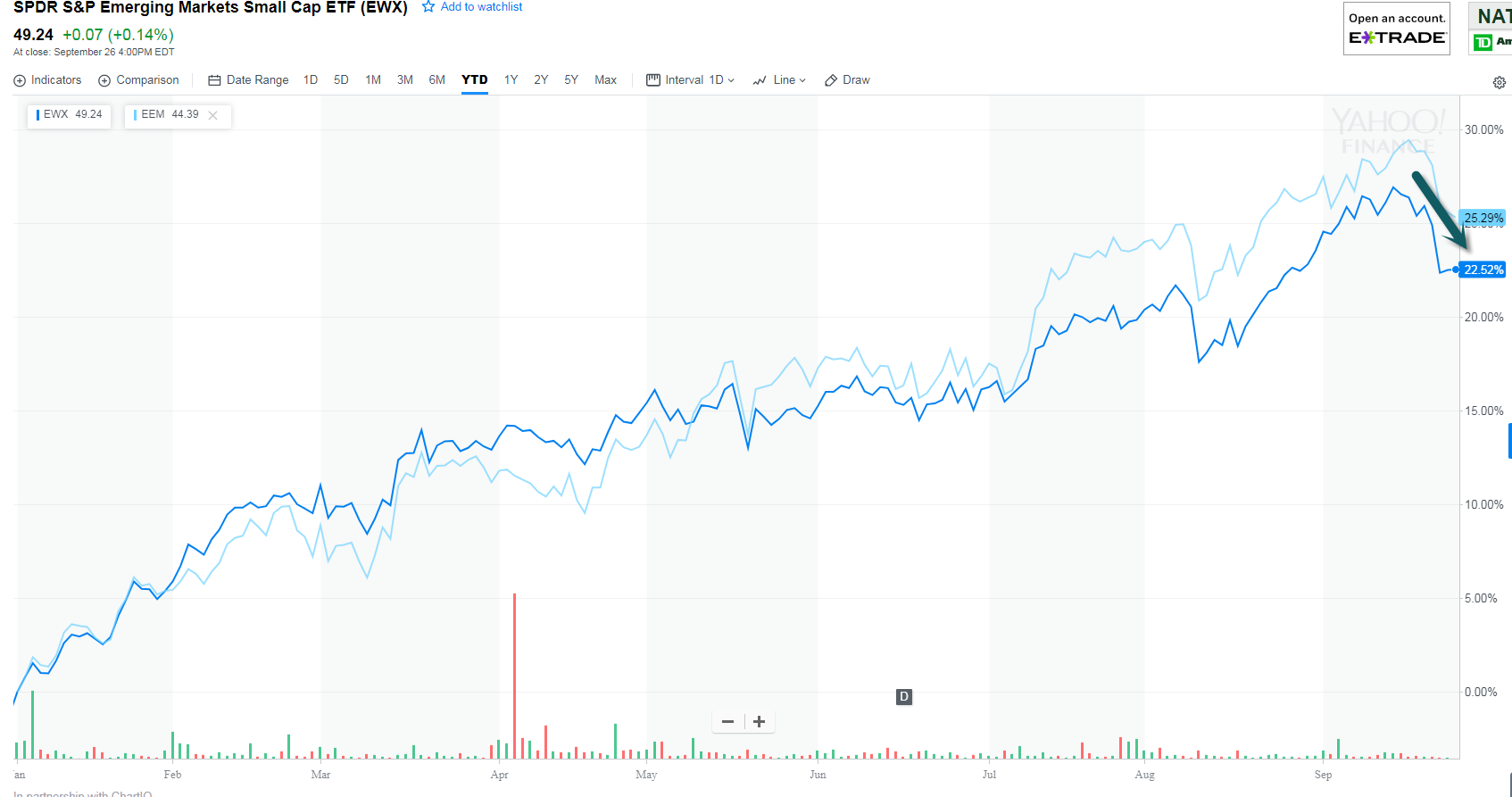 4.A Little Reversion to the Mean in Energy this Month.
Vanguard Tech ETF +22% YTD vs. Vanguard Energy -11%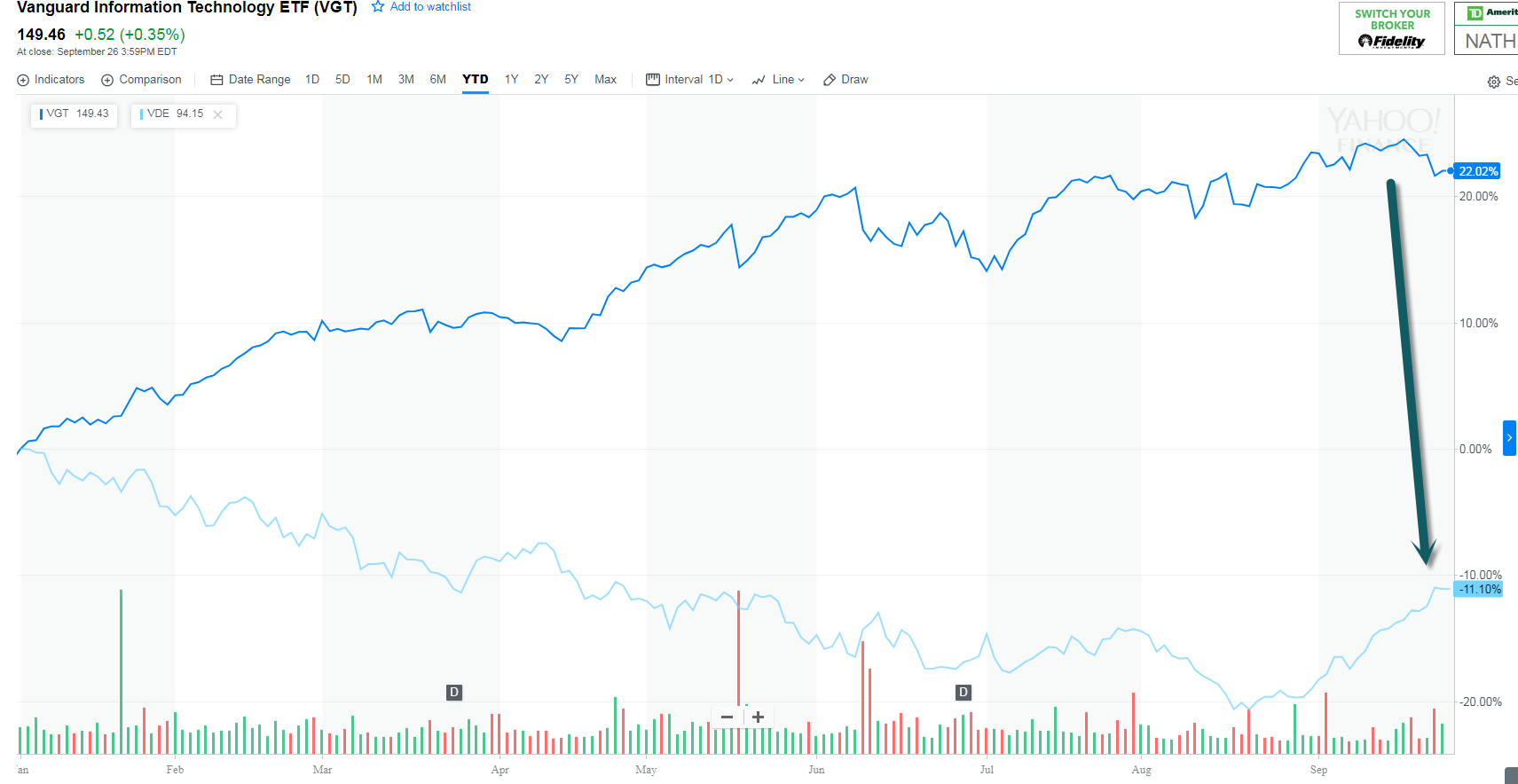 Month to Date….Vanguard Energy +10% vs. Vanguard Tech +1%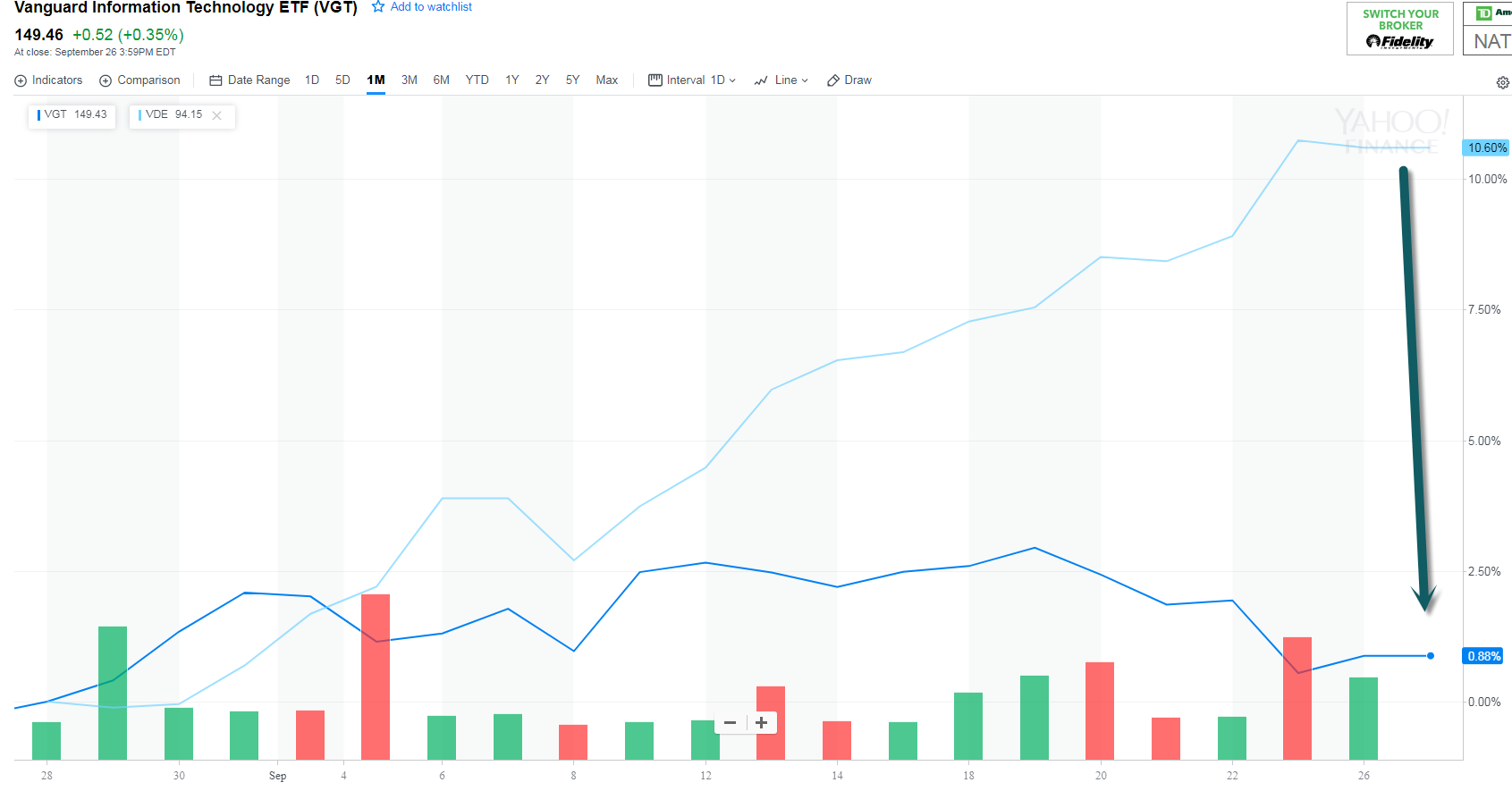 5.One Year Anniversary of GICS Making Real Estate a Stand Alone Sector (11th)…..Performance has Lagged …
Since the Financial Select Sector SPDR Fund (XLF) spun off the Real Estate Select Sector SPDR Fund (XLRE), the latter is up 5.9%, while the former is up 33.8%. For comparison, the SPDR S&P 500 ETF Trust (SPY) is up 19.5% in the same time frame.
XLRE, XLF, SPY Returns Since 9/16/2016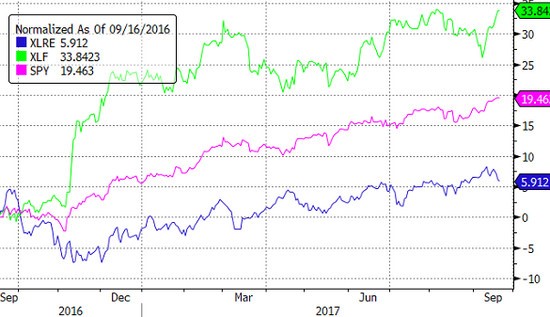 http://www.etf.com/sections/features-and-news/growing-pains-new-real-estate-sector
6.Flush With Cash
This is astounding:
Corporate America has never been in better shape to put its cash hoard to use on everything from investment to acquisitions, share buybacks and dividends. Or just hold on to it.
Non-financial companies' liquid assets, which include foreign deposits, currency as well as money-market and mutual fund shares, reached a record of almost $2.3 trillion in the second quarter, according to Federal Reserve data released Thursday. That's up nearly 60 percent since the recession ended in mid-2009.
September 27, 2017 7:00am by Barry Ritholtz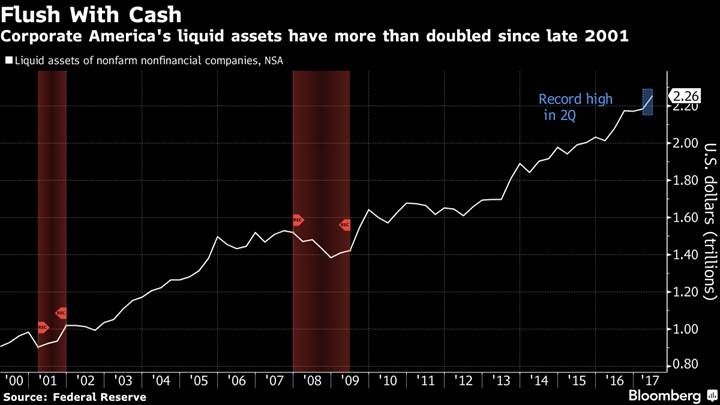 Source: Bloomberg
http://ritholtz.com/2017/09/flush-with-cash/
7.Apple is the World's Largest Bond Fund….$53B Treasuries, $148B in Corporate Debt and $21B in Mortgage Backed.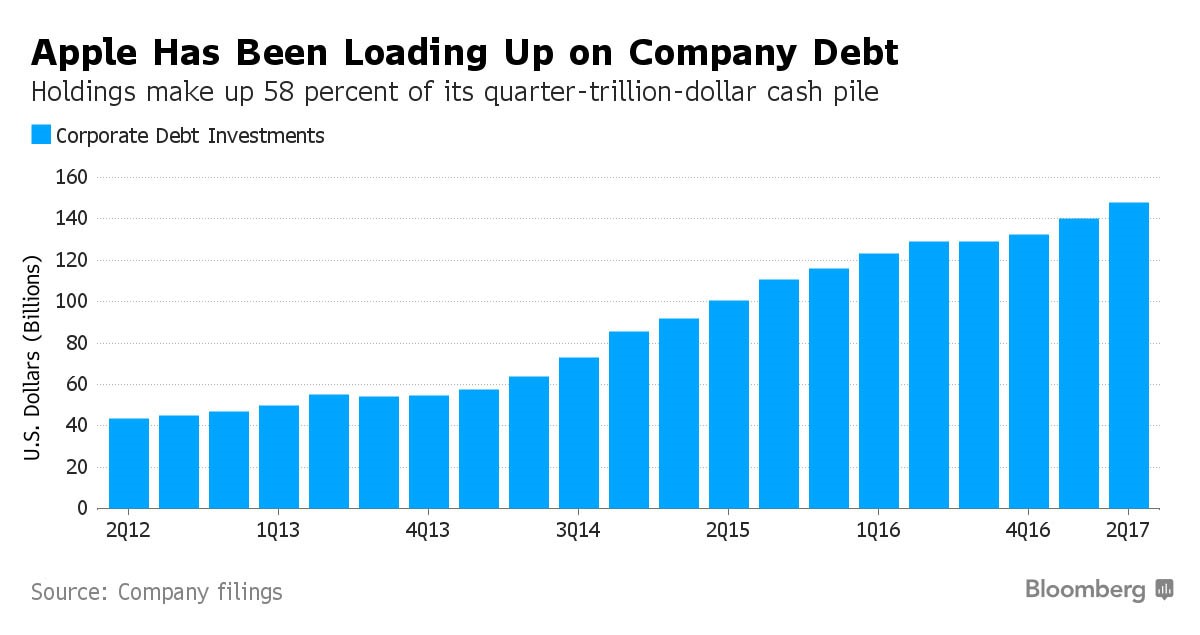 8.The Best Investment Since 1926? Apple
STRATEGIES SEPT. 22, 2017
The iPhone helped to catapult Apple into its position as the world's most valuable publicly traded company. But now Apple has another and, arguably, more exalted stock market distinction.
In the history of the markets since 1926, Apple has generated more profit for investors than any other American company.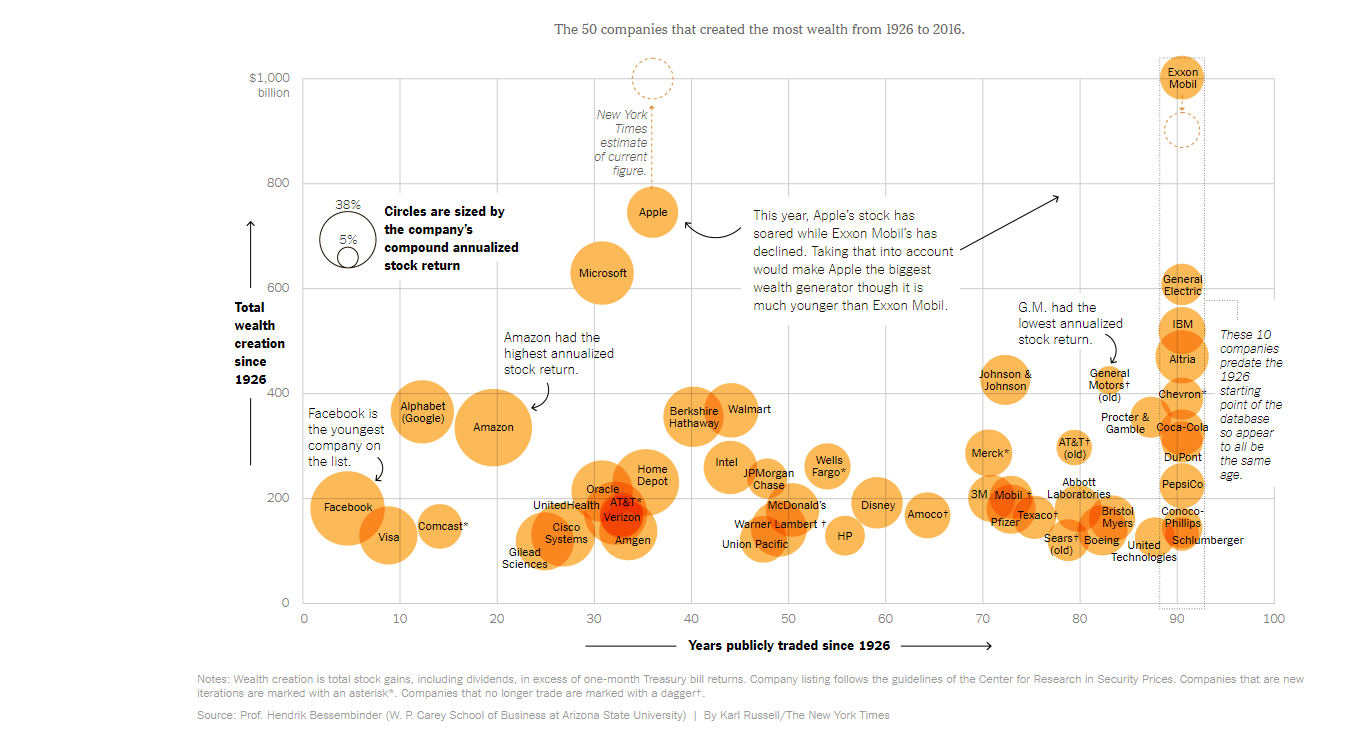 Full Read
https://www.nytimes.com/2017/09/22/business/apple-investment.html
9.53% of Companies Offering Healthcare Down from 70% a Few Years Ago.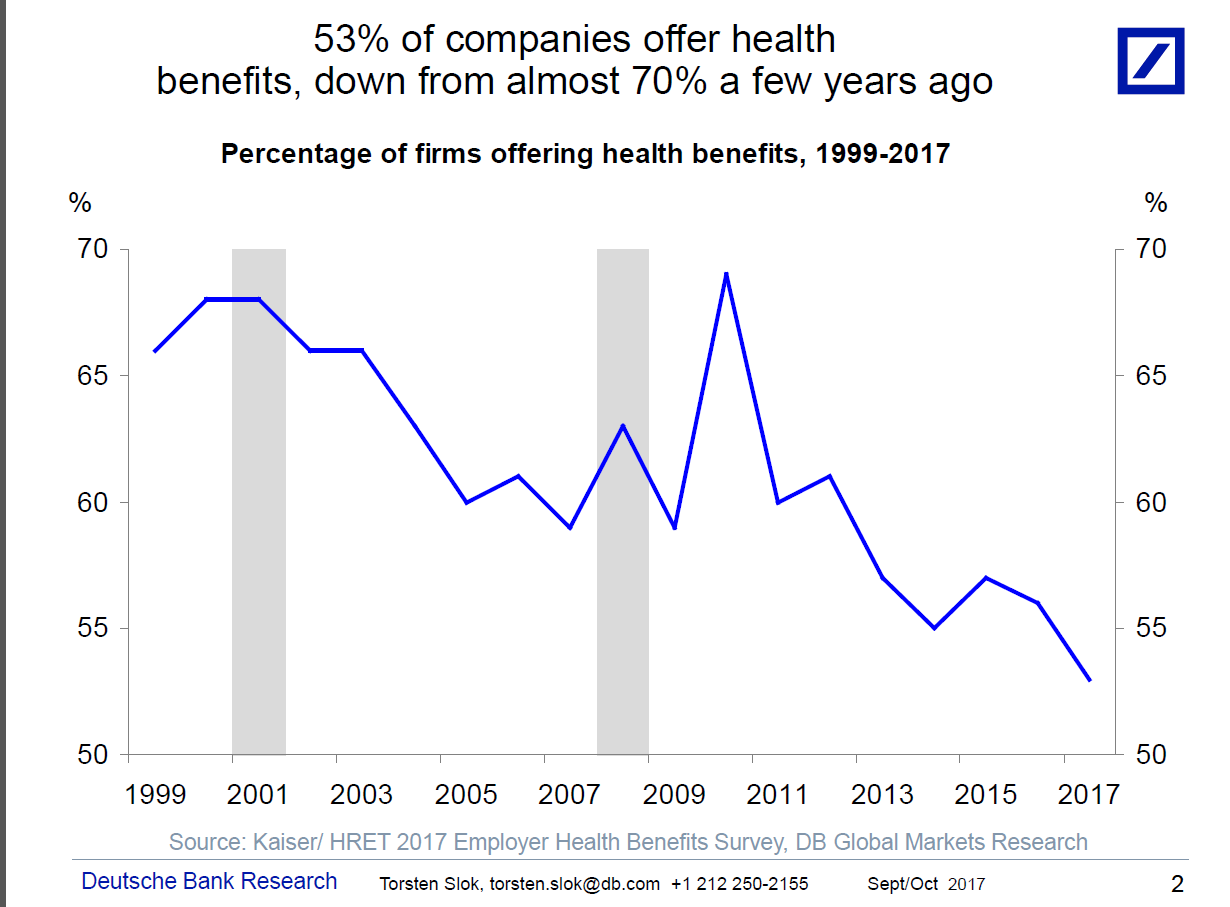 10.4 Daily Habits of Exceptionally Fulfilled People
Immediately lower your stress and live a richer life with the four habits mentally tough and fulfilled people use.
Mentally tough people increase their chances of success in life because of their perspective. One of their key traits is fulfillment. On the surface, fulfillment sounds like an easy concept, yet it remains highly elusive to many people.
Fulfillment isn't an elusive item relegated for the select few, it's a state of being that any person can attain.
If you desire to live a more fulfilling life and lower the unnecessary stressors of life, start with these four guiding principles that mentally tough people use.
Only be in competition with yourself.
As Eleanor Roosevelt said, "No one can make you feel inferior without your consent." Mentally tough individuals who are living a fulfilling life don't let themselves get caught up in the everyday rat race and comparison to others around them.
They understand that when you compare yourself and your journey to others, you're devaluing your own self-worth. Viewing someone else's life and journey from the outside is only witnessing their highlight reel.
Comparing is dangerous because you're only seeing their curated product, and who knows what their behind-the-scenes looks like? The only metric that is important is your own personal one. Did you at least get 1 percent better from the previous day?
If so, then that's all that matters, don't sweat anything else.
Remove all toxic people and environments.
You are who you surround yourself with. Toxic people and environments can become mosquito-like and suck all the life and energy out of you.
You'll notice that people who are more fulfilled than the average operate with a greater level of energy. That's because they intensely guard their personal energy.
You only get one at-bat at this thing called life. Don't let it go to waste on people who don't lift you higher.
Commit to a growth mindset.
Your mind is powerful. Your thoughts and beliefs can morph into your worst enemy or greatest asset. Those who are living a more fulfilled life have a growth mindset, where they see the world in abundance and believe there is enough for everyone.
A growth mindset realizes that skill and intelligence can be developed and expanded upon through consistent effort. With a growth mindset, you see yourself as the captain of your personal and professional life trajectory. Only you can stop yourself from achieving the goals that you want.
Don't try to control everything.
We often get ourselves into trouble because we try to control the "uncontrollable" (e.g., our external circumstances). Mentally tough and fulfilled individuals understand that the only thing they can control is their response and perspective to specific situations.
Anything else is out of their hand. Embrace relinquishing control and notice how your stress levels go down because you were focusing on things that you couldn't control.
https://www.inc.com/julian-hayes-ii/4-daily-habits-of-exceptionally-fulfilled-people.html