Sep 25, 2017
The S&P 500 is currently up more than 1% during the month of September, and if it can simply finish the month in the green, it will be considered a big win given that September has historically been the worst month of the year for stocks.
What's interesting about the market's performance this month is the underlying stocks that are driving major indices higher.  We broke the S&P 500 into deciles (10 groups of 50 stocks each) based on year-to-date performance through August to see how the year's biggest winners and losers heading into September are doing this month.
As shown below, it's 2017's biggest losers that have posted the biggest gains in September, while the year's biggest winners have taken a breather.  The 50 S&P 500 stocks that were performing the worst on a YTD basis through August are up 4.6% in September, while the 50 best-performing stocks YTD through August are up just 0.14%.
These stats show that momentum traders are likely under-performing in September.  If you stuck your neck out and bought the most beaten down names, you're likely having a banner month.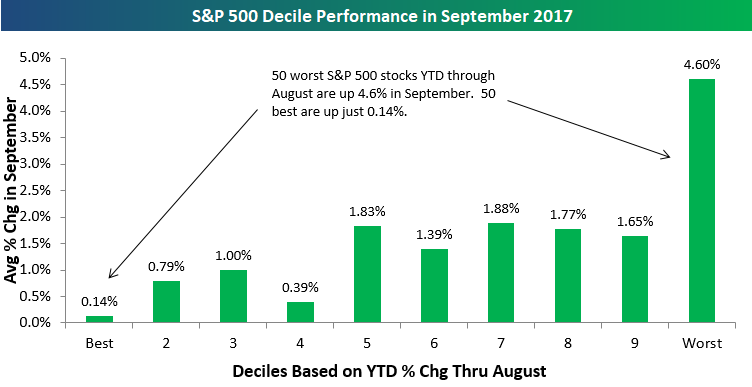 https://www.bespokepremium.com/think-big-blog/
 2.Probability of a Rate Hike in December Jumped from 25% to 65% in Top of the Big Unwind at the FED
The United States: As expected, the Federal Reserve will begin the long-awaited balance sheet unwind next month. But to the surprise of some economists, the central bank also appears to be on target to raise rates in December. The futures-based probability of a December rate hike jumped in response to the FOMC announcement.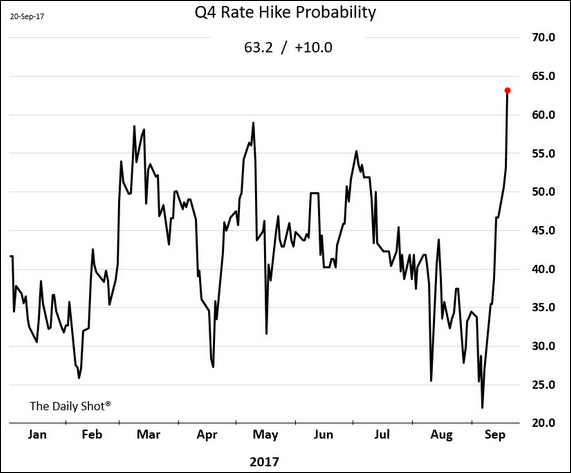 3.Bank of Japan Owns 60% of All Japanese ETFs Outstanding.
As part of their QE program the Bank of Japan is buying equity ETFs to support their economy. It has now gotten to the point where BoJ owns 60% of all ETFs outstanding, see chart below.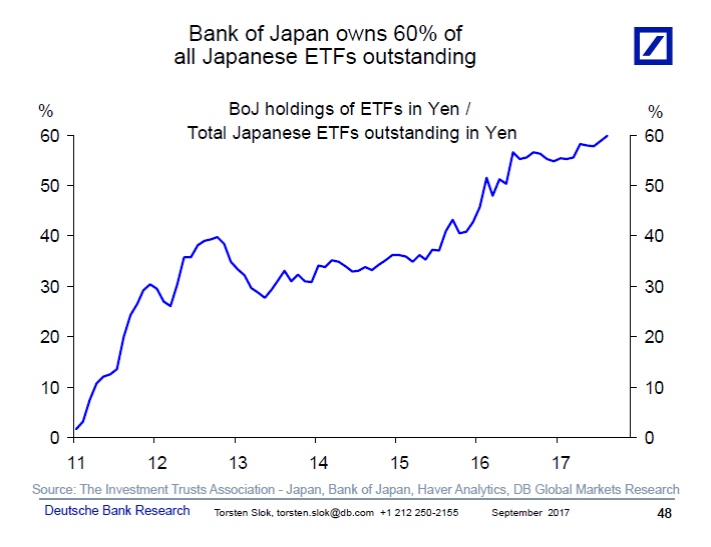 ———————————————–
Let us know if you would like to add a colleague to this distribution list.
Torsten Sløk, Ph.D.
Chief International Economist
Managing Director
Deutsche Bank Securities
60 Wall Street
New York, New York 10005
Tel: 212 250 2155
4.European Stock Volumes Hit the Lowest Level Since 2000 Tech Bubble.
Draghi addresses EU lawmakers in Brussels on Monday. Yellen speaks in Cleveland on Tuesday. Later in the week, Bank of England Governor Mark Carney speaks, as does soon-to-depart Fed Vice Chairman Stanley Fischer
Thanks to Dave Lutz at Jones for chart.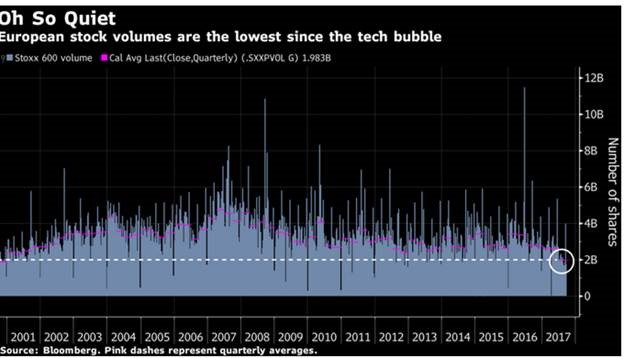 5.One of the Reasons for Low Volatility and Low Volumes is that Retail Investors No Longer Trade Individual Stocks…..Now Wirehouse Advisors Slashing Individual Positions
Wirehouse Advisors Use of Individual Stocks in Portfolio Reduced from 45% to 25% Year Over Year.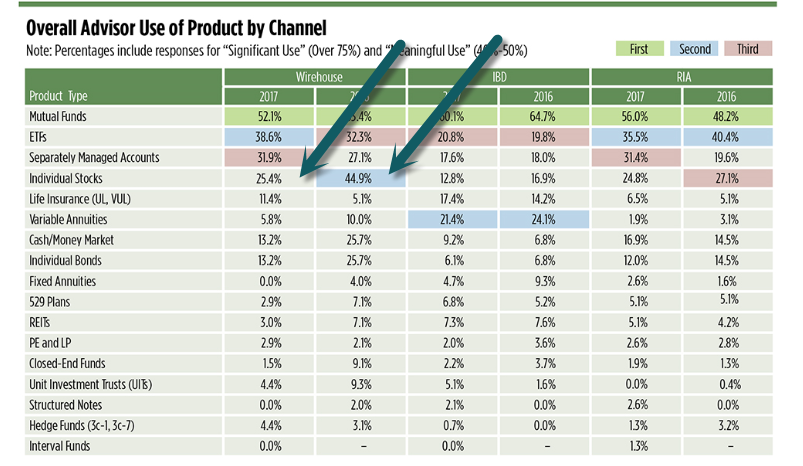 http://www.wealthmanagement.com/industry/independent-advisors-diverge-peers-investments?NL=WM-014&Issue=WM-014_20170919_WM-014_351&sfvc4enews=42&cl=article_3&utm_rid=CPG09000007333628&utm_campaign=10795&utm_medium=email&elq2=6a4722cc22a64736b07e52a9bd8312a0
6.Dow Transports Diverging From Market for Most of the Year Now About to Make New Highs.
Transports approaching new high.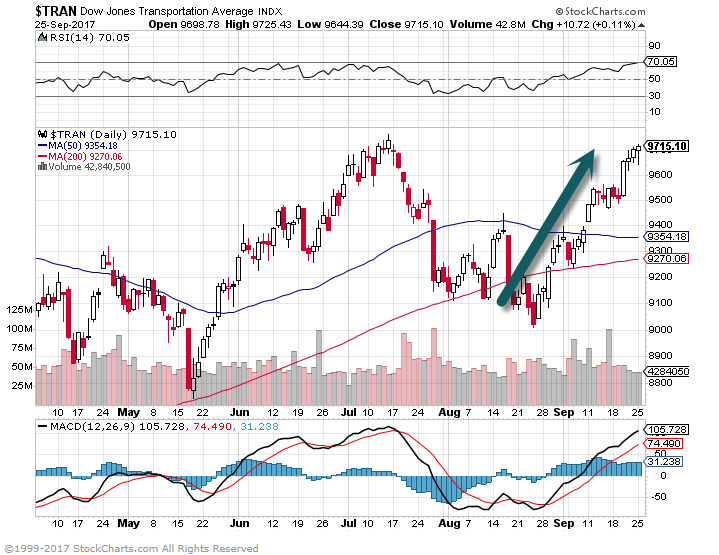 One Month…Dow Transports +6.5% vs. S&P 1.95%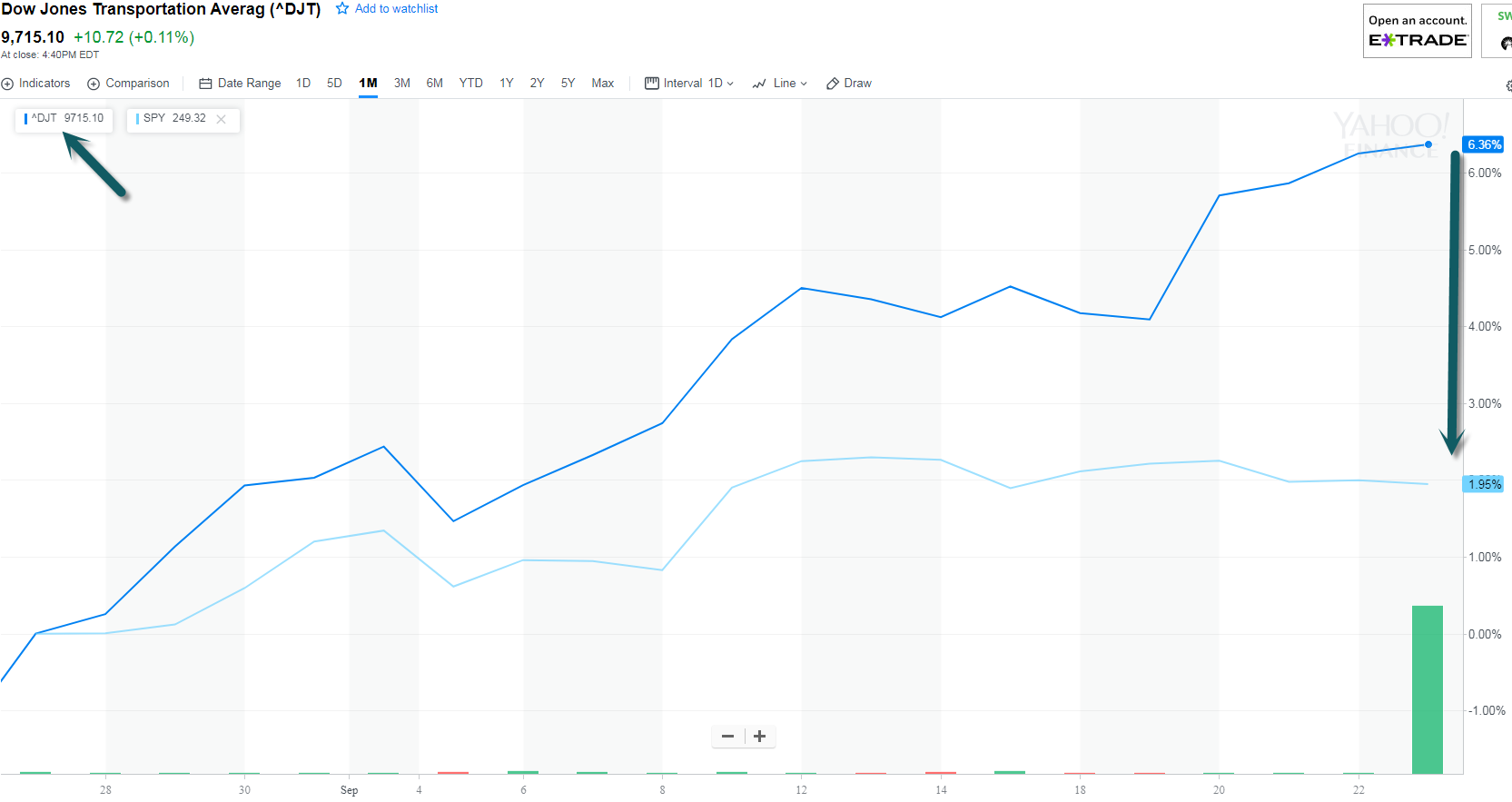 7.Passive was a Rounding Error Only 10 Years Ago…..$1.7 Trillion of Inflows in Last 10 Years.
Ryan Vlastelica-Marketwatch
While index-based funds have been popular in general, S&P 500-trackingSPX, -0.22%  products have been in particular demand. According to FactSet, fully one-seventh of the nearly $4.2 trillion in global ETF assets are in funds tracking the benchmark U.S. equity index. The result of that is that passive funds now own an average of 17% of each component of the S&P 500, per Goldman's data (the range is as little as 10%, and as much as 35%), whereas passive ownership was "a rounding error" a decade ago.
Vanguard alone has at least a 5% stake in 468 components of the S&P 500, according to a June report in The Wall Street Journal, up from just three components in 2005.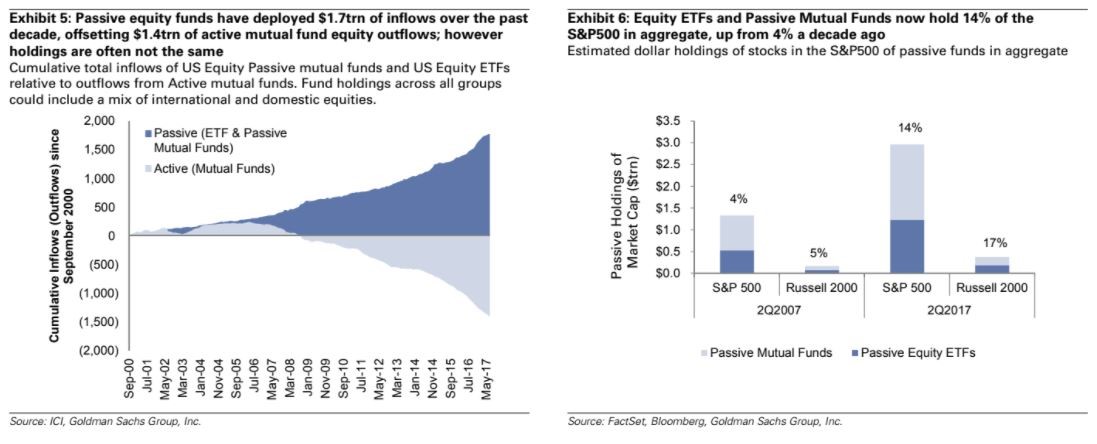 http://www.marketwatch.com/story/passive-investing-is-changing-the-stock-market-in-ways-investors-dont-realize-2017-09-25
8.China Racing Ahead of U.S. in Mobile Payments.
In case anybody missed over the weekend
In China, QR codes are used widely by smartphone owners to pay bills and make purchases in shops and at vending machines—contributing to a $9 trillion mobile-payment market last year, according to iResearch. That is almost 90 times the size of the U.S. mobile-payment market of $112 billion, according to data from research firm Forrester.
Two payment platforms—Alibaba-backed Alipay and Tencent's Tenpay—handle some 90% of China's online payments by transaction value, iResearch says. As China's market matures, Alibaba and Tencent are chasing growth overseas, helping local startups in emerging markets run mobile-money systems that don't require plastic.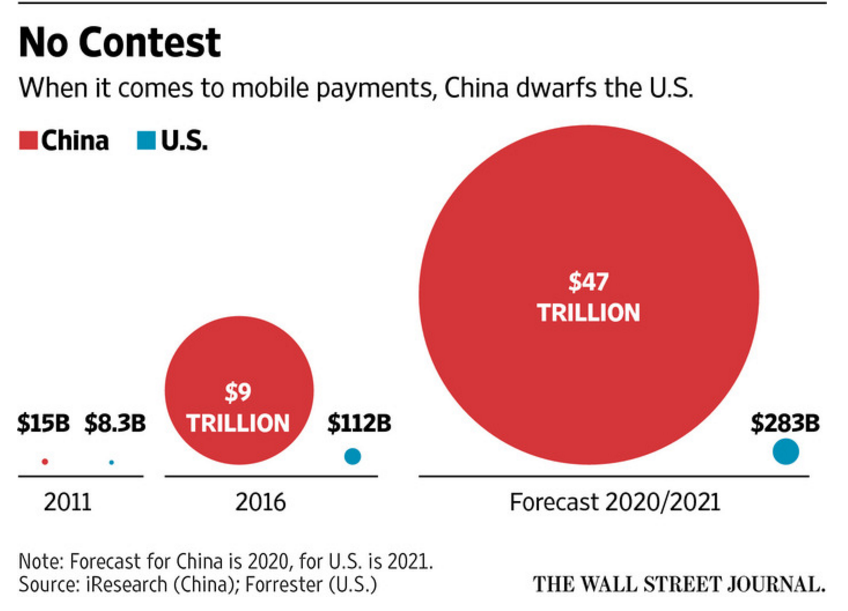 https://www.wsj.com/articles/alibaba-and-tencent-set-fast-pace-in-mobile-payments-race-1506072602?tesla=y
9.Inflation?  What's Going Up or Down?
Energy and housing are among the largest components of the CPI basket (which is set by the Bureau of Labor Statistics [BLS]), and therefore have the most impact on the overall headline inflation number. However, inflation's impact on you depends on what you actually buy each month. With this in mind, we think it can be both instructive and fun to look at the underlying items in the CPI basket to determine which saw the largest price gains and losses, regardless of the BLS's idea of relative importance: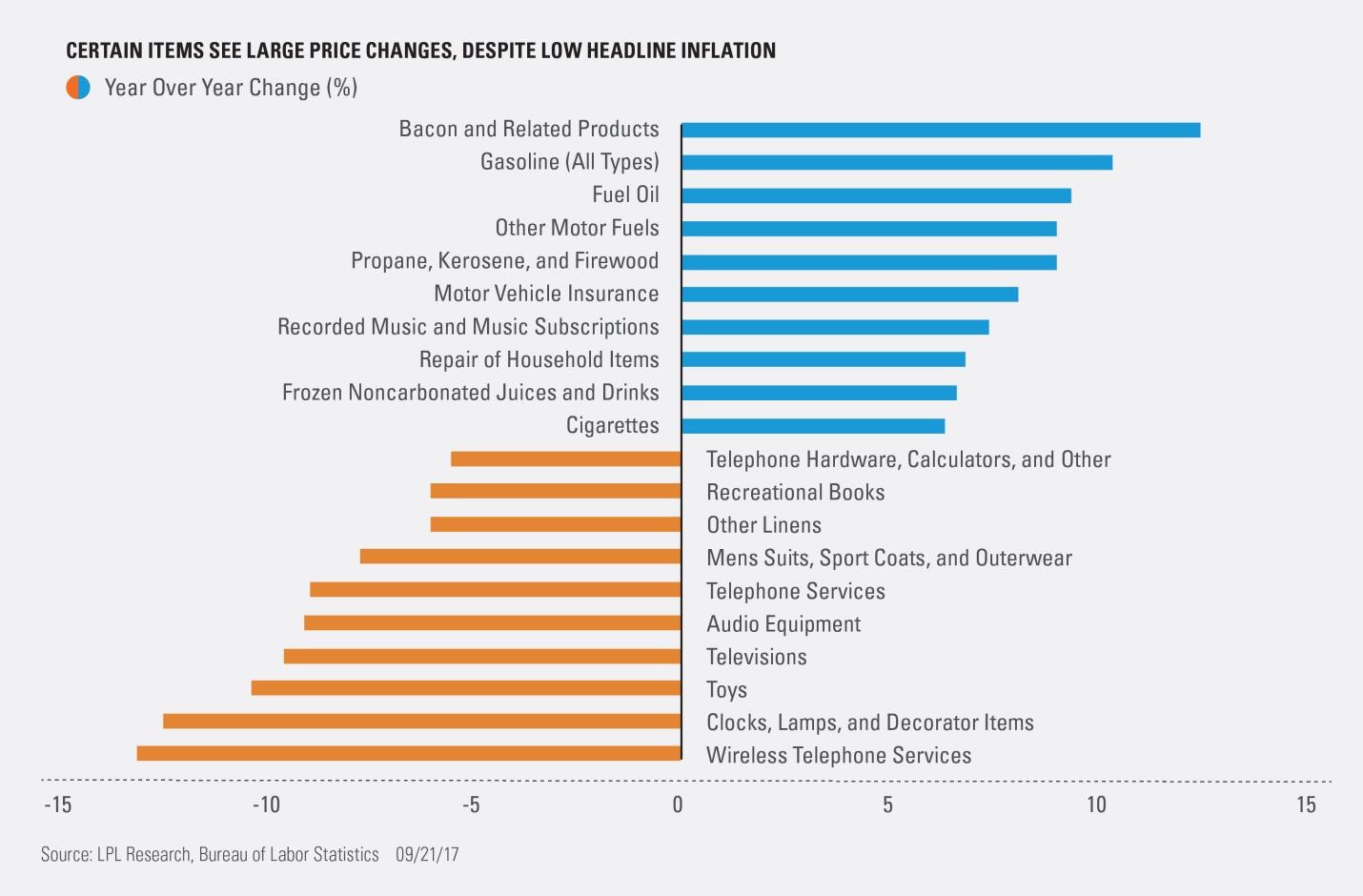 About the Author: Nathan Krampe, CFP®
https://summitinvest.com/how-does-inflation-impact-you/
10.10 regrets too many people will have in 10 years
Too often we waste our time waiting for the ideal path to appear, but it never does, because we forget that paths are made by walking, not waiting.
In the final decade of his life, my grandfather woke up every single day at 7 am, picked a fresh wild flower on his morning walk, and took it to my grandmother.  One morning, I decided to go with him to see her.  And as he placed the flower on her gravestone, he looked up at me and said, "I just wish I had picked her a fresh flower every morning when she was alive.  She really would have loved that."  As you can imagine, my grandfather's words touched a nerve in me.  And over the years I've often reflected on what he said that morning, and how his sentiment relates to everyone and everything I care about.
God willing, when I'm on the cusp of my 80's, I don't want to sit with regrets.  I don't want to wish I had done things differently—especially something as simple, yet meaningful, as picking flowers for the love of my life.
In the end, more than anything else, we regret the small chances we didn't take, the priceless relationships we were too busy to nurture, and the good decisions we waited too long to make.
I learned this through extensive experience.  I've spent the past decade coaching hundreds of students and clients from all over the world, and the same exact regrets relentlessly pop up in the personal stories people share with us.  Below, we're going to take a look at ten of these common regrets, and then cover some principles and strategies for avoiding and overcoming them.
Not spending enough quality time with the right people.
At some point, you'll just want to be around the few people who make you smile for all the right reasons.  So today, spend more time with those who help you love yourself more—spend more time with those who make you feel good, and less time with those who you feel pressured to impress.  Never be too busy to make room in your day for the ones who matter most.  And remember that nothing you can give will ever be more appreciated than your sincere, focused attention—your full presence.  Truly being with someone, and listening without a clock and without anticipation of the next event, is the ultimate compliment.
Not expressing your love openly and honestly with those you love.
Without question, you're going to lose people in your life.  Realise that no matter how much time you spend with someone, or how much you appreciate them, sometimes it will never seem like you had enough time together.  Don't learn this lesson the hard way.  Express your love!  Tell people what you need to tell them.  Don't shy away from important conversations because you feel awkward or uncomfortable.  You never know when you might lose your opportunity.  Is it really possible to tell someone what you feel?  Yes, it is.  They won't always understand, because even when they've heard you, they can't feel exactly what you feel inside.  But you still have to speak up for your own peace of mind.  If you appreciate someone today, tell them.  If you have something else important to say, say it.  Hearts are often confused and broken open by words left unspoken.
Basing a significant portion of your self-worth on other people's opinions of you.
We tend to forget that most people judge us based on experiences from their own life that have absolutely nothing to do with us.  For example, a person might assume things about you based entirely on a troubled past experience they had with someone else who looks somewhat like you.  Therefore, basing any part of your self-worth on what they think puts you in limbo—you are literally at the mercy of their unreliable, bias perspective.  If they see you in the right light, and respond to you in a positive, affirming manner, then you feel good about yourself.  And if not, you feel like you did something wrong.  The bottom line is that you will never find your worth in another human being—you find it in yourself, and then you will attract those who are worthy of your energy.  And in the meantime, not overreacting or taking things personally will keep your mind clear and your heart at peace.
Being too busy impressing others and forgetting about what matters to YOU.
Ten years from now it won't really matter what shoes you wore today, how your hair looked, or what brand of clothes you wore.  What will matter is how you lived, how you loved, and what you learned along the way.  So forget about impressing people for the sake of it.  Be real instead!  If you want to impress someone, impress yourself by making progress on something you're sincerely proud of.  Focus on what matters!  It's truly amazing what you can accomplish in a day when you aren't incessantly worried about what everyone else in the world is thinking and doing.  Just show yourself that you can grow and get better.  It's never about impressing or competing with others.  In the end, it's just you vs. you.
Letting uncertainty paralyse you.
Trust me now and thank me later, embrace uncertainty!  Because some of the most incredible chapters of your life won't have a title you feel comfortable with until much later.  Living is risky business.  Every decision, every interaction, every step, every time you get out of bed in the morning, you take a small, uncertain risk.  To truly live is to know you're getting up and taking that risk, and to trust yourself to take it.  If you don't—if you let uncertainty win—you will never know anything for sure, and in many ways this unknowing will be worse than finding out your hunch was wrong.  Because if you were wrong, you could make adjustments and carry on with your life without ever looking back and wondering what might have been.  Remember this, and find the courage you need!  You don't need guarantees 24/7.  That's not how life works.  In life you can be comfortable or courageous, but not both at once.
Focusing on failures instead of opportunities.
Well, it's true, you have failed and you have been hurt in the past.  But it's also true that you have loved, and been loved.  That you have risked, and received.  That you have grown not just older, but wiser.  And all of this carries a weight of its own—a greater weight than any particular failure or wound.  In fact, it's better to have a life full of small wounds and failures that you learned from, rather than a lifetime filled with the regrets of never trying.  Think about it!  Have you ever seen a toddler learn to walk?  They stumble and fall numerous times before getting it right.  The falls are learning opportunities.  Oftentimes it takes pain and patience to make lasting progress.  So don't let time pass you by like a hand waving from a train you desperately want to be on.  Don't spend the rest of your life thinking about why you didn't do what you can do right now.
Holding on too tight to every ideal, and then missing out on real opportunities.
You can't lose what you never had, you can't keep what's not yours, and you can't hold on to something that does not want to stay.  But you can drive yourself mad by trying.  What you need to realise is that most things are only a part of your life because you keep thinking about them.  Stop holding on to what hurts, and make room for what feels right!  Do not let what is out of your control interfere with all the things you can control.  In other words, say "goodbye" to what didn't work out so you can say "hello" to what might.  In life, goodbyes are a gift.  When certain people walk away from you, and certain opportunities close their doors on you, there is no need to hold on to them or pray to keep them present in your life.  If they close you out, take it as a direct indication that these people, circumstances and opportunities are not part of the next chapter in your life.  It's a hint that your personal growth requires someone different or something more, and life is simply making room.
Playing the victim for far too long.
If you always play the victim, you will always be treated like one.  Life isn't fair, but you don't have to let the past define your future.  Remember that time you thought you couldn't make it through?  You did, and you'll do it again.  Don't let your challenges get the best of you.  Don't let your insecurities bully you into a corner.  Don't be your own victim!  Take the next smallest step.  The greatest of all mistakes is to do nothing simply because you can only do a little.  And you can ALWAYS do a little!  Where you are right now is necessary.  Sometimes we avoid experiencing exactly where we are because we have developed a belief, based on our ideals, that it is not where we should be.  But the truth is, where you are right now is exactly where you need to be to take the next smallest step forward.
Waiting, overanalysing, and never taking the necessary steps.
Too often we waste our time waiting for the ideal path to appear, but it never does, because we forget that paths are made by walking, not waiting.  Remember this!  It's easy to be lazy and wait around.  It's easy to waste another day.  But you need to do the opposite!  Decide what you want to accomplish and get it done.  Action is worry's worst enemy.  Action is the best ammunition.  Action brings progress!  So do not confuse senseless movement with real action.  Whenever you find yourself at a point of intense decision-making where you're caught in a cycle of over-analysis and hesitation, and you're making zero progress, take a deep breath, break the cycle, make an educated guess on the next logical step, and take it.  Even if you get it wrong, you will learn something useful that will help you get it right.  A daily ritual of small, positive steps is the ultimate key.
Being too busy to appreciate your life.
Take action, work hard, but don't forget to pause and pay attention to life's little moments too.  That's honestly the best advice there is.  Realise that life is simply a collection of little chances for happiness, each lived one moment at a time.  That some time each day should be spent noticing the beauty in the space between the big events.  That moments of dreaming and sunsets and refreshing breezes cannot be bettered.  But most of all, realise that life is about being present, watching and listening and working without a clock and without anticipation of results at every moment, and sometimes, on really good days, for letting these little moments fill your heart with intense gratitude.  Truth be told, you will inevitably, whether tomorrow or on your deathbed, come to wish that you had spent less time worrying and rushing through your life, and more time actually being mindful and appreciative of each day.
HOW TO OVERCOME REGRETS YOU ALREADY HAVE.
The points above are crucial reminders, but what if you already have regrets you're desperately struggling with?
No doubt, the feelings of regret sometimes sneak up on the best of us.  As alluring as the idea of living a regret-free life sounds, it's rarely an easy feat.
Oftentimes, before we even realise what our minds are dwelling on…
We regret missed chances.
We regret not spending our time and energy more wisely.
We regret situations and conversations that didn't go well.
We regret not speaking up when we had the chance.
We regret getting into toxic relationships, or making mistakes in past relationships.
Yes, even when we know better, we regret things.  And we do so simply because we worry that we should have made different decisions in the past.  We should have done a better job, but didn't.  We should have given a relationship another chance, but didn't.  We should have started that business, but didn't.  And so on and so forth.
We compare the real outcomes of our past decisions to an ideal fantasy of how things "should" be.  In other words, we have a fairy tale dancing around in our heads of what could have been, if only we had made different decisions.
The problem, of course, is that we can't change those decisions, because we can't change the past.  Yet we resist this truth to no end—we keep overanalysing and comparing the unchangeable reality to our ideal fantasy until we've wasted days of our lives in head-spinning misery.
If we logically know better, why can't we just let all our ideals and fantasies GO?
Because we identify personally with these ideals and fantasies.  We all have this vision in our minds of who we are—our well-meaning intentions, our intelligence, our social impact, etc.  And we make the best decisions we can, of course, because, again, we generally mean well.  Even if you struggle with deep-seeded self-esteem issues, you probably still identify with yourself as being a decent and respectful human being.
And so when someone says something about us that contradicts the vision of ourselves that we identify with—they insult our intentions, our intelligence, our status, etc.—we take offence.  We feel personally attacked, and we have a hard time letting it go.
Something very similar happens when we believe we did something—made a mistake—that contradicts that same vision of ourselves that we identify with.  We take offence!  In some cases we implode on ourselves—we berate ourselves for making the mistake … "How could I have done this?" we think.  "Why couldn't I have been smarter and made a better decision?"  And again, we have a hard time letting it go—we have a hard time coming to grips with the fact that we aren't ALWAYS as good as the vision we have of ourselves.
So in a nutshell, our ideals and fantasies about ourselves tend to cause us lots of misery.
The key is to gradually practice letting go of these ideals and fantasies, and focus instead on making the best of reality.  The truth must be embraced…
Every bad decision we made in the past is done—none of them can be changed.
And in fact there's some good in every one of those bad decisions too, if we choose to see it.  Just being able to make a decision at all is a gift, as is being able to wake up in the morning, and being able to learn and grow from our wide-ranging life experiences.
We are not actually what we envision ourselves to be, at least not always.
We are human and therefore we are multi-layered and imperfect.  We do good things, we make mistakes, we give back, we are selfish, we are honest, and we tell white lies sometimes.  Even when we are doing our absolute best, we are prone to slip.  And once we embrace this and get comfortable with our humanness, making a bad decision tends to conflict a lot less with our new, more flexible (and accurate) vision of ourselves.
Of course, all of this is easier said than done, but whenever you find yourself obsessing over and regretting a past decision, you can 1) acknowledge that you're falling into this pattern, 2) realise that there's some ideal or fantasy you're comparing your decisions and yourself to, and 3) let go of this ideal or fantasy and embrace a wider range of reality by making peace with what's behind you, so you can focus more on what's ahead.
It takes constant practice.
But you won't regret it.
Read more:  How to get your business idea off the ground without quitting your job
First published here.
Images: iStock