1.Bitcoin Speculators Switch to Weed.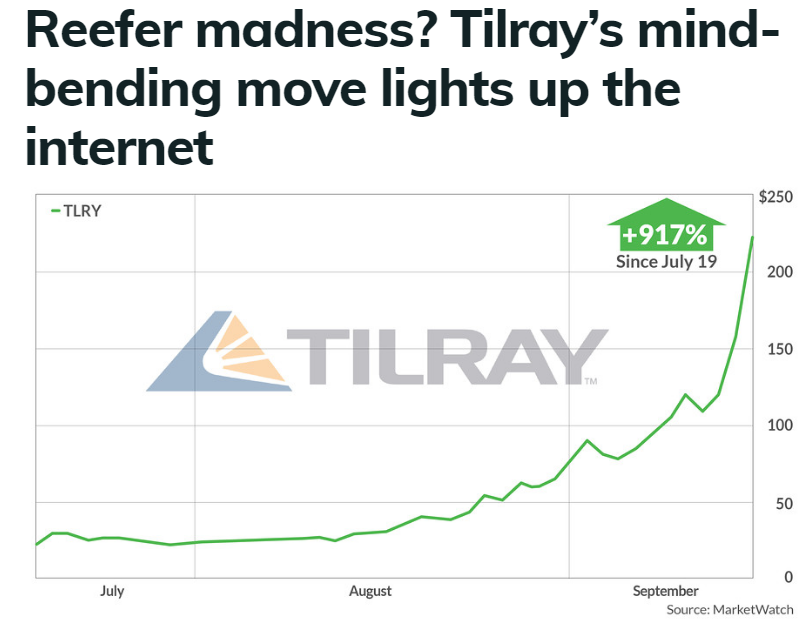 https://www.marketwatch.com/
I Started My Trading Career in 1997 So Witnessed the Internet Bubble First Hand….This is Textbook 1999 CEO Interview on Jim Cramer…Stock Spikes 90% and Gets Held 5 x in One Day….Bigger Market Cap than General Mills
If you didn't know about Tilray before, you definitely do now.
Earlier this week, the Canadian marijuana producer earned approval from the U.S. government to import medicinal cannabis into the U.S. for clinical trials. On Tuesday night, Tilray CEO Brendan Kennedy gave a chest-thumping interview to Jim Cramer.
Then, all hell broke loose.
Yesterday, shares skyrocketed ~90% before erasing most of those gains and briefly dipping into the red. Couple notes:
The stock was halted from trading five times by Nasdaq due to volatility.
It ended up 38% for its best day yet as a public company.
Clearly, Tilray has the munchies
During its mega-surge, Tilray at one point yesterday had gobbled up the market cap of food conglomerate General Mills.
Bottom line: Tilray finished the trading day bigger than American Airlines and Clorox, with a market cap close to $20 billion. Look out, Apple. Someone's coming for that $1 trillion crown.
2.Late 90's QQQ +110% vs. Buffet -39%….Pain of the Value Trade.
Wes Gray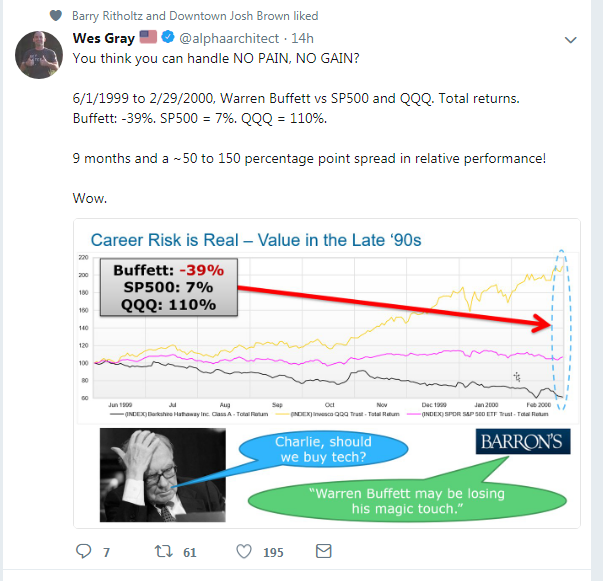 https://twitter.com/alphaarchitect
3.Euphoria Kicking In?? Four-Bedroom Home Goes on Sale in Hong Kong for $446 Million
By
Shawna Kwan
September 20, 2018, 1:53 AM EDT Updated on September 20, 2018, 2:46 AM EDT
Property would be the most expensive house sold in Hong Kong
Sale is rare opportunity to buy in exclusive Peak neighborhood
There's expensive, and then there's Hong Kong property expensive.
A four-bedroom house in the exclusive Peak neighborhood has hit the market for an eye-watering HK$3.5 billion ($446 million), which would make it the most expensive home sold in the city, if not the world. Villa Les Cedres, a 188-year-old, 14-bedroom mansion in the south of France, was last year listed for 350 million euros ($409 million).
Don't expect a palatial estate though. The modestly-sized house at 24 Middle Gap Road sits on 16,330 square-feet of land, or just over a third of an acre, and comes with a swimming pool, parking for two cars and some dated 1990s decor.
What it does offer is an exclusive address and a rare opportunity to buy land in one of Hong Kong's most sought-after enclaves.
The Middle Gap Road house.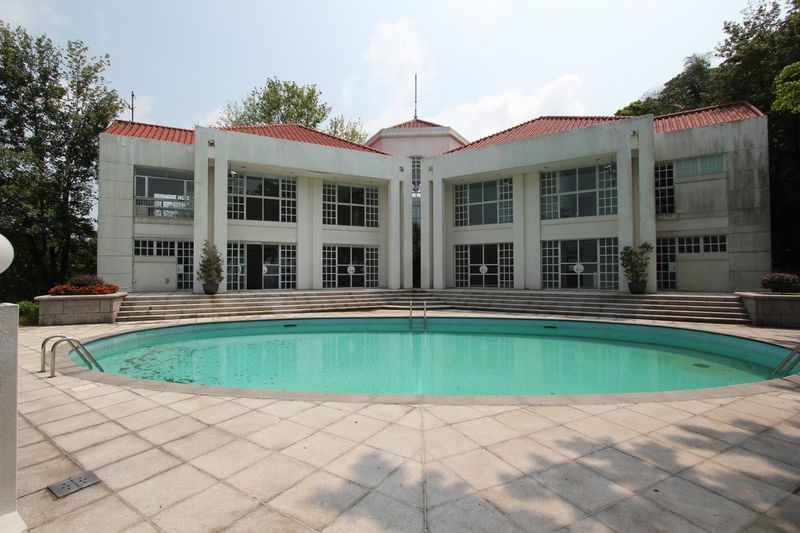 Source: Executive Homes HK Ltd.
"It's more about the land it's on than the house itself," said Lawrence Brown, a senior consultant at Executive Homes Hong Kong Ltd. "The house is quite old. If they are going to pay that much, they would probably knock it down or put another nicer house" there.
Residential sites with a prestigious address are highly sought after by investors. A 12-unit apartment complex in the Deep Water Bay area, which counts billionaire Li Ka-shing as a resident, was sold for HK$5.9 billion in July.
Hong Kong's previous record sale was set in 2016, when a house at 15 Gough Hill Road on the Peak fetched HK$2.1 billion, according to Colliers International Inc.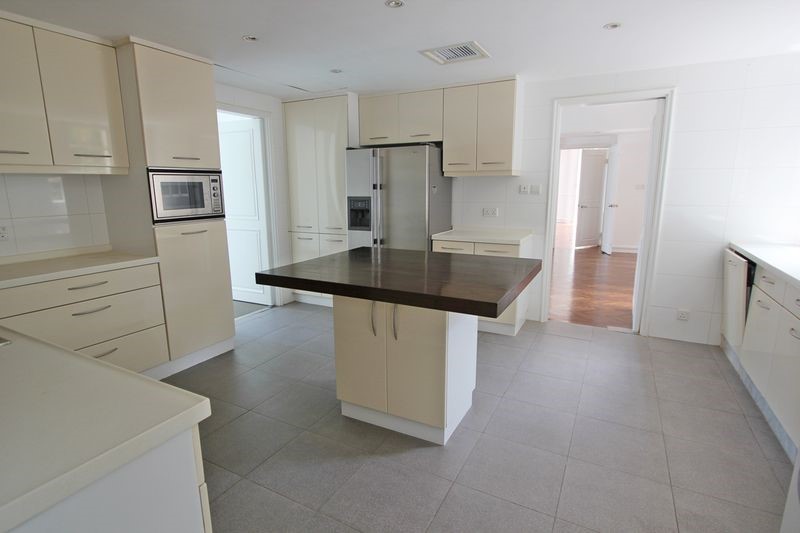 The kitchen area.
Source: Executive Homes HK Ltd.
The Middle Gap Road house is currently leased to a tenant, according to Landscope Christie's International Real Estate, which is listing the property. It is owned by Chuang's Consortium International Ltd, who purchased it in 2004 for just HK$142 million, documents lodged with the Land Registry show.
The stratospheric price suggests that while Hong Kong's red-hot housing market may finally be cooling, there appears to be no limits at the very top end of the market.
"There's a feeling that the luxury sector won't be affected even if there's a downturn," said Executive Homes' Brown.
https://www.bloomberg.com/news/articles/2018-09-20/what-446-million-buys-in-hong-kong-this-four-bedroom-knockdown
4.NIKE All-Time High….+68% 1 Yr.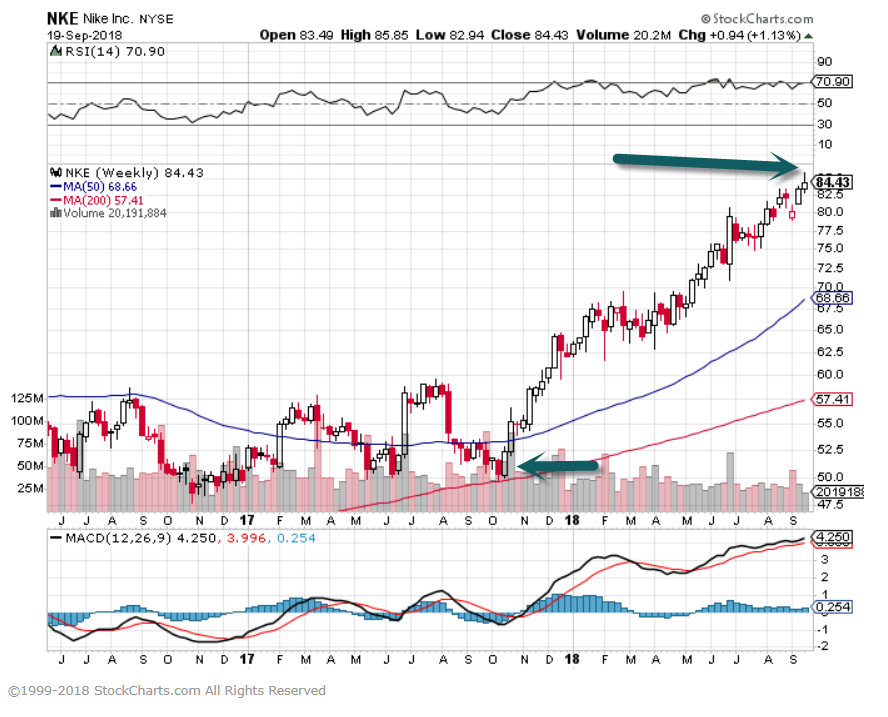 6.Silver Biggest Discount to Gold Since 1990.
Dollar +5% vs. Silver -17% 1 Year.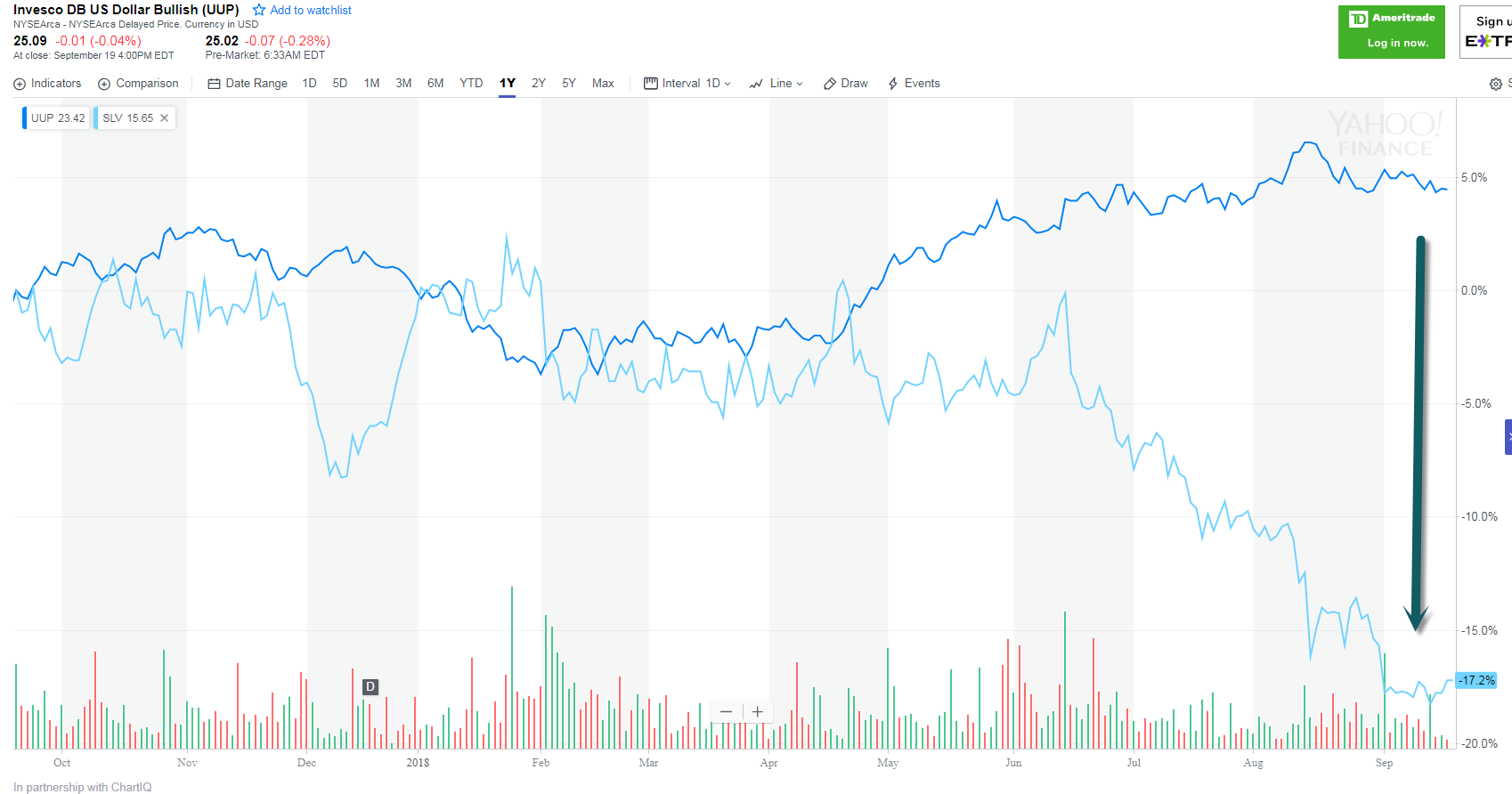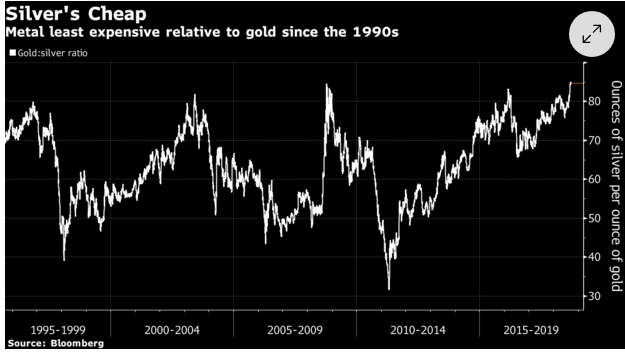 Silver's Discount to Gold Is the Biggest Since the 1990s
By
Eddie van der Walt and Ranjeetha Pakiam
Holdings in silver funds rise while gold ETFs shed metal
Spot gold most expensive relative to silver since 1995
With gold the most expensive relative to silver in more than 20 years, investors in exchange-traded funds are betting on the cheaper metal.
Bullion is about 85 times more expensive than silver per ounce, a ratio not seen since 1995. Both metals have been hammered this year, falling as the dollar rose and investors opted for the yield offered by stocks and bonds.
https://www.bloomberg.com/news/articles/2018-09-18/silver-s-biggest-discount-to-gold-since-the-90s-lures-etf-cash?srnd=etfs
6.10 Year Hits 3%..Watching Intermediete Bonds for new lows.
IEF – 7-10 Year Treasury Price Watching for Breakdown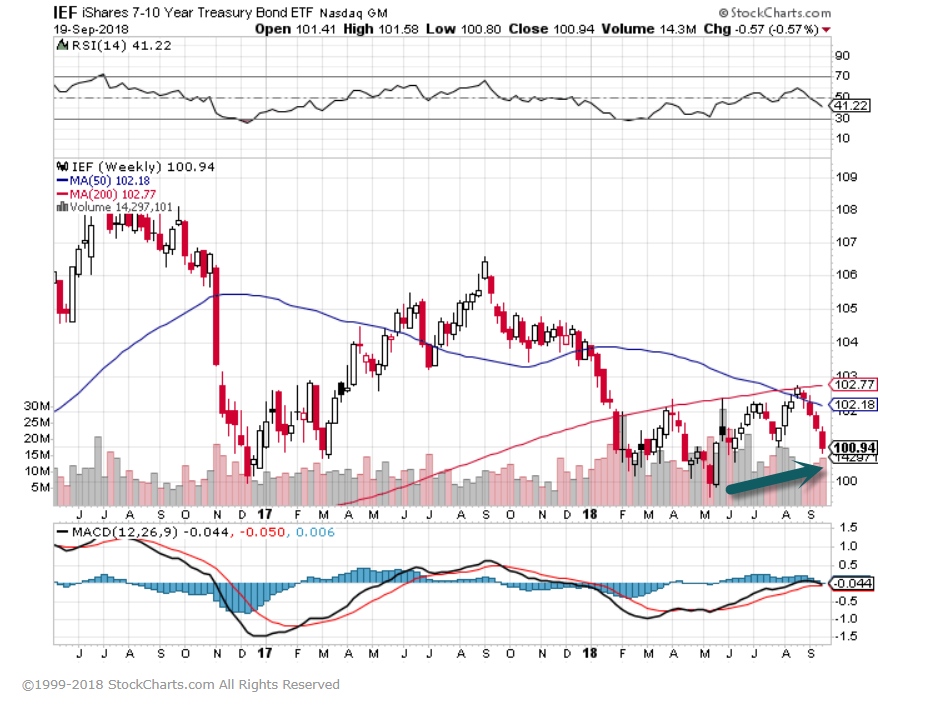 7. 30 Year Yield Breaking Out?
30 year yield breaking above 2016 highs.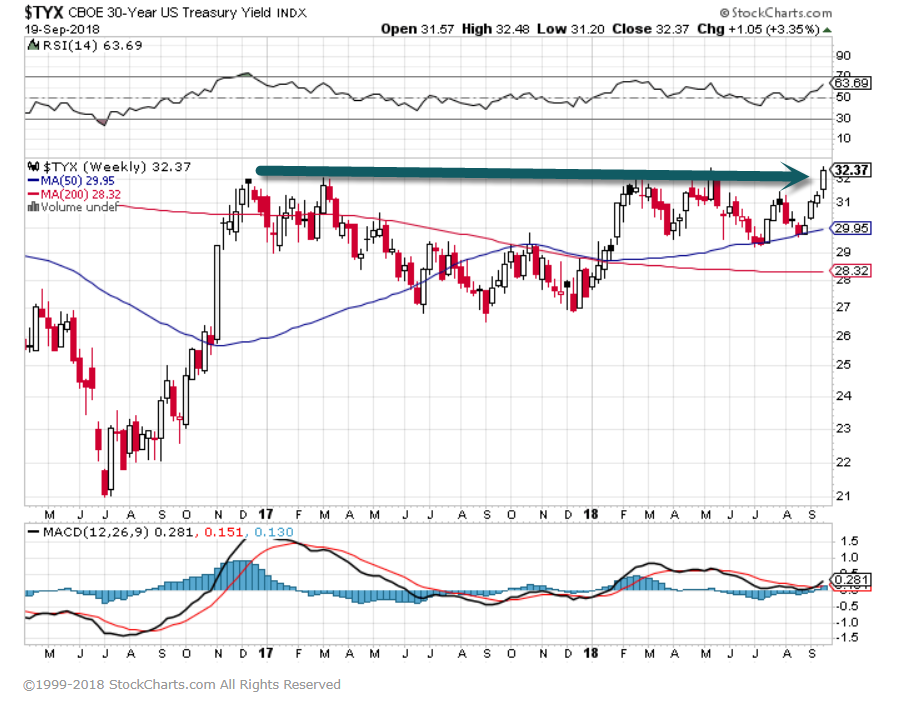 8.MILLENNIALS ON MILLENNIALS: TV AND DIGITAL NEWS CONSUMPTION
DEMOGRAPHICS | 09-10-2018
Millennials have spending power and influence, and marketers are eager to reach them. Their particular media habits differ vastly from past generations and have a major impact on the overall media landscape and how content is consumed. This is the "it" demographic among marketers around the globe because of their size as a cohort and their growing spending prowess.
The Millennials on Millennials series of reports, constructed by Nielsen's own Millennial associates, leverages Nielsen data sets to provide insights into different topics that impact the Millennial generation and the media industry as a whole. Topics include ways Millennials perceive advertising, social media, communication, entertainment, spending, technology and more.
This report analyzes and explores their news consumption trends across platforms and devices, how Millennials become informed during breaking news and view special events and what news format works best among Millennials.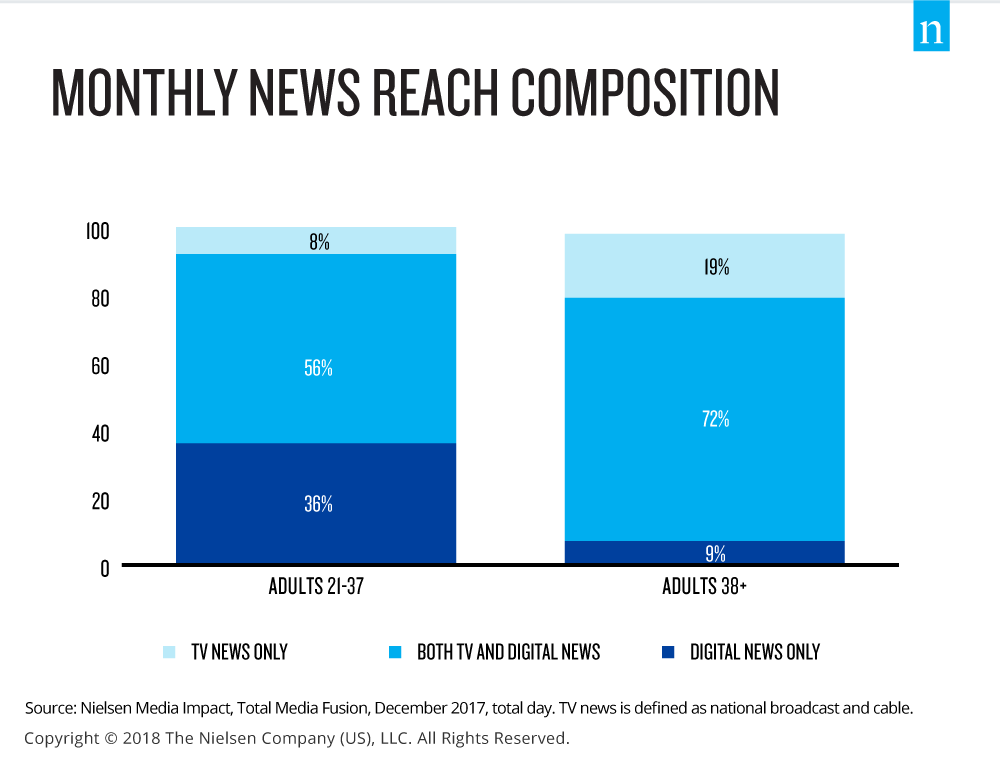 https://www.nielsen.com/us/en/insights/reports/2018/millennials-on-millennials-tv-digital-news-consumption.html
9. Forget Those Long Hours: Self-Care Drives Success
The case for self-care as a primary success strategy for your career.
Source: Free-Photos/Pixabay
I've been speaking to corporations about the importance of self-care and burnout prevention for years. I've also followed the work of leadership expert Michael Hyattfor years. The two worlds collided recently when I listened to a podcast version of Self-Care as a Leadership Discipline, which he presented to 85,000 leaders at this year's LeaderCast event.
Hyatt's case for self-care as a key driver of workplace and leadership success is so solid and compelling. It makes me more determined than ever to continue to promote self-care in the workforce. I will summarize some of the key ideas here for you:
1)    Forget "The Hustle Fallacy"
If your primary success strategy is "hustling" and working as hard as you humanly can, you'll eventually fail and pay a big price for it. According to Hyatt, this approach to your career will produce a high level of both physical and relational pain over time. You'll eventually "burn out or blow out."
2)    "Self-Care Has Demonstrable, Career-Enhancing, Business-Building Benefits"
Hyatt defines self-care as "the activities that make for a meaningful life outside of work, while contributing to better performance at work." Read that sentence again. These self-care activities are actually workplace performance enhancers. The list of activities that constitute self-care includes getting enough sleep, eating properly, exercising, quality time with the people you love, meaningful hobbies and having time for personal reflection. To quote Hyatt: "The bigger your vision, the more you have to prioritize self-care". Amen.
3)    "Self-Care Gives You Energy"
What if you don't have time for self-care? Hyatt's response is that you can't give yourself more time, because there are only so many hours in a day. "But, you can bring a sharper, more energized you to bear on the time you've got available."
He refers to the work of Jim Loehr, coauthor of The Power of Full Engagement. "Productivity is less about managing your time and more about managing your energy."
Most people get this backward, working harder but less productively. He points to "The Law of 50", in which research has demonstrated that working more than 50 hours in a given week, produces zero productivity gain. You become less efficient overall.
Self-care will "sharpen your blade"; you'll be able to use the time you do have, to work more efficiently and effectively. You'll be better, period, and so will your work.
4)    "Self-Care Gives You an Edge"
Sharpening your blade through self-care is essential, not indulgent, according to Hyatt. Research evidence supports the fact that self-care leads to higher workplace performance. Your mind gains power from proper rest and recreation.
article continues after advertisement
Self-care is essential to your creativity. As Hyatt states, "sleep-deprived people generate fewer original ideas and tend to stick with old strategies." Intentionally taking time for fun can set you up cognitively for innovative breakthroughs.
Exercising is known to decrease stress and anxiety and boost your confidence. "Exercise increases the belief that we can accomplish difficult tasks, and fuels greater performance at work." If that hasn't convinced you yet, self-care in the form of exercise is also linked to higher lifetime earnings.
5)    "Self-Neglect Causes Crises That Cripple Careers"
Hyatt shares a story of a colleague who lived a workaholic lifestyle for years, neglecting himself and his family. This approach to career success first broke down his family, "and eventually broke down the career he'd fought so hard to build".
Taking proper care of yourself and your life sets you up for "multidimensional success" and longterm career success and endurance. Longterm success requires sustainable habits. That's a simple yet powerful fact.
Hyatt asks:
"Are you willing to be an industry titan at the expense of being a loving father or mother?"
"Do you want to be the youngest executive in the boardroom, even if it costs you your health?"
https://www.psychologytoday.com/us/blog/prescriptions-life/201809/forget-those-long-hours-self-care-drives-success