1.Zero Volatility in Market.
Sep 17, 2018
2017 was one of the least volatile years ever for the US equity market.  The S&P 500 averaged an absolute daily change of just 0.30% last year.
Due to a pick-up in volatility during the S&P's correction in the first quarter, the average absolute daily change for the index is more elevated this year at +/-0.64%, but more recently we've seen a pretty big drop in the action.  As shown in the chart below, the S&P has averaged an absolute change of just +/-0.40% over the last 50 trading days, which is well below the average of 0.70% seen throughout the current bull market.
From a seasonal perspective, September and October have historically been the most volatile months of the trading year, but so far this September, the S&P has averaged a daily move of less than 0.24%.  It's starting to feel like 2017 all over again!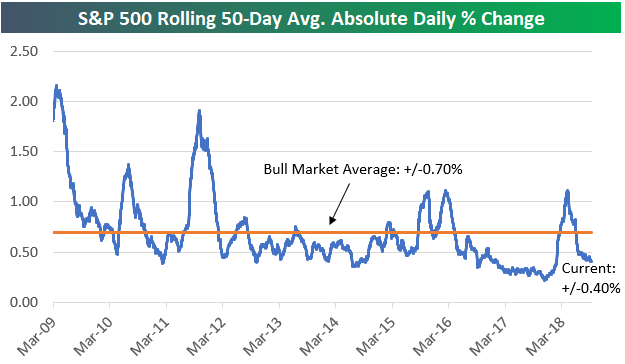 https://www.bespokepremium.com/think-big-blog/
2.The Incredible Shrinking Hedge Fund
By Katherine Burton, Melissa Karsh and Sam Dodge
September 11, 2018 You'd be forgiven for thinking the hedge fund industry might be starting to rebound. Industry assets are at a record $3.2 trillion this year, and a brand-new firm just brought in an unprecedented $8 billion.
But the reality isn't so rosy. Inflows into funds, on the whole, are non-existent and the number of startups has slowed to levels not seen for nearly two decades.
Melting Ice CubesOnce high-flying powerhouses run by David Einhorn, Bill Ackman and Alan Howard are mere shadows of their former glory after posting years of returns that ranged from uninspiring to downright awful. John Paulson has crashed so badly and seen assets plummet so far that he's largely left managing his own money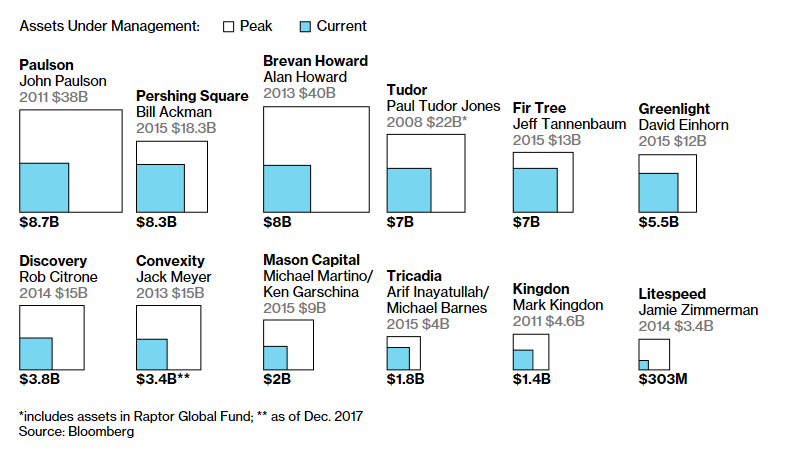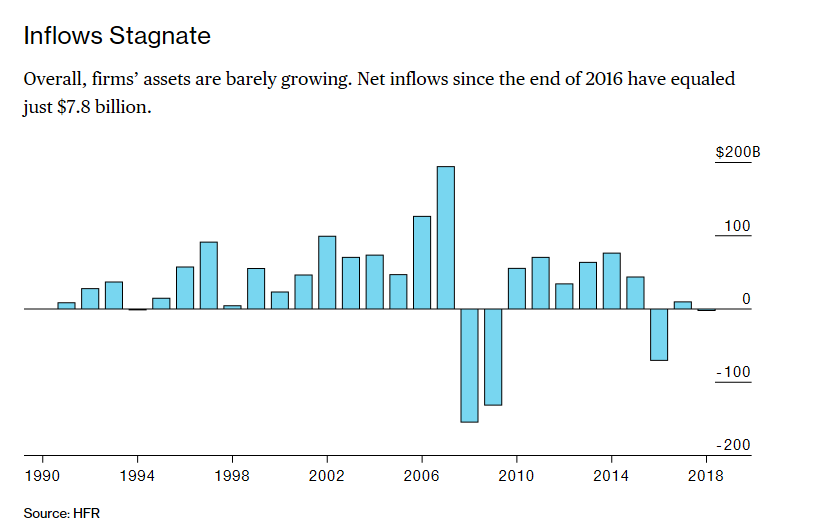 https://www.bloomberg.com/graphics/2018-shrinking-hedge-fund/
3.Hedge Funds Slash Their Exposure To Stocks At The Worst Possible Time
by Tyler Durden
Last week we discussed why even as the stock market ramped to new all time highs, hedge funds found themselves badly underperforming the S&P, and are now not only more than 5% below their January highs, but remain red for the year near the worst levels for 2018.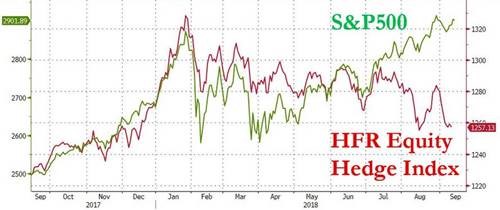 What are the reasons for this stark underperformance? It appears there are two main catalysts.
First, as BofA wrote last week, many hedge funds had simply not allocated enough capital to the market's lone group of massive outperformers, the FAANGs. The bifurcated returns were on full show in August, when the S&P 500 rose 3%, yet when Apple shares surged 20% while the rest of the FAANGs, Facebook, Amazon, Netflix and Google, climbed 6 percent. Without those five stocks, Bloomberg calculates that the S&P 500's August gain would have been cut nearly in half to 1.8%.
According to millionaire investor Tim Lutts, the marijuana industry will hit $200 billion in the next 10 years. "Tragically," says Lutts, "9 out of 10 investors won't make a dime, while a handful of shrewd investors will walk away millionaires."

Second, and more important, hedge funds appear to have lost their way in 2018. Recall that as Goldman wrote in its observations of 2Q 13F that arguably the biggest contributor to underwhelming hedge fund performance has been declining hedge fund net exposure. Net long exposure calculated based on 13-F filings and publicly-available short interest data registered 55% at the start of 3Q, slightly lower than in 2Q. Worse, data from Goldman's Prime Services division showed that net leverage had been declining steadily during recent months while the S&P 500 recovered to within 1% of its record high. In other words, as stocks ramp, hedge funds were rapidly delevering, uncertain about the future trajectory of the S&P.
Now, according to a new analysts from Morgan Stanley, the smart money has only been getting more cautious, despite having already been stung by a defensive stance on U.S. stocks.
According to Bloomberg, hedge funds' net leverage, has continued to shrink and has fallen to the lowest level this year after a brief bounce in late August, and at 49% the ratio is down from a peak of more than 60% in March.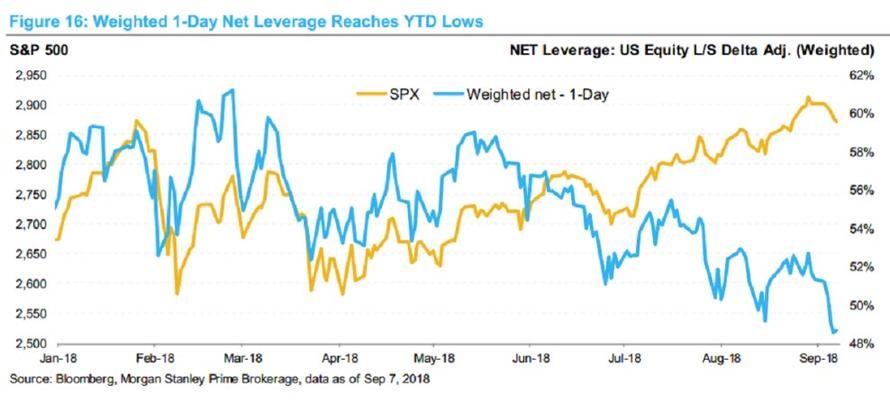 https://www.zerohedge.com/news/2018-09-14/hedge-funds-slash-their-exposure-stocks-worst-possible-time
4.The Largest Hedge Funds.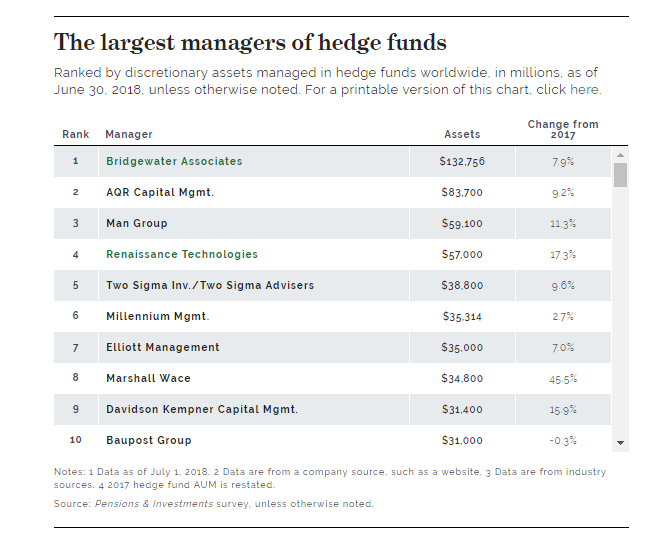 http://www.pionline.com/article/20180917/PRINT/180919905/hedge-fund-assets-increase-184-to-1338-trillion
5.2007-2009 Financials Lost 60% of Value.
Equity Markets: Here is a trip down a memory lane. By the end of 2008, financials had lost 60% over a two-year period. The broader market was down over 34%.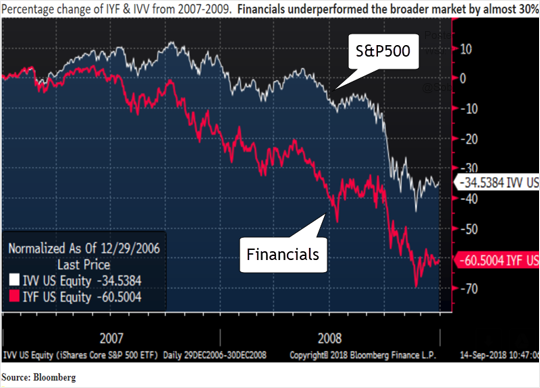 Source: BlackRock
https://blogs.wsj.com/dailyshot/
6.What Inflation Means to You: Inside the Consumer Price Index
by Jill Mislinski, 9/13/18
 news release.
Back in 2010, the Fed justified its aggressive monetary policy "to promote a stronger pace of economic recovery and to help ensure that inflation, over time, is at levels consistent with its mandate" (full text). In effect, the Fed has been trying to increase inflation, operating at the macro level. But what does inflation mean at the micro level — specifically to your household?
Let's do some analysis of the Consumer Price Index, the best-known measure of inflation. The Bureau of Labor Statistics (BLS) divides all expenditures into eight categories and assigns a relative size to each. The pie chart below illustrates the components of the Consumer Price Index for Urban Consumers, the CPI-U, which we'll refer to hereafter as the CPI.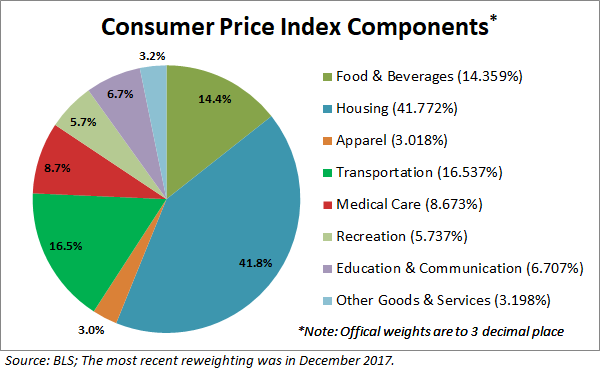 The slices are listed in the order used by the BLS in their tables, not the relative size. The first three follow the traditional order of urgency: food, shelter, and clothing. Transportation comes before Medical Care, and Recreation precedes the lumped category of Education and Communication. Other Goods and Services refers to a bizarre grab-bag of odd fellows, including tobacco, cosmetics, financial services, and funeral expenses. For a complete breakdown and relative weights of all the subcategories of the eight categories, here is a useful link.
The chart below shows the cumulative percent change in price for each of the eight categories since 2000.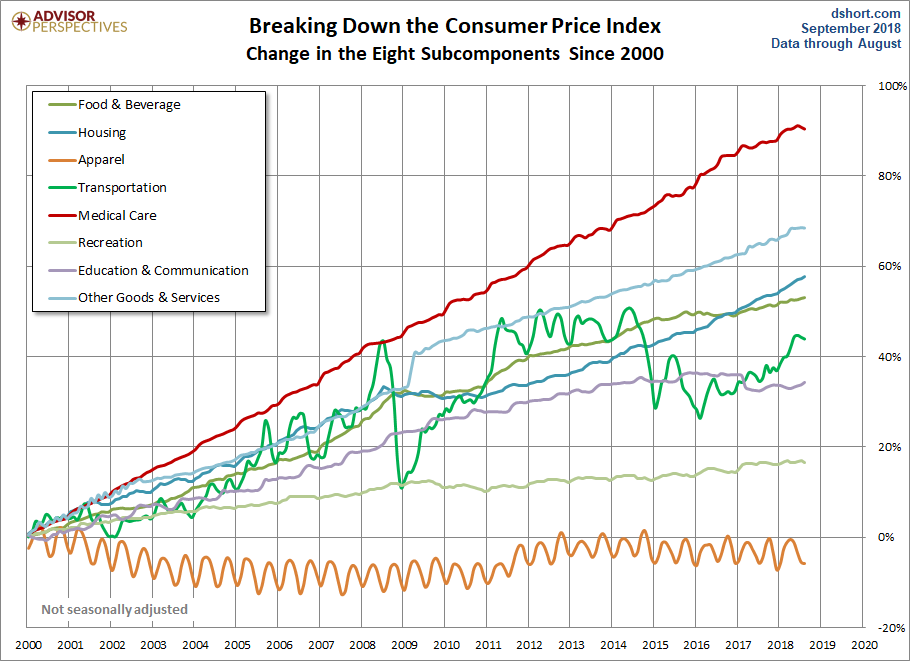 Not surprisingly, Medical Care has been the fastest growing category. At the opposite end, Apparel deflated since 2000 and has nearly returned to those levels in recent years. Another unique feature of Apparel is the obvious seasonal volatility of the contour.
Transportation is the other category with high volatility — much more dramatic and irregular than the seasonality of Apparel. Transportation includes a wide range of subcategories. The volatility is largely driven by the Motor Fuel subcategory. For a closer look at gasoline, see this chart in our weekly gasoline update.
https://www.advisorperspectives.com/dshort/updates/2018/09/13/what-inflation-means-to-you-inside-the-consumer-price-index
7.Health…Compound Lifts.
This is the one type of exercise that will help you build muscle fastest, according to YouTube fitness stars The Lean Machines
Tom Murray
3m
Compound lifts are your best bet to get the fastest results.
If you want the most bang for your buck in the gym, look to compound lifts say YouTube fitness stars The Lean Machines.
The fitness duo says multi-joint exercises recruit more muscle groups, requiring more energy from the body without jumping from one machine to the next.
Compound lifts include but are not limited to: Squats, deadlifts, bench press, military press, and dips.
The pair advises working the movements into the start of your session because they take a lot out of your central nervous system.
We've all seen those guys in the gym who hunch over an EZ bar and curl their biceps to destruction before studiously analysing themselves in the mirror.
And, while it can be tempting to isolate the muscle groups you're most self-conscious about, it's by working as many muscles at once that will see you make significant results quickly, YouTube fitness stars The Lean Machines say.
The Lean Machines, made up of Leon Bustin and John Chapman, have over 16 years of experience in personal training and have grown their fitness-focused YouTube channel to over 400,000 subscribers at the time of writing.
They say that one of the biggest mistakes people make in the gym is ignoring compound lifts, otherwise known as multi-joint exercises.
The Lean Machines. The Lean Machines
In a joint message to Business Insider, Bustin and Chapman extolled the virtues of compound lifts:
"In our very busy world nowadays people are looking for a short effective way to workout, burn calories, and feel the most benefits from their program as possible," the duo said.
"Compound lifts are fantastic for many reasons, one of the most obvious is their bang for the buck compared to isolation exercises.
"If you look just at muscle activation, for example, the difference between leg extension and a squat — there'd be no comparison because your squat's going to work from your neck down.
"Compound lifts being multi-joint movements will recruit more muscle groups, requiring more energy from the body thus burning more calories without jumping from one machine to the next."
Squats, deadlifts, bench press, military press and dips are all good.
Basically, compound lifts will work out more of your body in the same amount of time — allowing you to build more muscles at once.
What are compound lifts?
Compound lifts are defined by fitness writer David Robinson as: "Any exercise that engages two or more different joints to fully stimulate entire muscle groups and, indeed, multiple muscles."
This includes but is not limited to: squats, deadlifts, bench press, military press, and dips.
The Lean Machines define compound lifts as "exercises that strengthen your body in the way it needs to in order to perform better in your day to day life. They simulate daily tasks such as sitting, standing, and picking up your children.
"Compound lifts also signal the production of testosterone and growth hormone: two very important tools for growth and repair."
They say it's the primal fear of dropping the weights that pushes you that little bit further than if you were working out on a machine where there was less risk involved.
It's that added fear, though, that makes the moves so hard — the fitness duo advises doing compound lifts at the start of your session, "because they take a lot out of your central nervous system.
https://www.businessinsider.com/how-to-build-muscle-quickly-lean-machines-2018-8
8.Why This 7×7 Grid is the Secret to a Perfect Week
by Craig Ballantyne | Sep 17, 2018 | Articles, Self-Improvement
Every Wednesday afternoon, my friend Bedros Keuilian tells me to, "Take a hike."
It doesn't matter if we just spent three hours filming new episodes of our Empire podcast, if we spent the entire day coaching entrepreneurs in our Empire mastermind, or if we spent hours driving all the way back to Southern California from a speaking gig in Phoenix, Arizona (as we did on one legendary road trip).
Every Wednesday at 5 o'clock, Bedros looks at me and says, "You're on your own for dinner tonight, buddy."
Why? What could I possibly do on Wednesdays that so greatly offends my business partner and friend?
Nothing. I haven't done anything bad. In fact, he's only telling me to take a hike because he is one of my best coaching clients.
Every Wednesday is his weekly date night with his wife. This special evening is as non-negotiable as playing the Star Spangled Banner before game one of the World Series. Nothing gets in the way of date night—not even me—and I couldn't be prouder of Bedros for keeping it that way.
Bedros has spent the last 10 years learning from me, and during that time he has committed to building his business around his life, rather than his life around his business. He's held fast to this principle even as his franchise has grown from 75 locations to 750 locations. His family comes first, and nothing gets in the way of date night with his wife or weekly "dates" with his daughter and son.
But he's nothing special. (Just don't tell him I said that.)
You can do it, too—even if you're one of those hard-charging, ambitious entrepreneurs or executives who thinks about work all the time when you're at home, and then feels guilty about not being home when you're at work.
The solution I gave Bedros and the solution I want to teach you is what I call The Perfect Week Formula.
Sounds familiar, doesn't it?
I have a confession to make. I may have written the wrong book when I released "The Perfect Day Formula" back in 2015.
While it's garnered over 100 five-star reviews on Amazon and sold over 25,000 copies, many readers had follow-up questions like these after reading it:
What formula do I use on weekends?
What if one day of my week is busier than another?
How does the formula work if you have kids?
Where do I make room for exercise?
When should my spouse and I have weekly date night? (Or, more commonly, how the heck do I fit in a weekly date night as a single person into my crazy busy schedule?)
After watching these questions pour in from attendees at my Perfect Life Retreat, and from the hundreds of high-performers who have attended my private coaching sessions, I realized it was time to go back to the old drawing board.
And I want you to join me right now.
How to Create Your First 7×7 Perfect Week Grid in 4 Simple Steps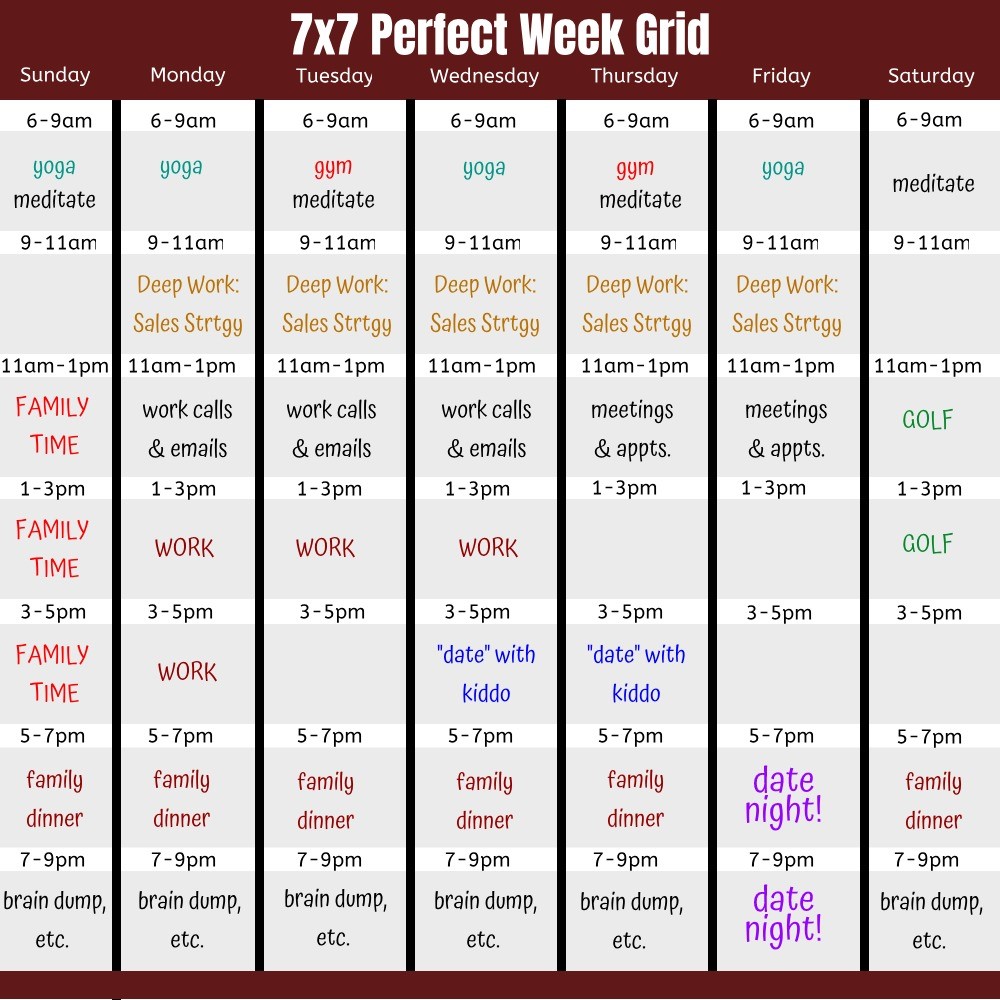 First, grab a blank piece of paper and a pen. Now draw out a 7×7 grid on the paper, and label the seven columns with the days of the week. The seven squares in each column represent 2-3 hour time blocks that will help you plan each Perfect Day and provide you with a Perfect Week.
Now, I know what you want to do next. Your work-obsessed brain wants to start filling in those blocks with appointments, sales calls, and meetings. But don't. In fact, those are the LAST things that go on this page.
I know that this idea is probably leading to a mild anxiety attack, but trust me on this one. Relax. Take a deep breath and hear me out.
Here's what you should plug into your Perfect Week Grid, starting with the highest priorities, moving through your lowest priorities:
Schedule Your Relationship and Self-Care Non-Negotiables
The first thing you are going to put on the 7×7 grid is date night (especially if you're single and have been putting off "looking for love" for too long.)
Next, schedule phone-free family time on Friday evening or Saturday afternoon, weekly or daily spiritual time, weekly exercise sessions, and 30 minutes on Sunday mornings that you'll use to plan out every future week.
These are your non-negotiable BIG ROCKS. They go on the calendar first and you should treat them with as much significance and respect as a doctor's appointment or phone call with your dream client. Imagine these blocks as the guardrails you raise at a bowling alley to make sure your ball never goes in the gutter. These blocks act as boundaries and prevent your work from bleeding into personal time.
Schedule Productivity Routines
Next, before you dare put in a single work meeting, you're going to schedule your bedtime, wake-up time, and if necessary, a "Reverse Alarm." This is a simple alarm that you will set to go off one hour before your ideal bedtime, reminding you to power down for the evening.
When it goes off, shut down all of your electronics (yes, even your Instagram), stop watching television, and start winding down with "old school activities" like reading to your kids, talking to your spouse, taking a hot bath, meditating, journaling, reading, or some good old-fashioned hanky-panky. (What? Don't people call it that anymore?) The reverse alarm is one of three tools that have a massive impact on your ability to get enough sleep.
The second tool is my 10-3-2-1-0 Formula that will ensure you fall asleep only moments after your head touches the pillow. (If you're not already familiar with the 10-3-2-1-0 Formula, click here to learn more about it).
The third and final tool that ensures you get a sufficient amount of sleep each night is a brain dump. Yep, you guessed it; a nightly brain dump needs to go in your 7×7 grid for your Perfect Week plan, too.
Schedule a brain dump at the end of your workday or right after dinner. During this time, you'll pull out a scrap piece of paper and write down all of the problems, to-dos, and plans that are racing through your mind.
From all of the important projects you have to do the next day, to the errands you need to run, to the people you have to contact, get it out of your head and onto a piece of paper. Once your mind is uncluttered and you've closed those pesky mental loops, you'll have an easier time switching your brain off and enjoying a night of high-quality rest.
But don't stop there. After completing your brain dump, organize all of those activities into a priority to-do list so that you know your top 2-3 most important tasks for the next day.
Finally, to ensure that you are truly relaxed before turning off for the night, be sure to prepare yourself for upcoming tasks to ensure they go smoothly the following day. For example, if you have to write an important memo, jot down a few bullet points in the evening so you can finish it quickly the following morning. Don't spend too much time here. Just make sure that you've set yourself up for success with the most important tasks of the next day.
Schedule Deep Work
The next activity to fill in on your 7×7 grid are your deep work slots. This term, popularized by the author Cal Newport in his book of the same name, refers to the time when you do focused work on your most important tasks.
I do deep work at 4 a.m, just a few minutes after I get out of bed. This is the time of day when I have more willpower, discipline, creativity, and focus. It's also when I am harassed by fewer distractions and temptations.
During this 90-minute block of deep work, I can easily write over 1,500 words for my books and ETR essays— this one which was finished at my kitchen table while millions of people in the big city still slept soundly in bed.
I call this my Magic Time. By scheduling your most challenging and important tasks during your own Magic Time, you can easily triple your productivity and accomplish your most important tasks of the day before your competitors have made their first cup of coffee.
My friend, Bedros, does his deep work from 6 a.m. to 9 a.m. at his kitchen table before he heads into his franchise headquarters. He protects himself from distraction with a little ritual of putting his phone in airplane mode, turning it face down, and pushing it more than an arm's length away as he sits at the head of the table. Tens of millions of dollars in marketing campaigns have been created at that table, and it's all because he has followed through on his perfect planning.
Schedule Work—and Everything Else
Finally, it has come time to fill in the remainder of your workday. At this point, you've probably noticed that the sheer number of boundaries and non-negotiable activities in your schedule have left you with no choice but to be incredibly ruthless with your commitments and efficient with your time.
You can no longer take meetings, calls, or appointments with everyone who reaches out. You have a limited amount of time to do the most important things each day so that you can stick to a schedule that prioritizes what matters in life.
You'll never miss another date night, or one of your children's big events, again. Gone are the days and weeks and months when you "don't have time to exercise." And you have eliminated all excuses stopping you from getting to bed on time.
If you want to be successful in business while still having work-life balance, it all starts with MAKING time for what matters. Take 30 minutes every Sunday morning to plan out your Perfect Days so you have a Perfect Week and build your Perfect Life.
#
Want an even deeper dive into the meat of my next next book, "The Perfect Week Formula"? Listen to this week's podcast here.
And if you find any questions unanswered, or if you just don't understand my ideas, please reach out to me and let me know at support@earlytorise.com before I write the book so that I can make it, well "perfect."