1.Growth Outperformed Value by Most in Aug. Since Feb. 2009.
SPDR Funds.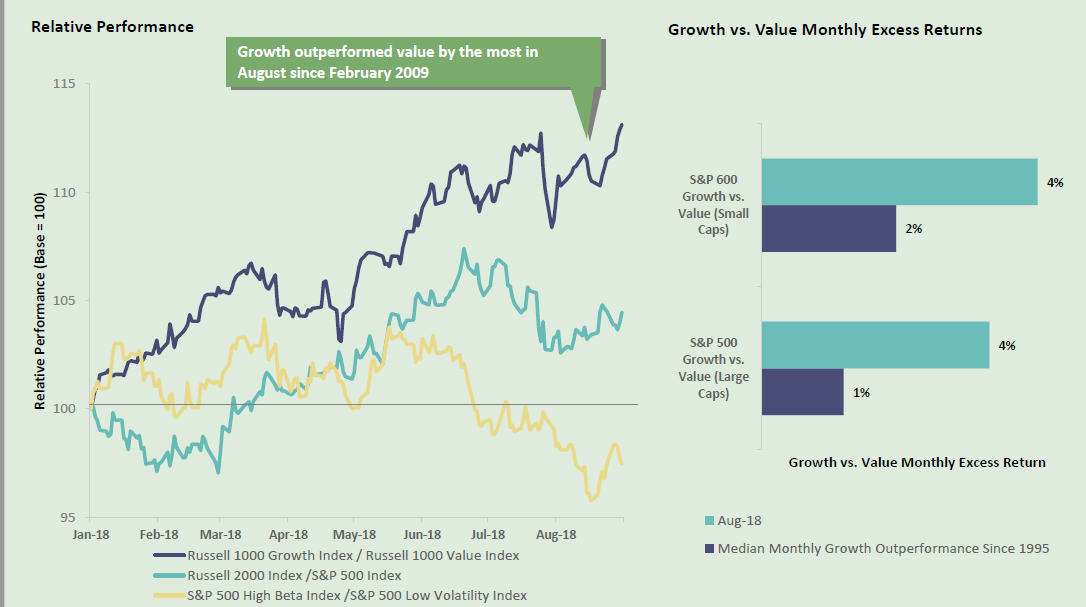 2.Rate Rise?  TLT 20 Year Treasury Record Inflows.
TLT-Down from 2017—Sideways in 2018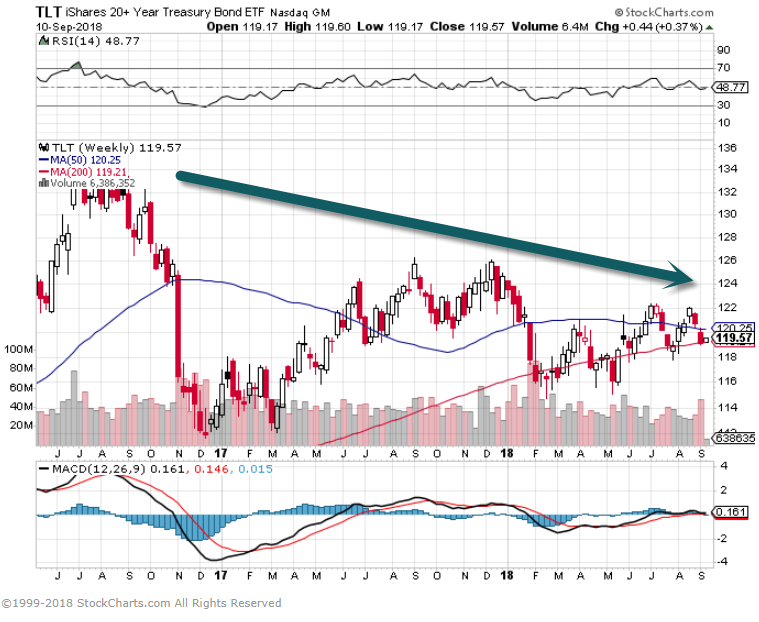 Ned Davis TLT Record Inflows.
3.Bullish Data on Transports New Highs…+11% Since July.
Transports New Highs…Oil Price Drop.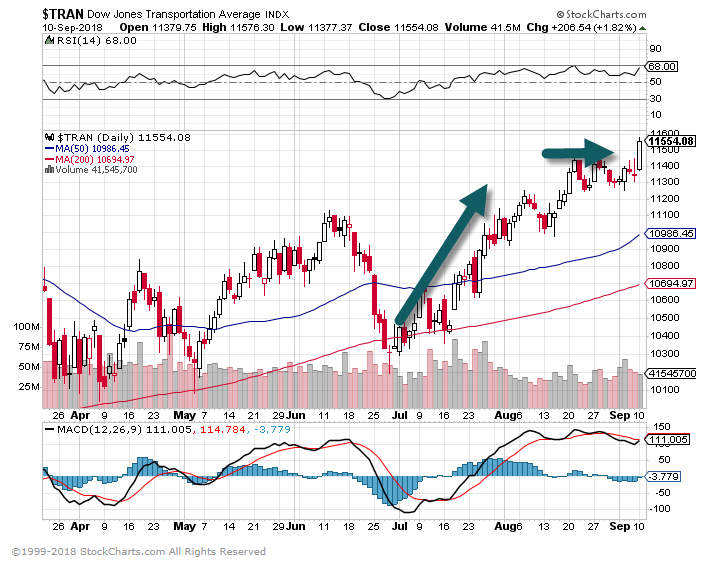 4.Crypto Update…$3B a Month in Raises to $326M…SEC Holds Trading on 2 Crypto Products
Morning Brew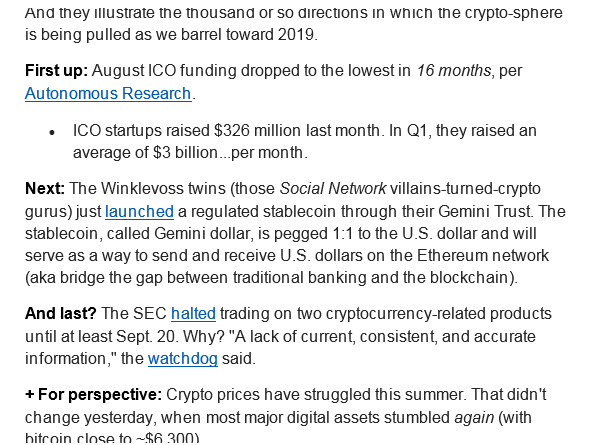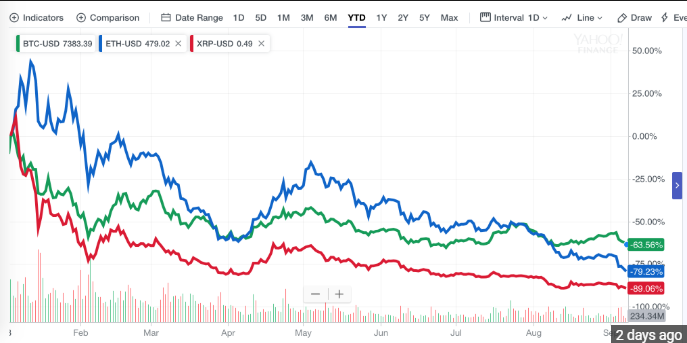 https://finance.yahoo.com/news/amid-2018-crypto-crash-3-kinds-believers-come-focus-202424977.html
5.Small Business Optimism Shatters Record Previously Set 35 Years Ago
The NFIB Small Business Optimism Index soared to 108.8 in August, a new record in the survey's 45-year history, topping the July 1983 highwater mark of 108. The record-breaking figure is driven by small business owners executing on the plans they've put in place due to dramatic changes in the nation's economic policy.
The August survey showed:
Job creation plans and unfilled job openings both set new records.
The percentage of small business owners saying it is a good time to expand tied the May 2018 all-time high.
Inventory investment plans were the strongest since 2005 and capital spending plans the highest since 2007.
"Today's groundbreaking numbers are demonstrative of what I'm hearing everyday from small business owners – that business is booming. As the tax and regulatory landscape changed, so did small business expectations and plans," said NFIB President and CEO Juanita D. Duggan. "We're now seeing the tangible results of those plans as small businesses report historically high, some record breaking, levels of increased sales, investment, earnings, and hiring."
A net 10 percent of all owners (seasonally adjusted) reported higher nominal sales in the past three months compared to the prior three months, up two points. August is the ninth consecutive strong month of reported sales gains after years of low or negative numbers. The net percent of owners planning to build inventories rose six points to a record net 10 percent, the 14th positive reading in the past 22 months. The frequency of reports of positive profit trends rose two points to a net one percent reporting quarter on quarter profit improvements, the second highest reading in the survey's 45-year history.
"At the beginning of this historic run, Index gains were dominated by expectations: good time to expand, expected real sales, inventory satisfaction, expected credit conditions, and expected business conditions," said NFIB Chief Economist Bill Dunkelberg. "Now the Index is dominated by real business activity that makes GDP grow: job creation plans, job openings, strong capital spending plans, record inventory investment plans, and earnings. Small business is clearly helping to drive that four percent growth in the domestic economy."
As reported in last week's NFIB's monthly jobs report, a seasonally adjusted net 26 percent of owners plan to create new jobs and 38 percent of owners reported job openings they could not fill in the current period, both survey highs. Sixty-two percent of owners reported trying to hire, with 89 percent of those owners reporting few or no qualified applications for their open positions. A record 25 percent of owners cited the difficulty of finding qualified workers as their Single Most Important Business Problem, up two points from last month.
The report concludes, "As a leading indicator of economic activity, the Index turned up sharply late in November 2016 and headed to readings in the top 5 percent of the Index history in December, never looking back. Three months later, economic activity soared, rising from 1.5 percent GDP growth to over 3 percent. Profits are driving the stock indices for 'small' firms to record levels, mirroring the record levels of profit gains for NFIB firms."
https://www.nfib.com/surveys/small-business-economic-trends/
6. Summer Travel Records…The TSA said that nine of the top 10 busiest weeks in its 15-year history occurred this summer.
Airlines say booming US economy led to record summer travel
Major U.S. airlines said Monday that the booming U.S. economy is what led to a record-breaking level of travel over the summer.
"With a growing economy, steady employment gains, and household net worth at an all-time high in the first quarter of 2018 ($100.8 billion), passengers are taking advantage of persistently low airfares," a spokesperson for Airlines 4 America, which represents the largest U.S. airlines, wrote in an email to the Washington Examiner.
From the Wednesday prior to Memorial Day and the Tuesday after Labor Day, the Transportation Security Administration processed 253 million passengers and crew, a 6 percent jump from last summer.
The TSA said that nine of the top 10 busiest weeks in its 15-year history occurred this summer.
Airlines 4 America said passengers are flying because of competitive pricing among airlines, an increase in the number of destinations, and because the industry provides the safest means of transport.
"Real airfares, including ancillary services, remain 20 percent below 2000 levels adjusted for inflation," the group said in its statement.
The Bureau of Transportation Statistics reported the costs of airline tickets are not rising at the same speed as the rest of the economy, which is good for consumers. In 2017, the average domestic airfare of $384 was at the lowest annual inflation-adjusted fare in 23 years.
TSA said, since Jan. 1, it has added 1,600 more officers to its ranks to deal with the uptick.
https://www.washingtonexaminer.com/news/airlines-say-booming-us-economy-led-to-record-summer-travel
7.Why Every Entrepreneur Needs a Passion Project—That Isn't Their Business
by Caitlin Evans | Sep 6, 2018 | Articles, Family, Lifestyle, Work
Pouring all your heart into your career feels empowering. You're working hard towards your goal, you have a sense of purpose, your grit and optimism are driving you forward, and you know you're on the right track. Ultimately, this redounds to entrepreneurial success.
That success requires sacrifice, naturally, but we need to ask ourselves: How much sacrifice? You'd be surprised to learn that many successful entrepreneurs sacrifice much less than you'd expect.
Of course, it comes down to prioritizing. Some priorities, such as spending time with your family and maintaining your health, are so intuitive that you don't even think twice about setting them.
But when it comes to personal passions prioritizing gets tough—mainly because high-achieving entrepreneurs don't acknowledge them as priorities.
We've all been guilty of this, myself included. We perceive personal passions as little luxuries—things to pursue as a reward for hard work. We keep them on the back burner for long periods of time, putting ourselves in danger of abandoning them entirely.
But this is wrong. Here's the truth: Personal passions and side projects should be on everyone's list of priorities—especially entrepreneurs'. Here's why:
Passion projects help you cultivate your identity
How would you describe yourself?
Even though your work might be amazing and complement your interests perfectly, you are not your work; the age-old cliché exists for a reason. And even if you're a spectacular mom or dad, you're not just a parent, either.
So what are you?
You are a collection of diverse interests, roles, and achievements. But your personal passions are perhaps some of the most defining elements of that complicated formula. They are, at their best, uninhibited reflections of your deepest passions, values, desires, and goals. They are an expression of your core, untainted by outside expectations, conventions, responsibilities, or pressure.
For all of these reasons, passion projects are critical to cementing an authentic self-identity.
And while cultivating your identity through passion projects helps you personally, it also furthers professional progress. With your unique and authentic self fully activated and engaged, you can be wholly present creatively at work. I can't think of a professional this benefits more than the entrepreneur—a role defined by its ability to innovate and think outside the box.
Passion projects protect you from burnout and give you a sense of achievement
That's two things, achieved simultaneously.
The "high" you get from pouring your heart into a work project is a fantastic motivator, but it often fizzles quickly. High expectations, numerous responsibilities, and countless challenges often cut the joy short, leaving you overwhelmed and exhausted instead of uplifted and inspired.
Ever more reason, then, to take on a passion project outside of work. This recharge time is difficult for many entrepreneurs, as they are often classified as "hyper-productive"—always on the hunt for a new task, job, or exercise that will convince them they are constantly making progress on their goals.
Here's the good news for entrepreneurs "forced" into downtime: A recharge doesn't mean you need to sit around and do nothing. In fact, this is the perfect time to engage in an activity or project fed by nothing more than your own interests and desires.
This is far better than diving back into work to fill the recharge void; if you do that, you'll merely compound stress and anxiety.
So if you don't have a hobby, find one, for the sake of your mental health. It's not hard, really; you can turn any affinity into a passion or blend it with your existing priorities.
For example, maybe you want to get into hiking so that you don't have to go to the gym every single day. For many high-performers I know, this activity becomes more than mere exercise—it's a passion project that involves a study of nature, photography, navigating, backpacking, sightseeing, and so on. And, it's a passion easily shared with others.
Here's another example: If you love reading, why not write a little? If there are certain genres you enjoy, consider writing fan fiction based on existing stories. Or, start with a blank canvas and create something brand new. You can even share your stories with online communities of other writers who will eagerly consume your work and willingly engage you with questions and comments.
As you can tell, these activities are not only enjoyable, but they keep both the brain and body humming, giving you the sense of personal achievement that you love.
Passion projects fill in voids in the workplace
Being an entrepreneur takes a whole lot of passion, ambition, creativity, and courage. But once you're on the entrepreneurial journey, there's a lot of not-so-creative stuff that has to be done. Top that off with the demands of the market pushing your business decisions (far more often than personal choice or passion), and you often feel pinned against the wall.
In these moments, passion projects become a true salvation. They allow you to continue your pursuit of what really matters to you and reminds you of your values and mission. Passion projects are also a great way to release the stress compounded by red tape and bureaucratic hurdles that can bring your dream business to a halt.
Here's a bonus: With the creative juices flowing in your passion pursuits, you can often come back to work with a new way forward. Sometimes, these passion projects even open new doors to new success—whole other business ideas that more closely align with your vision.
There's no pressure, though. You do this for you.
There's no question: Personal passions drive entrepreneurship. And while there are plenty of excuses not to prioritize them, keeping them on your weekly schedule is critical to your mental health and longterm success.
So make a promise to yourself to always pursue the things you love or to try something new. Then plan, focus, and act. You'll be adding more to your personal and professional lives, while feeding your creative spirit and generating the kind of positive energy you need to be successful.
Make time for your critical passion projects by implementing this Morning Routine…
Sign up now to get our FREE Morning Routine guide—the #1 way to increase productivity, energy, and focus for profitable days. Used by thousands of fitness, business, and finance industry leaders to leapfrog the competition while making time for the people who really matter. Learn more here.
https://www.earlytorise.com/why-every-entrepreneur-needs-a-passion-project-that-isnt-their-business/