1.Materials Sector Breaks Out
Sideways since 2013—Inflation?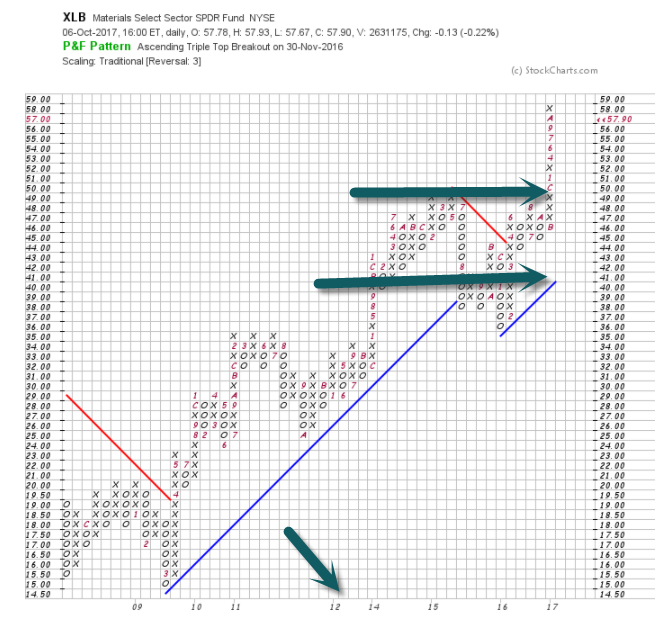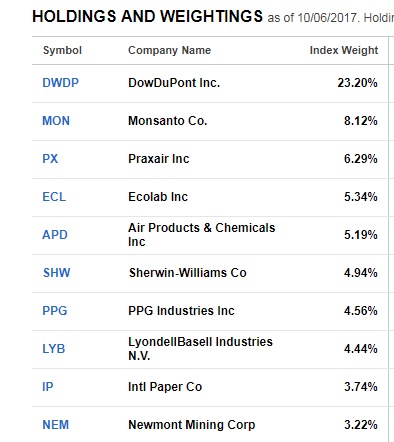 http://www.sectorspdr.com/sectorspdr/sector/xlb/holdings
 2.Momentum Dominate Factor in 2017…Small Cap (size)…Worse to First on Trump Tax Cut Proposal.
2017 Factor Grid.
US Factor Trends — Momentum Has Been the Top Performer in Six Out of Eight Months This Year, While Other Factors Rotated at the Bottom
3.U.S. Public Pension Funds Increasing Hedge Fund Allocations.
Alternatives: Under pressure to boost returns, US public pensions continue to allocate to hedge funds.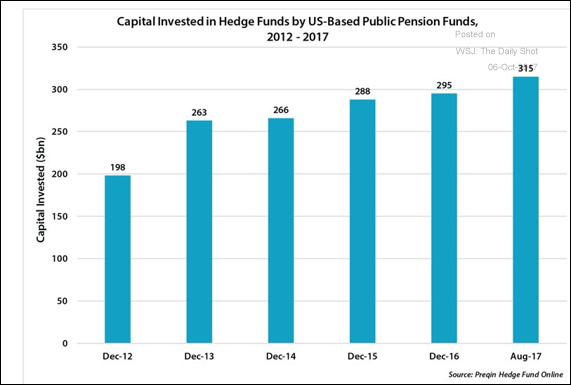 Source: @Preqin
www.thedailyshot.com
4.PMI Rose to Highest Level Since May 2004
The Institute for Supply Management's Manufacturing PMI in the US rose to 60.8 in September of 2017 from 58.8 in August, beating market expectations of 58. It is the highest reading since May of 2004, boosted by a rise in new orders, production and employment. Business Confidence in the United States is reported by Institute for Supply Management.
Jeff DeGraff in Barrons.
During the past 50 years, when the PMI is in the top decile, the S&P 500 loses about 4% in the subsequent six months, deGraaf's charts show.
http://www.barrons.com/articles/the-meltup-before-the-storm-1507343724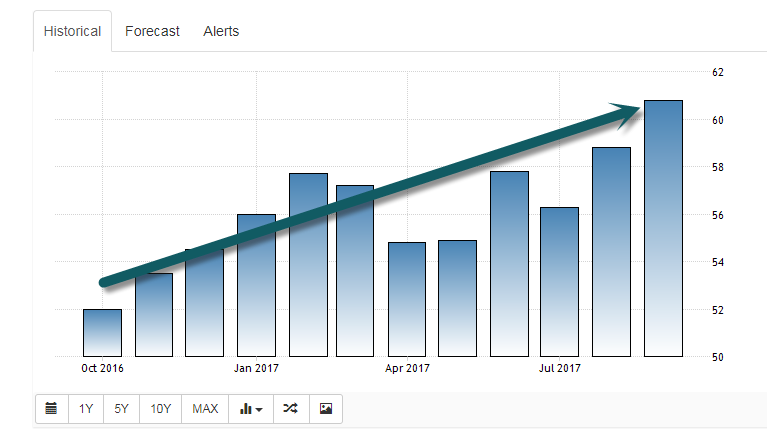 https://tradingeconomics.com/united-states/business-confidence
5.2017 IPOs Slowdown in 3rd Quarter.
During the third quarter, 29 companies went public for a total of $4.1 billion—the third worst in proceeds raised since the financial crisis. Despite that punk showing, IPOs year to date are higher than 2016, driven by a big first-half increase over the prior-year period.
Average third-quarter returns, however, sparkled, with the average IPO gaining 36%. Biotechs contributed a lot, with the top 10 averaging a 90% return. One in three IPOs in the third quarter was a biotech, and Kennedy says health care should remain strong.
Tech companies, which have delayed making their public debut in hopes of getting higher valuations, may get a lift from Roku's recent dazzling performance. Tech is the biggest component of IPOs on the fourth-quarter file, and could see big names like Spotify, Lyft, and Dropbox go public.
http://www.barrons.com/articles/third-quarter-ipos-land-with-a-thud-1507350468
 2017 started with boom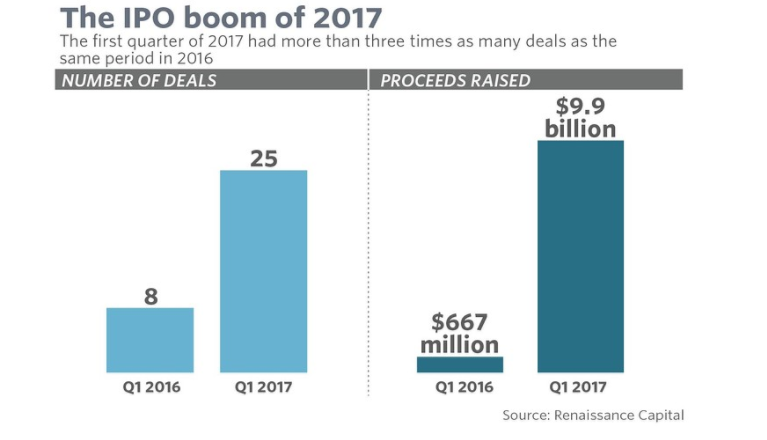 6. Passive Investments now Account for About Third of EM Equity Funds, Up From 2% in 2002
Advisors prefer emerging active.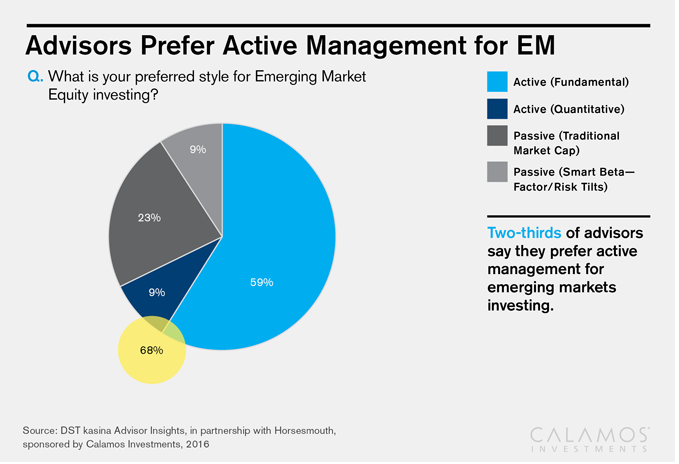 http://www.calamos.com/ourway/Advisors_Views_on_EM_Investing
Advisors not close to max allocation in emerging.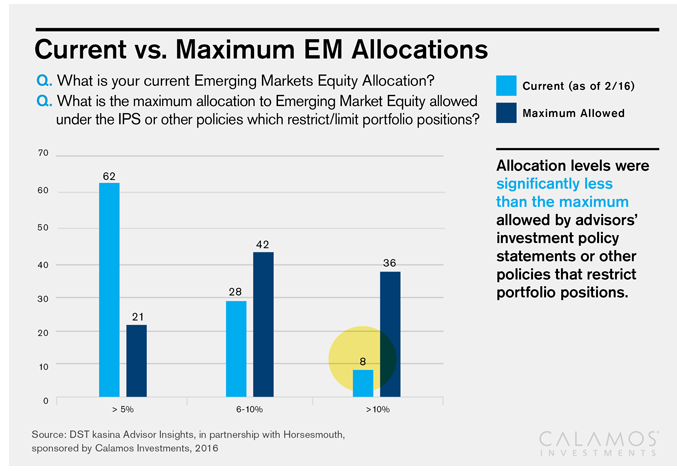 Oct 6, 2017
After a performance that was putting it on pace for its worst year in a long time, the dollar has seen quite a bounce recently as prospects for a December rate hike increase and the US economy picks up steam.  After a YTD decline of over 10% through early September, the Bloomberg US Dollar Index has rallied nearly 4% in less than a month!  What's really notable about the bounce is that the Dollar Index has not only broken back above its 50-DMA (a level it didn't trade above all summer), but it has also broken the downtrend range that it had been stuck in all year long.  That's an encouraging sign, even if the Dollar Index is still down over 7% on the year.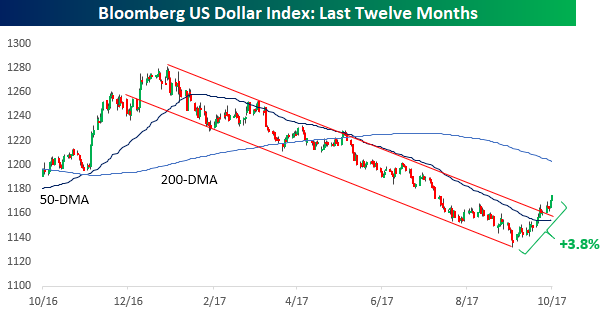 https://www.bespokepremium.com/think-big-blog/
8.ESG Sustainable Investments Goes Hockey Stick…Still a Small Part of Market.
In Barron's ranking, 37% of sustainable funds beat the S&P 500 over the past year. Only 28% of actively managed U.S. large-cap stock funds did.
The challenging part of ESG analysis isn't a lack of data, it's too much data, says Bruno Bertocci, head of UBS' sustainable equities. "Companies report all kinds of stuff as part of a global reporting initiative, so you end up with a giant pot of soup with stuff floating in it," he says. "It's reminiscent of those early days in collecting global financial data."
More than 100 organizations, including Bloomberg and Thomson Reuters, provide ESG ratings. Major investment firms, including Morgan Stanley and Goldman Sachs, have been buying up ESG firms. Last year, money manager Eaton Vance purchased Calvert, an ESG fund shop, and S&P Dow Jones Indices bought carbon and environmental data analysis firm Trucost. This year, Morningstar purchased 40% of Sustainalytics, and Impax Asset Management bought Pax World Management. One respectable newcomer is Arabesque Asset Management, whose S-Ray product streamlines data from a number of sources to make it easier for managers to assess.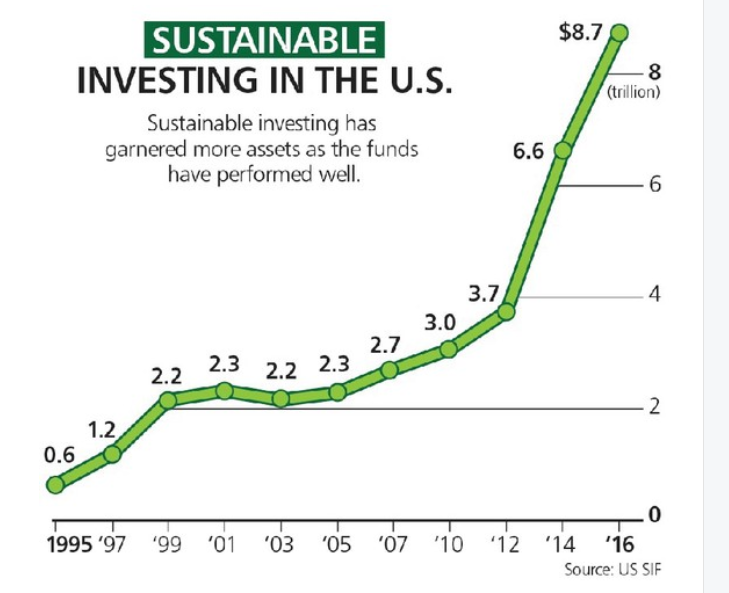 http://www.barrons.com/articles/the-top-performing-sustainable-funds-1507350787?mod=BOL_twm_ls&tesla=y
9.Read of the Day…The FDA Is Approving Drugs at a Staggering Pace
By
Caroline Chen
and James Paton
Gridlock under the Trump administration, particularly the repeated failures to repeal and replace Obamacare, is riveting the nation's attention. Yet at least one government agency is running smoothly — and even accelerating its operations.
The U.S Food and Drug Administration, under Commissioner Scott Gottlieb, is taking advantage of policy groundwork laid in past years to speed drug approvals. Thirty-four new drugs — treating everything from cancer to rare genetic diseases — have been approved so far this year. That's on pace to nearly double last year's approvals. So far, at least nine decisions came more than 20 days ahead of the FDA's scheduled action date.
Wall Street is paying attention, with some portfolio managers shifting their strategies, anticipating faster approvals and less restrictive labels. Life under the new FDA chief is a mixed bag, as they see it. On the one hand, a more permissive agency is a boon to the industry, which typically sees only 12 percent of experimental drugs successfully make it through human trials and onto the market. On the other hand, broader approvals for how drugs can be used may give more power to insurers to force price competition, lowering expected profits for new drugs.
Samuel Isaly is a managing partner of health-focused OrbiMed Advisors and a storied biotechnology investor — according to Barron's Magazine, he consistently beat the S&P 500 for 25 years straight, from 1990 to 2015. He says he's never seen anything like the recent flurry of FDA approvals.
"Trump, embodied in Gottlieb, has encouraged competition as a way to bring down prices," said Isaly. "I like the idea of making more medicines available to more people at a more reasonable price, so as a human being, not as an investor, I think it's a great thing."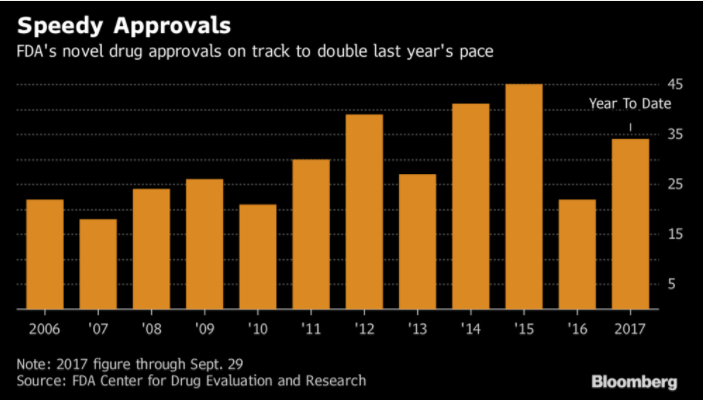 https://www.bloomberg.com/news/articles/2017-10-06/flurry-of-drug-approvals-has-wall-street-eyeing-pharma-profits
10.In Order to Do Great Things Do Fewer Things.
How to Create the Core Values that Guide Your Decisions
This has been a dark week in America.
The bad news out of Las Vegas has added complexity and chaos to your already busy life.
The world was already full of enough distractions, but this made it even easier to get lost in the dark rabbit hole of the news. You might also have found yourself wasting hours in debates on social media, too. But for what? How did any of this serve your life's legacy?
The harsh truth is that it didn't. This drama, as terrible a tragedy as it was, only distracted you from the work and people that really mattered in your life.
So you're probably thinking: "Craig, how the heck do you stay focused in the world of dark distractions and overwhelming opportunity?"
The answer is to know your values in life and what really matters to you.
You see, your VALUES drive everything …
They dictate what you eat, how much you sleep, how much TV you watch, how you conduct business, how you spend your free time, and what you allow to occupy your mind.
When you have clearly and concisely articulated your values, then you can draw upon them to say YES to what matters and to cut what doesn't matter from your schedule.
If you want to do GREAT things, you have to do FEWER things.
Let me say that again so you can write that down.
If you want to do GREAT things, you have to do FEWER things.
We're going to do a little exercise together. You're even getting a little handout (click to download)and some homework to do after you're done reading.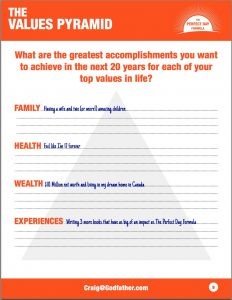 You'll see a question at the top of the page and underneath it are my answers to the question. My answers are there to guide you. They are not meant to influence you or suggest that you copy them, but they are there so that you'll see the values that guide my life. And that helps you understand why I make the decisions I make.
The million-dollar question at the top of the page reads:
What are the greatest accomplishments you want to achieve in the next 20 years for each of your top values in life?
Then you see my answers to this question for what I have labeled as the four top values in everyone's life.
Value #1 – Family
For me, my greatest family value goal is to find my beautiful wife and have two or more amazing children.
Now if you read that fast it might look like it says I want to have two or more wives. That is not the case. One will be enough!
As you can imagine, with this as my goal for my #1 value in life, it dictates almost every decision I make—I travel less for business and I work less.
Value #2 – Health
I want to feel like I'm 17 forever, as I do today at age 42. This drives what I eat, how much I sleep, and my commitment to daily movement.
Value #3 – Wealth
I'm aiming to add so much value to the world that I build a $10 million net worth. That will give me and my family the financial freedom for a great life, as well as the ability to donate significant amounts of money to the three causes most important to me: Shriners Hospital, Toys for Tots, and my local hospital in Stratford, Ontario.
Value #4 – Experiences
I'm a lucky man—I have experienced many bucket list-style items. I no longer care about those. Instead, what matters to me (aside from family experiences) is writing 3 more books that have as big an impact as—or bigger than—my book, "The Perfect Day Formula."
Those are my values. You can see how they clearly dictate what I should do with my time. I can judge the opportunities that come my way with a clear yardstick.
Does a bachelor party trip for a friend fit into my schedule based on my values? No, I'm sorry. It doesn't.
Does filming a new set of exercise DVDs for my old fitness business fit in? No. Someone else can do that.
My clear and concise values dictate that I construct my day around my writing, my health, and family time.
Once you write down your values, then your daily schedule will become much clearer to you.
You'll also give yourself permission to say NO without hesitation or guilt.
That's one of the greatest gifts you can give yourself in life.
Because remember…
If you want to do GREAT things, you have to do FEWER things.
You must know your values and vision so they drive all of your decisions in life.
If this was helpful, but you need more help constructing your vision and identifying what really matters to you, then I would love to see you at my Perfect Life Retreat event in San Diego on November 9-10th.
You can learn more about the big event at PerfectLifeRetreat.com.
https://www.earlytorise.com/how-to-create-the-core-values-that-guide-your-decisions/