1.Foreign Investors Sell U.S. Bonds and Buy U.S. Stocks.
This chart book looks at who is buying and selling US assets and a striking recent trend is the decline in foreign appetite for US fixed income and increase in foreign appetite for US equities, see chart below and chart book here: http://pull.db-gmresearch.com/cgi-bin/pull/DocPull/11626-F2BF/269784806/f77e8642-a92e-11e7-a585-056cc5e4a602_604.pdf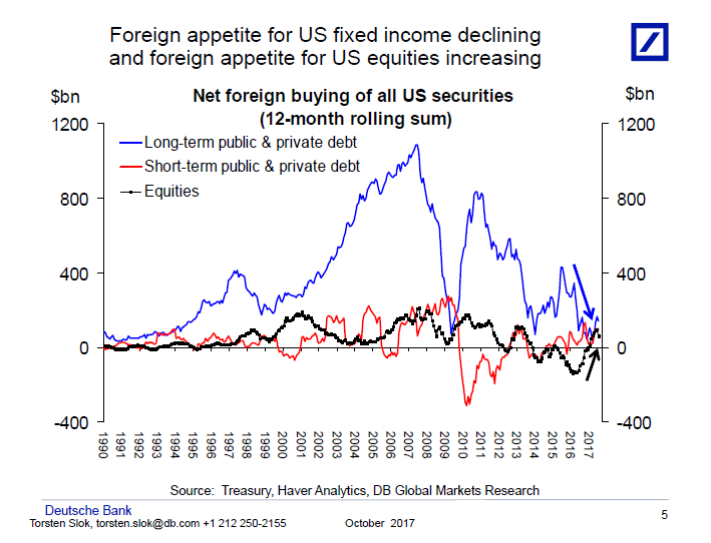 Torsten Sløk, Ph.D.
Chief International Economist
Managing Director
Deutsche Bank Securities
60 Wall Street
New York, New York 10005
Tel: 212 250 2155
2.U.S. Dollar Long-Term Chart.
 Dollar broke blue uptrend trend line going back 2011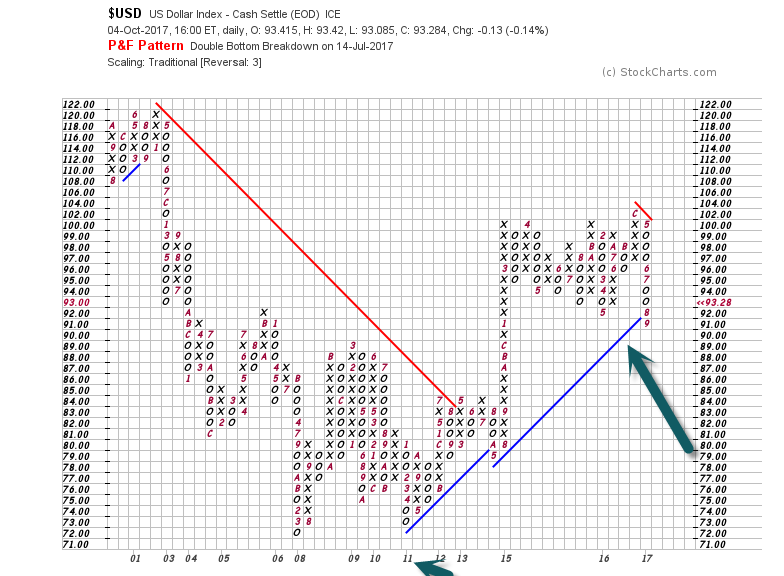 3.Traders Still Betting/Hedging on VIX Calls
Trading in CBOE Volatility Index options has become a mirror into the collective soul of investors. Even as stocks grind higher, and the Standard & Poor's 500 index is the least volatile it has been since 1965, an increase in VIX options trading shows investors are having a hard time believing what they are seeing.
As a result, many investors have bought upside VIX calls to hedge stocks, and even high-yield bonds, that the volatility market's trading pattern is at an extreme.
Of the almost 12 million outstanding VIX options, 9.15 million are for calls that would increase in value if VIX rises. The VIX tends to jump during periods when stocks swoon.
Even though low volatility defines the stock and options market, outstanding puts total 2.5 million. The data suggest that many investors expect historically low levels of volatility could end by year's end.
The most widely-held VIX contract is the December $25 call with open interest of almost 600,000 contracts, followed by about 440,000 December $15 calls, and 400,000 October $25 calls.
http://www.barrons.com/articles/market-fears-reflected-in-vix-buying-1507218531?mod=hp_highlight_1&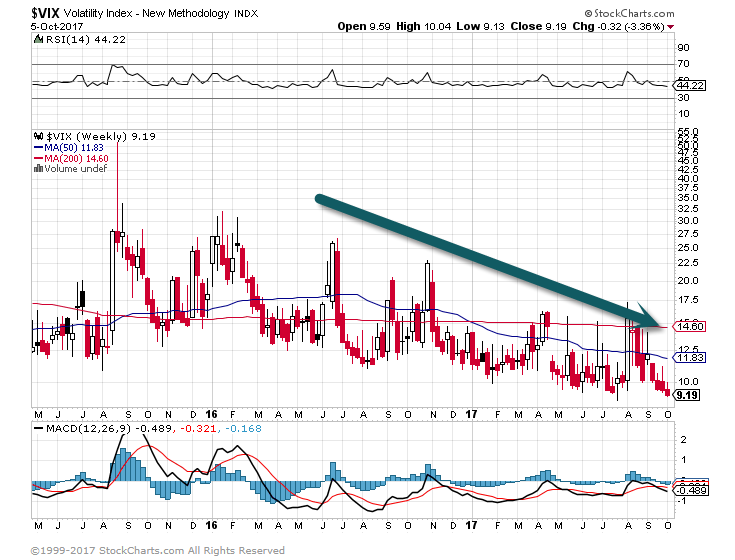 4.U.S. Crude Oil Exports…33% Jump in One Year.
 A Dubai-based oil trader said  "Only now are Middle Eastern producers starting to worry about growing US exports … Thing is, these US exports are only just beginning to come over. There are many more barrels coming." – The exports have been propelled by a deep discount for American crude in comparison to Brent, the international benchmark. On Wednesday Brent crude settled at $55.80 a barrel, while West Texas Intermediate crude was $49.98 a barrel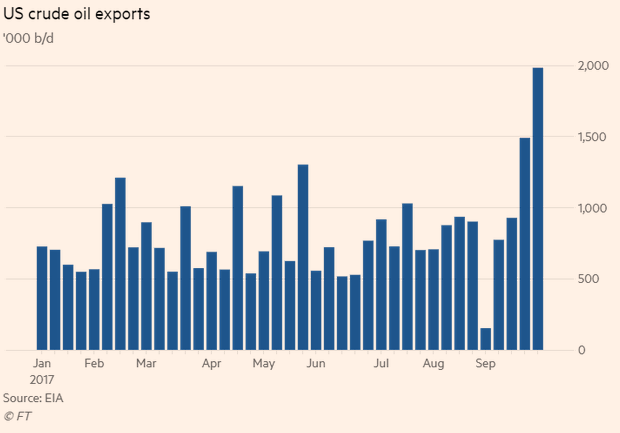 From Dave Lutz at Jones.
 5.Who has the Most Cash Overseas
 Zerohedge.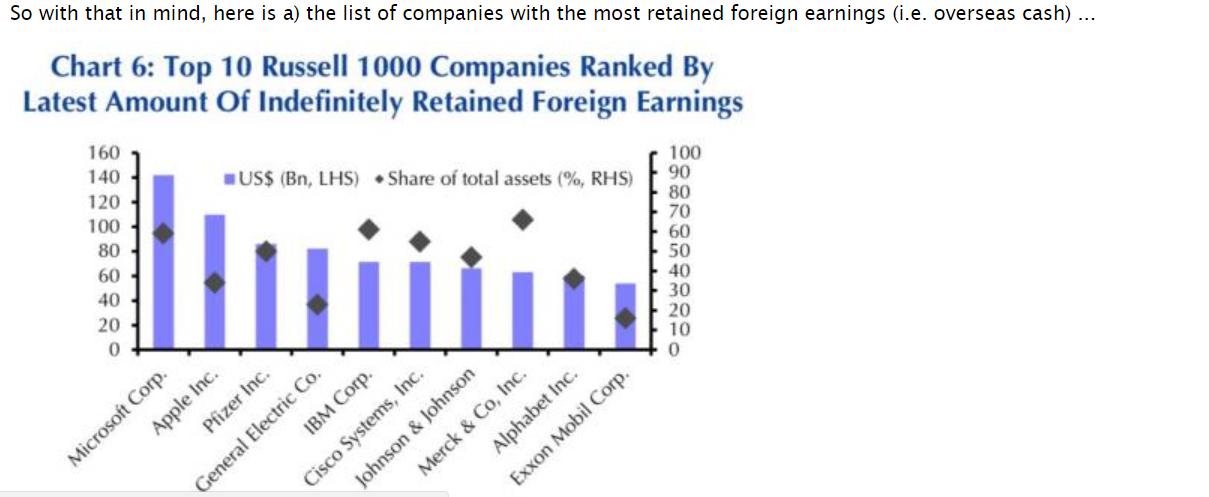 http://www.zerohedge.com/news/2017-10-04/these-us-companies-have-most-cash-parked-overseas
6.Insider Buy/Sell Ratio
Insider buy-sell ratio and post-tax corporate margin decline
The insider buy-sell ratio has declined since reaching a three-year high in early 2016, suggesting that insiders are becoming bearish about the market. The ratio dropped from 0.52 to 0.34 during August 2017.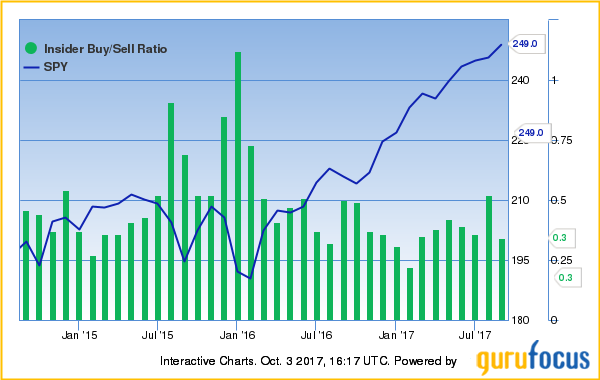 https://www.gurufocus.com/news/574403/us-market-starts-4th-quarter-significantly-overvalued
 7.Fear and Greed Index….Hits "Extreme Greed"….Triples in One Month.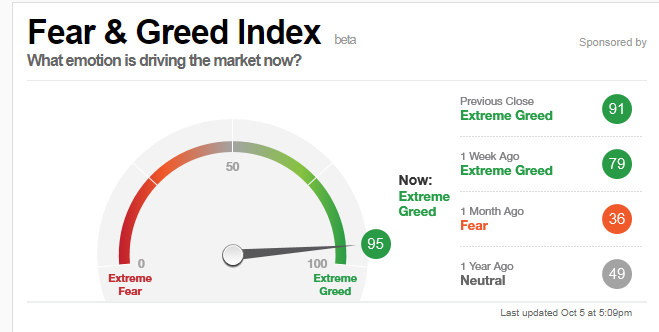 http://money.cnn.com/data/fear-and-greed/
8.Death by Amazon+Death by Discount Retailers.
 Equity Markets: We've had a number of questions regarding internet retail businesses squeezing US department stores. But more than the internet, it's been the off-price retailers such as Marshalls, T.J. Maxx, Ross Stores, etc. that have taken the "brick & mortar" market share. This chart compares margins and operating profits.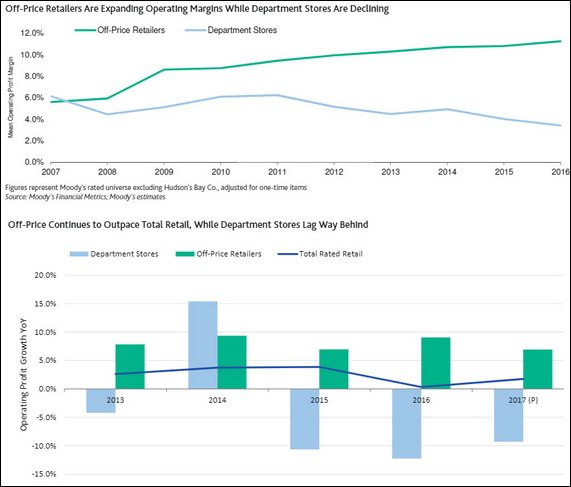 Source: Moody's Investors Service
9.ETFs Getting More and More Granular in Sub-Sectors…Top 2017 Performer ARKK.
Innovation ETFs Surge
The tamer list, which excludes inverse and leveraged ETFs—and which some might consider more "investable"—is topped by the ARK Innovation ETF (ARKK), with a 71% year-to-date gain.
ARKK is one of two ETFs on the list issued by ARK Investment Management, a company that focuses on thematic ETFs with a "disruptive innovation" bent.
The fund holds companies that work in fields related to genomics, next-generation internet, and industrial innovation.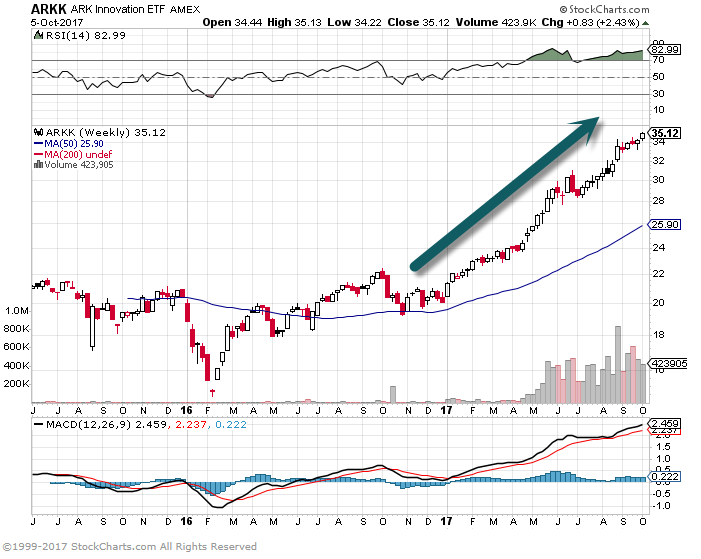 Most of the Top 2017 Performers….Sub-Sector ETFs
Top-Performing ETFs Of 2017 (excluding inverse/leveraged)
Data measures the year-to-date period through Sept. 29
http://www.etf.com/sections/features-and-news/top-performing-etfs-year
10.A Self-Made Billionaire Reveals the 1 Mental Hurdle That You Must Overcome to Reach Your Potential
People who can do this are winners; those who can't are losers, according to the world's most influential hedge fund entrepreneur.
Ray Dalio.
Billionaire Ray Dalio founded Bridgewater, one of the world's largest and best-performing hedge funds. A true entrepreneurial success story, Dalio started his company in a two-bedroom apartment. He was a self-described ordinary kid and worse-than-ordinary student. Forty-two years after starting his company, Dalio decided to share his success secrets in his new book, Principles.
I received an early copy of the book, which weighs in at a hefty 560 pages. But Dalio says one chapter in particular is the most important. In it, he reveals the one roadblock to success that is so engrained in the human experience, and in our DNA, it's difficult to overcome. But those who recognize it and take steps to knock down the barrier will be in a much stronger position to get what they want out of life.
Dalio's advice: Be radically open-minded
Good decisions aren't necessarily the ones that stroke your ego. A good decision is what's best for you and your company. To make good decisions, argues Dalio, a person must have the ability to explore different points of view and different possibilities, regardless of whether it hurts your ego.
Ask any of your friends or any entrepreneur if he or she is open-minded, and most–if not all–will say they are. But are they? Are you? According to Dalio, here are some cues that will tell if you are truly open-minded.
Close-minded people don't want their ideas challenged; open-minded people are not angry when someone disagrees.
Close-minded people are more likely to make statements than ask questions; open-minded people genuinely believe they could be wrong.
Close-minded people focus much more on being understood than on understanding others; open-minded people always feel compelled to see things through others' eyes.
Close-minded people lack a deep sense of humility; open-minded people approach everything with a deep-seated fear that they may be wrong.
Dalio believes that recognizing these traits in yourself is just the first step. The second step is recognizing them in others. Once you do, "surround yourself with the open-minded ones," he says.
According to Dalio, it's critical to reframe a disagreement not as a threat, which is what your primitive brain sees, but as an opportunity to learn. "People who change their minds because they learned something are winners, whereas those who stubbornly refuse to learn are the losers," he says. Dalio points out that being open-minded doesn't mean that you blindly accept another person's conclusions. He recommends being open-minded and assertive at the same time. "You should hold and explore conflicting possibilities in your mind while moving fluidly toward whatever is likely to be true based on what you learn," he says.
Dalio offers several recommendations to help you develop the habit of being radically open-minded. Among them:
"Sincerely believe that you might not know the best possible path." Dalio says that recognizing what you don't know is more important than whatever it is you know for sure.
"Recognize that decision making is a two-step process: First, take in all the relevant information, then decide." Dalio says it's here that many entrepreneurs get tripped up. Most people are reluctant to consider information that is inconsistent with their worldview or the conclusion they've already arrived at.
"Remember that you're looking for the best answer, not simply the best answer that you can come up with yourself." This last piece of advice could be the most important. Dalio points out that when two people disagree, there is a good chance that one of them is wrong. What if it's you?
For most entrepreneurs, their goal is to build the best company and the best life they possibly can. Disagreements, debate, and feedback all serve the ultimate purpose–to reach the best decision. Setting aside your ego could be your ultimate competitive advantage. "If you are too proud of what you know … you will learn less, make inferior decisions, and fall short of your potential," says Dalio.
https://www.inc.com/carmine-gallo/a-self-made-billionaire-reveals-the-1-mental-hurdl.html