1.AAPL is 7.8% of the S&P Index
 March 2009 Bear Market Bottom to Today….AAPL +940% vs. S&P +223%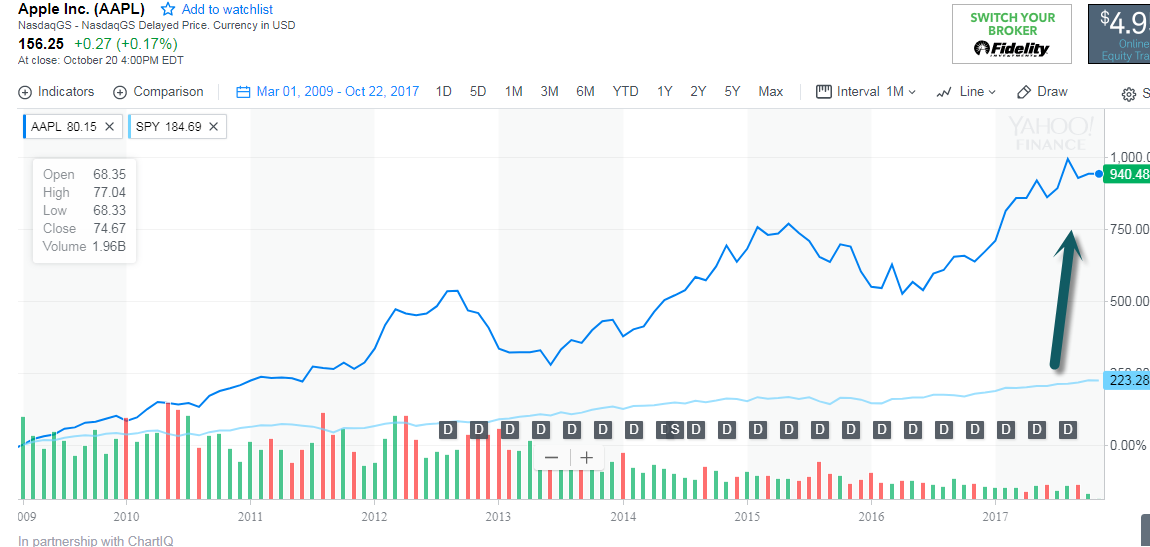 2.Eurozone Volatility Also Hitting Record Lows.
The Eurozone: Just like in the US, European stock market volatility (both implied and historical) is hitting new lows.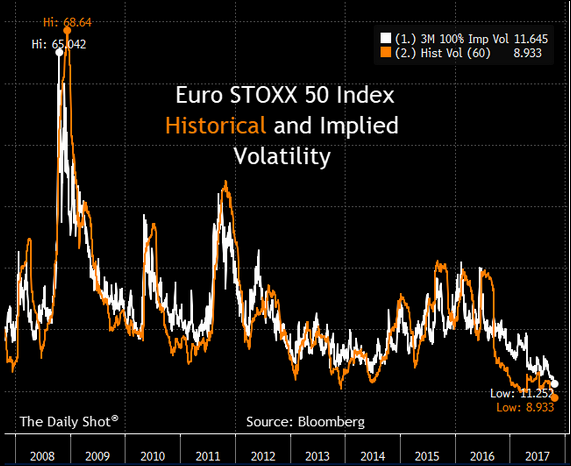 Source: Bloomberg
Equity Markets: Below we have the relative valuations of European, US, and Emerging Market equities.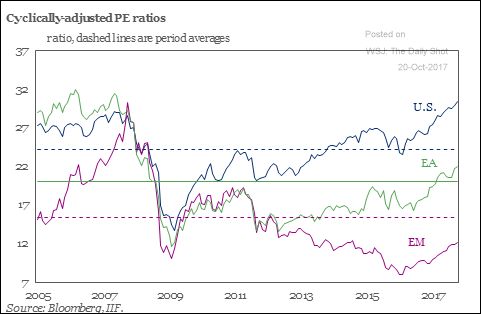 Source: @IIF
3.Global GDP is $74 Trillion….U.S. is 25% of Global GDP.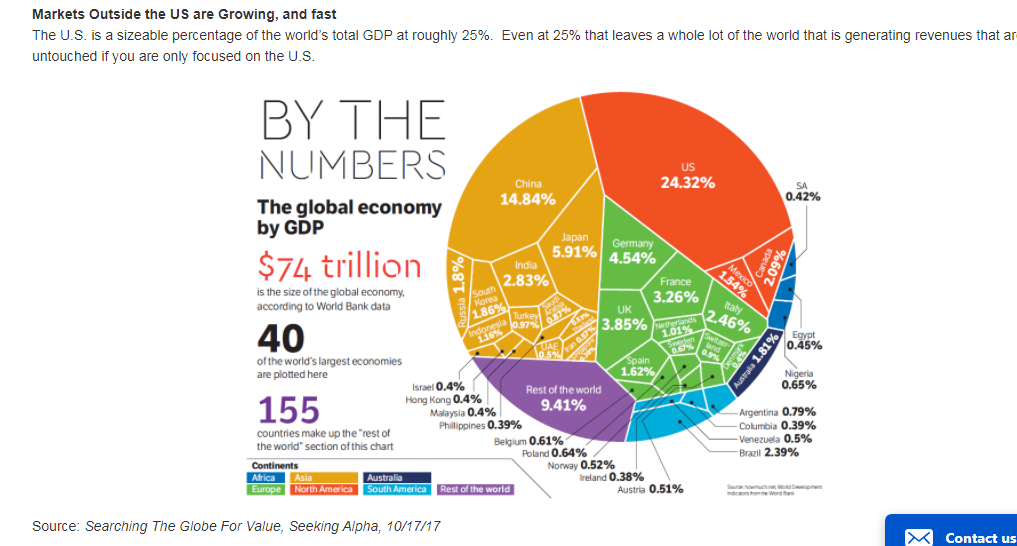 Found at Dorsey Wright
4. Japanese Stocks Hit 25 Year High…Making Run at Late 80's
Remember Japan was Going to Put U.S. Out of Business…Whoops!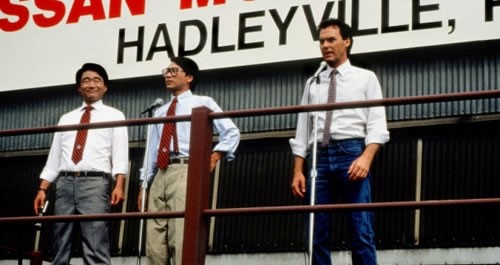 The other most compelling piece might be Japan's market itself. On Friday, the Nikkei 225 closed at 21,457.64, its highest level since Oct. 18, 1996, belying just how strong the market has been recently (and how weak it has been in the past). But there's still plenty of upside left—the benchmark would need to gain 81% to reach its record close of 38,915.87, hit on Dec. 29, 1989.
http://www.barrons.com/articles/land-of-the-rising-sum-1508554963
Nikkei 225 Index – 67 Year Historical Chart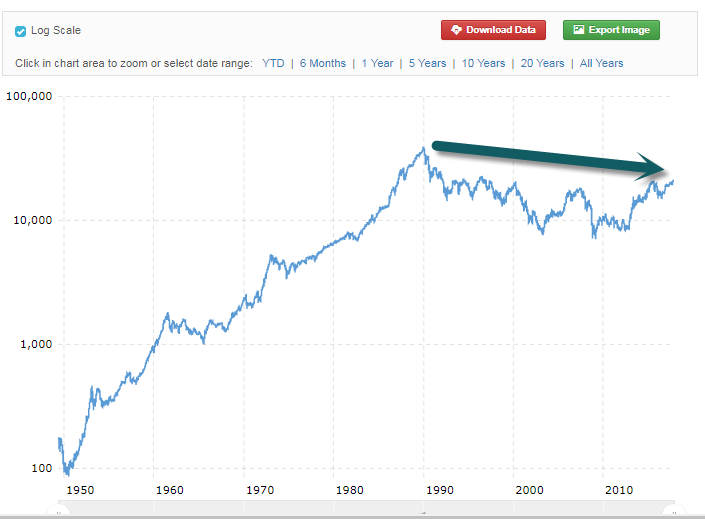 http://www.macrotrends.net/2593/nikkei-225-index-historical-chart-dat
5. In the 15 trading days since the start of October, the S&P 500 is on pace to close at a record high for the 10th time
. 
Oct 20, 2017
Here are some mind-blowing figures for you.  In the 15 trading days since the start of October, the S&P 500 is on pace to close at a record high for the 10th time.  Further, if the S&P 500 finishes up on the day Friday, it will be the 19th time that the index has closed at a record high since the start of September; a period covering 35 trading days.  Keep in mind when reading these figures that all of these record highs have come at a time of year when stocks are typically at their weakest.
With all of these new highs piling up, 2017 is making a run for the record books in terms of the most record closing highs for a given year.  Already, 2017 is tied for the fifth most closing highs on record (dating back to 1929), and provided we don't see any major pullbacks, with two months left in the year, there's the potential for more.  For example, if the rest of the year goes along at the same pace as the first ten months (a big if given that new highs tend to come in bunches), 2017 is on pace to see 61 record closing highs for the S&P 500.  That would rank as the third most for any given year behind only 1995 (77) and 1964 (65).  Not only were both of those years good for bulls, but the years that followed them were also positive with a gain of 9.1% in 1965 and 20.3% in 1996.  With 47 trading days left in 2017, surpassing the record of 77 back in 1995 would be an extremely tall task, but a move into the third spot is certainly possible.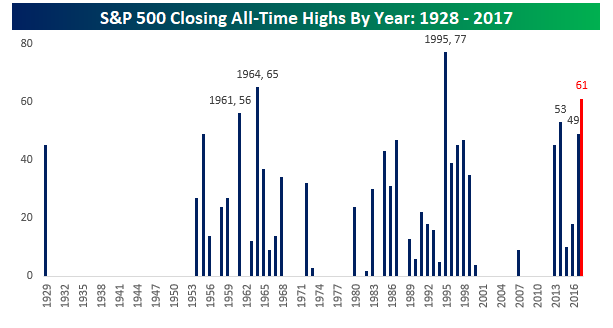 https://www.bespokepremium.com/think-big-blog/
6.Inverse Funds or Bearish Fund's Assets Have Sunk to Record Lows….No Bears?
Assets in mutual funds designed to rise when stocks fall have dropped to an all-time low.
In the Northern hemisphere here, bears typically begin their hibernation stage in November-December. However, that process has begun early this year for some bears on Wall Street. Specifically, traders of the Guggenheim (formerly Rydex) group of inverse mutual funds are showing very little sign of life at the moment. We say that due to the fact that assets in such funds have shrunk to their lowest level in history.
Inverse funds, or bear funds, are of course designed to rise when stocks fall. Rydex originally introduced these funds for active traders to utilize in playing the downside in the stock market, or hedging. Like most sentiment measures, assets in these bear funds typically hit contrary extremes at turning points in the market, i.e., assets soar near market bottoms and plunge at tops. (Note: for purposes of this study, we are using the combined assets of the most popular 1X and 2X inverse S&P 500, Nasdaq 100 and Russell 2000 funds).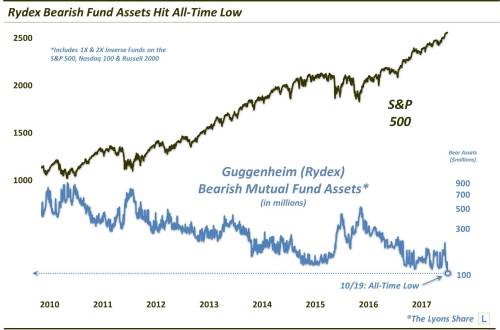 http://jlfmi.tumblr.com/post/166606361795/bearish-fund-traders-head-for-early-hibernation
Found at www.abnormalreturns.com
7. How Saudi Arabia Is Building Its $2 Trillion Fund
By
Sarah Algethami
October 22, 2017, 4:00 PM EDT
From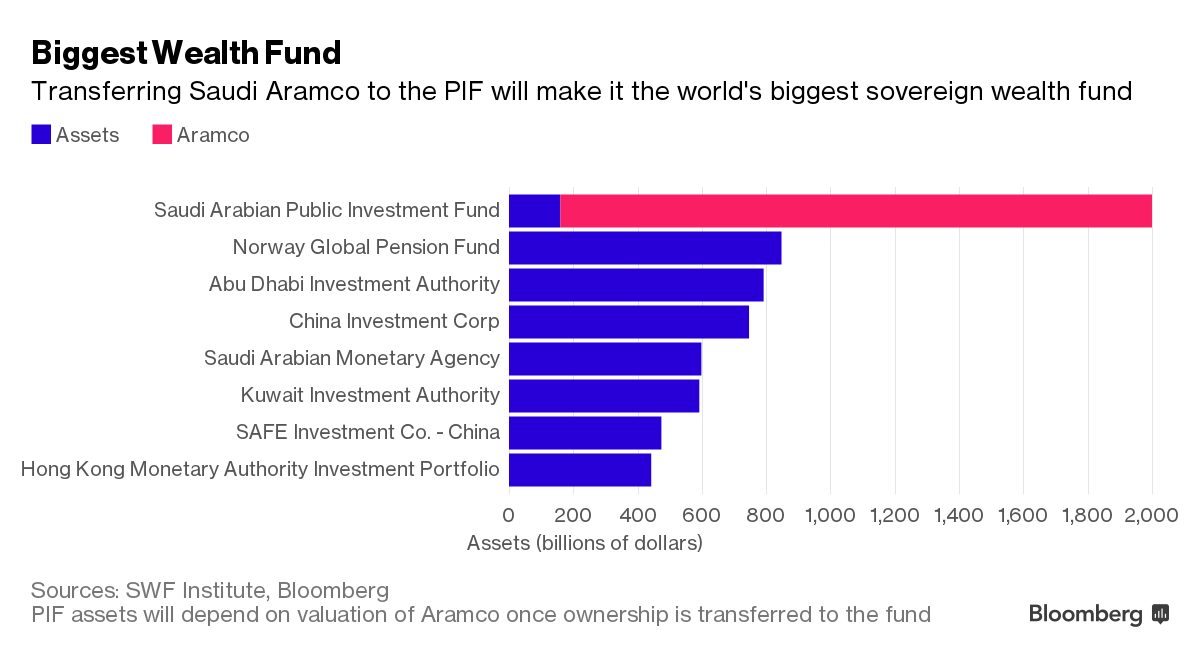 Read story
https://www.bloomberg.com/news/articles/2017-10-22/how-saudi-arabia-is-building-its-2-trillion-fund-quicktake-q-a
 8.Foreign Born Percentage of Population is the Highest in 90 Years.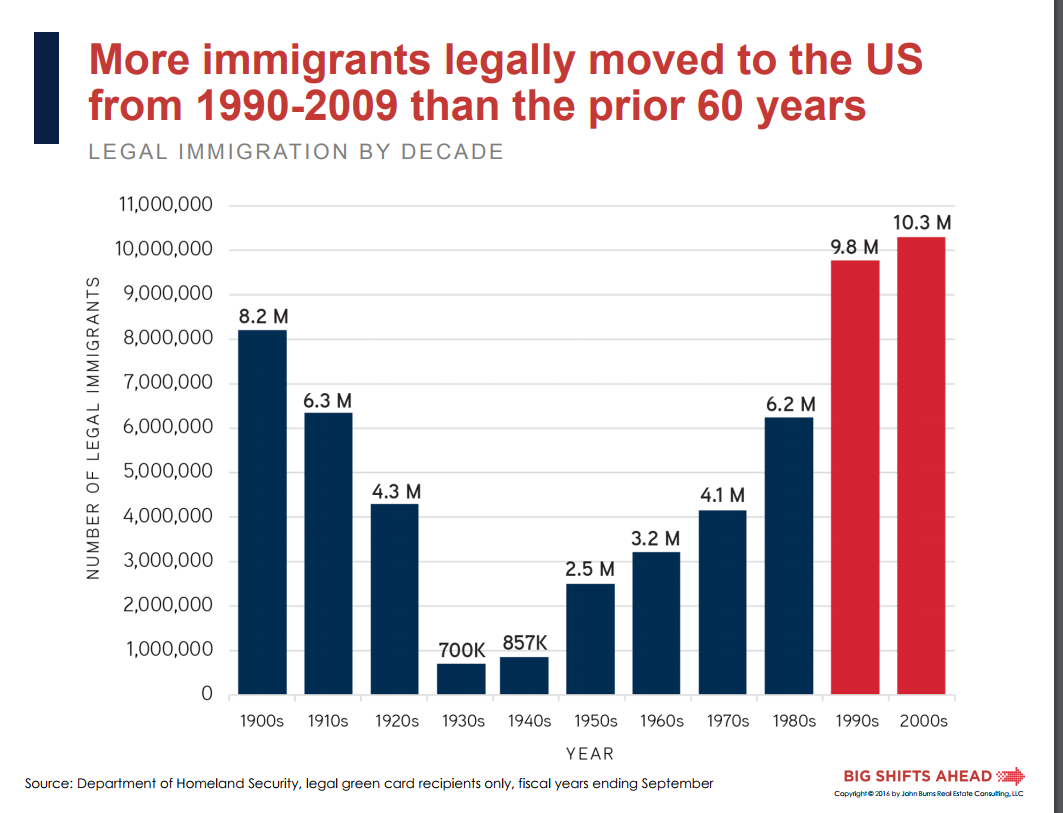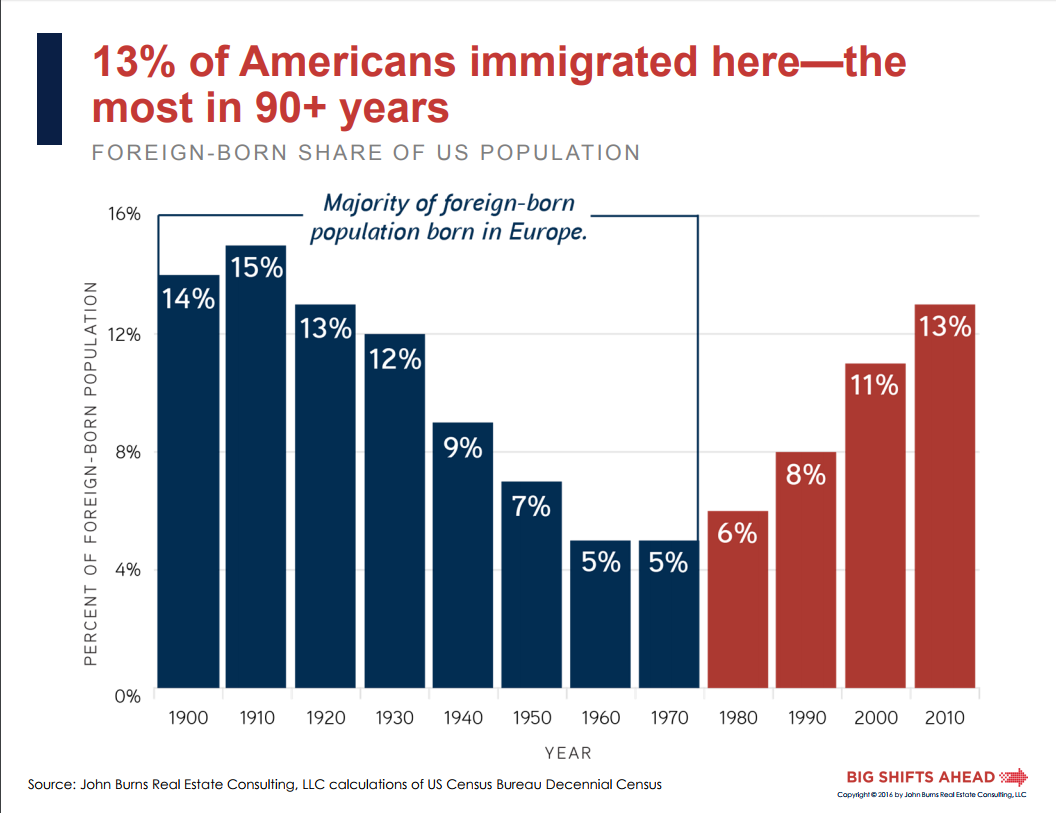 file:///C:/Users/mtopley/Downloads/BigShiftsAhead_Burns-Porter.pdf
9.The U.S. Government Owns the West.
 Barrons
Then there's the government's vast holdings in "nondefense" equipment and structures, including the national parks, currently valued by the Bureau of Economic Analysis, the keeper of the national income accounts, at $1.6 trillion. Since it's grown in value by one-third over the past 10 years, let's assume it appreciates by another third, and mark it at $2.1 trillion. But while fair chunks of this might be privatized and thus sold for substantial sums, the government would gain very little by privatizing its own office buildings, since it would then have to pay rent as a tenant.
Finally, there is federally owned land for which no value has been estimated. The feds own approximately 640 million acres, a staggering 28% of the total number of acres in the 50 states. But overwhelmingly, this isn't exactly downtown real estate, although some is surely worth a lot for its oil and mineral deposits, of which the Arctic National Wildlife Refuge (20 million acres) is the best-known example. Otherwise, the per-acre value of federal lands is probably quite low. Eight western states plus Alaska together account for 505 million of those acres, nearly fourth-fifths of the total.
http://www.barrons.com/articles/theres-no-easy-fix-for-our-mushrooming-debt-1508555108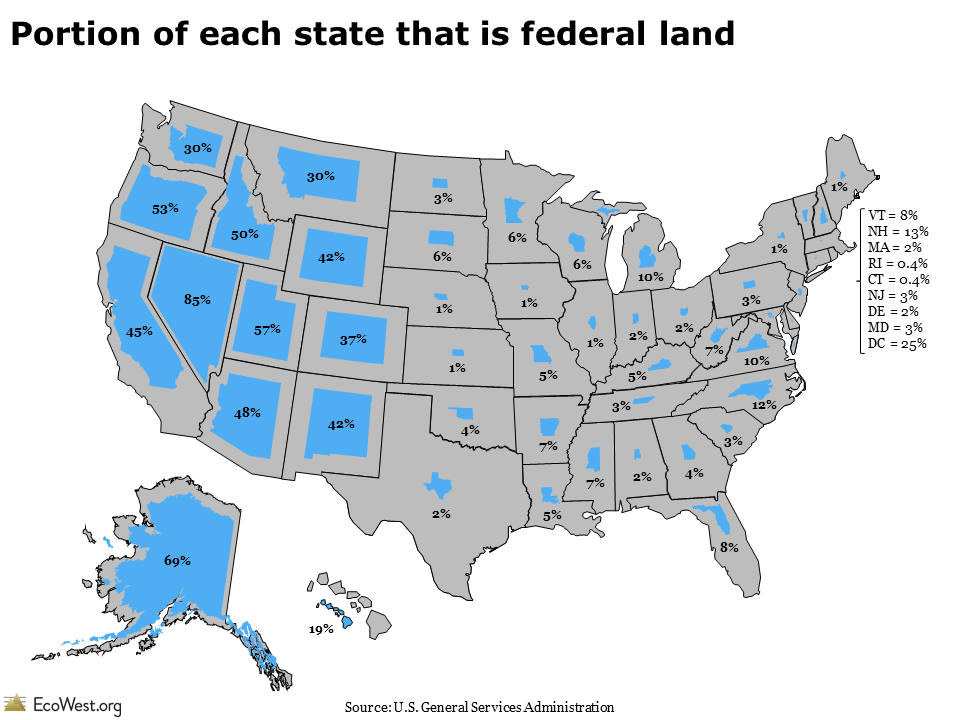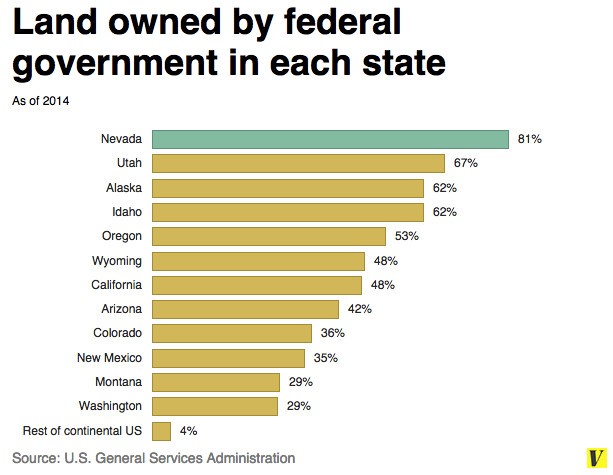 10.5 things mentally strong people don't do
You can train your brain for more satisfaction.Adam Berry/Getty Images
Yes, it is possible to train your brain for success and satisfaction, in the workplace and in other aspects of your life. If you feel like you're constantly self-sabotaging yourself from achieving your goals, here are five key tips from "13 Things Mentally Strong People Don't Do" to help you develop mental strength, conquer hurdles, and ditch your fears.
Don't try to change things beyond your control — change your responses
You can't do anything about the bad things that happen to you — and these are bound to occur, no matter how well-prepared you are. The good news, though, is that you can change your reflexes and responses when things go awry. Try not to dwell on your misfortunes, as this can lead to getting stuck in a cycle of bitterness and developing the sort of entitled attitude that endears you to nobody. Keep in mind that the world doesn't owe you anything, and that if you hold onto that belief, it will not only frustrate you, but also undermine your performance.
Don't focus on others' thoughts and feelings
If you allow others to decide your self-worth, it gives them power over you, which makes you more vulnerable to manipulation — and distraction! Stand your ground and take control of your own actions. In the end, these are the only ones that you'll be held accountable for.
When it comes to your own projects, don't set your mind on pleasing people, and define your own boundaries. Thinking of yourself doesn't make you selfish, and neither does putting yourself first sometimes — but be discerning, as certain situations require definite levels of awareness of those around you.
Fear prevents you from taking risks and moving forward
The reason so many people perceive change to be scary is not only because stability is comfortable, of course, but because we tend to assume a small change will overhaul our lives completely — which can only make us put it off all the more.
For instance, trying to get fitter doesn't have to mean becoming a gym buff overnight — it can mean making small alterations to your life, such as eating fewer sweets, or taking the stairs instead of the elevator. The assumption of big, overwhelming changes is linked to the human tendency to overestimate risks, which leads to us not fulfilling our potential.
Another example is being determined to go freelance or found your own company, but at the same time too scared to quit your full-time job to make it happen. Gradual changes are key: You could save up money, working up to scaling down your hours so that you can commit to your venture.
Embrace solitude
Mary Turner/Getty Images
FOMO — fear of missing out — is a killer! Trawling social media, if done for too long, can ingrain you with envy and mistrust of your peers. But true friendship is not built on resentment or using someone to get ahead. Try not to compare yourself with others, especially those with similar skills to you — the green-eyed monster will make your bad days even worse.
It's also worth remembering that to avoid feeling insecure, you have to stop defining your self-worth according to others' standards. In today's hustle society, doing "nothing" is frowned upon, but we need these moments or we'll burn out in no time. The strength to feel comfortable when alone is an invaluable asset.
Manage negative emotions to increase mental strength
Mental strength is not about burying negative emotions — that just causes them to fester. It's about harnessing them to deal with difficulty. Become your own coach and take a close, objective look at your behavior in situations that you dislike or dread. Which habits are holding you back? Would you like to change them? Train yourself to shift these impulses one by one, while reminding yourself of the goals and values you want to stick to.
In order to be valuable, thoughts must be realistic and contribute to your well-being, whether that's in your personal or professional life. Creating your personal definition of success, one that does justice to your talents and strengths.
Don't assume things that went wrong in the past will repeat themselves — forgive yourself and focus on making it better this time around. These five tips just scratch the surface of the wisdom in this book. You can check out all the key insights from "13 Things Mentally Strong People Don't Do" on Blinkist.
http://www.businessinsider.com/5-things-mentally-strong-people-dont-do-2017-10/#dont-try-to-change-things-beyond-your-control-change-your-responses-1