1.ISM Hits a 14 Year High
But now, Kostin warns that this could be as good as it gets. He points to the ISM Manufacturing Index, which jumped to a 13-1/2-year high of 60.8 in September. Any reading above 50 signals growth.
"Although economic data are extremely strong now, an ISM reading above 60 typically marks the peak of growth and presages economic and equity deceleration," he said. "Since 1980, the ISM has exceeded 60 in eight separate episodes; four of those lasted only one month."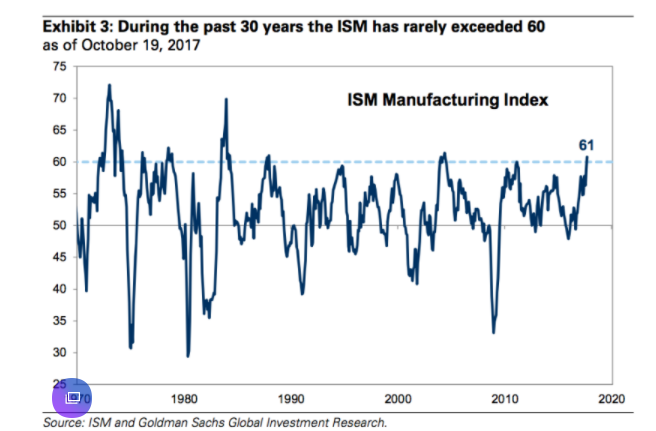 "Economic growth is the most important driver of corporate earnings and equity performance," Kostin said.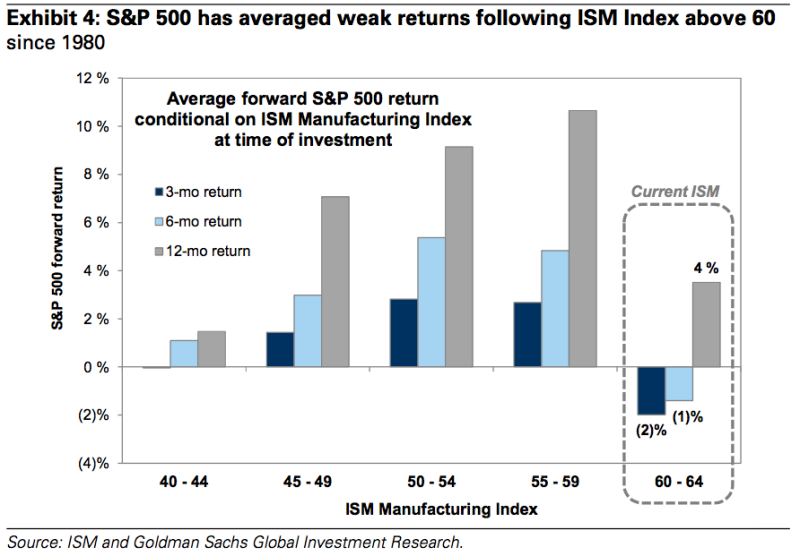 https://finance.yahoo.com/news/goldman-sachs-warns-peak-growth-falling-stock-prices-3-6-months-100353338.html
 2.For my Short-Term Traders…RSI Above 70 for 15 Straight Days.

http://www.marketwatch.com/story/how-investor-caution-is-limiting-both-stock-market-gains-and-declines-2017-10-23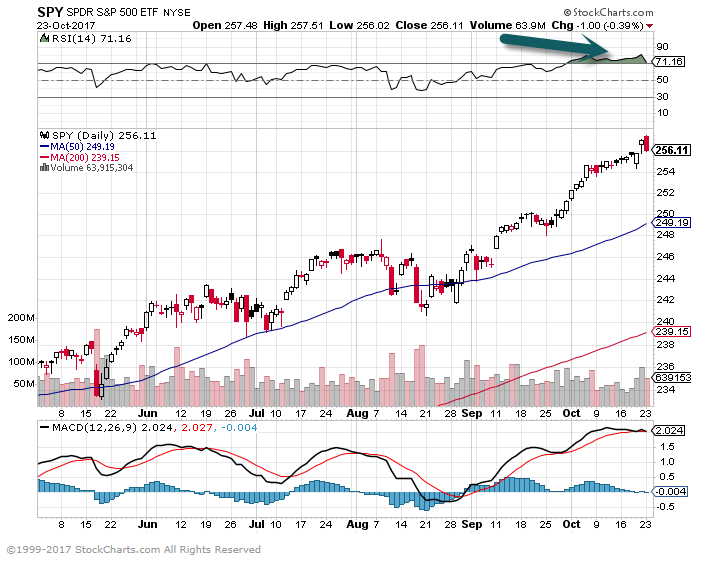 3.Short-Term Dollar Chart
Dollar weakness playing huge role in U.S. earnings and international stock rally…Chart below showing break above 1yr. trendline.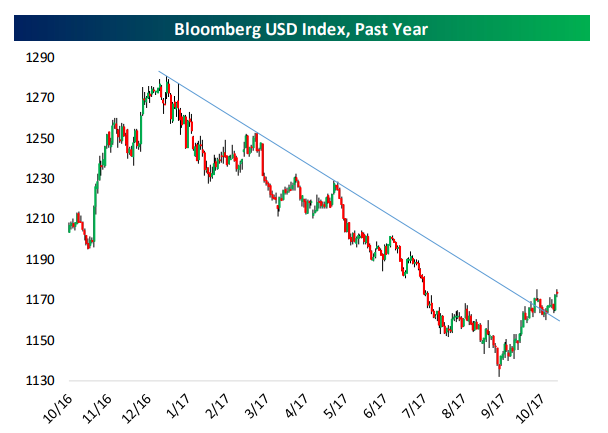 https://www.bespokepremium.com/think-big-blog/
4.Feels Like the 90's with Market up Every Day….Closing in on Internet Bubble Run.
Howard Lindzon– The Other Side of This Bull Market – Momentum Monday
http://howardlindzon.com/side-bull-market-momentum-monday/
Found at www.abnormalreturns.com
5.Speculative Traders Pouring into Natural Gas for Winter???
Huge Inflows
With such a dismal outlook for natural gas heading into its most critical season, one might expect inventors and traders to be shunning the commodity. Quite the contrary.
Rather than heeding NOAA's warning about this winter, ETF buyers are betting on natural gas in droves, hoping that the forecasting agency is wrong about its weather outlook.
It's not just UNG that's seeing interest. That fund has seen respectable flows of around $200 million this year. But the bigger money is heading into the $860 million VelocityShares 3X Long Natural Gas ETN (UGAZ), which had inflows of a whopping $1.4 billion this year, including $114 million last Thursday alone.
Whoever is buying UGAZ doesn't seem to mind that the exchange-traded note (ETN) is down more than 76% this year and 99.8% since its inception in 2012. Buyers seem to be either gambling on frigid weather or hoping that natural gas has fallen to the point where it may see a bounce regardless of how winter temperatures turn out.
2 Year Box After 90% Drop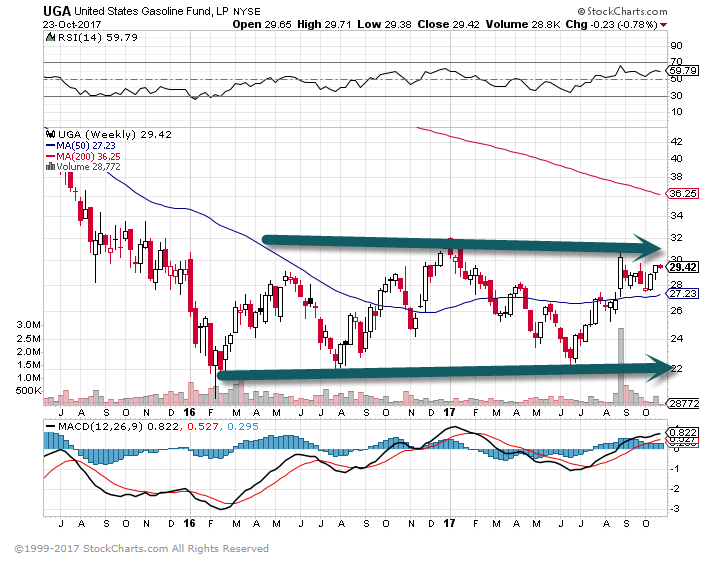 The Bull Case
If Vincent Piazza and Evan Lee are right, the latter may turn out to be the case. The two energy analysts at Bloomberg believe natural gas prices are poised to climb this winter for various reasons.
"Sentiment heading into the critical withdrawal season has likely bottomed with Henry Hub natural gas benchmarks down more than 20% this year on elevated production," the analysts wrote. "The backdrop has improved as heating demand should be higher this winter on easier comparisons while storage levels kick off the season on par with the five-year average."
Growing U.S. production is already priced into natural gas at these levels, according to the analysts. Instead, the market will be more focused on demand trends going forward, which are supportive.
Industrial, residential, electric and commercial demand are expected to be strong. At the same time, exports of liquefied natural gas may grow, as five LNG trains become operable by the end of the winter, tightening supplies in the domestic market.
"Natural gas appears at elevated risk of a winter chill, with U.S. storage levels declining at the greatest rate in four years as exports approach a record 11% of production," said the analysts, who added that there is a low probability of a third-straight mild winter.
They claimed that "a breakout toward $4 is increasingly likely," which would represent a 33% increase from current prices.
If that happens, UGAZ, which provides 3x exposure to daily movements in natural gas futures, could potentially double from here.
The Bear Case
Of course, not everyone is convinced that natural gas prices are ready to pop. Michael Cohen, head of energy markets research at Barclays, told ETF.com he sees prices remaining below $3/mmbtu next year.
"The story with natural gas is there's just a lot of supply and not a lot of incremental demand," Cohen said. "The incremental demand is related to an increase in exports to Mexico and an increase in LNG exports. But the problem is that those incremental exports are not really sufficient to overtake the fact that in the Marcellus, Haynesville and in the Permian, you've got so much new supply."
Cohen explained that he would turn more bullish if lower oil prices spurred energy companies to cut back on oil drilling, thereby reducing the "associated natural gas production" that comes from those wells.
Contact Sumit Roy at sroy@etf.com
6.Gasoline Sales 4.4% Lower than the Great Recession.
Gasoline Volumes and Our Changing Culture.
Average Daily Volume Sales Per Capita
The next chart adjusts the 12-month MA of sales volume for population growth based on the monthly data for Civilian Non-Institutional Population over age 16 from the Bureau of Labor Statistics, via the St. Louis FRED repository. What we see here is that gasoline sales on a per-capita basis are 4.4% lower than at the end of the Great Recession. The gallons-per-capita series includes the complete EIA data, but since we're using the 12-month MA, the blue line starts in 1984. We see the double peak in March 1989 (the all-time high) and August 1990. The latest per-capita daily average is 18.1% below the 1989 high but off the -22.2% interim low set in September 2014.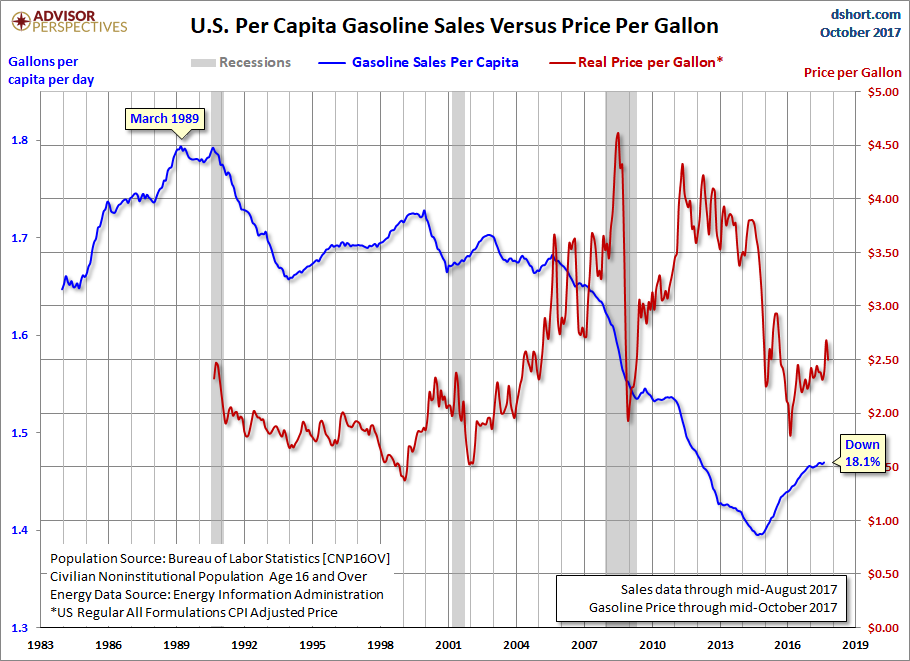 What does this analysis suggest about the state of the economy? From an official standpoint, the Great Recession ended 90 months before the most recent gasoline sales monthly data point. But if we want a simple confirmation that the economy has recovered to full growth, gasoline sales continues to be the wrong place to look.
In addition to improvements in fuel efficiency, declines in gasoline consumption can be attributable in large part to some powerful secular changes in US demographics and cultural in general:
We have an aging population leaving the workforce, which we clearly see in the sustained contraction in the employment-population ratio.
There is growing trend toward a portable workplace and the ability to work from home.
Social media has provided powerful alternatives to face-to-face interaction requiring transportation (Internet apps, games, the ubiquitous mobile phone for talk and texting).
There has been a general trend in young adults to drive less (related to points two and three above). See this report at the U.S. PIRG website for details.
The US is experiencing accelerating urban population growth, which reduces the per-capita dependence on gasoline.
https://www.advisorperspectives.com/dshort/updates/2017/10/23/gasoline-volume-sales-and-our-changing-culture
7.Czechs Elect a Euro Trump
From Dave Lutz at Jones Trading
ANTI EURO– "Trump-style billionaire populist wins Czech Republic election" – A billionaire populist dubbed the 'Czech Trump' clinched victory in the Czech Republic's election on Saturday, while Eurosceptics and an anti-Islam group made strong gains – Andrej Babis' anti-corruption and anti-euro ANO (Yes) party won with 29.7 per cent support (78 parliament seats), in a victory that represents a shift to the right for the country –  The party was followed by the anti-euro right-wing ODS party on 11.3 per cent (25 seats). Turnout was at 60 per cent.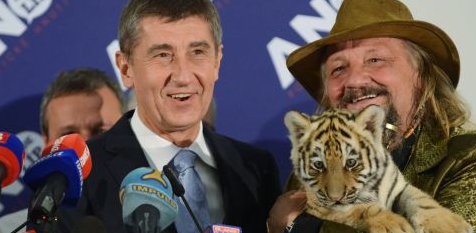 "Far-right and far-left anti-EU parties made gains in the fragmented vote that put nine parties into the 200-seat Czech parliament with few obvious coalition allies among them, something analysts warned could trigger instability, even chaos"
 8.Read of the Day…Saudi's Building a $500 B City from Scratch in Effort to Diversify the Economy.
New Saudi Mega City Will Have a $500 Billion Price Tag
By
Glen Carey and Alaa Shahine
New city, called NEOM, to be connected to Egypt, Jordan
The plan is the latest mega project announced by the kingdom
Crown Prince Mohammed bin Salman announced plans to build an entirely new city called "NEOM" on Saudi Arabia's Red Sea coast, the latest project in his drive to remake the kingdom in a time of dwindling resources.
Announced during a global business conference in Riyadh, the prince said the city will operate independently from the "existing governmental framework" with investors and businesses consulted at every step during its development. The project will be backed by more than $500 billion from the Saudi government, the country's sovereign wealth fund and local and international investors, according to a statement.
Prince Mohammed, the kingdom's unrivaled leader, is spearheading efforts to prepare Saudi Arabia for the post-oil era. In the course of his meteoric rise to power since 2015, he's revealed plans to sell a stake in oil giant Saudi Aramco and create the world's largest sovereign wealth fund, and has ended some social constraints, including a long-standing ban on female drivers.
"NEOM will be constructed from the ground-up, on greenfield sites, allowing it a unique opportunity to be distinguished from all other places that have been developed and constructed over hundreds of years," Prince Mohammed said in the statement.
Click here for a fact sheet on the project
The plan will likely be met with the same mixture of optimism and doubt that has greeted his previous headline-grabbing announcements. His supporters can be expected to cheer what they see as a bold drive to transform the kingdom, while others will point to past failed attempts to overhaul the Saudi economy that also included industrial cities in the desert.
Almost two years since the start of the kingdom's reform drive, Saudi Arabian officials are grappling with crucial questions of how to speed up change without crippling the economy and clashing with the conservative religious establishment.
The plan includes a bridge spanning the Red Sea, connecting the proposed city to Egypt and the rest of Africa. Some 10,000 square miles have been allocated for the development of the urban area that will stretch into Jordan and Egypt, "the world's first independent special zone stretching over three countries."
"NEOM is situated on one of the world's most prominent economic arteries, through which nearly a tenth of the world's trade flows," Prince Mohammed said. "Its strategic location will also facilitate the zone's rapid emergence as a global hub."
— With assistance by Nour Al Ali
https://www.bloomberg.com/news/articles/2017-10-24/saudi-arabia-to-build-new-mega-city-on-country-s-north-coast
9.5 Tricks to Make Meetings With Your Employees Much More Efficient
The best part? Meetings take less than 15 minutes to pull off.
No matter how you slice it, the most effective form of communication to this day between managers and their employees involves one-on-one meetings done in person.
I know what you're thinking: "How am I going to find the time for this? That's what email, Slack, and texting are for!"
I hear you. The good news is that we're not talking about the kind of obligatory meetings in sterile conference rooms that neither party wants to be in. (I'm looking at you, dreaded annual performance review.)
No, as you'll soon see, these meetings don't even require that you schedule one-hour blocks two weeks in advance. They may only take 10 minutes, maybe 15, at most.
Here's the thing. One-on-one meetings become timesavers when used on a recurring basis, but you need to know how to structure them so they work to your advantage.
Here's how to pull these off with ease and great success:
ADVERTISING
The manager schedules each meeting.
As I said earlier, one-on-ones don't have to be longer than 10 or 15 minutes. The shorter the better. But the key? It's the manager who sets the meeting date and time. That shows you, the manager, have an interest in your people, and it tests your follow-through and commitment to your employee.
The employee provides the agenda.
The point of these meetings is to empower your employees. This means you task them with providing you with the agenda. Why? Because it puts the focus on them and pushes the responsibility on them to tell you, the manager, what they need to address and what they want to talk about. As hard as it may be for you, lay hubris aside and let your employees drive the meeting by giving you the agenda.
Schedule weekly or bimonthly meetings.
Depending on each employee's workload or level of responsibility (senior staff will require less meeting frequency) and the number of employees you have (this obviously won't work if you have 50 people reporting to you. But if that's the case, why do you have 50 people reporting to you?), try to meet weekly, but use your best judgment. Most employees, once they understand that the meeting is for their benefit and that it won't take a huge chunk out of their work schedule, will welcome it.
Put the focus on the employee.
Managers should always ask if there's anything else that needs to be addressed, and if employees have everything they need. Then managers can communicate their part in the meeting — setting new expectations; giving good news and bad news; affirming or changing direction; providing feedback to keep performance at a high level; and giving praise and recognition.
Finally, emphasize commitment to the big picture.
Both parties need to demonstrate commitment to the process and show that they value these meetings for better collaboration and engagement. Before a meeting is over, verbally agree and acknowledge to each other that you're on the same page with direction and next steps. Managers, especially, need to show initiative by continuously communicating the vision, reinforcing the organizational values, and getting buy-in and commitment to a task, project, role, or goal in every meeting.
Like this column? Sign up to subscribe to email alerts and you'll never miss a post.
The opinions expressed here by Inc.com columnists are their own, not those of Inc.com.
https://www.inc.com/marcel-schwantes/5-tricks-to-make-meetings-with-your-employees-much-more-efficient.html