1.Inflation? Commodity Index …One Thing that Continues to Perplex the FED is Lack of Inflation so Watching Commodities.
CRB Commodity Index about to make new high for the year.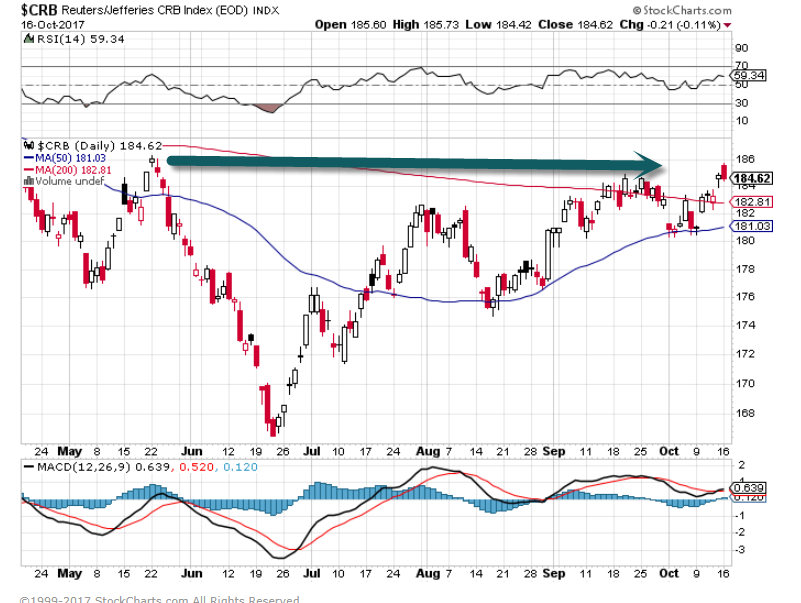 Commodity index ticks above RED downtrend line going back to 2010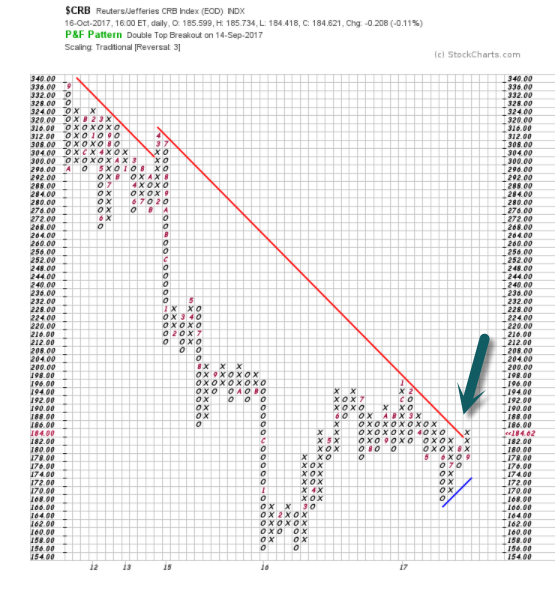 2.Inflation? Energy Rally…Will Supply Overwhelm Better Demand Number?
XLE spike since end of August after poor Summer driving season…Above 200 day.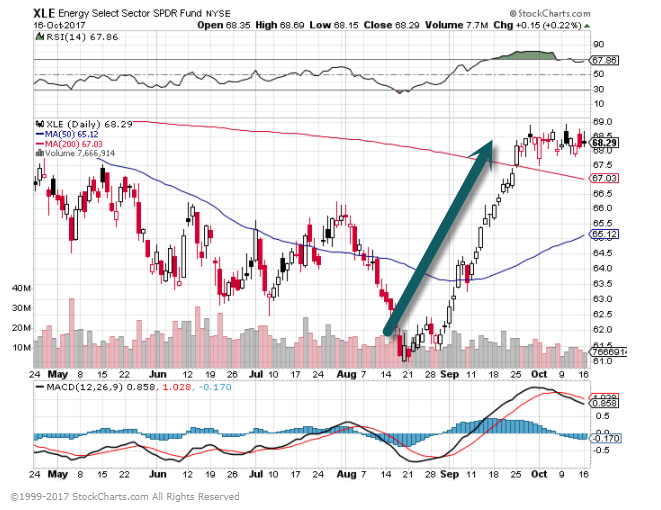 WSJ
The International Energy Agency raised its forecast for demand growth for next year. At the end of March, global fuel demand was just 1.3% higher than the previous year, according to J.P. Morgan Asset Management. By the end of July, demand grew 3.2% from the previous year—the biggest year-over-year increase since 2010.
"Everyone was concerned that global demand for oil was weakening. As we've moved through the year, it's actually strengthening again," said Rob Thummel, managing director at Tortoise Capital Advisors. "Ultimately consumers responded to lower oil prices, once again."
https://www.wsj.com/articles/oil-prices-bounce-back-in-third-quarter-1506855610?tesla=y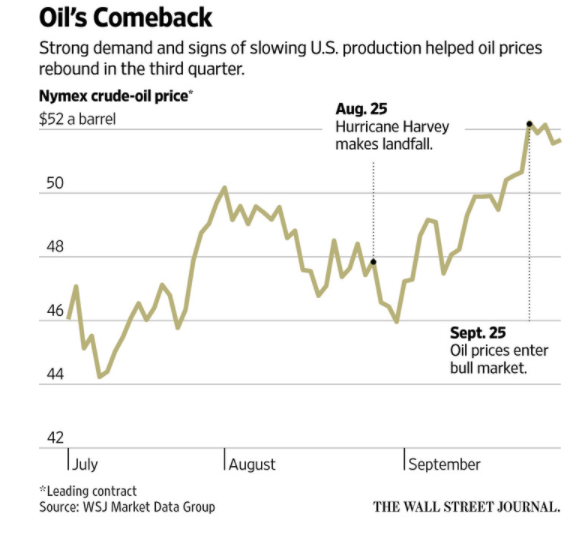 3.Energy 40% Discount to S&P Based on Price to Book.
Blackrock Blog
Since 1995 the S&P 500 energy sector has traded at approximately a 17% discount to the broader market. Today that discount is nearly 40%. See the chart below.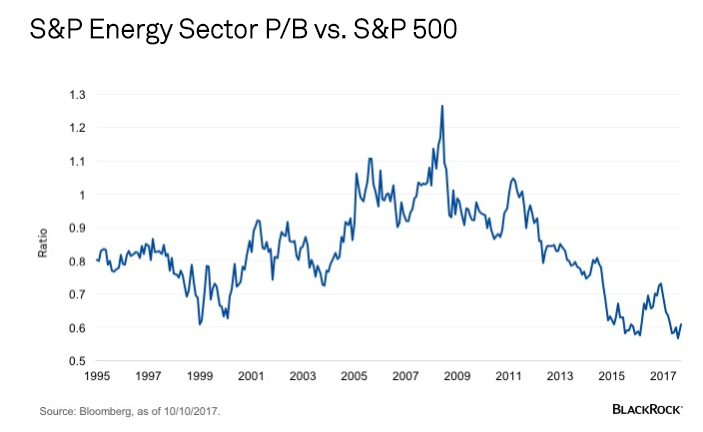 https://www.blackrockblog.com/2017/10/16/energy-financials-value-in-value/
4.Inflation? Materials ETF Spike Since August.
XLB Materials Sector ETF Outperforming in 2017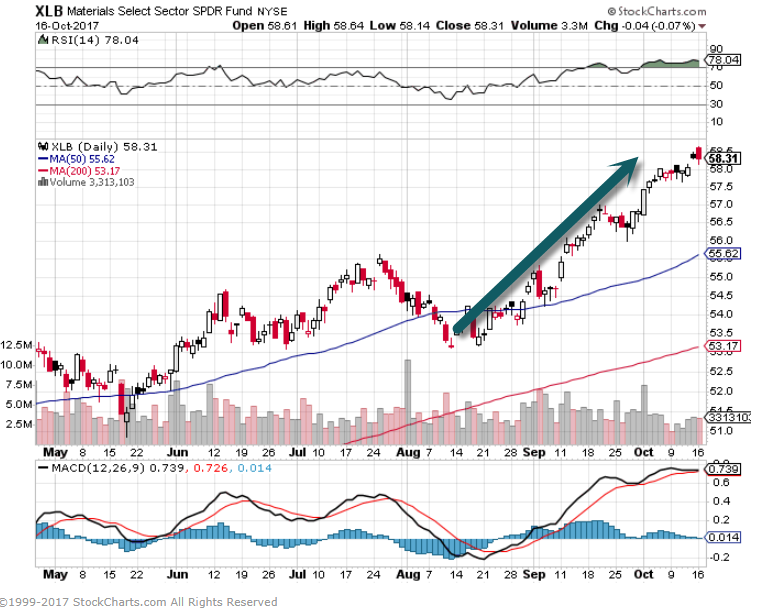 YTD XLB 3% Better than S&P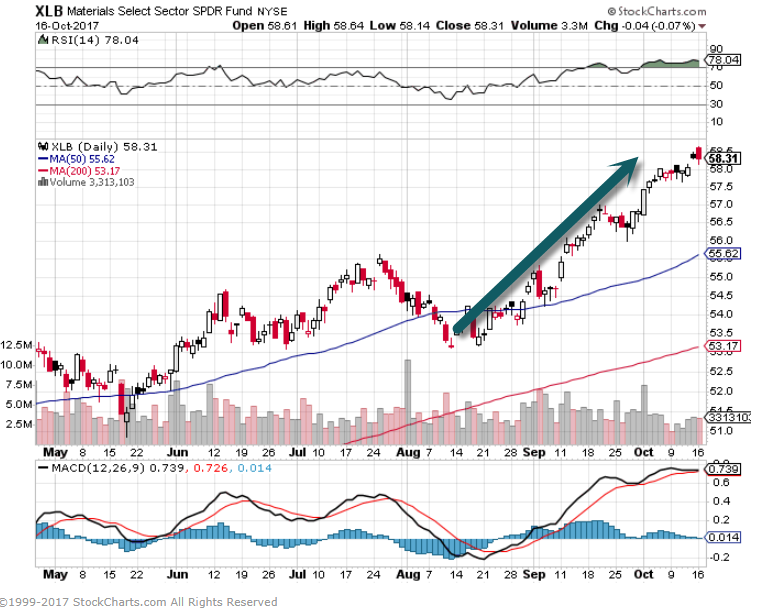 5.Inflation?  Jobless Claims Lowest Since 1973…Still no Real Wage Pressure.
Oct 12, 2017
December 1973.  That's the last time continuing jobless claims have been below this week's print of 1.889 mln.  Think about that for a minute.  The median American age is currently 37.8 years old, so the majority of Americans weren't even alive the last time claims were this low.  Every week it seems like the weekly jobless claims report can't top the recent reports of the past, but then we get another reading like this.  Eventually the tide will turn, but for now, it keeps moving in the right direction.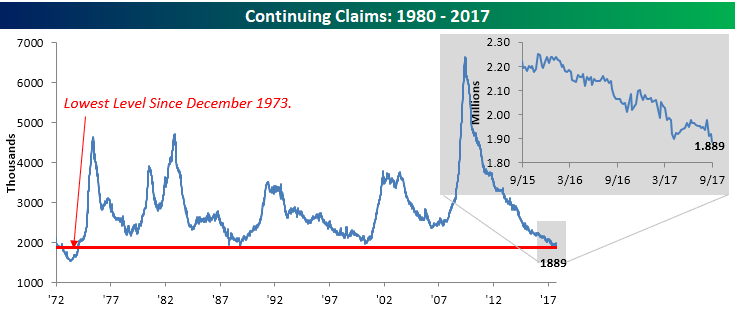 Jobless Claims back to Pre-Hurricane Levels
Oct 12, 2017
Weekly jobless claims came in lower than expected this week falling from 258K down to 243K.  This week's print was the lowest since 8/25, which was right before the triple whammy of hurricanes Harvey, Irma, and Maria struck the US and its territories.  While the Department of Labor did note that claims from Florida, Puerto Rico, Texas, and the Virgin Islands were impacted, as the chart below illustrates, the impact of this Summer's hurricanes was not nearly as impactful as Katrina in 2005 and Sandy in 2012 implying a much stronger foundation for US employment.  It has now been 136 straight weeks since weekly claims last topped 300K – a level that used to be considered as good as it gets.  Looking ahead, we'll have to watch out west to see if the California fires have any impact on claims in California.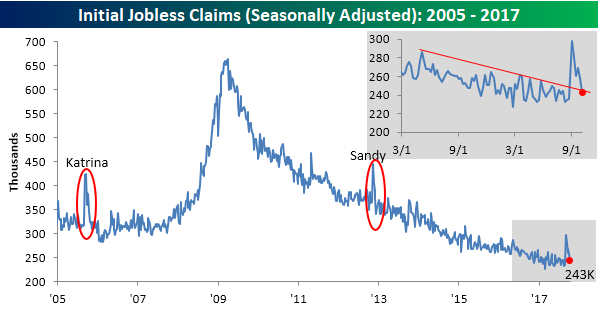 https://www.bespokepremium.com/think-big-blog/page/2/
6. A Long-Term Look at Inflation…10 Year Moving Average 1.74%
by Jill Mislinski, 10/16/17
The Consumer Price Index for Urban Consumers (CPI-U) released Friday puts the year-over-year inflation rate at 2.23%. It is substantially below the 3.76% average since the end of the Second World War and above its 10-year moving average, now at 1.74%.
For a comparison of headline inflation with core inflation, which is based on the CPI excluding food and energy, see this monthly update.
For a better understanding of how CPI is measured and how it impacts your household, see our Inside Look at CPI components.
For an even closer look at how the components are behaving, see this X-Ray View of the data for the past six months.
The Bureau of Labor Statistics (BLS) has compiled CPI data since 1913, and numbers are conveniently available from the FRED repository (here). Our long-term inflation charts reach back to 1872 by adding Warren and Pearson's price index for the earlier years. The spliced series is available at Yale Professor (and Nobel laureate) Robert Shiller's website. This look further back into the past dramatically illustrates the extreme oscillation between inflation and deflation during the first 70 years of our timeline.
https://www.advisorperspectives.com/dshort/updates/2017/10/16/a-long-term-look-at-inflation
7.The ECB Has Bought €1.9 Trillion In Bonds: Here Is Who Sold And What They Did With The Money
by Tyler Durden
Oct 17, 2017 2:45 AM
Since the ECB launched its sovereign debt QE, initially known as PSPP, in March 2015 and later expanded to include corporate debt, or CSPP, in June 2016, the world's biggest hedge fund central bank has created enough money out of thin air to purchase bonds with no consideration for price to grow its balance sheet, i.e. investment portfolio, by €1.89 trillion.
Meanwhile, over the entire QE period, net European bond new issuance has only amounted to €394 billion – only one-fifth of what the ECB has bought – and that only after picking up recently.  In fact, through much of 2016, there was hardly any net issuance at all according to Citi data.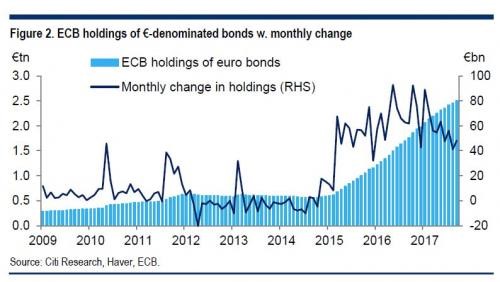 http://www.zerohedge.com/news/2017-10-16/ecb-has-bought-%E2%82%AC19-trillion-bonds-here-who-sold-and-what-they-did-money
8.Private Jet Glut….Corporate Plane-Buying Hits 17 Year Low….Commodities Bear Market a Factor.
The jet glut is one reason pre-owned prices were down 16 percent in August from a year earlier. With bargains aplenty on machines with few flight hours, manufacturers are cutting deals to entice buyers to purchase new planes. Meanwhile, they keep churning out aircraft and introducing new models.
"It's a question of who wants to blink first," said Rolland Vincent, a consultant who puts together the JetNet iQ industry forecast. "Nobody — because whoever blinks, loses share."
A rise in demand for new company planes, which would help stabilize the market, isn't in the cards. Corporate plane-buying plans have hit a 17-year low, according to an annual survey by Honeywell International Inc. of more than 1,500 flight departments. Companies expect to replace or add planes equivalent to 19 percent of their fleets on average over the next five years, down from 27 percent in last year's survey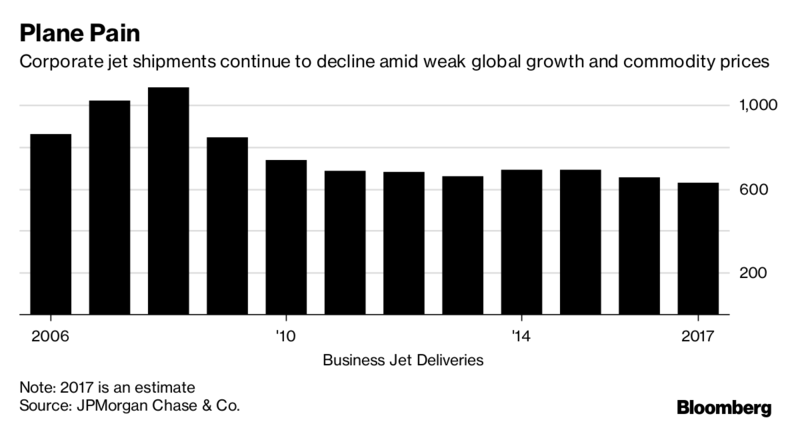 9.Read of the Day….
Explosive '60 Minutes' investigation finds Congress and drug companies worked to cripple DEA's ability to fight opioid abuse
A joint investigation from the Washington Post and CBS' "60 Minutes" concluded that members of Congress alongside the pharmaceutical industry may have helped fuel the opioid crisis.
Drug distributors — of which the three biggest are Cardinal Health, Amerisource Bergen, and McKesson — are in charge of shipping drugs around the US to pharmacies and hospitals.
In recent years, the Drug Enforcement Administration has cracked down on distributors when they're sending too many opioids to a particular location. In response, the distributors pay a fine and keep on doing business.
But in 2016, Congress passed a law that made it harder for the DEA to carry out those fines, the investigation found.
"The drug industry, the manufacturers, wholesalers, distributors and chain drugstores, have an influence over Congress that has never been seen before," former chief of the DEA's Office of Diversion Control and whistleblower Joseph Rannazzisi told the Post.
The Ensuring Patient Access and Effective Drug Enforcement Act was passed in 2016 to improve enforcement around prescription drug abuse and diversion. In actuality, the law raised the standard that the DEA needed to prove in order to crack down on a drug company's pain pill distribution, making it more difficult for them to enforce fines against the companies.
The chief architect of the law, the investigation found,  was Rep. Tom Marino of Pennsylvania, a Republican whom Trump nominated to lead the White House Office of National Drug Control Policy, a position commonly referred to as the nation's "drug czar."
Marino introduced the bill in 2014, after which it went through years of back and forth, delays, and opposition from the DEA. A version of the bill became law in 2016. By that point, neither the DEA nor the Justice Department objected to the bill, though the DEA had fought against it for years.
The Post called it "the crowning achievement of a multifaceted campaign by the drug industry to weaken aggressive DEA enforcement efforts against drug distribution companies that were supplying corrupt doctors and pharmacists who peddled narcotics to the black market."
Lobbying groups, including the groups representing drugmakers, retail pharmacies, and drug distributors, spent more than $106 million in support of the bill, the Post found. The Pharmaceutical Research and Manufacturers of America (PhRMA), which represents drugmakers, disputes the Posts's findings, calling the report that it spent $40 million lobbying the bill "unequivocally false."
A revolving door from DEA to industry
The joint investigation also found that there was a lot of movement of top officials from within the DEA to the drug industry.
One key figure was Linden Barber, who went from working within the DEA as an associate chief counsel to now  working as a senior vice president at Cardinal Health. Barber, who left the DEA in 2011 to work at a law firm representing drug companies, was key in the bill Marino ushered through Congress, testifying in favor of the legislation. He later went to work at Cardinal Health in 2017.
Barber wasn't the only one to move from government to industry, a move that troubles former colleagues.
"Some of the best and the brightest former DEA attorneys are now on the other side and know all of the weak points," Jonathan Novak, a former DEA attorney told CBS. "Their fingerprints are on, memos and policy and emails going out where you see this concoction of what they might argue in the future."
In response to the investigation, Democratic Sen. Joe Manchin of West Virginia sent a letter to President Donald Trump asking for Marino to be withdrawn as Trump's choice for drug czar. Sen. Claire McCaskill of Missouri also introduced a bill on Monday aiming to repeal the 2016 law.
http://www.businessinsider.com/60-minutes-drug-industry-worked-against-dea-fight-opioid-epidemic-investigation-2017-10
10.8 Steps to Making Sales Simple
One of the most important skills for wealth creation is the ability to sell and persuade. Whether you are a salesperson, a manager, or an entrepreneur, you need the ability to convince other people to take action.
I learned my sales skills from Tom Hopkins, Dan Kennedy, and Mark Ford. Modern-day influences include Grant Cardone, Brendon Burchard, and my friend and sales coach, Bedros Keuilian.
Most of these experts were once like me (and maybe you, too). They were not naturally gifted or comfortable with sales. Fortunately, it's a skill—one you can improve no matter what your starting point is. Bedros and I both began as "order takers." But that's not enough to build real wealth.
"Don't be an order taker. Learn to be a closer," Bedros says. "Marketing can teach you a thousand ways to get leads, but if you don't know selling, you can't close. If you can't convert a prospect into a customer, if you don't have a selling script/system that is proven and predictable, then you are going to struggle no matter how good your lead generation marketing is and how many people you get in front of you."
Fortunately, the process of selling is simple. It's a learnable skill and the process follows a proven path from point A (the connection) to point B (the sale).
Over time, I've built a phone sales process for my workshops that goes something like this:
Step #1 – "Hi! [Insert small talk]."
This is where you connect with your client based on something they mentioned in an email or on social media.
Step #2 – "Tell me more about your business."
Collect vital information.
Step #3 – "Congratulations on launching a successful business! I'm wondering, though: What elements of running your business are still giving you pain? In what way are you still overwhelmed?"
Discover pain points you can solve.
Step #4 – "What would things look like in your business if you didn't have to deal with these weaknesses?"
Encourage the client to see the concrete benefits to a solution.
Step #5 – "I think I have something that can help."
A perfect-for-them solution is often too good to be true, but the manager/rep will often be open to hearing what you have in store.
Step #6 – "Great, let me tell you about the XXX we offer …"
Explain the benefits of your product or service and what you actually deliver. Create an enormous amount of value to justify the customer's investment.
Still, the customer may balk …
Step #7 – "Sure, I know there are objections. But tell me, what is this pain costing you in money, time, and energy?"
Deal with objections. Make it clear that your solution will make their life—and business—measurably better.
Step #8 – "I even have a special deal lined up for you!"
Offer an exclusive discount or deal that is hard to pass up. Close the deal in a way that leaves the relationship open for future business.
Do you see how simple this script is? That's because 90% of sales is listening. I let my prospects talk themselves into a sale while making sure I don't talk myself out of one!
One of my business partners, Daniel Woodrum, takes a similar approach. Daniel and I co-own two Fit Body Boot Camp locations in South Carolina (Mount Pleasant and Greenville). Daniel has done thousands of sales consultations and summarizes the best sales principles in 8 points:
Start the consultation by finding common ground. This builds rapport and trust. Once you are comfortable with each other, then move into the actual consultation/sale.
Let the prospect do most of the talking.Too often, the salesperson takes over the conversation and talks all about them (or their service). But at the end of the day, your prospect cares only about getting a solution for THEIR problem. They just need to know that you care about them and that you are able to help.
Create a set of questions and use them to steer the conversation.Ask follow-up questions to dig deep and elicit emotion. Most the time, prospective customers are just looking for someone to share their problems with. If you show genuine concern, YOU become the person they feel comfortable opening up to.
Don't be too rigid with your script.Just be casual. If the client gets a little off topic, gently steer them back onto the "straight line to success," as Jordan "The Wolf of Wall Street" Belfort says.
The most important part is listening.Listen to the prospect so you can figure out their main problem(s). Then, show them how you can provide the best solution. Examples work well here, too. Describe how you've helped a client in a similar situation by giving them the tools to overcome their obstacles. Finish with a clear visual of how this client is now happy and successful. This will give your prospect confidence that you can help them with their problems, too.
Give them an incentive to act now.It could be a discount on the first payment, a gift if they sign up today, or a gift certificate to another service you offer. People LOVE getting a deal, and it will help them say YES.
Answer objections clearly and concisely.Waffling only makes it seem like you don't have a reasonable response. So be direct (and diplomatic), then guide them back to saying YES—and stop talking. The awkward silence is actually a good thing, so embrace it. Let the prospect make the next move (which will either be saying YES or asking another question).
Let the customer know their YES doesn't mean the end of the relationship.Make it clear you're there to support them—not just through payment and deliverables, but in an ongoing relationship that shows you can be trusted to offer solutions to their problems in the future.
As you can see, selling is actually quite simple. Understand your prospect's problem by being a great listener. Then, show them a clear solution. Be friendly, but pointed and concise.
In short: Take your prospect by the hand and guide them down the path to saying YES!
https://www.earlytorise.com/8-steps-to-making-sales-simple/?utm_source=onesignal&utm_medium=push&utm_campaign=onesignal