1.3Q Earnings Preview….Energy and Tech Biggest Projected Declines. uu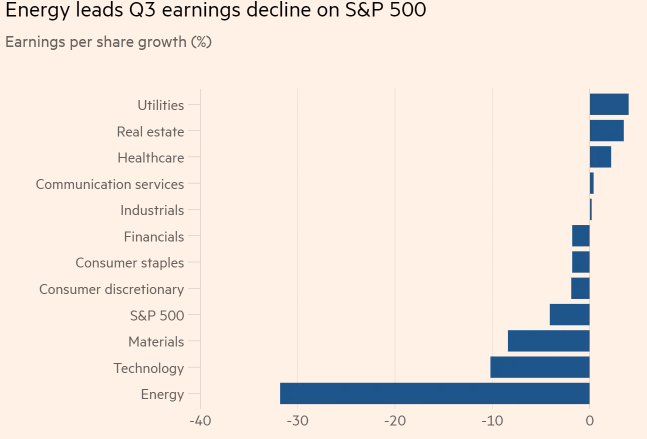 Higher input and labour costs are expected to have further crimped profit margins. The average net profit margin is expected to fall to 11.3 per cent in the third quarter from 12.1 per cent in the same quarter last year, according to FT – Energy is poised for the biggest drop in earnings after a fall in US crude prices in the third quarter. The tech sector, caught up in the US-China trade war, is next with EPS projected to fall by more than one-tenth, according to FactSet. Revenues are estimated to increase an anaemic 0.3 per cent.
From Dave Lutz at Jones Trading
2.This Chart Shows Your Euro Currency vs. U.S. Dollar….New Lows.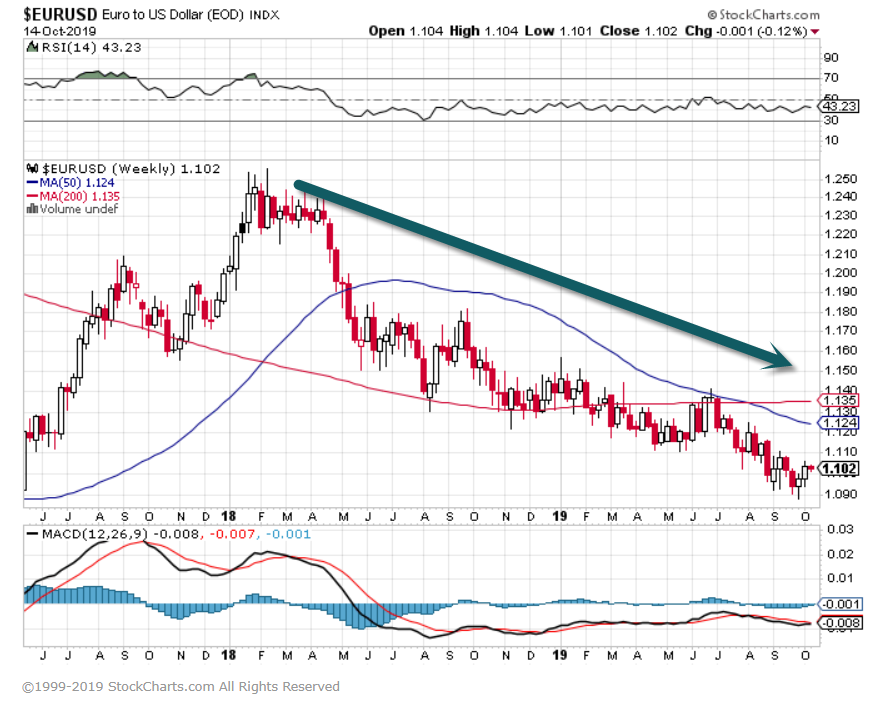 3.U.S Dollar vs. Currency Basket at Highs.
Normally when the greenback gets this strong, something gives, and other currencies start to strengthen, observed Nicholas Colas, co-founder of DataTrek Research. "If they don't, it means something is very different this time around. And 'different' in this case probably doesn't mean 'good' when it comes to investor risk appetites," he said.
The currency measure Colas prefers is called the Trade Weighted U.S. Dollar Index: Broad, Goods, and it's hovering around all-time highs — although data only goes back to the mid-1990s. The index tracks how well America's currency is performing against currencies for other countries with whom the U.S. has a trading relationship.
The biggest contributors to the index are in the graphic above. And for some context, here's a chart showing the index's level over its full history: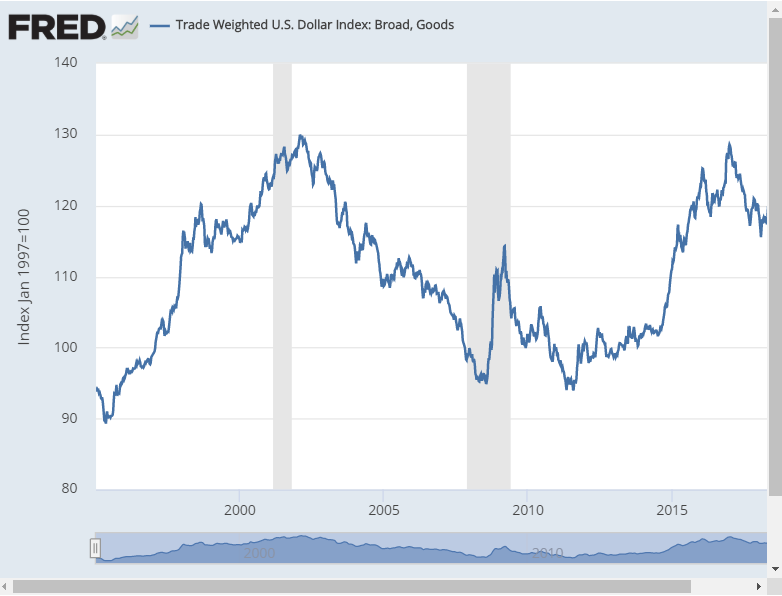 The question of what, exactly, it means for a currency to "perform against" others is important, and anyone who pays attention to President Donald Trump's Twitter tirades about the dollar has a sense of both its significance and its ambiguity.
Fact check: true. It does make it harder for American companies that export to remain profitable when the currency is higher. But focusing only on manufacturers misses a lot of the bigger context, as well as why things are so complicated right now for the dollar.
Why a strong dollar could be a warning sign in this market–Andrea Riquier
https://www.marketwatch.com/story/the-dollar-is-stronger-than-ever-and-thats-a-warning-sign-for-the-stock-market-2019-10-14
4.International Dividend Payers Close to Breaking Out to New Highs.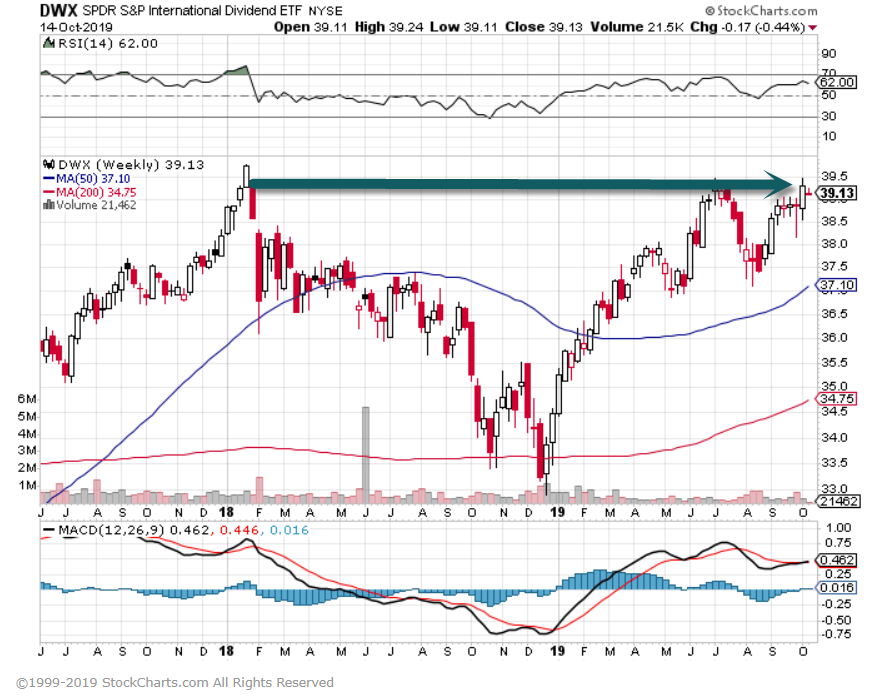 5.Turkish Sanctions by U.S.
BULENT KILIC/AFP via Getty Images
Let's spend this Monday morning catching up on the U.S./Syria/Turkey headlines and what they mean for the economy. How we got here Last week, President Trump pulled U.S. forces from northern Syria, which effectively allowed Turkey to deploy a military offensive against Kurdish-led forces in the region. The Syrian Democratic Forces in the area have been key U.S. allies in the fight against ISIS, but Turkey considers the group an enemy. What happened next? On Friday: U.S. Treasury Secretary Steven Mnuchin said President Trump was greenlighting "very significant new sanctions authorities" that could "shut down the Turkish economy" should Turkey continue its military offensive or let ISIS fighters escape from prisons in the region. That could include stopping all U.S. dollar transactions with the Turkish government. Turkey GDP check: $766.5 billion, good for the world's 19th largest economy. Yesterday: Mnuchin said on ABC, "We are ready to go on a moment's notice to put on sanctions." Trump later tweeted that he was working with Congress on "powerful" sanctions, and that we should "Stay tuned!" One important note: The administration has so far been dealing in threats. No sanctions have been implemented yet, but if they are…what kind of economic damage could they inflict? The major kind. The Trump administration has used economic weapons against Turkey before… In August 2018, Turkey's lira tanked to a record low after the White House doubled tariffs on Turkish steel and aluminum and imposed sanctions on two Turkish officials. Those moves were meant to pressure Turkey to release American pastor Andrew Brunson…which it did two months later. Bottom line: Already on shaky ground (the lira hit a nearly four-month low last week), Turkey's economy could go from bad to worse with the addition of U.S. sanctions.
TURKEY ETF -32% from highs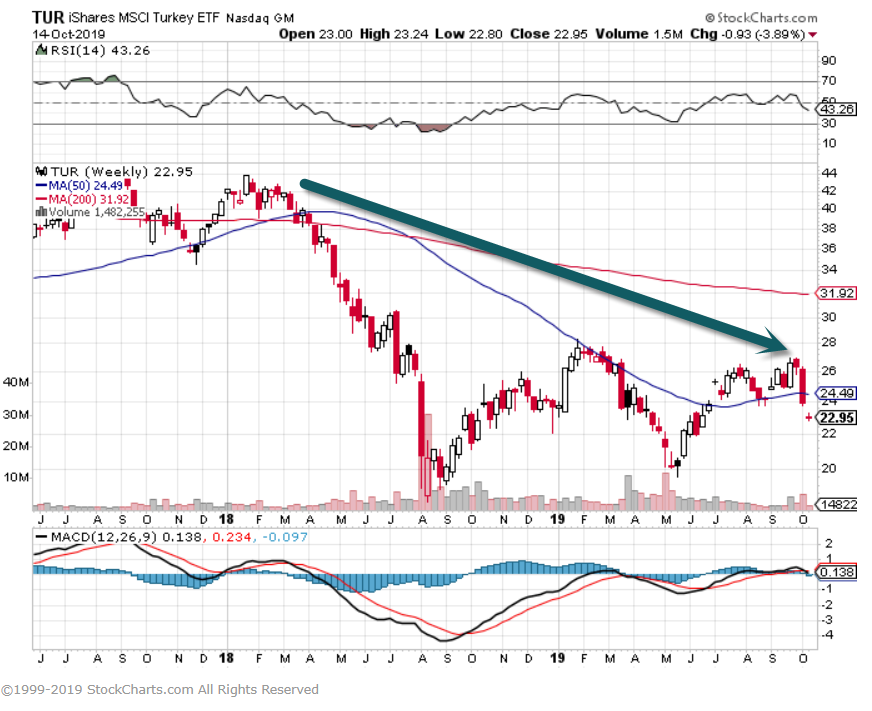 6.America's Great Shale Oil Boom Is Nearly Over–Julian Lee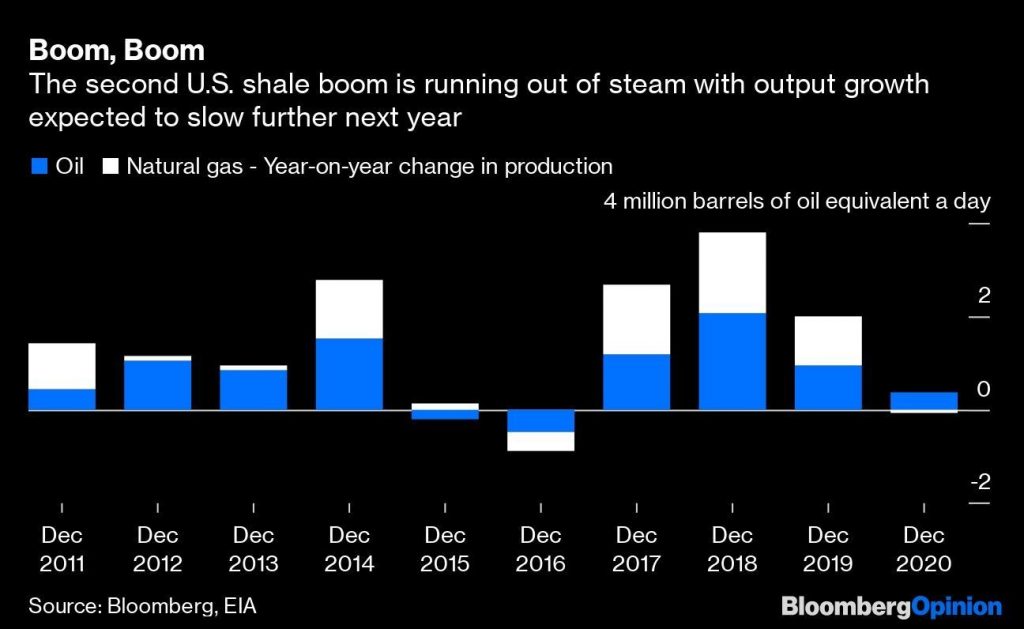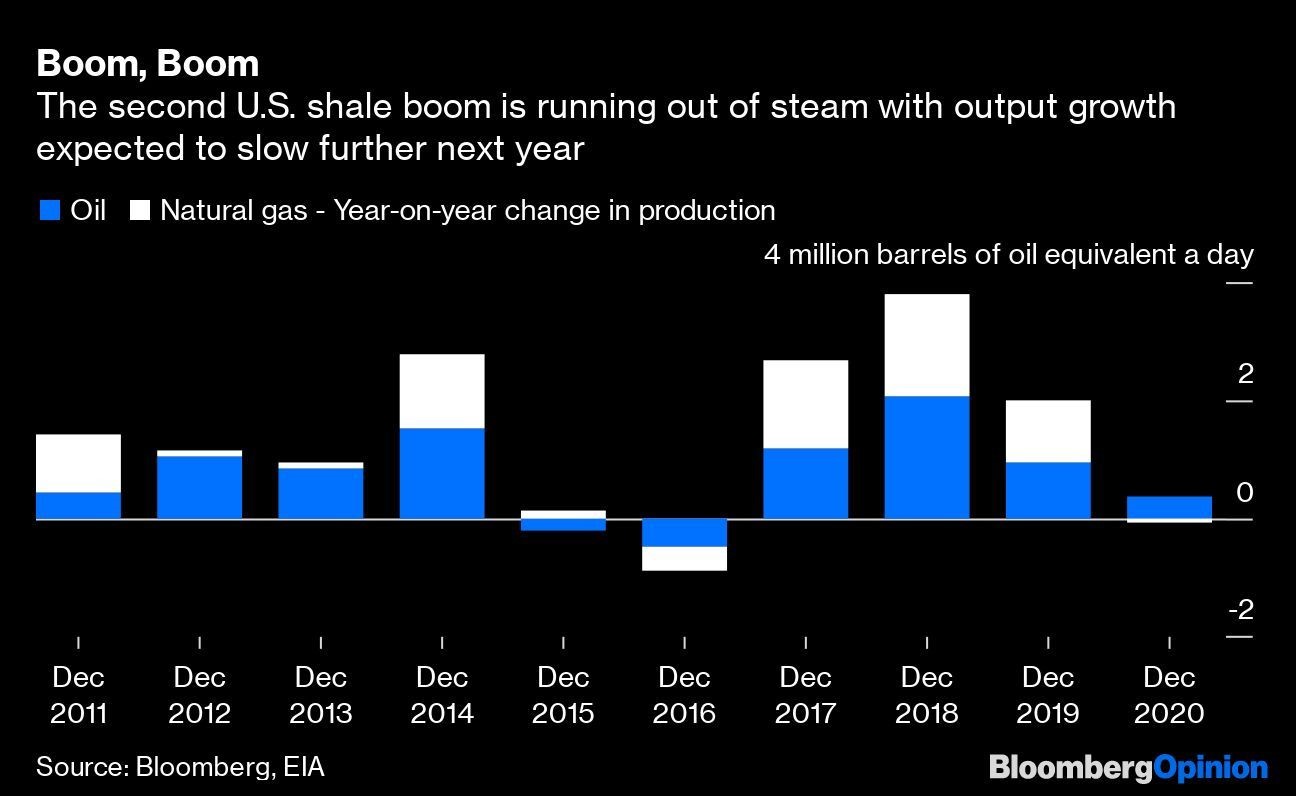 View photos
(Bloomberg Opinion) — America's second shale boom is running out of steam. But don't panic just yet, a third one may be coming over the horizon.
The U.S. Energy Information Administration published its latest short-term energy outlook last week and has cut its forecast of oil production by the end of 2020 for the fourth straight month. It now expects American output to rise by just 370,000 barrels a day over the course of next year. That will be the slowest growth in four years and is yet another indicator that the latest period of rapid shale expansion is faltering.
The number of rigs drilling for oil in the U.S. has fallen in each of the last 10 months, dropping by a total of 20% since November. And productivity gains are waning. Drilling in the Permian, the most prolific of the shale basins, fell by 11% in the nine months to August, according to the EIA.
https://finance.yahoo.com/news/america-great-shale-oil-boom-060005334.html
7.Apple (AAPL) Back on Top
BESPOKE I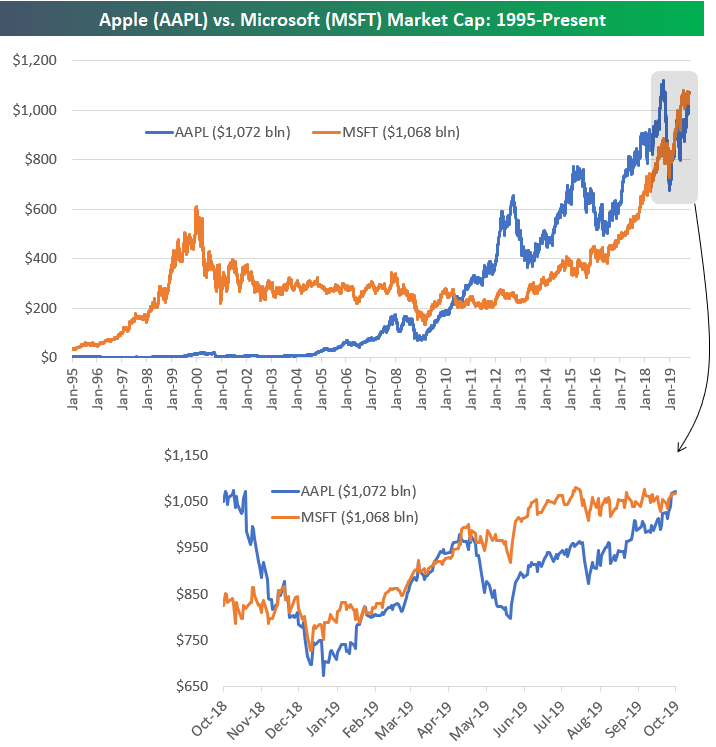 When Apple (AAPL) overtook Microsoft (MSFT) in size back in 2010, a lot of people thought Microsoft's best days were behind it.  By late 2012, Apple's market cap had eclipsed $600 billion while Microsoft was still trending lower and lower towards the $200 billion level.

The tide for MSFT finally started to turn in 2013, and since current CEO Satya Nadella took over in February 2014, the company has seen its market cap increase by 2.5x from $300 billion up to its current size of $1.068 trillion.

During the fourth quarter rout for US equities in 2018, Apple (AAPL) shares tumbled much more than Microsoft (MSFT), which allowed MSFT to slip ahead of AAPL in terms of size.  While the two battled it out during the first quarter recovery this year, Apple shares got hit extra hard in May when the US/China trade war really heated up, allowing MSFT to take a commanding lead in market cap.

Recently, though, it has been Apple that has been surging as Microsoft has traded more sideways.  Apple hit a new all-time high again last week, and on Friday the company managed to close the week with a market cap that was just under $1 billion higher than that of Microsoft.  Today we're seeing the gap widen a little more as Apple's market cap trades at $1.072 trillion versus MSFT's cap of $1.068 trillion. When you're talking in the trillions, though, what's four billion between friends.

With levels that are so close, one up day for MSFT and down day for AAPL could give MSFT the lead again, but for now, Apple has regained its title as the world's largest company.  Start a two-week free trial to Bespoke Premium to sample our most actionable investment research.  If you use this checkout link, you'll receive a 10% discount on an annual membership if you stick with it past your trial period.

https://www.bespokepremium.com/interactive/posts/think-big-blog/apple-aapl-back-on-top
8.Private equity firms go small after string of big deals collapse
Recession fears and poor financing conditions force firms to look for modest transactions
Eric Platt in New York and Kaye Wiggins in London OCTOBER 12 2019Print this page12 Cash-rich private equity firms are pouring money into smaller transactions following the collapse of a string of big deals, with the total value of investments of $1bn or less surging to a record this year. According to data provider Refinitiv, private equity buyouts and investments with a price tag below $500m are also at a record, and now account for more than 30 per cent of the industry's dealmaking by value, the highest level in almost a decade.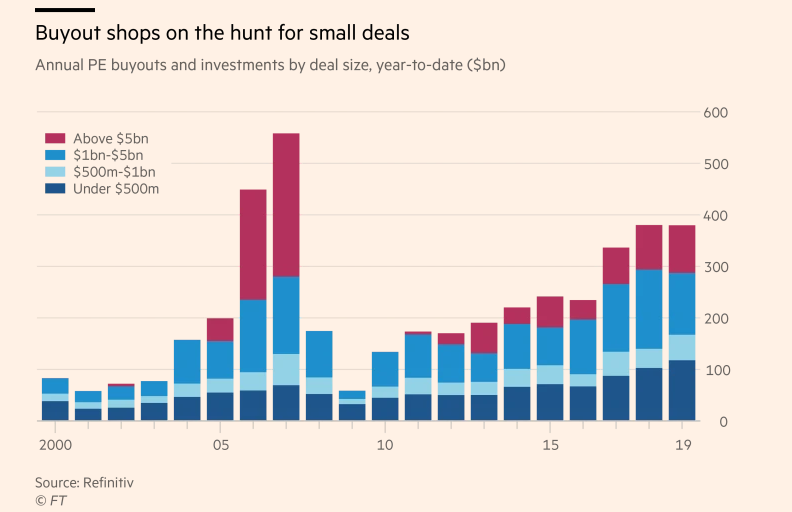 https://www.ft.com/content/4be7e7c4-ec52-11e9-85f4-d00e5018f061
9.Millennials are about to trigger a major 'changeover point' for the US economy, asset manager says
PUBLISHED MON, OCT 14 20197:17 AM EDTUPDATED MON, OCT 14 20199:34 AM EDT
KEY POINTS
U.S. adults aged between 21 and 38 years old will prioritize "necessity spending" over the next decade, Bill Smead told CNBC's "Squawk Box Europe" on Monday.
It comes after a 10-year period in which the same age group has "lived off discretionary spending."
He said this will mean young adults will soon start to move away from buying "Apple devices, craft beer and Chipotle burritos" and instead spend their savings on big-ticket items such as houses and cars.
A fundamental shift in the spending habits of U.S. millennials will have an incredible impact on the world's largest economy, according to the CEO of Smead Capital Management.
U.S. adults aged between 21 and 38 years old will prioritize "necessity spending" over the next decade, Bill Smead told CNBC's "Squawk Box Europe" on Monday. It comes after a 10-year period in which the same age group has "lived off discretionary spending."
He said this will mean young adults will soon start to move away from buying "Apple devices, craft beer and Chipotle burritos" and instead spend their savings on big-ticket items such as houses and cars.
"That will be a whole different ball game" for the U.S. economy, Smead said.
'Changeover point'
His comments come at a time when millennials are thought to be on the cusp of surpassing Baby Boomers as the largest living adult generation in the U.S.
A report published by Pew Research in March 2018, which cites the latest available data from the U.S. Census Bureau, said it expected millennials to overtake Boomers in population in 2019.
Meanwhile, Generation X was projected to pass the Boomers in population in 2028.
The Pew Research report defined millennials as aged 20 to 35 in 2016, with Boomers aged 52 to 70 and Generation X aged between 36 to 51.
"We just love this circumstance because it is very possibly the changeover point now for what we have been waiting for a long time," Smead said.
"So, we have got 89 million people in between 21 and 38 years old that are about to start their lives, form households, do incredibly economically impactful things and we don't need anybody from outside the United States to cause that to happen."
"And we are giving them the lowest interest rates in the history of the United States of America to form their lives. We are practically giving them the money to buy houses and buy cars etc," he added.
The U.S. central bank has already cut interest rates twice in 2019, in part because of weakness in the global economy.
Policymakers at the Federal Reserve are scheduled to meet at the end of the month, with investors broadly expecting a rate cut. Market expectations for lower borrowing costs by the end of October were at 77.5% on Monday, according to the CME Group's FedWatch Tool.
U.S. economic growth has been slowing this year with many economists citing the ongoing U.S.-China trade war. The Fed expects GDP (gross domestic product) for 2019 to come in at 2.2%, down from 2.9% in 2018. The central bank has also warned U.S. economic growth could deteriorate if the trade war continues.
'Just do the math'
"The velocity of money has declined. The reason is because the necessity spending of the largest adult population group has not happened yet — so they haven't bought the houses and the cars yet. As soon as they buy the houses and the cars, the banks lend $10 for every $1 deposit, and that velocity of money picks up," Smead said Monday.
"Just do the math, there's 89 million millennials in a 330 million population of the United States of America. And then the group behind them — this is crazy — is just as big."
"In 20 years, there is going to be way more payers into the social security system and there is going to be way fewer taker-outers — and that problem will solve itself through demographics," Smead said.
https://www.cnbc.com/2019/10/14/millennials-to-trigger-changeover-point-for-the-us-economy-bill-smead-says.html
10.Why a Healthy Mindset Is the Key to Successful Entrepreneurship
Better yourself and your mindset to open career possibilities on your path to success.
By Young Entrepreneur Council@yec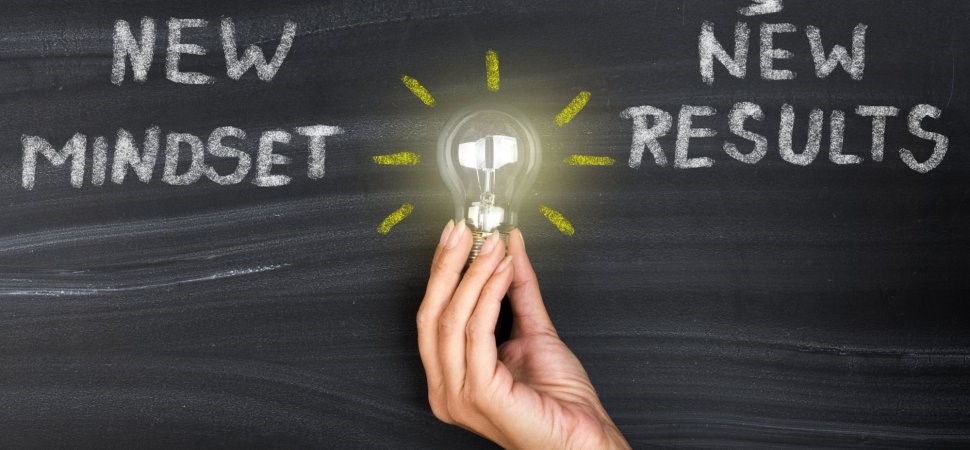 GETTY IMAGES
By Shay Berman, CEO and founder of Digital Resource
As a kid, I believed you had to do things that far surpassed the ordinary if you wanted to be extraordinary. I saw others succeed due to long-term vision, an incredible work ethic and a willingness to take risks. I figured I would hit my entrepreneurial milestones in record time as long as I went the extra mile.
It's true that being a successful entrepreneur involves drive, discipline and a willingness to go above and beyond. What I didn't understand is that those traits are wasted if you don't also maintain a healthy mindset. You can push yourself to the brink of exhaustion and strive for greatness, but you'll burn out if your brain isn't balanced.
Don't take my word for it: Researchers such as Dr. Barbara Fredrickson at the University of Michigan have been studying how humans can use positive emotions to increase productivity and creativity. Entrepreneurs and other leaders face no shortage of challenges, so developing the tools and skills to maintain a positive attitude can give you unmatched staying power.
Learning the Hard Way
I ran smack-dab into a mountainous hurdle when my fledgling company grew fast — it felt bigger than I could handle. I began to believe my employees were ruthless opponents who wanted to take me down and that clients lived to cause frustration. I interpreted every action as an attack, and it began to eat away at my health and happiness.
Fortunately, I had the support of a longtime mentor who counseled me to reframe events as opportunities instead of threats. He said I was making wild assumptions based on my experiences while simultaneously ignoring the experiences of others. To help myself along, I started to practice mindset shifts. I learned to talk myself out of the flight-or-fight stage and embrace the notion of opportunity over fear.
When our next client wanted to quit, I didn't get mad. Instead, I asked what we could do to improve. The client ended up sticking around because I was compassionate and genuine. This experience showed to me that a combative, fearful mindset would only hurt my chances of success.
How to Develop the Right Mindset
If you're ready to make a similar change toward a healthier mindset, take the following steps.
1. Enact the 'rule of 3.'
When I approach leadership — and life — with the following three principles, I tend to have a healthier, more productive mindset. First, always express gratitude. Authentically offer others your thanks and appreciation.
Second, seek to understand instead of judge. This can be a game-changer for managers and direct supports. Your employees will pick up on the idea that you want to understand them and not challenge or dismiss them. As a result, you'll build more trusting relationships.
Finally, remember that there is no right or wrong. Those concepts don't exist in a world of gratitude and empathy. Instead of harping on mistakes or assigning blame, focus on solutions.
2. See your role as an opportunist.
Do you feel like a victim? That mentality will keep you down for the long haul. When negative things happen, take a step back to get a 10,000-foot view. Treat setbacks as chances to get better.
Where are the opportunities in the bigger picture? Perhaps you didn't say "no" when you should have. Rectify your choices in the future to avoid encountering the same problem twice. Feel like pointing fingers elsewhere? Learn to accept some responsibility and move on.
3. Stop picking fights.
Remember that everything boils down to perception. A cynical, combative environment will sink your ship faster than any market force — but your leadership will make a difference.
Become aware of your moods and triggers. When you begin to sense pain or discomfort, reaffirm your desire to be more optimistic. Over time, this process will become more natural and self-fulfilling.
4. Conduct daily and weekend wellness check-ins.
It might sound a little new age, but evaluating your happiness on a routine basis lets you observe whether your thoughts and feelings are lining up in positive ways. Spend time getting to know the real you, and you'll be better able to kick your professional motor into high gear.
When you feel grateful, you push out emotions like frustration, fear and hate. It's so much simpler to let go of negatives when positives are abundant. As a report from the Association for Psychological Science notes, people who were more aware of their mind-body connections were more apt to win a friendly competition.
When you begin your entrepreneurial journey, you'll hear a lot of advice about hustling and failing fast. That's well and good, but just make sure you don't lose your ability to smile while navigating the rat race. Otherwise, you won't be able to enjoy that hunk of cheddar at the end of the tunnel.
Shay Berman is the CEO and founder of Digital Resource, a full-service digital marketing agency located in South Florida.
PUBLISHED ON: SEP 19, 2019
The opinions expressed here by Inc.com columnists are their own, not those of Inc.com.
More from Inc.