1.S&P Sector Correlation.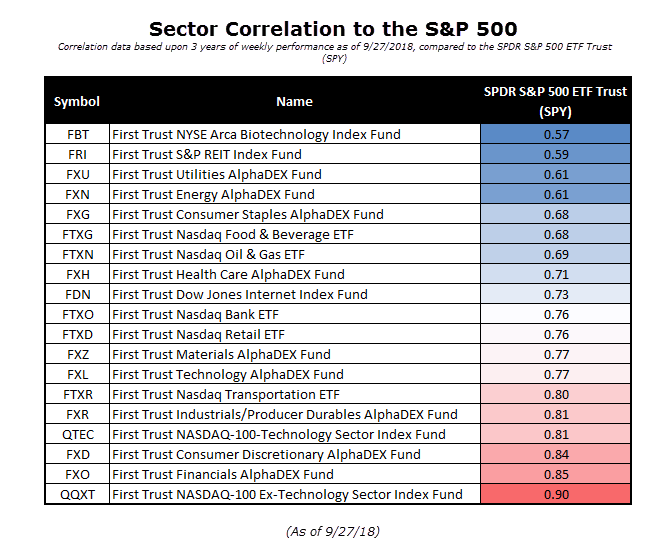 From Nasdaq Dorsey Wright.
 2.Europe Financials Hit Friday But Holding Above 200 Day
EUFN Euro Financials ETF
Deutsche Bank Below 2016 Levels.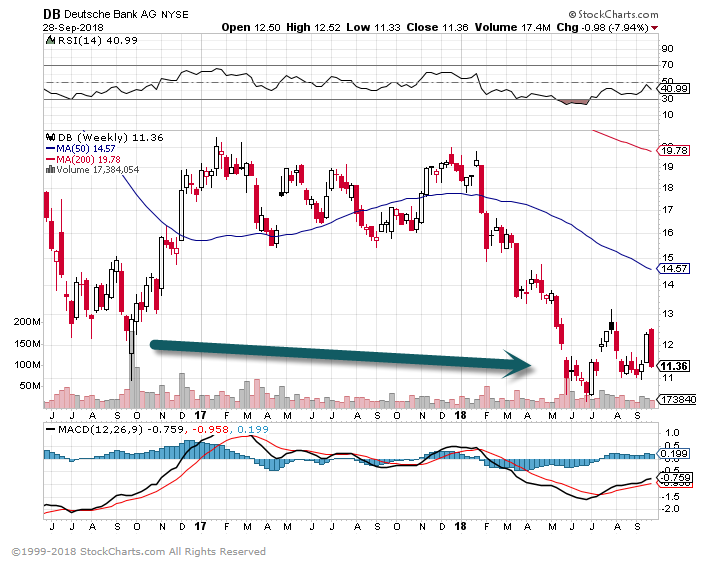 3.Trade Spat Unlikely to Fuel China's Treasury Sales
Posted by lplresearch
China has started unloading Treasuries, signaling that they could use their $1.2 trillion in U.S. government debt as a potential bargaining chip in trade negotiations.
As shown in the LPL Chart of the Day, China's Treasury holdings declined to a six-month low in July. China's Treasury holdings have also dropped for two straight months for the first time since November 2016.
China may use its massive position in U.S. Treasuries to inflict economic pain on the United States by driving up borrowing costs, but we think the probability of significant selling is low. While China's Treasury holdings have declined, they've fallen only about $12 billion, or 1%, over the last two months.
The economic relationship between the U.S. and China is somewhat symbiotic: China extends credit to the U.S. (via Treasury purchases) so the U.S. can purchase goods from China (as its largest trading partner). If China sells enough Treasuries, the impact on the U.S. economy can significantly curb demand for Chinese goods, leading to an inevitable downturn in its own economy. China's selling could also boost the yuan's value versus its peers, which could weigh on demand for China's exports. As shown in the chart, the yuan climbed 6% versus the U.S. dollar in June and July, in tandem with the selling.
"While China sold Treasuries in June and July, we are still not concerned about China using its balance sheet as leverage in trade discussions," said LPL Chief Investment Strategist John Lynch. "China has a lot to lose economically with this strategy."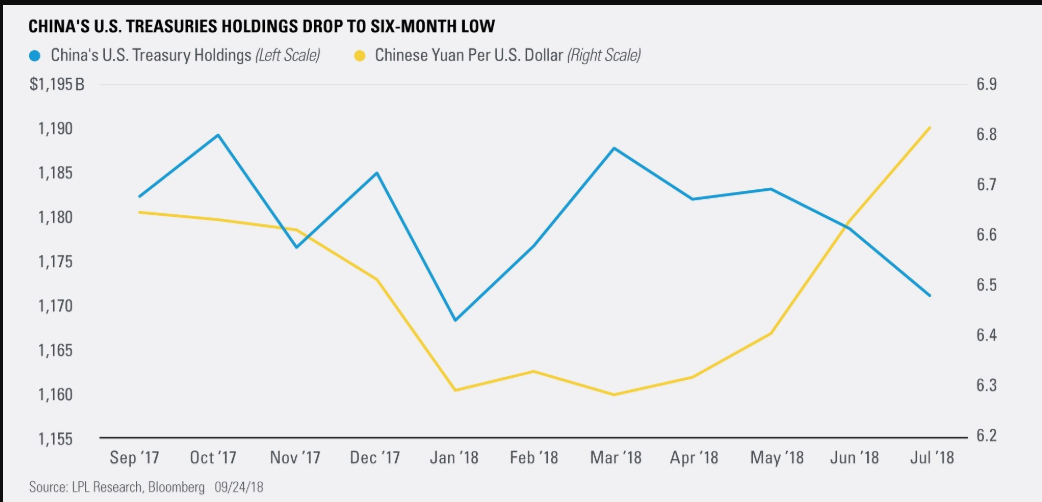 https://lplresearch.com/2018/09/25/trade-spat-unlikely-to-fuel-chinas-treasury-sales/#more-10848
4.University Endowments Massive…Harvard $39B
Harvard University (ever heard of it?) returned 10% on its endowment in fiscal 2018. It's now up to $39.2 billion…and yep, it's still the world's largest.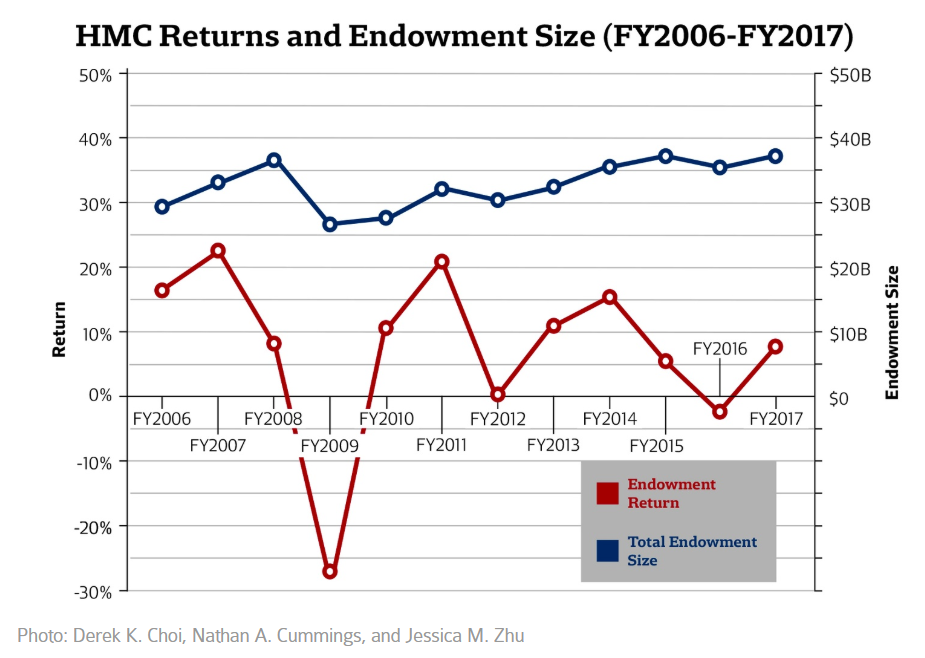 And it feels like a low blow because we're actually writing this newsletter at a coffee shop in Harvard Square (we're here for the Forbes Under 30 Summit)…but we should note the endowment didn't perform as well as a few of its peers.
For the year ending June 30…
Dartmouth College: 12.2% gain
University of Pennsylvania: 12.9% gain
MIT: 13.5% gain
Notre Dame: 12.2% gain
Bottom line, courtesy of The Harvard Crimson: The returns "mark an improvement from last year's return of 8.1 percent and a serious turn-around from the loss of $2 billion in fiscal year 2016."
5.2018 Vs. Typical Mid-Term Election Year.
Barron's articles over weekend on mid-terms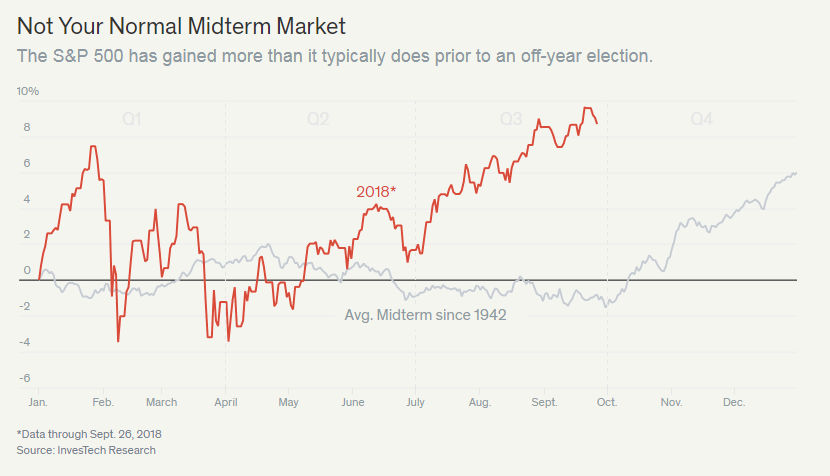 The Stock Market Follows a Pattern in Election Years. Maybe Not This Time
 Ben Levisohn
https://www.barrons.com/articles/midterm-election-stocks-1538086186
6.Handicapping Mid-Terms.
Midterms Math
Democrats need to win a net two seats in this year's midterm elections to gain control of the Senate, and a net 23 seats to gain control of the House.
Senate
Republicans
51
Democrats
49*
Total Seats
100
Democrats up for re-election
26 Seats
Republicans up for re-election
9 Seats
House of Representatives
Republican
236
Democratic
193
Vacant
6**
Total
435
*Includes two independents who caucus with Democrats **Includes two seats won by Democrats, four won by Republicans
Sources: Senate.gov; House.gov:
What a Pivotal Midterm Election Could Mean for Investors
By
Lauren R. Rublin
https://www.barrons.com/articles/what-a-pivotal-midterm-election-could-mean-for-investors-1538181587
All 435 House seats are up for grabs this November, and, like in the Senate race, stakes are high given the current political climate.
Bovada (55.6% implied probability) and Smarkets (51.6%) have the Democrats as slight favorites to win the House, while PredictIt (67.0%) is more bullish on their odds.
Per PredictIt, the market suggests there's a relatively high 9% chance of the Democrats winning in a landslide — 251 or more seats.
https://www.actionnetwork.com/politics/2018-midterm-election-odds-democrats-favored-over-republicans-house-of-representatives
2018 Midterm Election Odds: Democrats Favored to Win Back the House Bryan Mears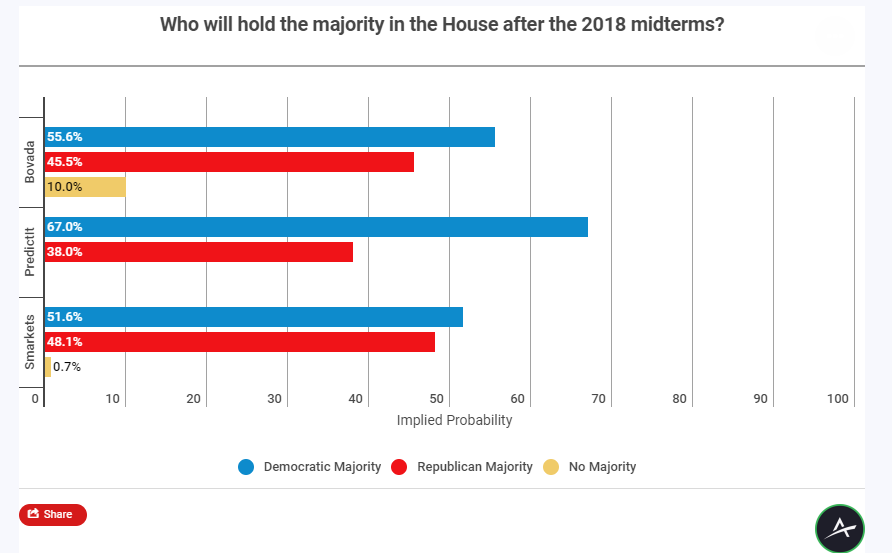 7.Homeowners are sitting on a record $6 trillion in equity. Why aren't they using it?
Published: Sept 16, 2018 8:56 a.m. ET
Rising interest rates are making lines of credit more expensive… and Americans may still be leery of cash-out refis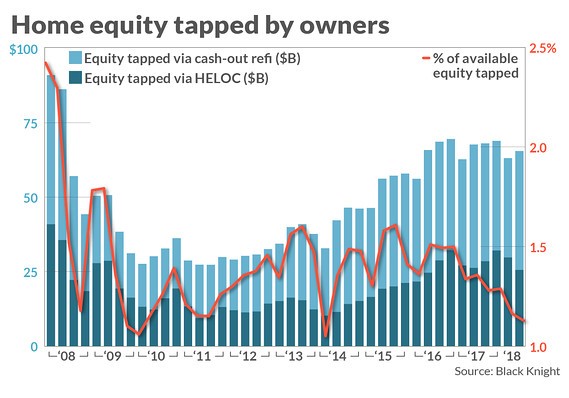 American homeowners have amassed a record $6 trillion in equity in their properties, a figure boosted by surging home prices and a trend of owners staying put longer. But rising interest rates and caution resulting from the housing troubles of a decade ago are limiting how much of that equity is getting tapped.
"Tappable" equity" – that amount of home equity that can be withdrawn and still leave owners with at least 20% equity in their homes – topped $6 trillion for the first time ever in the second quarter, according to real estate data provider Black Knight.
Read: America is house-rich but cash-poor — and these businesses see opportunity
That's 21% higher than in the pre-crisis peak, from 2006. And it means 44 million households have equity available to them to help pay education costs, renovate the house or anything else they'd like.
But only $65 billion was withdrawn in cash-out refinances or home equity lines of credit in the first quarter, Black Knight reported. That's more than 3% lower than the same period last year. Black Knight thinks rising interest rates have a lot to do with it: The cost of financing a HELOC averaged 5.83% in the second quarter, up 30 basis points from the first quarter and nearly a full percentage point higher than a year ago.
It's also the case, as MarketWatch has reported in the past, that Americans are scarred by the housing bust. During the bubble years a decade ago, lenders pushed far too many exotic products that made homes into ATMs.
Even with stricter post-crisis underwriting and rosier fundamentals, many consumers remain exceptionally conservative in their borrowing habits, at least when it comes to their homes. In the most recent week, only 6% of mortgage applications were adjustable-rate, according to the Mortgage Bankers Association.
Meanwhile, rising rates are making it much harder for homeowners to do traditional refinances that allow for lower monthly payments. "Rate refinances" fell 62% in the second quarter compared to a year ago to the lowest quarterly total ever recorded: 106,000, Black Knight said.
https://www.marketwatch.com/story/homeowners-are-sitting-on-a-record-6-trillion-in-equity-but-are-wary-of-tapping-it-2018-09-14
8.Homeowners are Staying Put and Millennials are Still Renting.
Lumber prices fall 45% this year, sending macro message?
by Chris Kimble | Sep 24, 2018 | Kimble Charting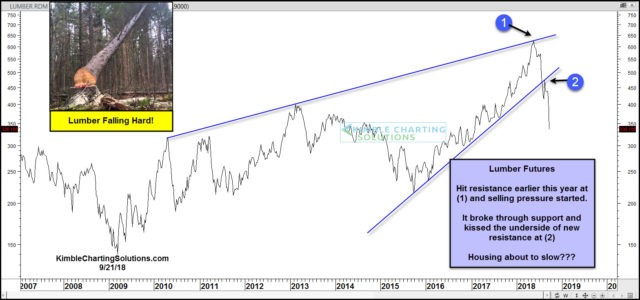 Home and Lumber prices can send important messages to how the economy is doing. The chart above looks at Lumber prices over the past 11-years.
So far this year, Lumber and the DJ Home Construction index is diverging against the broad market. This chart highlights that Lumber is now down over 40% from its peak earlier this year.
Below compares the performance of the S&P to the DJ Home Construction index this year-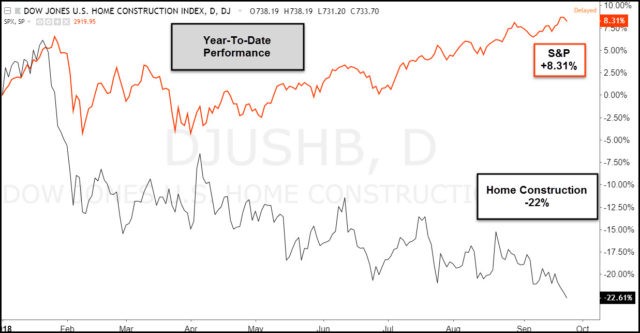 Investors might want to keep a close eye on Lumber and the Home construction index going forward, due to weakness in this sector could be sending an important message about the macro picture going forward!
https://kimblechartingsolutions.com/2018/09/lumber-prices-fall-45-year-sending-macro-message/
Found at www.abnormalreturns.com
 WOOD-Lumber indicator for housing…50day thru 200day to downside.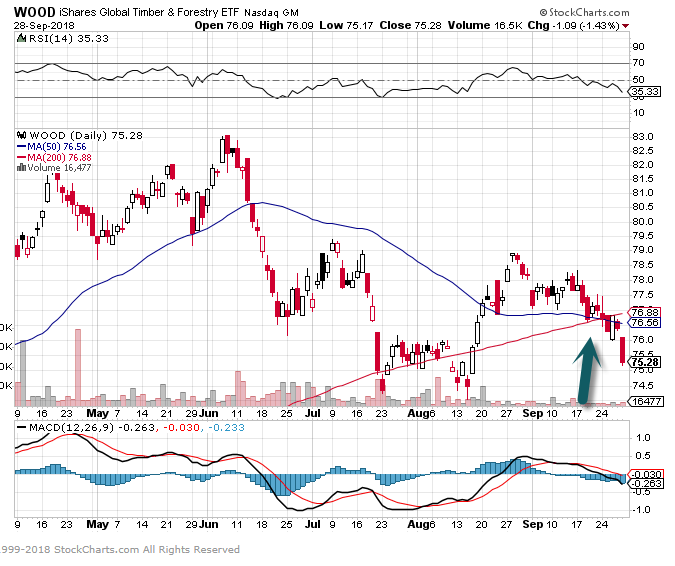 9.A Hedge Fund Manager Who Drives a Ferrari Will Probably Underperform
Hedge fund managers who own sports cars take more risk and deliver less alpha compared to owners of more "practical" vehicles, research shows.
Amy Whyte
Seeking a high-performing hedge fund manager? Try hiring one who drives a minivan.In a perhaps unsurprising new study, university researchers found that hedge fund managers who own sports cars make riskier investments, while minivan owners were found to be more cautious investors. The paper, which is forthcoming in the Journal of Finance, was based on public records for vehicle purchases, which the authors used to identify cars owned by 1,144 U.S.-based hedge fund managers.
Although higher risk can sometimes lead to higher returns, the additional risks taken by sports car drivers "ultimately hurt their investors," authors Stephen Brown, Yan Lu, Sugata Ray, and Melvyn Teo, who are all finance professors, wrote in the paper. They found that sports car owners delivered lower Sharpe ratios and alphas, and traded "more frequently, actively, and unconventionally."
Overall, they underperformed hedge fund managers without sports cars by 2.92 percent per year.
"We argue that the purchase of a powerful sports car signals the intent to drive in a spirited fashion and therefore conveys a propensity for sensation seeking," the authors wrote. Brown is a professor at New York University, while Lu works at the University of Central Florida, Ray at the University of Alabama, and Teo at the Singapore Management University.
They found that minivan drivers, meanwhile, outperformed non-minivan drivers by 3.22 percent per year.
Beyond underperforming owners of "practical but unexciting cars," sports car purchasers were also more likely to terminate their funds and disclose regulatory actions or even criminal violations. The results of the study further suggested that these "sensation-seeking" hedge fund managers could be more predisposed to fraud.
"The disinhibition and boredom-aversion of sensation seekers imply that they cut corners on compliance and record-keeping functions, leading to higher operational risk, which hurts their clients," the authors wrote.
Hedge fund investors, for their part, seem to "correctly perceive sensation-seeking managers to be less competent," at least based on fund flows. According to the study, sports car owners manage an average of $515 million, $303 million less than the average hedge fund manager without a sports car.
Meanwhile, minivan drivers managed about $1.95 billion on average – $1.22 billion more than those without minivans. Still, Brown, Lu, Ray, and Teo argued that the difference in assets under management should be still higher given how much minivan drivers outperformed.
"These findings suggest that investors do not fully appreciate the superior investment skills of sensation-avoiding managers," the authors concluded.
https://www.institutionalinvestor.com/article/b1b1t685c6gzk4/A-Hedge-Fund-Manager-Who-Drives-a-Ferrari-Will-Probably-Underperform
10. This Is the Number 1 Sign of High Intelligence, According to Jeff Bezos
This is what the Amazon founder looks for when he wants to know if someone is really smart.Amazon founder Jeff Bezos sits atop one of the most successful companies of our time, not to mention a personal fortune of some $150 billion. I think we can all agree that by any meaningful definition the guy is pretty smart. It's also obvious he has a talent for surrounding himself with other smart people who can help make his vision reality.
How does he find them? It's a question he addressed when he stopped by the Basecamp offices a few years ago, the company's founder, Jason Fried, reports on the Basecamp blog. And the answer Bezos gave was the exact opposite of what most folks would expect.
Smart people are actually wrong a lot.
Most of us, when we want to figure out if someone is smart, ask if the person is frequently right: Do they have correct knowledge about the world and their area of expertise? Do they come up with the right answers when faced with hard problems? Do their predictions turn out to be right?
But Bezos's counterintuitive strategy isn't just to look at how often people are right. Instead, he also looks for people who can admit they are wrong and change their opinions often.
Bezos has "observed that the smartest people are constantly revising their understanding, reconsidering a problem they thought they'd already solved. They're open to new points of view, new information, new ideas, contradictions, and challenges to their own way of thinking," Fried reports the Amazon boss saying.
"Consistency is the hobgoblin of little minds."
That willingness to consider new information goes hand in hand with a willingness to admit your old way of thinking was flawed. In other words, to be super smart you have to change your mind a lot. Essayist Ralph Waldo Emerson famously said, "Consistency is the hobgoblin of little minds." Bezos apparently agrees that consistency is overrated.
"He doesn't think consistency of thought is a particularly positive trait," Fried reports. "It's perfectly healthy – encouraged, even – to have an idea tomorrow that contradicts your idea today."
It's not just 19th-century philosophers who agree with Bezos. Modern science does too, although psychologists have a less poetic way of speaking about the flexibility of mind Bezos prizes. They call it intellectual humility. Studies of decision making show that people who are more willing to entertain the idea that they're wrong make markedly better choices. Being wrong, they understand, isn't a sign of stupidity. It's a sign of curiosity, openness to new information, and ultimately smarts.
If famous essays, top CEOs, and the latest research aren't enough to convince you that to be smarter, you need to also be frequently wrong, you can also take it from the undoubtedly smart futurists at Palo Alto's Institute for the Future. According to Stanford professor Bob Sutton, they encapsulate this trait of highly intelligent folks this way: "strong opinions, which are weakly held."
As the futurists explained to Sutton, weakly held (and therefore often changed) opinions are important because they mean you aren't "too attached to what you believe," which  "undermines your ability to 'see' and 'hear' evidence that clashes with your opinions."
So next time you're trying to determine if someone is actually super smart or simply bluffing, don't ask whether they're always right. Instead, ask when was the last time they changed their opinion. If they can't name lots of times they were wrong, they're probably not as smart as they want to appear.
https://www.inc.com/jessica-stillman/this-is-number-1-sign-of-high-intelligence-according-to-jeff-bezos.html?cid=hmsub3