1.100 Year Bond +20%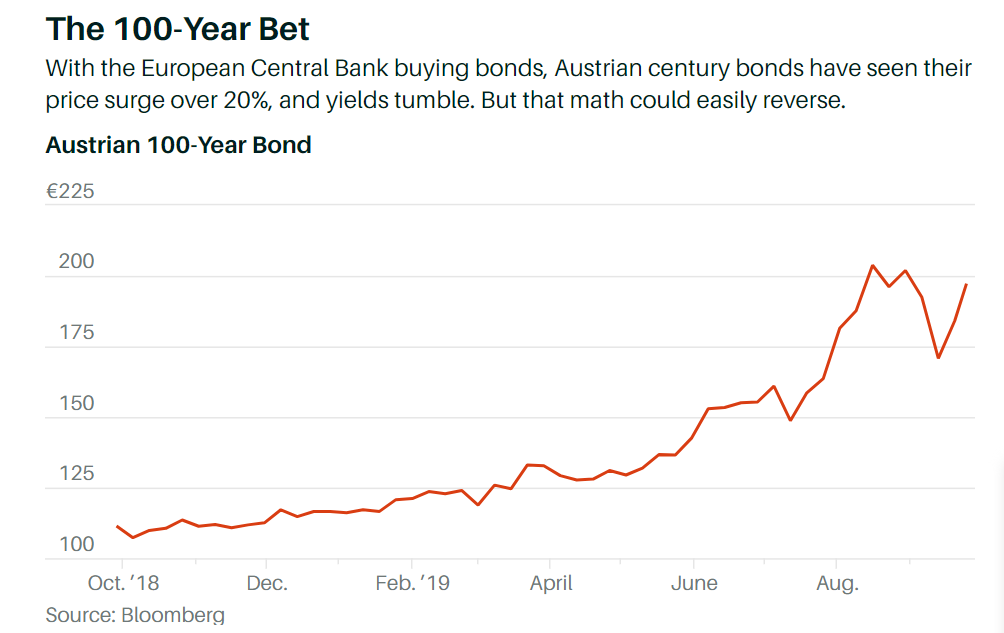 The Bubble Is Deflating for 100-Year Bonds
That valuation still seems bubblicious; a 1% yield on a bond is analogous to a stock with a price/earnings multiple of 100. With a high P/E stock, you're betting on big growth down the road. A bond returns only face value at maturity, assuming it's paid off as promised.
The drop in Austria's century bond's price to 168 from 210 still qualifies as a bona fide bear-market decline of 20%. Brigden's price target is for a further fall, to 143.50. Such price swings typically are associated with tech stocks, not stodgy government bonds.
None of the negative bond yields (still totaling $12.8 trillion) would be possible without European Central Bank policies, Brigden points out. "The ECB brought European yields down by two policies; quantitative easing (a pseudo fiscal policy) and negative rates (punishing thrift to boost asset prices)." Those policies may be reaching their limits, however.
Not only is the ECB close to running out of bonds to buy, in the case of German and Dutch debt, he writes, but other European monetary authorities are beginning to question the usefulness of negative policy rates, notably Sweden's Riksbank. An article published earlier this year by the Federal Reserve Bank of San Francisco also questioned the effectiveness of the Bank of Japan's negative interest rates.
Write to Randall W. Forsyth at randall.forsyth@barrons.com
https://www.barrons.com/articles/the-bubble-is-deflating-for-100-year-bonds-51573122603?mod=hp_LEAD_1
2.Quants vs. Market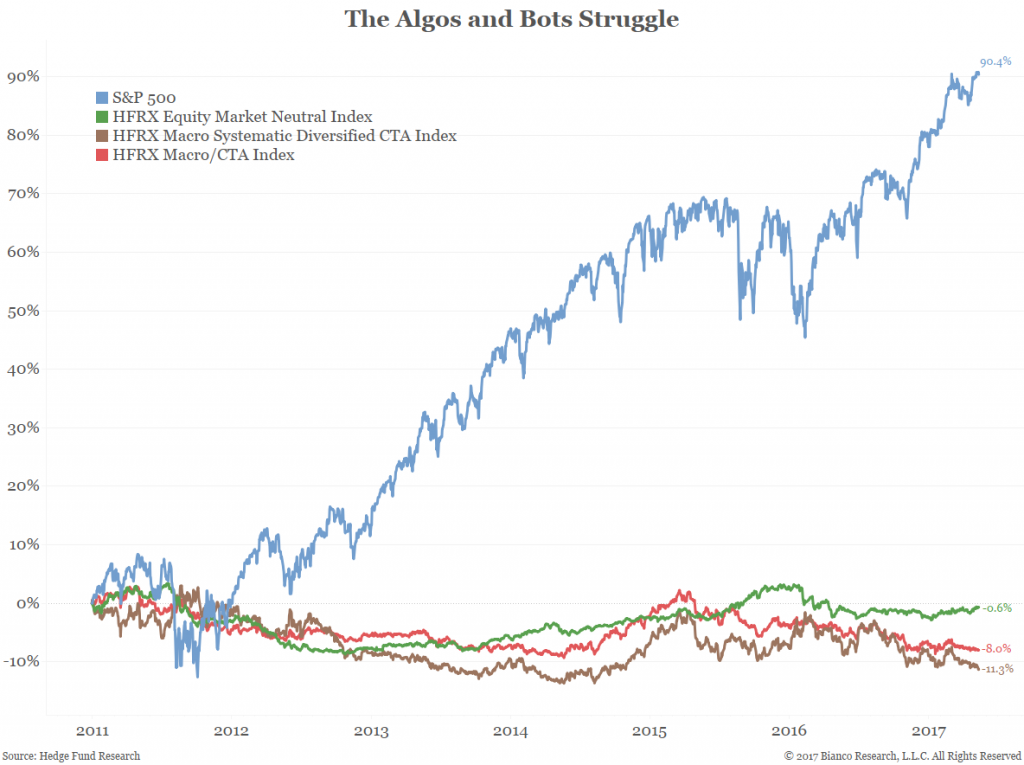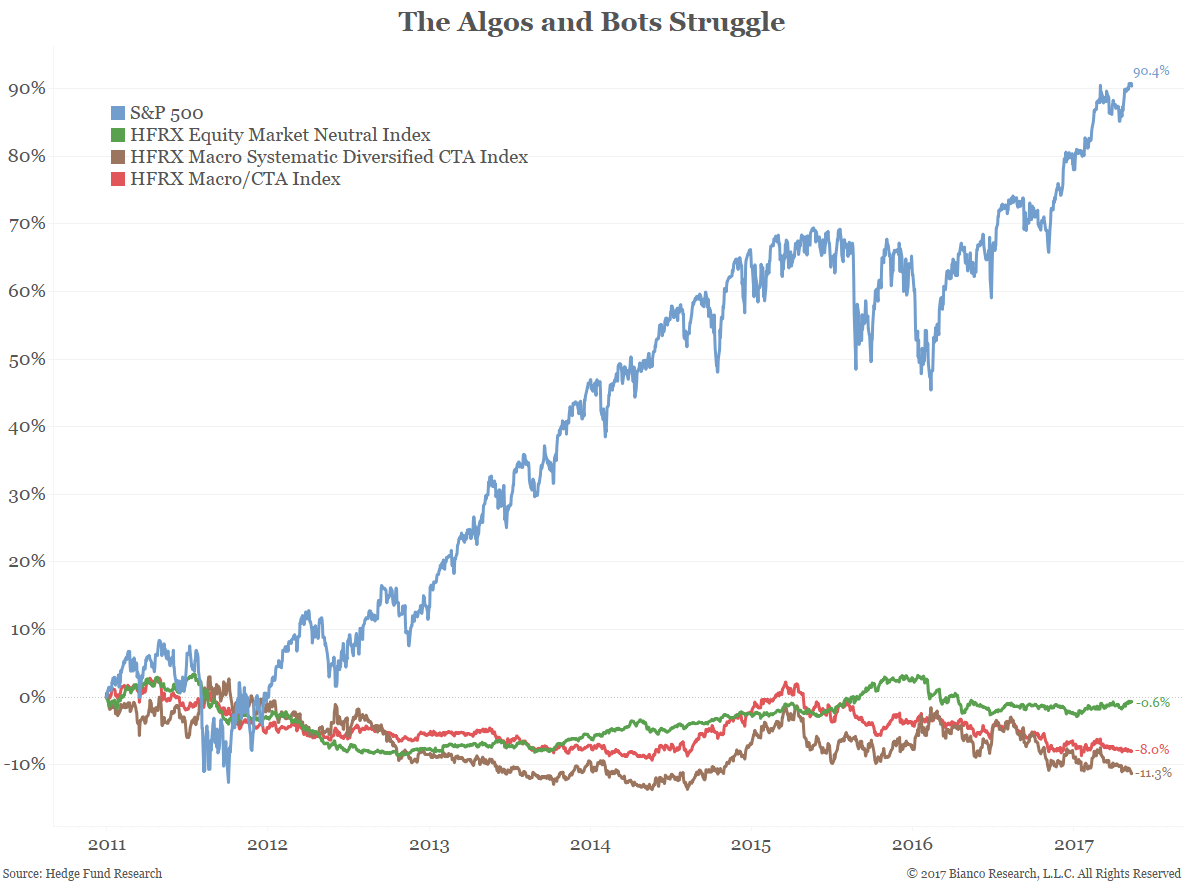 3.Aramco 52 Years Worth of Gas Reserves.
Life of proved reserves: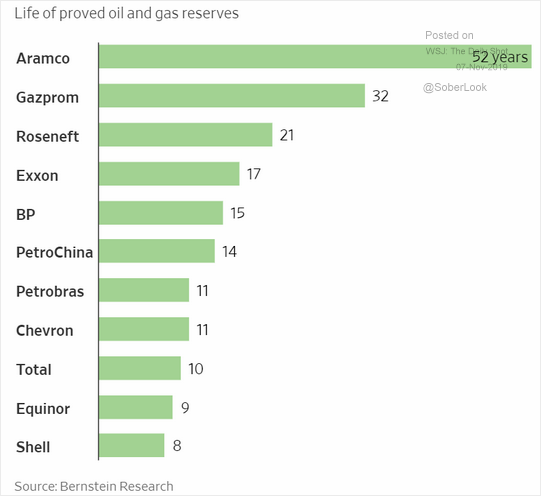 Source: @WSJ; Read full article
The Daily Shot https://blogs.wsj.com/dailyshot/2019/11/07/the-daily-shot-slowing-population-growth-will-cap-labor-force-expansion/
4.Bear Market Perspective.
Wells Fargo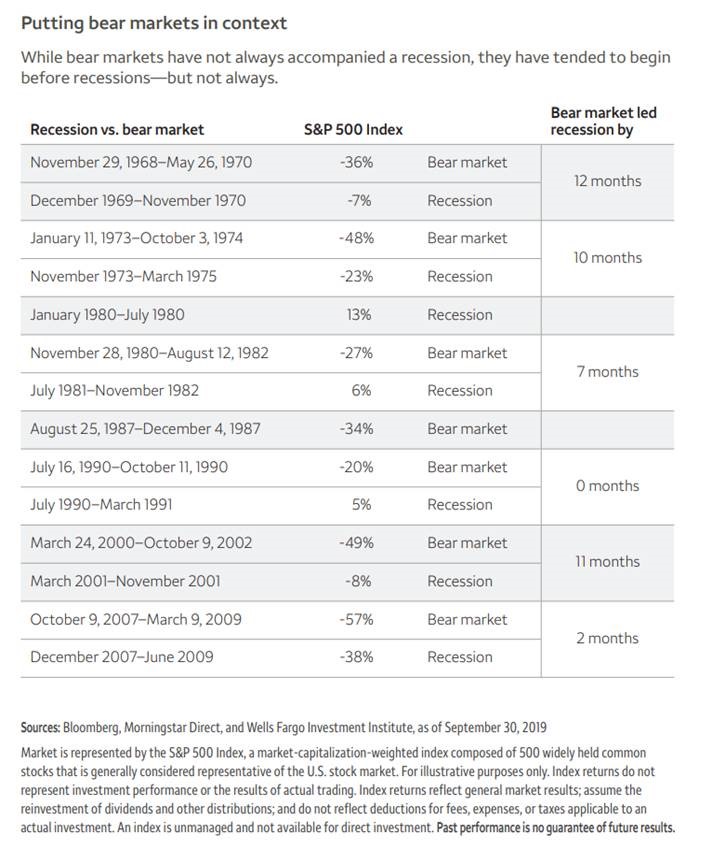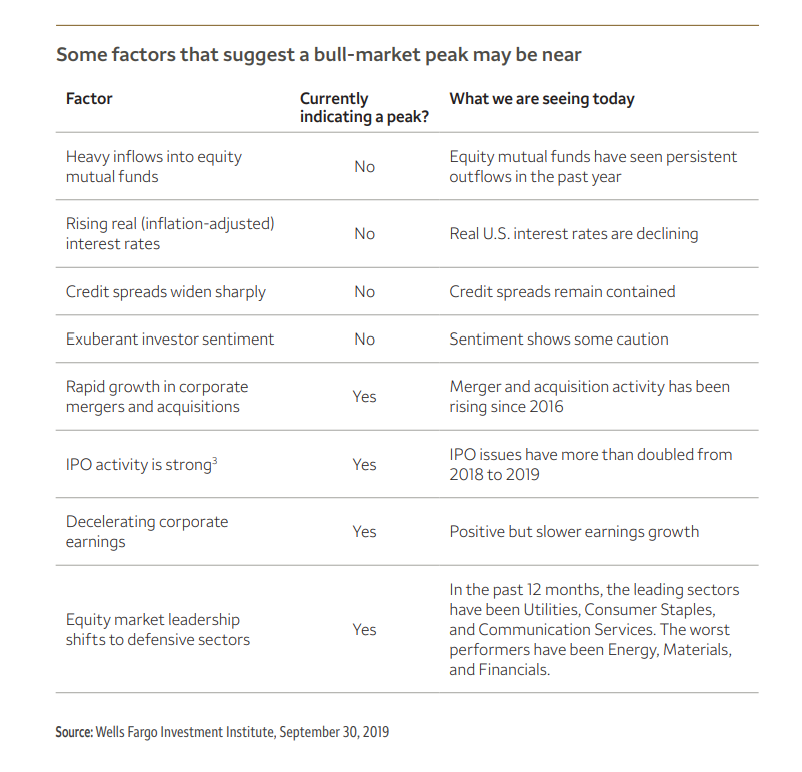 https://www.wellsfargoassetmanagement.com/assets/public/pdf/insights/commentary/investment-institute/how-bull-markets-end.pdf
5.Seasonally Strong Stock Market Season Kicks In.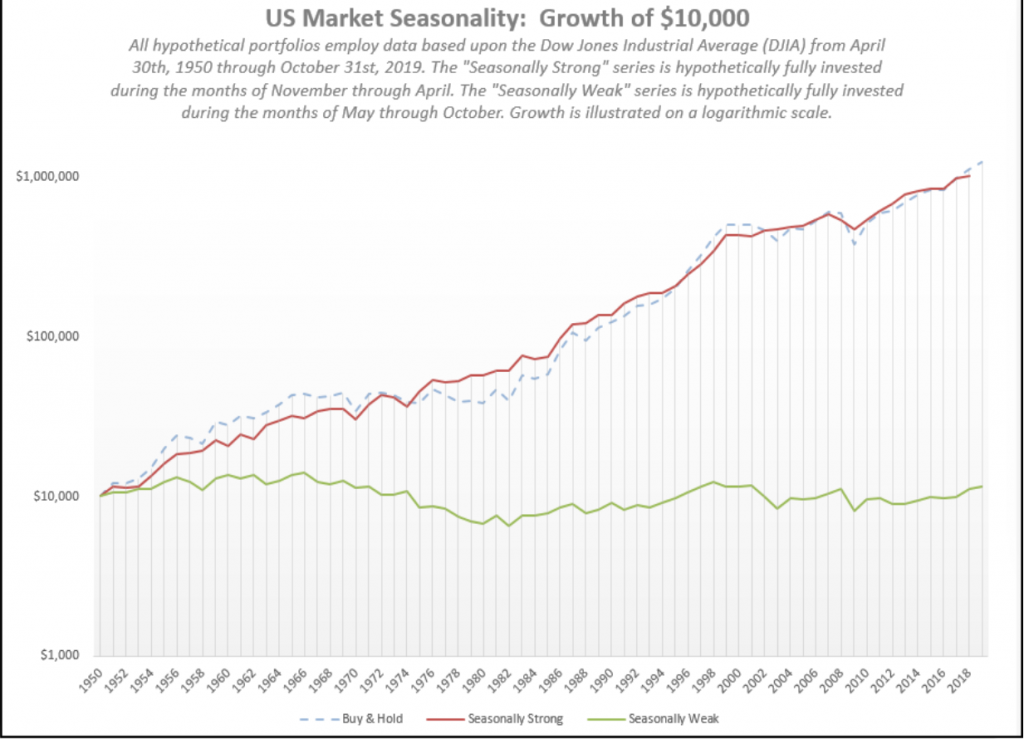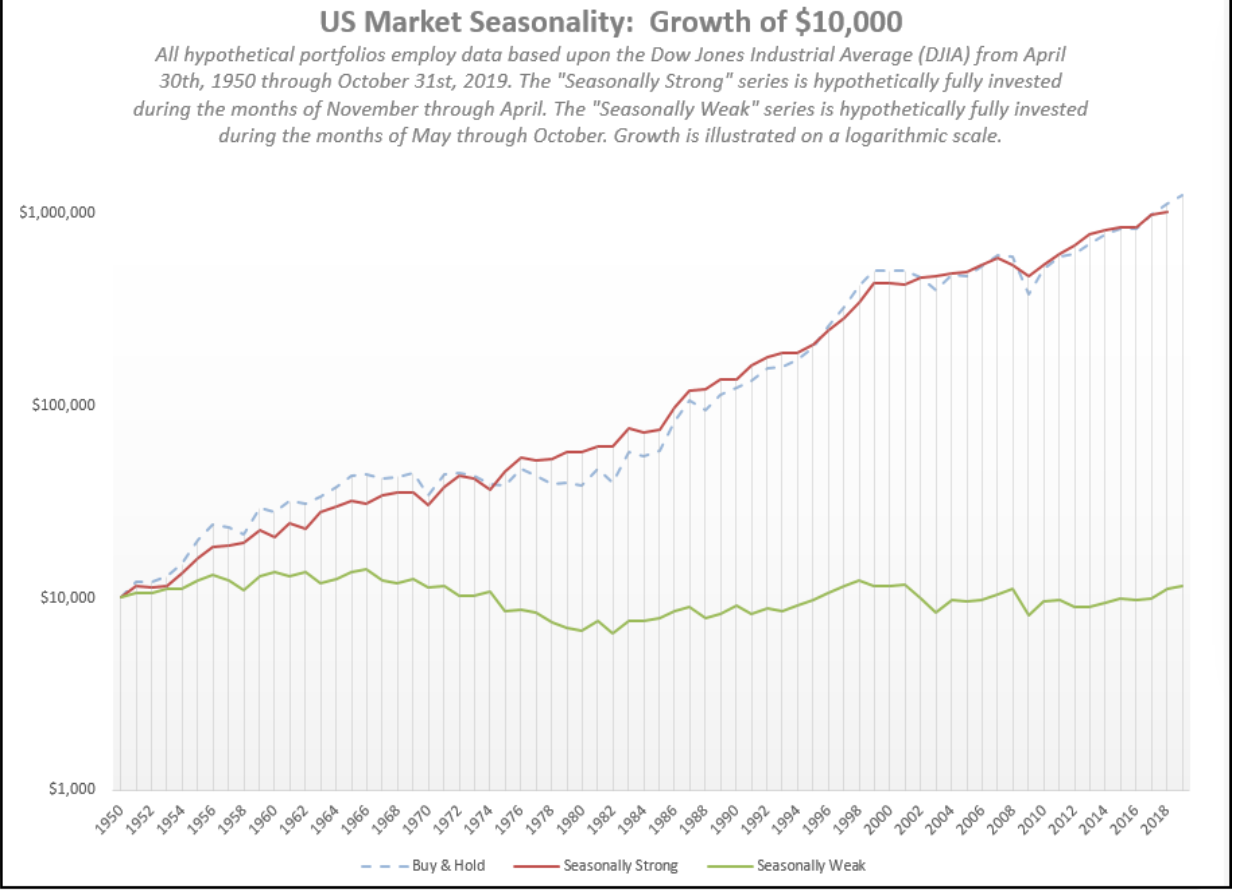 Nasdaq Dorsey Wright www.dorseywright.com
6.European Companies Deriving Bulk of Revenue from Outside Region.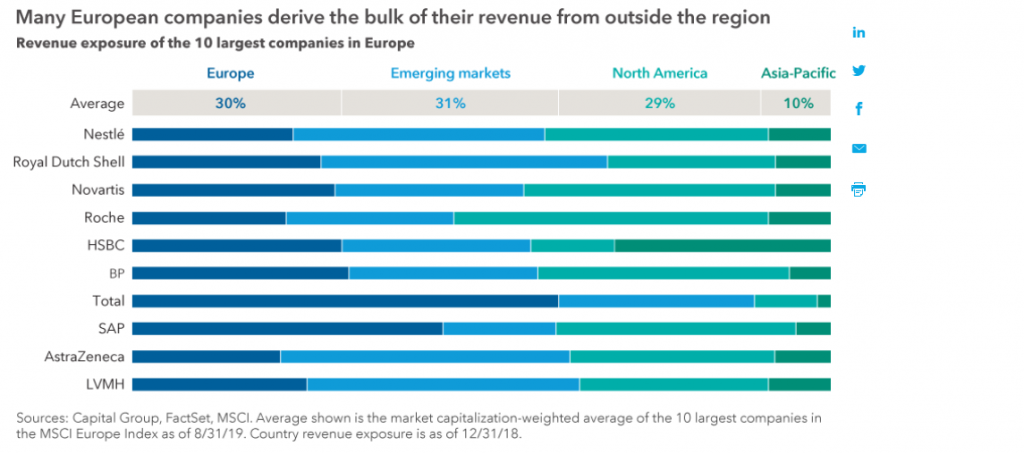 International investing in 2020: Your comprehensive guide
https://www.thecapitalideas.com/articles/guide-to-international-investing
7.Two U.S. Equity Groups That Have Not Seen New Highs.
Transports have not confirmed Dow new highs.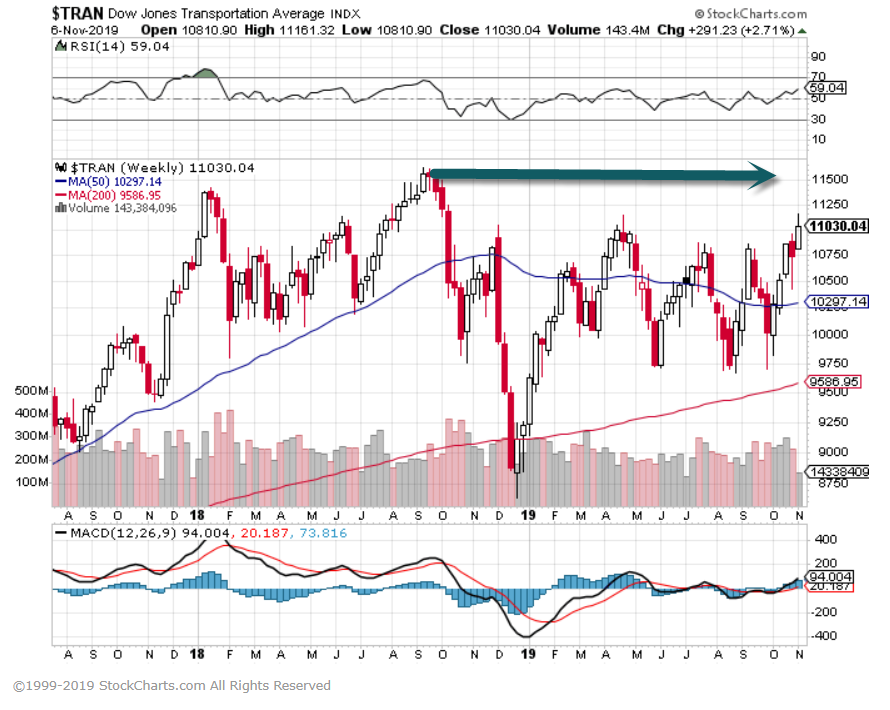 Small Cap stocks below highs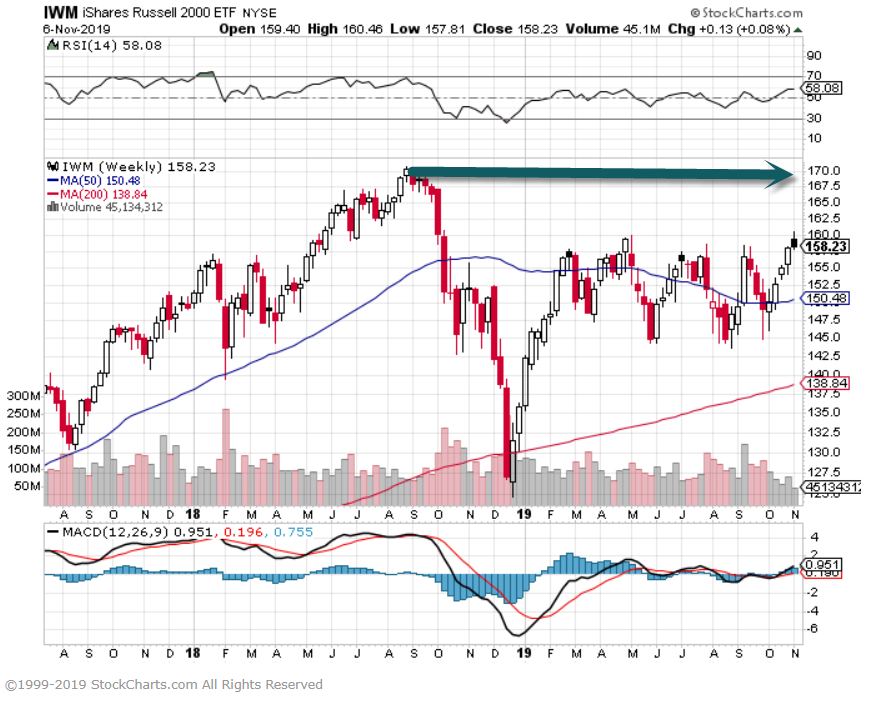 8..Nearly half of SF families are financially insecure, despite high median income
By Madeline Wells, SFGATE
Published 10:40 am PST, Wednesday, November 6, 2019
Despite the median household income in San Francisco County being $112,376, more than half of all San Francisco families do not have at least $2,000 in savings, according to a report released by the nonprofit Urban Institute Wednesday.
That means 47% are financially insecure, leaving them at higher risk of eviction and unpaid bills. Financially insecure households are 14 times more likely to be evicted — which can lead to homelessness — and three times more likely to miss a housing or utility payment, according to the Urban Institute.
Basically, the cost of living in San Francisco is so high that even making $37,099 more than the statewide average income (according to the 2018 census) isn't enough to keep you from struggling.
ALSO: An Apple employee explains why cost of living forced her to leave the Bay Area
The organization's estimates were based on 2014 census data and put into a predictive model for 10 different U.S. cities, including Los Angeles, New York City and Chicago. San Francisco was the only Bay Area city included in the study. To compare, 61% of both Los Angeles and New York families were found to be financially insecure, despite the fact that the median income of both cities is substantially lower than that of San Francisco's.
However, San Francisco fared better with a different measure of financial health: credit scores. Only 13% of San Franciscans have subprime credit scores, which signify the estimated risk of delinquency on a debt or line of credit. This is below the national average of 28%.
Madeline Wells is an SFGATE digital reporter. Email: madeline.wells@sfgate.com | Twitter: @madwells22
9. Soaring Homelessness Forces San Fran To Issue Record Housing Debt
by Tyler Durden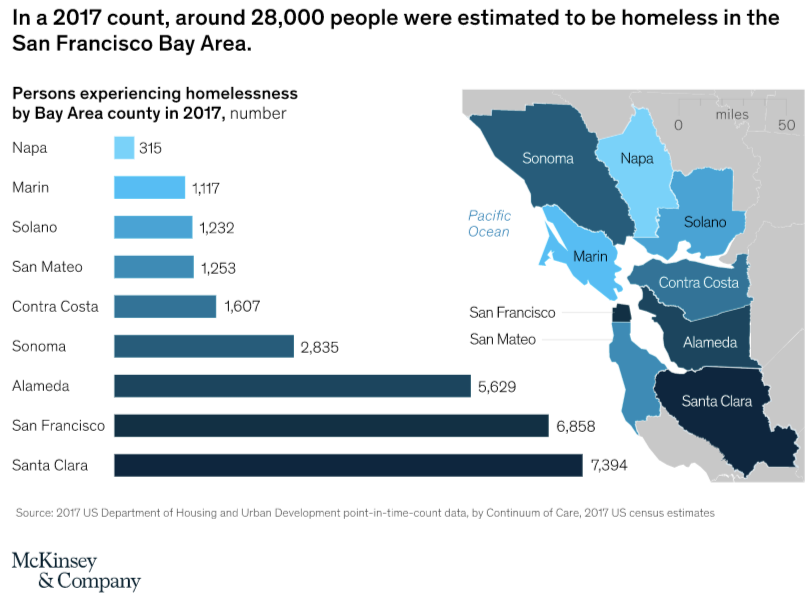 Preliminary PIT estimates show in 2019 a 43% jump in the homeless population in Alameda Counties, 31% in Santa Clara, and 17% in San Francisco from 2017 to 2019.
Total homeless populations in the Bay Area will likely increase through the early 2020s as wealth inequality expands. If the bill is approved, the build time for these new structures could take several years.
Under Proposition A, funds will be allocated to these five areas (list provided by Bloomberg):
$220 million for extremely low- and low-income people
$150 million to repair and rebuild public housing developments
$150 million to acquire and construct housing for seniors
$60 million to acquire and rehabilitate affordable rental housing to prevent the loss of such housing and to assist middle-income city residents and workers to secure permanent housing
$20 million to support affordable housing for educators and employees of the San Francisco Unified School District and City College of San Francisco
Zero Hedge
https://www.zerohedge.com/personal-finance/soaring-homelessness-forces-san-fran-issue-record-housing-debt
10.8 Life Lessons I've Learned From Traveling the World With My Family
By Michael Blankenship | November 1, 2019 | 0
My wife, 2-year-old daughter and I have been traveling the world for over a year now. When most people find this out, they look surprised and try to figure out which question to ask first: Why? Are you rich? How? With a little girl?
Sometimes, we opt for the easy answer: vacation. The alternative usually leads to a long conversation about why we've done what we've done, and trying to convince them that we're not completely nuts.
The fact is, we did it because… well, we wanted to! The truth isn't a whole lot more complicated than that.
We've been to 11 different countries in 13 months, and my remote work is what pays the bills. Along the way, I've learned a lot about fear, fortune, discipline, myself and my inner fire. Here are eight lessons, in particular, that stand out:
1. It's only ever as scary as you make it.
Before our one-year stint, my wife and I had never traveled further than a five-day cruise to Mexico. For the most part, we stayed within our hometown in Oregon, venturing out to nearby states for a vacation every few months.
It wasn't until we took an unexpected trip to Australia that we discovered our passion for traveling and desperately wanted to do more of it. But, of course, selling our house? Traveling the world? Terrifying.
Until we did it. Then it wasn't scary at all. The only fear I've experienced related to traveling over the last year was right before we actually left. Once we arrived in Italy—our first destination—I was caught up in the thrill of conquering my fear and doing something I'd never done before. Fear took a back seat to my inner fire and excitement.
"We suffer more in imagination than reality."
Seneca
2. One day of misery is worth an entire month of thrilling experience.
People often ask us (with a shocked expression on their face), "How do you travel with a kid?"
And part of me wants to say, "Umm. Well, we get on a plane. And when we do, we make sure that our child is with us." Ha!
But I get what they're saying. Traveling with a kid is difficult—no question about it. But isn't one day (or rather, one eight-hour flight) of misery worth an entire month or year of thrilling experience? We think so.
3. Pain is a great motivator to change your life.
When we sold our house and left for our adventure, it wasn't entirely because we just wanted to. We didn't wake up and think, "Hey! Wanna travel?"
No. The primary motivator was intense frustration with our hometown, summer smoke from Oregon fires and a discontent with seeing the same dang thing every day. We were sick of it. And that frustration drove us to make the best decision of our lives (so far!). If you harness your pain, it can be a great motivator to finally change your life for the better.
4. You're more capable than you give yourself credit for.
I know. Selling our house, traveling the world and living in a different Airbnb every month, working for clients in U.S. time zones, raising our daughter at the same time… It all seems a little risky, right?
What if something goes wrong while we're in another country? What if little Andie (my daughter) gets sick? What if an Airbnb host bails on us? What if no one speaks English? What if, what if, what if…
In Italy, an Airbnb host tried to charge us $500 for damage that we didn't cause. In Croatia, our daughter got a terrible virus. And on a rocky boat ride to a Greek island, Andie started a vomit chain reaction (ya know—the smell).
But we figured it out. We lived through all of it. And we look back at those moments now and laugh. We are more capable than we originally thought we would be. When you have to figure it out, you just do.
Courtesy of Michael Blankenship
5. One powerful decision permeates every part of your life.
One of the most amazing things about our decision to travel is the impact it has had on the rest of our lives. I have a much better relationship with my wife and my daughter, we always have something to look forward to—and three months into traveling, I quit my job and went full time as a freelancer. Suddenly, that decision was a lot less scary, too!
When you make one powerful decision, there's no stopping it; that decision will impact every other part of your life and set off a chain reaction that helps you make other important decisions.
6. In the end, we're all the same.
All humans are the same. We have so much in common.
I've realized this more and more as we've traveled from country to country. Sure, there's different cultures and different ways of communicating, but at the end of the day, we're all just people who are trying to find a little bit of happiness.
There's something comforting about that, don't you think?
7. Teamwork makes the dream work.
There is an absolute 0% chance that I would be able to do all of this without my wife. She is the planner, the budgeter and the motivator.
Without her, I wouldn't be globetrotting and I wouldn't be living the life of my dreams. There's no reason for you to do it alone, either (whatever it is). Find a partner who complements you, team up, and do something awesome.
8. Persistent change keeps you present.
When you're traveling the world, moving to a new country every month, there's not much time to settle into a routine. Every month, I have to find a new place to work, we have to hunt down a grocery store and figure out public transportation.
That might seem overwhelming, but it's actually a lot of fun—it's one of our favorite things to do when we get to a new country. Because when you're busy figuring things out and solving problems, you feel alive, your life has meaning. And bouncing from place to place leaves no time for being sedentary or unsatisfied.
Related: Why Traveling the World Is the Best Investment in Yourself