1.Record Short VIX Positioning Reflects a Ton of Fear Elsewhere
By
Luke Kawa
Shares outstanding in long-volatility ETPs are at record highs
Sheer size of VIX short contracts still shy of 2019 peak
Bearish bets on stock volatility are close to a record high, raising investor concern that the market is ripe for turmoil. There's a more benign explanation.
Futures linked to the measure of S&P 500's implied volatility, known as the "fear gauge", tend to move inversely to equities. The net non-commercial position — long contracts outstanding less short positions — sank to minus 187,948 last week, its lowest level ever.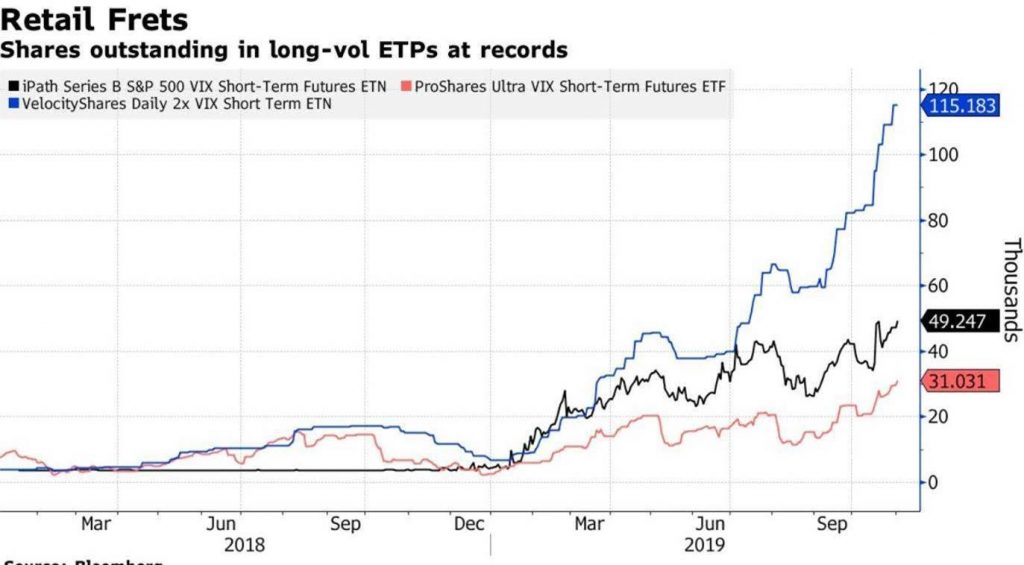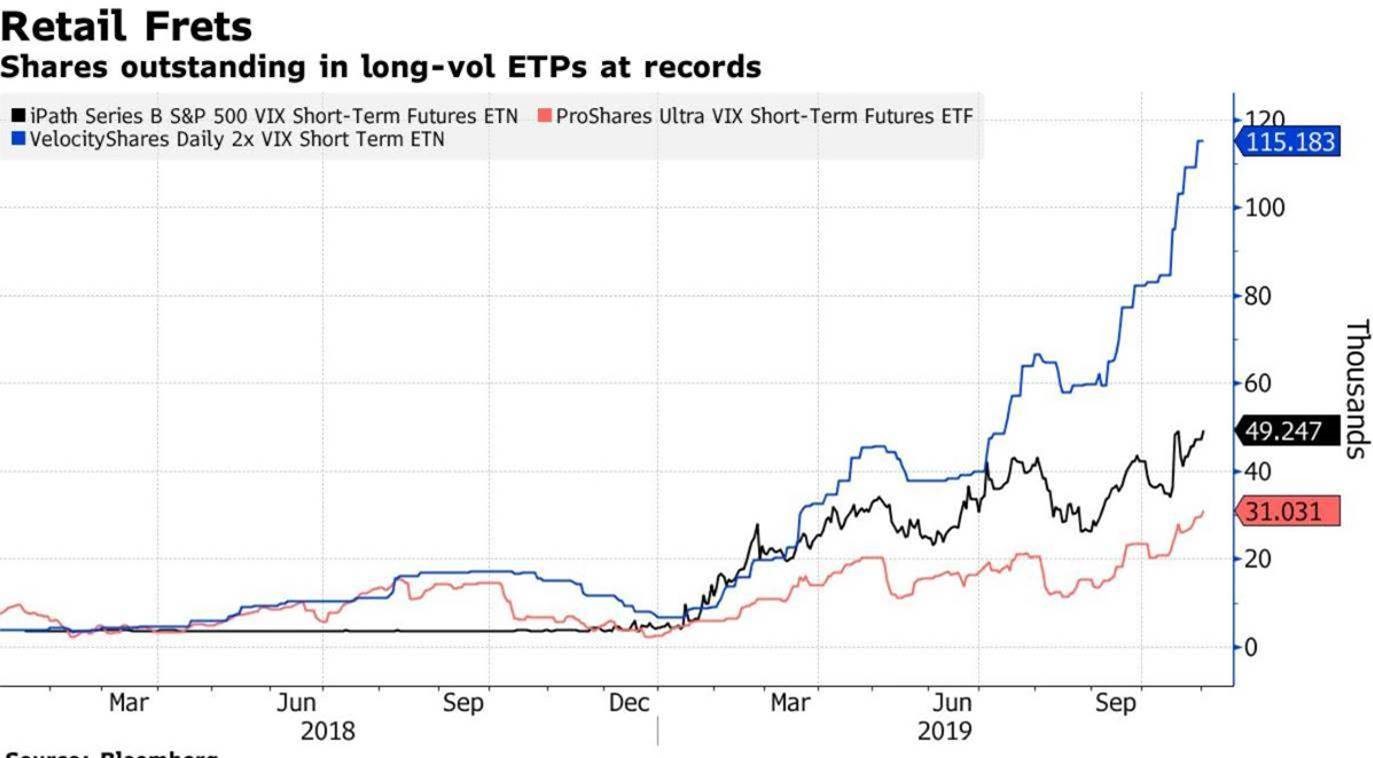 https://www.bloomberg.com/news/articles/2019-11-04/record-short-vix-positioning-reflects-a-ton-of-fear-elsewhere
2.Foreign Holdings of U.S. Stocks Hits a Record High…$7.7 Trillion.
Foreign private holdings of U.S. stocks hit a record high of $7.7 trillion as of July, the most recent data available, according to Treasury Department figures. The data for foreign funds excludes holdings from sovereign-wealth funds and central banks, meaning overall international holdings are likely substantially higher.
"You're seeing a real divergence between growth prospects in the U.S. equity market and the rest of the world," said Hannah Anderson, global market strategist at J.P. Morgan Asset Management in Hong Kong.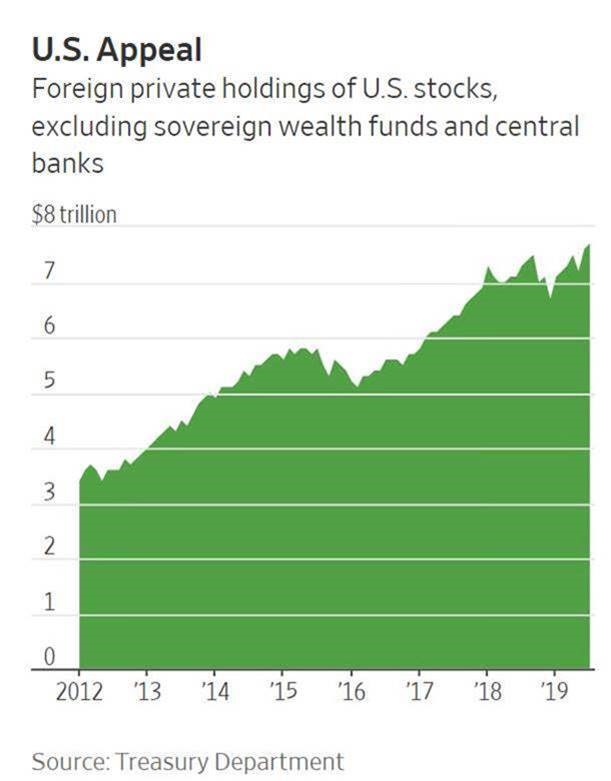 Foreign Money Supports U.S. Stocks' Rally Back to Record Highs–By
Steven Russolillo
Many foreign investors feel they have no choice but to pile in
https://www.wsj.com/articles/foreign-money-supports-u-s-stocks-rally-back-to-record-highs-11573124954
3.Term Premium Biggest 3 Month Increase Since 2016
(Bloomberg) — A bond-market warning light that glowed green for years is suddenly flashing red. The bad news for bondholders is that the last time this happened, it was accompanied by the biggest sell-off since the aftermath of the global financial crisis.
That indicator is the term premium, which, for both Treasuries and German bunds, has snapped back from last quarter's record lows. The U.S. gauge is now on track for the biggest three-month increase since late 2016.
After a stellar rally through August, global bonds have pulled back in recent weeks as thawing trade tensions lightened the global economic gloom, sapping demand for the safety of sovereign debt. Rebounding term premiums now signal the sell-off has further to run — the measure of extra compensation for holding longer-term debt versus simply rolling over a short-tenor security for years is in an uptrend that investors and strategists say has only just begun.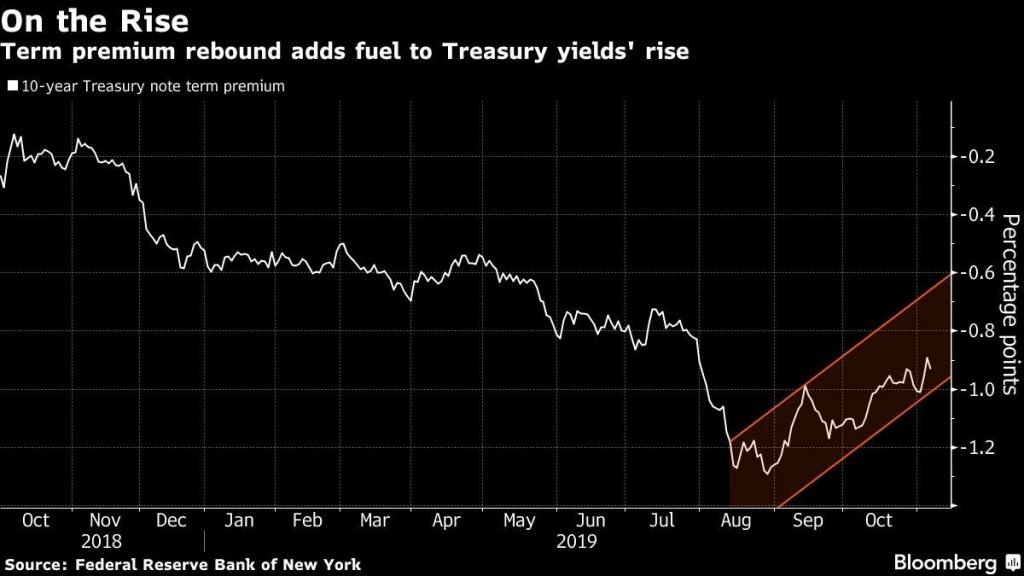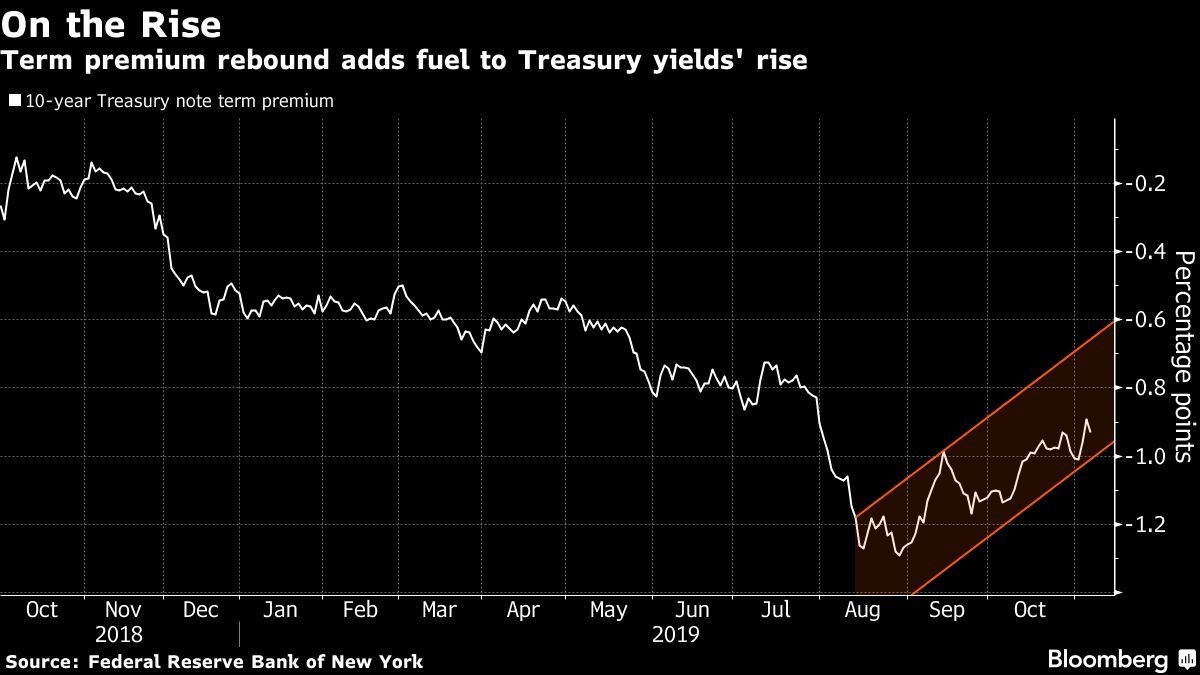 https://finance.yahoo.com/news/red-alert-now-flashing-bright-050001839.html
4.Shorts Still Piling on Weed Stocks
Short positions in Tilray Inc. TLRY, +5.31%, which is based in Toronto but listed only on Nasdaq, have increased to 38% of the float on Wednesday from about 22% on Jan. 1, according to S3 data.
For market leader Canopy Growth Corp. CGC, +12.47% , WEED, +12.69% which trades on the Toronto Stock Exchange and the New York Stock Exchange, short interest has increased to an aggregate 25% from about 14% in January.
TLRY–Shorts are 38% of stock float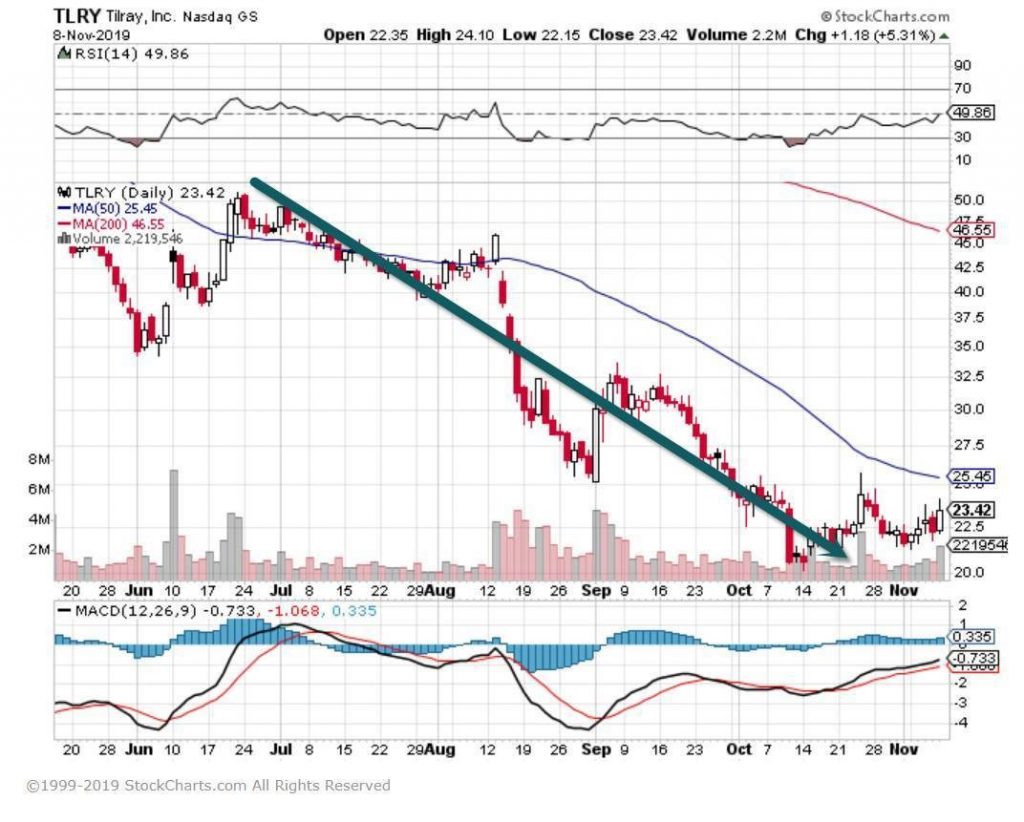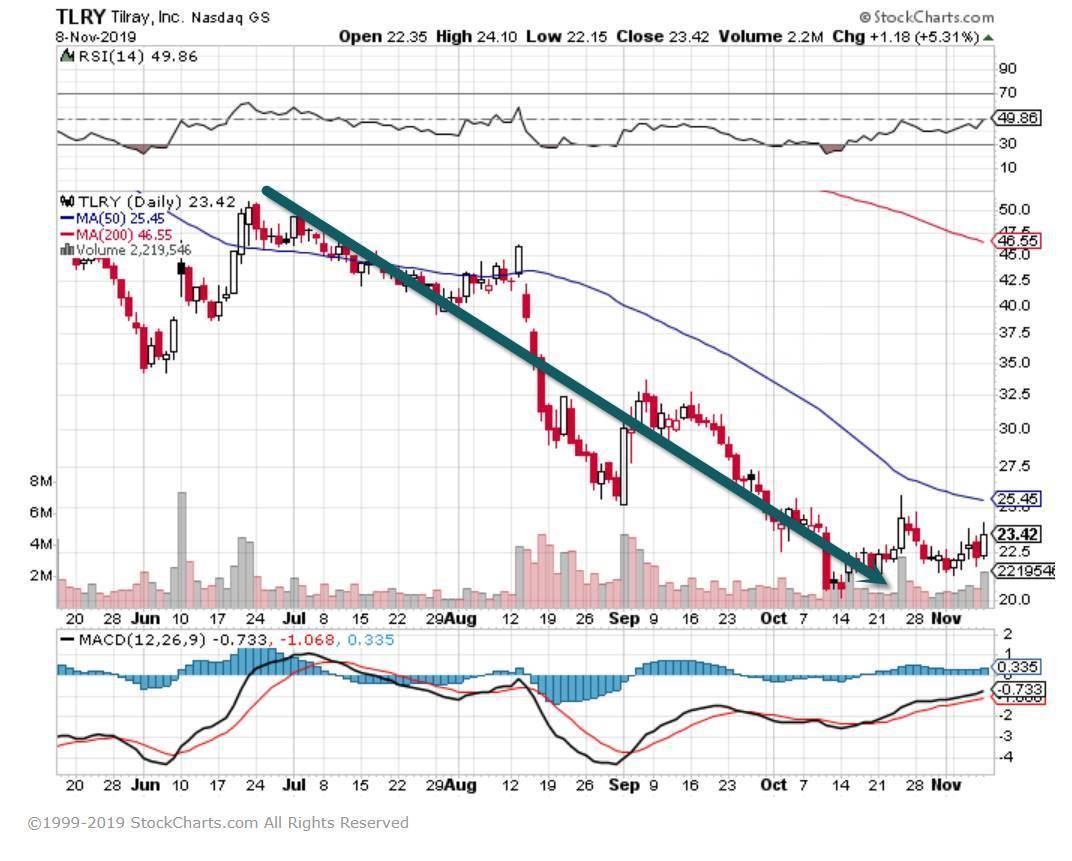 CGC-Shorts are 25% of float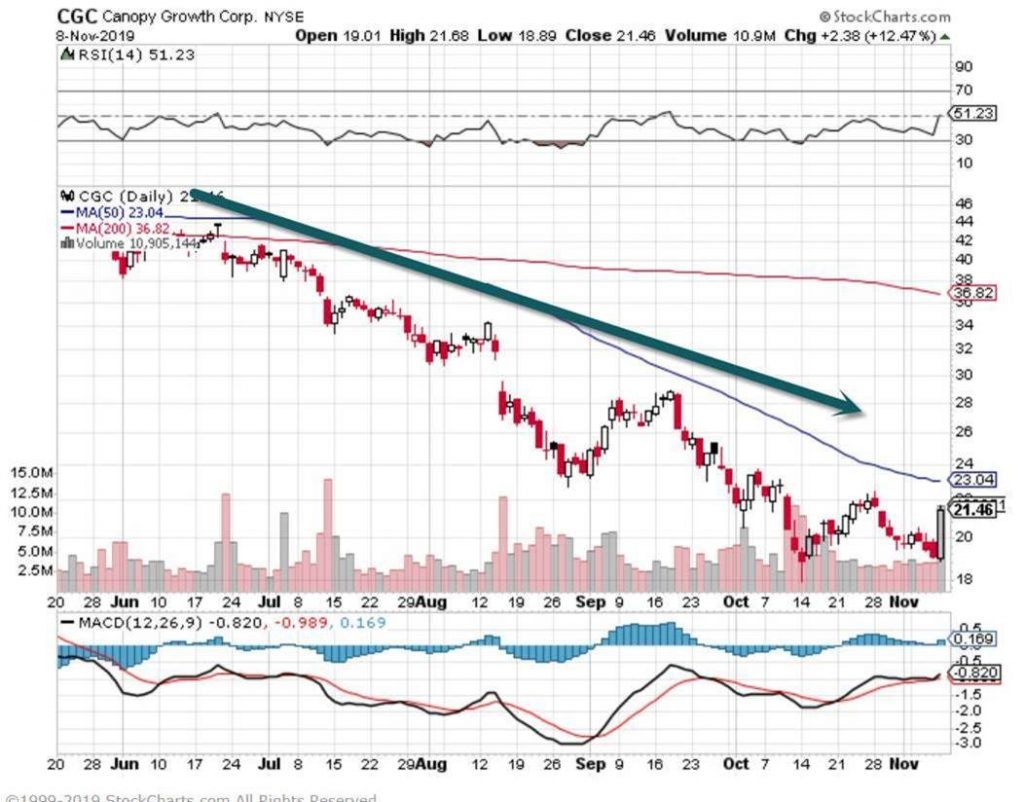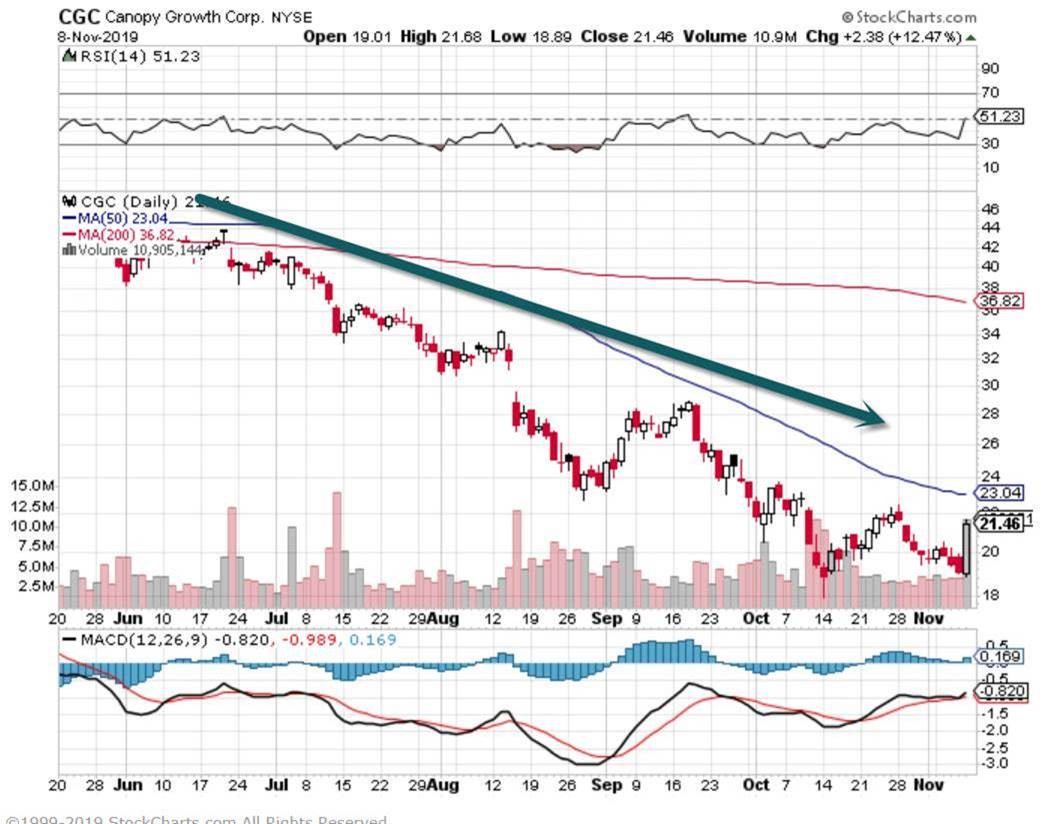 Short sellers are increasing bets on cannabis stocks even after summer selloff-Ciare Lianne
https://www.marketwatch.com/story/short-sellers-are-increasing-bets-on-cannabis-stocks-even-after-summer-selloff-2019-11-06?mod=home-page
5.2019 Global hedge fund industry outlook
November 11, 2019 6:00am by Barry Ritholtz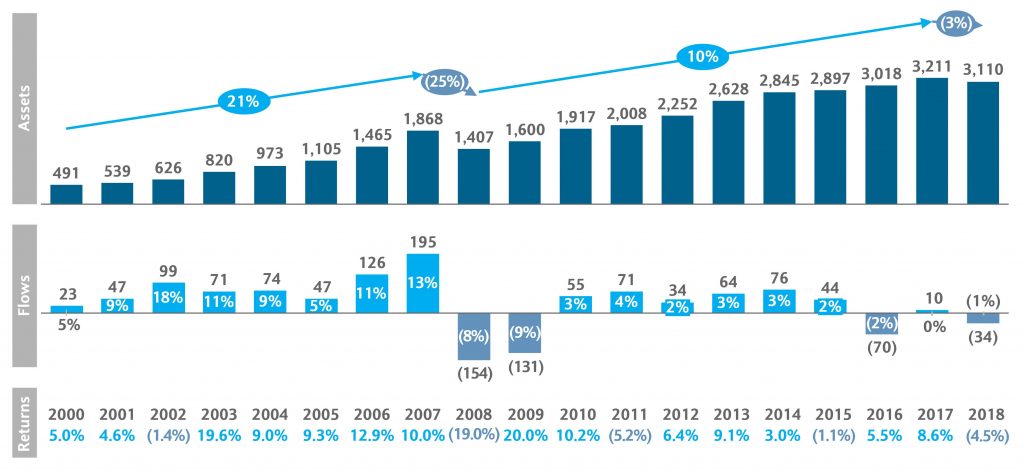 Source: Barclays
Diving into some data on Hedge Funds, I happened across some research by Barclays. This was the noteworthy paragraph:
"Investors remain committed to hedge funds despite the recent poor performance. For 2019 we expect to see a significant amount of reallocations, roughly $350 billion of 'money in motion' from investors' reallocations across strategies and managers. However, on a net basis, we are projecting outflows from the industry of $20-50 billion."
I find it fascinating how hedge funds have performed since the Great Financial Crisis: For the two decades prior, hedge funds had significantly outperformed their benchmarks over. AUM had risen to $1.4 trillion in total assets by 2008. That great run ended post-financial crisis. By 2015, assets doubled to nearly ~$3 trillion. But the performance, for reasons still being debated, faltered.
Hedge funds have seen 6 continuous quarters of capital outflows. This is unprecedented — greater than even the outflows during the GFC.
One alternatives losses are another's gains, and the outflows from HFs mostly seem to be going to private equity.
Barry Ritholtz The Big Picture
6.Cold Snap Not Helping Natural Gas Prices.
New Lows Were Made in August.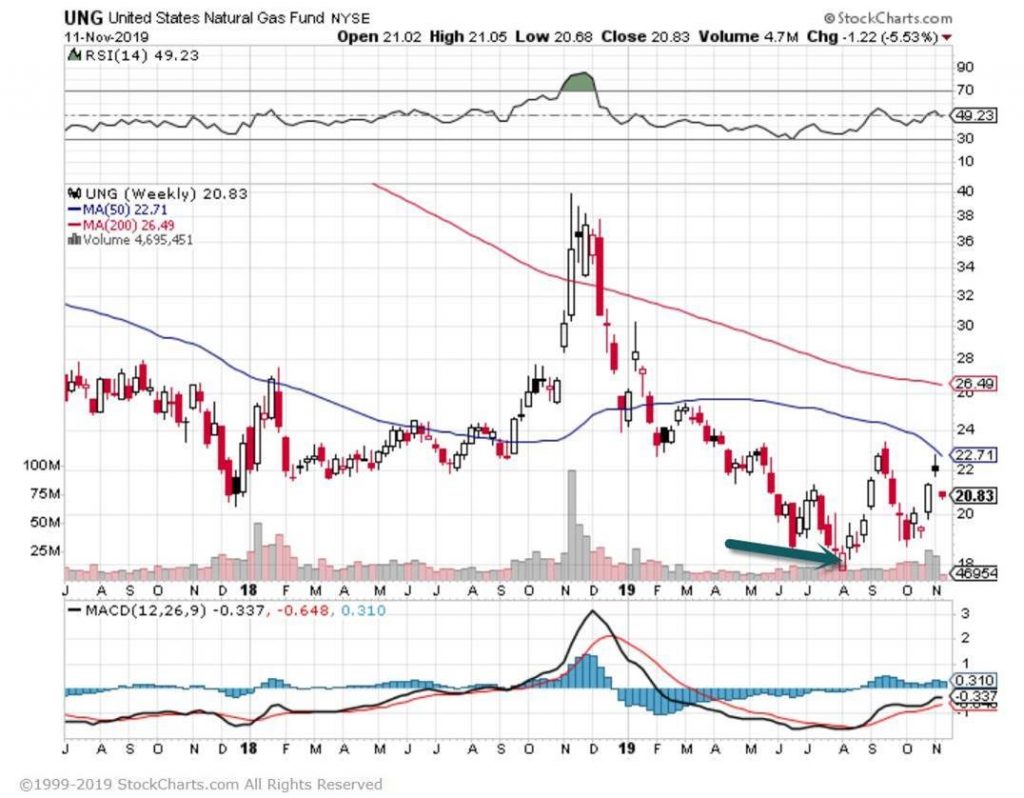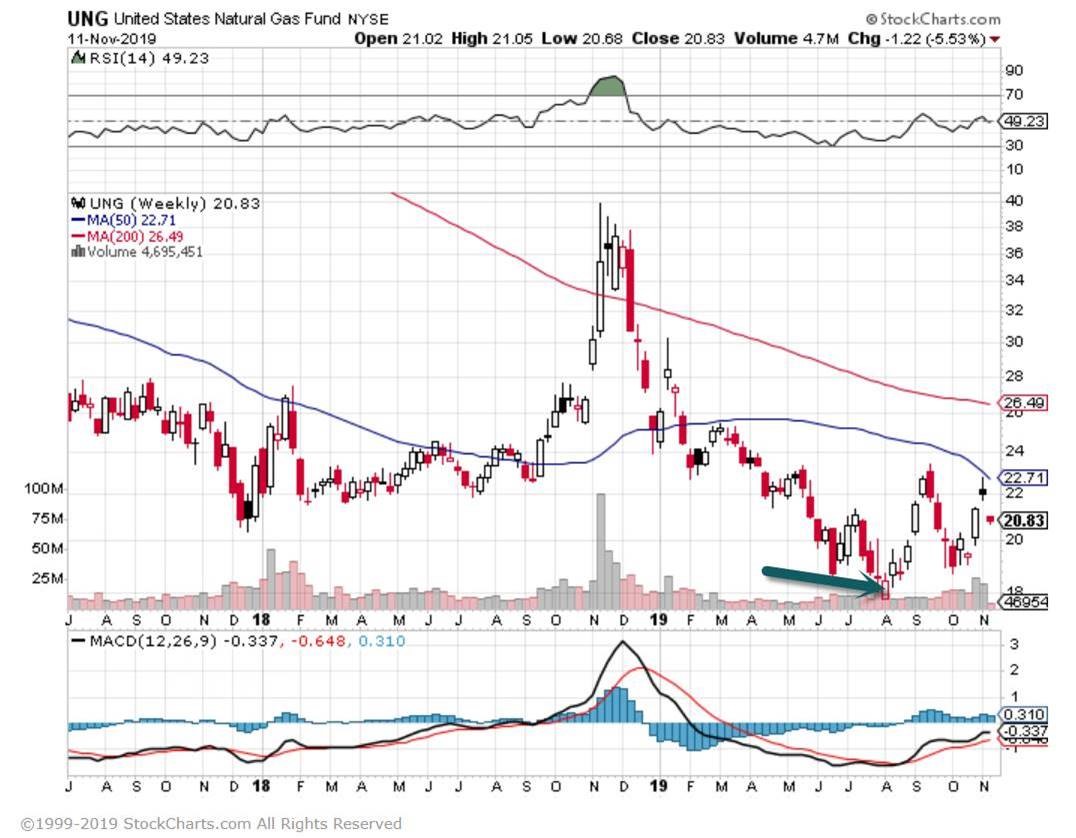 7.Stat of the Day….Most AMZN Lost $1B in 2000….UBER Loses $7.4B in 9 Mos.
Amazon never lost that much as a public company. The technology giant grew as fast as it could while staying just above break-even. The company lost more than $1 billion just once, in 2000, as the dot-com bubble was bursting. Compare that with the $7.4 billion net loss from Uber in just nine months this year, in a relatively strong economy.
Uber's CEO Wants the Company to Be Magical. The Market Just Wants Profits.-Tae Kim
https://www.barrons.com/articles/uber-could-save-the-stock-by-pulling-back-on-uber-eats-scooters-and-self-driving-cars-51573255222?mod=past_editions
AMZN Vs. UBER 3 Months.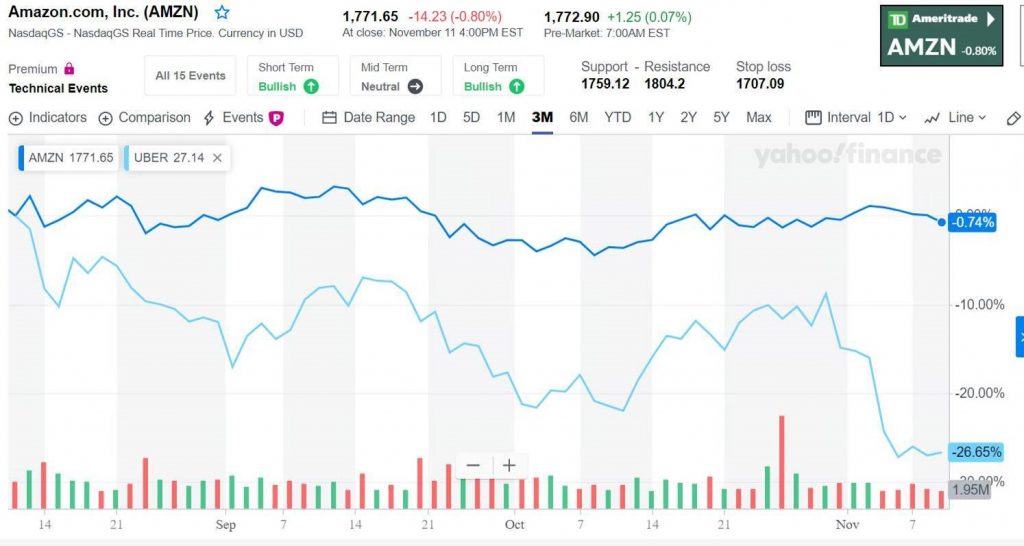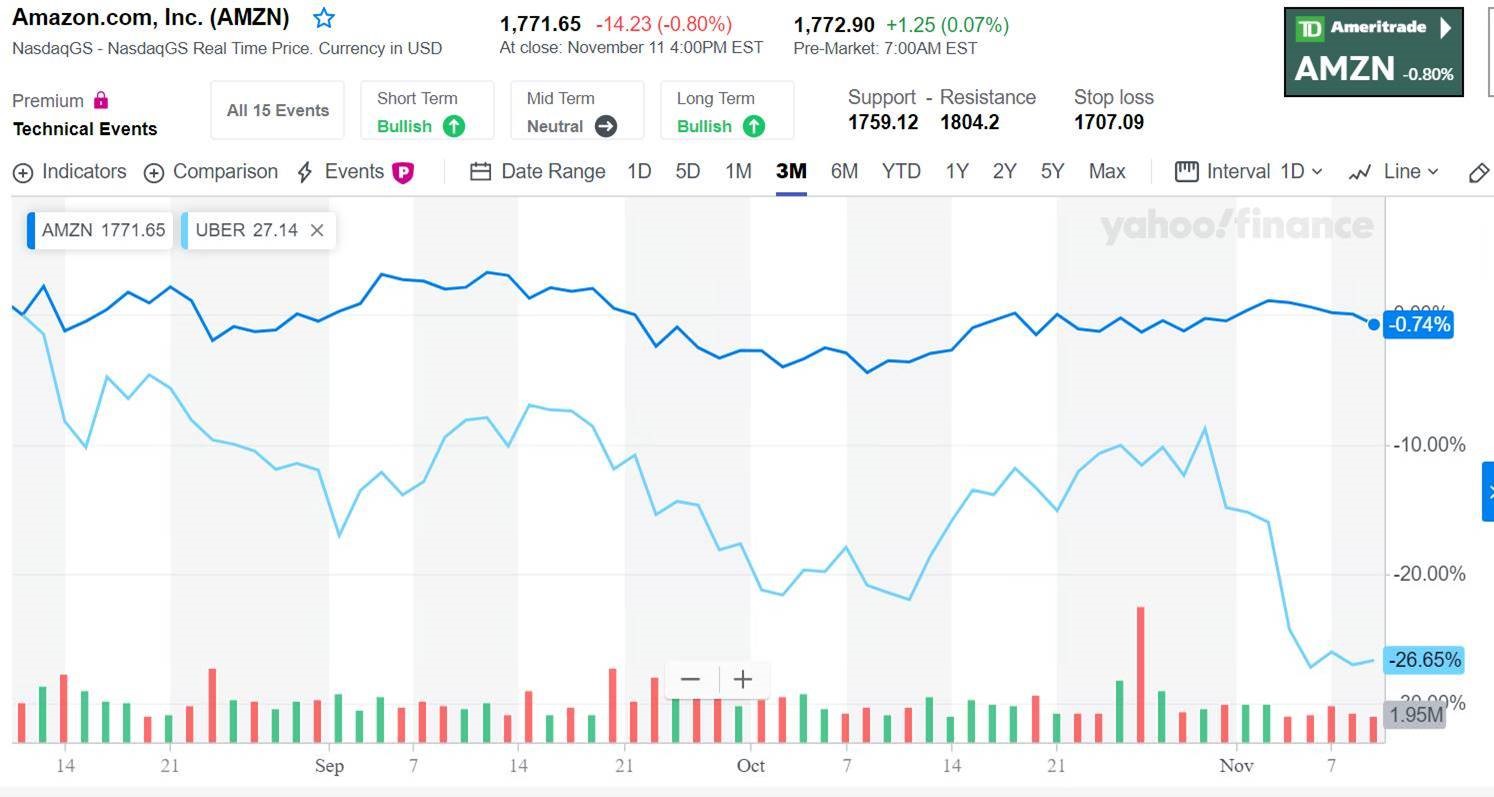 8.Ranking U.S. companies by the priorities of Americans
Deal Book
Just Capital and Forbes have rated U.S. firms based on factors that matter most to the American public, like fair pay, ethical leadership, customer privacy, environmental impact and job creation.
Here are the top 10 most just U.S. companies according to their analysis:
1. Microsoft
2. Nvidia
3. Apple
4. Intel
5. Salesforce
6. Alphabet
7. Anthem
8. PayPal
9. P&G
10. VMware
Microsoft's top spot is a result of its "particularly strong track record on how it serves its workers, communities, and the environment," according to Just Capital.
Compared with averages for the Russell 1000, the 100 companies in the listing pay their median workers 31 percent more, give 8.4 times as much to charitable causes, have 25 percent more women on their board, and are 32 percent more likely to have established environmental policies. They also score a higher return on equity, by six percentage points.
9.Townhome Starts Hook Downward…Starter Homes Can't Get Momentum
Senior Manager | Research at John Burns Real Estate Consulting
Townhome Starts (entry-level home demand proxy) declined -14% YOY after hitting a cycle high. Builders are pivoting to denser projects to hit lower price points. Building activity picked up in 2H19 as well on better home buyer affordability. The downward trend should reverse. hashtag#JBRECDailyInsight John Burns Real Estate Consulting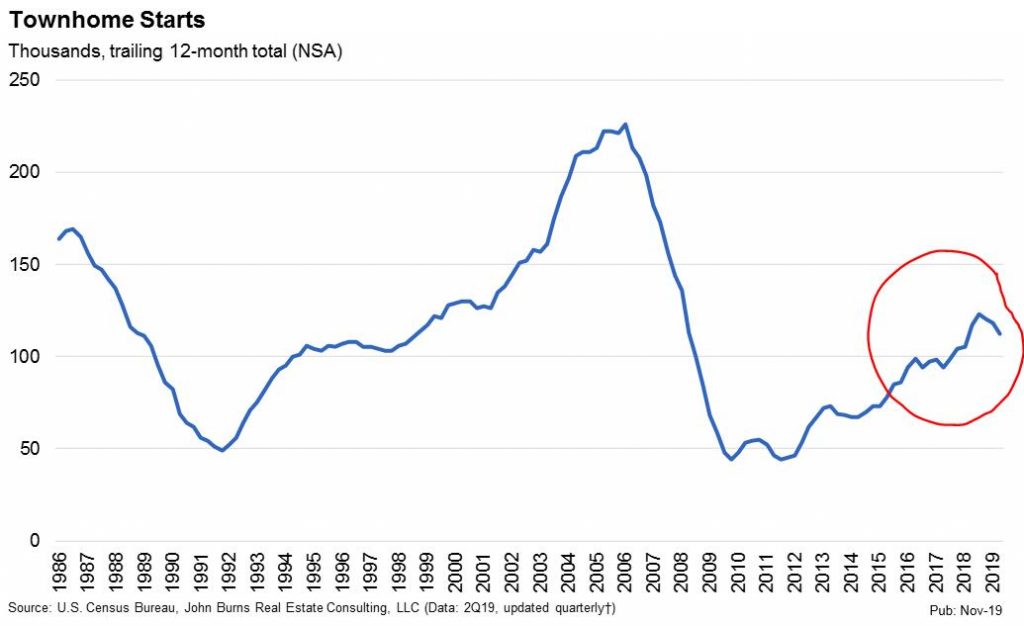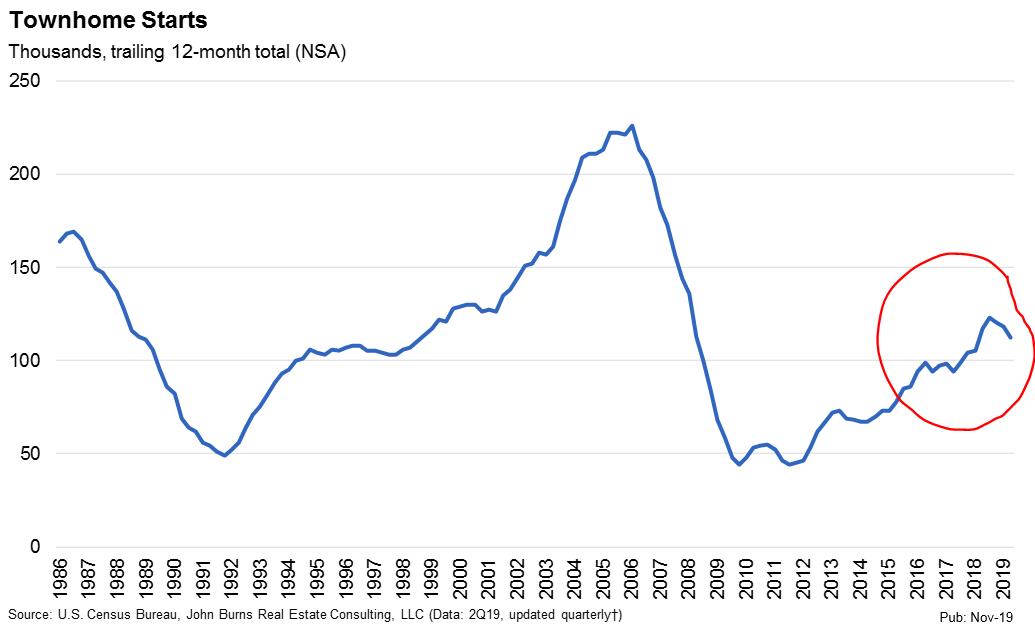 https://www.linkedin.com/company/john-burns-real-estate-consulting/
10.Managers, It's Not Enough for Your Team to "Deliver" — Here's How to Help Them Innovate
Why it's so hard to be creative at work, and how to get better at it.
By Jessica Hicks, Editorial Fellow at Thrive Global
Being creative at work can present a conundrum: Your work life consists of tight deadlines, non-essential meetings, and a focus on delivering rather than thinking outside the box — and yet, you're still expected to keep your creative juices flowing all the time. This can be frustrating, and may even be causing you to feel stuck.
According to a Gallup workplace study of more than 16,000 employees, 35 percent of workers say they're only given the opportunity to be creative a few times a year. Considering that nearly 30 percent of workers strongly agree that they're expected to be creative, there is a huge disconnect between the demand for new ideas, and workplace structures that can actually prevent their generation.
If you're a manager, you've likely been given the difficult task of discouraging your direct reports from making simple choices just so they can meet deadlines. Instead, you want to encourage them to propose unconventional ideas that truly move the needle for your company. But how exactly should you pull people out of autopilot and give them the tools they need to fully participate in, appreciate, and value the creative process? Believe it or not, a few simple changes in the way you hold meetings and hold your direct reports accountable can make all the difference in their ability to be creative.
Replace brainstorming with "brainwriting"
While the aim of a creative brainstorming session is to shed light on the ideas of many, a lot of your meeting discourse probably happens with a select few. In her research, Leigh Thompson, Ph.D., a professor of dispute resolution and organizations at Northwestern University, has found that in a six-person meeting, two people will do over 60 percent of the talking. And this phenomenon, which Thompson refers to as a "doom loop," only worsens when more people are in the mix. "The people who are not quite as dominant don't speak, because they've given up, and the overly dominant people take over. It just becomes this self-perpetuating cycle," Thompson tells Northwestern's Kellogg School of Management.
Thompson's solution to a failed brainstorm is called "brainwriting." "Brainstorming is the simultaneous oral generation of ideas. Brainwriting is the simultaneous written generation of ideas," she explains. The next time you call for group idea generation, have your colleagues write their ideas down — without attaching their names. That way, everyone will have a chance to bring their thoughts to the table and engage in an open, honest conversation.
Schedule flexible check-ins
Risk-taking is essential to creative endeavors, yet risk-taking can take a lot of time and even more trust. Gallup found that only 18 percent of employees strongly agree that they can take risks at work that would lead to new solutions. When employees feel like they can't take risks, their companies can lose out on opportunities and novel outcomes. To give your direct reports more time to think creatively and take chances (and give you the chance to track their progress and develop a stronger rapport), try integrating creative check-in points into your workflow. That way, your direct reports can try new things, seek and solicit feedback, and course-correct where necessary.
Transform a "delivery mindset" into "divergent thinking"
When you're short on time and in need of quick solutions, it becomes all too easy to fall into a "delivery mindset" — or as defined by the Institute for Management and Development, a pattern of "rushing to quick answers" that fall within our comfort zone. Having a delivery mindset cancels out creative efforts, and pushes us to return to the same solutions over and over again. As a manager, push your team members to practice "divergent thinking" instead. According to the IMD, divergent thinking is "a process for identifying new opportunities, finding multiple creative ways to address intractable issues or abstract problems and challenging the organizational status quo." When faced with a problem, challenge your team members — with compassionate directness — to identify creative solutions they've never tried before. Work together with them to create a timeline and outline specifics, and help them put their plan into action.
Follow us here and subscribe here for all the latest news on how you can keep Thriving.
Stay up to date or catch-up on all our podcasts with Arianna Huffington here.
— Published on November 11, 2019