1.Broad Based 1700 Stock Chart Breaks Out.
I am not familiar with this chart but interesting.
Here's Ari's chart and comment:
Advance Is Broader than Many Realize
The message coming from our research is that the S&P 500 is in the midst of a healthy middle innings advance and investors should participate by buying cyclical sectors, like Technology, Financials, and Industrials. One key point we continue to stress is the broad-based nature of the rally. For instance, the Value Line Geometric index, an equal-weighted aggregate of approximately 1,700 companies, has broken above secular resistance dating back to the year 2000, and is accordingly positioned for additional gains, in our view. Rallies that include the participation of many stocks are typically the rallies that continue (or conversely, internal breadth typically narrows into a market top), and with the S&P 400 and S&P 600 indexes also making new highs with the S&P 500, we expect strength to continue.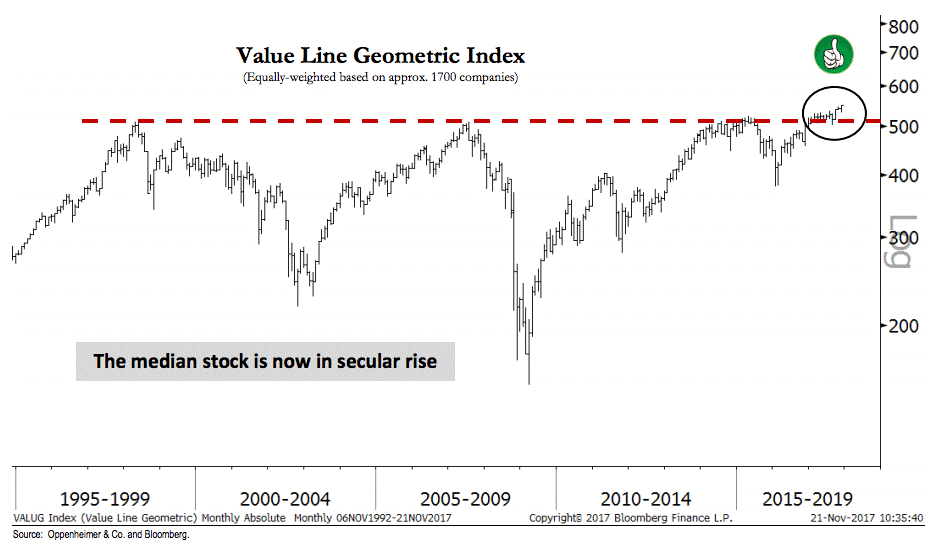 Josh here – last week witnessed a new all-time high for the Nasdaq 100, Dow Jones Industrial Average, Russell 2000, NYSE Advance-Decline Index and a new 52-week high for the All Country World Index-ex US. You're welcome to interpret that as a negative indicator if you feel the need to, but you'd be on the wrong side of one hundred years of market history.
These things end with a narrowing, not a broadening. Which could certainly happen – it's just not happening right now. 
Source:
Technical Analysis: Inflection Points
Oppenheimer & Co – November 25th 2017
From Josh Brown Blog.
http://thereformedbroker.com/2017/11/26/secular-bull-takes-flight/
2.Shorting Volatility thru VXX ..Trade of Decade.
This chronic overpricing led to one of the greatest trades of the past few decades. Sure, buying VIX before the 2008 spike was profitable. But you needed to be nimble and get the timing right. After all, it wasn't up there for long. Yet, shorting VIX – that was the trade that kept giving. For the past 7 years, it has consistently been one of the most outstanding trades the financial world has ever seen.
Don't believe me? Look at this chart of the VXX ETF. The VXX has split countless times, so this chart reflects those splits. From 2009, when it was trading at a split adjust level of almost $120,000 per share (yup – you read that right – 120k), it is now trading at $32.
Just for kicks, I figured out the Sharpe Ratio of the VXX over the past year. It is -5.3! This means shorting VXX has been a consistent, and hugely profitable strategy, with surprisingly low draw-downs. Hedge fund managers do terrible unspeakable things for Sharpe Ratios of 2.5 or 3, so finding an asset with 5+ is probably awfully demoralizing.
It's no wonder everyone is shorting VXX.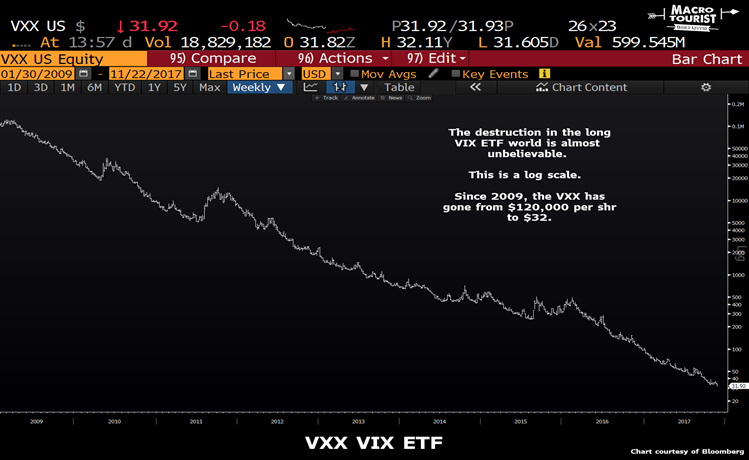 http://www.themacrotourist.com/posts/2017/11/23/the-next-crisis/
3.Vanguard ETF Growth 57% Higher than Mutual Fund Growth.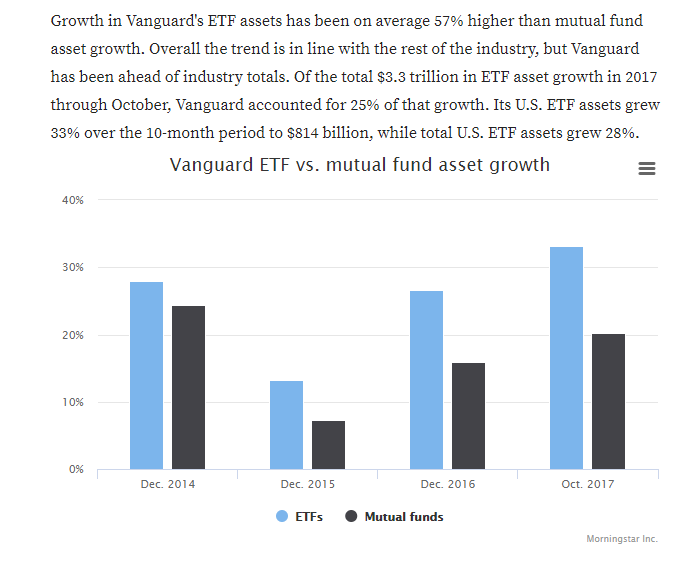 http://www.pionline.com/article/20171117/INTERACTIVE/171119858/are-you-a-god-no-just-a-passive-asset-manager
Found at Barry Ritholtz blog http://ritholtz.com/2017/11/sunday-reads-115/
4.Bitcoin… There are 758 cryptocurrencies with average daily transaction volumes under $10,000
Initial Coin Offerings Are Springing Up Like Crazy, But Nobody Is Using Them
Bitcoin's jump into the mainstream vernacular hasn't gone unnoticed. This led to explosive growth in new cryptocurrencies this year. In fact, 472 of the 1,213 cryptocurrencies just started trading this year—attracting $3 billion in capital.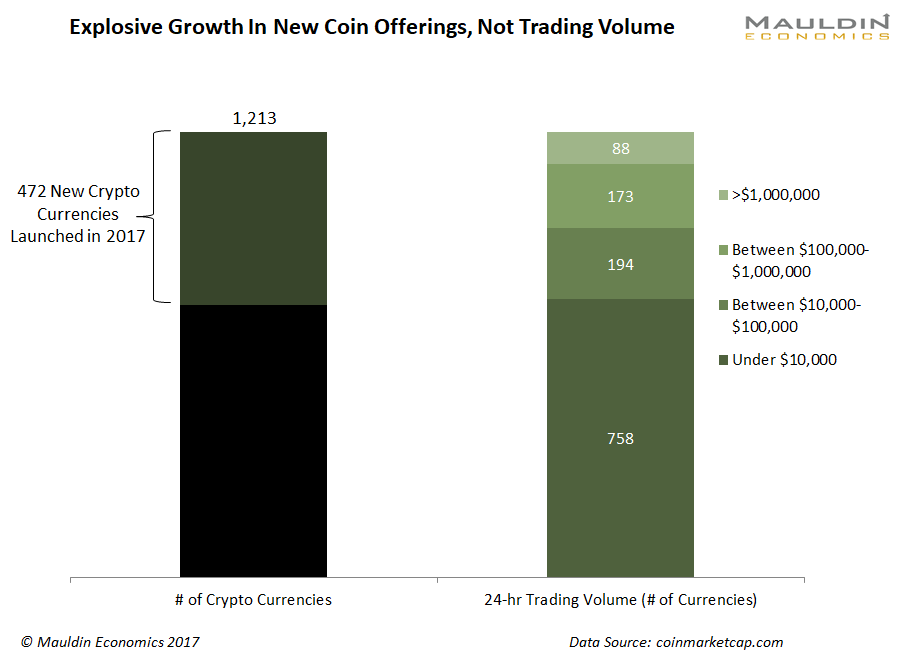 Mauldin Economics
According to 226 ICOs analyzed by Token Report, only 20 of the currencies are actually being used for something other than trading. The rest are purely speculative trading instruments.
There are 758 cryptocurrencies with average daily transaction volumes under $10,000. Only 88 of them have an average volume above $1 million. Bitcoin leads the way with about $2 billion in daily transaction volume.
In total, all of the cryptocurrencies facilitate roughly $3.5 billion worth of daily transactions. That is a drop in the ocean compared to the global forex market, which in 2016 averaged over $5 trillion in daily transactions.
As I said before, Blockchain is a transformative technology that is likely to disrupt the finance industry sooner or later. But it's still in its very early stages, and today's cryptocurrencies may suffer the same fate that tech giants like Pets.com faced in the dot-com crash.
http://www.businessinsider.com/bitcoin-price-bubble-in-4-charts-2017-11
5.Probability of Bitcoin Crash Based on Pat Bubbles.
Opinion: The chance of a bitcoin crash is greater than 80%
By Mark Hulbert
The researchers defined a bubble as a sharp price run-up over a two-year followed by at least a 40% drop over the subsequent two years. When the price run-up is 100% or more, they found the probability of a crash becomes 50%. When focusing on price run-ups of at least 150%, that probability becomes 80%. As price run-ups become even bigger, a crash becomes "nearly certain." (See chart.)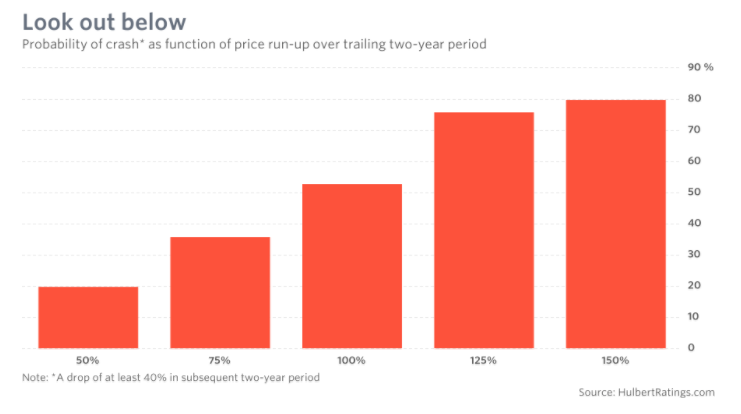 Read full story
https://www.marketwatch.com/story/the-chance-of-a-bitcoin-crash-is-greater-than-80-2017-11-27
6.Economy Booming and Gasoline Volumes Down.
Gasoline Volume Sales and our Changing Culture
by Jill Mislinski, 11/22/17
.Average Daily Volume Sales Per Capita
The next chart adjusts the 12-month MA of sales volume for population growth based on the monthly data for Civilian Non-Institutional Population over age 16 from the Bureau of Labor Statistics, via the St. Louis FRED repository. What we see here is that gasoline sales on a per-capita basis are 4.5% lower than at the end of the Great Recession. The gallons-per-capita series includes the complete EIA data, but since we're using the 12-month MA, the blue line starts in 1984. We see the double peak in March 1989 (the all-time high) and August 1990. The latest per-capita daily average is 18.1% below the 1989 high but off the -22.2% interim low set in September 2014.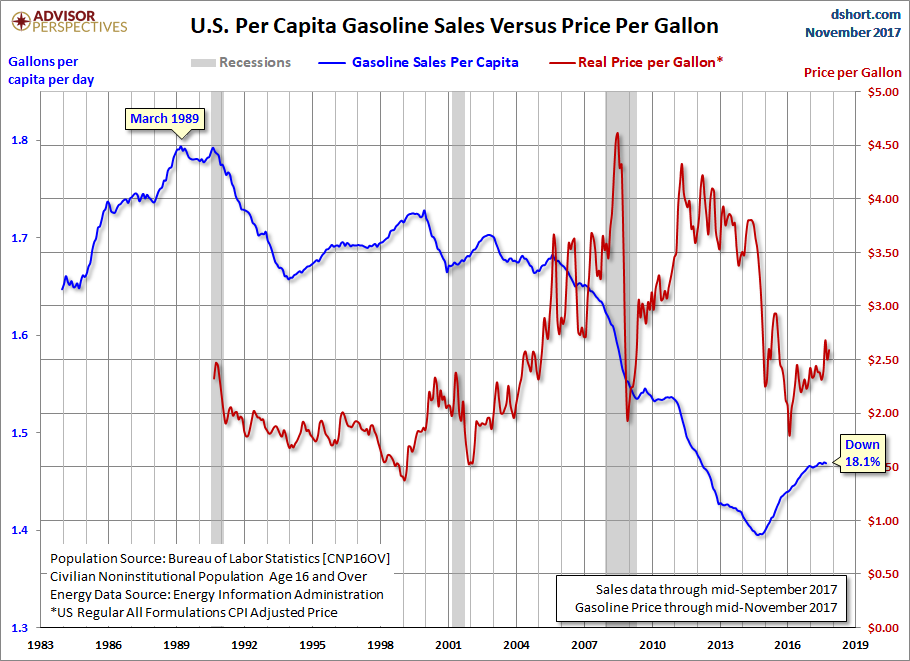 What does this analysis suggest about the state of the economy? From an official standpoint, the Great Recession ended 90 months before the most recent gasoline sales monthly data point. But if we want a simple confirmation that the economy has recovered to full growth, gasoline sales continues to be the wrong place to look.
In addition to improvements in fuel efficiency, declines in gasoline consumption can be attributable in large part to some powerful secular changes in US demographics and culture in general:
We have an aging population leaving the workforce, which we clearly see in the sustained contraction in the employment-population ratio.
There is growing trend toward a portable workplace and the ability to work from home.
Social media has provided powerful alternatives to face-to-face interaction requiring transportation (Internet apps, games, the ubiquitous mobile phone for talk and texting).
There has been a general trend in young adults to drive less (related to points two and three above). See this report at the U.S. PIRG website for details.
The US is experiencing accelerating urban population growth, which reduces the per-capita dependence on gasoline.
https://www.advisorperspectives.com/dshort/updates/2017/11/22/gasoline-volume-sales-and-our-changing-culture
7.Natural Gas Takes Another Dive.
Energy: US natural gas sold off sharply last week on warmer weather forecasts (for the eastern part of the country).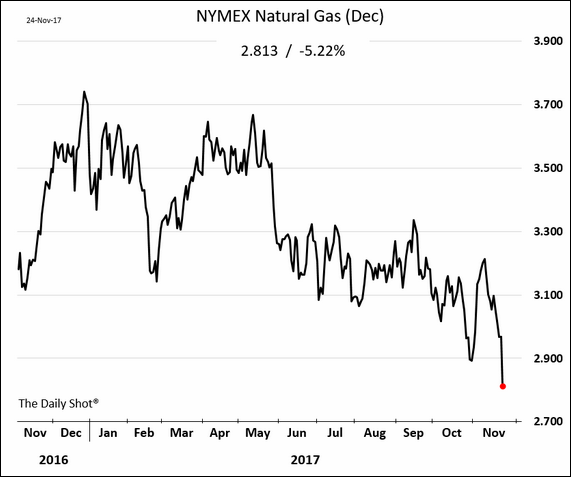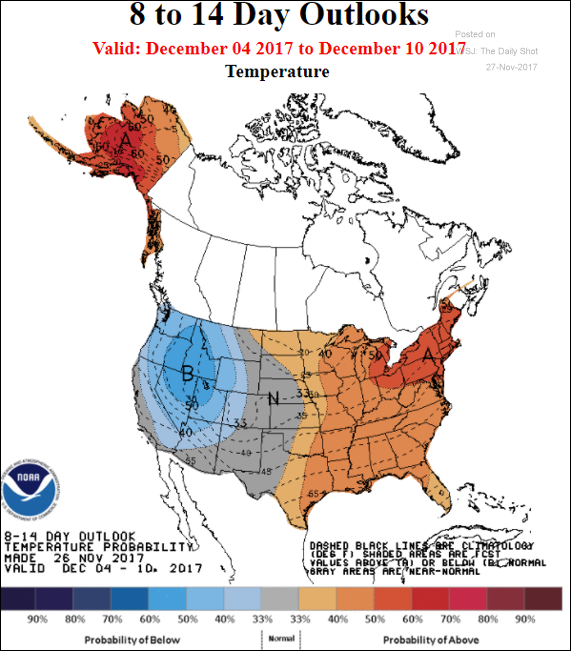 Source: The Daily Shot Source: NOAA/ National Weather Service
8.Half of Cyber Monday Sales were Smartphones.
It's clear that Cyber Monday was about one thing: smartphone sales.
As of late afternoon on Monday, Nov. 27, Cyber Monday sales reached $3.38 billion, a 16.8% increase from last year and marking the biggest day in U.S. e-commerce history. The kicker was that smartphone visits made up more than half the overall traffic Monday. 
Mobile represented 53.3% of digital sales as of early Cyber Monday, according data from Adobe Analytics data. That's 44.6% from smartphones and 8.7% from tablets. Mobile sales accounted for  nearly 40% of total revenue, and mobile revenue grew 41% from last year.
By far, the most surprising metric in this year's data was mobile sales, according to Tamara Gaffney, senior director of Adobe Digital Insights.
"Today in theory should not be a big smartphone day because people are back at their desktops," Gaffney told TheStreet. "The most interesting thing I see in this data is that this isn't the case."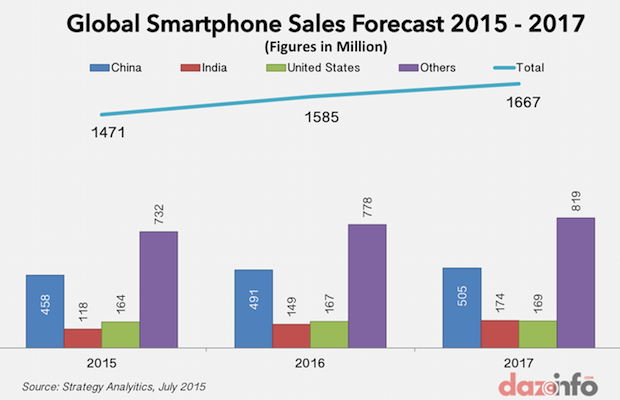 https://www.thestreet.com/story/14402429/1/cyber-monday-is-all-about-that-hotline-bling.html?puc=_htmltmk_pla8&cm_ven=EMAIL_htmltmk&tstmem=160219463&utm_source=newsletter&utm_medium=email&utm_campaign=TMK&utm_term=Cyber+Monday+Is+All+About+Smartphone+Sales+This+Year
9.For Third Year in a Row…Real Estate Top Investment Choice Followed by Cash.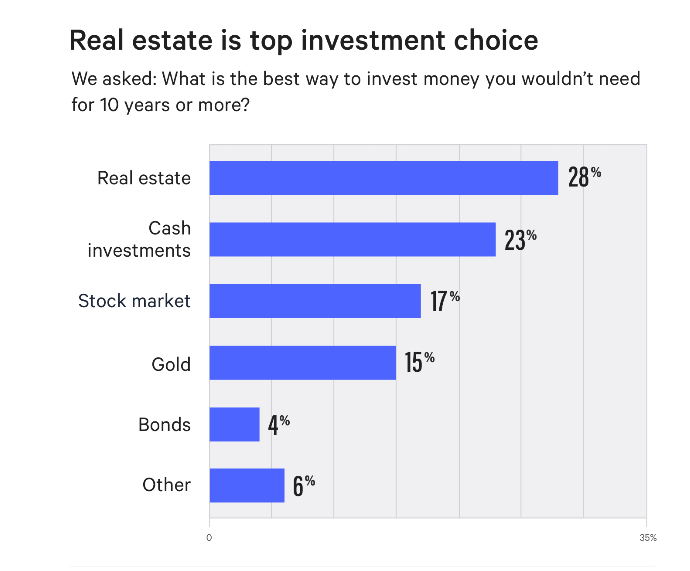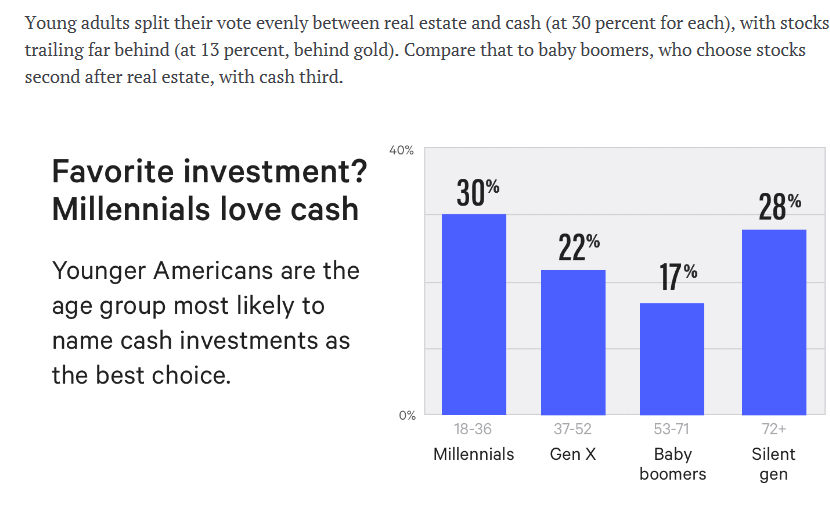 http://www.bankrate.com/investing/financial-security-0717/
10.Declutter Your Life. Declutter Your Mind.Darius ForouxFollow
Author/Entrepreneur/Podcaster. I write about how you can improve productivity so you can build a better life, career, and business: http://dariusforoux.com
Nov 14
Over the past three years, I've moved house close to a dozen times. Most people experience moving house as a stressful event.
Initially, I was no different. But I've learned to love it for one reason: It forced me to think about my possessions.
Too much stuff makes moving and living complex. And I like the opposite.
When I moved to London from The Netherlands in 2014, it was the first time I took the time to get rid of almost everything I owned. I did it for practical reasons. Mainly because of:
You can't carry everything you own with you
You own a lot of shit you don't use
You see, it's not about "needing" things. Because let's be honest, do you really need ten pairs of shoes? Or how about those two coffee machines that are sitting on your kitchen counter? And that iPad that's catching dust on your desk?
I'm not perfect at that department. A while back I bought a pair of Jordan 11 Space Jams. It was the 20th-anniversary edition of that shoe. When the original came out in 1996, I wanted those shoes so bad. In fact, everyone in my basketball team idolized those shoes for years! And for years, I couldn't buy them because we didn't have the money.
But when Nike decided to relaunch the Jordan 11s in December 2016, I knew it: "This time I'm buying those shoes!"
It's a sentimental thing. I could have easily said to myself that I don't 'need' those shoes. That they are way too expensive. And that I'm probably never going to wear them.
All those things are true. To date, I've worn those shoes three times. I've spent more time looking at them than actually walking in them. I even displayed the box for a while in my office. Does that make me a mindless consumer? Sure. But it's more than that. The shoes represent a story.
The story of a young kid who wanted something but could never get it because they had no money. And when he grew up, made his own money, he decided to buy it because he could. Sometimes, you don't need another reason.
But I don't have many wants like that. Because it's not about what you own, it's about what you want. And if you want less, you own less. Stoic philosopher Epictetus said it best:
"Wealth consists not in having great possessions, but in having few wants."
Say goodbye to "things"
Over the years, I've become more comfortable with saying goodbye to things: To memories, dreams, goals, people, etc.
I think that saying goodbye is a natural part of life. Nothing lasts forever.
You need to get used to it. When my grandmother passed away two years ago, I was surprised with the calm demeanor of my grandfather. I asked him: "Are you not upset?" He said he was sad. But he also told me that as you age, you're forced to say goodbye to people you love.
That's not something anyone likes. But it's a part of life. And as weird as it sounds, you get more comfortable with it.
In The Netherlands, the most used platitude is, "Het leven gaat verder." Which translates to, "Life moves on."
And that's reality.
However, we don't accept that reality easily. Most of us gradually learn that no matter what happens, you have to move on. But you can also train yourself to become better at saying goodbye to things.
The easiest way to do that is to rid yourself of material possessions. I've found that you can get very attached to stuff that doesn't live. It doesn't matter whether it's a shoe or a person, we can get attached to both.
But in life, we don't have any possessions. I recently stumbled upon a quote from Deborah Ellis, an author with a passion for telling stories about children in developing countries, on Goodreads:
"Nobody really owns anything. We give back our bodies at the end of our lives. We own our thoughts, but everything else is just borrowed. We use it for a while, then pass it on.
Everything."
That doesn't mean you can't accumulate things over a lifetime. That's not realistic, and most importantly, it's boring. Who says you can't have more than one pair of shoes? Most of my friends have children, and one of them recently said this after he read something about minimalism:
"The idea of owning a few things sounds nice. But it doesn't work when you're married and have two kids."
Most of us are too busy living life to think about our possessions every single day. I also don't think it's worthwhile to always think about things like:
"Should I buy this?"
"Do we need this?"
That requires too much brainpower. Instead, I prefer to do my work, spend time with my friends and family, or go to the gym. I don't want to think about possessions too much. When I see something I truly like, I buy it — because that doesn't happen often, that strategy works well. The good thing is that I don't have to overthink things.
Love it? Go for it.
I only have three rules for de-cluttering life:
Don't buy shit you can't afford.
And get rid of things when they take up space you need.
That's it. Last week I donated a bunch of clothes and shoes to charity. I also had some old electronics that I brought to a place that recycles that stuff. And I also threw a lot of useless things I don't need in the trash.
I have to tell you, it feels good. If I don't use something for a long time, it goes out the door. But decluttering your life is more than getting rid of unnecessary stuff. It's about freeing up space in your mind.
Valuable space that you can use for doing useful and meaningful things. Things that you're procrastinating.
Decluttering is also an exercise to cope better with loss. Somehow, we have to keep reminding ourselves that everything is borrowed.
So, what's catching dust at your home? It's time to roll up your sleeves, grab it by the head, throw it out and say: "Goodbye. I never owned you anyway."
https://medium.com/personal-growth/declutter-your-life-declutter-your-mind-4c7f965d6839
found at www.abnormalreturns.com