1.New All-Time Highs in Equities Still Led by Large Cap.
When we examine these areas of the broader market by way of the aggregated S&P 1500 Index, we find that a total of 237 stocks (about 16%) within the index have moved to new all-time highs since October 1st. As shown in the chart below, we can see that some areas of the market are participating more in this rally than others. Large caps have led the way, not only by performance but also by headcount, accounting for 116 of the 237 stocks (48.9%) moving to new highs. Mid-caps are next in line with 94 stocks (39.6%), followed by small caps with 27 stocks (11.4%).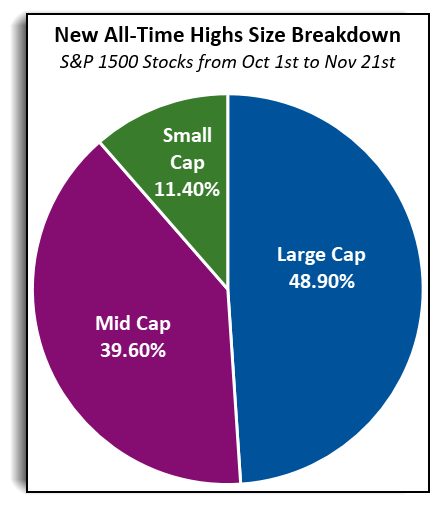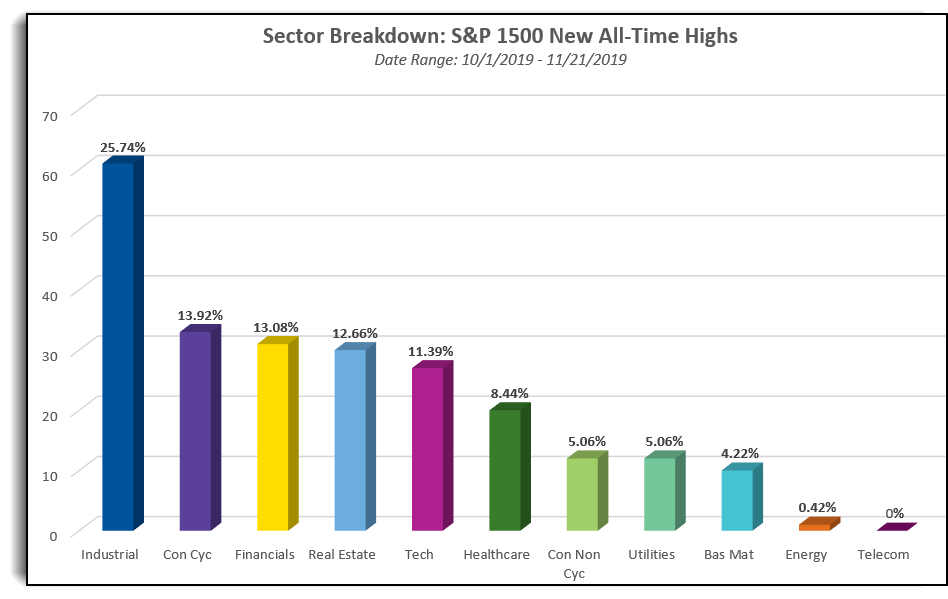 From Nasdaq Dorsey Wright www.dorseywright.com
2.The Most and Least Heavily Shorted Stocks
Nov 25, 2019
The average stock in the large-cap Russell 1,000 has 4.9% of its float sold short. As shown below, Communication Services is the most heavily shorted sector, followed by Consumer Discretionary and Energy. Utilities has the lowest short interest levels along with other relatively high yielding sectors like Financials and Real Estate. For the Financials, it has been a big change since the Credit Crisis when the sector was one of the most heavily shorted areas of the market.
Below is a list of the most heavily shorted individual stocks in the Russell 1,000. Each of the stocks listed in the table have at least 20% of their float sold short.
Investors don't believe in love at first click as online dating company Match Group (MTCH) is at the top of the list with nearly 59% of its float sold short. Cloud "Customer Experience Management" company Medallia (MDLA) is the second most heavily shorted stock with 46.6% of its float sold short, while home and business security company ADT ranks third at 37.5%. Other notables on the list include retailers and other consumer discretionary names like Nordstrom (JWN), Dick's (DKS), Macy's (M), Mattel (MAT), Grubhub (GRUB), World Wrestling Entertainment (WWE) and of course, Tesla (TSLA).
Coincidentally, there are four single-letter stock tickers on the list of most heavily shorted stocks, and three of them are W, X, and Z. If only Alleghany (Y) had made it, we'd have the last four letters of the alphabet covered! That will be a long time coming, though, because Alleghany (Y) is actually the 18th least shorted stock in the Russell 1,000 with just 0.77% of its float sold short.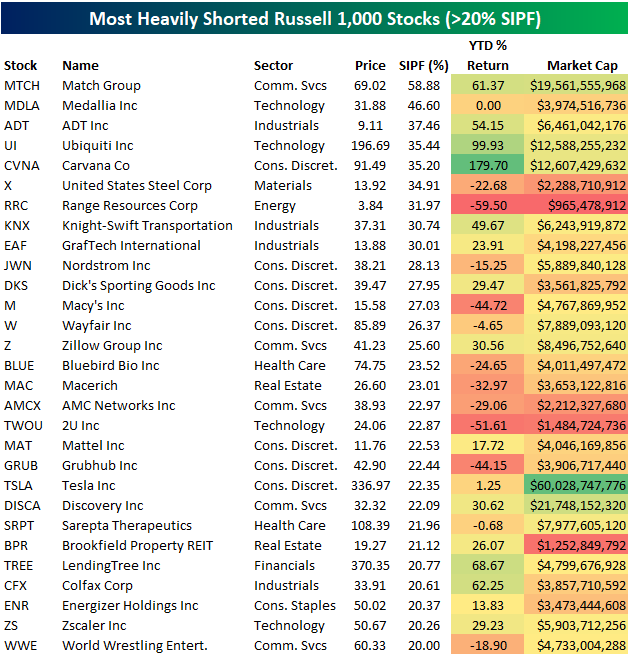 Brown-Forman (BF/A) is the least shorted stock in the Russell 1,000 with just 0.20% of its float sold short. Nike (NKE), Johnson & Johnson (JNJ), Philip Morris International (PM), PepsiCo (PEP), Altria (MO), Microsoft (MSFT), and Amazon (AMZN) are other notable names on the list of least shorted stocks. While tobacco companies like MO and PM certainly aren't popular in the ESG space, their high dividend yields (which shorts have to pay) help keep the shorts away.
3.Biotech Breakout to All-Time Highs After 3 Years Sideways.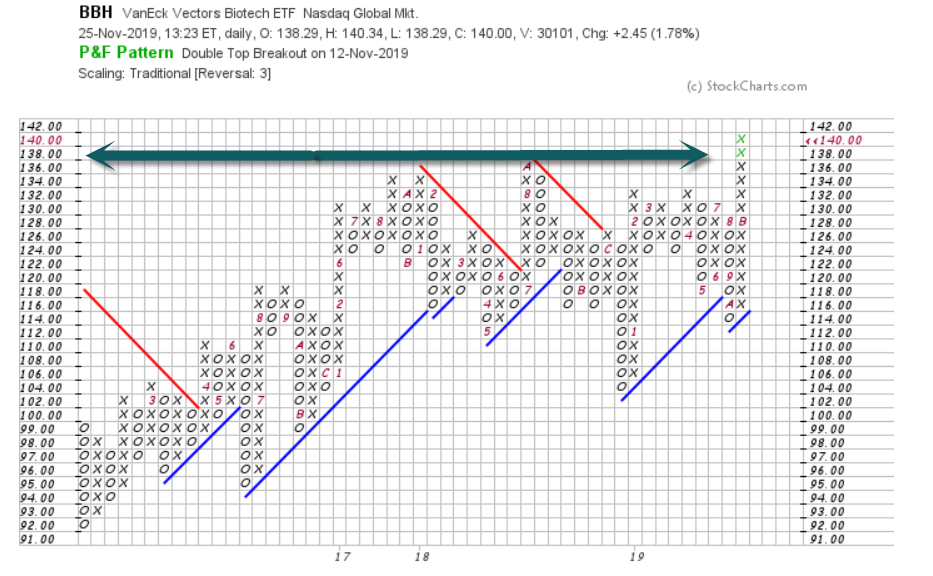 +22% Since October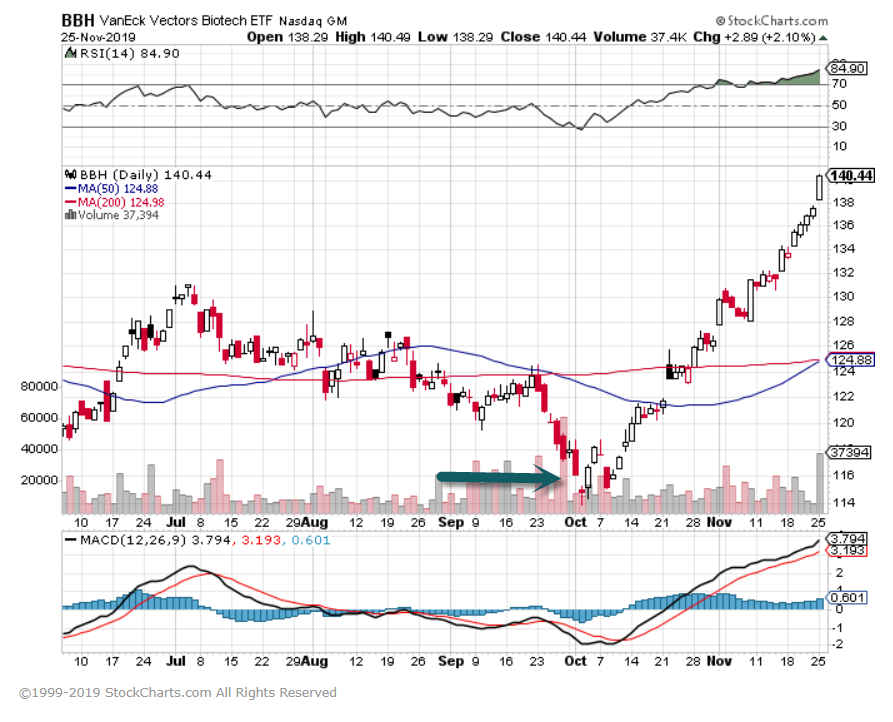 4.History of November in Strong Years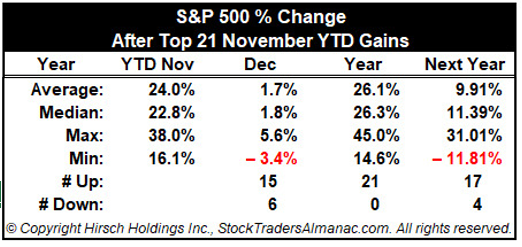 AlmanacTrader notes "Going back to 1949 we are on pace for the 10th biggest year-to-date through November gains for the S&P 500 – and it's a healthy sign for the rest of the year and next. We crunched the numbers for the S&P 500 YTD gains as of the end of November. Average YTD November gains are 7.4%."
Dave Lutz at Jones Trading
5.Defensive Assets Expensive-Bonds, REITS, GOLD.
Valuations: defensive assets are extremely expensive
As I alluded to, based on my proprietary mix of valuation indicators the average valuations across the defensive assets (treasuries, REITs, gold) is at the most expensive level on record. Meanwhile the average across US equities, international equities, and commodities (growth assets) is still around quite reasonable levels. Simply put: defensive assets are very expensive, and growth assets are cheap. This is basically a market-based measure of a profound level of fear, uncertainty, and pessimism on the economic outlook.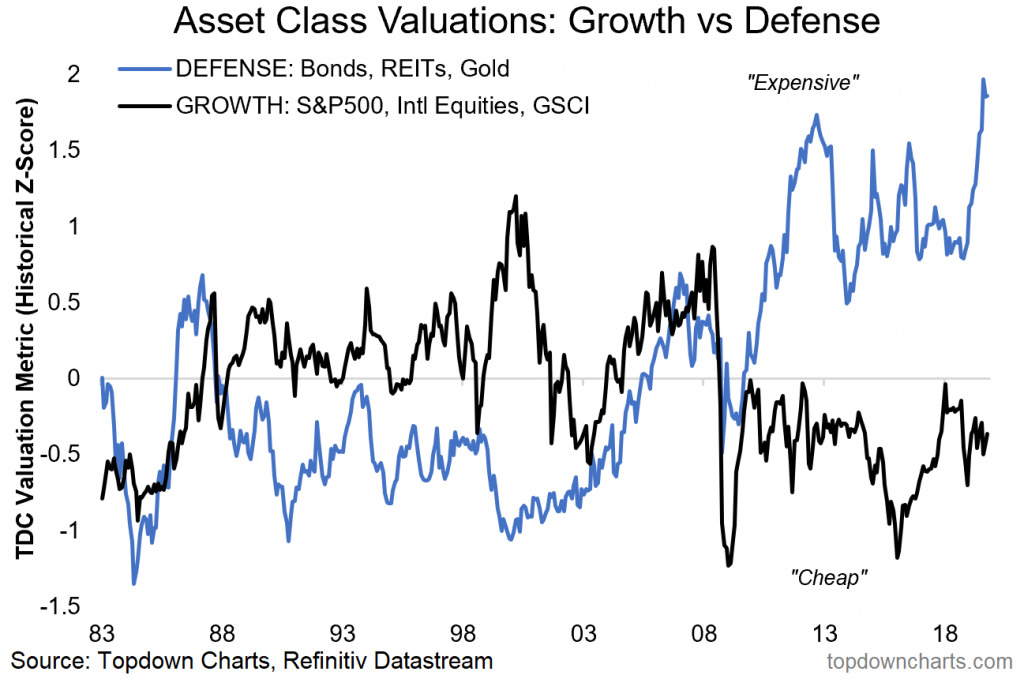 https://www.linkedin.com/pulse/when-defensive-assets-stop-working-callum-thomas/?trackingId=kxoUqGrqV2%2BT1NjxzSE3oA%3D%3D
6.Weed Takes Another Leg Down
'CBD has the potential to harm you,' FDA warns consumers
'Number of questions regarding CBD's safety and there are real risks that need to be considered,' official says as pot stocks fall in after-hours trading
Silvia Ascarelli/MarketWatch
CBD has been a popular additive to foods, cosmetics and more in the U.S.
ByMAXA. CHERNEY
The U.S. Food and Drug Administration updated its stance on CBD late Monday, saying that the cannabis derivative may have the potential to harm users.
Cannabidiol, or CBD, is a compound derived from the cannabis plant that is believed to be nonintoxicating. It has proliferated in drinks, cosmetics, foods and many other consumer products, even in states where marijuana is not recreationally or medically legal, including being sold in major retail chains such as CVS Health Corp . CVS, +1.69% , Walgreens Boots Alliance Inc. WBA, +0.12% and Rite Aid Corp. RAD, -0.73%.
Over the summer, the FDA warned that it was looking into CBD and was concerned about its spread as the agency had only approved one drug utilizing the compound — Epidiolex from GW Pharmaceuticals PLC GWPH, -3.69%. The regulator updated its summer warning to consumers on Monday evening with stronger language, including a warning to Americans that "CBD has the potential to harm you, and harm can happen even before you become aware of it."
The FDA said that based on a lack of scientific information, the regulator cannot conclude that CBD is "generally recognized as safe among qualified experts for use in human and animal food." The announcement also disclosed that 15 companies around the U.S. had been warned that they were illegally selling products containing CBD.
The compound "can cause" liver injury, affect other drugs, and when combined with alcohol or other depressants can increase the risk of sedation or drowsiness, the revised consumer update reads. The FDA also detailed other potential side effects such as drowsiness, gastrointestinal distress and changes in mood.
Beyond the warnings, the FDA said that there were many aspects about CBD that remain unknown, such as the effects of taking CBD daily for extended periods, on the developing brain or how it interacts with herbs and botanicals. The agency responded to a request for further information by pointing to tweets Monday evening from Principal Deputy Commissioner Amy Abernethy.
Marketwatch https://www.marketwatch.com/story/cbd-has-the-potential-to-harm-you-fda-warns-consumers-2019-11-25?mod=home-page
Weed ETF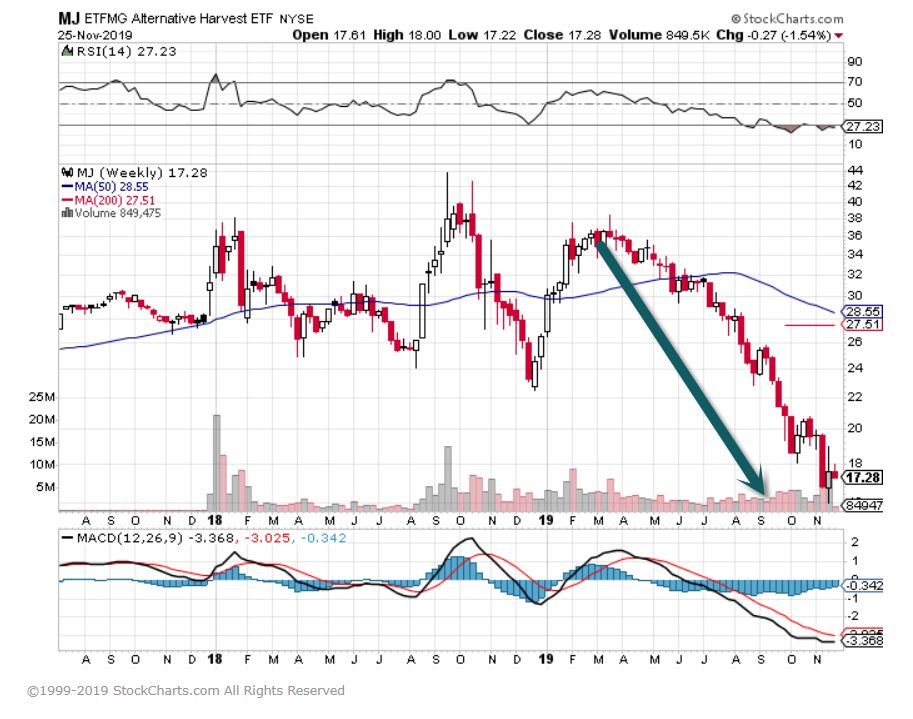 7. Kabbage Small Business Revenue Index First Half of 2019 Trends:

https://d2wsh2n0xua73e.cloudfront.net/wp-content/uploads/2019/11/state.large-animated-bar-chart_11.6.2019.gif
8.The Private Equity Paradox
Small funds tend to deliver the best returns — but mega funds keep raking in capital.
Alicia McElhaney
November 05, 2019
Henry Kravis, co-founder of KKR & Co. (Justin Chin/Bloomberg)
Institutional investors continue to commit billions to massive private equity funds, despite slowing deal flow and increasingly high levels of dry powder.
Five private equity firms announced in as many days that they had raised an aggregate of roughly $42.2 billion to put to work in private equity. This is despite data from groups like alternative asset manager Pantheon and data provider eFront that shows that smaller firms and smaller buyout deals tend to deliver better returns for investors.
"There is an inherent tension in institutional investing," Michael Rosen, chief investment officer at Angeles Investment Advisors, said via email Tuesday. "A critical mass of assets is necessary to attract and maintain sufficient resources to be able to identify superior investment ideas. But exceptional investments are both scarce and capacity-constrained."
Public pension funds are some of the major institutions deploying their capital into these mega-funds, meeting minutes show. And they have options: nearly 4,000 funds are in the market, targeting fundraises of nearly $1 trillion, according to a July report from Preqin.
"A small investment is hardly worth their effort, even if it is a great investment, as it just won't be big enough to have an impact on the larger portfolio," Rosen said.
Private equity mainstay KKR & Co. announced Tuesday that it had closed its largest-ever European fund with €5.8 billion ($6.4 billion), which it will primarily deploy in Western Europe. Investors included the Minnesota State Board of Investments, the California Public Employees' Retirement System, and New York City Employees' Retirement System, among others, meeting minutes show.
Also on Tuesday, a new private debt firm called Arcmont Asset Management, backed by Neuberger Berman's Dyal Capital, announced that it had launched with €13 billion in assets under management.
"People will invest in these very big funds because they're easy to invest in," David Lanchner, a spokesperson for private equity placement agent Triago, said by phone Tuesday. "Due diligence is easy, and you can invest a lot of money at once."
This way, Lanchner said, investors can spend more time researching the smaller, more niche strategies. "They get beta from the big funds and outperformance or alpha from the smaller funds," he added.
Still, KKR and Arcmont weren't the only funds to announce that they are raking in the dough this week.
[II Deep Dive: Has Private Equity Lost Its Original Purpose?]
Brookfield Asset Management said Monday that it had closed its fifth private equity fund with $9 billion to deploy, exceeding its original $7 billion target. Investors included the South Carolina Retirement Investment Commission and the New Jersey State Investment Council, meeting minutes show.
On the same day, Altas Partners closed its second fund with $3 billion to deploy. Investors included Louisiana State Employees Retirement System and a fewlocal county retirement systems, according to meeting minutes.
In addition, a November 1 Securities and Exchange Commission filing from Platinum Equity Capital Partners shows that it has raised nearly $9.4 billion for its fifth fund. Investors include the Kansas Public Employees Retirement System and the New Mexico State Investment Council.
There can be attractive reasons to invest in mega-funds, according to Lanchner. He noted that they have a small number of competitors when it comes to deals. "They would argue that they're investing on a scale that other firms can't invest on," Lanchner said.
And it's not like these mega funds are just throwing money at any available deal. In fact, an August report from EY showed that the number of deals completed by private equity firms in the second quarter declined by 11 percent year-over-year.
Still, Rosen believes that the main function of these mega-funds is to help huge investors deploy their capital.
"The mega-funds exist not to deliver exceptional performance, but to provide capacity for massive pools of capital seeking a home," Rosen said. "If history is a guide, and it is, most of these mega-funds will produce mediocre returns, which will (just) satisfy their investor base, and generate massive fees for the GP. Win-win?"
A previous version of the story said that Arcmont had announced that it had raised €13 billion. This is not the case. The firm spun out of another, and now manages €13 billion. II regrets the error.
https://www.institutionalinvestor.com/article/b1hx33sxljv1r0/The-Private-Equity-Paradox
9.Billionaire Giving in 2018.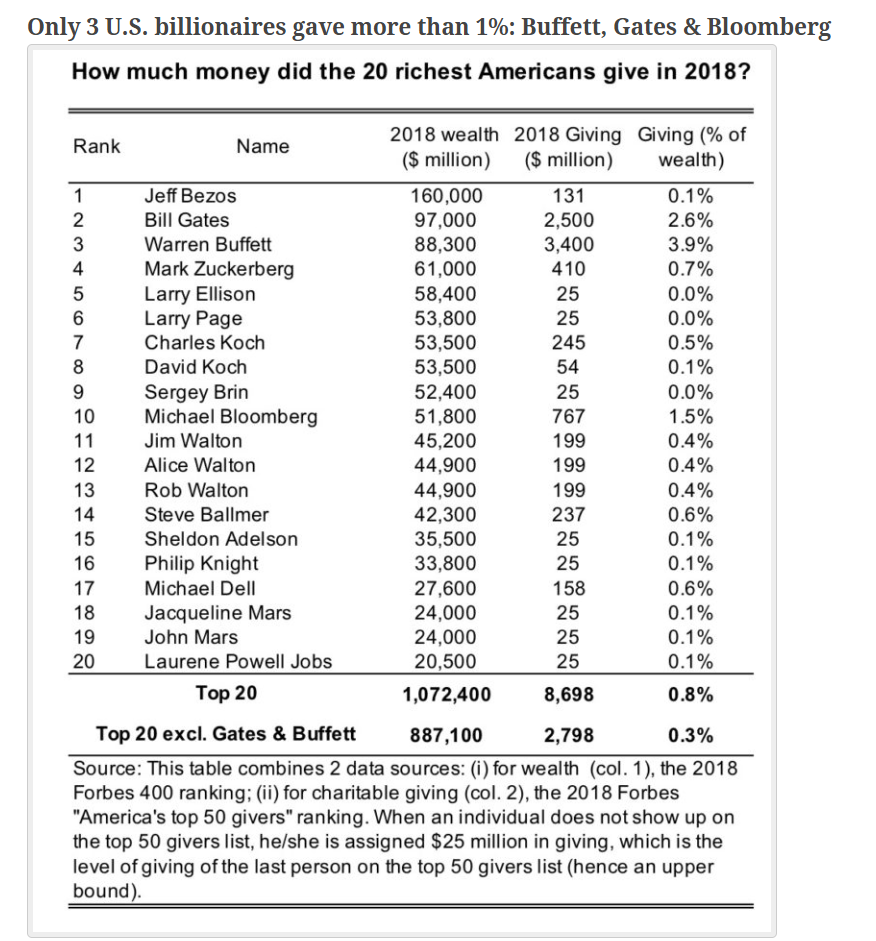 10.Surveys Are Mostly Bullshit
Posted November 12, 2019 by Michael Batnick
You've probably all experienced something like this: You purchased something you never thought about much, a Hyundai Santa Fe or a Yorkshire Terrier, for example, and now you can't stop seeing them everywhere. It's almost like when Instagram starts targeting ads for you, only it happens in the real world and there are no algorithms at work. This is known as the Baader-Meinhof phenomenon, more commonly referred to as frequency illusion.
My personal Baader-Meinhof are surveys. Before Animal Spirits became an anti-survey podcast, I can't remember paying attention to any of them. Now they're all I see. And the more I see, the stronger I feel about the fact that surveys are mostly bullshit.
Here is Seth-Stephens Davidowitz on the matter in his excellent book, Everybody Lies:
Everybody lies. People lie about how many drinks they had on the way home. They lie about how often they go to the gym, how much those new shoes cost, whether they read that book. They call i sick when they're not. They say they'll be in touch when they won't. They say it's not about you when it is. That say they love you when they don't. They say they're happy while they're in the dumps. They say they like women when they really like men. People lie to friends. They lie to bosses. They lie to kids. They lie to parents. They lie to doctors. They lie to husbands. They lie to wives. They lie to themselves. And they damn sure lie to surveys.
Why is this the case? In my estimation, a survey of one if you will, there are three main reasons why people don't tell the truth, which I've pie-charted below.