1.When You're Born Will Affect Returns….Two 30 Year Comparisons.
When you're born has a huge impact on lifetime investment returns. Genetics play a role in our health, and when we're born has a big effect on our portfolio. An investor born in 1902 that invested 100% in U.S. stocks (VTI) from 1932 to 1962 earned 10.2% per year – turning $100,000 into an inflation-adjusted $1.8 million.
Shifting the investment window to 1965 to 1995 results in only earning $343,000. We can't control when we're born, so it's important to focus on what we can control: saving more money, reducing fees, and increasing diversification.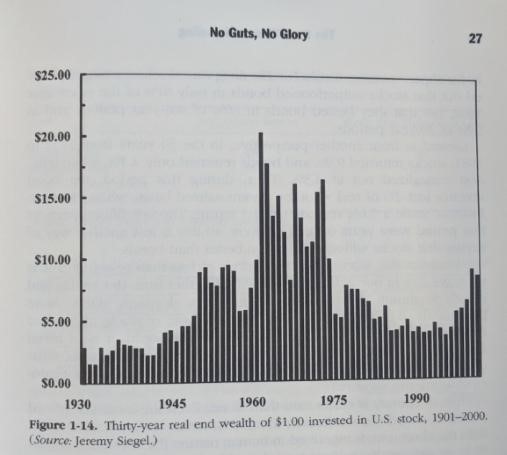 Source: Page 27 of The Four Pillars of Investing
https://seekingalpha.com/article/4286243-book-summary-four-pillars-investing
2.Blank Check SPAC Companies Hit Record.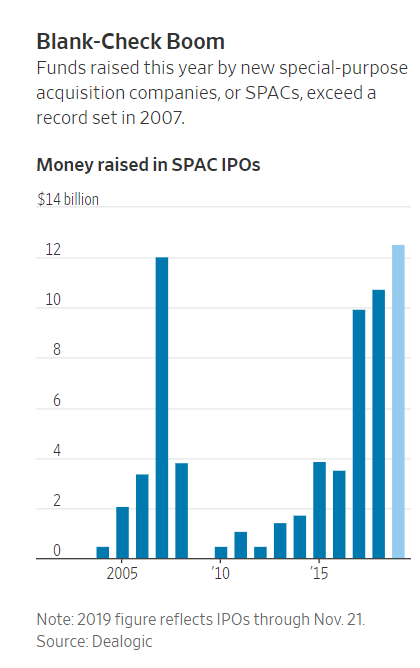 Special Purpose Acquisition Company (SPAC)
REVIEWED BY JULIE YOUNG
Updated Jun 25, 2019
What is a Special Purpose Acquisition Company (SPAC)?
A special purpose acquisition company (SPAC) is a publicly traded company that raises a blind pool capital through an initial public offering (IPO) for the purpose of acquiring an existing company. The money raised through the IPO of a SPAC is put into a trust where it is held until the SPAC identifies a merger or acquisition opportunity to pursue with the invested funds. Shares of a SPAC are typically sold in relatively inexpensive units that include one share of common stock and a warrant conveying the right to purchase additional shares or partial shares.
https://www.investopedia.com/terms/s/spac.asp
Blank-Check IPOs Hit New Record
Growing mainstream acceptance of special purpose acquisition companies, or SPACs, has fueled a boom in blank-check listings
https://www.wsj.com/articles/blank-check-ipos-hit-new-record-11574441671
3.Comparing Recessionary vs. Non-Recessionary Drawdowns.
It's also instructive to look at the differences in the drawdowns which take place in the context of a recession and outside of those periods.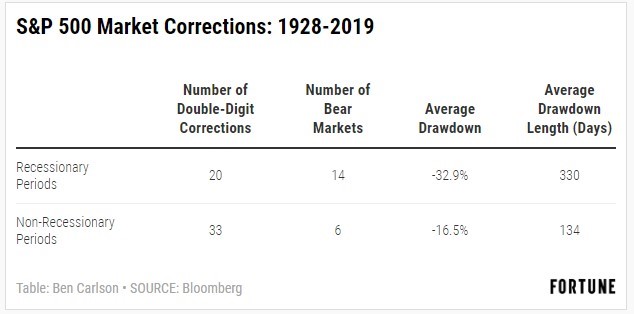 https://awealthofcommonsense.com/2019/11/we-dont-need-a-recession-for-a-reset-in-the-stock-market/
4.ETRADE Last Small Guy Standing After Schwab/TD Merger….1999-Etrade Ticked at $600.
ETrade long-term chart…Current stock market is nothing like 1999 bubble.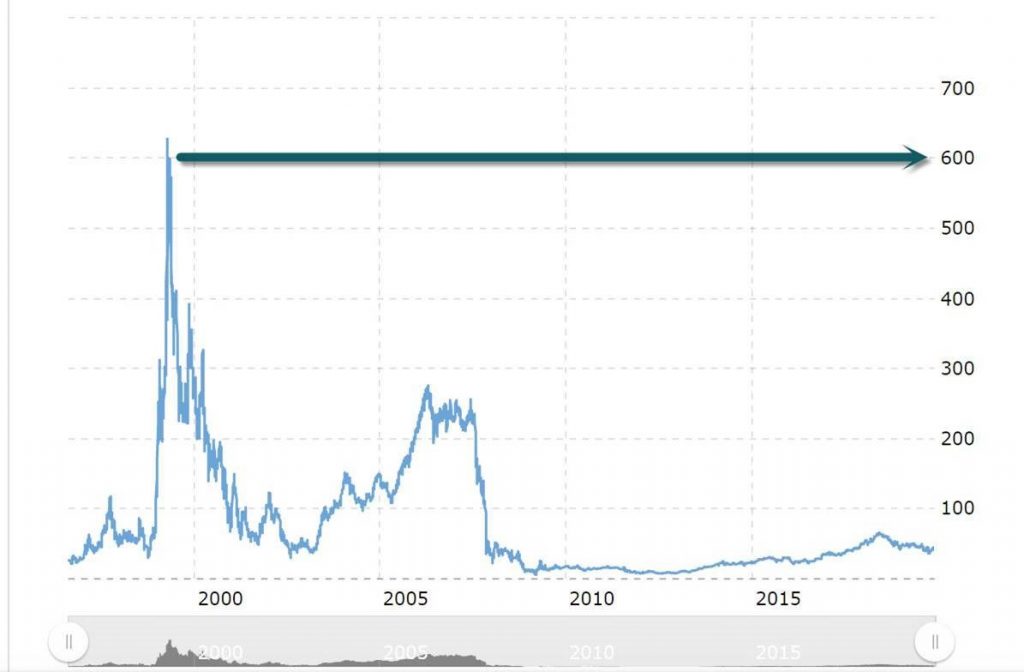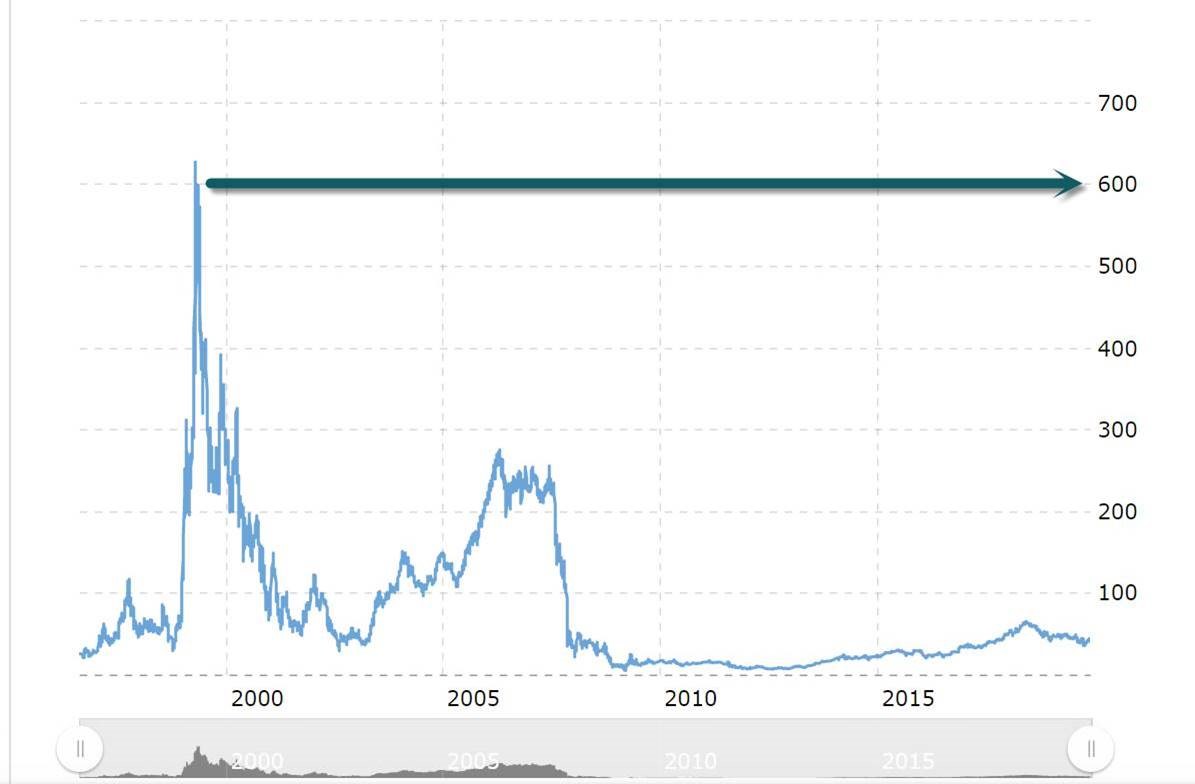 E*TRADE Financial – 23 Year Stock Price History | ETFC
https://www.macrotrends.net/stocks/charts/ETFC/e*trade-financial/stock-price-history
5.Top Performers in S&P 2019
Stocks To Be The Most Thankful For
Wed, Nov 27, 2019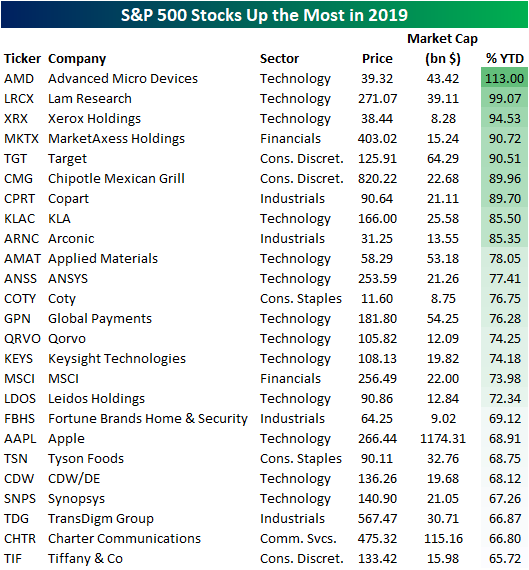 Below is a list of the 25 best performing stocks in the S&P 500 so far in 2019.  Advanced Micro Devices (AMD) tops the list with a gain of more than 100%.  While no other S&P 500 stocks have yet to double this year, another semi name, Lam Research (LRCX) has come close with a gain of 99%.  Xerox (XRX), MarketAxess (MKTX), and Target (TGT) have also all risen more than 90%.

Apple (AAPL) is the 19th best performing stock in the list above.  But because of its trillion+ dollar market cap, Apple's (AAPL) 69% gain has a much bigger impact on the overall stock market than all of the other stocks that have seen a bigger price move this year.  In fact, of the S&P 500's 25% price gain this year, Apple has accounted for 2.24 of those percentage points (or roughly 9%).

Instead of looking at simple year-to-date price change, below is a list of the stocks that investors should be most thankful for this year because of their contribution to the S&P's gains.  Right behind Apple (AAPL) in first is the other trillion+ dollar company — Microsoft (MSFT) — which has accounted for 1.7 percentage points of the S&P's 25% gain.  After AAPL and MSFT are Facebook (FB), Alphabet (GOOGL), and Amazon (AMZN).  Together these five mega-caps account for 25% of the S&P's move higher this year.  While this group of companies has been vilified in 2019 for a number of things, they're certainly still delivering for the stock market in a big way.  See Bespoke's most actionable investment ideas with a two-week free trial to Bespoke Premium.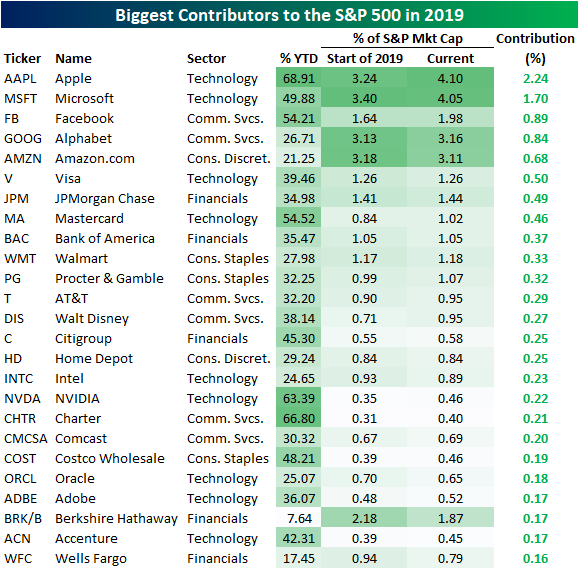 https://www.bespokepremium.com/interactive/posts/think-big-blog/stocks-to-be-the-most-thankful-for
6.Record Low Sub-Sectors of Unemployment
Barrons
The unemployment rate was down to only 3.6% during October. Here are the latest unemployment rates for teenagers (12.3%, among the lowest readings since 1969), African Americans (5.4%, record low), Latinos (4.1%, near September's 3.9% record low), college educated (2.1%, bouncing around its lowest readings since 2008), and high-school educated (3.7%, around its lowest rate since 2000).
— Ed Yardeni https://www.barrons.com/articles/the-misery-index-eurozone-forecast-trouble-for-etfs-51575076521?mod=past_editions
One Year Unemployment Chart 2019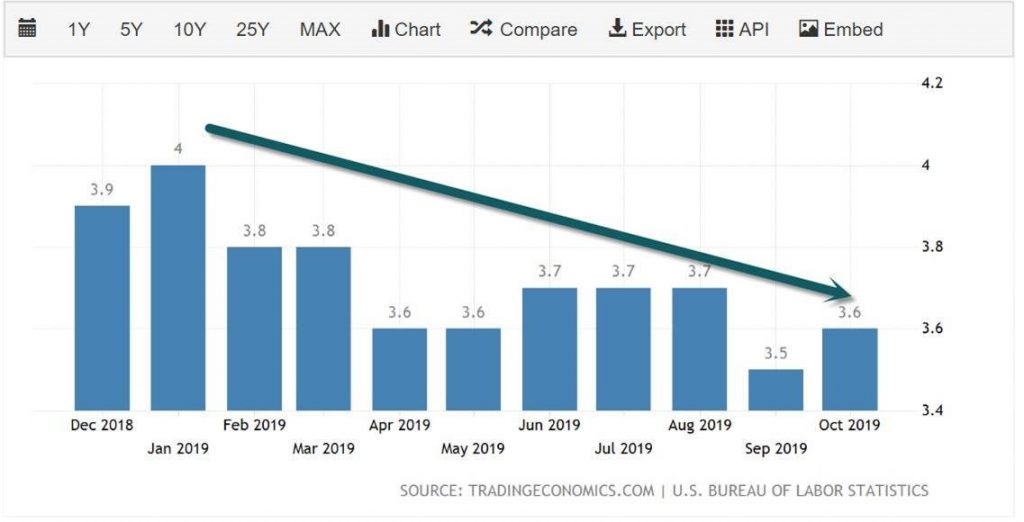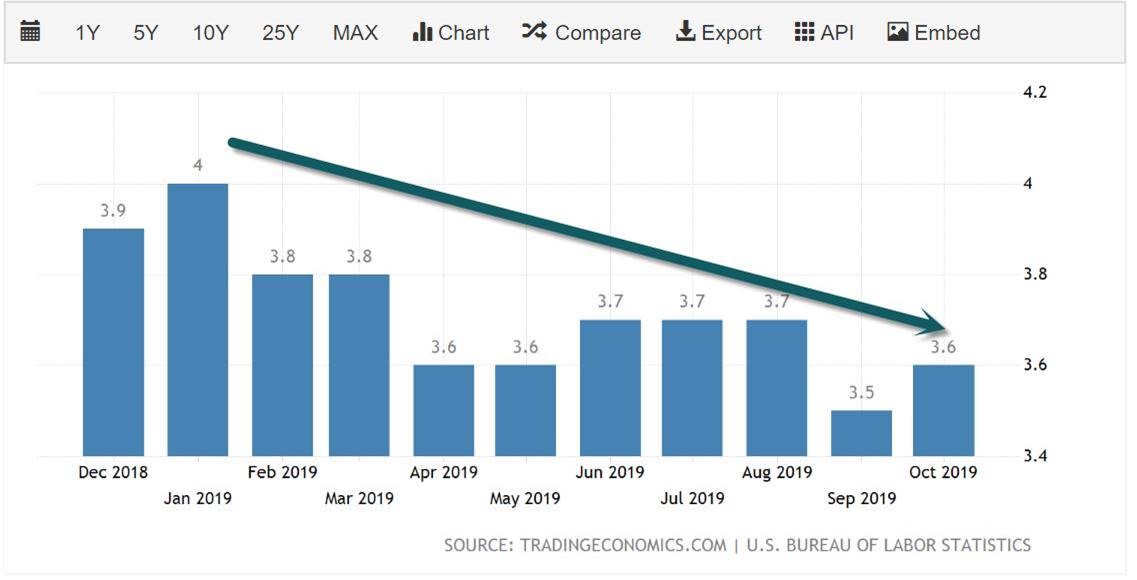 Historical Unemployment Chart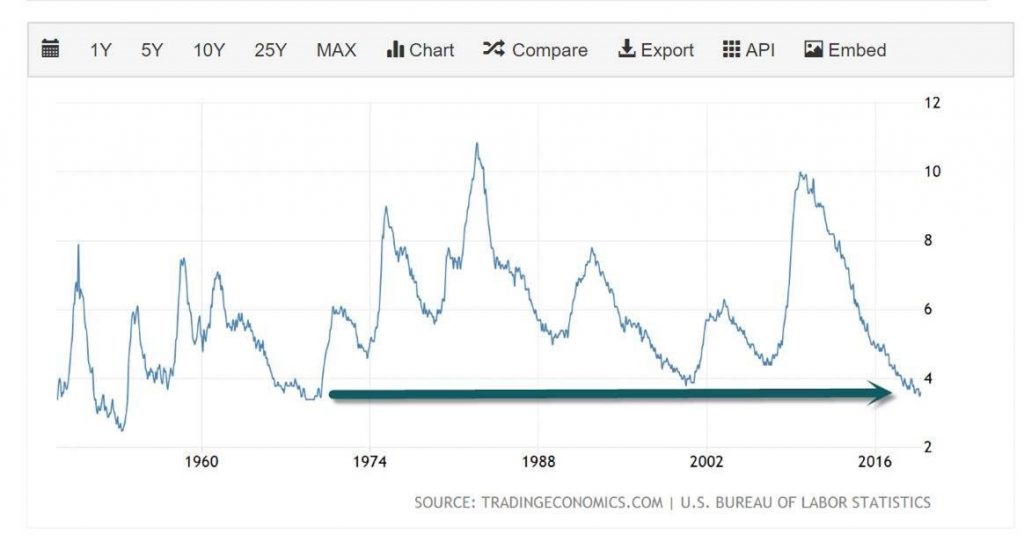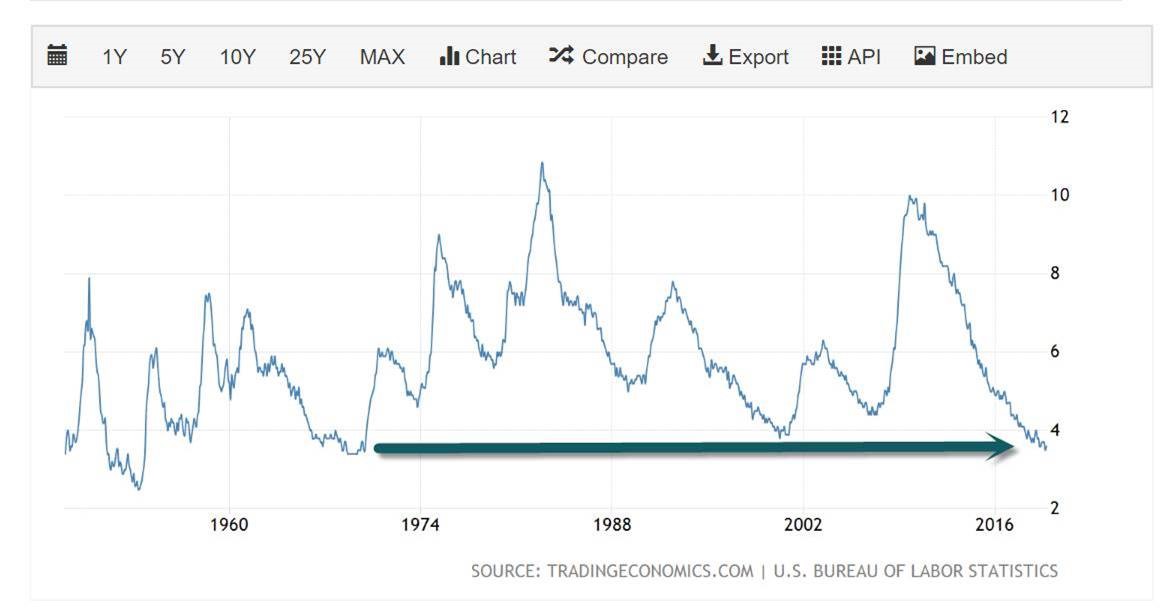 Trading Economics
https://tradingeconomics.com/united-states/unemployment-rate
7.The U.S. Population is Moving Less and Less.
The chart below shows that roughly 10% of the population, or 30 million people, move to a new home every year, down from 20% a few decades ago. In other words, the US population is less and less mobile. This development started in the 1980s, and the financial crisis has not had any particular impact on the slope of the trend, see again the chart below and here.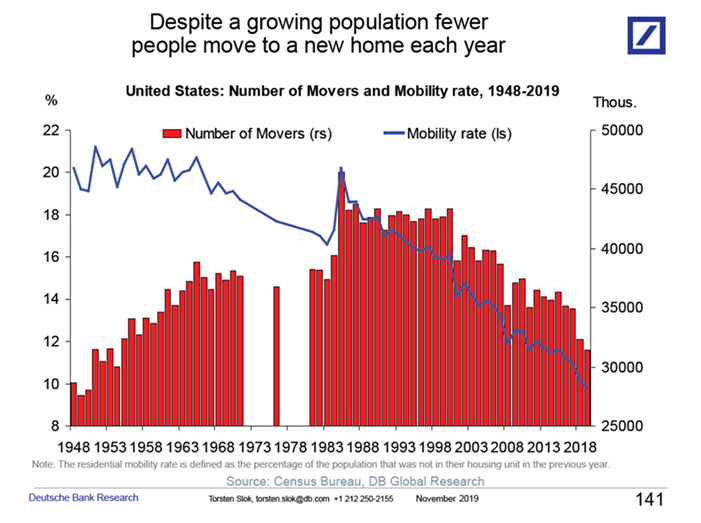 ———————————————–
Let us know if you would like to add a colleague to this distribution list.
Torsten Sløk, Ph.D.
Chief Economist
Managing Director
8.4000 Warehouses Using Robots Today…50,000 by 2025
50,000 Warehouses to Use Robots by 2025 as Barriers to Entry Fall and AI Innovation Accelerates
Oyster Bay, New York – 26 Mar 2019
By 2025, over 4 million commercial robots will be installed in over 50,000 warehouses, up from just under 4,000 robotic warehouses in 2018, according to ABI Research, a market-foresight advisory firm providing strategic guidance on the most compelling transformative technologies. The rapid rate of adoption will be driven by the need for flexible, efficient, and automated e-commerce fulfillment as same-day delivery becomes the norm. Global adoption of warehouse robotics will also be spurred by the increasing affordability and Return on Investment (ROI) of a growing variety of infrastructure-light robots as they are an attractive and versatile alternative to traditional fixed mechanical automation or manual operations.
"Flexibility and efficiency have become primary differentiators in the e-commerce fulfillment market as retailers and Third-Party Logistics (3PLs) struggle to cope with volatile product demand, seasonal peaks, and rising consumer delivery expectations." said Nick Finill, Senior Analyst at ABI Research. "Robots enable warehouses to scale operations up or down as required while offering major efficiency gains and mitigating inherent challenges associated with labor and staffing."
Automated Guided Vehicles (AGV) and Autonomous Mobile Robots (AMR) Goods-to-Person systems can directly replace heavier mechanized automation that typically requires massive upfront investment and rigid physical infrastructure. Robots enable the optimization of space in expensive warehouse facilities and can reduce the need for new and costly greenfield fulfillment centers. Mobile robotic systems also offer major flexibility advantages. Robot vendors, such as Fetch, Geek+, and Invia, enable additional robots to be added to or removed from a fleet as operational demands require. They also allow easy and relatively rapid reconfiguration of entire workflows and operations if product lines or fundamental operational requirements change. This is a major advantage in the unpredictable and dynamic e-commerce market.
Thanks to impressive innovation in computer vision, Artificial Intelligence (AI), deep learning, and robotic mechanics, robots are also becoming increasingly adept at performing traditionally harder-to-automate tasks. Economically viable mobile manipulation robots from the likes of RightHand Robotics and Kindred Systems are now enabling a wider variety of individual items to be automatically picked and placed within a fulfillment operation. By combining mobile robots, picking robots, and even autonomous forklifts, fulfillment centers can achieve greater levels of automation in an efficient and cost-effective way.
Many robot technology vendors are providing additional value by offering flexible pricing options. Robotics-as-a-Service models mean that large CapEx costs can be replaced with more accessible OpEx costs that are directly proportional to the consumption of technologies or services, improving the affordability of robotics systems among the mid-market, further driving adoption.
"By lowering the barriers to adoption for robots in the warehouse, vendors are disrupting the wider logistics value chain," explained Finill. "If advanced automation becomes possible for mid-size e-retailers, they will be able to fight back against the dominant players and also bring fulfillment operations back in-house, disrupting the relationship between retailers and 3PLs."
These findings are from ABI Research's report Robotics in E-commerce Fulfillment application analysis report. This report is part of the company's Intelligent Supply Chain service, which includes research, data, and Executive Foresights. Based on extensive primary interviews, Application Analysis reports present in-depth analysis on key market trends and factors for a specific application, which could focus on an individual market or geography.
About ABI Research
ABI Research provides strategic guidance for visionaries needing market foresight on the most compelling transformative technologies, which reshape workforces, identify holes in a market, create new business models and drive new revenue streams. ABI's own research visionaries take stances early on those technologies, publishing groundbreaking studies often years ahead of other technology advisory firms. ABI analysts deliver their conclusions and recommendations in easily and quickly absorbed formats to ensure proper context. Our analysts strategically guide visionaries to take action now and inspire their business to realize a bigger picture. For more information about subscribing to ABI's Research Services as well as Industrial and Custom Solutions, visionaries can contact us at +1.516.624.2500 in the Americas, +44.203.326.0140 in Europe, +65.6592.0290 in Asia-Pacific or visit www.abiresearch.com.
Article Found at Morning Brew https://www.morningbrew.com/
9.Self-driving cars were supposed to be here already — here's why they aren't and when they should arrive
PUBLISHED SAT, NOV 30 20199:00 AM EST
More companies are trying to bring self-driving cars to the masses than ever before. Yet a truly autonomous vehicle still doesn't exist. And it's not clear if, or when, our driverless future will arrive.
Proponents in the industry, including Tesla CEO Elon Musk, Waymo CEO John Krafcik and Cruise CEO Dan Ammann, touted an aggressive timeline but missed and reset their goals.
In a third-quarter earnings call, Musk said Tesla "appears to be on track for at least an early access release of a fully functional Full Self-Driving by the end of this year." Other leaders in the field are taking a more sober view on driverless cars, what's still needed to perfect them and how long before they are part of our daily lives.
Avideh Zakhor, a professor at the University of California at Berkeley's electrical engineering and computer sciences department, explained what inspired the rational reckoning in the industry:
"There was a sense maybe a year or two ago, that 'Oh, our algorithms are so good! We're ready to launch. We're gonna launch driverless cars any minute.' And then obviously there's been the setbacks of people getting killed or accidents happening, and now we're a lot more cautious."
States don't have clear regulations governing the safety testing and deployment of driverless cars, and that's one challenge to getting them out on the road.
As of October, 41 states have either enacted legislation or signed executive orders regulating the testing and use of autonomous vehicles. In September, the National Highway Traffic Safety Administration released new federal guidelines for automated driving systems — but they're only voluntary at this point.
Miles driven by test vehicles on real roads had been a frequently touted metric. But to advance the safety of their driverless systems, big players including GM-owned Cruise and Amazon-backed Aurora have also developed their own means of testing in simulation, much like rocket and airplane makers would before a first test flight.
Aurora CEO and co-founder Chris Urmson explained why this kind of testing matters so much, in addition to real world test driving:
"We can create situations that we're basically never going to see or very rarely see. So, for example, we might want to simulate what happens as a bicycle comes through an intersection, runs a red light and crashes into the side of our car. Turns out that doesn't happen very often in the real world, but we want to know that if that happens, our vehicles are going to do something safe … we're basically allowing the car to practice up in the cloud instead of on the road. And at the end of the day the training that happens online turns into better and better performance offline."
A safety-focused culture is essential, said Sam Abuelsamid, principal research analyst at Navigant and an engineer.
"When you're testing autonomous vehicles out on public roads, you know, not only are the people riding in that car part of the experiment, but so is everybody else around you. And they didn't consent to being part of an experiment," he said.
Dan Albert, an autos historian and author of "Are We There Yet?," said some companies have overstated the benefits of their "self-driving" systems today, and clearer communications about what the technology can and can't do are needed.
"One of the things I often hear from people is when an autonomous vehicle is better than the 50th percentile driver on the road, we have an absolute responsibility to let them onto the road," he said. "And others like Elon Musk have said, you know, it's almost irresponsible not to have these vehicles out there because they are safer and will be safer than human drivers … And so even if we could say that an autonomous vehicle was better than a human driver, it doesn't mean that an autonomous vehicle is better than a human driver plus all the advanced driver assist systems we have."
But there's no doubt self-driving vehicles will eventually extend mobility options to seniors, people with disabilities and others who don't have access or the ability to drive themselves. And there's still hope they will reduce the number of deaths on U.S. roads every year, approximately 40,000, with human error causing more than 90% of those crashes.
Finally, when will these vehicles arrive?
"We expect level-four vehicles to be feasible in small quantities within the next five years," Urmson said. "What that means is you'll probably see hundreds or maybe thousands of vehicles out either delivering packages or moving people through neighborhoods, or maybe hauling goods on our freeways."
Cruise's Amman declined to give a specific time frame.
"This is something we need to do with society, with the community, and not at society," he said. "And we take that very seriously. We're building mission critical safety systems that are going to have a huge positive impact on people's lives. The tech adage of 'move fast and break things' most assuredly does not apply to what we're doing here."
https://www.cnbc.com/2019/11/30/self-driving-cars-were-supposed-to-be-here-already-heres-whats-next.html
10.A New-Look Motive Hierarchy for Human Flourishing
Update Maslow by putting personal agency in the driver's seat.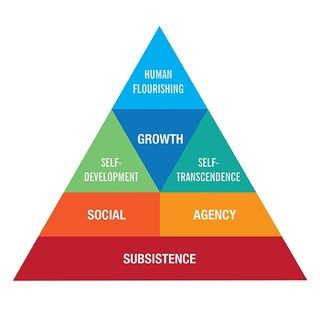 Source: Graphic: Dick Close, used with permission
Introduced in the mid-20th century, Abraham Maslow's hierarchy of needs (HON) was impressive then and is still famous today. Surprisingly, though, Maslow never used the iconic pyramid to depict his hierarchy. It, therefore, isn't impertinent to use new research (many others' including mine) to update the pyramid in meaningful ways that respect Maslow's original thinking.
The proposed hierarchy is motive-based rather than need-based and emphasizes action driven by personal agency. It thus features "doing" along with having (needs) and being (self-actualized). People choose their individualized pathways to the new peak of the pyramid: human flourishing, including other people's as well as one's own.
A Revised Hierarchy of Human Motives
The figure shows a new motivation hierarchy with seven components.
At the hierarchy's foundation, subsistence motives subsume Maslow's two lower-order needs: physiological and safety/security. At the next level up, social motives echo Maslow's love, belonging, and social needs, while agency is both a powerful motivator—related to needs for competence and control—and a high-leverage bridge to action. The core belief in personal agency is self-efficacy—our belief in our ability to perform a task. Efficacy beliefs influence the choices people make, the goals they pursue, and the courses their lives take.
Efficacy beliefs affect whether people pursue growth, self-development, and self-transcendence, and the forms those pursuits will take. Self-development emphasizes exploiting and strengthening one's knowledge, talents, and capacities; it captures self-actualization as Maslow described it; and it includes personal and professional growth and accomplishment.
Self-transcendence is a motive distinguished from self-development by serving externally directed goals that benefit other people and causes. Maslow wrote that human potentialities could be individual or collective or even species-wide, describing some but not all of his self-actualized study participants as unselfish people desiring to help the human race. Commensurately, the new hierarchy identifies self-transcendence as an alternative to self-development, a high-level motive manifested in choices and behaviors that create positive outcomes for others.
Self-development and self-transcendence support and propel growth and flourishing in oneself and others. People can satisfy these (as well as lower-level) motives through naturally occurring circumstance and developmental processes, but also via agentic choice and self-direction.
Human Flourishing at the Pinnacle
In theorizing about self-actualization, Maslow drew from the humanistic psychologists of the time while also crediting Aristotle's concept of Eudaimonia, translated variously as happiness, well-being, optimal human functioning, and flourishing. Harvard's Human Flourishing Program defines flourishing as "a state of complete human well-being."
article continues after advertisement
Well-being is an active research domain in its own right. Merging their literature, human flourishing means doing well or being well in:
1. Physical and mental health, including self-acceptance and life satisfaction
2. Purpose in life
3. Character and virtue
4. Positive social relationships
5. Autonomy and environmental mastery (for instance, feeling competent and in control)
6. Personal growth.
Each of these indicators is an end in itself (and often a means to other ends), and each is a nearly universal desire.
Pathways to Flourishing
At least four contexts—family, work, education, and religious community—offer pathways to multiple flourishing criteria. Within and across contexts, flourishing can appear via either circumstantial or self-generated opportunities. The paths to multiple flourishing include lower to higher levels, meaningful projects and well-doing, free traits, and proaction.
Lower to higher levels
The pathways to flourishing open wider when lower-level needs are satisfied in the moment and over time. The foundation for subsistence, and therefore a condition for sustained flourishing, is access to resources—financial, medical, social, and natural/geographical in the face of climate change—sufficiently secure to continue adequately.
Meaningful projects and well-doing
Flourishing and well-being derive from well-chosen actions—what Professor Brian Little describes as "well-doing," manifested through the sustained pursuit of personally-valued core projects. Activities that are fun and pleasurable promote hedonic, satisfaction-based well-being, whereas a more profound, eudaimonic well-being derives from pursuing impactful projects that satisfy higher values and purpose.
article continues after advertisement
Free traits
Doing well in life, work, and meaningful projects demands a vast repertoire of behaviors and performances. Our personalities—whatever we think they are or however "tests" might score us—fit comfortably with some, but certainly not all, of these demands. Thankfully, what may be the most important trait of them all is what Professor Little calls free traits: the flexibility and ability to behave differently from our natural tendencies when circumstances require it. A prime example is a person labeled an introvert who does well in a presentation or a big social event, even when preferring to be in the audience or at smaller gatherings.
As stressful as uncomfortable challenges can be, breaking the confines of personal tendencies can have eudaimonic effects. Free traits help us grow and flourish in domains that we had previously thought were beyond the bounds of our competency.
Proaction
Bandura's social cognitive theory is both realistic and optimistic about people's abilities to shape desirable futures. Extending his theorizing to the workplace, management researchers study the meaning and many consequences (net positive but often risky) of behaving proactively—that unique class of behavior that overrides situational influences, transcends constraints, changes current trajectories, and forges new paths.
Proaction is the self-chosen exercise of agency. Proaction is purposeful and future-focused—forethought being the temporal extension of agency—and intended to create positive change in oneself (self-development) or environments, with benefits to oneself and other people (self-transcendence). In combination, this duality generates human flourishing in the broadest sense.
article continues after advertisement
Conclusion 
Maslow's theorizing spread from psychology to the business world. This revised motive hierarchy holds additional implications for career and self-management, as well as for human resources programs, such as employee engagement, wellness, and leadership development.
Maslow expressed frustration that managers and management scholars ignored his broader vision of a more enlightened and engaged citizenry. He wrote that a good society is a psychologically healthy one, giving its members the best chances of self-actualizing. He would have valued workplaces and communities that 1) meet subsistence and social needs, 2) support healthy and productive levels of personal agency, 3) provide opportunities for self-development and self-transcendence, and 4) contribute to human flourishing beyond and across organizational and geographical boundaries.
The test of leadership, Maslow believed, is the effect of policies and actions on people's behavior outside of work, in the community. The new motivation hierarchy emphasizes doing as well as being, highlighting personal agency as a springboard to self-development, self-transcendence, and flourishing. If leaders and others help create workplaces and communities in which people flourish, the refreshed motive hierarchy can contribute to an even more aspirational and empowering Maslow legacy.
https://www.psychologytoday.com/us/blog/getting-proactive/201911/new-look-motive-hierarchy-human-flourishing