1.The 3rd Longest Bull Market Ever is Still Lacking IPOs
Barron's
The dearth of companies making their trading debuts is an unusual feature of what has been a record run for the stock market. In the heady 1990s, there were an average of 436 IPOs per year in the U.S., based on Ritter's data. Last year, there were just 74. A number of reasons have been cited, including increased regulations and scrutiny for public companies, as well as the deluge of private capital.
The flood of private money is overwhelming ..Stat of week
FOR NOW, IT'S HARD to blame entrepreneurs for holding back on IPOs. The flood of private capital has changed the calculus. In one example, Japanese conglomerate SoftBank Group has raised over $93 billion for a technology investment fund. Those dollars alone exceed the $84 billion in total proceeds raised in U.S. IPOs since the start of 2015.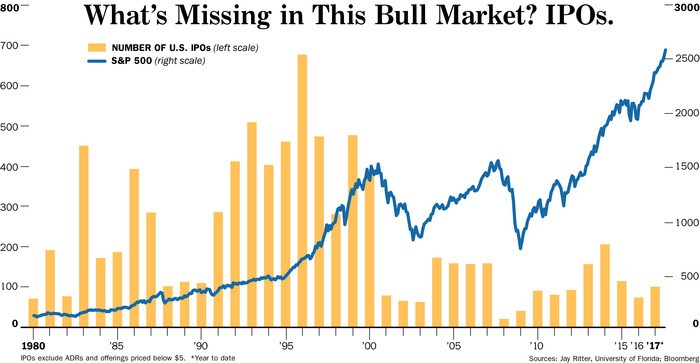 Read full story
https://www.barrons.com/articles/unicorns-what-are-they-really-worth-1510974129
2.Based on CAPE Ratio…U.S. Markets Much More Expensive than International.
Remember fundamental valuation tools are not market timing mechanisms…
Equity Markets: The US market looks massively overvalued relative to the rest of the world.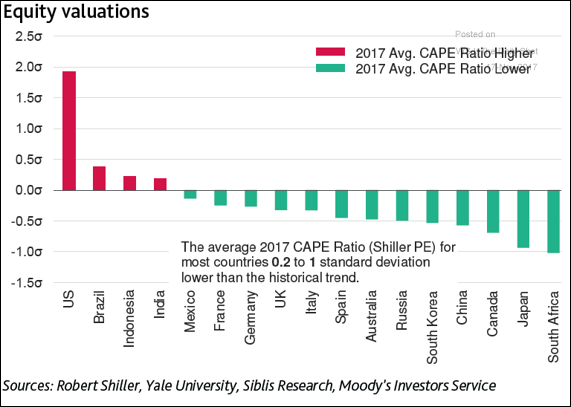 Source: Moody's Investors Service
That's why flows into non-US ETFs have been so brisk.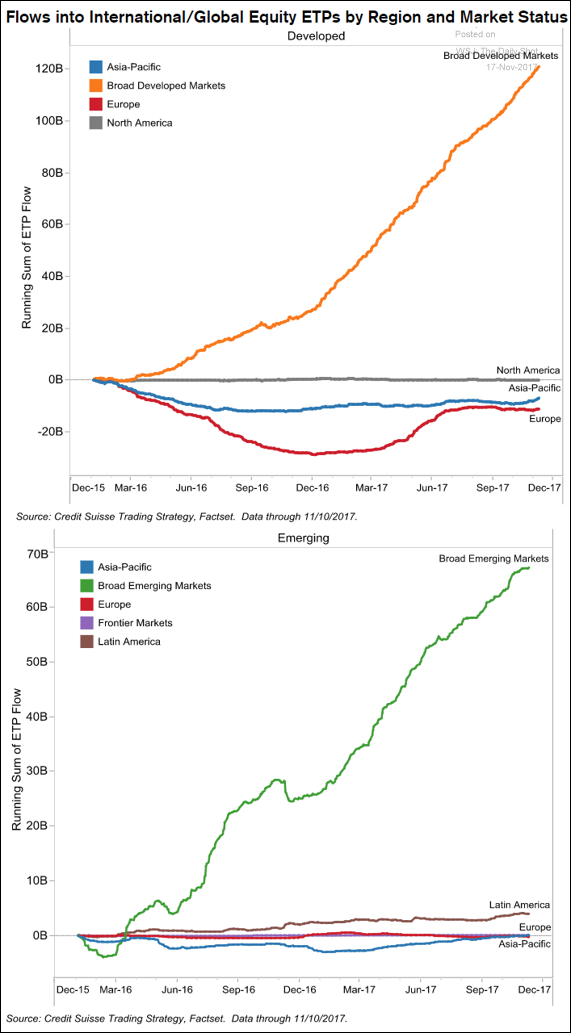 Source: Credit Suisse
Cyclically adjusted price-to-earnings ratio
From Wikipedia, the free encyclopedia
The cyclically adjusted price-to-earnings ratio, commonly known as CAPE,[1] Shiller P/E, or P/E 10 ratio,[2] is a valuation measure usually applied to the US S&P 500 equity market. It is defined as price divided by the average of ten years of earnings (moving average), adjusted for inflation.[3] As such, it is principally used to assess likely future returns from equities over timescales of 10 to 20 years, with higher than average CAPE values implying lower than average long-term annual average returns.
https://en.wikipedia.org/wiki/Cyclically_adjusted_price-to-earnings_ratio
3.Third Longest Bull Market Ever.
Beware is PIMCO Opinion
PIMCO Chart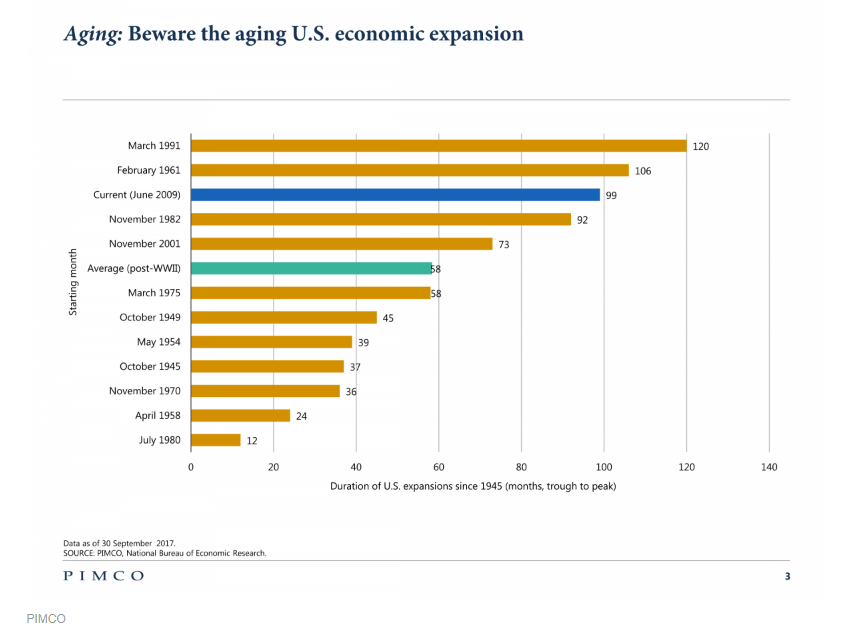 http://www.businessinsider.com/pimco-markets-economy-cyclical-outlook-2018-forecasts-2017-10?sf119743900=1/#dont-miss-17
4.U.S. Yield Curve Now the Flattest in 10 Years.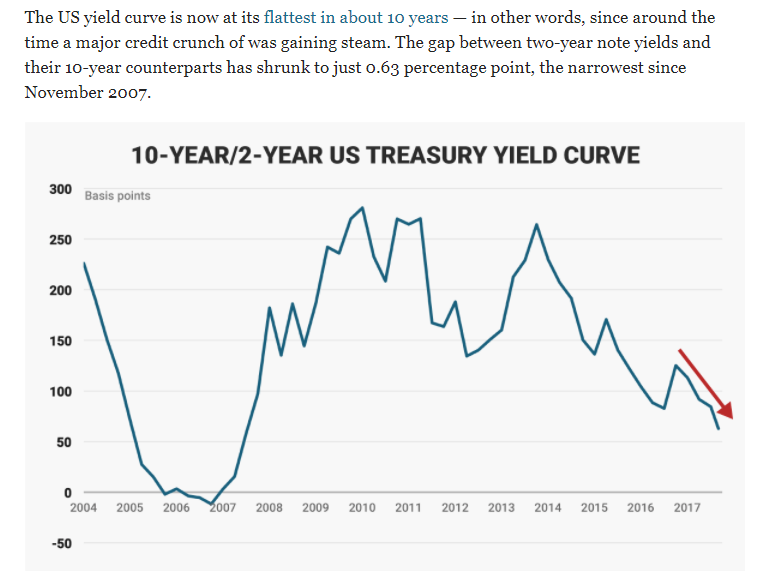 http://www.businessinsider.com/yield-curve-flattening-could-derail-fed-interest-rate-hikes-2017-11
5.Creative Destruction in the ETF World….2000 ETFs with $3 Trillion in Assets….Record Openings and Record Closings
However, while the number of funds has been rising, so has the number of fund closures, as seen in the following chart, derived from Morningstar Direct data. As Ben Johnson, Morningstar's director of global ETF research noted, ETFs are "on pace for [a] record number of closures."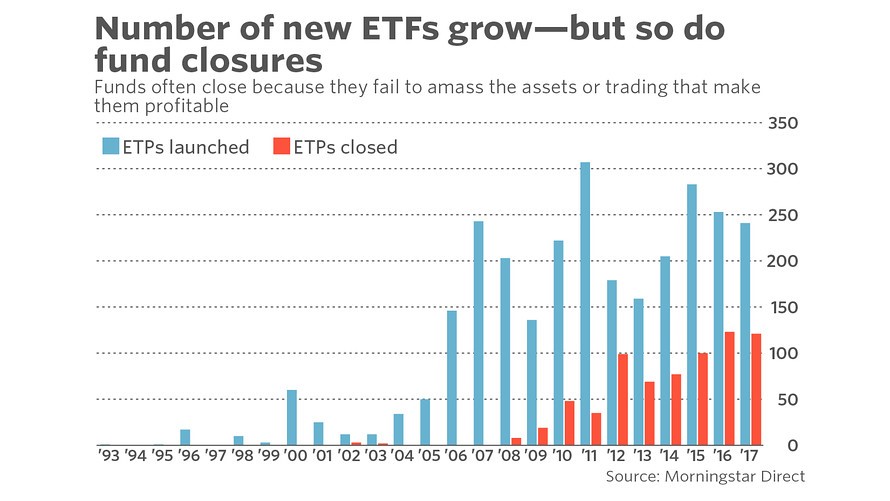 https://www.marketwatch.com/story/how-the-etf-market-is-both-growing-and-shrinking-in-one-chart-2017-11-16
6.2017 Sector Divergence is Massive….Tech Outperforming Worst Sector by 56%
Bespoke's Sector Snapshot — 11/16/17
Nov 16, 2017
Below is one of the many charts included in this week's Sector Snapshot, which simply highlights the year-to-date change for the major S&P 500 sectors.  Note that Tech is now up more than twice as much as the 2nd best sector (Health Care) in 2017.  And Tech is outperforming the worst sector (Telecom) by 56 percentage points.  Talk about a spread.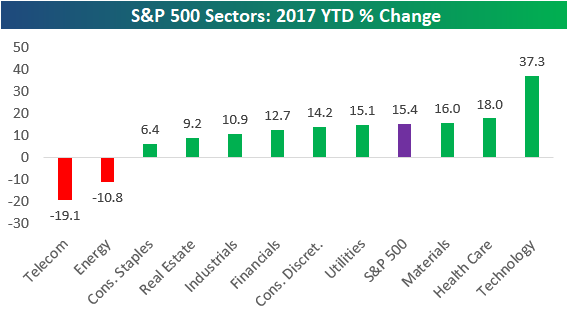 https://www.bespokepremium.com/think-big-blog/
7.Home Builder Confidence Hits Pre-Crisis Highs.
Here is the opening of this morning's monthly report:
"November's builder confidence reading is close to a post-recession high — a strong indicator that the housing market continues to grow steadily," said NAHB Chairman Granger MacDonald, a home builder and developer from Kerrville, Texas. "However, our members still face supply-side constraints, such as lot and labor shortages and ongoing building material price increases."
"Demand for housing is increasing at a consistent pace, driven by job and economic growth, rising homeownership rates and limited housing inventory," said NAHB Chief Economist Robert Dietz. "With these economic fundamentals in place, we should see continued upward movement of the single-family housing market as we close out 2017." [link to report]
https://www.advisorperspectives.com/dshort/updates/2017/11/16/nahb-housing-market-index-builder-confidence-climbs-to-8-month-high-in-november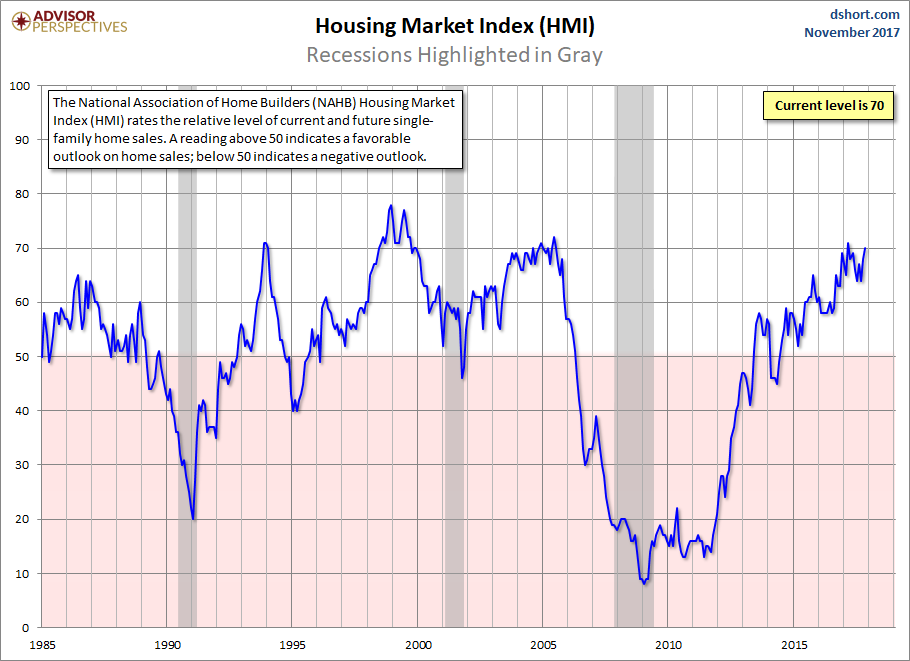 8.Incredible Chart of the Day….Walmart is the Biggest Employer in 22 of 50 States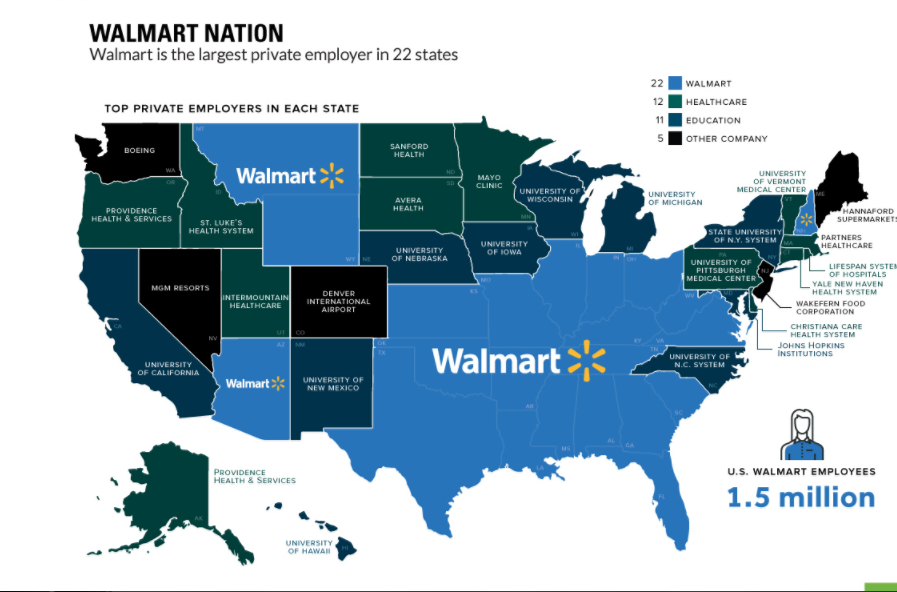 http://www.visualcapitalist.com/walmart-nation-mapping-largest-employers-u-s/
Found at www.abnormalreturns.com
9.Read of the Day…Even with Heavy Subsidies Electric Cars not Taking Off in China.
Despite Big Push From Beijing, Electric Cars Struggle in China
To meet government requirements, makers in China churn out more than they can sell, even with generous subsidies
Auto Makers Could Not Even Sell Out 424k Inventory
EV supply already exceeds demand: Auto makers made 424,000 in the first nine months of the year, but sold only 398,000, according to the China Association of Automobile Manufacturers. And analysts estimate individual consumers account for as little as a quarter of the total, with the rest bought by state-run taxi companies or other public-service fleets. This echoes the EV market's development in the U.S., where demand is flagging even with heavy incentives in some areas.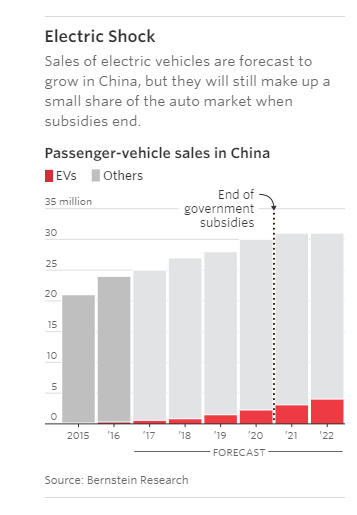 wsj
https://www.wsj.com/articles/even-with-beijing-pushing-hard-electric-cars-prove-hard-to-start-1510916562?tesla=y
10.10 Things to Be Thankful For
There are a million. Here are a few to get you started.
Posted Nov 18, 2017
As Thanksgiving approaches, I think it's important to take a gratitude inventory. A number of things in life can make us uncomfortable or even a little miffed. But sometimes they are gifts in disguise. With that in mind, here are my top ten things to be thankful for.
Be thankful for growing older. Not everyone gets this opportunity. Agingwith healthand grace is a rare and beautiful gift.
Be thankful that you can read these words. It is a very sad thing that many people do not have the ability to read.
If you have to wait in line at the supermarket for your Thanksgiving dinner, be thankful that you can afford what you want to eat and have a convenient place to buy it. We are all aware of the many people waiting in line to have a meal at the local homeless shelter.
Be thankful for the ability to pay your bills, even if it means that you have to give up some things that you want. Remember that having basic needs met is a luxury for many people.
If you have to get up before dawn to get to work, be thankful that you get to see another sunrise and have a job to go to. Think about what it would be like if you slept everyday until noon and spent the rest of your waking hours wondering what to do with your life.
When you're stuck in traffic, be thankful you have a car to get where you need to go and money to buy gas. Standing in the rain while waiting for a bus is, at the very least, uncomfortable.
When the kids are screaming at each other, be thankful that you have children to loveand who love you, and remember that at least some of the time, they do get along. There will always be bumps in the road, but they are usually followed by easier times.
When your mate is acting grumpy or giving you a hard time, be thankful for having love in your life and someone to grow old with. A life partner is something that less than half the population has. Having your partner is a blessing that needs to be counted several times.
When your parentsare telling you how to run your life, be thankful that you still have them around. If they are no longer with you, take a moment to be thankful for the time you had with them.
When you sit down with your loved ones for your Thanksgiving dinner, be thankful for everyone and everything that makes it possible. Look your family and friends in the eye and express to them your gratitude for sharing this wonderful time together.
Thanksgiving is a very special holiday. Embrace those around you and your ability to give thanks with the people you love.
https://www.psychologytoday.com/blog/emotional-fitness/201711/10-things-be-thankful