1.NY FED Model Not Predicting Recession.
What happens to the stock market during a recession?
Even if a recession does not appear to be imminent, it's never too early to think about how one could affect your portfolio. That's because bear markets and recessions usually overlap at times — with equities leading the economic cycle by six to seven months on the way down and again on the way up.
During a recession, the stock market typically continues to decline sharply for several months. It then often bottoms out about six months after the start of a recession, and usually begins to rally before the economy starts humming again. (Keep in mind, these are market averages and can vary widely between cycles.)
Aggressive market-timing moves, such as shifting an entire portfolio into cash, can backfire. Some of the strongest returns can occur during the late stages of an economic cycle or immediately after a market bottom. It's often better to stay invested to avoid missing out on the upswing.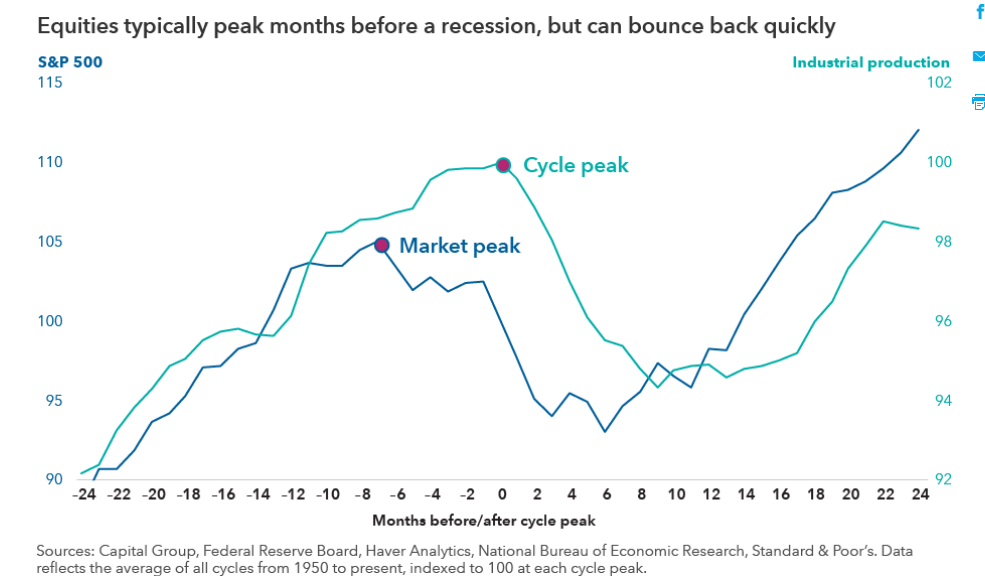 Economic indicators are a way to take the temperature of the U.S. economy. One or two negative readings could be meaningless. But when several key indicators start flashing red for a sustained period, the picture becomes clearer and far more significant. In our view, that time has not yet arrived.
Although some imbalances are developing, they don't seem extreme enough to derail economic growth in the near term. The culprit that ultimately sinks the current expansion may one day be obvious: Rising interest rates, higher inflation, or unsustainable debt levels can be major triggers.
These events, if they continue, suggest that the economy could weaken in the next two years, placing a 2020 recession on the horizon. But we are not there yet.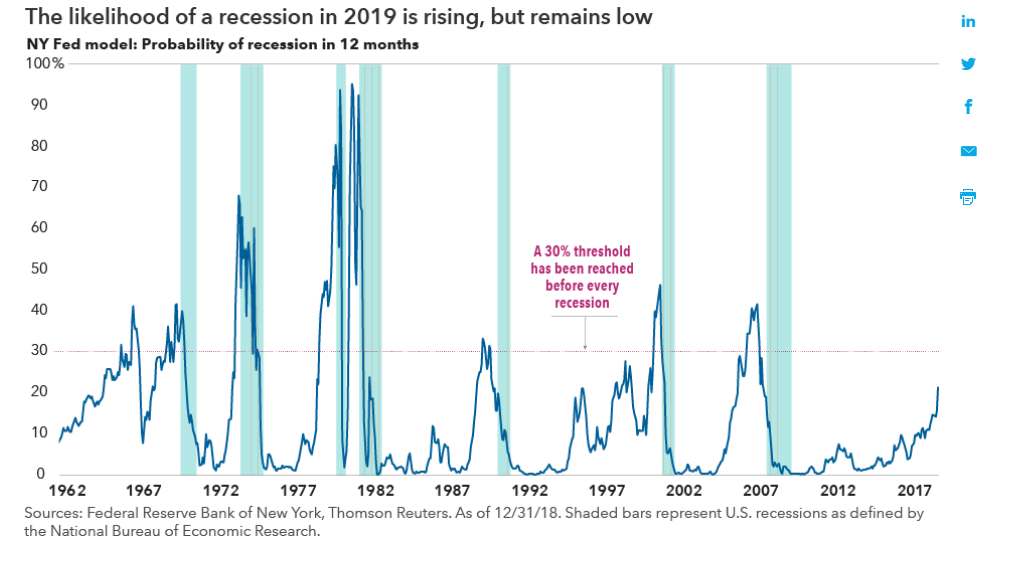 Capital Ideas Group
https://www.thecapitalideas.com/articles/guide-to-recessions
2.Vanguard Predictions for Global Asset Returns.
Key takeaway: Lower returns and higher risks
With slowing growth, disparate rates of inflation, and continued policy normalization, volatility in the financial markets is likely to accelerate.
Long term, our ten-year outlook for investment returns remains guarded, given the backdrop of high valuations and depressed risk-free rates across major markets.
Returns in global equity markets are likely to be about 4.5%–6.5% for U.S.-dollar-based investors.
We do, however, foresee improving return prospects in non-U.S. developed markets, building on slightly more attractive valuations.
U.S. fixed income returns are most likely to be in the 2.5%–4.5% range, driven by rising policy rates and higher yields across the maturity curve as policy normalizes.
Ten-year projected return ranges
U.S. equities: 4.0%–6.0%
U.S. aggregate bonds: 2.5%–4.5%
International equities: 5%–9.5%
International bonds (hedged): 0%–4.0%
IMPORTANT: The projections and other information generated by the Vanguard Capital Markets Model® (VCMM) regarding the likelihood of various investment outcomes are hypothetical in nature, do not reflect actual investment results, and are not guarantees of future results. Distribution of return outcomes from VCMM are derived from 10,000 simulations for each modeled asset class. Simulations as of December 31, 2018. Results from the model may vary with each use and over time. For more information on VCMM, see the Important Information.
Source: Vanguard Investment Strategy Group.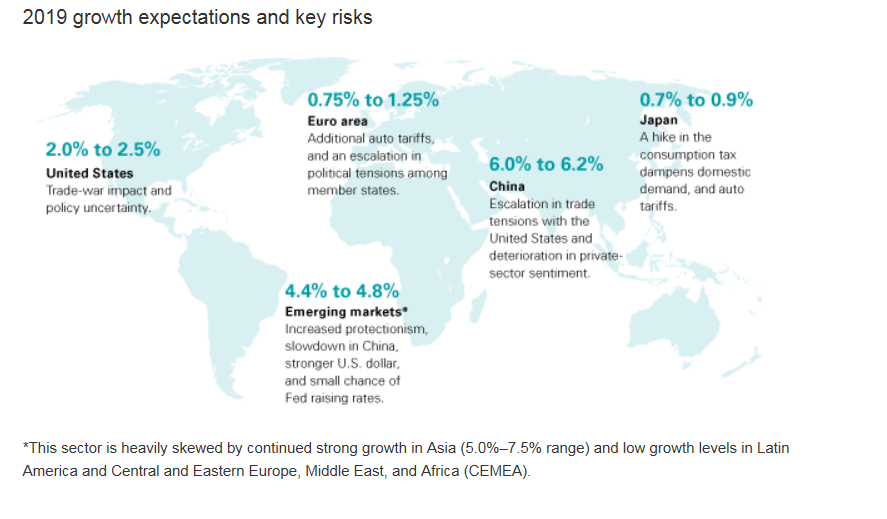 https://advisors.vanguard.com/VGApp/iip/site/advisor/researchcommentary/article/IWE_InvComMktPrspctvsMay2019
3.Tariffs and Steel Industry
SLX-Steel ETF back to 2018 lows.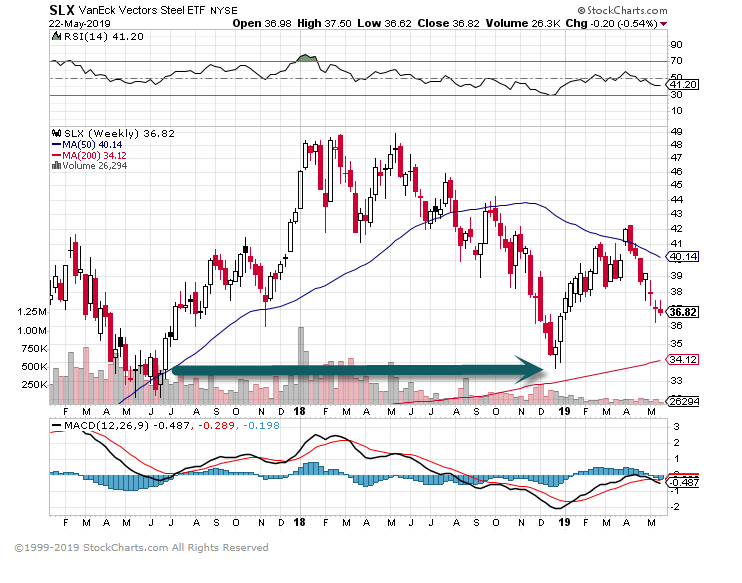 WSJ
U.S. steelmakers woke last week to the brutal reality of evaporating tariffs on Canadian and Mexican steel. But an even greater problem is waiting in the wings: China may soon be tempted to ship more of its unwanted steel to foreign shores.
President Trump said Friday that the 25% tariffs he imposed on Canada and Mexico in mid-2018 would be lifted and that both countries would drop retaliatory levies. That removes a major hurdle to congressional approval for Mr. Trump's revamped Nafta, the U.S.-Mexico-Canada Agreement.
U.S. steel companies will certainly take a hit, given that the tariffs boosted U.S. prices significantly above the global average for most of 2018, at the expense of steel-consuming industries like oil and autos. Even with the 25% tariff, imports of Canadian and Mexican hot-rolled coil steel are roughly 5% cheaper, according to Moody's.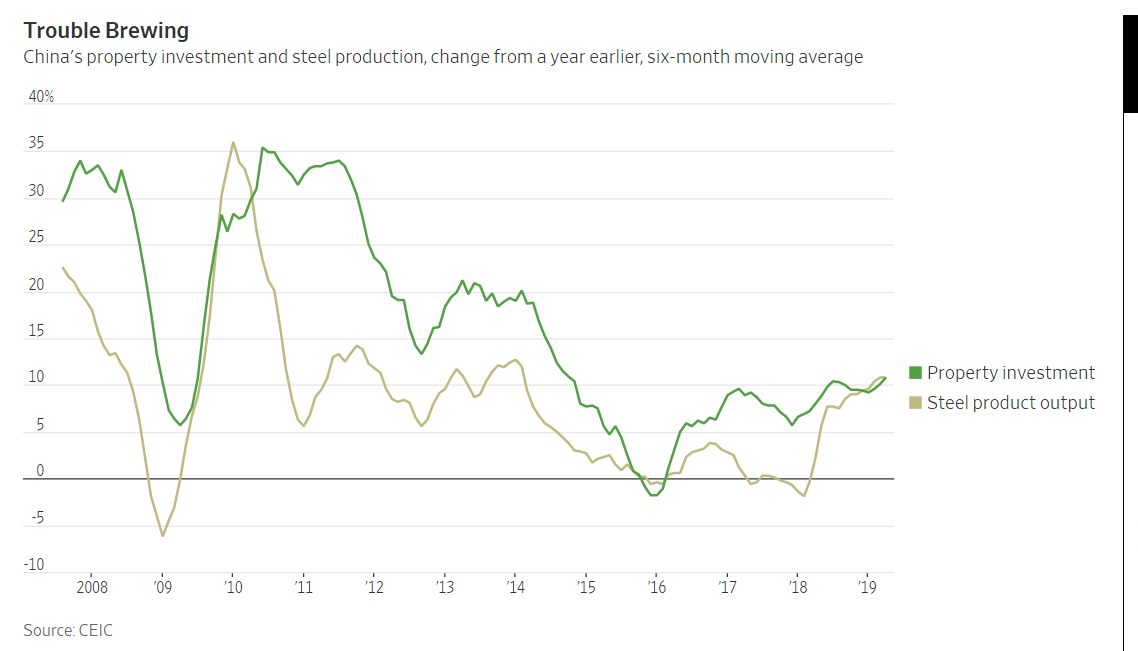 Trump, Tariffs and China Spell Trouble for American Steel
The vanishing levies on Canada and Mexico could be just the beginning of the industry's problems
By Nathaniel Taplin
https://www.wsj.com/articles/trump-tariffs-and-china-spell-trouble-for-american-steel-11558524149?mod=itp_wsj&ru=yahoo
4.Homebuilders Still Well Below Highs.
XHB-Homebuilder ETF.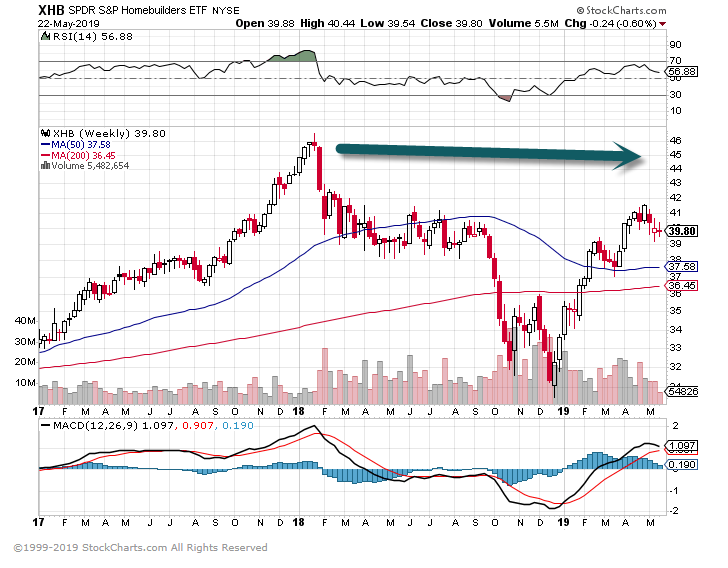 New Home Sales Still Below 800k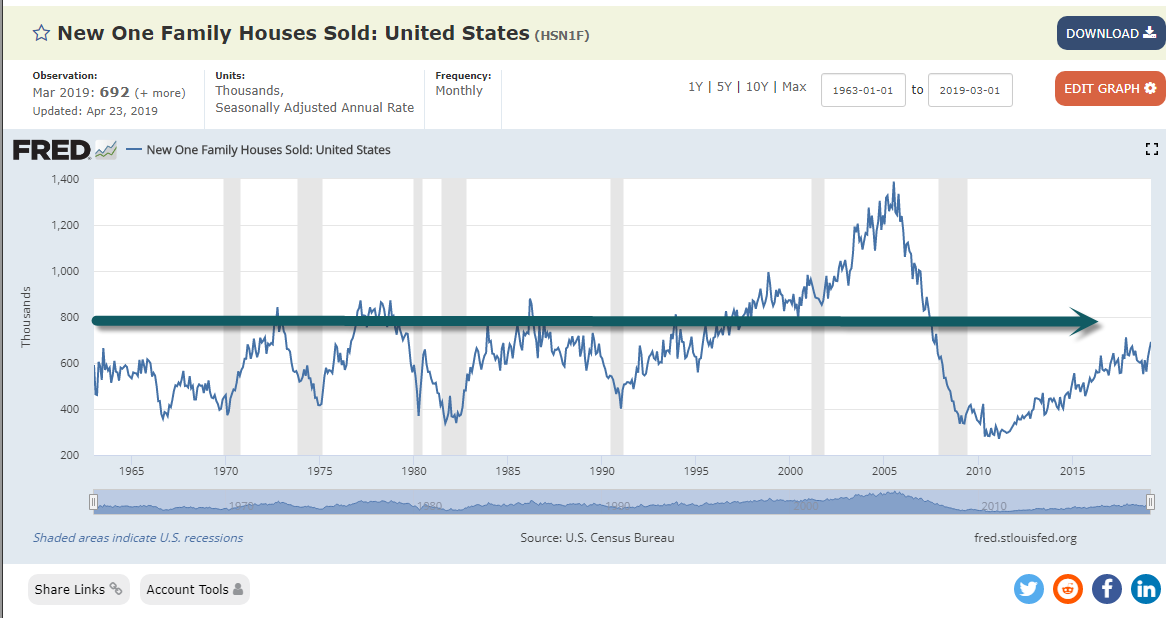 https://fred.stlouisfed.org/series/HSN1F 
5.Eurozone Banks Make New Lows Versus The Market
Tue, May 21, 2019
Today Eurozone banks are lagging the market, but that's nothing new. During the mid-2000s banks were the key drivers of European equity market performance, outperforming by almost 40% from mid-1999 through mid-2007. Since, it's been a seemingly never-ending series of disasters: the global financial crisis, the Eurozone crisis, non-performing loan build-ups, recapitalization, negative interest rates, and more. As a result, Eurozone banks have underperformed the broadest measure of European stock prices by 77% since the 1990s came to a close.  How much lower can this ratio go?  Buying Eurozone banks here would certainly qualify as "buying low."  Start a two-week free trial to Bespoke Institutional to read more on international equity markets and the global macro backdrop.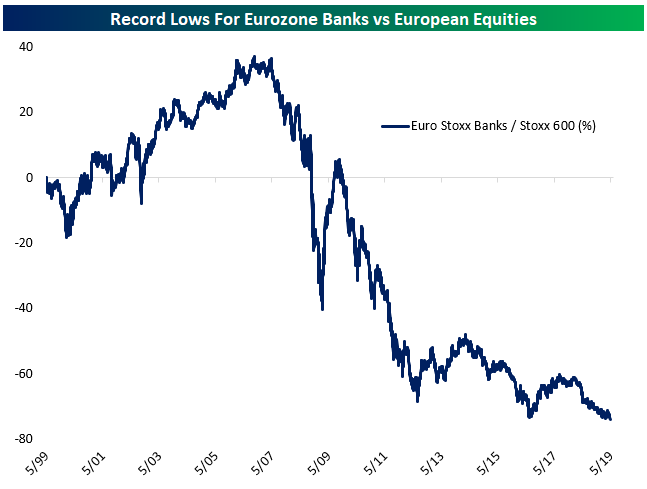 https://www.bespokepremium.com/interactive/posts/think-big-blog/eurozone-banks-make-new-lows-versus-the-market
6.S&P Dividends Per Share History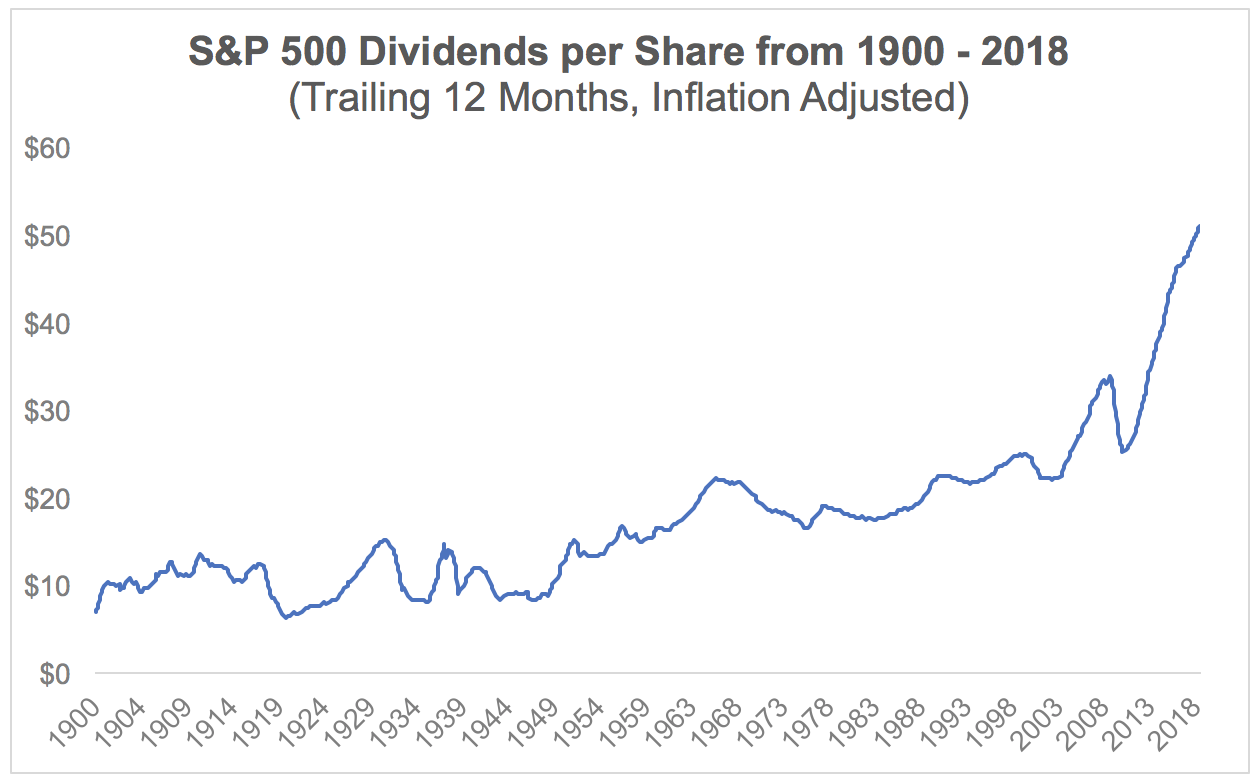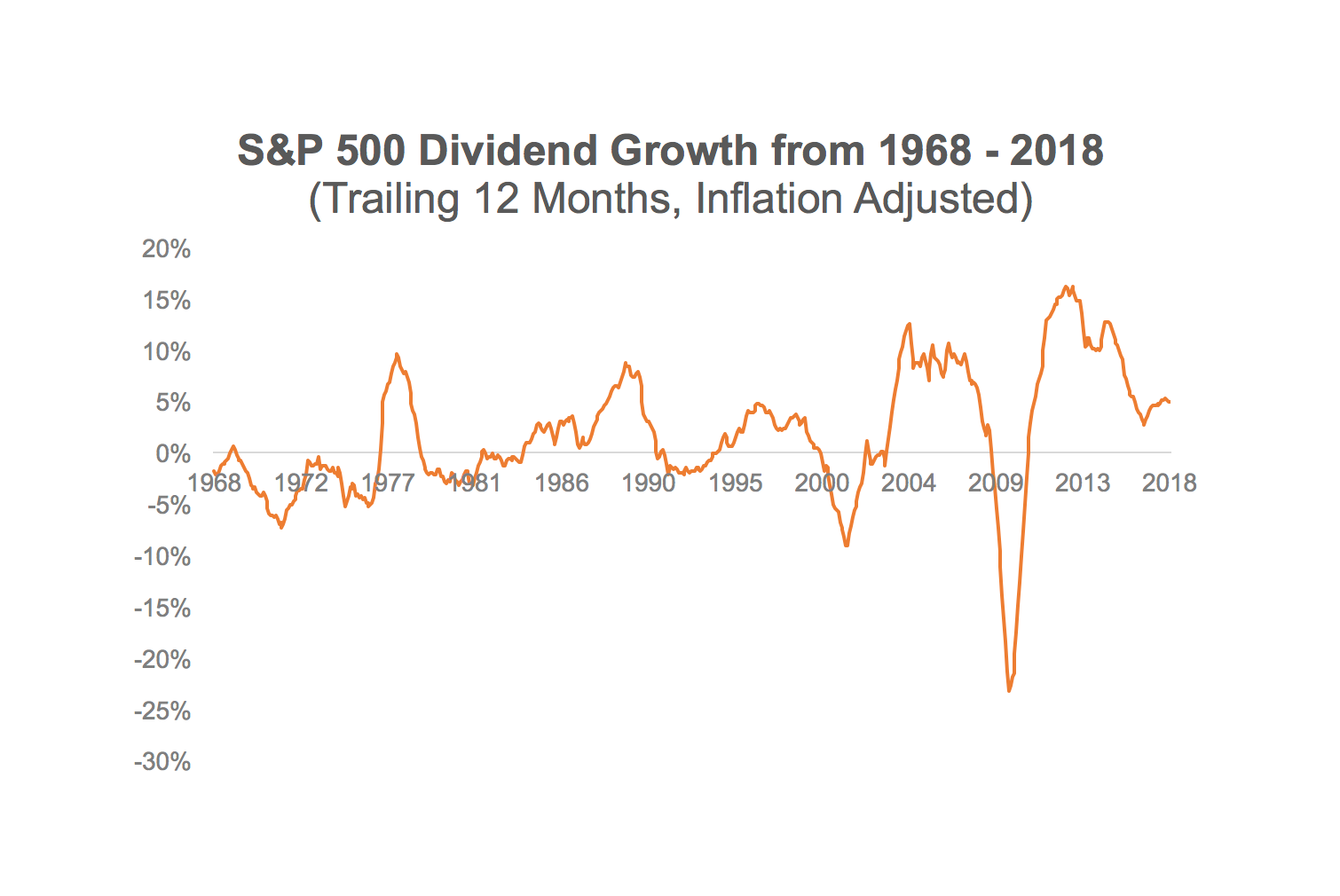 What Happens to Dividends During Recessions and Bear Markets? https://www.simplysafedividends.com/intelligent-income/posts/1038-what-happens-to-dividends-during-recessions-and-bear-markets
7.DealBook Briefing: Tech's Cold War Just Started
U.S. tech companies cut off Huawei
Google, Qualcomm and Broadcom are among the companies that have reportedly frozen their supply of components and software to the Chinese technology giant to comply with a crackdown by the Trump administration.
"Google has suspended business with Huawei that requires the transfer of hardware, software and technical services except those publicly available via open source licensing," Reuters reported, citing unidentified sources.
"Chipmakers including Intel, Qualcomm, Xilinx and Broadcom have told their employees they will not supply Huawei till further notice," Bloomberg added, also citing unnamed sources.
The moves follow a Trump administration clampdown. The Commerce Department announced last week that U.S. companies would need special permission to sell some products to Huawei.
It's not yet clear how long or deep the crackdown will be. Some commentators have said that it could be a short-lived part of U.S. trade war posturing. But the administration has been vocal about its concerns over possible threats to national security, and Huawei has said that it was prepared for being frozen out.
How the moves could hurt Huawei. Existing products would continue to receive Google updates, but future devices would have to use the open-source version of the operating system, without services like YouTube and Google Maps. The chip freeze-out means it might be forced to use its stockpile of U.S. components.
"We can now expect China to redouble efforts to roll out a homegrown smartphone operating system, design its own chips, develop its own semiconductor technology (including design tools and manufacturing equipment), and implement its own technology standards," Tim Culpan of Bloomberg Opinion writes. "This can only accelerate the process of creating a digital iron curtain that separates the world into two distinct, mutually exclusive technological spheres."
More: U.S. intelligence chiefs have warned American tech companies of the dangers of doing business in China. Senator Mark Warner, a Democrat on the Senate Intelligence Committee, is doing something similar.
https://www.nytimes.com/2019/05/20/business/dealbook/dealbook-briefing-techs-cold-war-just-started.html
8.5 Trends Emerge in the Gartner Hype Cycle for Emerging Technologies, 2018
This year, Gartner organized the 17 technologies into five major trends: Democratized artificial intelligence (AI), digitalized ecosystems, do-it-yourself biohacking, transparently immersive experiences and ubiquitous infrastructure.
"As a technology leader, you will continue to be faced with rapidly accelerating technology innovations that will profoundly impact the way you deal with your workforce, customers and partners. The trends exposed by these emerging technologies are poised to be the next most impactful technologies that have the potential to disrupt your business, and must be actively monitored by your executive teams," says Mike Walker, Research Vice President at Gartner.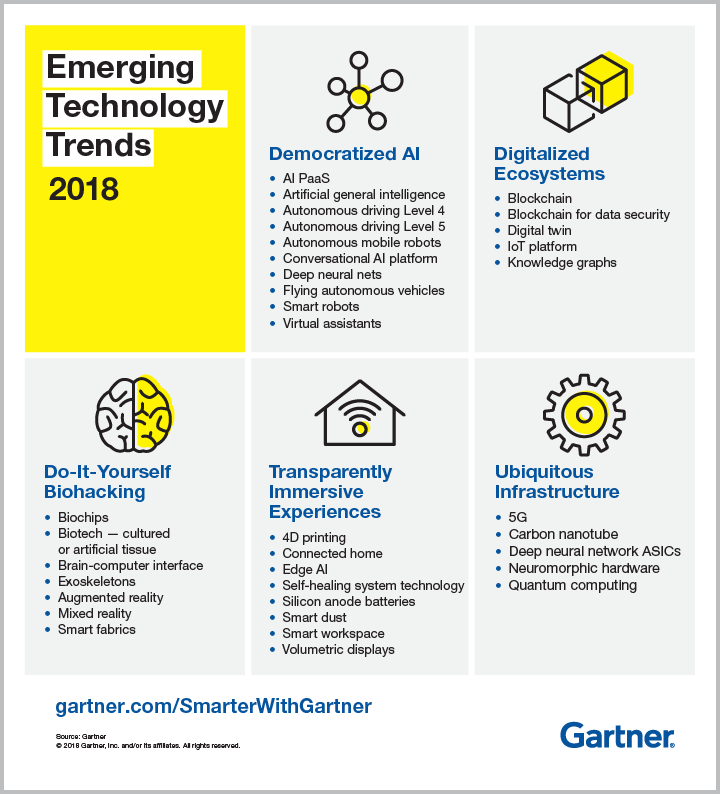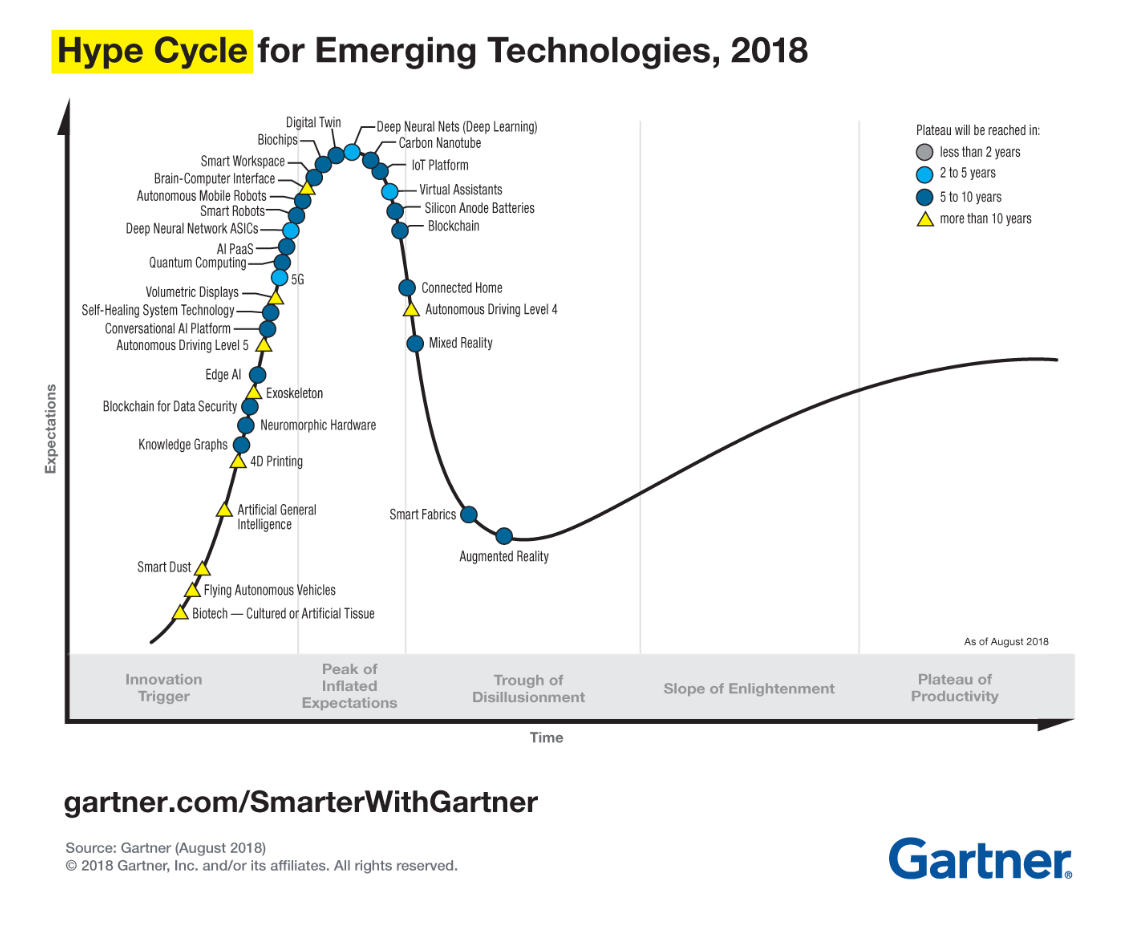 Widespread artificial intelligence, biohacking, new platforms and immersive experiences dominate this year's Gartner Hype Cycle.
https://www.gartner.com/smarterwithgartner/5-trends-emerge-in-gartner-hype-cycle-for-emerging-technologies-2018/
9.Hiring Isn't Rocket Science: Why the Most Boring Strategy Is Best
By Laszlo Bock
A lot of ink has been spilled and consultant hours racked up talking about the ins and outs of hiring heuristics. What deeply nuanced psychological traits should we be looking for? What tactics can you use to see them? What's the one surprising trick that will help you identify the exceptional among the average?
According to some of the so-called savviest of executives, the secret to identifying future stars lies in the following interview questions:
"On a scale of one to ten, how weird are you?" (Tony Hsieh, Zappos founder)
"What's your spirit animal?" (Ryan Holmes, Hootsuite)
"What would you do in the event of a zombie apocalypse?" (Ashley Morris, Capriotti's)
"What was the last costume you wore?" (David Gilboa, Warby Parker)
While these prompts might lead to delightful conversations, no candidate's response will indicate how well they'll be able to do a particular job. Not to mention: How does one stack-rank applicants who most recently dressed up as an ice cream sundae or a box of crayons?
The truth is, the best way to hire isn't outrageous, groundbreaking, or clickbaity. It's incredibly structured and boring. And that's why no one does it.
Too many people see hiring as an instinct art form, honed by years of their own experience: when asked, three-fourths of people involved in the interview process at elite law, banking, and consulting firms admitted to making hiring decisions based on their gut.
How does one stack-rank applicants who most recently dressed up as an ice cream sundae or a box of crayons?
But our instincts are rarely, if ever, scientifically valid. Humans are error-prone creatures. We get excited about people who have impressive zombie apocalypse strategies or send thank you notes—and then we hire them over candidates who might have become our best-performing employees.
To test how helpful interviews really are, Yale professor Jason Dana and his colleagues had two groups of students predict their classmates' GPAs. One group had access only to past GPAs and current course lists, while the other was also allowed to conduct free-for-all interviews. The students who interviewed their classmates were over 50 percent worse at predicting future GPA.
To fix the hiring process, we have to replace hubris with heuristics. Here are five steps to identifying the very best candidates. **
**Warning: the rest of this article might seem dry, but I promise it will improve the quality of your hires.
#1: Define job attributes
The goal of any interview process should be to predict how candidates will perform once they
join the team. Start by clearly outlining what missing skills your team needs to succeed, and identifying themes across people you did hire, as well as those you didn't. At Google, we found four distinct attributes that predicted whether or not someone would be successful on the job: general cognitive ability, leadership, "Googleyness" (e.g., a dose of humility and comfort with ambiguity), and role-related knowledge. Once we identified these attributes, we required all interview feedback to comment specifically on each one.
#2: Ask for a work sample
This entails giving candidates a sample piece of work, identical to that which they would do in the job, and assessing their performance on it. But even this can't predict performance perfectly, since actual performance also depends on other skills, and worse, many jobs don't have nice, neat pieces of work that you can hand to a candidate.
The truth is, the best way to hire isn't outrageous, groundbreaking, or clickbaity. It's incredibly structured and boring. And that's why no one does it.
#3: Ask behavioral questions
Which brings us to interviews. Asking behavioral questions (something like, "Give me an example of a time when you solved an analytically difficult problem") will get you two kinds of information: one is you get to see how the candidate actually interacted in a real-world situation, and the valuable "meta" information you get about the candidate is a sense of what they consider to be difficult.
Ask candidates a consistent set of questions, in the same order, with clear criteria to assess the quality of responses. This ensures that any variation in responses is a result of the candidate's performance, not because an interviewer has particularly high or low standards, or asked harder or easier questions.
#4: Average scores and make a decision
The "wisdom of crowds" works for hiring decisions, too. An average score has the virtue of eliminating the ability of a single person to veto or politic for a candidate. Equally weight each interviewer's rating—a subordinate's feedback is at least as valuable, if not more so, than a hiring manager's feedback. And finally, when you sit down to compare candidates, look at and rank all the scores on the first attribute or question. Then look at and rank all the responses on the second one, and so on. This prevents you from focusing on a single candidate for too long, which is when bias creeps in.
#5: Constantly check that your hiring process actually works
Most organizations never go back a year or two after hiring someone to find out if that thank you note really did predict their performance—which is why they keep letting jokes and notes shape their staff. Continue to identify themes across your top performers, and then work your findings  into the interview process.
Following these five steps might not feel exciting or entertaining, and in fact that's why most companies don't bother. Sometimes doing something right means doing it in a staid, measured, repeatable way. But by doing so you'll discover that structure and science (not sentiment or social cues) are the keys to a successful—and unbiased—hiring process.
Laszlo Bock is CEO of Humu, a company that's making work better with science, machine learning, and a little bit of love. He is the author of The New York Times bestseller Work Rules! and the former senior vice president of people operations at Google.
https://behavioralscientist.org/hiring-isnt-rocket-science-why-the-most-boring-strategy-is-best/
Found at Abnormal Returns Blog  www.abnormalreturns.com
10.Surround Yourself With People That Will Push You.
When thinking about how to develop in our careers, most of us tend to focus on promotions, projects, courses, certifications. We seek out expanded roles, more senior titles, extra money. We overlook one very key piece of the learning puzzle:  proactively surrounding ourselves with people who will push us to succeed in unexpected ways and, in so doing, build genuinely rich, purposeful lives of growth, excellence, and impact.
Back in the 1990s, when I was working full-time as a partner in our executive search firm, I pursued one such friend—a leading researcher and writer—and cultivated the relationship for several years. And then, in 1998, during a walk along the Charles River in Cambridge, he surprised me with a challenge. He suggested that, in addition to my client practice and internal leadership roles at Egon Zehnder, I could find even more meaning (and have a larger reach) by using my knowledge of and passion for talent-spotting and development to also become a writer, teacher, and public speaker.  I took his advice, and it has drastically changed my life, both professionally and personally.
We typically spend at least two decades in our formal education and, in developed countries, hundreds of thousands of dollars. We carefully choose our places of employment and invest significant time and effort in training within them.  However, few of us engage in a deliberate, determined search for those wise individuals who, through their inspiration and advice, can literally make us new.
Drucker Forum 2018
This article is one in a series related to the 10th Global Peter Drucker Forum, with the theme "Management. The human dimension" taking place on November 29 & 30, 2018 in Vienna, Austria.
My dynamic circle of advisers and confidantes has included, in addition to my wife María and my Charles River friend, several other academics in the United States, an undergraduate professor in Argentina, a McKinsey director in Spain, and colleagues working in Egon Zehnder offices across the Americas, Europe, and Asia.  They have, throughout my career, successively inspired me into different possibilities I would never had envisioned, from teaching statistics to applying for an MBA, from becoming a strategic consultant to spending three decades and taking on global leadership roles in executive search, from publishing books to teaching executives at Harvard.
They have been companions on my journey, offering honest feedback, helping me to discover new identities and pushing me to become a highly different yet significantly better version of myself.  How can you find a similar group? The following guidelines should help:
Think about the people who inspire you.  These can be teachers of certain disciplines; inventors; entrepreneurs; business, social, or public leaders.  I have always been moved and inspired by specific people, not just abstract professions.  I "met" them originally in many cases by reading their work or about them, but also via social media and at conferences.
Don't be afraid to chase.  Conferences are a great place to get inspired, approach, and start a relationship with some of the people you've identified.  Likewise, contacting even top academics is usually much easier than you think. Other cases may require a much more determined investment. For example, I flew back and forth from Buenos Aires to a little town in Massachusetts just to meet my Charles River friend. While this double red-eye may sound excessive, think how little time commitment it was compared to what we invest in our education, or to the opportunity cost and frustration of a poor career choice or wrong job decision.
Aim for a mix of people inside and outside your organization.  Lots of healthy change can and should ideally happen within your own company.  However, external contacts can potentially have the benefit of greater independence, a broader perspective with radically new horizons, as well as potential connections across both worlds which will benefit everyone.
Be candid about the reason for your interest.  Most truly great people live their lives with genuine passion and want to expand their missions.  Most times, they will be delighted to both inspire you and help you see how to close the gap between dream and reality.
Ask them specifically about how to get started.  After suggesting my new potential persona, my Charles River friend gave me some invaluable advice about what I had to do.  He said to me: "You need three Cs:  capability, which you have; connectivity, which at least initially you can do through the global network of your firm; and credibility, which you don't have yet.  In order to achieve it, you need to publish a great article in a credible magazine and ideally a book."  He then put me in touch with a senior editor at HBR, with whom I worked to make that first article happen.
Proactively offer them help.  These great companions who lead us to greater lives deserve our very best.  I have always offered them that, with no strings attached.  That included becoming a pro bono assistant professor, conducting intensive research for a full year for someone's new book, becoming the critical reader of a best-selling author, and much more.  And whenever I get a message from them, I drop everything I'm doing and respond right away.  I have constantly done this out of gratitude but, as always, I also gained in the form of more learning, opportunities, and deeper friendships.
Have crucial conversations in the right settings.  Meeting face-to-face with no distractions will help you reach a level of intimacy which simply can't achieve remotely.  I would add that many of my life-changing moments have occurred while walking with my trusted friends in beautiful surroundings – whether by a river, in the countryside, on the beach, along a snow-covered mountain, or across peaceful villages.  One of my Egon Zehnder colleagues and I have done this in more than 30 different parts of the world.  The combination of exercise and nature makes me particularly energetic, enthusiastic and positive – and therefore more willing to consider new possibilities.
Don't hesitate to ask the truly big questions. What shall I do with my life?  What really motivates me?  What am I doing that I really don't like to do?  While pondering these questions, in addition to checking my capability, connectivity and credibility, I also engage my friends in conversation about three other Cs:  contemplation (Am I in touch with my inner compass?), compassion (Do I show it for myself and others?), and companions (Who else might inspire me to new growth?)
Proactively seeking out and cultivating those who will help us become better versions of ourselves is, by a wide margin, the key for living a truly happy and meaningful life. I sincerely hope these guidelines help you.
Claudio Fernández-Aráoz is a senior adviser at the global executive search firm Egon Zehnder, an executive fellow at Harvard Business School, and the author of It's Not the How or the What but the Who (Harvard Business Review Press, 2014).
https://hbr.org/2018/09/the-key-to-career-growth-surround-yourself-with-people-who-will-push-you?utm_medium=social&utm_source=linkedin&utm_campaign=hbr