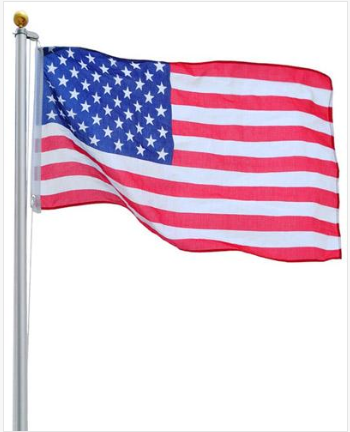 1.Ten Year Yield Breaks to New 2 Year Lows.
Rates Higher…Not So Much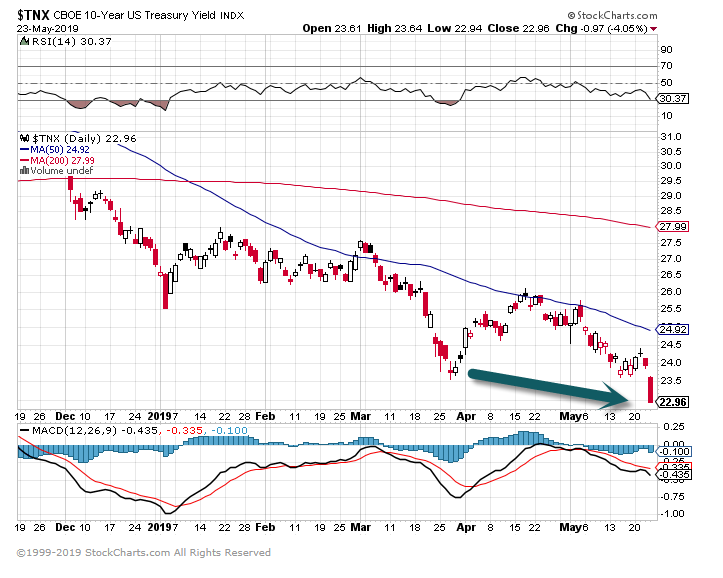 2.U.S. Rates Still Higher than World.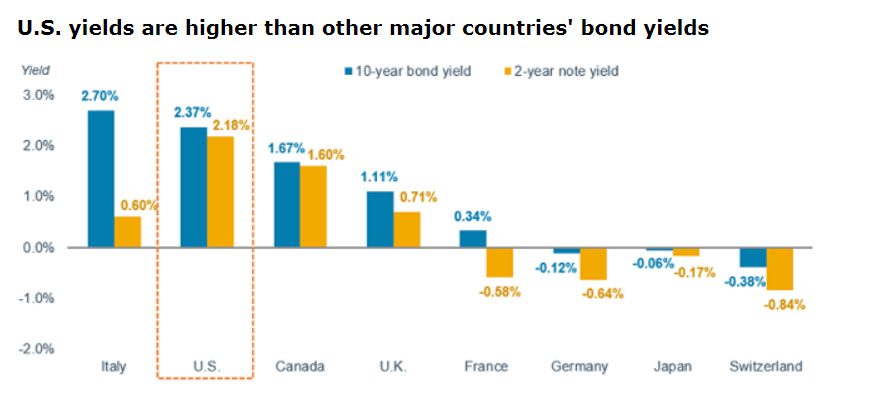 Interest Rates May Be 'Lower For Longer': What's An Income Investor To Do
https://seekingalpha.com/article/4265086-interest-rates-may-lower-longer-income-investor?page=2
3.As Money Flows into U.S. Bonds….U.S. Dollar Makes New Highs.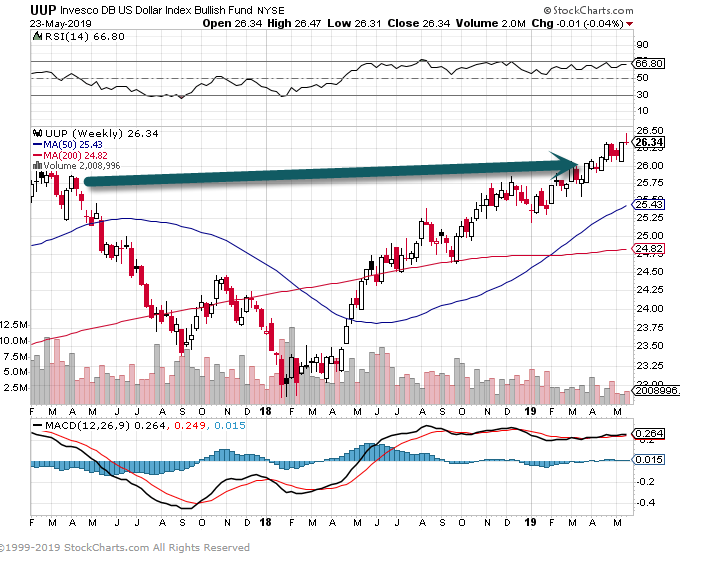 4.Strong Dollar=Weak Emerging Markets….Record spreads in valuations between U.S. growth stocks and emerging markets but…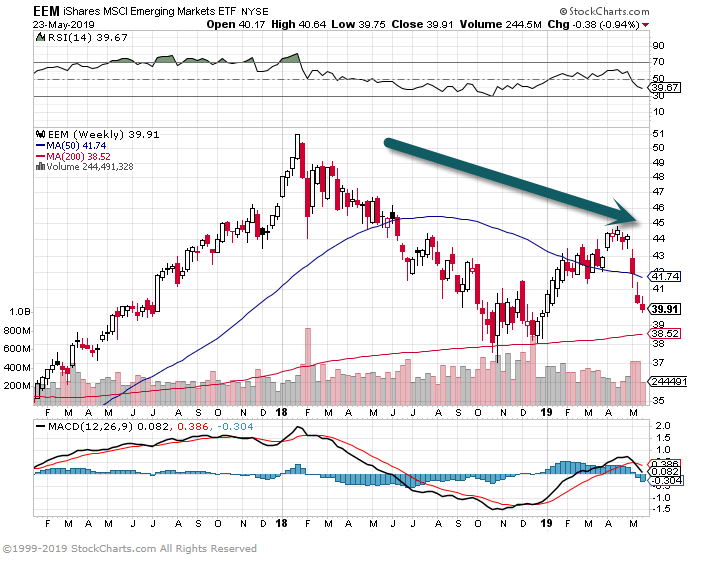 5.All of the Outperformance of Emerging Markets Since 2003 has Been Erased.
This might explain why the sell-off at the end of last year functioned as a correction to drawn-out U.S. outperformance, while this latest moment has seen emerging markets lag behind the S&P 500 even more. At this point, all the outperformance by emerging markets since 2003 has been canceled out – an extraordinary statistic given the speed of growth in much of the emerging world.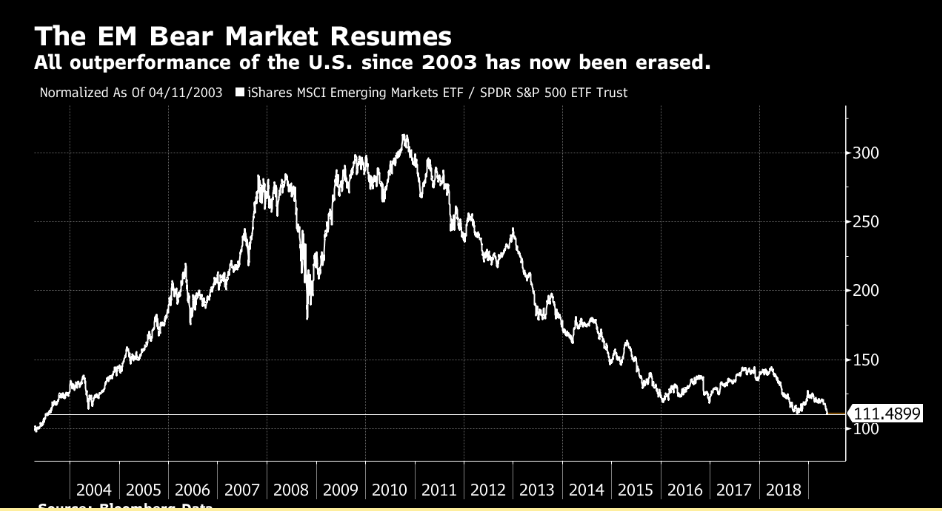 https://www.bloomberg.com/opinion/articles/2019-05-24/markets-are-worried-about-much-more-than-trade-jw1k5pjw?srnd=premium
6.Crude Posts Biggest Weekly Drop in 2019.
After falling more than 5% on Thursday, oil is poised to register its biggest weekly loss this year.
Rising American crude inventories, weak demand from refineries, and US-China trade war fears are a "recipe for disaster in oil markets," one analyst said.
Disappointing US manufacturing data have also fueled concerns of weaker global demand for oil.
https://markets.businessinsider.com/news/stocks/oil-falls-china-trade-war-demand-make-recipe-for-disaster-2019-5-1028228456
Crude had a big run but did not come close to 2018 highs.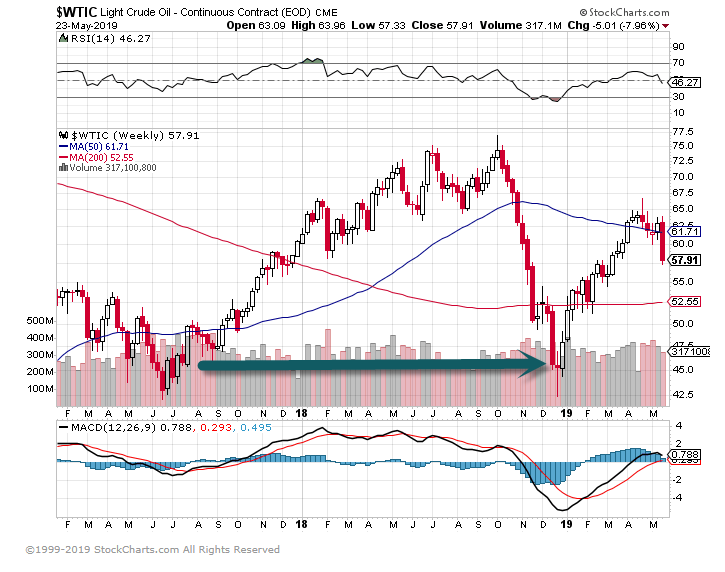 7.Small Caps Valuations Vs. Large Cap Fall Back to 2016 Lows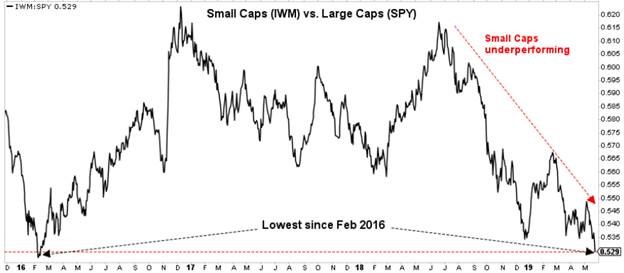 Twits note the Ratio of US small caps to large caps at its lowest level since Feb 2016.
From Dave Lutz at Jones
8.Memorial Day Weekend ETF-
Freedom Weighted ETF Debuts
In the increasingly "greenwashed" field of environmental, social and governance (ESG) ETFs, where more and more ETFs are principled in name only, the Freedom 100 Emerging Markets ETF (FRDM) truly stands apart.
The fund, which launches today on the Cboe Exchange, uses a first-of-its-kind "freedom weighted" methodology that selects and ranks countries based on the liberties their governments secure for their citizens. (Cboe Global Markets is the parent company of ETF.com.)
It's an idea backed by decades of research, which shows countries that treat their citizenry better also tend to possess healthier, more robust economies (read: "Human Freedoms Make Better Markets").
"Freer markets perform more sustainably, recover faster from economic drawdowns, and use their capital and labor more efficiently," explained Perth Tolle, founder of Life + Liberty Indexes, the sponsor and indexer for FRDM.
Freedom weighting "also makes intuitive sense," added Wes Gray, CEO of Alpha Architect, whose subsidiary, Empowered Funds, LLC serves as FRDM's investment advisor. "Countries with strong capital markets and plenty of economic and political freedom just seem to outperform over the long haul the countries that are going crazy."
How Freedom Weighting Works
To build FRDM's index, Life + Liberty first starts with a potential universe of 26 emerging market nations—including the usual players, such as China, Brazil, Russia and so on (read: "'Freedom' Based ESG ETF Coming").
From there, countries are evaluated on 79 personal and economic freedom indicators, based along three main themes: civil liberties ("life"), political freedoms ("liberty") and economic freedoms ("property").
Countries are evaluated on everything from the amount of violent conflict, torture and human trafficking within their borders; to the establishment of a free press and judicial independence; to the security of property rights and the existence of tariffs and capital controls.
A quantitative model is then used to rank and weight countries by their freedom levels; the 10 countries with the highest freedom levels are selected for inclusion in the index. (That differs from most emerging markets and ESG funds, which select and rank constituents on a security level, rather than on the country level.)
Finally, the top 10 largest securities in each country are selected and weighted based on their market capitalizations and certain liquidity thresholds. State-owned enterprises (SOEs) are excluded from the mix.
Emerging Market ETF Without China?
This methodology results in an emerging market ETF that's vastly different under the hood from competing funds. China, Brazil, Russia, Saudi Arabia and many other developing nations with corrupt or authoritarian governments are nowhere to be found inside FRDM.
In fact, out of more than 220 emerging market ETFs, FRDM is the only one not to allocate to China, without specifically being designed for that purpose.
This is to say, several ETFs explicitly exclude China from their investment universe: the Columbia Beyond BRICs ETF (BBRC); the iShares MSCI Emerging Markets ex China ETF (EMXC); and the Columbia EM Core ex-China ETF (XCEM), among others. But until now, there has never been an emerging market ETF that could include China but that chose not to.
Instead, the highest-weighted country in FRDM is Taiwan, at 23%; followed by South Korea, at 18%; and Poland, at 15%. (Compare that to the iShares MSCI Emerging Markets ETF (EEM), which holds 33% of its portfolio in China.)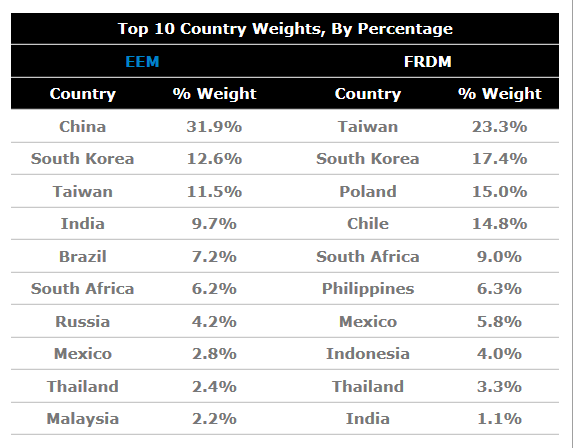 https://www.etf.com/sections/features-and-news/freedom-weighted-etf-debuts
9.Older Americans spent $1.9 billion last year on apps to keep their brains sharp — here's what actually works
By Sarah Toy
With an aging population worried about cognitive decline, brain training programs have seen a burst in popularity
Illustration/Sam Island
Sandra Wisham had never heard of cognitive training until her senior center in Coral Gables, Fla., hosted a seminar on aging and invited attendees to enroll in a brain-fitness course. Intrigued, she signed up.
"I want to remain independent as long as possible," says Wisham, 76. She works hard to keep herself physically fit, going to weekly body conditioning and Zumba classes at the retirement center. It made sense to her to do the same for her mind, she says.
Cognitive, or brain, training refers to exercises aimed at improving specific aspects of a person's cognitive functions, such as processing speed, reasoning and memory. The exercises can be computer- or smartphone-based.
With an aging population worried about cognitive decline and dementia, such training programs have seen a burst in popularity in recent years. Consumers spent an estimated $1.9 billion on digital brain health and neurotechnology apps in 2018, a fourfold increase from $475 million in 2012, according to global data from SharpBrains, an independent market-research firm.
No magic bullet
But despite the rising interest in cognitive training, evidence of its benefits is still a mixed bag, experts say.
"There will be one study that shows a benefit, but then there will be another study that fails to show a benefit," says Dan Press, a neurologist and director of the cognitive-neurology unit at Beth Israel Deaconess Medical Center in Boston who helps run the Brain Fit Club, a brain-training program at Beth Israel that incorporates activities such as tai-chi and yoga as well as nutrition education.
An oft-cited study, dubbed ACTIVE, for Advanced Cognitive Training for Independent and Vital Elderly, showed that speed-of-processing training — which helps people process visual information more quickly — could cut a person's risk of developing dementia. The study looked at 2,802 healthy adults, aged 65 to 94, who received training in memory, reasoning or speed of processing or were placed into a control group. Researchers found that those in the speed-of-processing group had a 29% lower risk of developing dementia 10 years later. Researchers also found that booster sessions could be beneficial; each extra speed-training session was associated with a 10% decrease in risk.
Consumers spent an estimated $1.9 billion on digital brain health and neurotechnology apps in 2018, a fourfold increase from the $475 million spent in 2012,
On the flip side, a 2018 systematic evaluation of past studies on cognitive training showed that targeting brain training to areas such as memory or processing speed could help performance in those specific areas. Still, there wasn't enough evidence to determine whether brain training alone could prevent or delay cognitive decline or dementia.
"Cognitive training has shown some promise, but people shouldn't expect it to be a magic bullet," says Sarah Lenz Lock, executive director of the Global Council on Brain Health, a group of cognitive-health experts funded by AARP.
Multipronged approach
That's why it's important to focus on what recent research says does work. For example, there is some evidence that a so-called multipronged approach — a combination of brain training, healthy diet, exercise and vascular monitoring — can improve or maintain cognitive function.
One major study looked at 1,260 adults 60 to 77 years old in Finland with mild cognitive issues or cardiovascular risk factors like high cholesterol, hypertension or obesity — things that increase the risk of developing dementia. Trial subjects were randomly divided into two groups: One received general health advice at the beginning of the trial, while the other received both general health advice and four additional services: nutritional counseling, a tailored exercise program, a cognitive-training program and consistent monitoring of cardiovascular risk factors.
After two years, researchers found that although cognition had improved in both the intervention and control groups, the intervention group showed significantly more improvement in overall cognitive function, processing speed and executive function, the cognitive domain responsible for problem solving and planning.
Wisham, who resides alone in a two-bedroom condominium unit, expects to live another two decades. She wants her remaining years to be good ones, she says.
Types of brain games
She began attending the brain-fitness course at her retirement center, offered by the Brain Fitness Pavilion, a center for cognitive training that's part of the University of Miami Health System. She worked with two programs: Posit Science's BrainHQ, which uses computer games to help hone a person's processing speed, attention, memory and reasoning, and i-Function, a set of computer-based exercises that help people learn or relearn certain practical life skills, such as how to do their banking online or how to refill a prescription through a drugstore's website.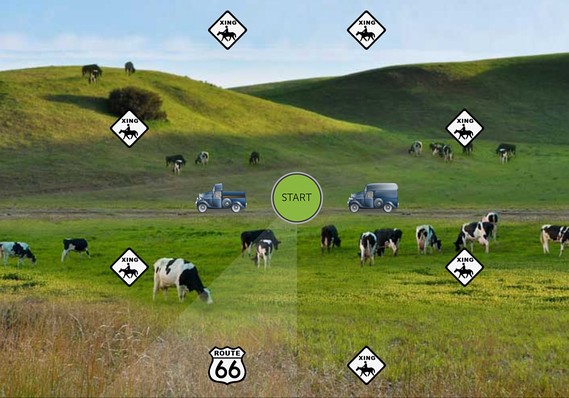 One of the more difficult levels of the BrainHQ speed-of-processing exercise dubbed "Double Decision," where the user is tasked with identifying a specific vehicle and a specific road sign. Extra signs appear as distractors in the periphery.
She spent an hour or two a week working through those computer exercises. One was a speed-of-processing game called "Double Decision," where Wisham had to simultaneously identify an object at the center of her field of view and another object in the periphery as quickly as possible. As her performance improved, the program would introduce the objects faster and throw in more distractions.
People who enroll in programs like those hope the exercises will keep them sharp mentally and perhaps delay or prevent the onset of dementia in old age. Eighty-five percent of the Brain Fitness Pavilion's attendees are 60 or older, says its director, Philip Harvey, who's also a professor of psychiatry and behavioral sciences at the University of Miami Miller School of Medicine.
Specter of Alzheimer's
There are several causes of dementia, but the most common is Alzheimer's disease, marked by a buildup of a protein called beta amyloid in the brain and the appearance of disorganized masses of protein fibers called neurofibrillary tangles inside brain cells. There is no cure for Alzheimer's, and treatment options for most types of dementia are limited. There is no drug approved to prevent or delay symptoms.
"Cognitive training has shown some promise, but people shouldn't expect it to be a magic bullet."— Sarah Lenz Lock, executive director of the Global Council on Brain Health
The same goes for medical devices. The Food and Drug Administration has not yet approved any device for preventing or delaying dementia, but Posit Science Chief Executive Henry Mahncke hopes that BrainHQ, one of the programs Wisham used for brain training, will be the first.
The company has worked with researchers and scientists from academic institutions for many years to evaluate its product and potential benefits. It's now involved in 78 trials looking at aging, and more than 60 peer-reviewed papers on aging involving BrainHQ have been published so far. The plan is to eventually submit the research data to the FDA, but that is still years away, Mahncke says.
The benefits of brain training
Even though there isn't enough evidence to definitively state that brain training can prevent or delay dementia, it does have other potential benefits. Some studies have shown that speed training can help reduce the incidence of at-fault motor-vehicle collisions among older drivers. Others have shown that certain cognitive-training exercises can lead to improved performance in daily living activities and protect against depression.
Lenz Lock, with the Global Council, recommends what she calls "cognitively stimulating activities," which challenge a person's ability to think, such as volunteering or learning a new skill. She also recommends exercise and other activities that can improve cardiovascular health, something that some studies have shown can reduce the risk of developing dementia.
Wisham says her two months of brain training "made her feel great." Ticking off the tasks in her cognitive-training program gave her a boost in confidence and made her feel more capable. It also got her out of her apartment and helped her to meet new people.
"I'd definitely do it again," she says.
https://www.marketwatch.com/story/older-americans-spent-19-billion-last-year-on-apps-to-keep-their-brains-sharp-heres-what-actually-works-2019-05-24?mod=mw_theo_homepage
10.When a Business Deal Fails….

Things we didn't want to happen happen to all of us. A business deal falls through. A grade comes back that we didn't expect. A person we care about leaves us. Our instinct is to call these events unfortunate.
Which makes sense. It's fortunate when you get what you want, it's unfortunate when, for whatever reason, you don't. Right?
Marcus Aurelius proposed a different way of looking at things. Instead of telling ourselves that we're unfortunate because our expectations were disappointed, we should do the opposite:
"No it's fortunate that this has happened and I've remained unharmed by it — not shattered by the present or frightened of the future. It could have happened to anyone. But not everyone could have remained unharmed by it."
To a Stoic, we're only harmed when our character is affected. We're only harmed when we let go of what we believe in or when we drop our own standards. It might not be desirable to lose money or a friend, to fail at something or to be criticized, but how does that make us unfortunate? We haven't been deprived of our ability to respond. Our character remains intact.
There's no rule that says you have to freak out about this or shattered by it or that you have to start getting anxious about the future. No, you're still in control. You're still you.
That's very fortunate.
P.S. Get all our Daily Stoic medallions in one bundle and save $57! The full collection includes our popular Memento Mori medallion, Sympatheia medallion, The Obstacle Is The Way medallion, and 4 others. Learn more here.