1.Global Price to Book Comparison…U.S. Large Cap Most Expensive Market by Price/Book.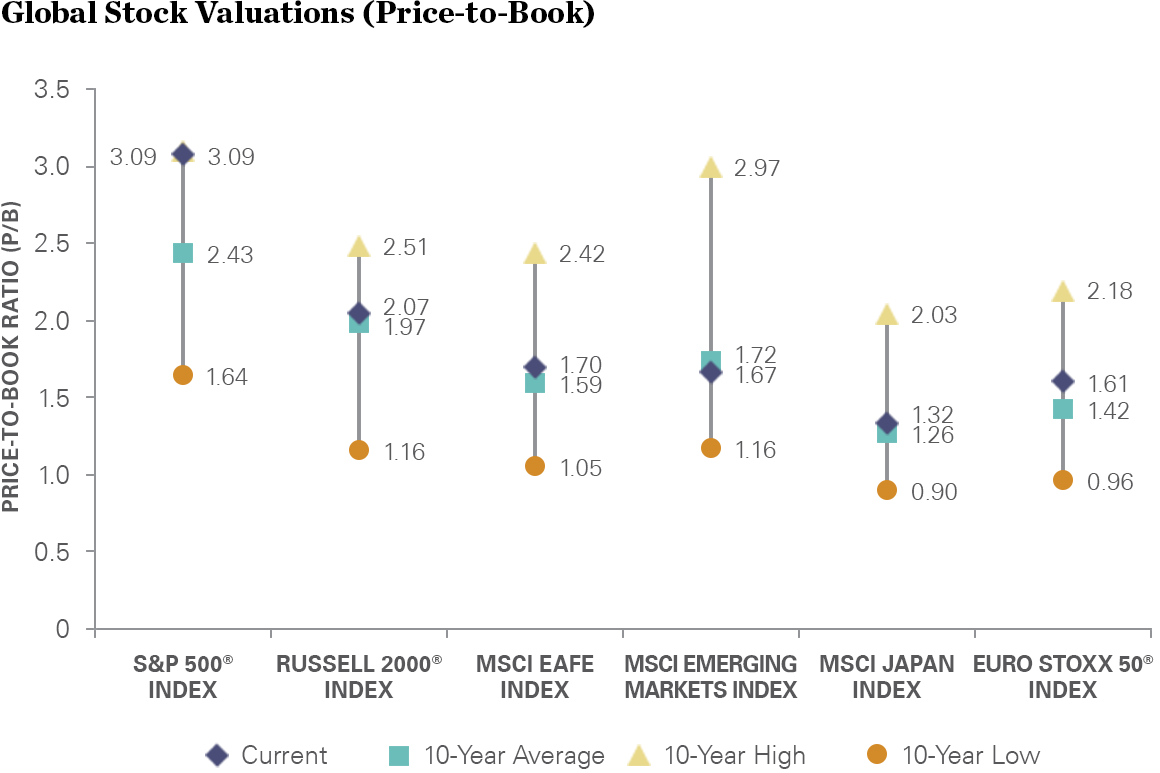 http://blog.spdrs.com/
2.The Dollar ended the week down 1.6%, for its largest weekly decline since a week in late July and Nearing those Election night lows
U.S. Dollar Index
3.The Dollar Weakness Helping to Drive International Outperformance YTD
Oh the Irony — Internationals Outperforming Domestics Since Election
May 22, 2017
In one of the sections from last Friday's Bespoke Report newsletter (available to Bespoke's premium research clients), we featured the chart below looking at the performance of "Internationals" versus "Domestics" since the US Presidential Election last November.
What do we mean by "Internationals" and "Domestics"? The "Internationals" are the stocks in the S&P 500 that generate 50%+ of their revenues outside of the US. The "Domestics" are the stocks in the S&P 500 that generate 90%+ of their revenues domestically.
President Trump campaigned on an "America First" directive when it came to his economic policy proposals. And in the first couple of months following his victory, the S&P 500 stocks with the heaviest domestic exposure outperformed significantly. But since the start of 2017, we've seen the "Domestics" trend sideways while the "Internationals" have been the stocks outperforming. The rush into the "Internationals" so far this year has pushed the basket well ahead of the "Domestics" since last November's Election.
The shift in outperformance from "Domestic" stocks to "Internationals" has tracked the performance of the US Dollar almost perfectly. The Dollar also rallied in the initial months following Trump's November victory, but it has been trending lower and lower since the start of 2017. When the Dollar is declining, it benefits companies with heavy international revenue exposure. All you have to watch is the direction of the Dollar going forward if you want to know whether the "Domestics" or the "Internationals" are outperforming.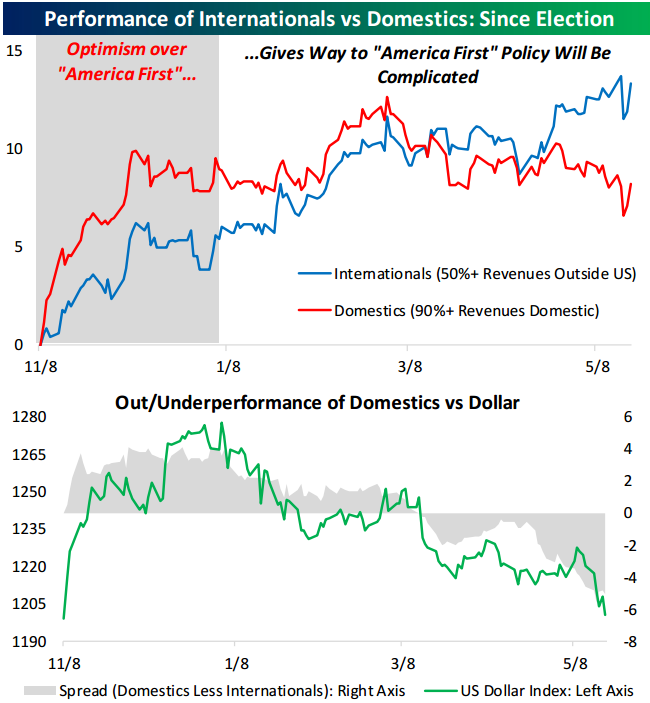 https://www.bespokepremium.com/think-big-blog/
4.U.S. Dollar Impact on Sector Returns.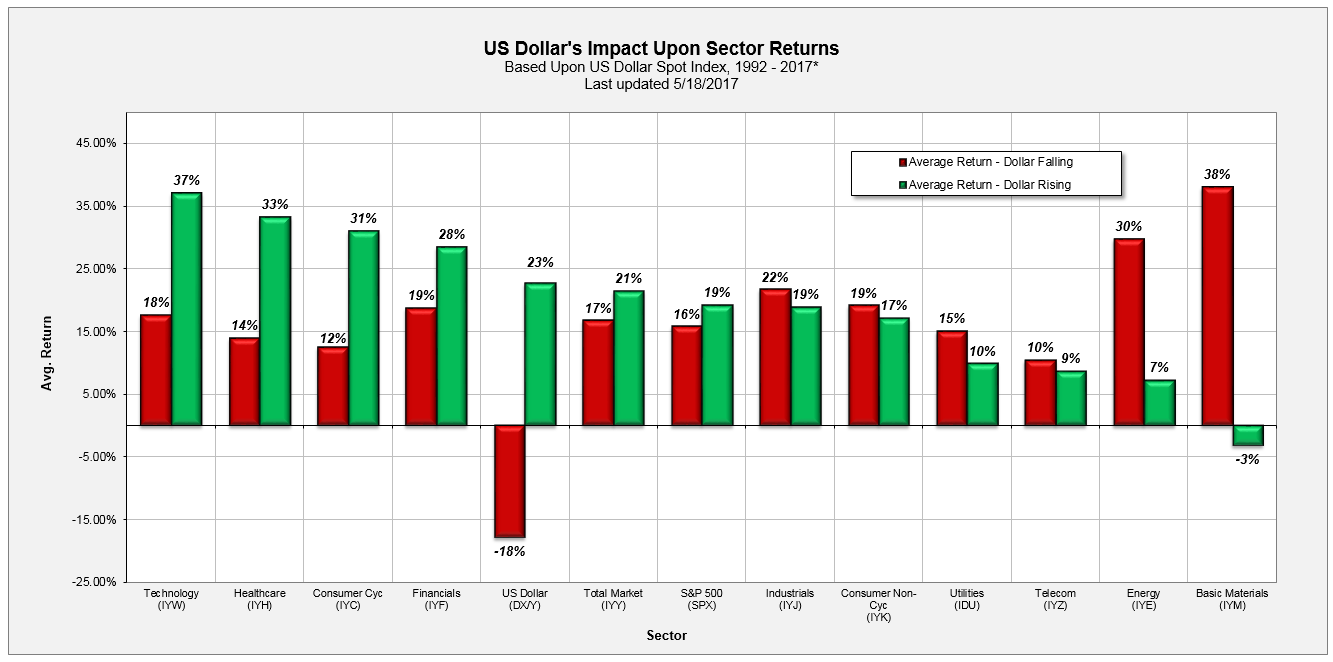 Chart Courtesy of Dorsey Wright
www.dorseywright.com
5.Netflix Turns 15 Years Old.

Netflix vs. Comcast 10 Year Chart.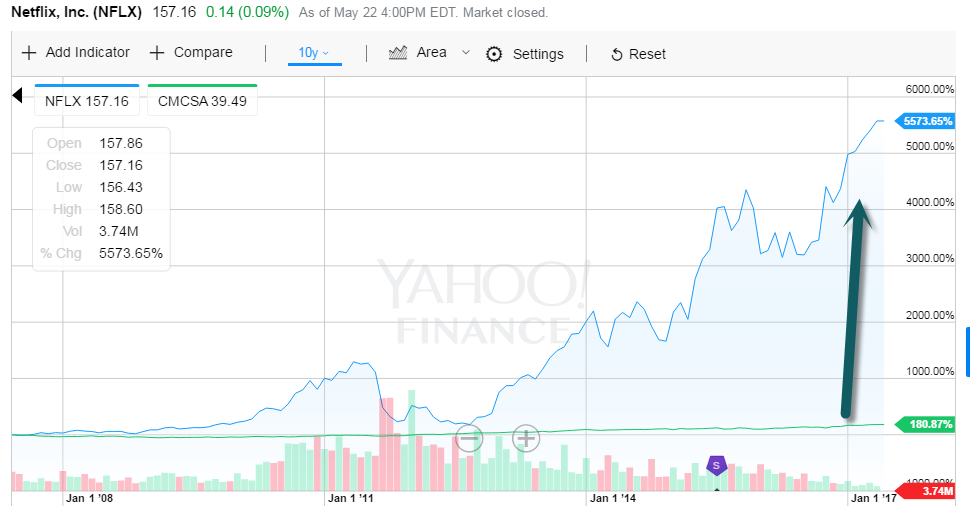 www.yahoofinance.com
6.Beware Shorting Impeachments
Posted on May 18, 2017by macromon
We've analyzed the behavior of the S&P500 during the Watergate impeachment hearings and the Clinton impeachment. If you're shorting risk markets solely based on speculation that President Trump may be impeached, maybe you should think again.
Let's first look at the Clinton impeachment S&P500. The market never seemed to take the Clinton impeachment seriously and was never a threat to the stock market.
Then we'll analyze the more complicated Watergate scandal, which many consider the main culprit of the 1973/74 bear market, a 50 percent decline in S&P500 from January 11, 1973 to October 3, 1974.
Finally, we will take a look at Trumpgate and introduce you to our newest political Six Sigma political thriller.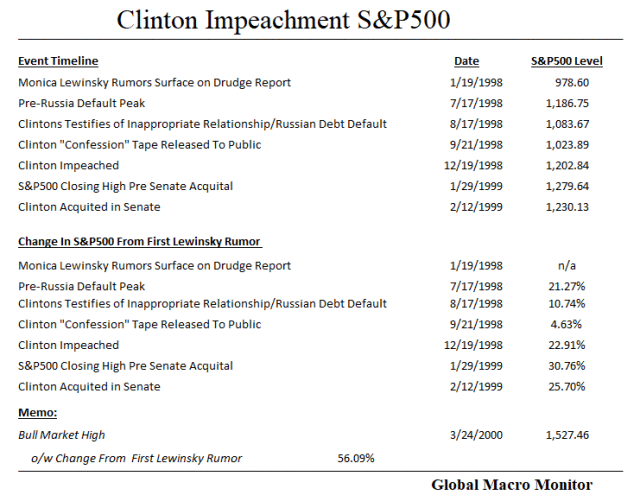 Read Full Story on Watergate
Beware Shorting Impeachments
Found at The Big Picture Blog
7.Trump Signs Biggest Arms Deal Ever with Saudi Arabia.

8.Number of Missiles Launched by North Korea.
At our DB Access Asia conference in Singapore last week we spent a good deal of time debating geopolitical risks, see chart below. For an overview of the topics discussed at the conference see also here: http://pull.db-gmresearch.com/cgi-bin/pull/DocPull/2803-2E45/22757115/Asia_Macro.pdf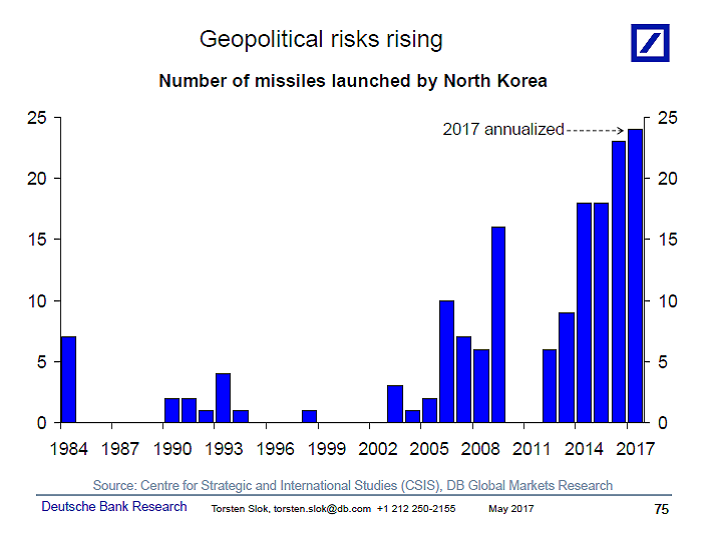 ———————————————–
Let us know if you would like to add a colleague to this distribution list.
Torsten Sløk, Ph.D.
Chief International Economist
Managing Director
Deutsche Bank Securities
60 Wall Street
New York, New York 10005
Tel: 212 250 2155
9.Gen Y is Coming to a Suburb Near You…First Time Home Buyers Expanding and Suburban Rents Pass City Rents.
For the first time in 4 years, the cost of renting in the suburbs grew faster than that of city rentals
· Beth Braverman, The Fiscal Times
For decades, Americans looking for more affordable housing options have left cities for the suburbs, but it's getting tougher to find deals on suburban rentals these days.
For the first time in four years, the cost of renting property in the suburbs grew faster than the cost of city rentals, according to a new analysis by Zillow.
While nationally the difference in rental price increases is relatively small (2.5 percent for suburban versus 2.3 percent for urban rentals), the difference is bigger in areas with booming housing markets.
In San Francisco, for example, where rents comprise nearly 44 percent of the median income, rental prices in the suburbs went up 2.6 percent, while rental costs in the city declined slightly.
The cities seeing the biggest jumps in suburban rents were Seattle, where suburban rents rose 8.2 percent, Portland, Oregon, (6.5 percent) and Los Angeles (5.2 percent).
The trend reflects growing demand for suburban properties from city dwellers looking to reduce their housing costs, as well as an overall shift toward renting rather than buying homes. Renters occupied more than 19 percent of single-family homes last year, up from less than 13 percent in 2005, according to Zillow.
Still, even as rents climb faster in the suburbs, they remain lower in most cases than rents inside of cities, and there are other cost savings. An analysis earlier this year by Zillow andCare.com found that on average, families saved more than $9,000 per year on housing and child care-released expenses by moving from the city to the suburbs.
This story was originally published by The Fiscal Times.
http://www.businessinsider.com/rent-costs-in-the-suburbs-rising-faster-than-city-2017-5
10.4 Ways to Have Super Productive Meetings
Here's how to keep your meetings efficient and on track.
WRITE A COMMENT
CREDIT: Getty Images
If you're like most in the corporate world, you attend an average of 62 meetings a month. And how much of your time spent in each of those meetings is wasted because of "that guy"? You know, that employee who doesn't care that his 30 minute meetings always run 10 minutes late, who walks into the conference room to ask how much longer your scheduled meeting is going be, or who books rooms but then never uses them.
"That guy" is a problem. He's ruining productivity and making meetings more painful than they need to be. And it's time to stop him, and keep your meetings and your days on track.
Here are four ways you can keep "that guy" in check.
1. Don't start a meeting without a documented agenda.
Too often, meetings feel unclear and unproductive. Businesses that have these kinds of meetings can't be that successful because meetings are where important decisions are made. But if attendees don't know what important topics and decisions are to be discussed, no one will ever feel focused or productive.
ADVERTISING
This is where a documented agenda comes into play. Creating an agenda that outlines what's going to be discussed, who's attending and where the meeting is being held, as well as sending it out at least a day in advance, sets clear expectations and gives attendees ample notice to prepare themselves for the meeting.
A documented agenda is also good for the meeting leader to keep on hand because even though it's been sent out, "that guy" can still veer off topic. But if you have an agenda, you can nicely tell him that you need to keep discussion focused on the preplanned agenda.
2. Keep monologues and lengthy inquisitions short with an idea parking lot.
Does "that guy" ask a lot of questions? Does he speak up (for longer than is needed) to share a point of view that he thinks relates to the topic at hand but really doesn't? If so, it's time your meetings start using the idea parking lot.
The idea parking lot is an easy way to keep your meetings structured and productive. All this means is that when someone brings up an idea that's off topic, you "park" the idea. This doesn't mean you're brushing off what the person has to say and never returning to it. As with your car, you park it and then return to it when the time is right.
You can put these ideas into either short-term or long-term parking. The first involves topics that are on hand but don't fit the meeting agenda, so you first need to work through your agenda and then you can come back to the idea. Long-term parking is for ideas that can wait until after your team has met your meeting's goals. You still recognize their input is important but also know this idea doesn't need to be brought up until the next meeting or a few down the road. Make sure team members know where you've parked their idea so they don't feel disregarded.
3. Book an appropriate room for your meeting.
Another way to keep "that guy" in check is finding the right meeting space. If the office wrecker isn't invited to the meeting, don't hold your meeting out in the open; otherwise he'll insert himself into it. Also, if this guy is easily distracted and social, stay away from meetings in glass-walled conference rooms or one with lots of windows where he'll easily get sidetracked and divert the meeting.
Schedule a conference room that's in the right location, is the right size, and has the needed technology to conduct a productive meeting.
4. Make sure the attendees scheduled to be there really need to be there.
As you manage your meeting agenda, one thing that really needs to be taken into consideration is who should attend the meeting. How do you know if you have the right people? The people to invite are the ones who can give valuable insights and input, help make decisions, and keep the meeting moving forward.
The wrong people–yes, "that guy," but also other types of employees–are people who are just curious about what's being discussed. If someone can't add real value to a meeting or don't have a worthwhile reason why they should attend, don't invite them. They'll waste everyone's time. To keep those who just want to be informed up-to-date on the meeting, email out meeting highlights afterwards.
There are many things that can derail meetings. But when you implement these tips, you'll be able to double your meeting productivity.
The opinions expressed here by Inc.com columnists are their own, not those of Inc.com.
HTTPS://WWW.INC.COM/MELISSA-THOMPSON/4-WAYS-TO-REIN-IN-THE-ONE-GUY-WHO-ALWAYS-WRECKS-YOUR-COMPANY-MEETINGS.HTML?CID=HMSIDE4
PUBLISHED ON: MAY 22, 2017