1.Six Stocks Account for 50% of the NDX 100's YTD Gains…AAPL AMZN FB ALPHABET MSFT. S&P 12 Stocks Account for Half the Gains.
16% Move Since End of 2016 Driven by 6 Stocks.

2.
First-quarter results are in for the big-six tech companies: Alphabet, Amazon, Apple, Facebook, Microsoft and Netflix all saw increases in their top and bottom lines compared to the same quarter the year before, according to data from FactSet.
Combined, the companies grew by $18 billion in total year-over-year revenue and $4.5 billion in profit last quarter to generate $146 billion in total revenue and $25 billion in total profit.
Of note: Netflix — where investors usually focus on subscriber growth — saw profit jump to $178 million this quarter, up more than 500 percent from a year earlier.
Facebook's growth isn't slowing as fast as Wall Street expected, as the company continues to add new users and expand its mobile advertising business. Of the six, it added the most Q1 profit year over year, $1.3 billion, while Amazon added the most revenue, about $6.6 billion more than during Q1 2016.
Apple saw revenue and profit growth of nearly 5 percent — small, percentage-wise, compared to the other tech giants, but a continued reversal from its prior slump.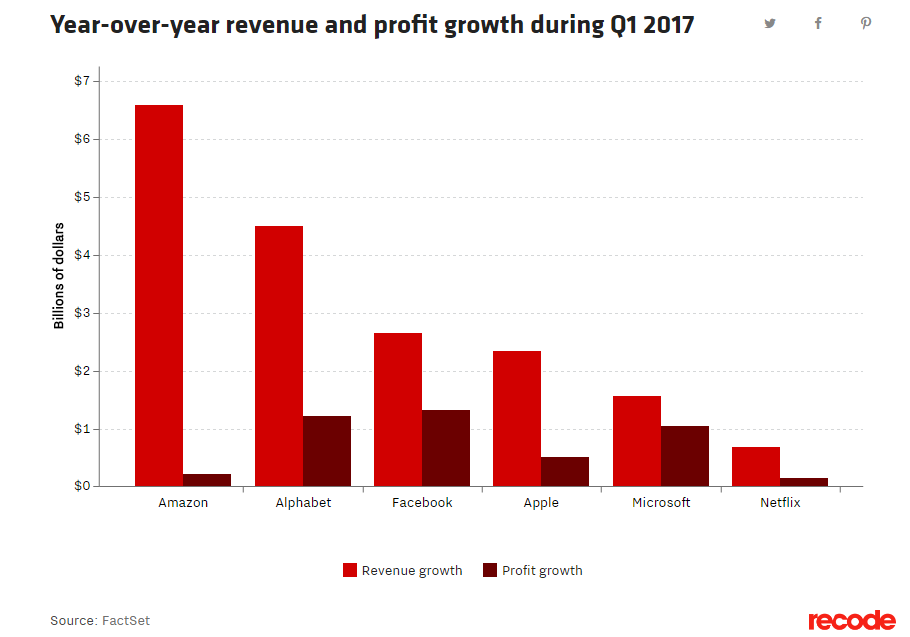 Of note: Netflix — where investors usually focus on subscriber growth — saw profit jump to $178 million this quarter, up more than 500 percent from a year earlier.
Facebook's growth isn't slowing as fast as Wall Street expected, as the company continues to add new users and expand its mobile advertising business. Of the six, it added the most Q1 profit year over year, $1.3 billion, while Amazon added the most revenue, about $6.6 billion more than during Q1 2016.
Apple saw revenue and profit growth of nearly 5 percent — small, percentage-wise, compared to the other tech giants, but a continued reversal from its prior slump.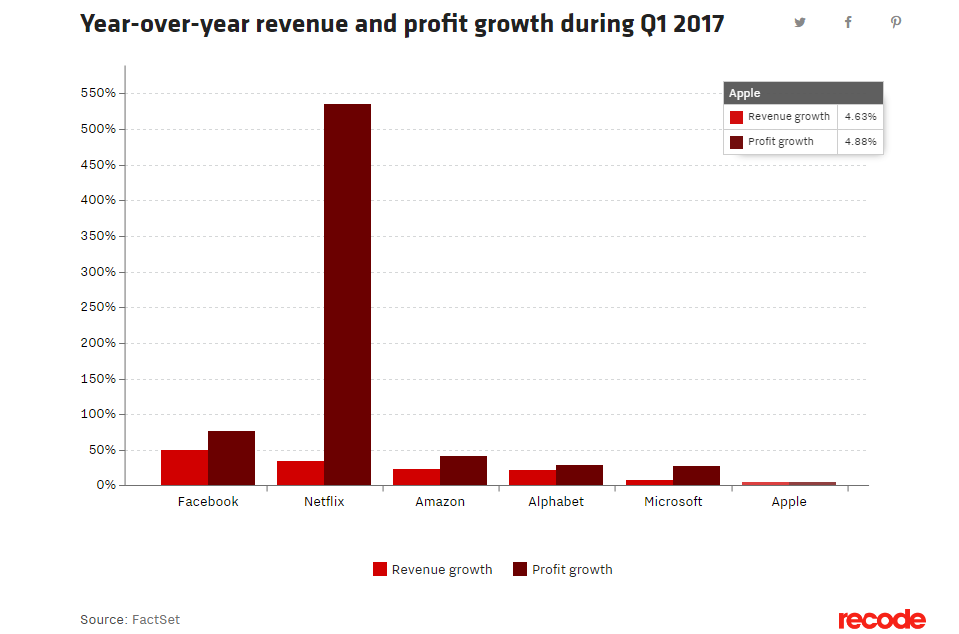 https://www.recode.net/2017/5/20/15669550/tech-earnings-scorecard-q1-2017-charts
Found at www.abnormalreturns.com
3.China Finally Catches a Downgrade… Moody's downgrades China over surging debt fears
China's Debt has Quadrupled Since 2007 Crisis.

https://www.bloomberg.com/news/articles/2016-02-22/the-world-s-debt-is-alarmingly-high-but-is-it-contagious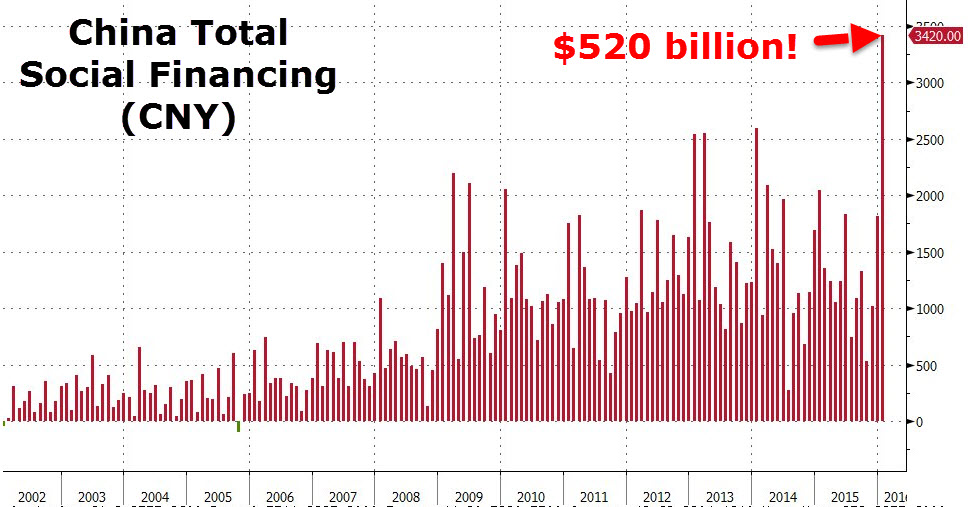 http://www.zerohedge.com/news/2016-02-18/china-unleashes-debt-tsunami-creates-1-trillion-debt-first-two-months-2016
4.The Problem is Growth is Slowing as Debt Exploded and the Debt has not Translated into Personal Consumption.
Growth Slows as Debt Booms.

U.S. Personal Consumption 69% vs. China 36%

5.Meanwhile…China's Bond Yields Keep Moving Higher….
China's bond yields keep grinding higher….5yr. Government Bond Yield up 50% in 7 Months.

6.Utilities not Acting Like U.S. Rate Rise is Any Threat.
UTES Close to New Highs.

Month to Date …Trailing Only Tech.

7.Eurozone Flash PMI Came in at 56.8….2009 Eurozone PMI was -15%
Businesses across the eurozone maintained April's blistering growth rate in May as firms struggled to meet growing demand. IHS Markit's Flash Composite PMI matched the previous month's 56.8. "The fact we have maintained this high level in May is great news for second quarter GDP," said Chris Williamson, chief business economist at IHS Markit. www.seekingalpha.com

8.As We Enter Driving Season…Gas Prices Muted Compared to Previous Decade.
Drivers, Start Your Engines. It's Driving Season
May 23, 2017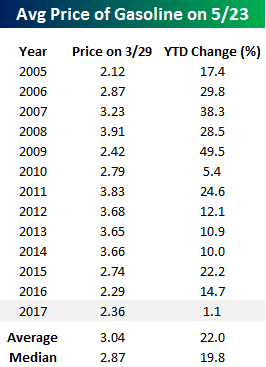 This upcoming weekend marks the unofficial start to the summer season, and with that Americans will start hitting the roads more frequently to go to the beach, start a vacation, or just barbecue with friends. As the summer driving season approaches, we wanted to provide a quick update on where gas prices currently stand relative to prior years at this time. Through today, the average national price of a gallon of gasoline sits at $2.36, which is up 1.1% YTD. That's great news for US consumers because in terms of both price level and price change, gas prices are below average. For starters, let's look at the current level of prices. Since 2005, there have only been two other years (2005 and 2016) where gas prices were lower heading into Memorial Day weekend. What's even more notable, though, is the YTD change in gas prices. With just a 1.1% gain, it is the smallest YTD change in gas prices since 2005 and one of only two years where the YTD change was up less than 10%.
The chart below shows the subdued level of gas prices this year compared to prior years. In it, we show the YTD change in the national average price compared to a composite of the average YTD change in gas prices for all years since 2005. Here you can see the wide disparity between an average year and 2017. Even more important is that the 1.1% YTD gain we have seen this year came during the time of year when prices are normally the strongest. So if this is the best gas prices could do, what do they have in store in the second half when prices are typically seasonally weak.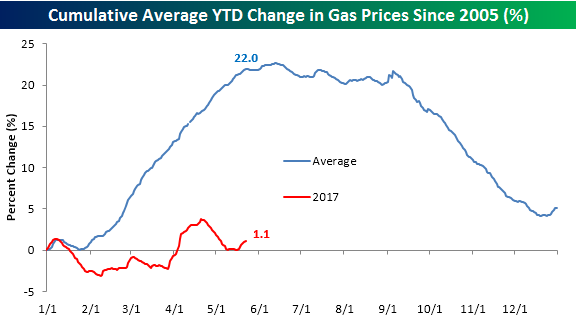 Finally, the fact that gas prices have essentially stopped rising this year has really caused the y/y change in prices to dramatically slow down. After spiking up to a peak of over 34% earlier this year, the y/y change has slowed to just 3.46% as the base effects of low prices from early 2016 have been worn off.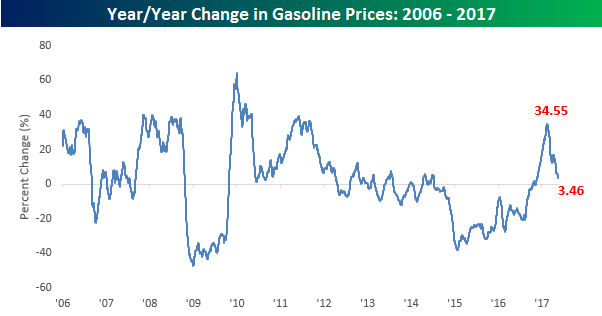 9.Read of the Day…Continuing my Theme….A New Suburban Boom Coming.
This will be America's new exodus
Published: May 24, 2017 4:57 a.m. ET
Spatial economics will alter the way we live and work
The rise of exurbs—located 50 miles or more away from big cities—will be made possible as technology changes the cost of distance, according to WSJ Leadership Expert James Allen.
By
JAMESALLEN
A lot of savvy economists, demographers and poll takers were stunned by the recent presidential election and the voting power of rural and suburban Americans. Threatened by globalization and technology, which have decimated millions of industrial jobs, residents in hard-hit regions made the revival of working-class jobs, especially in manufacturing, a top priority for the incoming administration.
Will it happen? Creating those jobs and improving the economic fortunes of the middle class may depend not only on politics but also on the declining cost of distance. Research by my colleagues at Bain & Co. provides strong evidence that this gathering force of spatial economics is about to shatter some longstanding economic assumptions. It will transform urban patterns in advanced economies by enabling millions of people to move out of cities, and shake up established models of global growth, potentially positioning the U.S. and Europe for a period of sustained expansion.
The cost of moving goods, people and information is declining, with some items already in a steep and rapid descent. The catalyst for change is an array of new platform technologies that have pushed the cost of distance to the tipping point. By 2025, spatial economics will alter the way we live and work—faster and more broadly than many can imagine.
Advances in service robotics, 3-D printing and logistics will allow companies to operate economically at smaller scale, increasing local production and local jobs. That, in turn, will set individuals free from longstanding constraints to live and work in cities and trigger investment in exurban areas. At the same time, automation of many tasks could enable a much greater availability of goods, services, education and health care in communities far from city centers. For many middle-class families, the lure of space at lower cost with many of the amenities of urban life will be irresistible.
Some cities will continue to grow, but migration out of cities will surge, particularly to exurbs 50 miles or more from a city center—giving rise to new micro economies where people live, work and play. By 2025, the U.S. exurban population could outstrip the urban center population. This migration already has begun: Six million Americans moved out of city centers in the past decade, according to U.S. Census Bureau data. Although some center-city population levels have held steady or even risen, their share of the population has been dropping since 1990, while the exurbs' share has been rising.
Bain analysis shows movement to the U.S. exurbs in the next 10 years could match Americans' exodus to the suburbs in the 1950s and 1960s, which reached an annual peak of 8% of the population.
Read Full Story
http://www.marketwatch.com/story/this-will-be-americas-new-exodus-2017-05-24
10.Why the 8-Hour Workday Doesn't Work
Dr. Travis Bradberry
FollowDr. Travis Bradberry
Coauthor EMOTIONAL INTELLIGENCE 2.0 & President at TalentSmart
The 8-hour workday is an outdated and ineffective approach to work. If you want to be as productive as possible, you need to let go of this relic and find a new approach.
The 8-hour workday was created during the industrial revolution as an effort to cut down on the number of hours of manual labor that workers were forced to endure on the factory floor. This breakthrough was a more humane approach to work two hundred years ago, yet it possesses little relevance for us today.
Like our ancestors, we're expected to put in 8-hour days, working in long, continuous blocks of time, with few or no breaks. Heck, most people even work right through their lunch hour!
This antiquated approach to work isn't helping us; it's holding us back.
The Best Way to Structure Your Day
A study recently conducted by the Draugiem Group used a computer application to track employees' work habits. Specifically, the application measured how much time people spent on various tasks and compared this to their productivity levels.
In the process of measuring people's activity, they stumbled upon a fascinating finding: the length of the workday didn't matter much; what mattered was how people structured their day. In particular, people who were religious about taking short breaks were far more productive than those who worked longer hours.
The ideal work-to-break ratio was 52 minutes of work, followed by 17 minutes of rest. People who maintained this schedule had a unique level of focus in their work. For roughly an hour at a time, they were 100% dedicated to the task they needed to accomplish. They didn't check Facebook "real quick" or get distracted by e-mails. When they felt fatigue (again, after about an hour), they took short breaks, during which they completely separated themselves from their work. This helped them to dive back in refreshed for another productive hour of work.
Your Brain Wants an Hour On, 15 Minutes Off
People who have discovered this magic productivity ratio crush their competition because they tap into a fundamental need of the human mind: the brain naturally functions in spurts of high energy (roughly an hour) followed by spurts of low energy (15–20 minutes).
For most of us, this natural ebb and flow of energy leaves us wavering between focused periods of high energy followed by far less productive periods, when we tire and succumb to distractions.
The best way to beat exhaustion and frustrating distractions is to get intentional about your workday. Instead of working for an hour or more and then trying to battle through distractions and fatigue, when your productivity begins to dip, take this as a sign that it's time for a break.
Real breaks are easier to take when you know they're going to make your day more productive. We often let fatigue win because we continue working through it (long after we've lost energy and focus), and the breaks we take aren't real breaks (checking your e-mail and watching YouTube doesn't recharge you the same way as taking a walk does).
Take Charge of Your Workday
The 8-hour workday can work for you if you break your time into strategic intervals. Once you align your natural energy with your effort, things begin to run much more smoothly. Here are four tips that will get you into that perfect rhythm.
Break your day into hourly intervals. We naturally plan what we need to accomplish by the end of the day, the week, or the month, but we're far more effective when we focus on what we can accomplish right now. Beyond getting you into the right rhythm, planning your day around hour-long intervals simplifies daunting tasks by breaking them into manageable pieces. If you want to be a literalist, you can plan your day around 52-minute intervals if you like, but an hour works just as well.
Respect your hour. The interval strategy only works because we use our peak energy levels to reach an extremely high level of focus for a relatively short amount of time. When you disrespect your hour by texting, checking e-mails, or doing a quick Facebook check, you defeat the entire purpose of the approach.
Take real rest. In the study at Draugiem, they found that employees who took more frequent rests than the hourly optimum were more productive than those who didn't rest at all. Likewise, those who took deliberately relaxing breaks were better off than those who, when "resting," had trouble separating themselves from their work. Getting away from your computer, your phone, and your to-do list is essential to boosting your productivity. Breaks such as walking, reading, and chatting are the most effective forms of recharging because they take you away from your work. On a busy day, it might be tempting to think of dealing with e-mails or making phone calls as breaks, but they aren't, so don't give in to this line of thought.
Don't wait until your body tells you to take a break. If you wait until you feel tired to take a break, it's too late—you've already missed the window of peak productivity. Keeping to your schedule ensures that you work when you're the most productive and that you rest during times that would otherwise be unproductive. Remember, it's far more productive to rest for short periods than it is to keep on working when you're tired and distracted.
Bringing It All Together
Breaking your day down into chunks of work and rest that match your natural energy levels feels good, makes your workday go faster, and boosts your productivity.
Do you notice your energy and focus waxing and waning according to the cycle described above? Please share your thoughts in the comments section below, as I learn just as much from you as you do from me.
ABOUT THE AUTHOR:
Dr. Travis Bradberry is the award-winning co-author of the #1 bestselling book, Emotional Intelligence 2.0, and the cofounder of TalentSmart, the world's leading provider of emotional intelligence tests and training, serving more than 75% of Fortune 500 companies. His bestselling books have been translated into 25 languages and are available in more than 150 countries. Dr. Bradberry has written for, or been covered by, Newsweek, TIME, BusinessWeek, Fortune, Forbes, Fast Company, Inc., USA Today, The Wall Street Journal, The Washington Post, and The Harvard Business Review.