1.Investors Continue to Flock to Safety in U.S. Government Treasuries.
GOVT-Core U.S. Treasury ETF Spikes to Highs.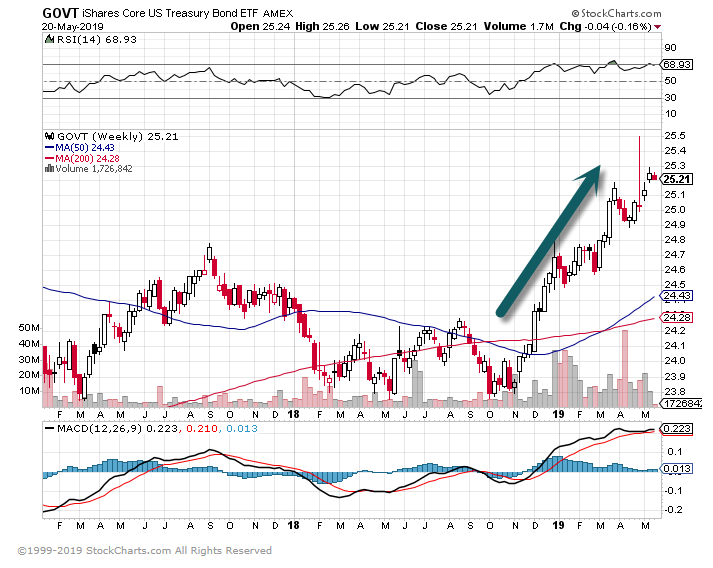 2.S&P Growth vs. Value Stocks Rallies Above 1999 Record Spread.
I was a trader during 1999 Internet Bubble….Never Thought I would see this again.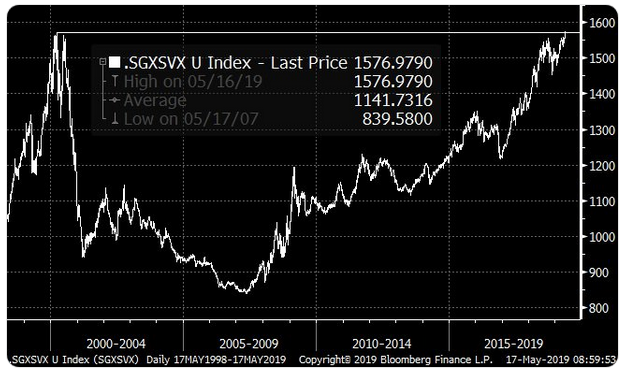 S&P 500 Growth vs Value gets over the 2000 peak, twits note
From Dave Lutz at Jones Trading.
3.International Markets Did Rally Back to 2018 Highs.
Vanguard All-World Ex U.S. did not make it back to 2018 highs let alone all-time highs.
4.Leading Exporter of Asia -29% from Highs—South Korea.
EWY –S Korea ETF at 2 Year Lows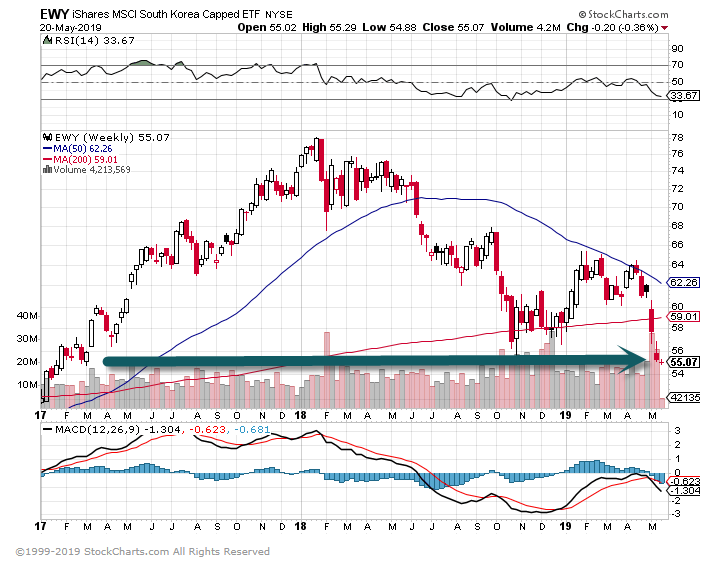 Southeast Asia and China are S.Korea Biggest Trading Partners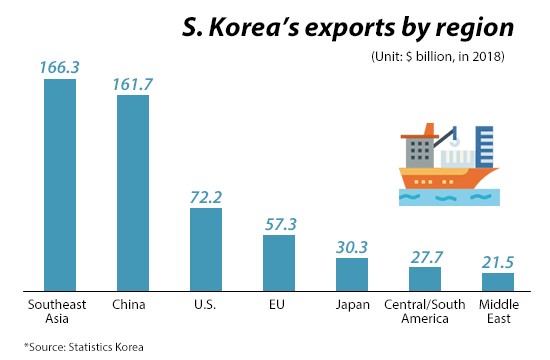 https://pulsenews.co.kr/view.php?year=2019&no=301978
5.Tesla Falls Thru 2017 Support Levels.
TSLA Breaking Down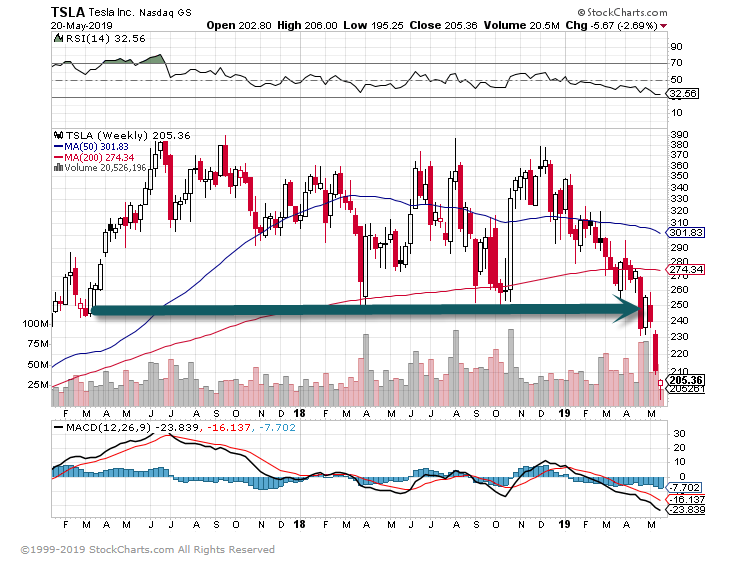 6.Developed Markets Unemployment Rate Breaks Below 1998 Levels.
TopDown Charts
Developed Markets — Unemployment Rate:  This series comes from something I'm working on for the monthly chartbook, but I felt it worth sharing because it's so interesting.  The chart shows the GDP-weighted unemployment rate across the major developed economies, and the punchline is that labor markets are very tight across developed economies.  There's a lot we could say about this chart e.g. the time/magnitude it took to recover, the passing of the previous low points of 2000 & 2007, possible upside risks to inflation if the growth-scare passes, and possible structural changes… but for now I will leave you to ponder this stark chart.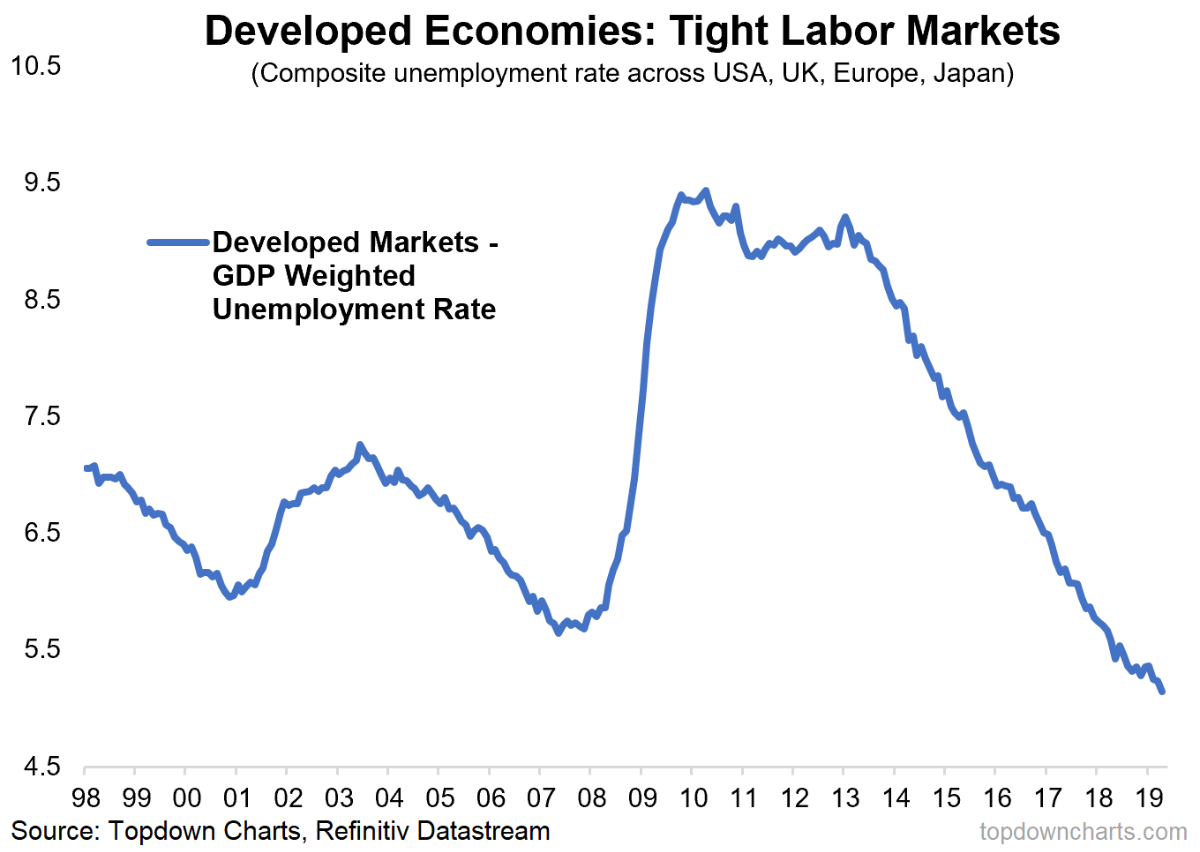 7.Powell Addresses Corporate Debt Boom
Facing criticism, Powell argues business debt boom isn't the threat subprime mortgages were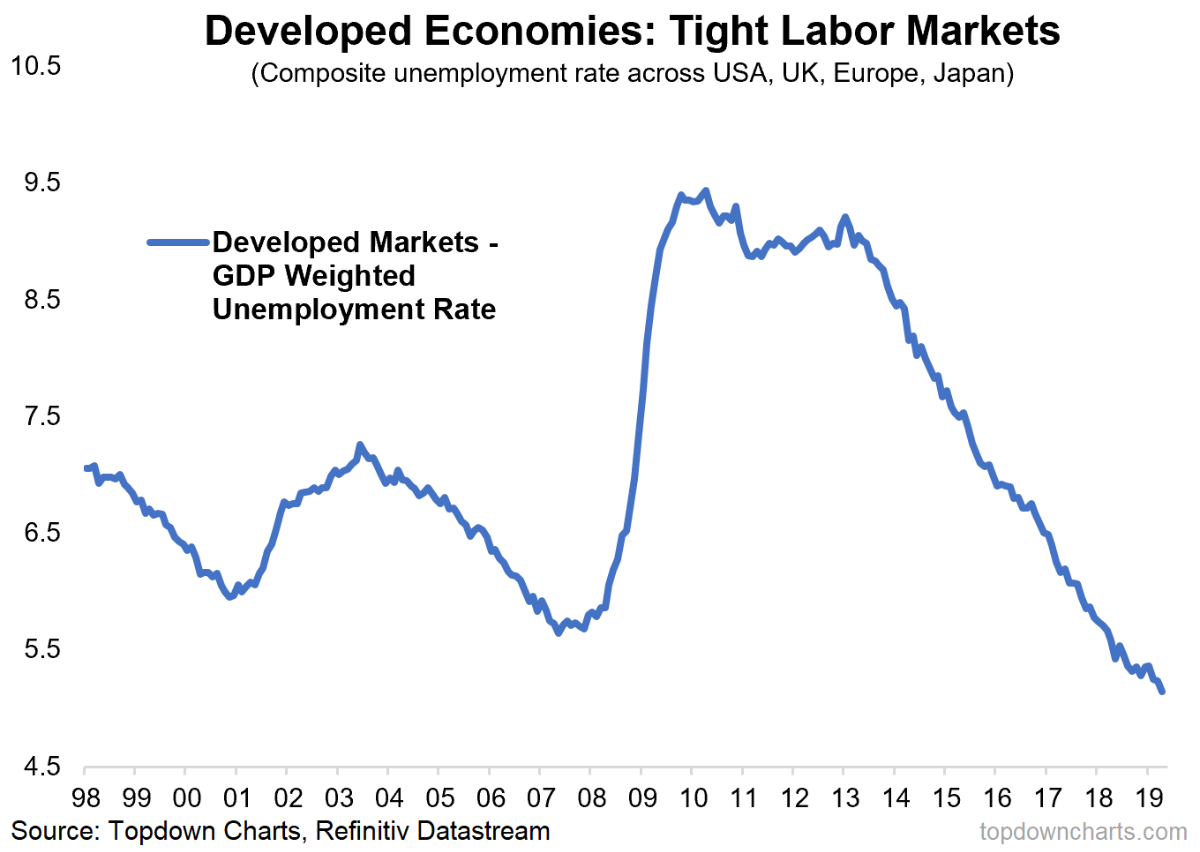 Published: May 20, 2019 8:43 p.m. ET
U.S. Federal Reserve Chairman Jerome Powell
Federal Reserve Chairman Jerome Powell on Monday evening made the case that business borrowing doesn't represent the threat to the U.S. economy that subprime mortgages did a decade ago.
Acknowledging that there's a category of debt that is growing faster than the income of the borrowers even as lenders loosen underwriting standards, and that much of the borrowing is financed outside the banking system, Powell argued at an Atlanta Fed banking conference that the parallels stop there.
"The financial system today appears strong enough to handle potential business-sector losses, which was manifestly not the case a decade ago with subprime mortgages," he said.
"And there are other differences: Increases in business borrowing are not outsized for such a long expansion, in contrast to the mortgage boom; business credit is not fueled by a dramatic asset price bubble, as mortgage debt was; and CLO structures are much sounder than the structures that were in use during the mortgage credit bubble."
Related: Fed's Quarles says leveraged loan buildup isn't a replay of subprime crisis
Powell pointed out the risks from business lending. "Some businesses may come under severe financial strain if the economy deteriorates. A highly leveraged business sector could amplify any economic downturn as companies are forced to lay off workers and cut back on investments," he said.
Sen. Elizabeth Warren, the Massachusetts Democrat, and former Fed chief Janet Yellen are among those warning about the risks of such lending. Powell's colleague on the Fed's board of governors, Lael Brainard, also has sounded increasing concerns about the market segment.
Powell did acknowledge that regulators are, in his words, "working to stitch these parts together so we can collectively see that larger picture and the risks it holds." The Securities and Exchange Commission is looking at the potential for liquidity strains at mutual funds, and the Commodity Futures Trading Commission is working to understand the use of derivatives to hedge risks associated with leveraged loans.
Since most of the CLOs are not held by U.S. banks, the Fed is working with the Financial Stability Board in determining the size of the global leveraged loan market and the holders of the loans, Powell said.
https://www.marketwatch.com/story/facing-criticism-powell-argues-business-debt-boom-isnt-the-threat-subprime-mortgages-were-2019-05-20?mod=mw_theo_homepage
8.6 Questions to Ask Yourself to Know When to Trust Your Instinct
By Shelley Levitt | May 20, 2019 | 0 
The Brain-Gut Connection
When we say we knew something in our gut, we're not just talking metaphorically.
Husband-and-wife microbiologists Justin and Erica Sonnenburg, Ph.D.s, run Stanford University's Sonnenburg Lab, which studies intestinal microbiota, and are the co-authors of The Good Gut: Taking Control of Your Weight, Your Mood, and Your Long-Term Health. As they explain, our brain and gut are connected by a vast network of neurons, chemicals and hormones. When we walk into our partner's or boss's office to discuss the latest sales figures, take one look at their gloomy expression and feel a tightening in our intestines, that's evidence of the brain-gut axis in action.
Current research shows the axis works two ways, with the bacteria in our gut actually sending signals to the brain that affect mood and our worldview.
Besides being a strong argument to eat more probiotic-rich food like yogurt, kimchi and sauerkraut, this research suggests those gut feelings are smarter than we might suspect.
Related: Go With Your Gut: The Science of Instinct
Know when to trust your instinct.
Am I really paying attention to what my gut is telling me about a decision, or am I rushing to judgment to stop feeling anxious?
Am I listening to my gut because I'm feeling lazy about supporting my feelings with facts, or do I really feel I know enough to make a call?
If I sit with this gut feeling for a few minutes and allow my head to kick in, will I allow my gut feeling to change?
Is my gut telling me what I believe to be true based on what I either know or can find out, or am I paying more attention to the truths of others?
Do I know enough about the decisionto be able to defend it beyond saying "Trust me," if challenged by others?
Is the information I am collecting to test my gut reaction causing my gut to become calm or is it giving it a flat or troubled feeling?
Related: 5 Times to Trust Your Gut
https://www.success.com/know-when-to-trust-your-instinct/