What's His Play?
1.2.4% of U.S. Economy is Tied to Exports from China.
Barrons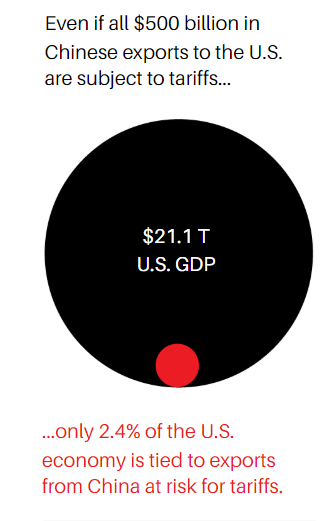 The Trade War Will Make Stocks Scary. 5 Reasons Not to Panic.  By Reshma Kapadia
https://www.barrons.com/articles/trade-war-stock-market-outlook-51558120641?mod=hp_HERO
2.Job Openings in Manufacturing at 20 Year High.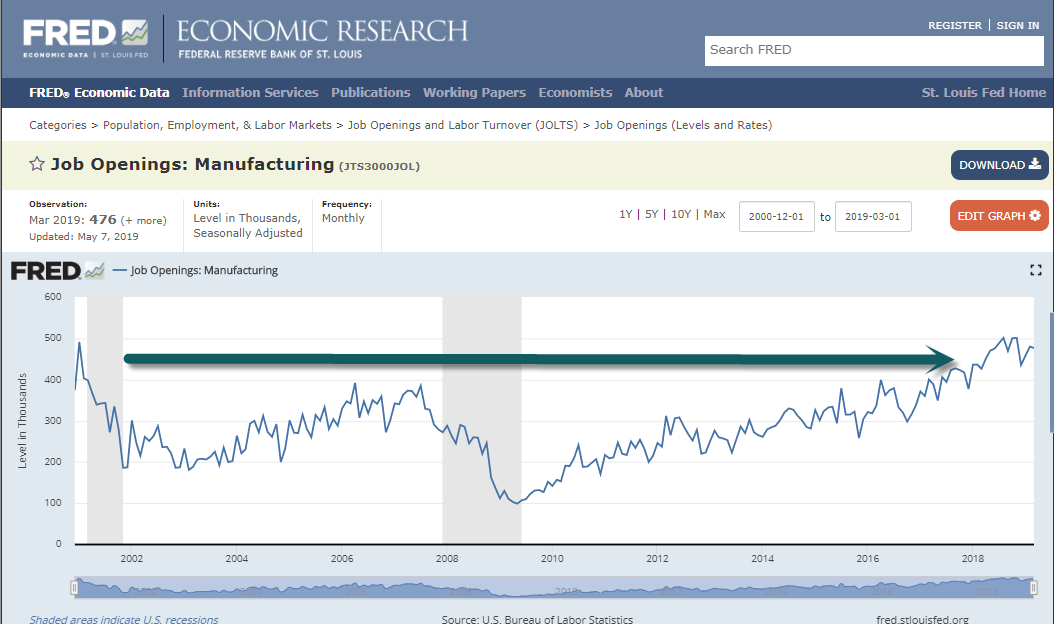 https://fred.stlouisfed.org/series/JTS3000JOL
Warehouse Hiring Surges on Rising E-Commerce Demand
Logistics gains in April came as job growth for other transport operators lost steam
Warehousing and storage companies added 5,400 jobs last month, according to preliminary figures the Labor Department reported Friday. PHOTO: LUKE SHARRETT/BLOOMBERG NEWS
By
Jennifer Smith
May 3, 2019 3:09 p.m. ET
Warehouse operators stepped up hiring in April as e-commerce demand drove up employment in distribution centers even as job growth across the rest of the freight-transportation sector slowed.
Warehousing and storage companies added 5,400 jobs last month, according to preliminary figures the Labor Department reported Friday, the fourth straight month of growth in a sector that includes fulfillment centers that process and ship online orders. The sector added nearly 70,000 jobs over the past 12 months.
Courier and messenger companies that deliver packages to homes and businesses also expanded in April, adding 1,000 jobs.
https://www.wsj.com/articles/warehouse-hiring-surges-on-rising-e-commerce-demand-11556910546
3.University of Michigan Consumer Sentiment Index Highest Since 2004
Consumer Expectations Surge
After a strong slate of economic data on Thursday, today's data continued the positive trend with a much stronger than expected sentiment report from the University of Michigan where the headline index came in at its highest level since January 2004.  While economists were forecasting the index to come in at a level of 97.2, the actual reading was much stronger at 102.4. That beat relative to expectations was the biggest since October 2017. The big driver of this month's strength was the fact that the expectations component surged 8.6 points to 96.0 from 87.4.  Over the last few years, the expectations component of the UMich Sentiment report has tried unsuccessfully to break above 90, but this month it blew right through that level to the highest levels of the current economic cycle.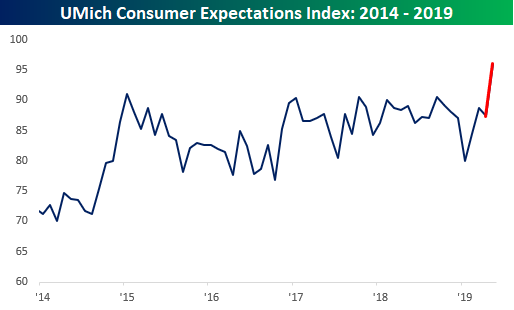 Not only did the expectations component make new highs relative to the last few years, but it's also at levels not seen in over 15 years.  The fact that this index is making new highs is an encouraging one as it indicates confidence about the future, and with the number of Americans feeling like they are living 'paycheck to paycheck' at multi-year lows, how can you blame them?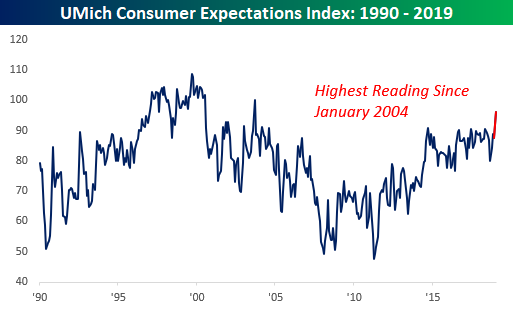 https://www.bespokepremium.com/interactive/posts/think-big-blog/consumer-expectations-surge
4.Euro Area Inflation Falls Back Below 1%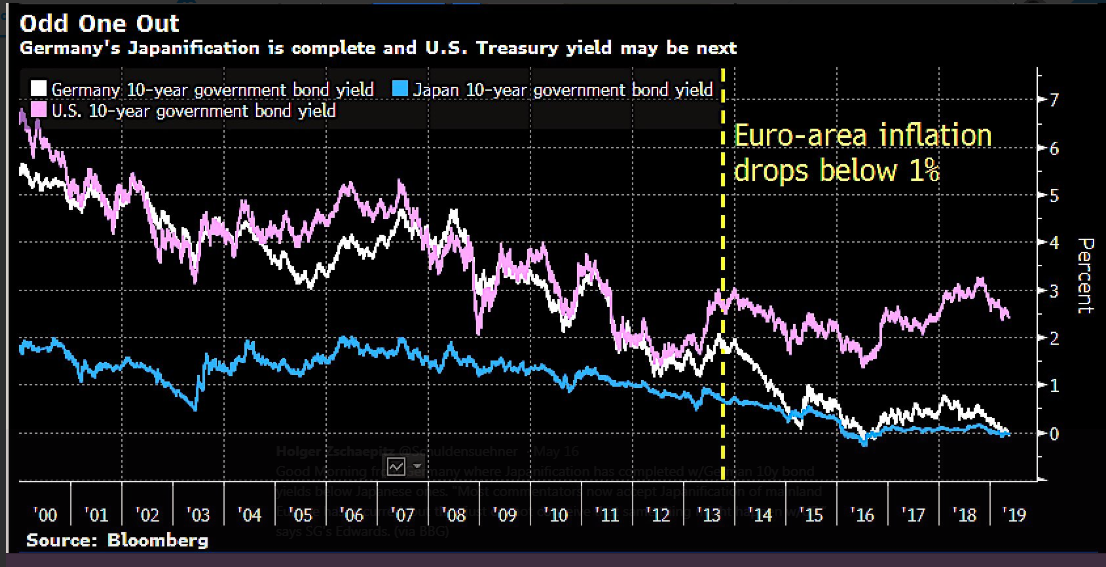 https://www.bloomberg.com/news/articles/2019-05-15/italian-bonds-decline-as-fears-of-fiscal-deficit-take-root-again
5.Interesting Follow Up to Last Week's Data on China Selling Treasuries…Japan is Buying.
According to the U.S. Treasury, China has cut its holding of U.S. Treasury securities to a 22-month low, potentially in retaliation as the trade dispute lingers. "What isn't discussed as much, though, is that global demand remains strong, with foreign ownership of U.S. debt hitting a record high last month," added Detrick.
As our LPL Chart of the Day shows, China has been decreasing how much U.S. debt it holds, while Japan has silently increased its holdings for five consecutive months.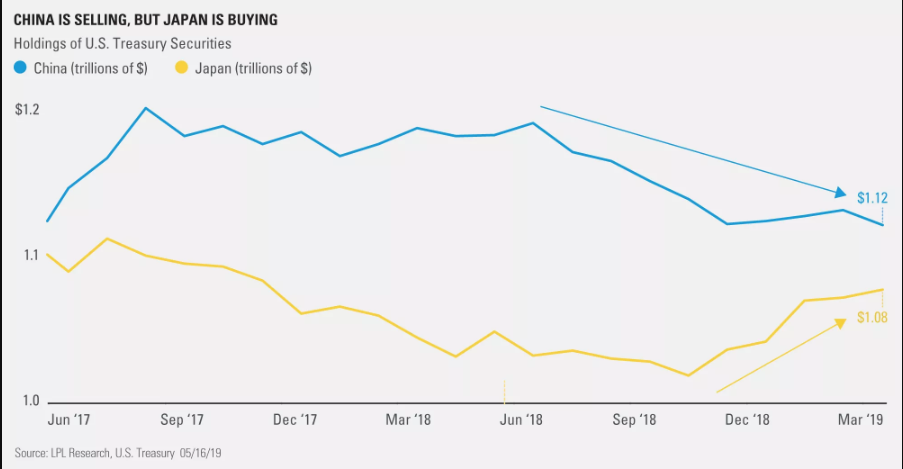 https://lplresearch.com/2019/05/17/stocks-stand-tall-against-headwinds/
6.Best Performing Stocks in the S&P 500 Over the Last 20 Years.
Charlie Bilello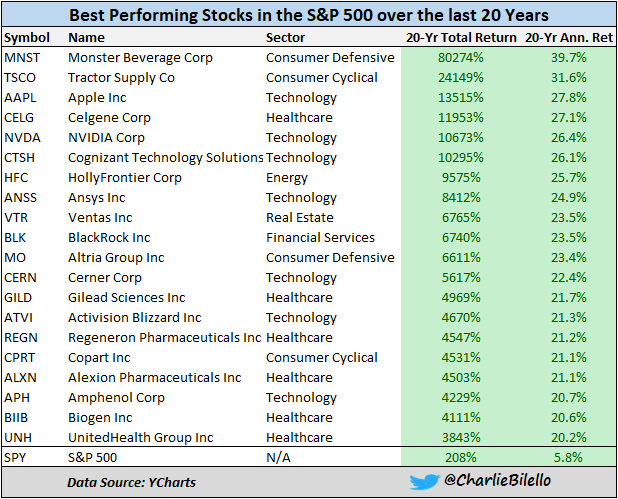 https://twitter.com/charliebilello?lang=en
7.E-Commerce Sales +12.4% Year Over Year.
E-Commerce Crushes Mall Retailers One by One. Here's the Data
by Wolf Richter • May 18, 2019 • 60 Comments • Email to a friend
Brick-and-mortar department stores – the lucky ones still open – are on schedule to be toast.
E-commerce sales in the first quarter soared 12.4% from a year ago to $127.3 billion (not seasonally adjusted), the Commerce Department reported on Friday. Last year, e-commerce sales blew through the $500-billion level for the first time ($513.6 billion). For 2019, e-commerce is on track to hit $575 billion, an increase of $61 billion. Over the past five years, e-commerce sales have doubled. On a seasonally adjusted basis, e-commerce sales in Q1 hit an all-time high of $137.7 billion.
E-commerce includes sales by the online operations of brick-and-mortar retailers. The top ones have huge and thriving online operations: Walmart, Home Depot, BestBuy, and Macy's in that order are the fourth through seventh largest e-commerce sites in the US, behind Amazon, eBay, and Apple.
So this is the business Macy's brick-and-mortar stores are in: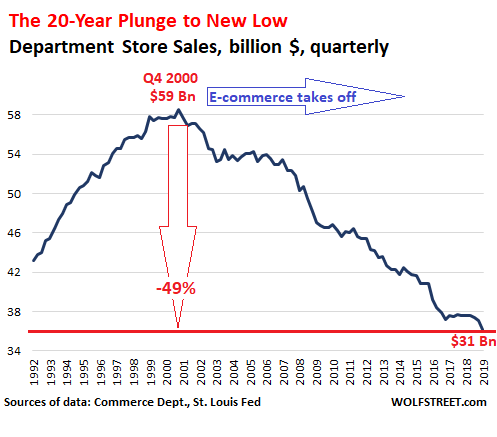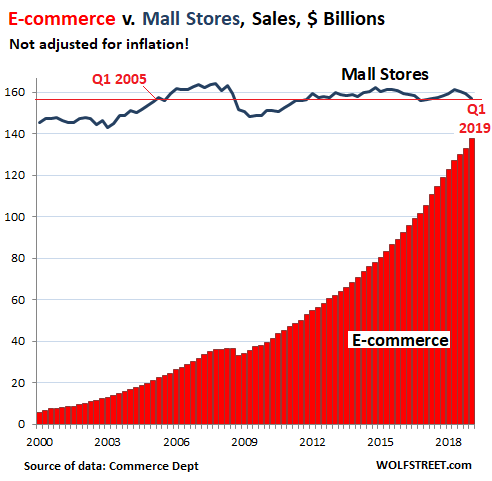 https://wolfstreet.com/2019/05/18/e-commerce-crushes-mall-retailers-one-by-one-heres-the-data/
8.Now Over 200 ESG ETFs.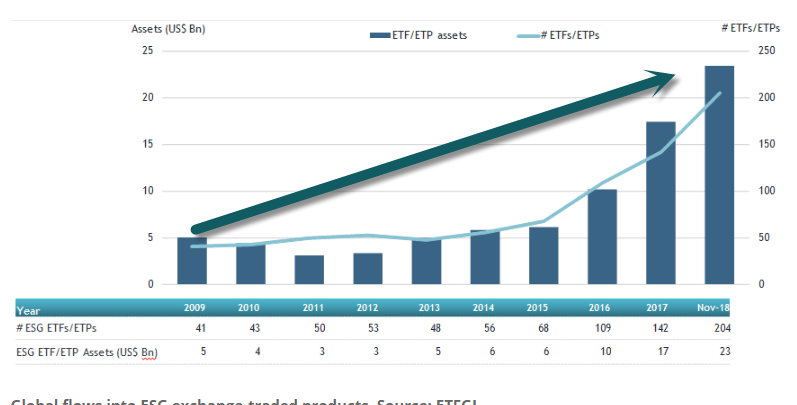 https://www.thinkadvisor.com/2018/12/28/assets-in-esg-etfs-up-34-in-18/
BlackRock 's new sustainable exchange-traded fund just collected nearly a billion dollars in inflows overnight, shattering records for ETFs that use environmental, social, or governance criteria to build portfolios.
The iShares ESG MSCI USA Leaders fund (ticker: SUSL) had a blockbuster debut, but it will take many more like it for socially conscious investing to really become a force in the ETF mainstream. Indeed, it seems likely that these funds probably won't account for even 1.5% of ETFs' total asset pie by 2023.
An ETF Sees a Blockbuster Debut. Don't Get Too Excited. Crystal Kim
https://www.barrons.com/articles/blackrock-esg-etf-51558124653?mod=past_editions
9.True Or False: Warren Buffett Just Lost $377 Million On A Ponzi Scam
The Wealth AdvisorContributor
May 12, 2019
(Observer) Warren Buffett's investment conglomerate, Berkshire Hathaway, took a $377 million hit in the first quarter of 2019 due to prior years' investments in a group of funds run by a company that's now believed to be a Ponzi scheme.
Between 2015 to 2018, Berkshire Hathaway invested a total of $340 million in tax-credit investment funds sponsored by a California-based clean energy company called DC Solar.
"In December 2018 and during the first quarter of 2019, we learned of allegations by federal authorities of fraudulent income conduct by the sponsor of these funds," Berkshire Hathaway said in its first-quarter financial report. "As a result of our investigation into these allegations, we now believe that it is more likely than not that the income tax benefits that we recognized are not valid."
Buffett's secretary, Debbie Bosanek, confirmed to Bloomberg this week that the funds mentioned in the regulatory filing were related to DC Solar.
Founded in 2008, DC Solar touted its ability to provide "very favorable tax consequences" to investors, which turned out to be a lie. The company filed for bankruptcy in February after the FBI and IRS raided its headquarter in Benicia, Calif., in December of last year.
The FBI alleged that the company had been using money from new investors to pay old investors who had leases for the company's solar-generation equipment.
Authorities determined that DC Solar had sponsored fraudulent funds that totaled $810 million. Other victims included insurer Progressive, which recorded a $156 million loss in the first quarter, and Southern Californian bank East West Bancorp., which took a $7 million hit in Q1.
https://www.thewealthadvisor.com/article/true-or-false-warren-buffett-just-lost-377-million-ponzi-scam?mkt_tok=eyJpIjoiTWpBMU1qbGxObVk1TjJNNSIsInQiOiJwSGtpRUJuXC9LdWVwY3pyWWZ6Q0JsdWY3MGducjE3Zk5CbXV0VGhYeW5hQXVtVUJcL1NSYWZiOGlPQjhXUm5EejdKUm5RMCsrdEQyRnhmOHRmWWhzRzJPOHBlazNWaWI5ckFTeVpteVUyS09DbUNzNjByek1IaEhWOElueW8wT3crIn0%3D
10.Your Brain Is a Liar: 7 Common Cons Your Brain Uses
Tips for reframing thoughts you can use with your children.
Your brain is a liar. It makes assumptions not rooted in fact, draws conclusions that are more about fear than any kind of logical argument, and has insights often manipulated by the media and others' compelling stories. Researchers have known for years that memories are not a good source of information4. Why? Because your brain is an unreliable narrator. It doesn't understand truth as we often define it—aligning with fact or reality. Instead, it functions on personal truth: facts and reality that sifts through the filter of our personal biases and perceptions about the world. This "truth" is also subject to the cognition errors we make daily3.
Often defined as "Automatic Negative Thoughts," or A.N.T.s, the brain will frequently engage in a series of negative thoughts. These thoughts often lock you into a thinking pattern that creates stress and anxiety and prevents growth1. One of the reasons this happens is the brain's need to maintain the status quo as a survival mechanism. But in locking your thinking, you resist growth opportunities2. I call this thinking "cons." It is your brain's way of convincing you that partial or untrue statements are truth. It is how your mind lies to you. Cognition errors, as they are also called in mental healthcircles, can deepen patterns of depression and make mood disorders more challenging to manage.
Seven Common Cons:
The following seven cons are some of the most typical ways your brain lies to you3. Which ones can you see in yourself or in your loved ones?
The Sky Is Falling Con: In this con, you make a problem more significant than it is, often imagining that the absolute worst thing is about to occur.
The Black and White Con: Here, you view everything as always great or always lousy. There is no in-between with a black and white con.
The Pessimist's Code: I often see this con in cases of traumaand/or abuse. Here, your threat perception is hyper-aware that you only see the negative in any situation. There is no "good" from your perspective.
The Perfectionist's Mantra: Many high-potential children and adults fall into this con. Here, you focus on what you consider your flaws and minimize any acknowledgment of your strengths.
The Negative Label: The original "ANT" term was developed with this con in mind. With this, you label yourself in harshly negative ways, focusing on small aspects of self that contribute to your negative narrative.
The Fortune Teller: In this con, you tell yourself what other people are thinking about you—and always in the most negative of ways.
The Victim's Rant: This is a common con in children. Here, you blame other people for everything that happens, keeping yourself as the forever-victim.
https://www.psychologytoday.com/us/blog/parenting-new-generation/201905/your-brain-is-liar-7-common-cons-your-brain-uses