1.70% of Energy Stocks Now Above 200 Day Moving Average.
VDE-Energy ETF New Highs….50day about to go thru 200 day to upside.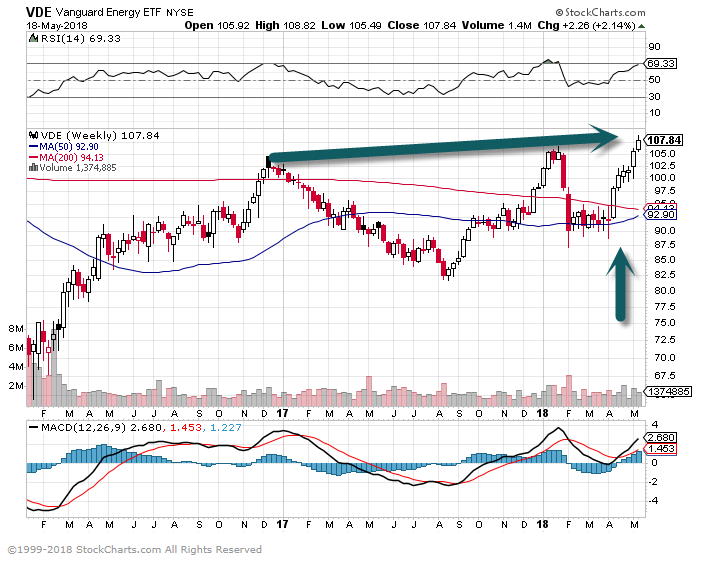 2.Russell 2000 48% of Constituents Linked to Floating Rate Debt vs. 9% for S&P
Wisdomtree
The Federal Reserve's gradual and well-telegraphed rate hikes over the past several years have been widely lauded for not pulling the rug out from under the financial system. However, for a variety of reasons, both technical and structural, the main benchmark floating rate (USD 3-month LIBOR) has increased by more than 100 bps over the past year.2 While this rate matters for the interest expense of large caps, it matters even more for small caps. Of the constituents of the Russell 2000, 48% of their debt is linked to floating rates, as opposed to just 9% for the S&P 500.3 As this rate has risen, the default rates for speculative-grade issuers have also begun to tick up, albeit from low levels compared to the past two years. The signal is clear: Rates are rising, and speculative, unprofitable firms may have a difficult time refinancing at higher rates.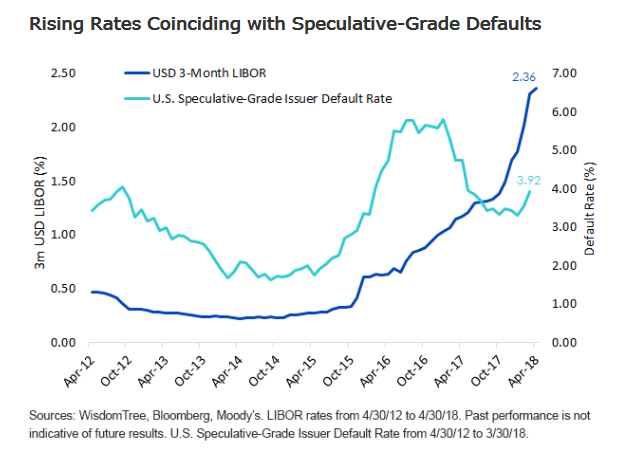 How to Avoid Leverage Risks in Small Caps
05/18/2018
Matt Wagner, Research Analyst
https://www.wisdomtree.com/blog/2018-05-18/how-to-avoid-leverage-risks-in-small-caps
 3.Close to 70% of Countries Now Have 10 Year Yields Below the U.S.
Despite a record high number of countries with yields below US yields, long-term interest rates in the US continue to move higher, see chart below. This means that there is something else weighing on the minds of global fixed income investors than the yield differential to US Treasuries. These other forces pushing US rates higher are likely worries about US fiscal sustainability, worries about the US economy overheating, and currency hedging costs. These worries are not going away anytime soon. In other words, for global investors, why buy US rates today if yields are expected to be higher tomorrow? Expect this theme to persist for at least the rest of this year. For more see also here.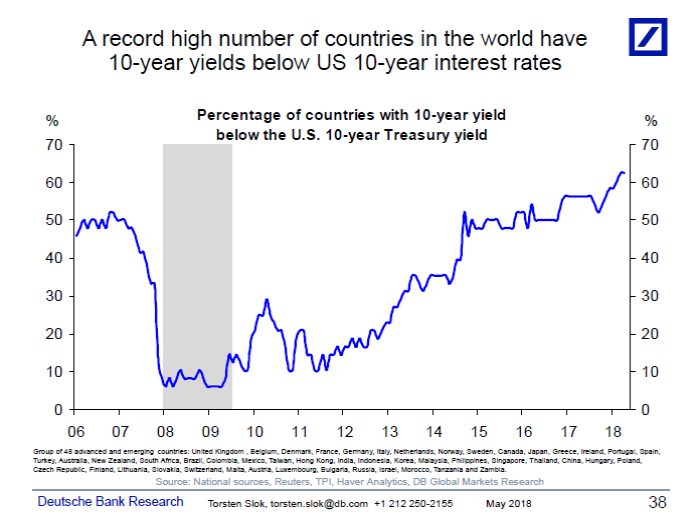 ———————————————–
Let us know if you would like to add a colleague to this distribution list.
Torsten Sløk, Ph.D.
Chief International Economist
Managing Director
Deutsche Bank Securities
60 Wall Street
New York, New York 10005
Tel: 212 250 2155
 4.Two Generations of Investors Never Experienced Losses in Bond Market.
First quarter bond returns.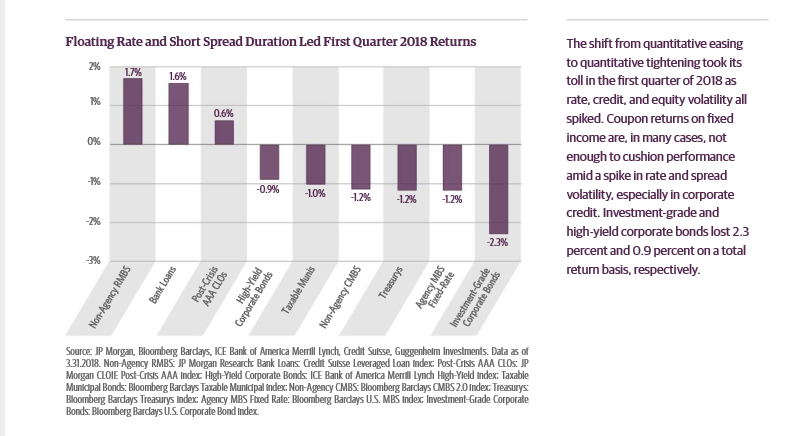 From Guggenheim https://www.guggenheiminvestments.com/fixed-income?utm_source=adwords&utm_medium=cpc&utm_campaign=fixed+income
5.Follow Up to Last Week's Comments on Bond ETFs…Active Fixed Income Mutual Funds Still Seeing Flows.
Flexshares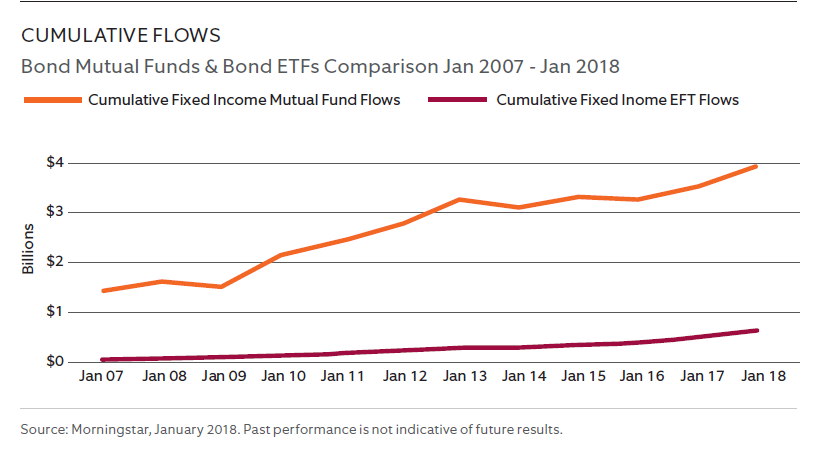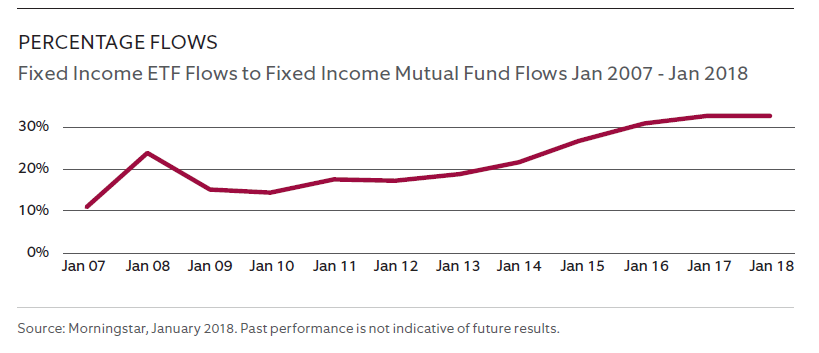 https://cloud.kapostcontent.net/pub/94bec4b8-bc8c-4325-aa5c-f9c1bc9168f7/paper-scenario-planning-expectations-for-interest-rates.pdf??kui=6NXw8M0nDuyxI_Hd2NRMtw
 6.China Income Growth 10% Annum with 35% Savings Rate.
"Income is growing 10% per annum; households have a savings rate of 35%, and there are too many, too big cities to put an exact number on the demand," Mattock says. "But you know the potential is skewed massively on the upside."
https://www.barrons.com/articles/betting-on-alibaba-and-other-chinese-growth-plays-1526475158
China Small Cap ETF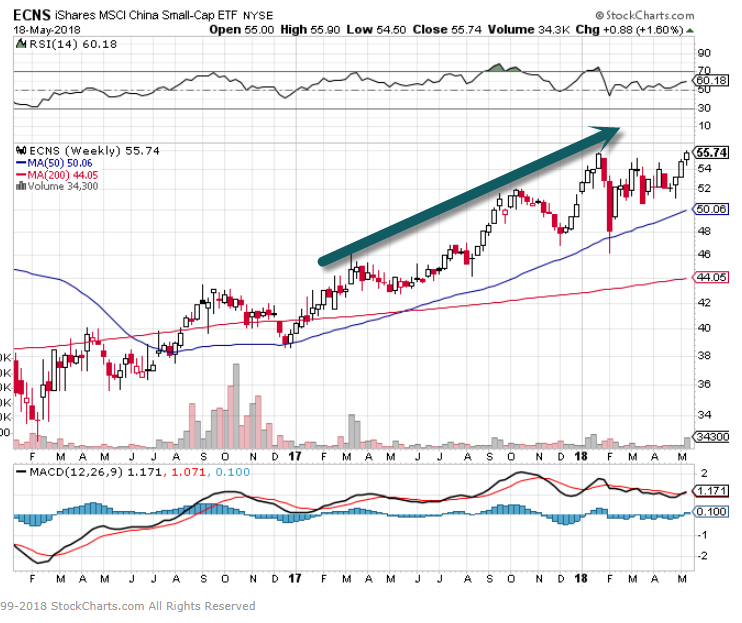 China Internet ETF…Almost a double from 2017 lows.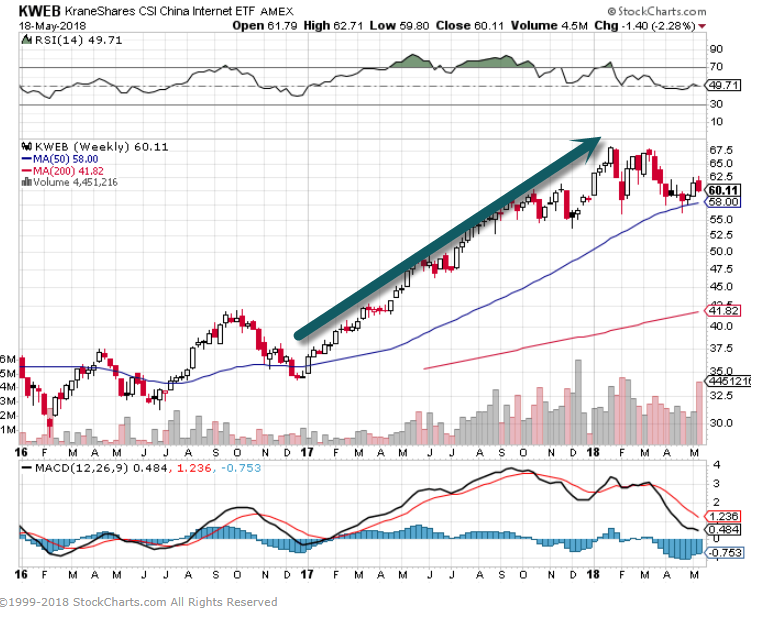 7.Buybacks First Quarter Equal 2007 Record…We Could Top $1Trillion in Buybacks for 12 Months.
Barrons
Looking at the 94.2% of Standard & Poor's 500 companies that had reported as of Thursday, Howard Silverblatt, senior index analyst at S&P Dow Jones Indices, found that first-quarter buybacks already had set a record of $178 billion, topping the previous mark of $172 billion in 2007's third quarter.
If the first quarter's tally were to hit $186 billion, the 12-month total return of cash to shareholders via buybacks and dividends would top $1 trillion for the first time. If it doesn't go that high, Silverblatt sees it doing so in the second quarter.
https://www.barrons.com/articles/stock-buybacks-are-appetizing-but-theres-no-free-lunch-1526672021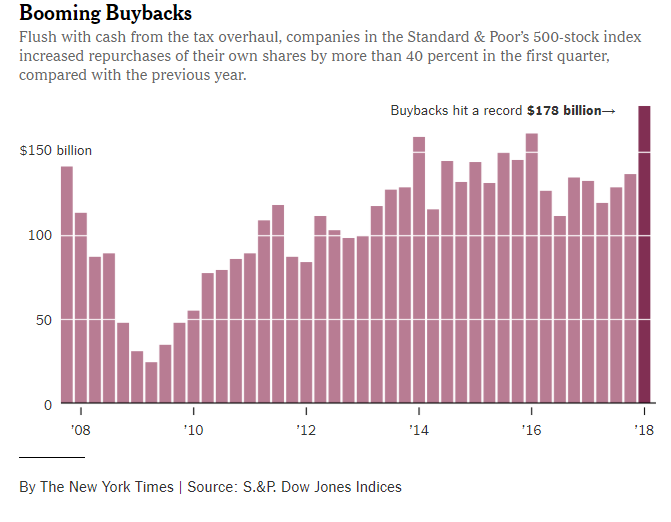 https://www.nytimes.com/2018/05/18/business/tax-cut-stock-buybacks.html
8.Warren Buffet and Charlie Munger Read 5 Newspapers Each Per Day.
Less than Half the Jobs Exist in Newspaper Industry than 15 Years Ago…..Papers have lost more jobs than coal.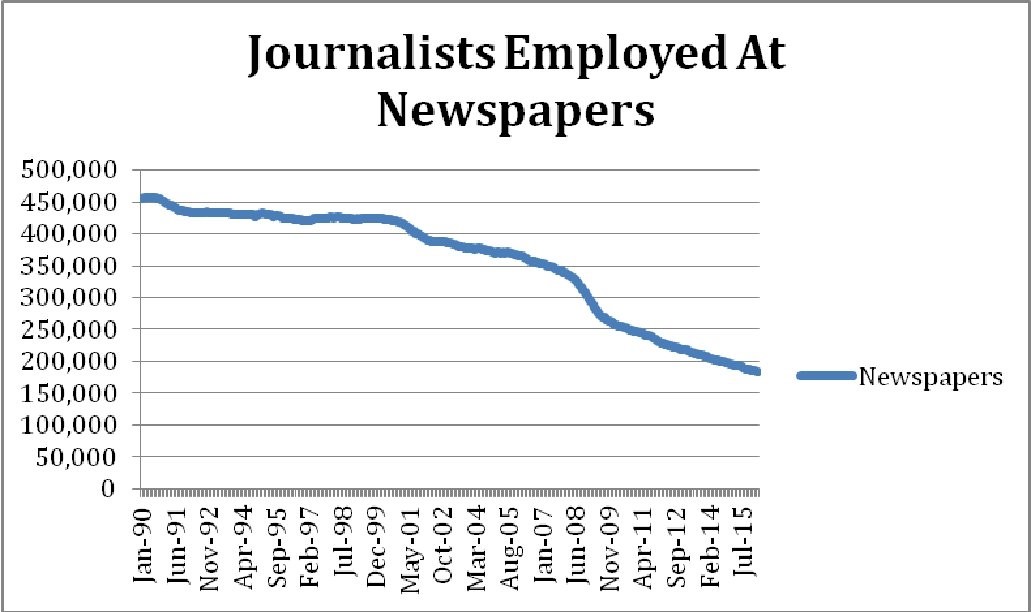 https://patch.com/ohio/miamiuniversity-oxford/journalism-majors-seek-employment-despite-downward-trends
9.Read of the Day….Two thousand six hundred seventeen times a day…The Official #1 Productivity Killer in American Workplace….Your Phone.
 'I Lost It': The Boss Who Banned Phones, and What Came Next
Employers limit cellphone use to regain attentiveness. Workers use watches and laptops instead.
ILLUSTRATION: OTTO STEININGER
By
John Simons
May 16, 2018 7:30 a.m. ET
Two thousand six hundred seventeen times a day. That is how often the average person taps, pokes, pinches or swipes their personal phone.
It all adds up to about 2 hours and 25 minutes, according to a study by mobile app research firm Dscout Inc. And a good chunk of that time comes during work hours.
Jason Brown had had enough of it. Two years ago, the chief executive of Brown, Parker & DeMarinis Advertising paused for a moment to look across the meeting room as he delivered a presentation. The majority of those gathered were fiddling with their phones.
"I lost it," says Mr. Brown.
In his anger, he issued a companywide edict: "Don't show up at a meeting with me with your phone. If someone shows up with their phone, it'll be their last meeting."
Many managers are conflicted about how—or even whether—to limit smartphone use in the workplace. Smartphones enable people to get work done remotely, stay on top of rapid business developments and keep up with clients and colleagues. But the devices are also the leading productivity killers in the workplace, according to a 2016 survey of more than 2,000 executives and human-resource managers conducted by CareerBuilder, an HR software and services company.
https://www.wsj.com/articles/can-you-handle-it-bosses-ban-cellphones-from-meetings-1526470250?mod=ITP_businessandfinance_3&tesla=y\
 10.A retired Navy SEAL commander says most people misunderstand the connection between discipline and leadership
Jocko Willink is a retired Navy SEAL commander who led SEAL Team 3, Task Unit Bruiser, the most highly decorated US special-operations unit of the Iraq War.Sarah Jacobs/Business Insider
Jocko Willink is a retired Navy SEAL commander who led the highly decorated Task Unit Bruiser in the Iraq War.
As a cofounder of the leadership consulting firm Echelon Front, he's found many executives incorrectly want to force discipline onto their teams.
He learned why tyrannical leadership is ineffective when he was part of a mutiny as a young SEAL.
Successful leaders, he found, have to rely on trust.
For the better part of a decade, former SEAL commander Jocko Willink has passed on what he learned in the Navy to the civilian sector. In recent years, he's become a bit of a celebrity due to a few New York Times bestsellers and a hit podcast.
With that has come more clients for his consulting firm Echelon Front, which he cofounded with his fellow former SEAL commander Leif Babin in 2010. He soon found that some of his clients expected a tough military guy to come in and yell at their team members, boot camp style.
"One of the early clients that I worked with, he said, 'You know, I can't wait until you come here and whip my people into shape,'" Willink told Business Insider for an episode of our podcast "Success! How I Did It." "I said, 'Well, if you want someone to whip your people into shape, you should hire someone else, because I'm not going to whip anyone into shape.' If you want people to do things, you don't whip them. You ended up with a beaten dog, and a beaten dog is useless. Or you'll get a rebellion. The people that you're beating, the slaves, will rebel against you and kill you."
You can subscribe to the podcast and listen below:
Willink said he learned this lesson as a 22-year-old SEAL. "The officer in charge of the platoon was a tyrannical leader, and he wasn't very experienced and he wasn't very confident. He made up for that by being tyrannical." If one of the officer's team members questioned one of his orders, he'd tell them to, "Do it anyway," Willink said.
Willink and his fellow SEALs had a mutiny. They refused their officer's orders and went to their commanding officer to tell him that their leader was inadequate. The leader was fired and replaced.
"Then the new leader who came to take his place was this extremely experienced, extremely capable, extremely intelligent guy who's also extremely humble and great to work for," Willink said. "And all of us just aspired to make him happy and make him proud and make him look good. When I saw that difference between those two leaders, I said to myself, 'Wow, that's important, and I need to pay attention to that.'" The demonstration of true leadership inspired him to pursue becoming an officer.
Willink said that forcing a team to follow an order will work for awhile. "But it doesn't work forever, and it actually doesn't work as effectively even right away as someone else saying, 'Hey, here's how I think we should do it,'" and the leader considering the suggestion and deciding, "'OK, well, I like your plan. Go ahead and do it.'"
http://www.businessinsider.com/retired-navy-seal-jocko-willink-defines-leadership-2018-5