1.Asian Stocks Fall to Most Oversold in 3 Years.
From Dave Lutz at Jones Trading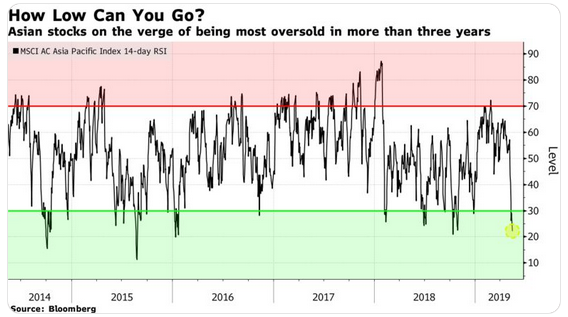 Despite the news that MSCI announced to double Chinese stocks' weightings in its global gauge by the end of the month, overseas traders sold 10.6 billion yuan (US$1.54 billion) worth of mainland-traded shares through the exchange links today.  That was the biggest single-day outflow since at least December 2016, when the stock connect programme between Shenzhen and Hong Kong started
2.Top Foreign Holder of Treasuries….China Owns 28%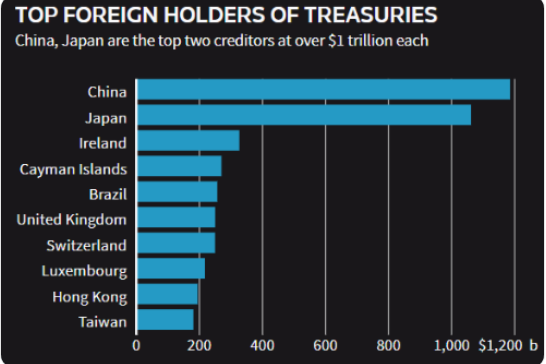 China currently owns $1.13 trillion in Treasury that's 28% of the $4.02 trillion in Treasury bills, notes, and bonds held by foreign countries.  Chinese President Xi Jinping will deliver a keynote speech at the opening ceremony of the Conference on Dialogue of Asian Civilizations tonight in Beijing
3.China Dumping Treasuries at Fastest Pace in 2 Years.
For the record I am extremely skeptical that China can dump treasuries at any serious level.  Where are they going to put it?
China dumps US Treasuries at fastest pace in two years
March government bond sales by China came to $20.5bn ahead of fractious trade talks
https://www.ft.com/content/0933cdfa-7766-11e9-be7d-6d846537acab
4.Bitcoin Doubles Off Bottom…Still 60% From Highs.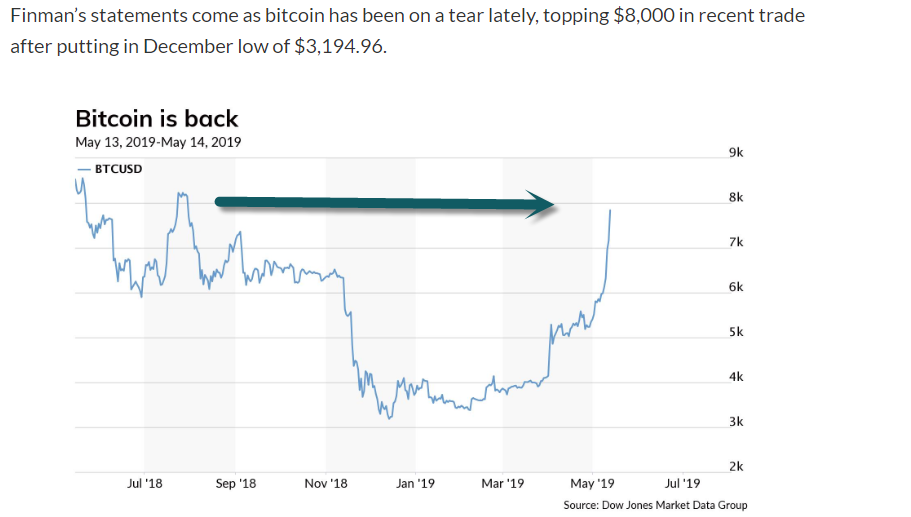 60% from Highs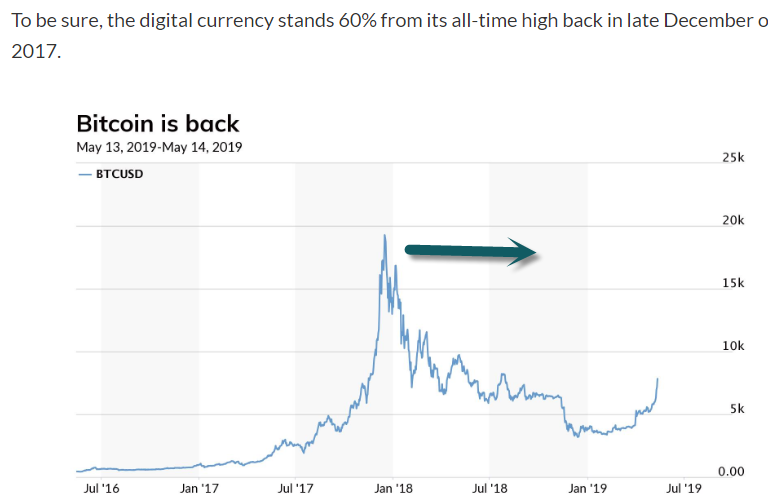 'If you're not a billionaire' in 10 years 'it's your own fault,' says 20-year-old bitcoin tycoon
https://www.marketwatch.com/story/if-youre-not-a-billionaire-in-10-years-its-your-own-fault-says-20-year-old-bitcoin-tycoon-2019-05-14?mod=MW_home_top_stories
5.Volatility-History of 1% Move Days….Volatility Has Been Very Normal.  2008-Highest Volatility Since Depression.
Despite a few relatively volatile periods, 2019 has, thus far, produced less outside days than usual. Since 1928, on average, the S&P 500 moves more than +/- 1% on about 24% of days the market is open, about 9% more than we've experienced this year. Even with the spike in volatility during Q4, 2018 still finished only slightly above average with 25.5% of trading days producing moves outside 1% and was the first year since 2015 which experienced an above average number of outside days. Unsurprisingly, 2008 was the most volatile year in recent memory, by our "outside days" gauge, with more than 50% of trading days that year resulting in moves of more than 1%.  We have to go all the way back to the depression era to find a more volatile year. On the other end of the spectrum, 2017 was the calmest year in more than 40 years, with SPX moving more than 1% on only 3.19% of trading days.
We can't predict whether or not 2019 will continue to produce a below average number of outside days. However, with the recent volatility it's good to take stock of where we are and realize that in historical context, the ups and downs we've experienced this year are not out of the norm.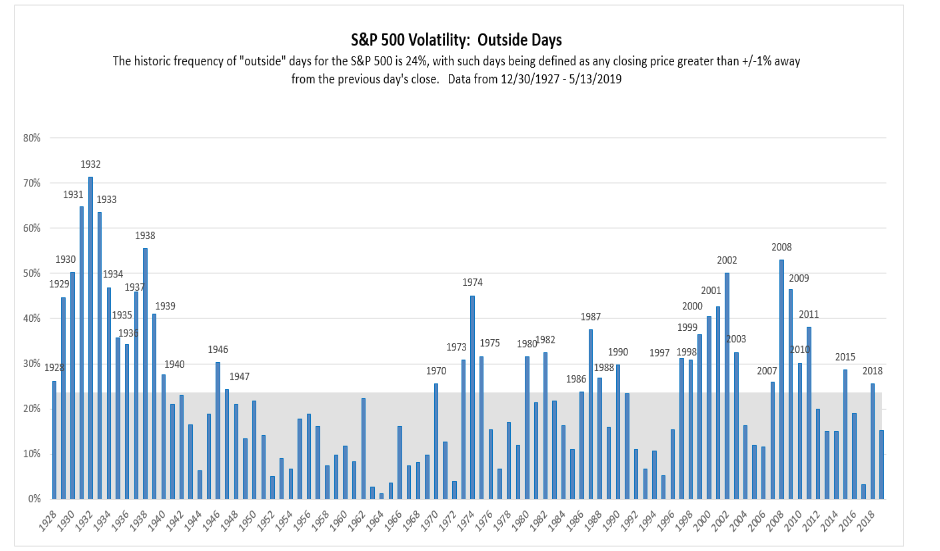 Nasdaq Dorsey Wright
https://oxlive.dorseywright.com/research/bigwire#
6.Housing Market…Lumber Still -25% Below Highs.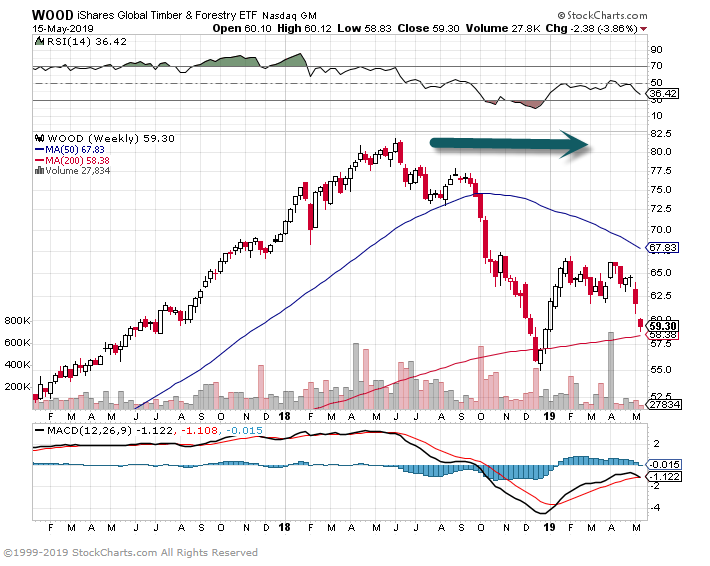 7.Headlines Working Magic on Sentiment….Fear & Greed Index Shifts to Fear.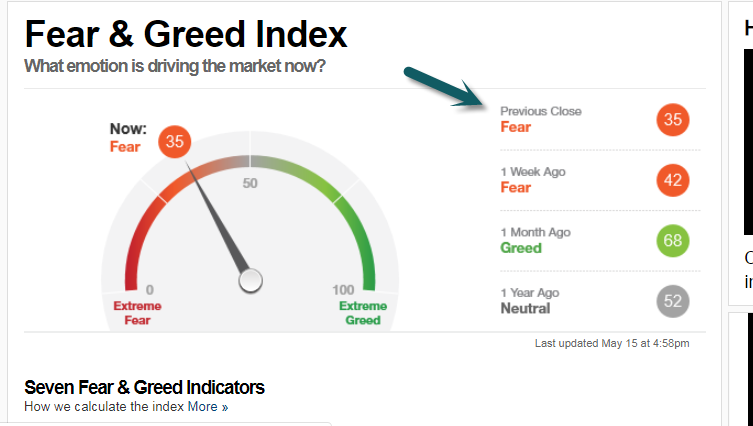 Fear and Greed Index
https://money.cnn.com/data/fear-and-greed/
8. Artificial Intelligence Technology* Spending Worldwide, 2016-2021 (billions)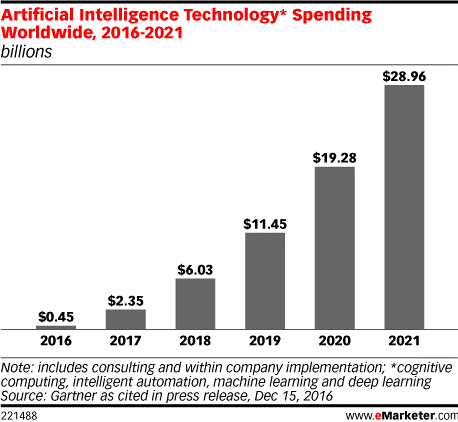 https://www.emarketer.com/Chart/Artificial-Intelligence-Technology-Spending-Worldwide-2016-2021-billions/202562
A One Trillion Industry by 2050
If the AI industry grows at a compound annual rate of 15.4% (my current estimate), it could reach nearly $1 trillion in revenues by 2050, based on automation replacing the projected shortfall of 18 million U.S. workers. With Europe, Japan and China facing similar demographic deficits, that growth estimate is likely conservative.
No company or set of companies has advanced a single dominant AI technology. Many firms have focused on more narrowly defined task-oriented elements of machine learning, rather than on developing general artificial intelligence. Instead of a single AI application for all purposes, investors should expect multiple AIs, or algorithms, blended for specific cognitive and physical tasks.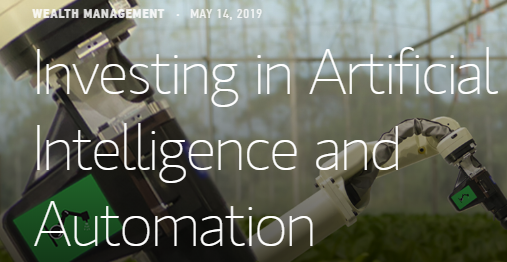 https://www.morganstanley.com/ideas/artificial-intelligence-and-automation?ET_MID=noloc&cid=whmt-smfa-investin-2776
9.RANKED: Every state in the US by the strength of their public education system
-Massachusetts has the best public education system out of all US states, according to an annual ranking.
-The US News and World Report rankings looked at how well states are educating their students in preschool, K-12 and higher education.
-It examines performance in areas like preschool enrollment, math and reading scores, college readiness, graduation rates, tuition and fees, and debt at graduation.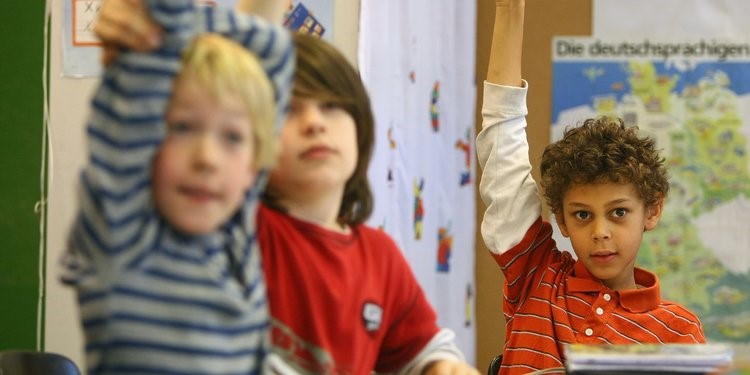 Massachusetts was at the top of the pile, while Sean Gallup/Getty Images
Massachusetts has the best public education system out of all US states, according to an annual ranking.
The US News and World Report rankingslooked at how well states are educating their students in preschool, K-12 and higher education.
It examines performance in areas like preschool enrollment, math and reading scores, college readiness, graduation rates, tuition and fees, and debt at graduation.
https://www.businessinsider.com/us-states-public-education-system-ranked-us-news-world-report-2019-4
10.4 Signs Stress Is Negatively Affecting Your Well-Being
By Karima Mariama-Arthur | May 8, 2019 | 0 
Stress is a normal part of everyday life. Our minds and bodies go through a great deal of it just to execute daily tasks, but this kind of stress doesn't usually negatively impact our mental or physical health.
There are different kinds of stress, some good, some bad. In fact, there are at least three different types: eustress, acute and chronic:
Eustress is our body's response to excitement and euphoria. It's normally referred to as "good stress." Think of your first kiss or getting invited to have dinner with the president.
Acute stress is our body's response to an immediate trigger (positive or negative) and subsides after we address it. Think of walking through a dark alley and hearing fast-paced footsteps behind you.
Finally, chronic stress is constant and intense, which makes us feel trapped and overwhelmed. Think of a strained marriage or workplace bullying.
Being able to identify the symptoms of negative stress is critical to your overall well-being. Have you ever experienced the following scenarios?
Your stress does not subside.
If you're constantly feeling stressed over long periods, that's a red flag. While stress is a natural part of our lives and some types are unavoidable (acute, for example), if you're consistently bombarded by feelings of doom, overwhelm and anxiety, your health could be in serious jeopardy.
Tips: Take a break from your normal routine. Prioritize self-care and talk to someone about what you are experiencing. Some simple shifts are probably in order and can help to manage your sensory overload.
Stress is negatively affecting your livelihood and relationships.
When stress becomes toxic, it can affect your ability to effectively function at work or in your relationships. Because it impacts your work ethic and your interaction with others, you'll likely get some unsolicited feedback based on your behavior.
Tips: Watch for signs of decreased or poor performance, and notice if you seem negative or irritable when dealing with others—don't be defensive if you receive feedback (because you probably will). Increase self-awareness by paying closer attention to triggers during your interpersonal interactions and notice any impact on your verbal and non-verbal communication. Finally, take a moment to view your behavior objectively and be open to positive ways that can help you address it.
You're not sleeping well.
Sleep is an important part of overall mental health. If you're not getting enough, your body is probably not producing enough neurochemicals (progesterone, estrogen, serotonin and melatonin, for example) to get you into a healthy sleep zone. This means that your sleep cycles are irregular—you're likely waking up throughout the night and feeling unusually tired when awake. Without restorative sleep, you're not prepared to effectively engage the day.
Tips: Create a wind-down routine that helps your mind and body unplug from the outside world. This may include a hot bath or shower, getting into bed earlier, and turning off your cell phone, electronics and other menacing distractions.
You've stopped engaging in self-care.
When you're feeling overwhelmed, it can be easy to ignore the daily routines that help you feel good about yourself. This may include hitting the gym, preparing a healthy lunch, getting up early or even engaging in standard hygiene practices. If you discover that these routines have been placed on the back burner because of stress, acknowledge and address it immediately before their absence begins to reverberate into other areas of your life.
Tips: Get yourself back on track, one routine at a time. Since you're already overwhelmed, trying to reincorporate all the bells and whistles of your daily routine would end in disaster. Start with the easiest one and build from there, and then reward yourself for reincorporating each one. You'll feel better immediately, and you'll also be well on your way to increasing your overall health and wellness.
Hopefully you're not feeling negative stress. But if it is, don't be discouraged. Use these tips to help you identify and navigate the symptoms so that you can position yourself for greater success.
https://www.success.com/negative-stress-affects-your-well-being/