1.Global Semiconductor Sales Plunge After Stocks Make New High.
Did Someone Turn Off the Spigot? Global Semiconductor Sales Plunge Most Since the Financial Crisis
by Wolf Richter • Apr 30, 2019 • 73 Comments • Email to a friend
According to chip makers, the plunge isn't over yet. Now hoping it won't turn into the mess as in 2001 when the last tech bubble became the dotcom bust.
Global semiconductor sales dropped 15.5% in the first quarter, from the fourth quarter last year, to $96.8 billion, the World Semiconductor Trade Statistics (WSTS) organization reported Monday afternoon. The three-month moving average in March has now plunged 25% from the three-month moving average at the peak last October, the deepest plunge since the Financial Crisis: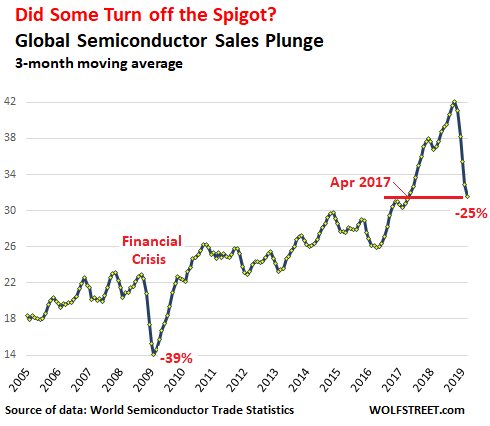 Demand was down across all regional markets: The global 15.5% drop in sales from Q4 2018 to Q1 2019 split up regionally this way – and the problem isn't just China:
Americas: -29.2%
China: -14.5%
Japan: -13.8%
Asia Pacific/All Other: -10.4%
Europe: -3.1%
https://wolfstreet.com/2019/04/30/did-someone-turn-off-the-spigot-global-semiconductor-sales-plunge-most-since-the-financial-crisis/
2.Semi Sales Fall But Vanguard Technology ETF Sees Largest Weekly Inflow on Record.
From Dave Lutz at Jones Trading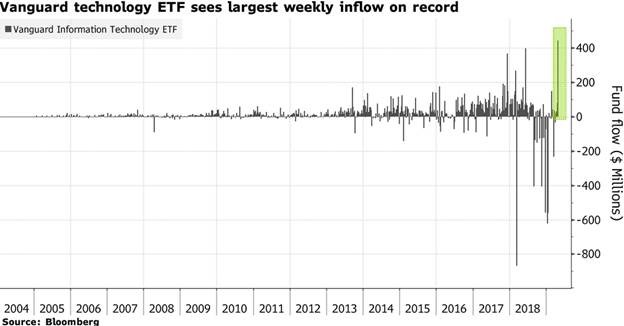 The first trading day of May has a bullish history over the past 21-years. DJIA, S&P 500 and NASDAQ have all averaged 0.5% or better on the day up twice as often as down (or better). S&P 500 and NASDAQ have the best record, up 16 times or 76.2% of the time since 1998 (AlmanacTrader) – Technology ETFs inflows a weekly record +$1.3B (total US equities +$6B via EPFR)
3.Rate Cut Bets on the Rise
Posted by lplresearch
Markets have frequently underestimated Federal Reserve (Fed) actions over the last few years, but lately the skepticism has been striking.
Fed fund futures traders are increasingly betting on a rate cut, even as data show an economic rebound could be in progress. As shown in the LPL Chart of the Day, fed fund futures are pricing in a 40% chance of one rate cut and a 20% chance of two rate cuts before the end of 2019.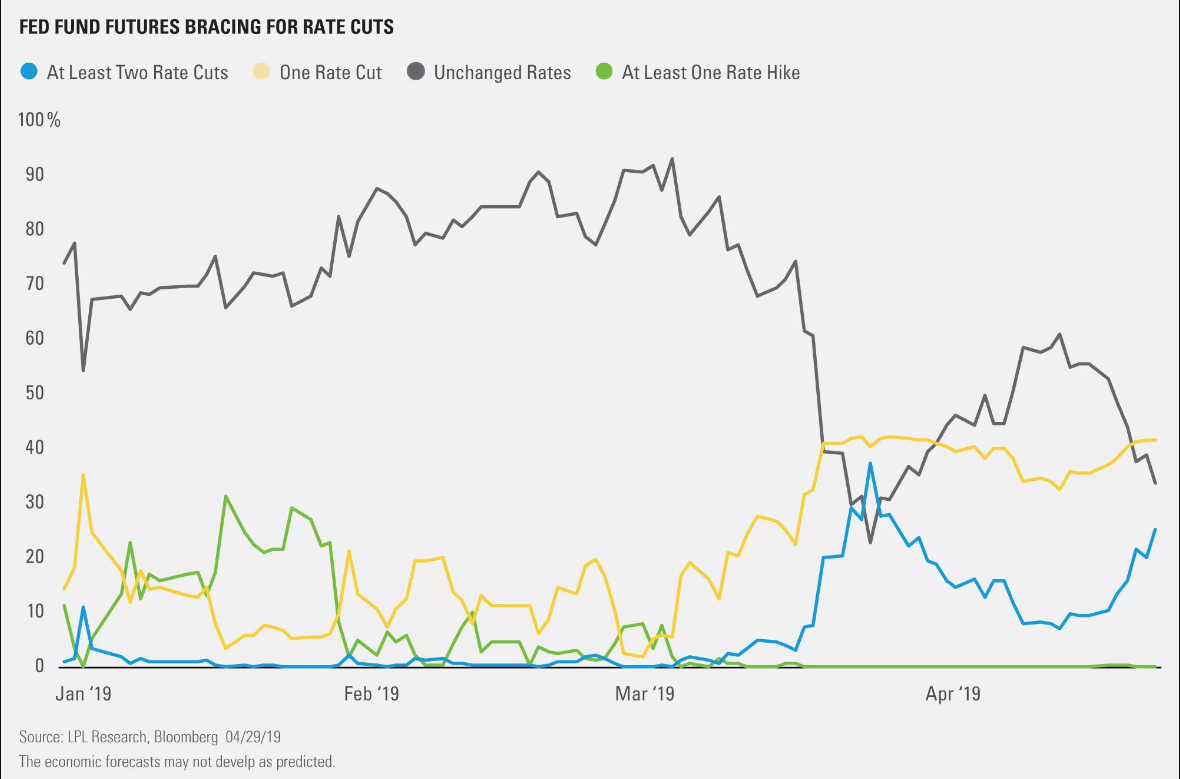 https://lplresearch.com/2019/04/30/rate-cut-bets-on-the-rise/#more-12709
4.Buybacks ETF Breaks Out to New Highs….$3.5 Trillion in New Purchases Since 2010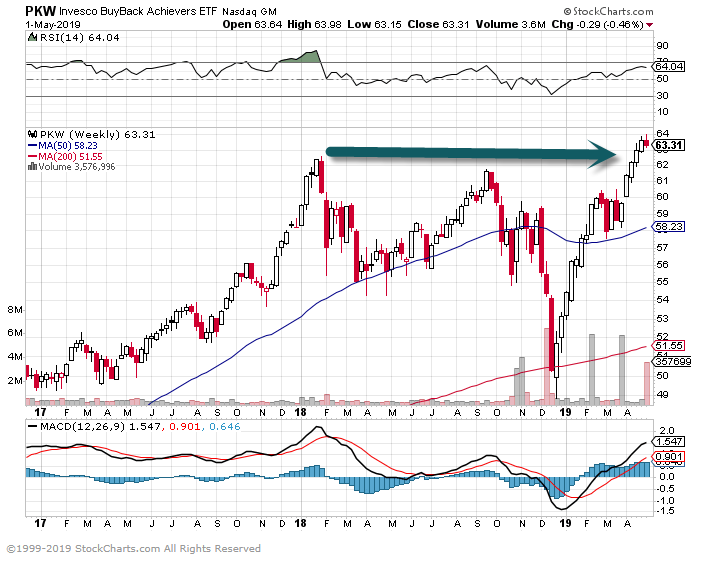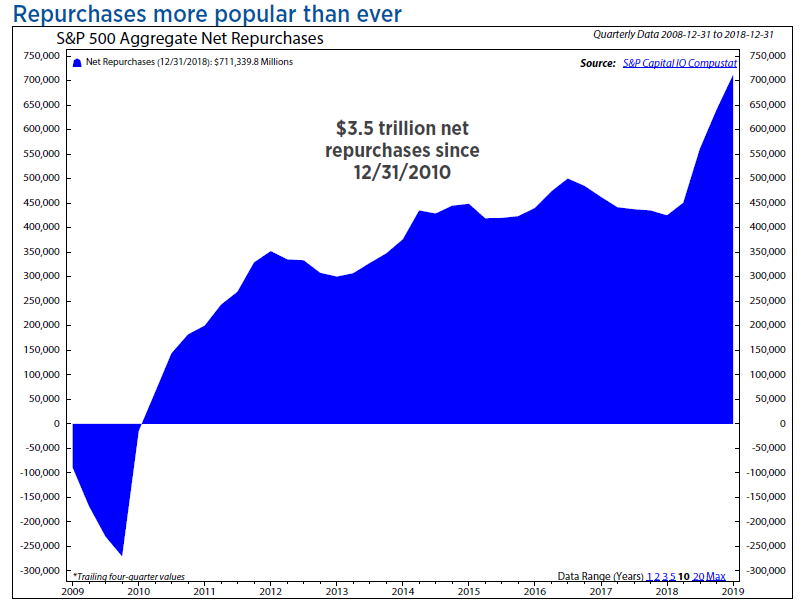 Ned Davis Research
www.ndr.com
5. Apple announces $75 billion stock buyback
History of Apple Buybacks.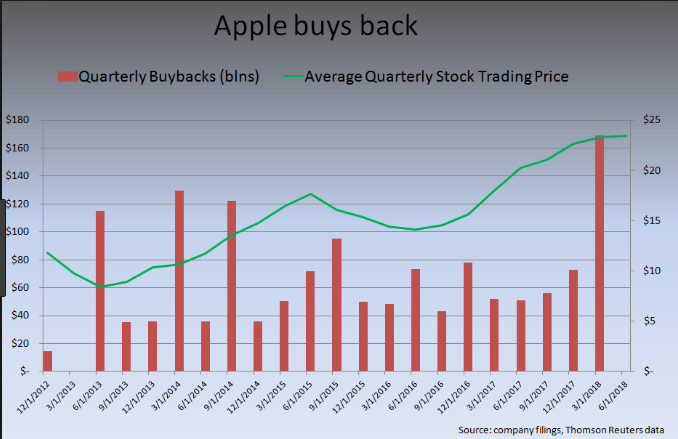 https://www.reuters.com/article/us-apple-results/apple-surprises-with-solid-iphone-sales-announces-100-billion-buyback-idUSKBN1I24D1
6.More on the U.S. Dollar.
Here are 5 reasons for the U.S. dollar's upside breakout to a nearly 2-year high
By Aaron Hankin
Published: May 1, 2019 7:17 a.m. ET
Traders continue to bet big on the dollar, and for now it's working
If you haven't noticed, the U.S. dollar is on a tear.
The greenback, as measured by the ICE U.S. Dollar Index DXY, -0.15% a weighted gauge of the unit's value against six major currencies, hit a near 2-year high on Friday, and the currency is higher versus all but two of its nine biggest rivals on the year, according to FactSet data.
In Wednesday trade, the index was at 97.357, marginally lower on the day.
TimeU.S. Dollar Index (DXY)Jul 17Oct 17Jan 18Apr 18Jul 18Oct 18Jan 19Apr 19
US:DXY
87.590.092.595.097.5100.0102.5
Although the greenback has given back a little ground since Friday's high, it remains on track to book its third consecutive winning month. But, what's exactly behind the strength in the buck? Here are some key takeaways:
Europe is faltering
The euro, EURUSD, +0.2051%  the buck's biggest rival, hit a 23-month low on Friday, dogged by geopolitical concerns. Italy avoided a credit downgrade by S&P Global Ratings on Friday, but worries about the fiscal outlook for the eurozone's third largest economy have weighed on the currency, which remains on track to book its fourth successive monthly loss, the longest such streak in more than four years.
Furthermore, data out of the bloc continues to falter with recent industrial production and purchases manufacturing index figures missing to the downside. This followed a slew of benign inflation and tepid growth figures. Data on Monday showed the eurozone economy regained some lost momentum in the first quarter, with gross domestic product across the 19-nation region expanding at a 1.5% annual rate after a 0.9% expansion in the final quarter of 2018. That still leaves the pace of growth well behind the 3.2% rate seen in the U.S. over the first three months of this year.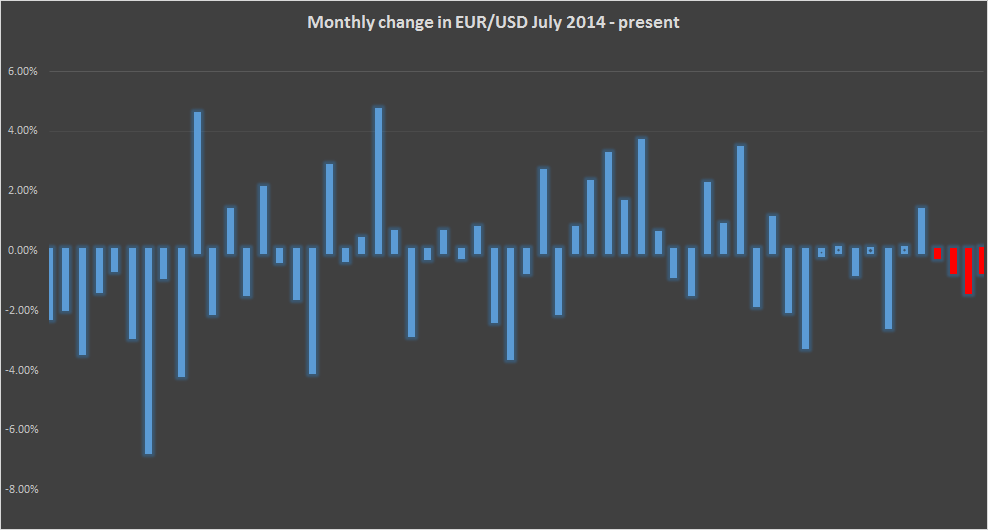 Euro monthly returns July 2014-present
Weak data overall and political jitters saw the European Central Bank surprise markets on April 10 when it launched a new round of targeted longer-term refinancing operations, or TLTROs. The operation was first introduced in 2012 to abate fears of a full-blown debt crisis.
Moreover, the Brexit wreck has spilled over to Europe, with negotiations looking likely to extend through the European Parliament election set for late May.
Global accommodative policy
The ECB was one of a number of central banks to pivot toward accommodation as fears of slowing global growth and weak inflation readings came to the fore. And even as the Fed abandoned its tightening bias in late 2018, it wasn't enough to keep up with its global counterparts that hit the panic button, pushing interest rates to multimonth, and for some multiyear lows.
"Everyone has turned dovish in this low volatility, negative carry environment and with the divergent growth narrative in full swing it supports the USD, " said Stephen Innes, managing partner and head of trading at SPI Asset Management.
Negative carry is the cost of owning currencies with negative interest rates. It helps boost demand for currencies with low but positive rates, such as the U.S. dollar.
Meanwhile, the Bank of Canada and Sweden's Riksbank both adopted more dovish tones than expected, which saw the Canadian dollar USDCAD, +0.0597%  hit a 3 1/2-month low, while the Swedish krona USDSEK, +0.0643% traded to its lowest level in more than a decade against the dollar.
Read: Canadian dollar tumbles to 3 1/2 -month low as central bank cuts growth forecast
U.S. data continues to shine
Meanwhile, the U.S. economy continued to grow at a better-than-expected pace. While fears of a global growth slowdown hinder policy in Europe and Asia, those concerns have abated on the local front. On Friday, the government said the economy grew at an annual pace of 3.2% in the first quarter of 2019. Economists polled by MarketWatch had forecast a 2.3% increase.
According to analysts at Brown Brothers Harriman, the bounce back in growth will limit the Fed's scope to loosen its policy stance and stem the rise of the buck. "We would be very surprised if anything dovish emerged from this meeting since it already pivoted to super-dovish in Q1," they said. "Rather, the Fed should acknowledge the economy's strong turnaround from the early soft patch."
The robust U.S. data has pushed both the S&P 500 SPX, +0.10%  and the Nasdaq CompositeCOMP, -0.81%  to all-time highs.
Technical analysis
The dollar's performance has also painted a bullish outlook for chart watchers.
"The DXY has pierced key triple top resistance at 97.71, taking out 61.8% retracement of the January 2017 – February 2018 bear market at 97.87 in the process," said Greg Davis, chief technical strategist at RBC Capital Markets in a recent research note.
"The bullish resolution of the ascending triangle pattern favors additional gains toward 98.50 and 99.89 initially, with a 76.4% retracement located just above here at 100.15," he said.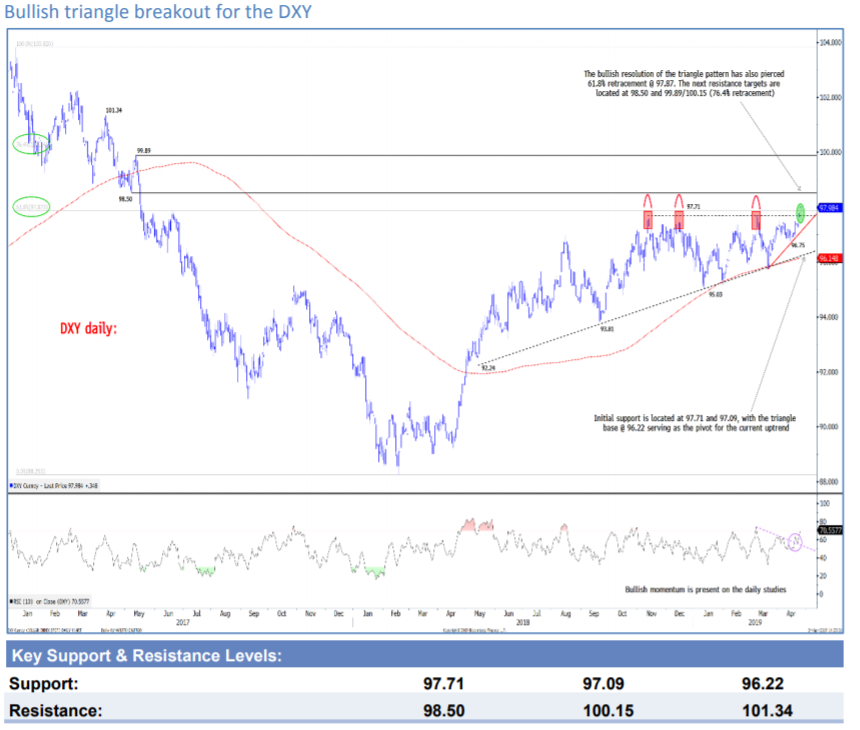 DXY
A move to 100.15 would constitute a 2.6% rally from Monday's level at 97.60.
Read: Fed and tech stocks could crack the market rally, warns Wall Street strate
https://www.marketwatch.com/story/5-reasons-for-the-us-dollars-upside-breakout-to-a-nearly-2-year-high-2019-04-30?mod=mw_theo_homepage
7.Is U.S. Labor Productivity Breaking Out?
On Thursday, the Labor Department will report its estimate of the productivity growth of U.S. workers in the first quarter. Given what's already known about how many hours Americans worked and how fast output grew, economists are optimistic. Macroeconomic Advisers, a modeling firm, estimates productivity was up 2.3% in the first quarter from a year earlier. If that proves correct, it would be the largest increase since 2010, when the economy was bouncing back from recession, a time in the business cycle when productivity growth tends to be high. Between 2010 and 2017, productivity growth averaged just 1% a year.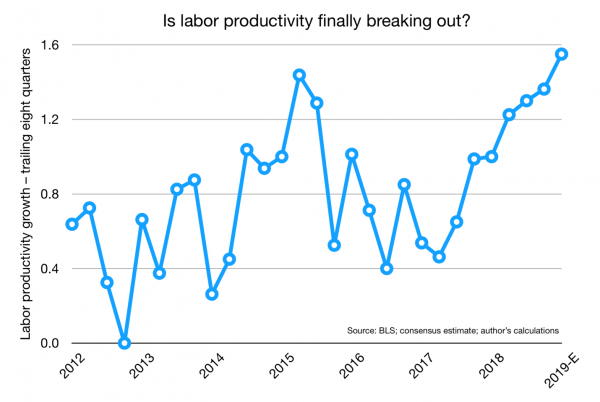 Here's another way to look at recent productivity readings (with all the normal caveats about highly imperfect measurements). Attempting to smooth away quarterly fluctuations, I charted the average of the trailing eight quarters of nonfarm labor productivity growth. The result, which uses the consensus estimate for the first quarter of 2019, shows a distinct upward slant over the past two years. Increased business investment, meanwhile, suggests the productivity and wage trends might continue. As Brian Wesbury wrote this week:
About that great stagnation. . . . Are we on the leading edge of a productivity revival?
Innovation, Technology and Innovation
http://www.aei.org/publication/about-that-great-stagnation-are-we-on-the-leading-edge-of-a-productivity-revival/
Found at Abnormal Returns Blog  www.abnormalreturns.com
8.DealBook Briefing: Ray Dalio Is This Year's Best Paid Hedge Fund Manager
Ray Dalio is an expert on income inequality
In recent weeks, Ray Dalio of Bridgewater Associates sounded warnings about the international wealth gap in a series of posts declaring that capitalism was broken. According to Institutional Investor's latest Rich List, he knows what he's talking about, Andrew writes.
Mr. Dalio is the world's wealthiest hedge fund manager this year. The magazine estimates that he earned $2 billion in the last 12 months, up from a reported $1.3 billion in 2017.
Some other notable names and rankings:
Jim Simons of Renaissance Technologies, $1.5 billion
Ken Griffin of Citadel, $870 million
David Shaw of D.E. Shaw, $500 million
Chase Coleman of Tiger Global Management, $465 million
Steve Cohen of Point72, $70 million
This list reflects hedge funds' tough run in re
https://www.nytimes.com/2019/04/30/business/dealbook/ray-dalio-pay.html
9.American States GDP Versus the World.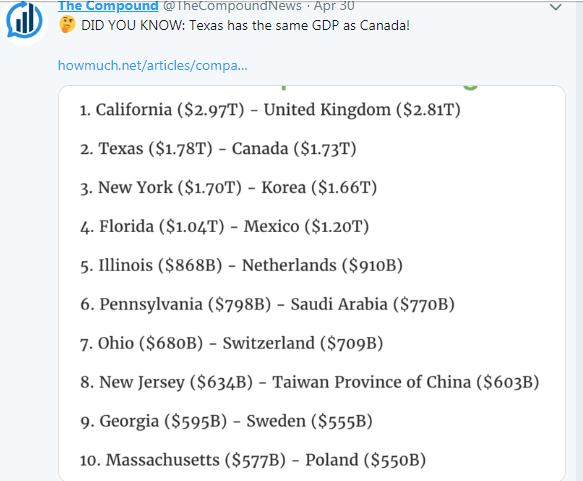 https://howmuch.net/articles/comparing-us-states-to-entire-countries-by-gdp-2019
10.The most successful children have parents who play these 8 roles, according to a Harvard researcher
Scott Mautz, Inc
The first role is the most important. SerbBgd/Shutterstock
Harvard professor Ronald Ferguson is author of "The Formula: Unlocking the Secrets to Raising Highly Successful Children."
After becoming fascinated with what parents did to shape his most talented students, he conducted research and determined that there are eight parental roles that make up the formula for master parenting.
The first one, the role of early learning partner, is the most crucial, says Ferguson. He attributes it to "the early lead effect," where a child responds positively to a teacher's excitement that they can already read, for example.
Spotting patterns, trends, and formulas make our work (and life) easier. But I never thought I'd see someone unlocking the formula for the hardest job of all — raising super-successful children.
Harvard professor Ronald Ferguson, author of The Formula: Unlocking the Secrets to Raising Highly Successful Children, recently told the Harvard Gazette he's done exactly that.
Ferguson was fascinated with what parents did to shape his talented students. So he and co-author Tatsha Robertson comprehensively studied how different parenting styles shape children's success. Test subjects included the youngest statewide elected official in the country and the mother of the CEOs of YouTube and the genetics company​ 23andMe.
What emerged?
Eight parental roles that Ferguson says make up the formula for master parenting. "It was like a hidden pattern that gradually revealed itself — a set of widely recognized, well-researched qualities that are the basic success foundations."
Play these eight roles well and you'll ace the role of a lifetime (being a parent):
The "early learning partner"
This role has parents getting their child interested in learning at a young age, before they start school. Ferguson calls the early learning partner the most important role of the eight. The most successful kids can read basic words by kindergarten, and experience what Ferguson calls "the early lead effect," where the child responds positively to a teacher's excitement that they can already read.
The "flight engineer"
This is the parent monitoring the child's growth environment, making sure they're getting what they need and intervening when they're not.
This isn't the same as being a helicopter parent, who Ferguson says "are so involved in their children's lives they don't create space for them to develop independent relationships, learn how to negotiate for themselves, or identify their own interests." My wife and I started playing this role when we encountered a teacher that wasn't giving our daughter a fair shake.
The "fixer"
In this role, the parent ensures no key opportunity for their child's betterment is lost — and they don't let a lack of resources slow them down. As Ferguson says, "The parents might be living in poverty, but if they see an opportunity they judge to be essential for their child's success in school or life, they'll walk through walls to get it."
The "revealer"
Revealer parents help their child discover the world by going to museums, libraries, exhibits, etc. — anything to expand their worldview. Again, this happens even with a lack of resources; revealer parents get creative in how to accommodate such outings. My wife and I have given this one extra focus, since we're fans of experiences over things.
The "philosopher"
Ferguson says this is the second most important role, because it helps children find purpose. Here, the parents ask and answer deep life questions, never underestimating a child's capacity to understand life and grasp the idea of meaning. I've been astonished at how early my daughter grasped these big ideas.
The "model"
This is classic role-modeling. Parents who do this well are clear about which values are important to them and work hard to pass those values on to their children, who then aspire to emulate them. My wife and I try to live our core values each day — but that doesn't mean it comes easy, or that we always succeed.
The "negotiator"
This role teaches the child to be respectful while standing up for themselves and what they believe in (especially in the face of those with power and authority).
The "GPS navigational voice"
Ferguson described this as, "The parents' voice in the child's head after the child has left home, coaching the young adult through new situations in life." I can only hope our daughter's GPS never says "recalculating," given the work we've done to try and keep it on course.
Reassuringly, the Harvard researcher said that the most important quality for parents to exhibit as they wear these different hats is simply the determination to be a great parent. He calls this motivation "the burn," and says it often comes out of things in the parents' histories:
It could be something that went wrong in their own childhoods that they didn't want repeated for their own children. It could be a family legacy of excellence in some domain that they felt a responsibility to pass on to their offspring. Or some commitment that the family had, for example, to civil rights, that they wanted their children to honor. But each of these parents had a vision of the kind of person they wanted their children to become. That vision, along with the burn, guided and inspired their parenting.
So whatever your "burn" is, use it to play these eight roles well. None of the roles are always easy, but all of them are important for giving your child every chance to succeed.
Read the original article on Inc. Copyright 2019. Follow Inc on Twitter.
https://www.businessinsider.com/successful-children-have-parents-who-play-8-roles-harvard-researcher-2019-4